Best Day Hikes in Olympic National Park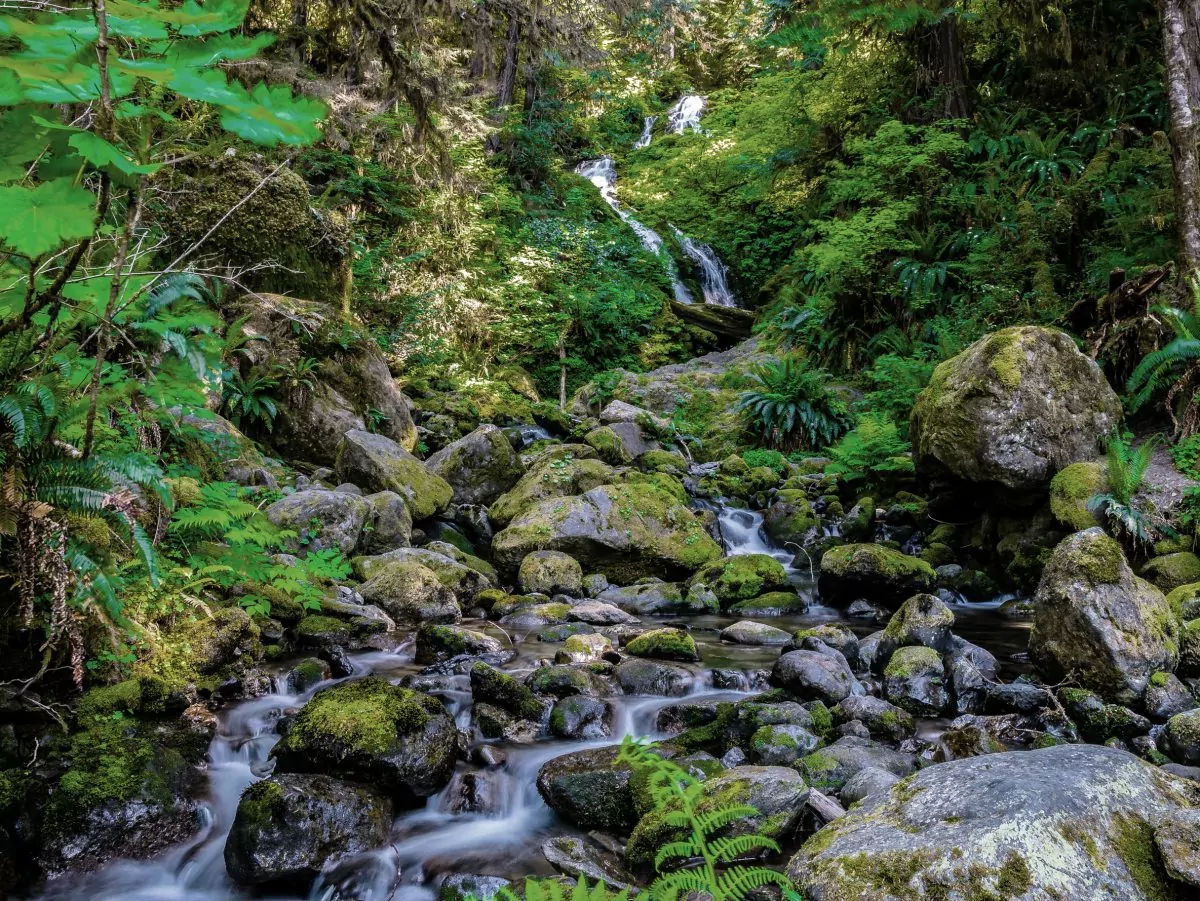 Let's chat about Olympic National Park — home to towering old-growth trees, stunning glacier-capped mountains, and incredible marine life. Whether you prefer the dripping moss and ferns of its temperate rainforest, high alpine meadows scattered with wildflowers, or the rugged sea-stacks and tidal pools of the Pacific coast, this park has something for everyone.
Whether you have a week to stay in comfort at a historic national park lodge and explore the varied environments of Olympic and Rainier National Parks, or only have one day to check out all that the Park has to offer, don't worry! If you're planning an excursion to this wild and wonderful peninsula,  you can enjoy the best of the park — no matter your timeframe — by embarking on one of our seven best day hikes in Olympic National Park.
1. Ozette Loop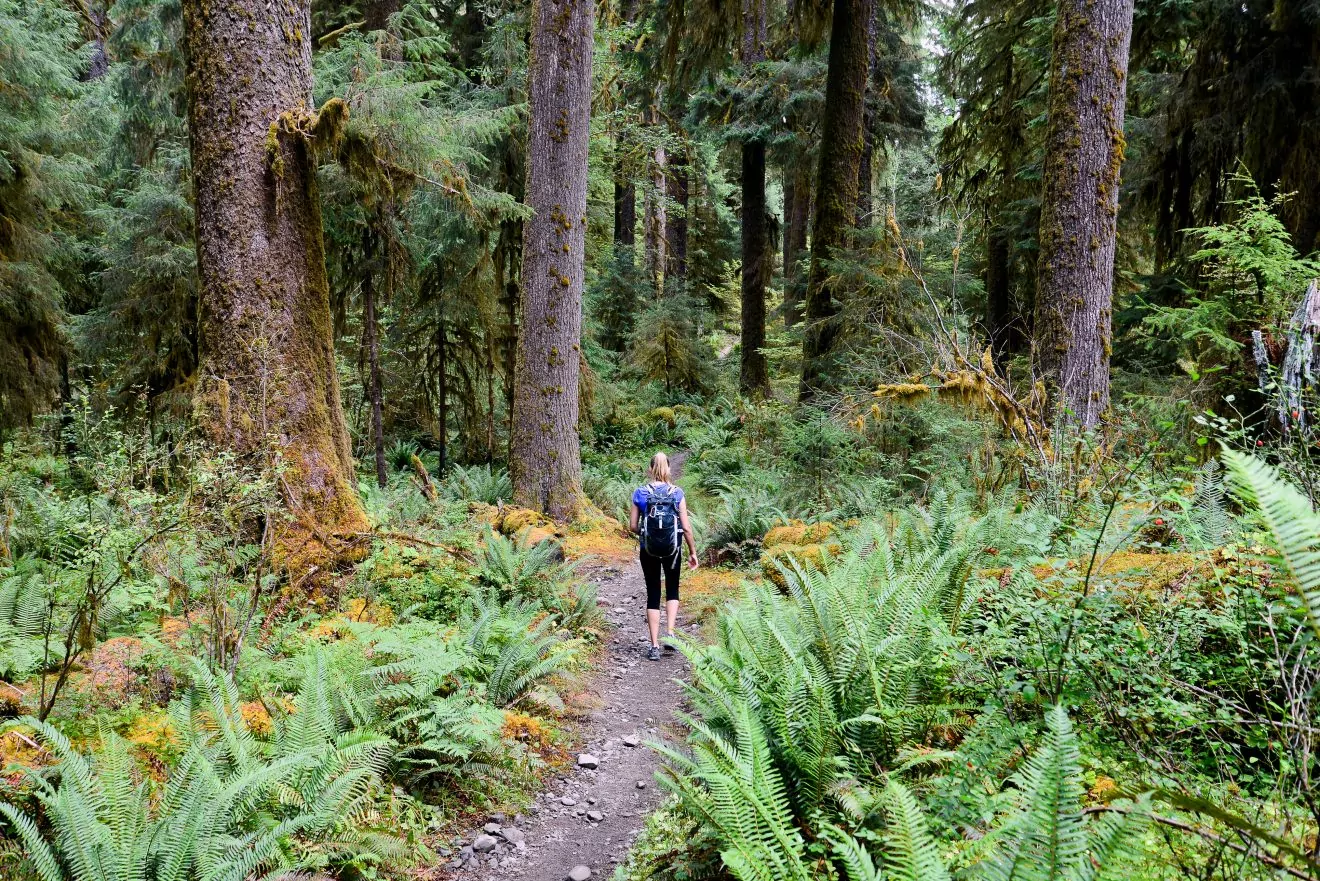 This 9.5-mile loop is one of the top day hikes in the Olympics and is a great way to introduce yourself to Olympic National Park's coast region. This trail, which meanders through miles of lush rainforest and offers countless stunning views, consists of three legs. Two of the legs are the Cape Alava Trail and the North Sand Point Trail, both of which originate at the Ozette Campground and end at the coast roughly three miles apart. The third leg follows the coastline and connects the other two trails to form a triangle-shaped loop.
After passing Cape Alava, you will then head south along the coast toward Wedding Rocks, where, if the tide is low, you'll be able to see some ancient petroglyphs on boulders by the cliff.
Leaving from the Ozette Campground, many people choose to begin their hike on the Cape Alava Trail. Hiking in this direction, you will first encounter a beautiful old-growth forest of Western hemlock, Western red cedar, and Sitka spruce. After hiking along this trail for 3.4 miles, you'll reach the coast at Cape Alava, the westernmost point of the contiguous United States. Here, you'll find several backcountry campsites and, if you're lucky, you'll be able to see the horizon of the Pacific Ocean. If the tide is low, you can even walk over to Tskawahya Island, where you can enjoy views of Ozette Island and the Bodelteh Islands.
Once you leave Wedding Rocks, you will then continue south along the coast to Sand Point, a beach roughly 1.5 miles long that features some campsites at its southern end. At Sand Point, you'll then take the North Sand Point Trail, which will lead you back to the Ozette Campground.
2. Hurricane Hill or Klahane Ridge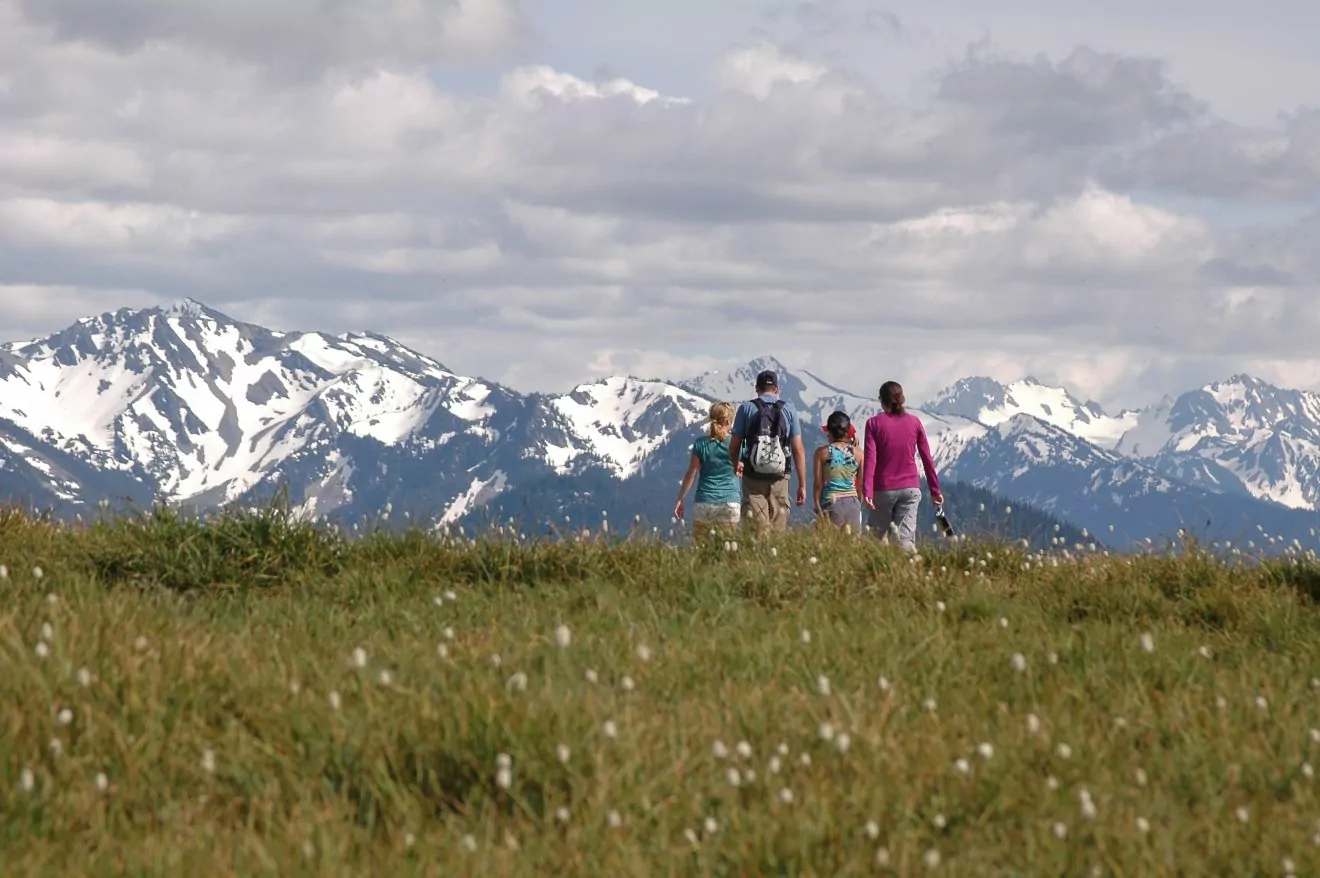 Ascending the 1.5-mile trail to Hurricane Hill is one of the park's most popular hikes. In addition to the stunning views it offers, it's also wide and only takes a few hours, making it ideal for those bringing along young or elderly guests.
If you're hiking the trail during the summertime, you can enjoy the wildflowers that abound in the surrounding meadows, including Scotch bluebells and Indian paintbrush. You may also catch a glimpse of some local fauna, including mountain goats, elk, and perhaps even bears. Once you reach the summit, you can enjoy fantastic views of Mount Clark, Mount Walkinshaw, Chimney Peak, Crystal Peak and the most prominent of them all: Mount Olympus. If you happen to visit in the wintertime, this trail makes a great snowshoe route.
If you have a bit more time and energy, you may choose to hike the Klahane Ridge Trail to escape some of the crowds. The Klahane Ridge Trail is pure Olympic majesty. Glacier-capped mountains dominate the skyline to the south, while the deep blue waters of the Strait of Juan de Fuca and the silhouetted mountains of Canada's Vancouver Island cover the north. If the magnificent views aren't enough, the wildflowers will captivate you — deep purple alpine lupines, bright red Castilleja, and many more explode in a symphony of color all summer long.
3. Lena Lake

The Lena Lake hike is one of the best easy day hikes in Olympic National Park. It allows visitors to enjoy the park's famous viewpoints, alpine lakes, and old-growth forests without having to scale steep mountains or venture deep into remote forests. This 3.6-mile trail, which is accessible from a paved road and is suitable for hikers of varying levels of experience, leads you through forests of Douglas fir and Western red cedar. The trail is also wide, mostly well-maintained, and not too steep. This hike is particularly popular in the spring and summer.
After crossing several footbridges and passing through several switchbacks, you will soon arrive at the 55-acre, 1,300-year-old Lena Lake. Once you arrive at its shore, the trail will fork to the right and lead to an outcropping 100 feet over the lake, where you will first get a full view of this majestic body of water and the mountain peaks in the background. At this point, you can either head back or rejoin the main path that hugs the lake's shore and leads to backcountry campsites.
4. Sol Duc Falls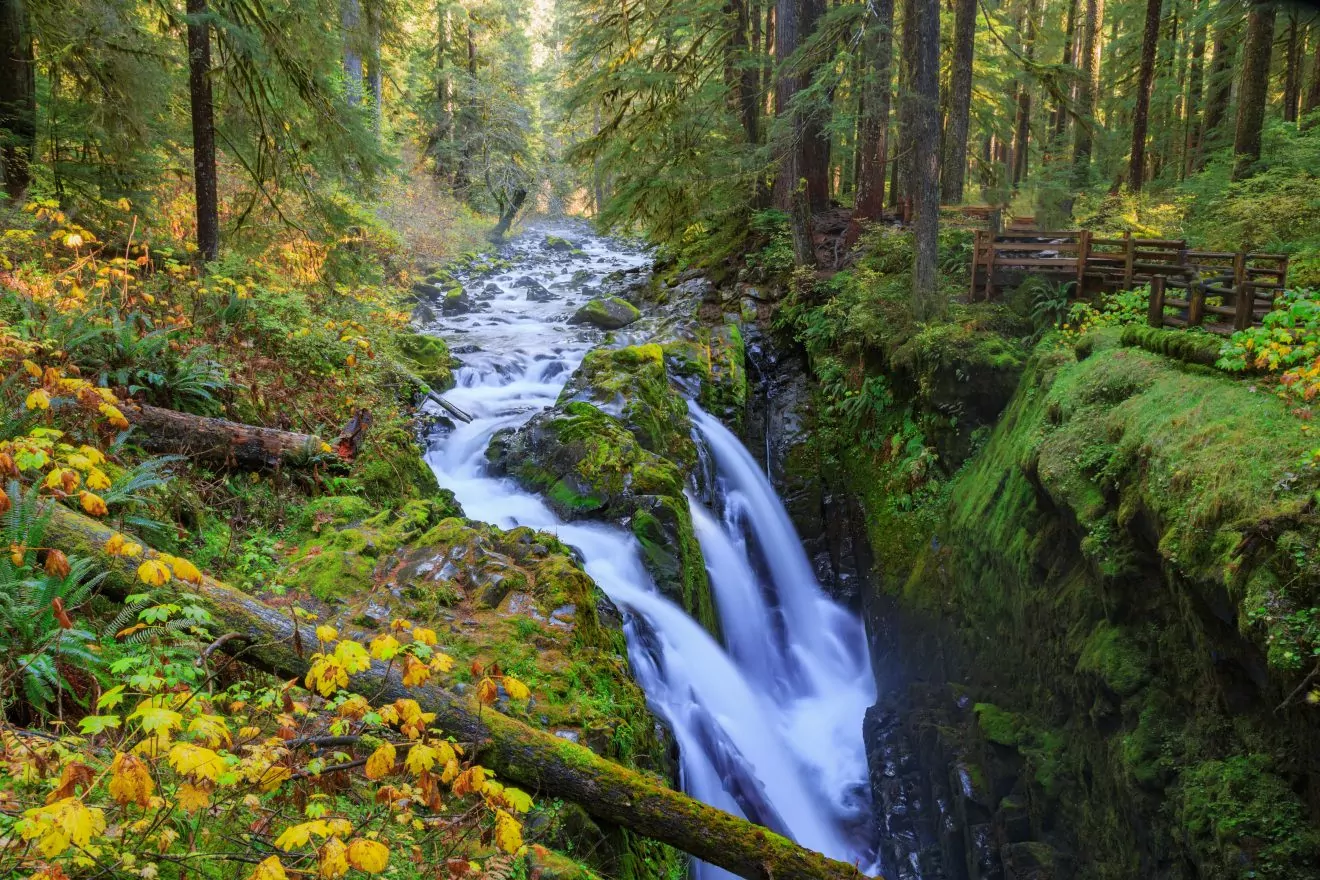 If you're staying at Sol Duc Hot Springs Resort or stopping by to relax in its pools, you can't miss out on the hike to Sol Duc Falls. This family-friendly trail, beginning just up the river from the resort, ventures into a lush, green, old-growth forest with towering Douglas firs and Western hemlocks. After passing the Canyon Creek Shelter, an old building used by the Civilian Conservation Corps, you'll soon reach the 50-foot Sol Duc Falls, surrounded by towering trees and stunning viewpoints. Don't forget to bring your camera.
5. Maiden Peak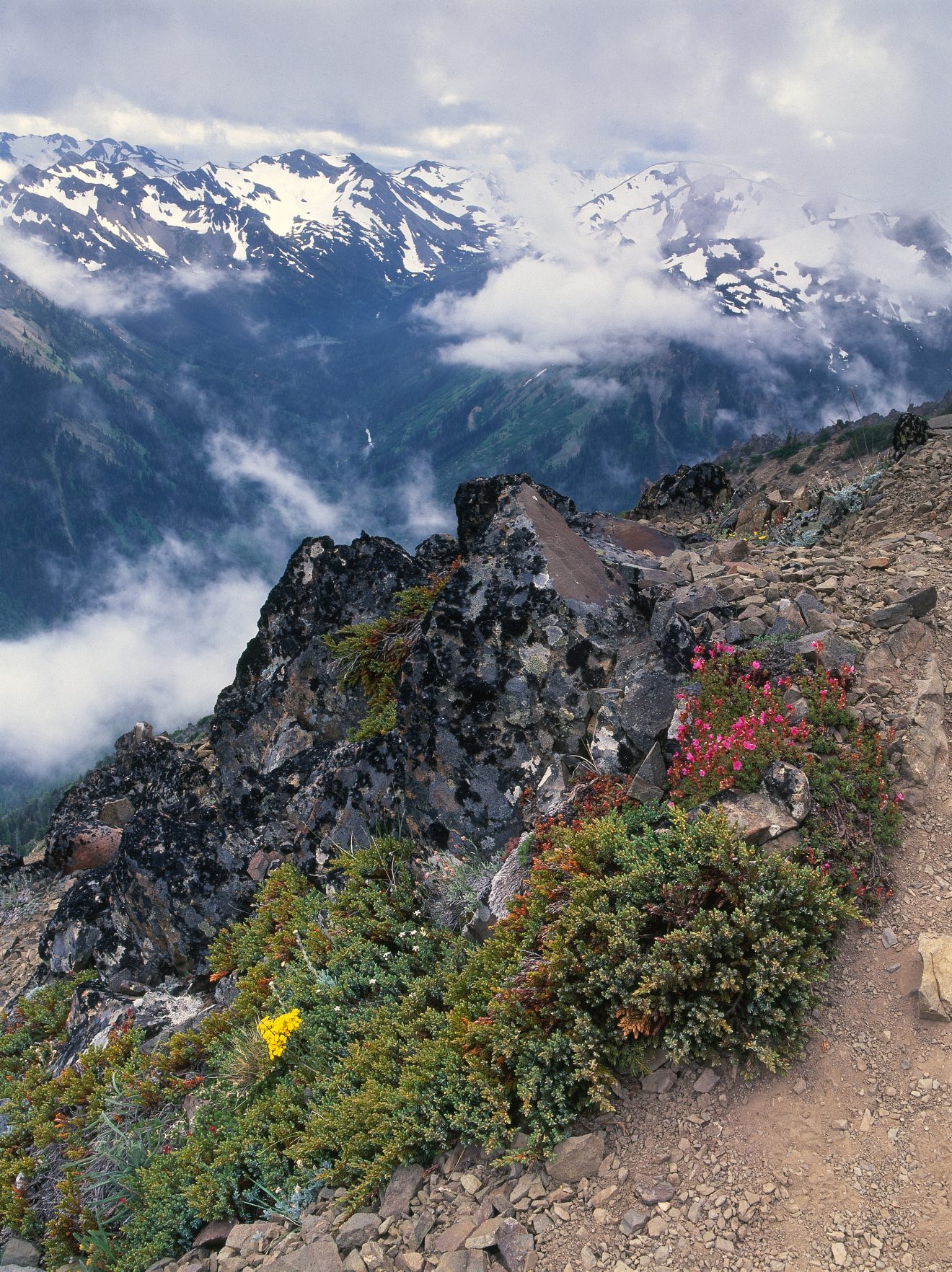 The hike to Maiden Peak from Obstruction Point is one of Olympic National Park's highest-elevation trails. On this hike, you can enjoy panoramic views of the Strait of Juan de Fuca, the Olympics, and the North Cascades. Keep an eye out for wildlife, like ptarmigans, pika, and marmots, as you climb higher into the mountains. In the early summer, take in the array of colors that the blooming wildflowers provide.
If you're looking for great views without too much work, this trail has it all — and provides access to a stellar peak with relatively little elevation gain. While the eight miles may seem long, the panoramic views are worth every step.
Wildland Trekking leads an out-and-back day hike to Maiden Peak that starts relatively early in the day, allowing guests plenty of time to enjoy the stunning panoramic views, take lots of great photos, and enjoy a delicious picnic lunch along the way. This eight-mile hike takes five to seven hours to complete and features an 840-foot elevation gain.
6. Skokomish River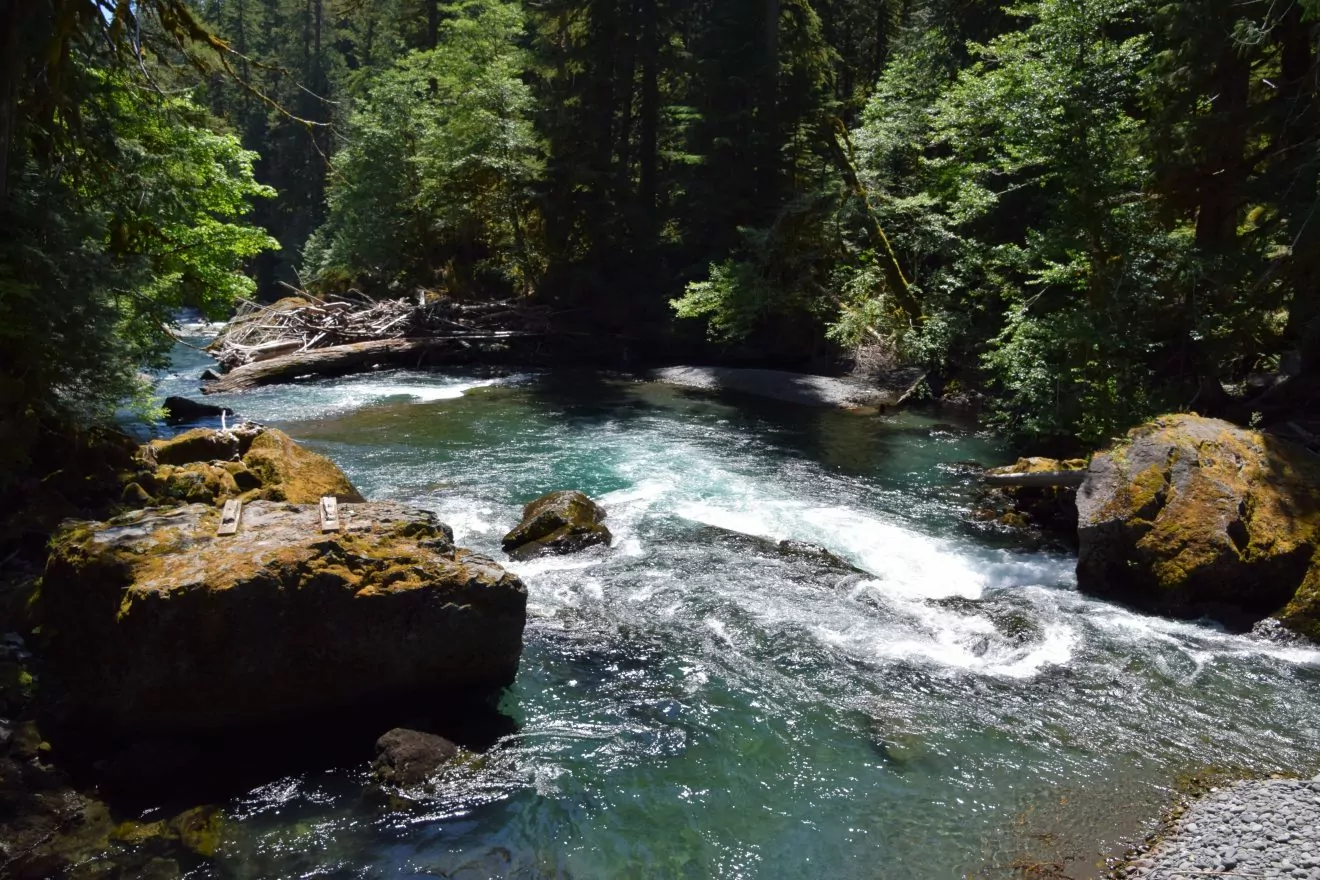 This short, scenic loop hike goes along the Skokomish River's North Fork to Staircase Rapids. This trail is mostly level and just over two miles long, making it an excellent choice for families lodging at Staircase Campground or those searching for a short hike to couple with an excursion to Lake Cushman.
Starting at the ranger station, this trail delves into lush forests with mosses and sword ferns. Here you can also take in the long, terraced rapids from various perspectives before arriving at a suspension bridge. Once you cross this majestic bridge, you either return downstream by taking the Rapids Loop Trail or, if you have time to spare, continue hiking upstream to Flapjack Lakes. Wildland Trekking offers a guided excursion along this route, with an optional extension of the hike down the "Shady Lane" trail, which allows hikers to learn more about the ecology of the park's old-growth forests. This relatively easy hike takes four to six hours to complete and is four to eight miles in length.
7. Shi Shi Beach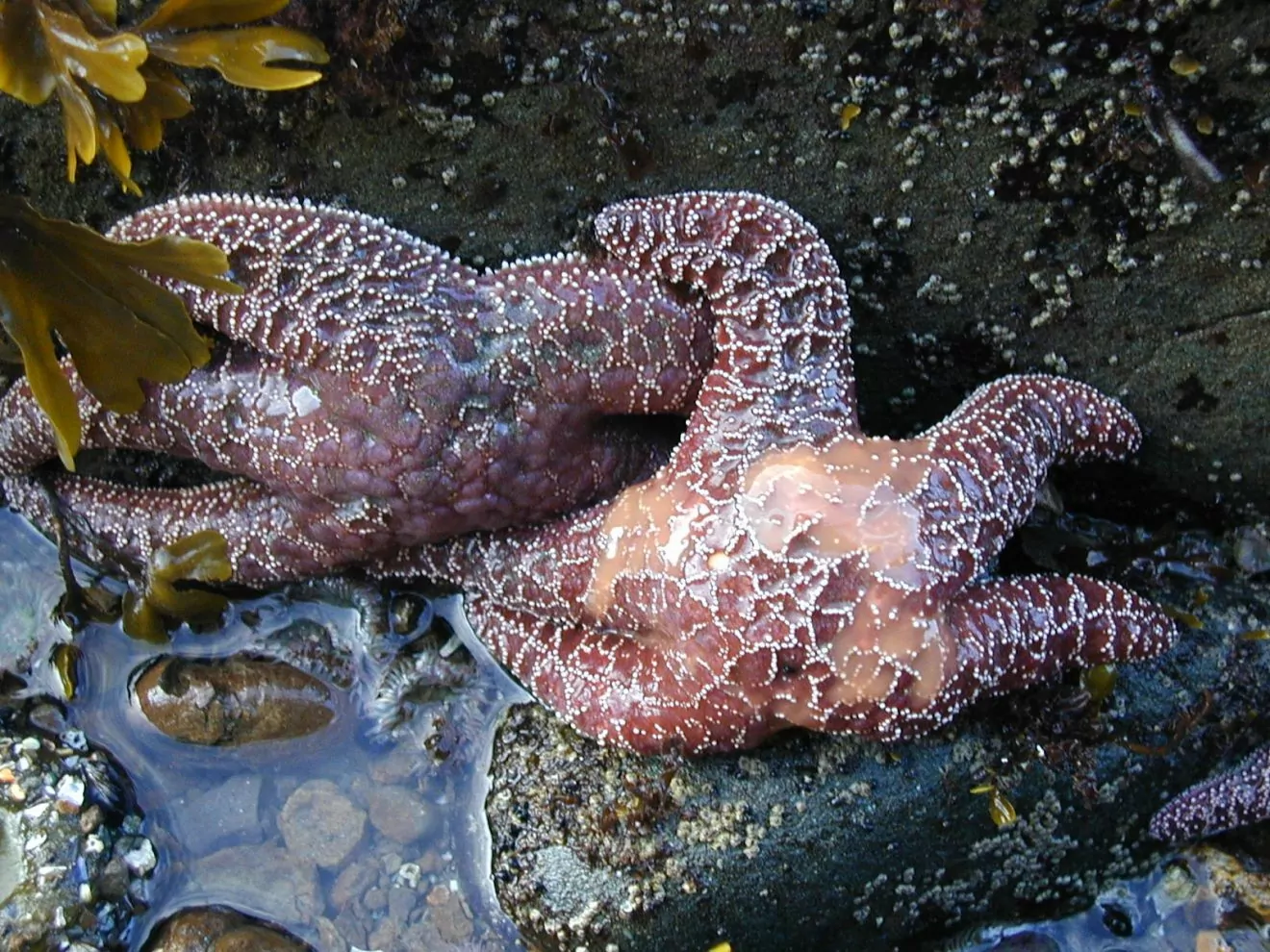 Ancient Sitka spruce trees, boardwalks through primeval forests, and rugged Washington beaches—could you ask for anything more? The trail to Point of Arches wanders through two miles of ancient coastal forest, complete with abundant berries for trailside snacking, before it reaches a short and steep descent to the beach. Once there, take in the dramatic sea stacks, carved by waves pounding the cliffside for thousands of years. During the evening, explore tidal pools rich with sea stars, anemones, and diverse marine life, with the sun setting over the Pacific Ocean.
We also offer a three-day backpacking trip to this stunning destination, which is perfect for beginners. It's hard to beat a campfire on the beach, and the Shi Shi Beach Trail will get you there.
Unforgettable Olympic National Park Day Hikes
If you'd like to hike the best of Olympic National Park in one day, join Wildland Trekking on a guided, all-inclusive hiking excursion. Our award-winning company provides the most experienced guides, the highest safety standards, and all the gear you'll need to make it there and back.
Don't forget that our team of Adventure Consultants is always here for you whether you have questions about your hiking vacation style, destinations, training, or what to expect. We're sitting by the phone seven days a week and would love nothing more than to talk trekking with you.
Email us or call 800-715-4453 (HIKE) for more info!