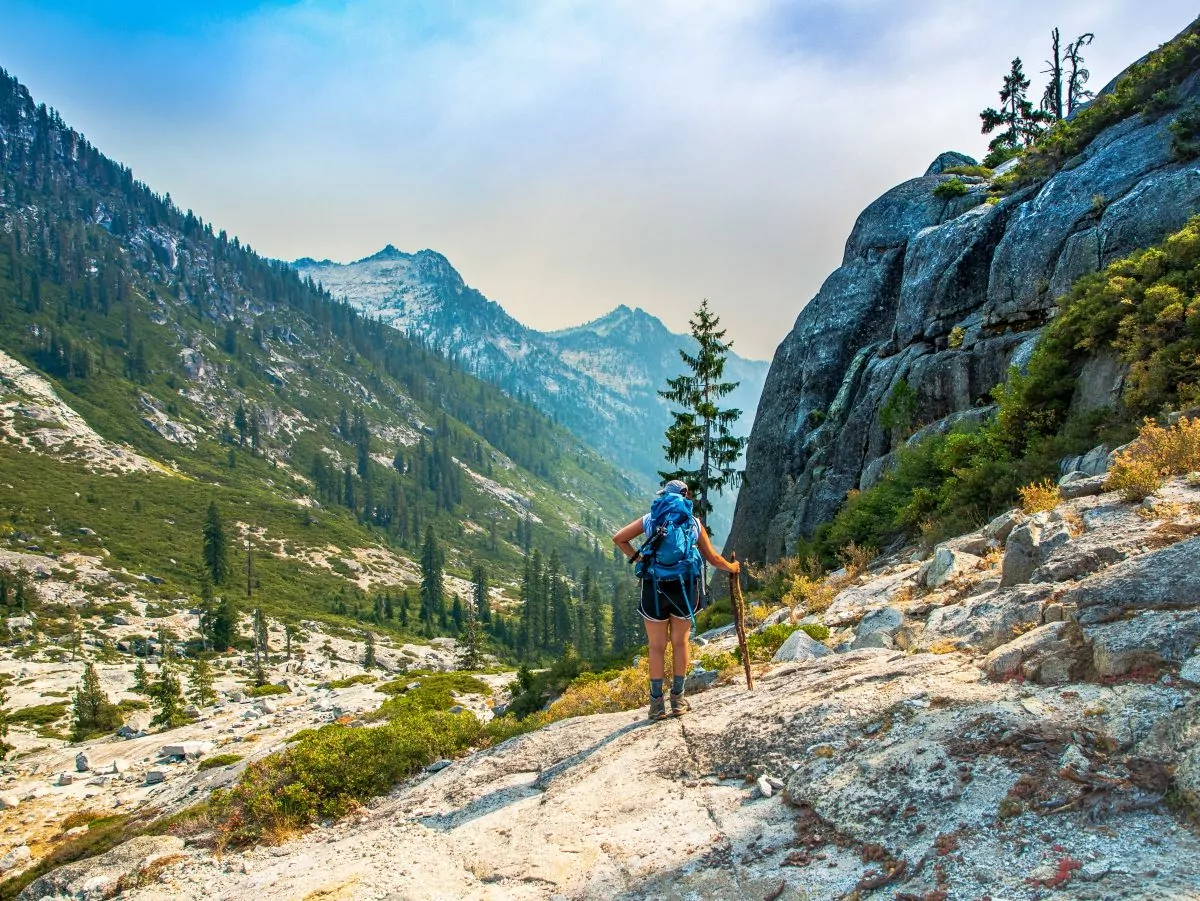 Best Beginner Backpacking Trips in California
California has so many public lands and wilderness areas that it's hard to decide where to visit next. Do you want to take in the iconic granite domes of Yosemite or soak in the sun along the rolling coastline of Point Reyes?
If you are looking for the perfect beginner backpacking trip in California, you've come to the right place. We know that when you're backpacking you want to immerse yourself in the wilderness, but you're also going for the fantastic views, right? So, we've compiled a list of seven of our favorite trails that — for one reason or another — are well-suited for new backpackers and don't skimp on the sights.
EXPLORE CALIFORNIA WITH AWARD WINNING GUIDES
how to choose an appropriate trail
While each new backpacker is entering into the sport with a different set of skills and fitness levels, we've crafted a list of trips with all beginner backpackers in mind. These trips fit a few criteria:
You'll hike relatively low-mileage for the length of the trip.

The trails don't have extreme elevation gain for the region.

They travel on well-maintained trails and avoid tricky terrain like boulder fields. 

You'll get a lot of bang for your buck, whether in the form of peaks, alpine lakes, or lush meadows.
However, backpacking is never easy (or else we'd never do it!) — so,  if you want to maximize your fun, be sure to train for your backpacking trip.
1. Half Dome, Yosemite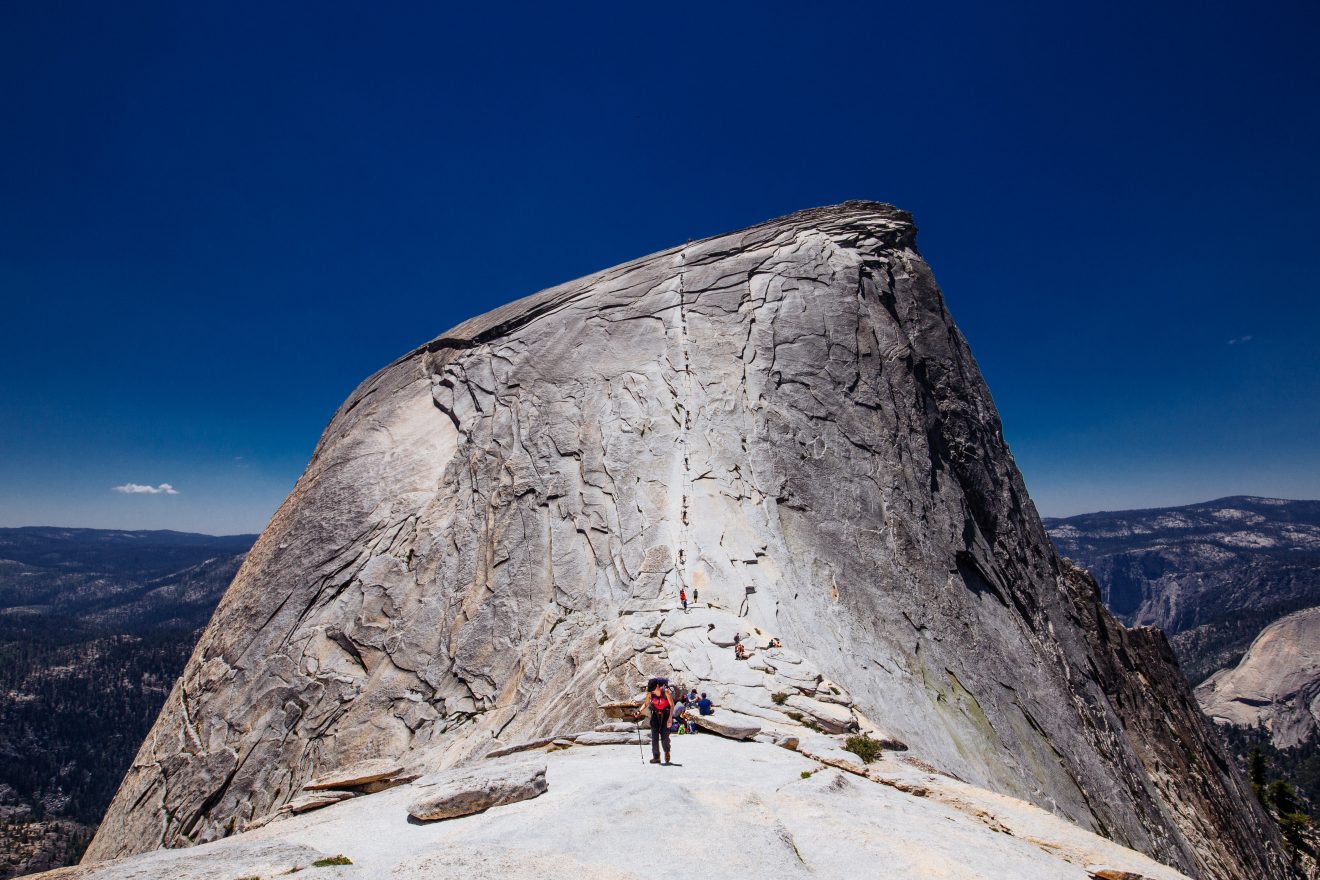 Mileage: 16 miles out-and-back  | Length: 3 days | Elevation Gain/Loss: 5,300 feet
If you've ever seen photos of Yosemite National Park, you've probably seen the giant curved monolith, Half Dome. While rock climbers flock to the vertical face, the rounded back of Half Dome has a set of cables that allow day hikers and backpackers to climb to its summit. Many adventurous hikers tackle the trail in one day, but embarking on an overnight backpacking trip makes this an enjoyable journey with a fun, communal backcountry camp experience. Once you've summited Half Dome, you can return to camp and relax by the chilly Merced River.
Why is it great for a beginner?
This exciting backpacking trip feels like an adventure but you keep the miles relatively low each day. Breaking up this trail into a three-day excursion lessens the difficulty level that the day-hike offers.
This classic itinerary takes you past some iconic Yosemite sights — like Vernal and Nevada Falls. On the second day, you'll ditch your backpacking pack and climb the Half Dome cables with only a day pack. Plus, when you sleep at the Little Yosemite Valley Camp, you can wake up early and beat the crowds to the summit.
While many backpacking trails in Yosemite necessitate that you carry bear canisters to protect your food from black bears, the Little Yosemite Valley camp has bear boxes where you can store your food — eliminating the need to lug around a heavy plastic container for your entire trip.
logistics and permits
Half Dome permits are incredibly hard to secure, so you'll benefit from joining a guided backpacking trip. However, you can apply for permits for an unguided trip through the National Park Service. Because of the popularity of this trek, you should try to make a reservation as soon as they become available.  You'll need to obtain both a wilderness permit and a Half Dome permit. Half Dome permits are $10 per person.
Otherwise, you can try to get a first-come, first-served walk-up permit the day before your trip. If you go this route, you should remain flexible and have an alternate itinerary as a backup plan. The National Park staff can also recommend trails that are available on the day of your trip.
Guided Trip Options
Wildland Trekking offers a three-day Half Dome trek as a guided backpacking adventure package with expert guides, gear, meals, transportation and more — all included! If you're looking to up the challenge, we also offer Half Dome as part of our Classic Summits of Yosemite itinerary. This amazing four-day trip starts off Tioga Pass, so you'll experience the high country of the Sierra Nevada mountains. You'll traverse the Park, crossing the exhilarating Cloud's Rest summit, climbing the Half Dome cables, and ending in the Yosemite Valley.
2. trans-Catalina Trail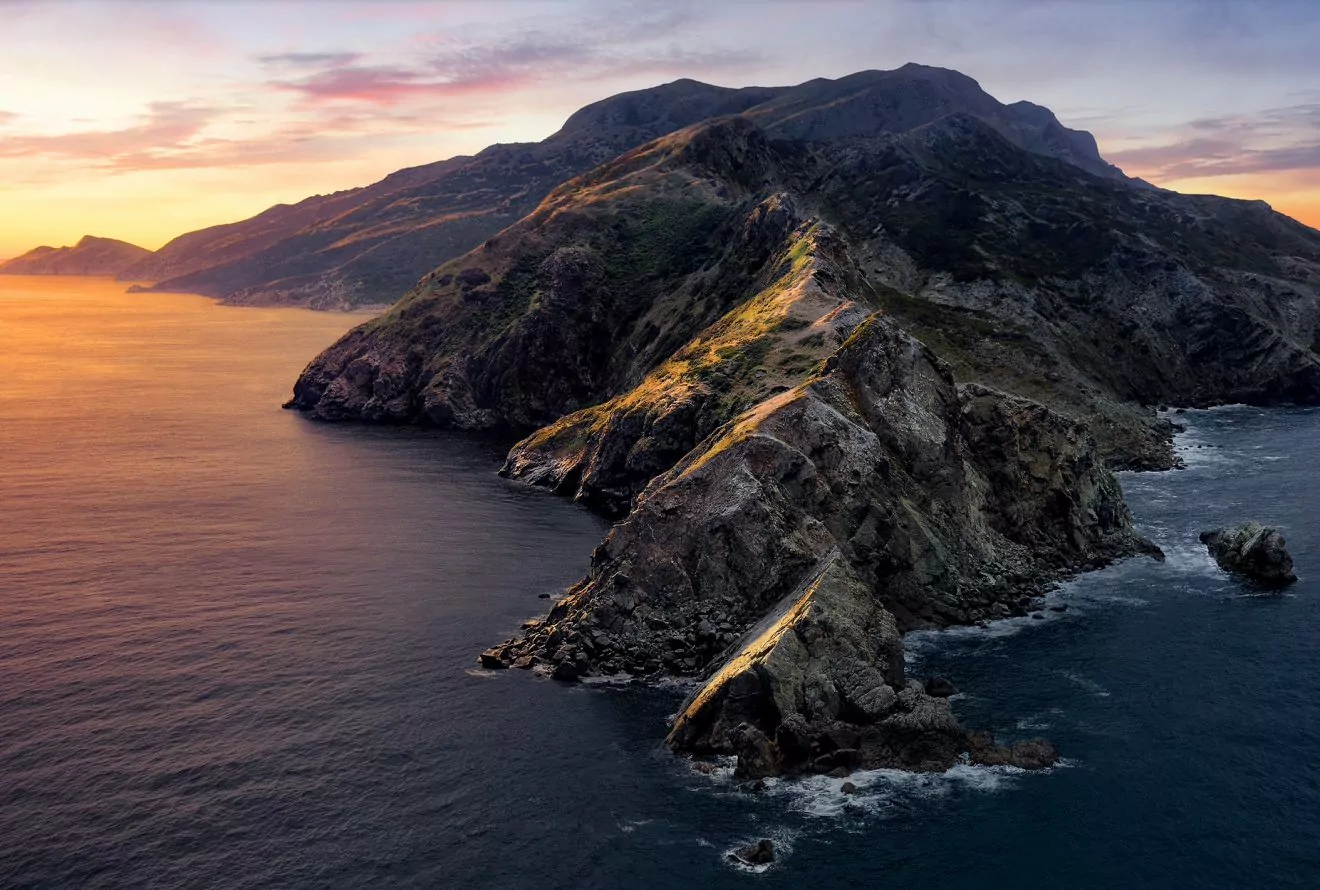 Mileage: 38.5 miles roundtrip | Length: 4 – 5 days | Elevation Gain/Loss: 9,600 feet
The Trans-Catalina Trail crosses Catalina Island, a stunning, rocky island off the coast of Southern California. This is a fantastic early-spring trek, as much of the trail is unsheltered from the sun. As you hike along ridges and past sailboat-spotted coves, keep an eye out for the bison that roam the island. At night, enjoy the secluded beach camping at Parson's Landing as you listen to the waves crash on the shore. This trip blends rugged backpacking with luxury island life, so it is perfect for backpackers who aren't ready to give up all the amenities quite yet.
Why is it great for a beginner?
While the trail is difficult, the proximity to civilization makes this a great beginner route — especially for those with a high level of fitness. You're never far from a town, and many of the campgrounds have the option to pay for rangers stock your "fox box" with firewood, and a fire starter, as well as water at the only campground that doesn't have potable water– Parson's Landing. Rangers are onsite at most of the campgrounds. En route, you'll pass multiple restaurants, including Airport-in-the-Sky Restaurant at one of the highest points on the island. If you plan to buy food at the restaurant and in Two Harbors, you can cut down your pack weight, but make sure you get to the airport early for lunch as it closes at 4pm.
While the trails can be steep, much of the hiking is on fire roads, so you don't have to worry about overly rugged trails. The most strenuous section is to Parson's Landing. If you're looking for an easier backpacking trip, you can set up basecamp at the Two Harbors campground and day hike to Parson's Landing without all of your gear.
logistics and permits
With all the Catalina campgrounds, you will need to book your campsites in advance, as they do fill up. While there is a two-night minimum at all campsites on weekends, hikers can have this requirement waived by calling the Two Harbors Visitor Center.
Additionally, you can pick up a free permit to hike the Trans-Catalina Trail when you get to the island — either at the Conservancy House in Avalon or the Visitor's Center in Two Harbors. However, your camping reservations will serve as your hiking permit if you do not check in.
One unique aspect of this trip is the need for a ferry ride to and from Catalina Island. We recommend taking the ferry to Avalon from San Pedro to begin your adventure and returning to San Pedro from the ferry terminal at Two Harbors.
3. Tuolumne Meadows area, Yosemite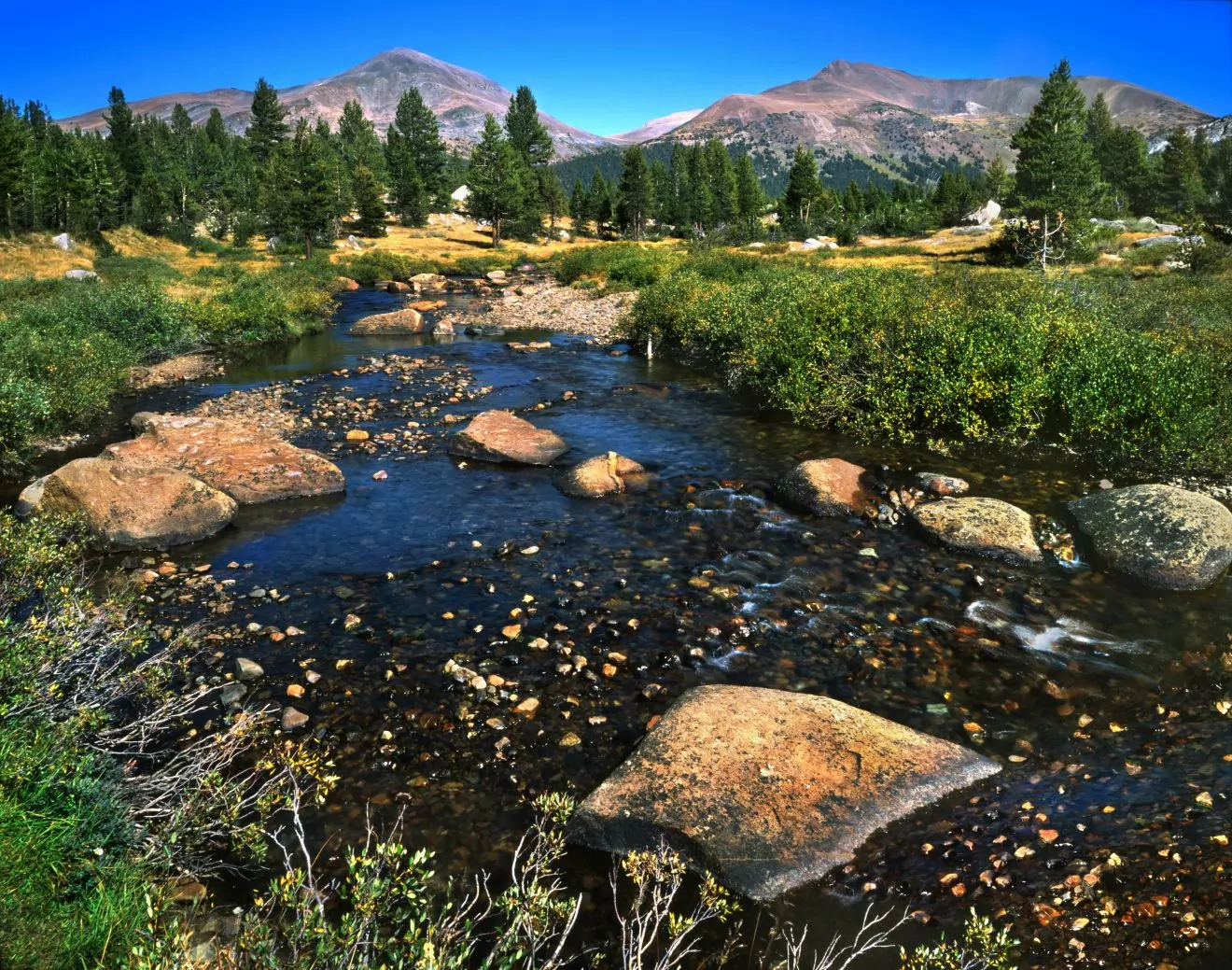 Mileage: 20 miles roundtrip | Length: 3 – 4 days | Elevation Gain/Loss: 1,300 feet with a pack ( + 1,700 as a day hike)
The Tuolumne region of Yosemite National Park is defined by expansive green meadows, dome-shaped mountains, and the pinnacle spires of the Cathedral Range. Water flows freely through the Grand Canyon of the Tuolumne, where you can witness cascades tumbling down silver slabs of granite. On our Yosemite Alpine Meadows and Waterfalls Trek, you can see some of the best that it has to offer on a moderate trip. While both this multi-day hike and the Half Dome trek both take place in Yosemite National Park, they offer dramatically different experiences. If you wish to see a lesser-visited side of this iconic destination, we recommend visiting the high country.
Why is it great for a beginner?
Unlike the Yosemite Valley, Tuolumne Meadows has high-elevation trailheads with relatively flat relief landscapes and far fewer crowds. Water is plentiful and the views are outstanding. 
The campsite along this route (where you'll stay for two nights) has treated water and solar-powered outhouses for ultimate backcountry comfort. Plus, unlike many areas in Yosemite National Park, you'll have access to bear boxes at camp, so you won't have to carry bear canisters which are heavy and inconvenient.  In addition, the wildlife is not as accustomed to humans in the less-visited Tuolumne area, so you're less likely to have a bear sneaking into your camp at night looking for an easy, human food snack.
logistics and permits
You'll need to obtain a permit to stay overnight in the backcountry of Yosemite National Park. We recommend you reserve a permit in advance, however, some first-come-first-served permits are available if you visit the ranger station the morning before your intended trip. If you're traveling during the weekends or holidays, don't expect to get a last-minute permit.
Guided Trip Options
Wildland Trekking offers Tuolumne Meadows backpacking trips as a guided package with expert guides, gear, meals, transportation and more all included! Whether you're a beginner or an experienced backpacker who wants someone else to do the planning for a change, you won't regret joining a Wildland trip in Yosemite.
4. Point Reyes Coast Loop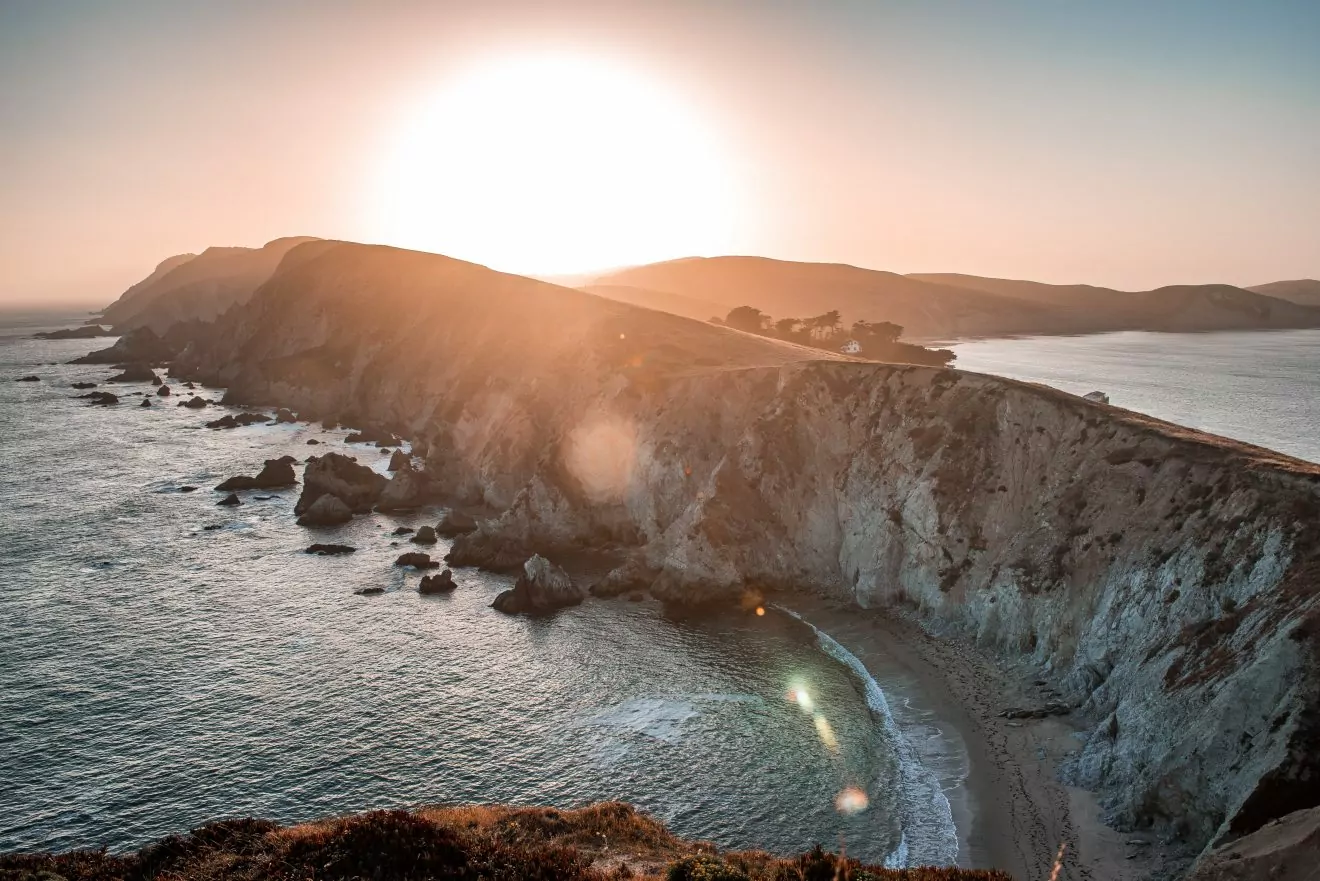 Mileage: 4 – 22 miles  | Length: 2 – 3 days | Elevation Gain/Loss: varies
The Central California coastline is a magnificent backpacking destination because it provides hikers access to sandy beaches, rolling meadows, and coastal bluffs. In Point Reyes National Seashore, you'll travel through lush forests lined with green ferns and arrive at vistas with expansive views of the Pacific Ocean. On your trek, you can spot animals like elephant seals, elk, and shorebirds. To add to the magic, you may experience a mix of sunny beaches and misty hills — so perfectly Californian.
And the Bear Valley to Coast Camp loop, which is very popular among backpackers is open again after being closed recently due to wildfires. This loop connects many of the iconic campsites and allows for easy, one car logistics.
Why is it great for a beginner?
Point Reyes is only 30 miles north of San Francisco, so it is one of the most accessible backpacking destinations from a major metropolitan area. The trail system in this Park allows you to create a relatively low-mileage itinerary. Plus, the elevation profiles are more mellow than mountain destinations like Yosemite.
Each backcountry campsite has potable water, so you only need to bring a backup water purification system. You'll also have access to a picnic table, bbq, and food storage box at camp each night.
logistics and permits
Each hike-in campsite is $20/night and you can reserve them in advance. If you're planning a last-minute trip, you can stop by the Bear Valley Visitor Center to see if they have any walk-up sites available. However, we recommend making reservations, especially if you're backpacking on the weekend or during holidays.
If you can't get permits or want a more rugged and remote experience on the California coast, you can also try out the Lost Coast farther north of the Bay Area. The backpacking trails on this remote coastline offer extreme solitude as well as rugged hiking over mountains and on the sand where the tide controls much of where and when you can hike. Wildland Trekking offers a great trip that traverses the Lost Coast where our expert guides will handle the all the planning and meals, including the tide charts to ensure safe passage across the beaches.
5. Lassen Volcanic Cinder Cone Loop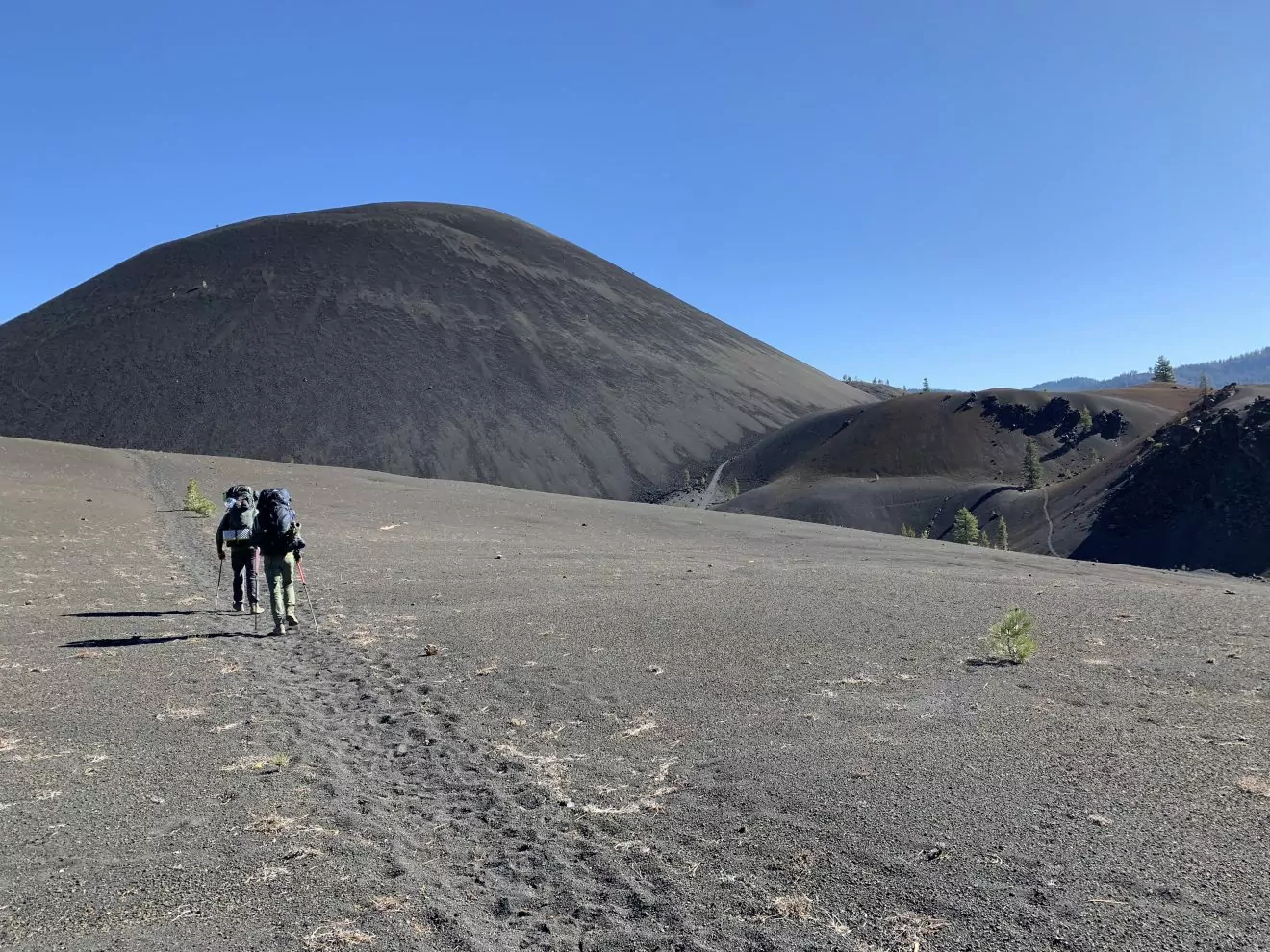 Mileage: 24-mile loop | Length: 4 days | Elevation Gain/Loss: 4,000 feet
If you're looking for an off-the-beaten-track adventure for your first backpacking trip in California, this is it. At the northern tip of the Sierra Nevada Range, you can find Lassen Volcanic National Park — a high alpine wonderland with geothermal activity and remnants of past volcanic activity. On this four-day trek, you'll hike past alpine lakes and climb to the summit of a cinder cone.
Why is it great for a beginner?
Just because you're new to backpacking doesn't mean you have to choose a route that will be riddled with crowds. Lassen Volcanic National Park offers excellent backpacking trails with mild elevation gain and stunning scenery. The short daily mileage allows you ample time to relax, take a dip in the lakes, or read your book under the shadow of old volcanoes.
logistics and permits
If you choose to go unguided, the free permit system is a breeze to navigate. Just fill out your overnight permit at one of the self-registration stations and be sure to follow LNT principles! No advanced reservations are necessary. Getting to Lassen is a little bit of a haul; depending on where you are coming from Sacramento, the Bay Area, or Reno, NV are your best points of entry.
When you're backpacking in Lassen Volcanic National Park, you must store all your food in an approved bear canister.
Guided Trip Options
Lassen Volcano National Park is not to be missed on any adventurer's bucket list, but the remoteness of the location can make backpacking the park, especially if it's your first time visiting, a little intimidating. So if you'd like to get a taste of this area before you trek into the backcountry, your can join Wildland Trekking's basecamp tour in Lassen Volcano National Park and experience what this place has to offer. We provide an excellent mix of luxury camping and rugged hiking all with the best guides in the business. 
6. Mammoth Crest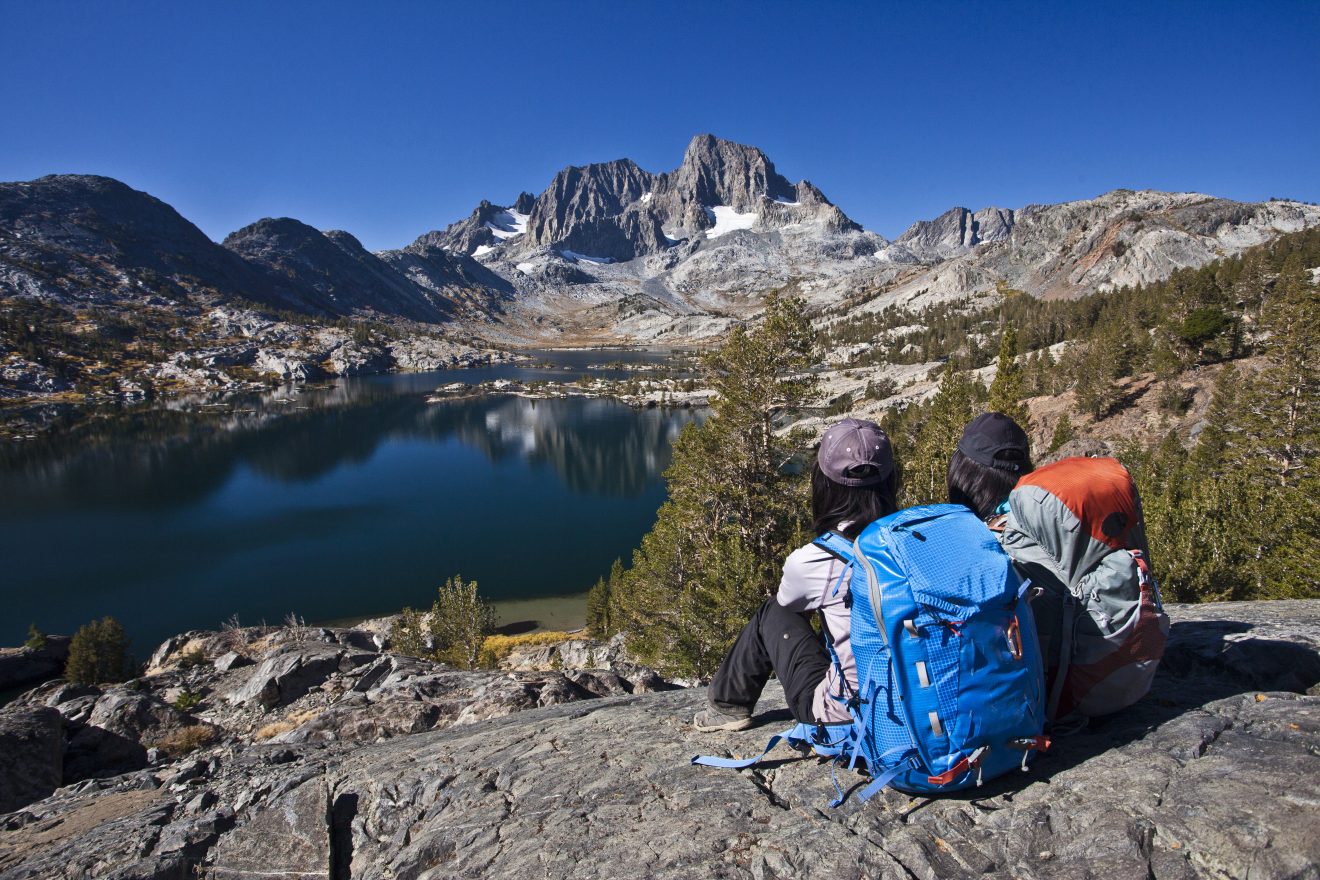 Mileage: 24 miles out-and-back | Length: 3 days | Elevation Gain/Loss: 2,000 feet with pack (+ 2,000 ft with day pack)
Escape the crowds in Yosemite and head to the Eastern Sierras! This mountain range is home to Half Dome and El Cap, but it sure has a lot more to offer. The three-day Mammoth Crest backpacking trip will immerse you in high mountain country so you can experience the grandeur of these granite peaks. You'll camp near sparkling blue alpine lakes and travel over Duck Pass at 10,800 feet. Throughout your entire trip, you'll get sweeping views of the Minaret Range, the Mammoth Lakes Basin, and the rest of the Sierras.
Why is it great for a beginner?
While rugged mountain terrain can be tough for beginner backpackers, this three-day trek is manageable. Once you've set up camp, you'll leave your gear behind until you hike out. On day two, you'll day hike from camp to check out the surrounding area. So, the time hiking with a pack is minimal. And although the trail is tough, the views will distract you the entire time.
logistics and permits
You'll need a permit for any overnight trip in the Sierra National Forest. Permits become available six months before the trip date. You'll also need to bring an approved bear canister to contain all your food and scented items.
Guided Trip Options
Wildland Trekking offers this Mammoth Crest trip as a guided backpacking adventure package with expert guides, gear, meals, and transportation included. These guided tours take away much of the stress of planning a trip into the backcountry and allow you to truly enjoy and take in your surroundings.
7. Redwoods National and State Parks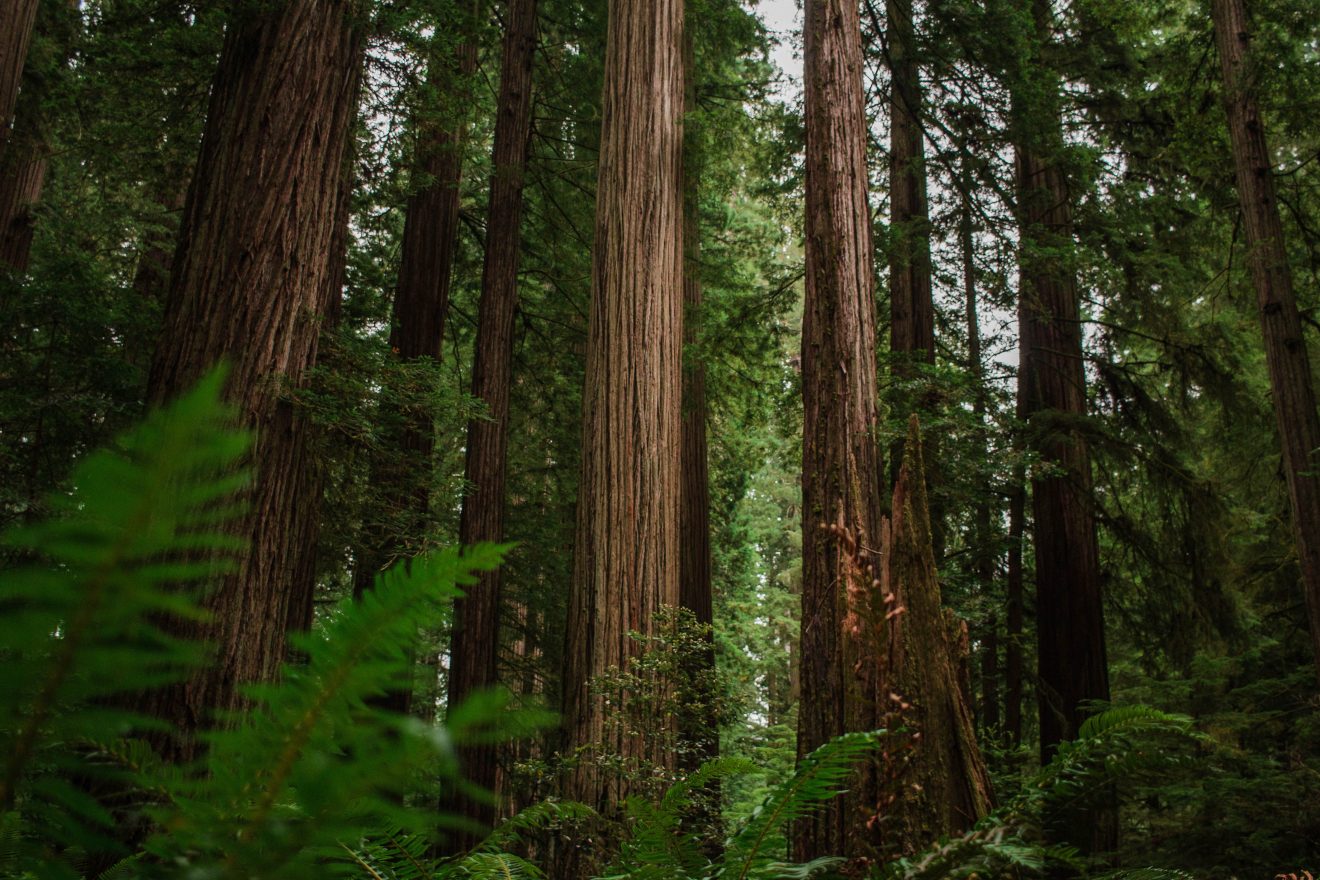 Mileage: 7 + miles out-and-back | Length: 2 – 3 days | Elevation Gain/Loss: minimal
Redwood National Park has some of the best beginner backpacking campsites in the country because of their easy access. While your options are limited for a long multiday trip, you can easily link together trails to form the perfect backpacking overnight. Explore towering redwood forests, coastal bluffs, and meandering riverways. As you sleep beneath these giants, you can't help but feel the majesty of some of the tallest trees on Earth.
Why is it great for a beginner?
Many camps, like the DeMartin Backcountry Camp and Elam Backcountry Camp, are mere miles from the highway (but the redwoods block all the noise.) The Park Service has detailed brochures for each backcountry camp, so you'll know exactly what to expect. Most campsites are equipped with food storage lockers, fire pits, and even picnic tables, so they almost feel like front-country campgrounds.
You can choose your own adventure as you determine what amenities you want on your first backpacking trip. Do you only want to hike in a quarter of a mile before setting up camp? You can do that! Browse the list of backcountry campsites and then get hiking!
logistics and permits
You'll need to obtain a free backcountry permit from the Park Service before starting your hike. However, unlike many national parks, you cannot reserve these sites months in advance. The reservation period is open from two weeks to two days before starting your backpacking trip.
8. Joshua Tree National Park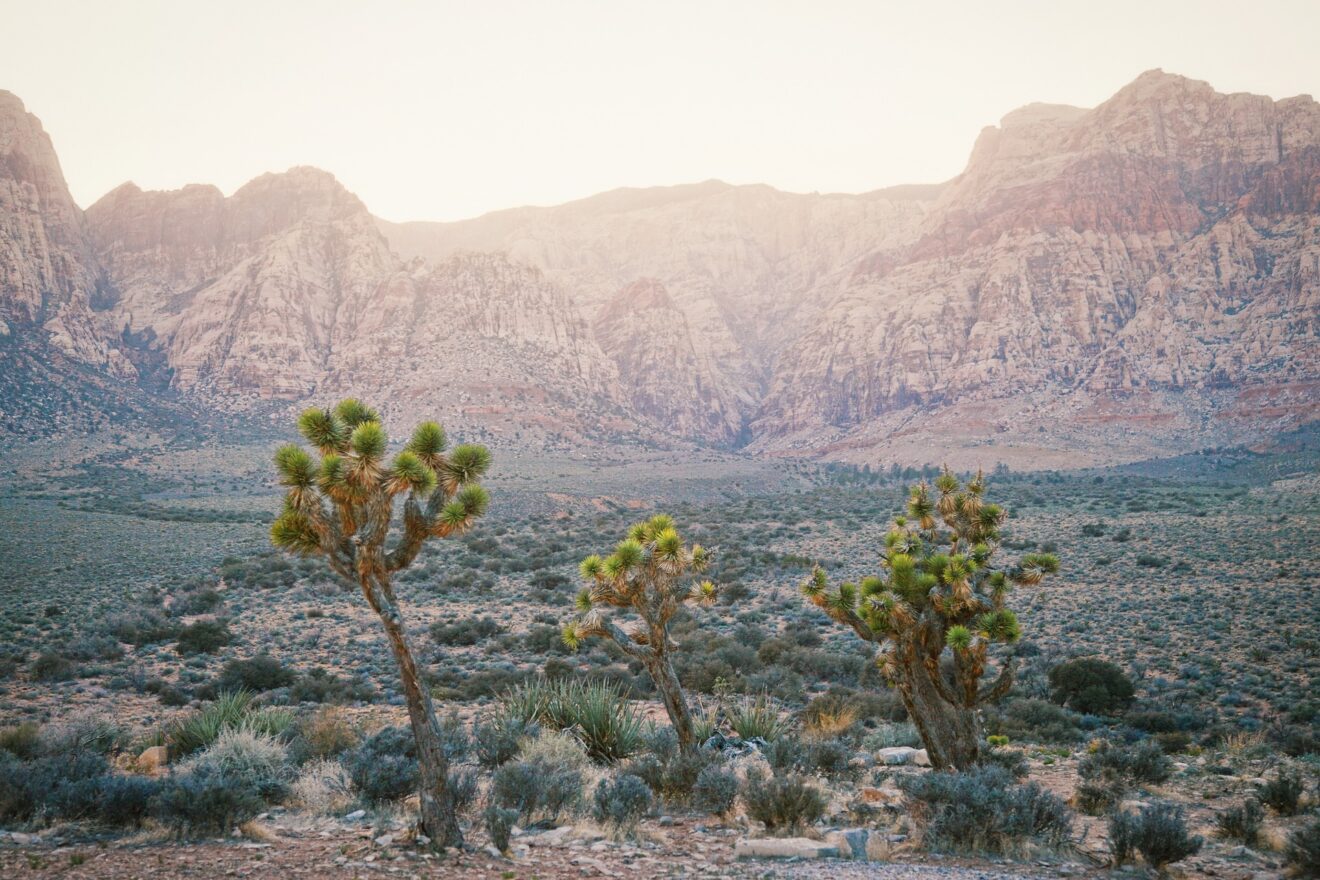 Mileage: 8+ miles point to point | Length: 2 – 4 days | Elevation Gain/Loss: minimal
Joshua Tree National Park is a lesser known desert gem tucked away in Southern California's inland, not far from the metropolitan areas of San Diego and Los Angeles. With it's iconic Joshua Trees, groves of cactus and yucca, and abundance of desert wildlife, this park is not one to miss. Joshua Tree offers backpacking trails ranging from easy to moderate to difficult, depending on what you're up for, with many that provide stunning views of sandstone and granite monoliths and secluded desert oases.
Why is it great for a beginner?
Joshua Tree can be a great destination for your first backpacking trip because of the ease of following the trail and the opportunity to pick whatever difficulty of trail you'd like. Boy Scout Trail is a mere eight miles with little elevation. You can even set up your tent after just one mile of walking and set out to explore with a lighter day pack. 
If you're very in shape, but just new to backpacking, try out the California Riding and Hiking Trail or the trail to Conejo Wells and Eagle Mountain which are more moderate options. Despite being a desert, Joshua Tree does not skimp on those backcountry views that every beginner backpackers (and backpacker of every experience level) wants to see. Don't discount this fantastic national park just because deserts aren't typically your go-to destination. With mighty rock formations, stunning night skies, flourishing flora and fauna, and some of the best open vistas in the area, you won't regret taking your first backpacking trip in Joshua Tree. 
Logistics and Permits
Joshua Tree comes with some hefty logistics, but lucky for you, they aren't concerning  food storage or permits. There aren't bears in Joshua Tree, so bear canisters are not required. Plus, this is one of the only parks where you do not need a permit to backpack! Instead, backpackers are required to register at one of the backcountry registration boards scattered throughout the park so that ranges roughly know who is in the backcountry and where you are (and so they don't tow your car).
Despite the ease of these logistics, Joshua Tree does requires some additional advanced planning. There are minimal water sources at campgrounds and none in the backcountry, as all natural water sources (which are scarce) are reserved for wildlife. If your trip is more than a few days long, you will need to drop a water cache in advance, which can be a tricky process, especially as your life might depend on doing it correctly.
Guided Trip options
Because of the desert logistics involved with backpacking in Joshua Tree, a guided tour for a first time trip would be a great option for those new to backpacking. You can check out Wildland Trekking's backpacking trip in Joshua Tree that has some difficult milage and elevation, but would be just fine for an adventurous beginner. We'll take care of all the logistics, including water and meals, so that you can get a taste of what desert backpacking is like. 
All-inclusive Backpacking Adventures