Backpacking Patagonia

Patagonia, with its jagged granite peaks and immense glaciers, is one of the world's wildest and most pristine regions. Spanning the southern regions of Argentina and Chile, Patagonia offers a wide variety of landscapes and wildlife and, despite its vastness, hiking there can be a very accessible activity. In this guide, we offer an overview of the best hikes in Patagonia and share some tips on how to make your Patagonian trek absolutely unforgettable.
The Best Time to Hike Patagonia
While summer is Patagonia's most popular hiking season, spring and fall also attract many hikers. Here is a brief overview of each season:
December to February (Summer): Summer is Patagonia's peak season for hiking, as the days are the longest, and temperatures are often in the 60s. However, winds are also strong during this time of year. Rainfall is also fairly common, although not as intense as in fall.
March and April (Fall): Some hikers prefer the fall to the summer for its slightly cooler temperatures, smaller crowds and less intense winds. However, precipitation is also high during this time of year, so you'll need to pack and plan accordingly. Visitors who come during the fall can also witness the leaves turn bright red, orange and yellow, which contrasts beautifully with the glaciers and granite.
September to November (Spring): Hiking or backpacking Patagonia in the springtime allows you to enjoy the region before the crowds arrive. The weather will be cooler, with highs in the 50s, so you'll have to pack warmer clothing. Hikers who come in the spring will experience less precipitation and wind than during the summer months.
Explore Your World. Award Winning Hiking Guides
Best Backpacking Hikes in Patagonia
If you've never been backpacking in Patagonia and are wondering where to start, we recommend Torres del Paine, a national park located in Chile. It is widely considered to be Patagonia's most popular hiking destination, and there are three trek options available:

W Trek: This 50-mile trail is the park's most visited destination and takes three to five days to complete. It passes several of the park's top sights, including Frances Valley, Grey Glacier and the Torres, from which the park gets its name. During peak season, this route is packed with day hikers, big tour groups and independent hikers, but the sights along the route are undeniably breathtaking. You'll even have the chance to hike on prehistoric glaciers and kayak in a glacial lake around icebergs.
O Trek: Known also as the Circuit, this trail follows the same path as the above-mentioned W Trek but goes around the famous Cordillera del Paine, making the journey 18 miles longer than the W Trek. Typically completed in six to nine days, hikers will spend two to three nights visiting the back side of the park, which provides more peace and quiet and a chance to see a greater variety of landscapes. Traveling on the back side requires hikers to go over Paso John Gardner, a mountain pass that can difficult to cross in poor weather, low visibility and high winds. This trek is a good option for hikers who want more of a challenge and more solitude.
Q Trek: The longest trail in the park, the Q follows the O and includes an extra day hiking Refugio Paine Grande's south side, along the beautiful Lake Pehoe. As relatively few visitors hike this section, you'll be able to enjoy solitude while taking in some of the park's most stunning views, namely the gorgeous Cordillera Paine towering over Lake Pehoe.
In addition to the hikes in Torres del Paine, Patagonia offers many other popular hikes, including:
Cerro Castillo: This hike offers stunning views of Cerro Castillo, a magnificent mountain covered in white glacial ice, as well as great views of painted mountains and canyons along the way. This one-day hike is considered to be moderately difficult.
Huemul Circuit: The Huemul Circuit, which takes four days and requires GPS to navigate, is one of Patagonia's more challenging hikes. However, its solitude and breathtaking views of the Southern Patagonian Ice Field make this strenuous hike worth it.
Fitz Roy: Fitz Roy, a famous formation that is featured on the logo of the Patagonia clothing company, is perhaps the region's most recognizable sight. You can begin this one-day trek from the town of El Chaltén. The trail is mostly flat and easy, although the final hour is very strenuous.
What to Pack for a Patagonia Backpacking Trip
When packing for your Patagonia trip, keep in mind that the weather there is unpredictable and constantly changing. People often say you can experience all four seasons in a single day — and on any day of the year — meaning that layering is key. Refer to the packing list below to learn about what to wear when backpacking in Patagonia: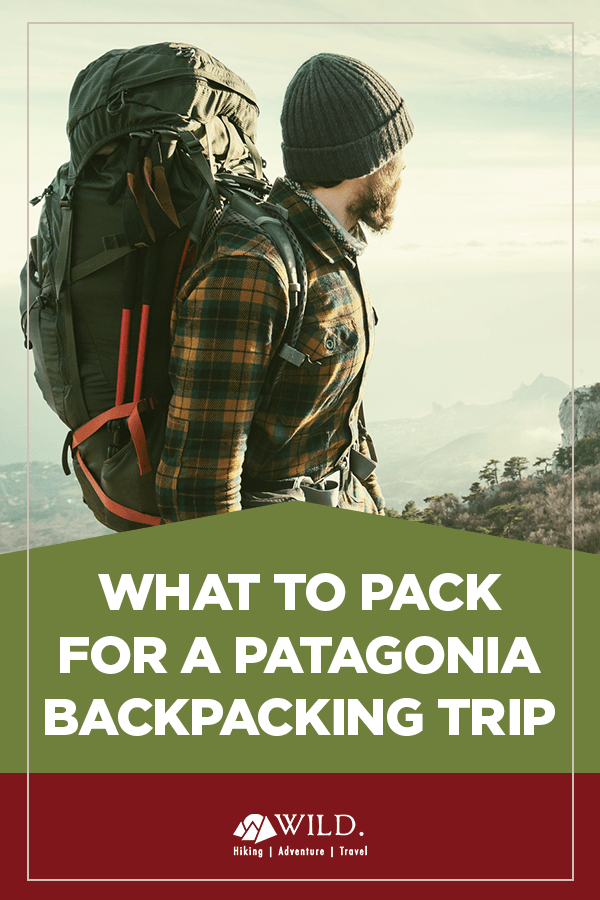 Sun hat: As Patagonia is windy, you'll want to bring a sun hat that you can secure to your head.
Water-resistant hiking pants: Make sure to pack hiking pants that are lightweight and allow for maximum movement when hiking on uneven, rocky trails.
Three lightweight, long-sleeved shirts: These will allow you to layer. If your trip to Patagonia includes time in Santiago, you may want to bring some shorts as well, as summer temperatures there can reach into the 80s.
Two sweaters: These items will further help you layer during the cooler hours of the day.
Lightweight down jacket: This item may come in handy when the day warms up or if you heat up during a hike.
Winter gloves and winter hat: Even in the summertime in Patagonia, the wind and rain can be quite inhospitable at higher elevations.
Long underwear: Lightweight long underwear shirts and pants will help to keep you warm on the trail while allowing for easy movement.
Windbreaker: A waterproof, hooded windbreaker is another valuable item when visiting Patagonia in the summer, as it can be quite rainy.
Lightweight, waterproof pants: When you encounter rain on your hike, you'll be glad you brought them.
Lightweight hiking boots: Don't even think about wearing sneakers on the hiking trail — you're going to need lightweight hiking boots with ankle support.
Heavy, warm socks: Bring two pairs of moisture-wicking, warm socks.
Liner socks: Bring one pair of liner socks to help keep your feet dry on the trail.
Sunglasses: The sun in Patagonia is intense.
Sunscreen: As the sun in Patagonia is intense, you'll want to bring some strong sunscreen.
Lip balm: The sun in Patagonia is intense. Did we mention that?
All Inclusive Backpacking Trips
What to Expect on a Patagonia Backpacking Trip
It is important to understand that Patagonia is a vast region that spans thousands of miles. To make your trip planning easier, we will break it down into smaller regions and discuss the highlights of each:
Torres del Paine: If you're visiting Patagonia for the first time, you don't want to miss out on this stunning region. Torres del Paine is on the Chilean side of the Andes mountain range and is two hours by bus from the gateway town of Puerto Natales. Most visitors to the region spend multiple days hiking on one of the park's three treks. It's one of Patagonia's most popular hiking destinations, so don't come expecting much solitude. If you are planning to hike here independently, you'll have to book campsites months beforehand.
Los Glaciares National Park: Los Glaciares is the most famous national park in Argentina and home to the famous Perito Moreno Glacier and Fitz Roy massif. Regarded as Argentina's adventure capital, the charming town of El Chaltén is the starting point for hikes around Fitz Roy, with trails leaving from town. Many Day hikes are also available, although we recommend that you take a multi-day backpacking trip to fully appreciate all the region as to offer. Three hours south of El Chaltén is the bigger town of El Calafate, which is the starting point for hikes leading to the world-famous Perito Moreno Glacier.
Chilean Lake District: Although not as dramatic as the glaciated regions farther south, the Chilean Lake District offers a beautiful landscape dotted with rivers, lakes, volcanoes and even a temperate rainforest. Visitors to the region often come for hikes in the Villarrica National Park and Huerquehue National Park, and the region is also the starting point of the Carretera Austral, the famous road that winds for 1,240 kilometers down to Southern Chile.
Northern Argentine Patagonia: This gorgeous region is characterized by stunning mountain vistas, beautiful glacial lakes and exciting whitewater rafting opportunities. Most visitors to the region pass through Bariloche, which is often called the Switzerland of Argentina. This region is home to two national parks — Parque Nacional Nahuel Huapi and Parque Nacional Lanín.
Aysen: This remote, vast region is located between the Chilean Lake District to the north and the Torres del Paine region to the south. Visitors to the Aysen region can expect gigantic glaciers, temperate rainforests, turquoise lakes and fantastic hiking and backpacking options. Less developed than either Southern Patagonia or the Lakes District, transportation and logistics can be trickier, and we recommend that you rent a car to explore the park.
Tierra del Fuego: Southern Argentina Patagonia, more popularly known as Tierra del Fuego, is located at the southernmost tip of South America. Visitors to this large archipelago usually come by plane, although it's also possible to access it by bus or ferry. Visitors who arrive by plane usually land in the resort town of Ushuaia, which is often called the "end of the world" and is a gateway town for excursions to Antarctica. Just seven kilometers outside the town is Parque Nacional Tierra del Fuego, which features some of the continent's most rugged and breathtaking landscapes.
Refugios vs. Camping
There are two primary lodging options when hiking through Patagonia:
Refugios: The more expensive lodging option, a Refugio is a rustic mountain lodge with mixed dormitories with bunk beds. It tends to include shared bathrooms that come with hot water and a shower, living rooms, a restaurant and a bar. If needed, you can usually heat a refugio with firewood. Although you'll be sleeping on a bed, you should still bring your sleeping bag because some refugios only offer a bottom bed sheet. The size of refugios range from smaller, quaint huts to larger refugios that resemble hotels.

Camping: When camping in Patagonia, you will generally be required to set up your tent in an area designated for camping, which is usually a platform or a field. If there happens to be a refugio by the campsite, those camping will be able to access the bar, restaurant, bathroom, showers and store if these amenities are available. If you plan to cook while camping, you will have to do it at one of the campsite's cooking shelters. Although there is always a bathroom available at these campsites, they vary greatly in style and can be anything from an outhouse without showers to proper bathrooms with hot showers and flush toilets.
There are three common camping options in Patagonia:
Regular Campsite: Many campsites in Patagonia consist of a camping field where you must pitch your own tent.
Platform: For this camping option, you will be pitching your own tent on a wooden platform that is elevated above the ground. Meals may be included, although this varies from campsite to campsite.
Supported camping: If you're willing to pay a bit more and make a reservation ahead of time, you can rent an already installed tent, sleeping bag and mattress at some campsites. If you're interested in camping but aren't fond of hauling around a complete backpacking setup, supported camping might be the right option for you. Full board is included at some campsites.
When hiking or backpacking with Wildland Trekking, we will take care of all your accommodations.
Why Backpack Patagonia With Wildland Trekking
There are many reasons to choose Wildland Trekking for your backpacking adventures:
Great reviews: Over 10,000 hikers join our tours every year, and we are the top-rated company on five different national park Trip Advisor pages.
Personalized experience: Our backpacking and hiking tours have an average of five to ten guests — and never more than 12.
Professional guides: We are committed to hiring and training only the best guides in the industry.
Exceptional food: We provide hearty, delicious meals that are customized depending on the preferences of the group. We also accommodate a variety of specialty diets.
Top-of-the-link gear: We provide only the best equipment, which includes Saprey and Deuter backpacks, Sierra Designs sleeping bags and MSR stoves and cookware.
Comprehensive risk management: Our guides are all either certified EMTs or Wilderness First Responders and all carry a first-aid kit, satellite phone and comprehensive list of medical protocols.
Forgiving refund and transfer policy: Whereas some tour companies require 50 percent or higher non-refundable deposits, we only ask for a $500 deposit. Also, we offer a tiered refund policy that lets you cancel more than 60 days in advance with just a $100 administration fee.
Friendly customer service: Our 12 knowledgeable Adventure Consultants, all of whom are experienced hikers and travelers, are ready to assist you with finding the right trip and preparing for it.
All-inclusive tours: All gear, meals, transportation fees and permit fees are included in the trip price.
Apparel and gear store: Wildland Trekking owns an online apparel and gear store to help you prepare for your trip. Outfit your trip from the comfort of home!
Wide variety of tour options: Our offerings range from challenging, off-trail backpacking excursions to on-trail, moderate backpacking and hiking trips to basecamp- and inn-based hiking trips. We offer adventures to destinations all over the country from California's Sierras to North Carolina's Great Smoky Mountains. Our international destinations include Iceland, Nepal, Peru, Ecuador and Patagonia.
Mission to conserve: We donate generously to conservation efforts around the world, so whenever you hike with us, you're helping to conserve natural landscapes for future generations.
Discounts on future trips: After you join us on a trip, you and your family will receive a 10 percent discount on all future trips with Wildland Trekking.
High marks from the BBB: We have an A+ rating from the Better Business Bureau.
If you have any questions about our tours or would like more information on how to backpack Patagonia, contact us or learn more about our trips on our website.