Astral Pisgah Hiking Boots Review
Join us as we review the Astral Pisgah hiking boots from top to bottom after in-depth field testing with Wildland Guide Liz Lucas.
As a multi-day backpacking guide for Wildland Trekking leading many of our USA hiking vacations, it's imperative that I have good footwear that's going to hold up to a variety of outdoor adventures. In particular, I've had a hard time finding a durable, winter/summer hiking boot that is light and can handle all the types of weather we see during those seasons. In the winter, for example, my primary role is to take guests into snowy Rocky Mountain backcountry via snowshoeing. This environment is particularly challenging for footwear selection as my boots need good traction, waterproofing, and (ideally) a lightweight design. A tall order – I know –  which is why I jumped at the chance to test the Astral Pisgah boots this winter season. Now, after months of tackling a plethora of conditions, I'm happy to report that I've been pleasantly surprised with the Astral Pisgah boots and how well they have performed in adverse conditions.
Let's take a closer at this performance along with important features and specifications in this Astral Pisgah boot review.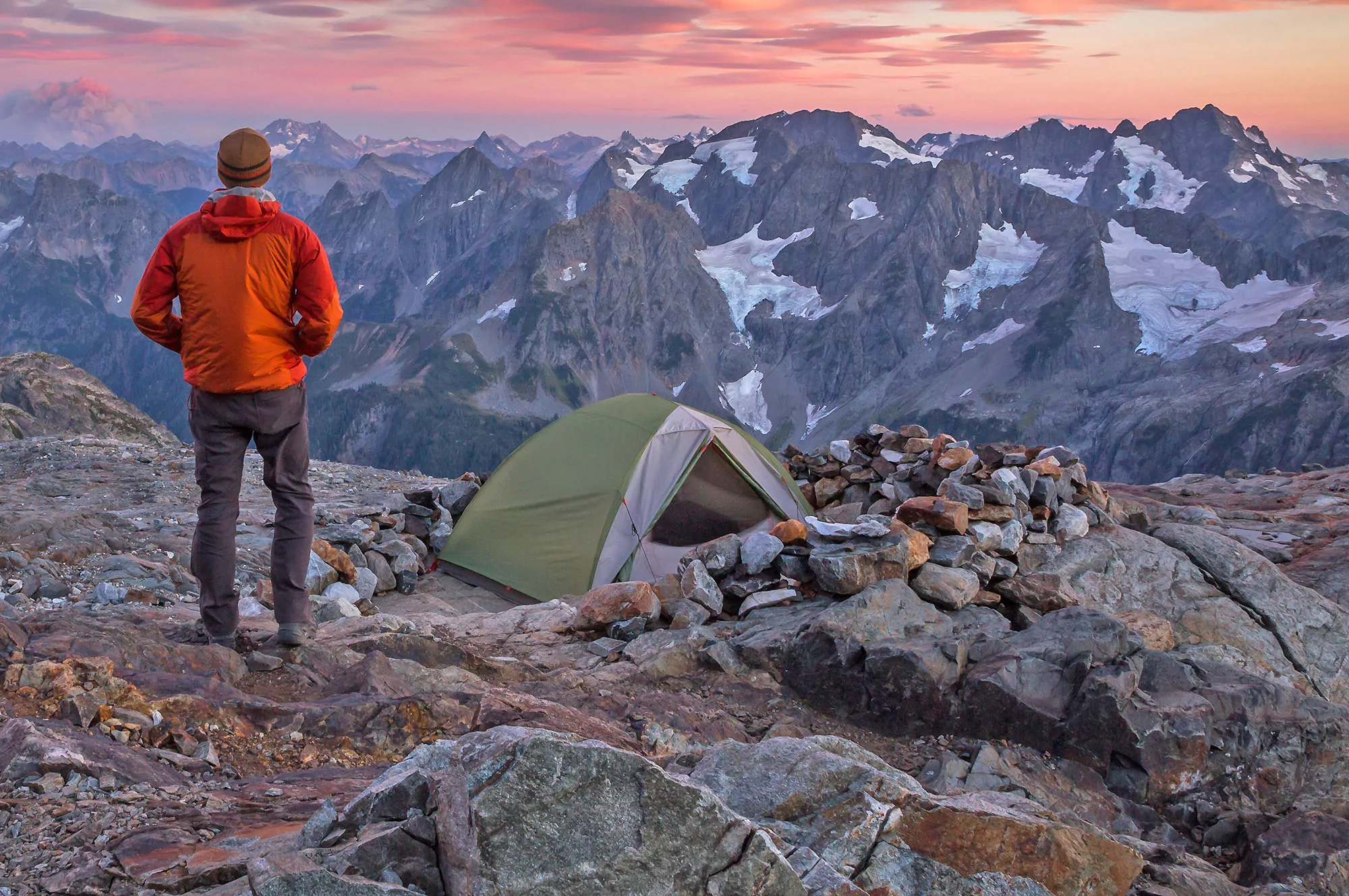 These boots are branded as "casual performance" footwear. Durable and waterproof materials with an eco-friendly emphasis on using recycled materials make these boots a highly effective addition to your hiking kit. Let's look at the specifics:
Price: $175.00
Boot Type: L

ightweight, mid-rise – sits above ankle

Weight: 

Women's (tested): 10.5 oz per boot
Men's: 12.8 oz per boot

Material Information:

Uppers: 100% Recycled Polyester with waterproof/breathable membrane.
Midsole: EVA foam and medium arch with Top Shank™.
Outsole: Effective 5mm lugs made from G.15™ high friction Rubber. Non-marking.

Waterproofing: Fully waterproof
The Astral Pisgah's unassuming design is perfectly at home in town yet packs a wallop in the backcountry with several specialized features. A durable yet waterproof upper paired with a high-friction outsole and seasoned with an eco-friendly approach make these boots a solid addition to most hikers' kits. Specifically, the Astral Pisgahs are intended for everyone from casual day-trippers who don't want to change their footwear before going out with friends to more serious hikers looking for a burly, lightweight boot that will keep up with them no matter where their adventures take them.
Notable Features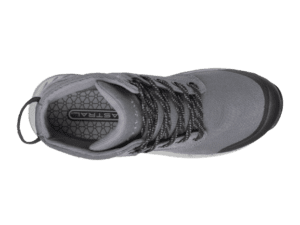 The Astral Pisgah hides several highly specialized features within its uncomplicated yet aesthetically pleasing design. Let's take a closer look at these features to truly understand how these boots can steal the show in the backcountry.
The polyester upper hides a 100% waterproof membrane and is also 100% recycled.
Astral's proprietary G.15 high-friction rubber makes the outsole incredibly grippy and durable. Burly 5mm lugs also increase traction in snow, mud, and other slippery conditions
The stitching and material all show excellent quality and are especially abrasion-resistant.
Astral was founded in 2002 by Philip Curry with the mission to provide wilderness gear that was high performance yet low environmental impact. With this mission in mind, Astral started by being one of the first in the industry to eliminate toxic PVC foam from its personal flotation devices. The industry as a whole soon followed suit, and Astral continued on to apply its ethical and quality build process to footwear. 
With their commitment to excellent and environmentally friendly materials, Astral now offers a wide range of river and trail footwear. These award-winning options use recycled polyester wherever possible, as well as significantly less glue and toxic material. Astral started in North Carolina and continues to run a biodynamic farm and give back to the land. Since its birth in 2002, Astral has earned many certifications, including the bluesign® third-party certification process to conserve water and soil through every aspect of the company's business.  
THE TEST – QUICK OVERVIEW
I put these boots to the test in the Colorado Rocky Mountains during winter while guiding Wildland Trekking's snowshoe trips.
The trails were covered in snow, which made it great to test the traction and waterproofing on the Pisgah. And these boots encountered everything from icy sub-freezing terrain to wet conditions brought on by melting snow along with slush and puddles.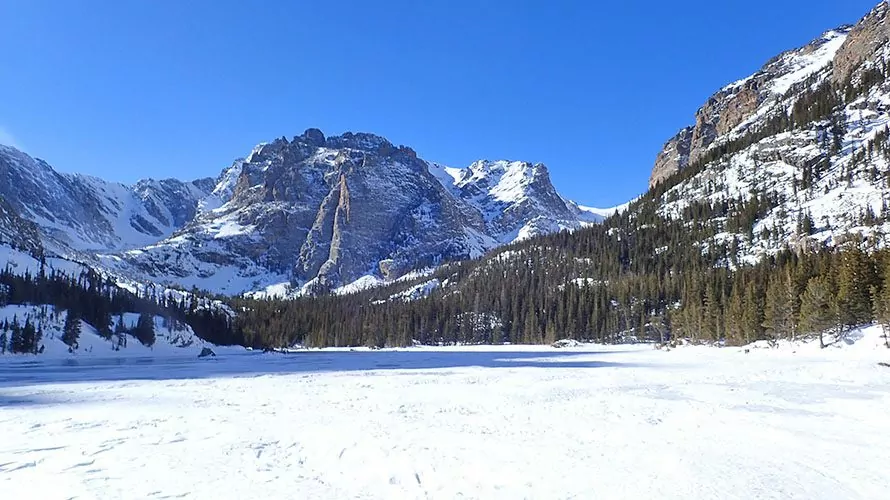 The Review
Now that we've introduced the Pisgah boots and discussed where my testing took place, it's time to jump into the full Astral Pisgah review. I'll cover important performance categories below and give each category a rating from 1 to 5 – where a 5/5 is the best rating on our scale.

Durability – 5/5
I've been very impressed with the durability of the Astral Pisgah boots! The stitching, recycled polyester, and G.15 rubber outsoles have all performed fantastically, and I see almost no sign of wear despite all the rigorous testing that they've been subjected to. I've taken these boots through the mud, snow, and dense backcountry woods, and they still look like they are brand new!
The picture to the right shows the boots drying off after a burly mountain hike in the winter, and they're almost no visible signs of wear except for slight scuffing on the toe cap. So top marks to the Astral Pisgah boots for durability; these boots are bombproof.
Waterproofing – 5/5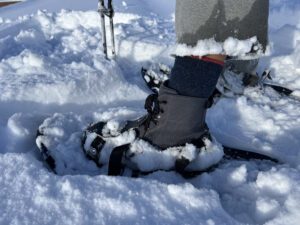 By far, my favorite and most impressive feature of the Astral Pisgah boots is waterproofing. The recycled polyester upper doesn't seem all that waterproof at first glance. After all, many casual footwear options utilize polyester without waterproofing which makes us associate the material with wet feet. The Pisgah boots certainly put their foot down on that stereotype, however, and the waterproofing membrane performed flawlessly.
My testing involved hiking/snowshoeing for hours and hours in deep snow. Yet, despite the constant exposure to seeping, melting snow and slush, my feet always finished bone dry. This is a monumental feat, and I'd never encountered a pair of boots that could perform as well when continually exposed to water. In fact, this is the first time in my career that my feet have come away completely dry after multiple hours of snowshoeing.
What makes the waterproofing even more impressive is the fact that the Pisgah Boots manage to achieve such effective waterproofing while maintaining a very lightweight design – which we'll discuss next.
Weight/Bulk – 5/5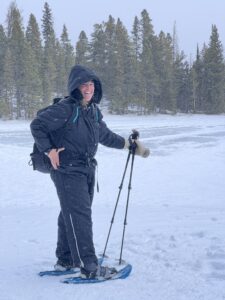 The majority of burly hiking boots on the market with comparable durability and waterproofing tend to be heavy and bulky. The Astral Pisgah boots, however, are very lightweight and sleek at only 299g/10.5 oz per boot. 
For the most part, these boots felt very nimble and never held me back while exploring the Rocky Mountains. From hiking to snowshoeing, they easily kept up with me without feeling clunky or bulky. I'm very impressed with the build quality and durability Astral could commit to the Pisgah boots without making them overly heavy. However, the low weight comes with a tradeoff, and these boots don't include quite as much plush padding and support as other options – we'll look closer at this category next.
Overall Comfort/Support – 3/5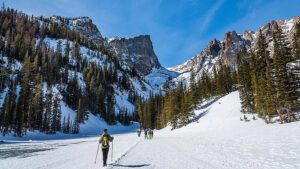 I was a little surprised by the initial rigidity of the Pisgah boot material when I first slipped them on. These days, most hiking boot materials have done away with the infamous break-in period and fit comfortably straight out of the box. These boots, however, definitely feel stiff and uncomfortable at first. But I'm happy to report that they eventually conformed nicely to my feet after the first few uses/hikes.
After this break-in period, the polyester canvas upper became much more pliable. It molded to the shape of my feet and moved more freely with each step, shifting my outlook from thinking of them as "stiff boots" to feeling that these are "my boots."
As for support, as mentioned in the weight/bulk section, the Pisgah boots feel to have sacrificed a little padding and cushion to maintain a lightweight design. The upper portion of the boot lacks a thick liner and padding, creating a minimalist feel that folks with sensitive feet or ankles may have a hard time adjusting to. For my part, I noticed a little chaffing/pressure on my upper ankle – but this dissipated over the first several hikes as I broke in the shoes. Below the foot, I feel that the Pisgah boots are solidly midrange in terms of arch and overall foot support over the trail. I can definitely feel the shank insert supporting my foot, but not to the same level as heavy-duty boots with a long list of foot support technology and extra thick outsole padding.
So for my purposes, I love the Pisgah boots and believe that they offer just enough comfort and support to complement the very lightweight design. However, I fully acknowledge that some hikers may prefer a slightly heavier design in exchange for more cushion.
Warmth – 3/5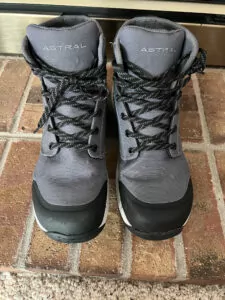 Don't let my winter testing fool you; the Astral Pisgah boots are primarily designed as a 3-season boot, and warmth retention is not a priority with these boots. To that end, they lack insulation or cushioning to aid in heat retention. That said, I was pleasantly surprised that an extra-thick pair of socks combined with these boots was all I needed to stay warm and comfortable in the snow. This is partly due to the Pisgah boot's excellent waterproofing that kept my feet dry and warm. 
So overall, I'm confident that these boots will perform faultlessly on cool spring and autumn hikes. When the temperatures drop into the 40s Fahrenheit or lower, however,  definitely pack an extra pair of warm socks to keep your feet comfortable. 
Price – 4/5 
At $175.00, the Astral Pisgah boots are very competitively priced. Many premium hiking boot options on the market run well over the $200 mark. Now don't get me wrong, I fully appreciate that $175 is still a hefty investment. But for the fantastic waterproofing and durability that I encountered while testing – two qualities that are of the utmost importance for hiking guides – I feel that the Astral Pisgah boots are well worth that investment. Furthermore, Astral is fully committed to ethical and environmentally-sound products and business models, and those are business practices that I don't mind supporting at all. 
Bringing It Together
We've discussed every aspect of the Astral Pisgah boots in this review, but what does it all mean? Well, it means that these are a wonderfully durable and waterproof pair of boots that are ready to tackle almost any type of terrain, and they'll hold up season after season. They're also classy enough to wear around town yet technical enough to tackle tough scrambles and hikes in the backcountry, and the low-weight design encourages light and fast adventuring. However, comfort takes a slight hit to keep these boots lightweight. Let's sum up all the pros and cons below: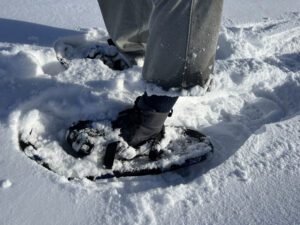 Pros:
Lightweight

D

urable

Excellent Waterproofing

Recycled polyester

Minimal glue

Great traction
Cons:
Less comfortable than other boots on the market

Stiff out of the box – need a break-in period.
What is The Pisgah Boot's G.15 Rubber?
All good hiking boots require a tough and durable outsole – the rubber on the bottom of the shoe. Vibram, for example, is a traditional material utilized by many manufacturers across the industry. However, Astral wanted to push the benchmark higher and developed its own G® Rubber. Let's examine what this material brings to the Pisgah Boots.
Grippy to an Extreme
First off, a little history. Astral footwear first hit the market using Stealth Rubber from the brand Five Ten. That material was also used for rock climbing shoes from Five Ten (5.10), where stickiness was an absolute necessity. But Astral decided to go further and develop something even more sticky and even more durable. That work resulted in the G® Rubber, with one of the highest friction coefficients in the hiking market (aka, super grippy).
Durable and Abrasion Resistant
The rubber variant used for the Pisgah Boots, G.15 rubber, blends that extreme grip with fantastic abrasion resistance and mobility. This means that the Pisgah outsole holds up very well to scrapes and scuffs – which we encounter a lot on those rocky trails – and has just enough flexibility to maximize contact with the ground, boulder, trunk, or whatever you're stepping on. The result is footwear with astonishingly technical capability for a performance-casual boot.
Final Thoughts
I'd heard about the Astral brand making moves into the hiking shoe field, and I was delighted when the opportunity arose to take them into the field. Overall, the Astral Pisgah boots exceeded my expectations. Its high-quality rubber sole allows for excellent traction in all environments, from the dry sand environment to ice and snow – trust me, I tested it everywhere! Additionally, the recycled polyester canvas material combined with a waterproof membrane kept the boots remarkably light and waterproof no matter how long they were exposed to water – on a several-hour snowshoeing trip with constant snow meltage, for example. My only warning is that if you need specific insoles or significant support, consider adding your own insoles to the Pisgah boots for optimal comfort. 
In conclusion, it's my opinion that the Astral Pisgah boots are ideal for anyone wanting a casual hiking boot that will get you through any hike. They're lightweight, durable, and exceptionally waterproof – exactly what I love in hiking footwear, and the Pisgah boots have earned their place among my go-to hiking gear.