Altra Lone Peak 5 Review
Join us as we review the Altra Lone Peak 5 from front to back after in-depth field testing with Wildland Guide Dan Purdy.
These shoes are designed for runners and hikers who want to move fast and light. They feature excellent grip and durability for long days on the trail but minimal padding and support to cut down on excess weight and bulk.
Weight (pair): 1.15 lbs. (women's) and 1.375 lbs. (men's)
Upper: Nylon Mesh
Midsole: Dual-Layer EVA
Outsole: MaxTrac Rubber
Heel-to-Toe Drop: 0 mm.
MSRP: $130.00
Lone Peak 5 Intended Use
The Lone Peak 5 is first and foremost designed as a rugged trail-running shoe. The rock plate provides immense protection from sharp rocks and branches on the trail, while the outsole is robust and offers plenty of traction to tackle technical or muddy terrain. The toe-box is noticeably spacious and allows your toes to spread out naturally without any pinching or constriction.
In addition to phenomenal trail running, the Lone Peak 5 also functions superbly as a lightweight hiking/backpacking shoe. As a backpacking guide, I had the opportunity to test these shoes both in their trail-running and hiking capacity, and my review will cover both of these aspects.
Notable Features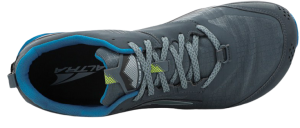 The Lone Peak 5 includes several important features that significantly increase its versatility and comfort. These features include:
Wide Toe Box: Extra space for toes to spread out without getting pinched
Rock Plate: Protect the underside of your feet from sharp rocks
Gaiter Trap: Attachment points to properly secure an ankle gaiter
Altra Running Background
Altra started with two high school running friends – Brian Beckstead and Golden Harper. Over time, they both became focused on developing a running shoe that naturally fit their feet and wouldn't hold them back. From this idea, Altra's signature FootShape design was created to match the foot and toes' natural shape. At the same time, the zero-drop concept was also deployed to eliminate any height difference between the heel and toes and provide a balanced, natural step to the newly launched Altra Running Shoes (established in 2009)
Ever since its inception, Altra has been shaking up the footwear industry with its incredibly comfortable yet powerfully built running shoes. Innovative shoe designs and cushioning techniques have pushed Altra to the very front of the trail-running pack, and we're extremely excited to see where they go from here!
THE TEST – QUICK OVERVIEW
I tested these shoes during my summer guiding season in New England – specifically, the White Mountains of New Hampshire – and I feel there's no better place to test footwear. For those who haven't yet explored this region, let me elaborate.
The White Mountains, especially the Presidential Traverse where my guiding season was centered, are extraordinarily rocky. Miles of broken, loose rock dominate almost every trail, while famously unpredictable weather often contributed mud or slick surfaces to my hikes. Where better to test some trail shoes?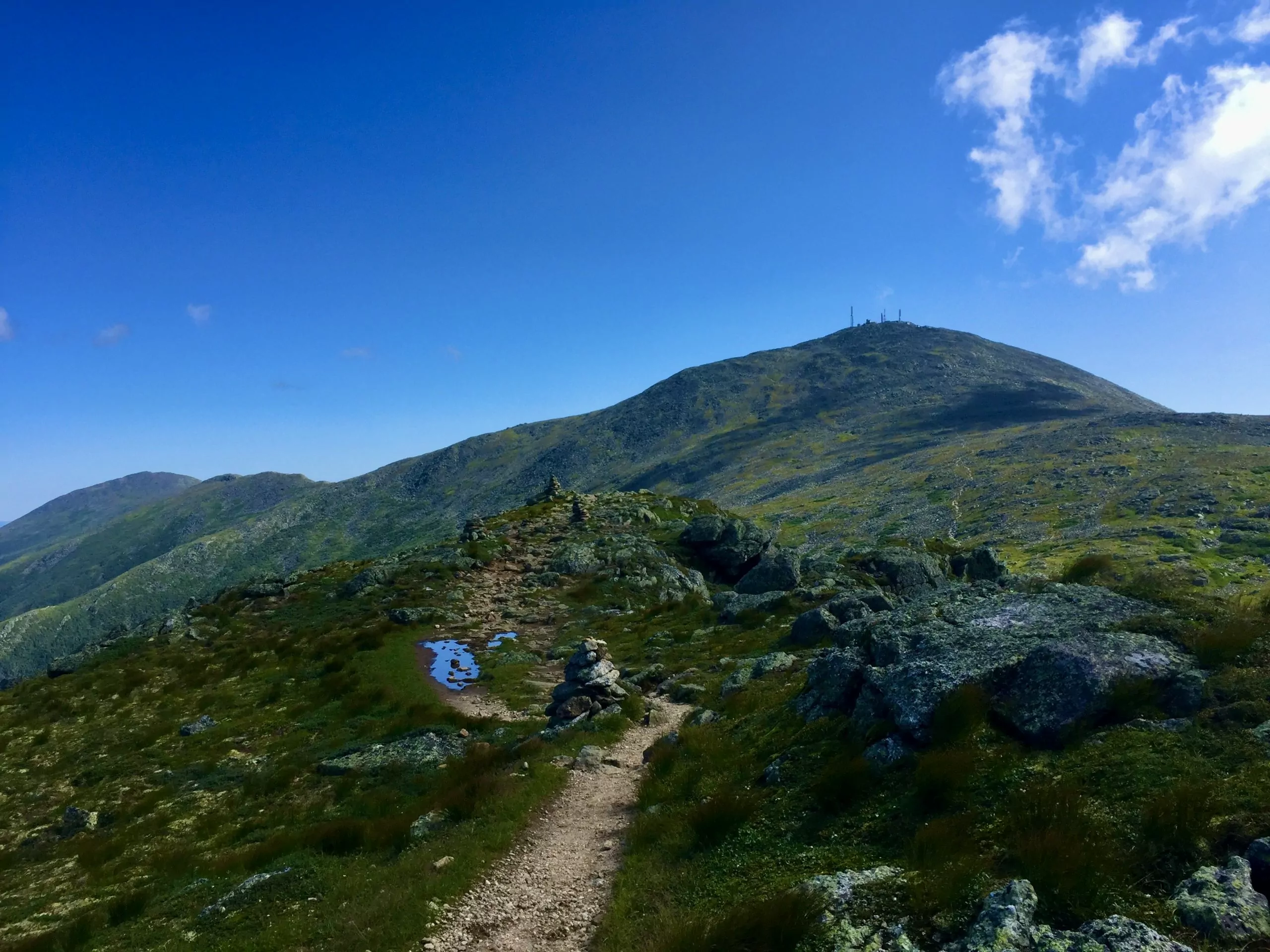 The Review
Now it's time to dive into the specifics of this Altra Lone Peak Review. I'll cover the primary characteristics of trail running shoes and how the Lone Peak 5s measured up and performed in the field. I'll provide my rating on a scale from 1 to 5 for every category, with a 5 being the best. Read on to learn how these shoes held up to a season of hiking and running in the mountains!

Fit And Comfort – 5/5 
Let's start this Lone Peak 5 review with the fit and overall comfort, and to me, this is where the Lone Peak 5 shines. Right off the bat, these shoes felt comfortable, flexible, and ready to hit the trail, and I experienced no break-in period.
The legendary wide toe box lived up to its reputation, and my feet felt like they had plenty of room to flex and breathe. However, keep in mind that I am very wide-footed, and I know that many folks with narrow feet find the Lone Peak 5 too roomy, and their feet slide around with every step. Therefore, my opinion is that these shoes are perfect for runners and hikers with large feet who often suffer from pinching or pressure in conventional shoes. If your feet run on the slimmer side, then the Lone Peak 5 may not be quite the right fit for you.
Also, a note on fit, Altra recently modified their sizing scheme with a dedicated "wide" size. Therefore, the regular-sized Lone Peaks aren't quite as enormous as their predecessors, and folks with extra wide feet (such as myself) should opt for the "wide" version of the Lone Peaks.
Traction – 4/5
The Lone Peak 5's traction over slick rock was astounding and saved me from a painful ground encounter more than once. This is in part due to the rubber's improved stickiness and the sole's very flexible design that allows you to have plenty of surface area contacting the slick rock to boost your friction.
In deep mud, I found these shoes to have slightly less traction than other options I've tried in the past. The bottom lugs on these shoes are well defined and perform well, but they're not as pronounced as the Salomon Contagrip Lug pattern – for example. But overall, the Lone Peak 5 lug pattern did well and perfectly complimented the shoe's overall light and fast design.
Durability – 4/5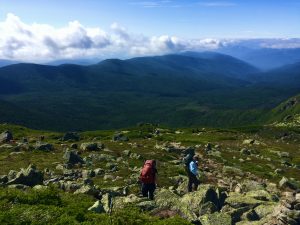 I'll admit, the only reason I upgraded from the Lone Peak 4's to the 5's is because my last pair began to fall apart as soon as I started hiking in the Presidential Range. But I'm pleased to report that Altra made several subtle but pivotal upgrades to this shoe that have allowed it to stand fast in the face of rocky terrain.
First off, the part of the outsole that folds up and over your toes to form the toe-guard is now sewn in place – instead of relying only on adhesive. This is the first failure point for many shoes as the toe guard begins to peel away after extended use. Not so with the Lone Peak 5. Although not a groundbreaking change, I found the added durability very heartwarming.
The rest of the shoe follows this trend where the nylon mesh stood up to rock scrapes admirably, and the outsole shows minimal wear and zero cracks or peeling. Top marks for durability!
Water Drainage – 5/5
The Lone Peak 5's are not waterproof, so let's take a moment to discuss how they handled water. As you'd expect, any water immediately socked into the shoe, but I was pleasantly surprised by the Lone Peak's draining and drying capability.
Altra strategically placed venting holes in the shoe's middle under the wearer's arch. These holes allowed water to drain immediately – I never experienced any sloshing, even during torrential rainstorms. Additionally, the holes allowed the shoe to dry relatively quickly and much faster than a waterproof shoe.
Only chilly days, I even got a visual of the drying process at work as I witnessed steam pouring out of these vent holes. So top marks for water drainage and drying!
NOTE: Altra offers an All-Weather version of their Lone Peaks that offer more weather resistance than their base version.
Support and Zero Heel Drop – 4/5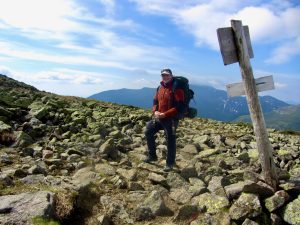 What the Lone Peak 5 offers in lightweight and flexible movement, it lacks in support, which may be its only weakness in most people's eyes.
The underfoot cushion is sufficient but not plush by any means. The minimal cushion combined with the rock plate is enough to tackle any type of terrain, but you won't get the soft underfoot feel of more significantly cushioned shoes.
Altra's main selling point for the Lone Peaks is the Zero-Drop design. This means the wearer's toes and heel are at the same level, a 0mm difference, whereas most shoes place the heel 5mm or higher than the toes. So, if you're unused to this type of design, you'll notice a distinct lack of support under the heel and midfoot. Combine this information with the fact that this shoe offers no ankle support, and the Lone Peak's minimalist roots are laid bare.
However, an exceptionally light and flexible shoe that is very responsive on the trail may be worth sacrificing a little support. It's a tradeoff that I accepted and appreciated. But if you frequently experience ankle or arch injuries, then a more supportive shoe may be a better choice.
Bringing It Together
So what does all this feedback and analysis boil down to? Well, it means Lone Peak 5 from Altra is a rugged and durable trail-focused shoe while remaining noticeably lightweight and minimalistic. You'll be able to move fast with these shoes, but don't expect much support apart from the very effective rock plate that smooths out rough terrain underfoot.
Pros
Flexible sole is very responsive on the trail
Excellent water draining and drying capability
Surprisingly durable, even on technical and rock terrain
Cons
Minimalist design is not overly supportive
0mm heel-to-toe drop is an acquired taste and may be hard to get used to
More Information About The Lone Peak 5
Let's take a closer look at a few important aspects of these shoes before we wrap up this Lone Peak 5 Review.
What is a Rock Plate?
We mentioned earlier that the Lone Peak 5's come with a rock plate – also known as a Stone Guard – but what is it exactly? As the name implies, the function is to protect your feet from sharp stones or other underfoot painmakers. This protection comes in the form of a hard plastic insert embedded in the shoe's sole.
Do the Lone Peaks Come in a Waterproof Version?
Yes! Altra offers these weatherproof Lone Peak Trail Runners for those looking for a little extra protection from the elements. What's more, Altra also offers a Waterproof Mid-Height Hiking Boot.
Final Thoughts
The Lone Peak 5 trail runner from Altra is a stellar outdoor adventure shoe. It can handle extreme use in some of the worst terrain for shoes – i.e., long days on rocky, technical trails – and is incredibly comfortable for both trail running and hiking. I found the breathability and durability outstanding compared to the long line of shoes I've tried in the past, and I couldn't be happier with my Lone Peak 5's.
However, it's crucial to note that the Lone Peak 5 is a minimalist shoe with very little cushioning and no support. Therefore, I wouldn't recommend this shoe for folks who need more arch or ankle support – either due to foot shape or injury. Lastly, the zero-drop design facilitates a very natural, barefoot-like step that may feel phenomenal or awkward for different people.
But for me, the Lone Peak 5 trail runners have permanently earned their place as my go-to pair of adventure shoes.