Mountain Hardwear Crater Lake Hoodie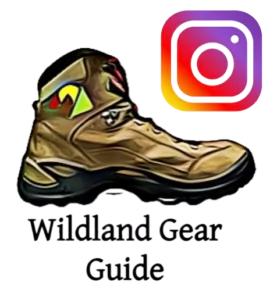 Don't forget to follow us on Instagram for the latest gear news!
Hello fellow adventurers! I'm Myriam Bishop, and I've been guiding hiking trips with Wildland Trekking for over 10 years. During that period, I've spent a lot of time leading our Grand Canyon Hiking Tours, along with Patagonia Trekking Trips and, most recently, Vietnam. During my career in the backcountry, I've come to greatly appreciate the benefits offered by a good sun hoodie. Reliable sun protection combined with good temperature regulation and mixed with a barrier against biting insects has made the sun hoodie a staple in my kit. However, finding just the right one has been a challenge, and I've tried countless types from different brands to try and narrow down the field to find the perfect hoodie for hiking and adventuring.
Therefore, I was delighted to test the Crater Lake Hoodie from Mountain Hardwear during my latest stint leading Wildland's guided Vietnam trek. This hoodie is touted as a comfortable, lightweight, and highly durable layer to offer reliable protection in all conditions. Well, my extended test in Vietnam, combined with additional excursions hiking and rock climbing stateside, pushed this hoodie to see what it has to offer, and now it's time to report my findings in this Crater Lake Hoodie review. Let's see how it did!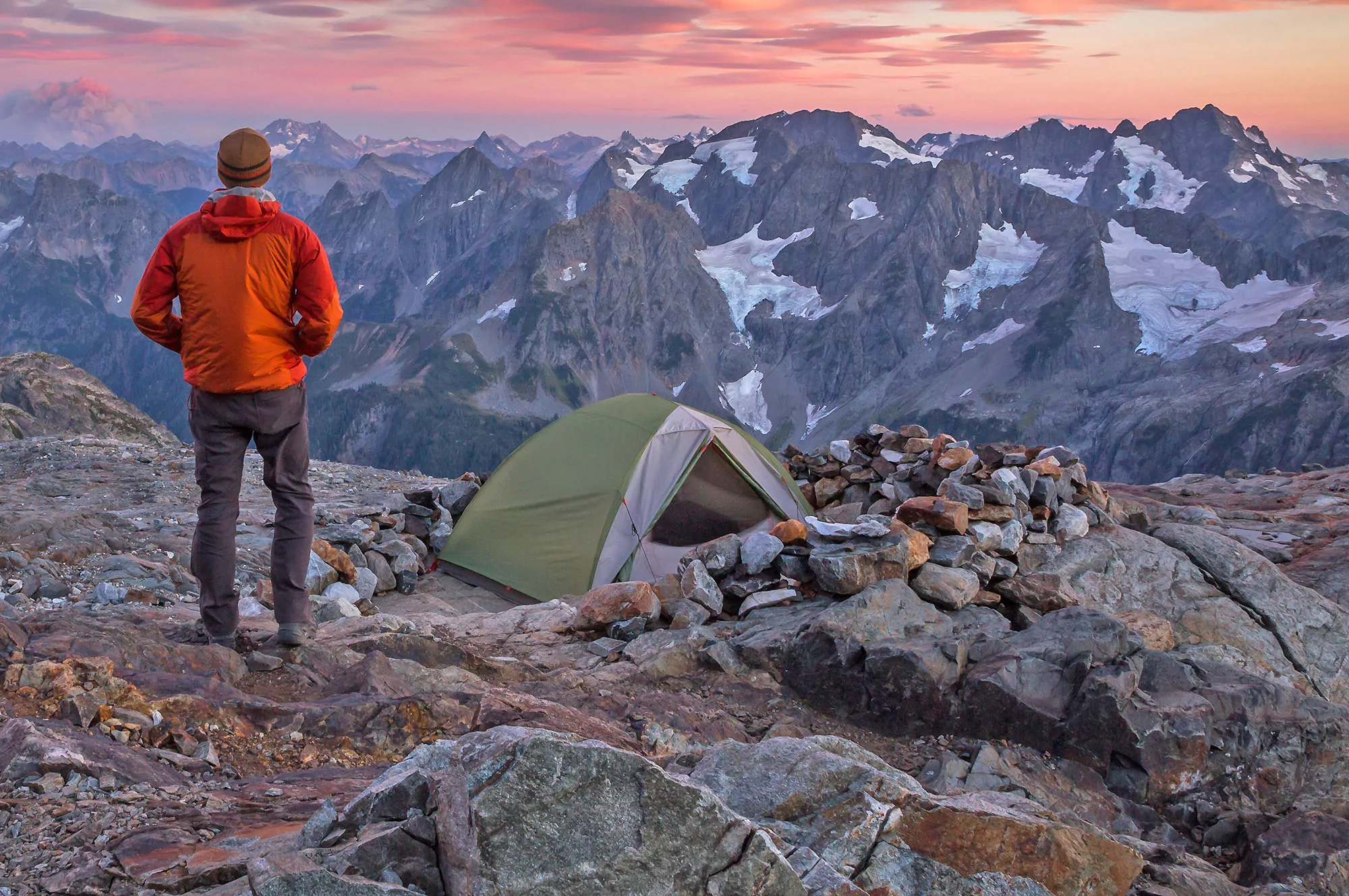 Let's start our analysis of the Crater Lake Hoodie by looking at its basic specifications and price.
Price: $65.00
Material Information: 88% Polyester – 12% Elastane
Hood: Yes
Closure: Pull-over – No Zipper
Thumb Holes: Yes
Weight: ~5.4 oz. 
Intended Use
The Crater Lake Hoodie is lightweight, features technical materials, blocks the sun, and dries quickly. These characteristics seamlessly point us toward the hoodie's target outdoor adventure environment. From a chilly day outdoors that requires an extra layer to a crystal clear day where you need a little more sun protection, this hoodie is designed to move with you and support any adventure you take on. Naturally, hiking is a perfect application for the Crater Lake Hoodie, but kayaking, rock climbing, biking, camping, and almost any sport that makes you work hard in the outdoors would be perfect for this hoodie. Additionally, Mountain Hardwear offers several snazzy color patterns that also make the Crater Lake a fun layer just around town.
Notable Features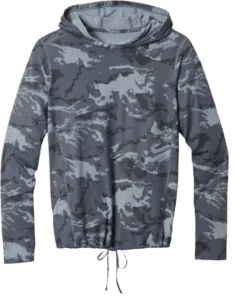 In addition to the Crater Lake Hoodie's basic specifications, it also hides several notable features that are very much worth taking a closer look at. Remember, this hoodie is specially designed for active outdoor pursuits, and the following features truly highlight that focus. Let's take a look:
UPF 50 Sun Protection – offers full coverage from the sun on those clear days. Whether you're at altitude heading up the mountain, in the desert feeling the heat, or making your way through the forest, more sun protection is always welcome.
Dropped Shoulders – provide more space where the shoulder meets the arm. This, in turn, offers better mobility and minimizes pinching and pulling to maximize your range of motion. This feature is perfect for rock climbing and other high-mobility adventures.
Extra Soft Knit – is super comfortable without sacrificing durability. This makes the Crater Lake Hoodie very easy to wear all day long without ever feeling scratchy or uncomfortable. Out of all the hoodie's features, this is probably the one I was most impressed with during my testing.
As the outdoor industry grew exponentially during the last few decades, many brands began to sacrifice the "technical" aspect of their clothing lines in order to attract more customers who didn't need purebred outdoor gear. Mountain Hardwear was established in 1993 to stand against that trend and stay true to the technical and performance-based approach to adventure clothing. Ever since, Mountain Hardwear has carved out a reputation for quality outdoor gear that never sacrifices performance or technical features. This brand exists to supply the adventurers and explorers out there, and its lineup of tough clothing and gear backs up that reputation.
THE TEST – QUICK OVERVIEW
My primary testing took place while guiding Wildland Trekking's Vietnam Trek in the Sapa region and Ha Long Bay. By and large, we encountered warm to hot temperatures with consistent humidity. Our hiking days ranged up to 10 miles or more. Additionally, I added a couple of personal boating trips and day trips to National Parks to give the hoodie a little extra mileage.
In addition to guiding, I also used the Hoodie for personal hiking and rock climbing trips during the chilly late winter in the Southwest. Therefore, I got to expose this hoodie to the full scope of conditions from the cold, dry desert to the much more humid and warm Vietnam weather.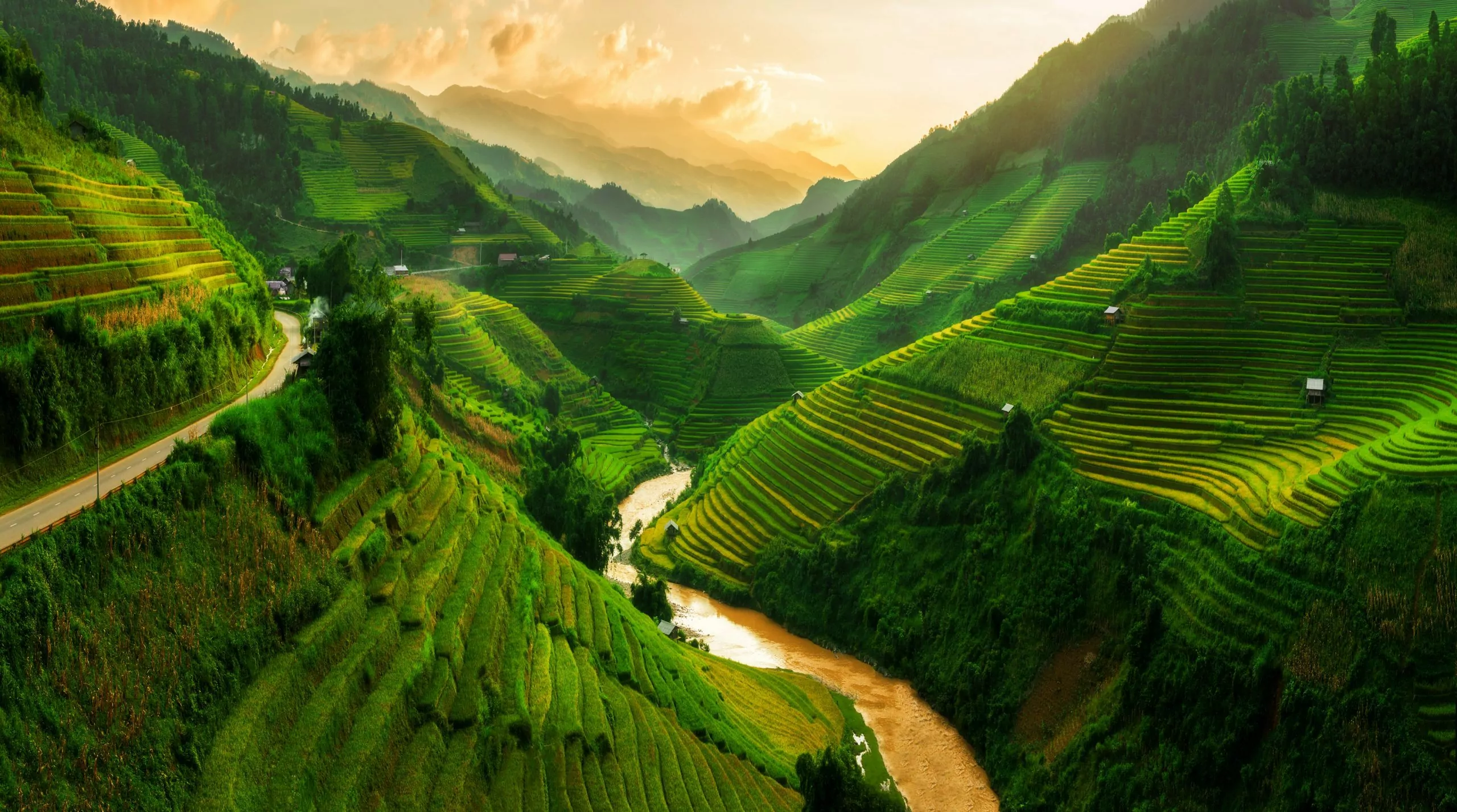 The Review
We've now set the scene. We know what the Crater Lake Hoodie from Mountain Hardwear offers, along with its features and its preferred use for the outdoors. We also discussed Mountain Hardware as a brand and a basic overview of my test. So now it's time to dive into the full Crater Lake Hoodie review. I'll cover important performance criteria below and give each category a score from 1 to 5 – where 5/5 is the best score. So let's take a look at how this hoodie did in the field!

Comfort  – 5/5
This sun hoodie is incredibly light, soft, well-cut, and comfortable. I loved wearing it and could easily keep it on all day long. I found it particularly comfortable during the cool and sunny days at the rock climbing crag, and again in Vietnam when trekking or boating under the sun. The only times when I opted to not wear the hoodie were during the particularly hot, humid, and cloudy days when it just wasn't practical. But all in all, I loved the comfort the Crater Lake Hoodie offers and I plan to continue wearing it whenever I can!
The full-sized hood was also comfortable and did a great job of moving with me and not getting in the way. I do wish that it was slightly larger to accommodate my hair when I wear it up in a bun, but I understand the pitfalls of an oversized hood. So top marks for comfort!

Durability – 5/5
For such a soft-feeling and lightweight hoodie, I was pleasantly surprised by its tough build. After all my testing while guiding in Vietnam and rock climbing in the US Southwest, I found no signs of wear. Honestly, zero pilling, abrasions, or discoloration – that is truly remarkable considering the range of activities and conditions I used this hoodie for!
I'll admit that my guiding work in Vietnam was quite as abrasive as a full season of hardcore backpacking or rock climbing. But nevertheless, these preliminary results are very promising, and I'd feel confident taking the Crater Lake Hoodie into almost any environment on any adventure and trusting that it would hold up.

Temperature Management – 5/5
The Crater Lake Hoodie isn't built to provide extra warmth, per se. Instead, a sun hoodie is designed to keep you cool and comfortable while adventuring and still provide a good barrier against the sun. Within this criteria, the super light material used for the Crater Lake does the job incredibly well.
The very soft material featured good breathability to help keep me cool while also wicking sweat and moisture away from my skin and drying quickly. All of these worked together to help keep me from overheating – especially in Vietnam's sometimes oppressive humidity.
Additionally, I also found the Crater Lake to be a very worthwhile layer in the noticeably cooler winter months in the Southwest. It doesn't compare to a full-on fleece hoodie, but as an active layer, it kept me from getting too cold or too hot while working hard rock climbing and hiking.

Quality – 5/5
I am totally in love with this hoodie! Of several lightweight hoodies I have tried in the past, the Crater Lake is my favorite so far. You can easily feel and see this hoodie's quality materials and design, and it's fantastic.
Specifically, I love the long arms and thumb loops. These help keep the sleeves in place and the dropped-shoulder design allowed for the complete range of motion with the arms. The slightly tighter hood design doesn't blow off as easily with a breeze and offers good neck coverage at the same time. Lastly, I'm very impressed with the super light material that is both durable and quick-drying (even in a humid environment). And just the fact that it comes in teal (my favorite color) seals the deal for me!
Weight and Packability – 5/5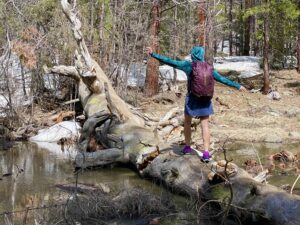 For such a durable hoodie, I was shocked by how lightweight it is. The medium size weighs a mere 5.6 oz, and the material is extremely thin and packable. These two characteristics made the Crater Lake Hoodie a breeze to travel with. I could stuff it into my pack, or a pocket, or cinched around my waist, and completely forget about it until it was time to wear. Absolutely zero bulk.
Even when I was wearing this hoodie, it always felt light and breezy, making it the perfect hiking layer.
Moisture Control – 5/5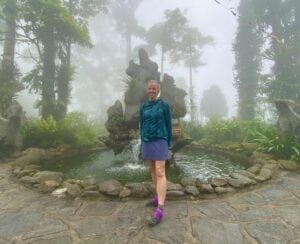 We encountered plenty of humid days with lots of sweat during my Vietnam trip. But even with all this exposure to moisture in a damp environment, the hoodie dried reliably quickly every single time. I think this is critical for two reasons. First, it simply helps keep me comfortable during the day without feeling sweat and moisture build up in the hoodie (and it allowed me to hand wash it a couple of times and be confident that it would be ready to go by morning). Second, moisture causes odor-causing bacteria to thrive, and the fact that the Crater Lake Hoodie dried so quickly means that it never once got stinky on my trip, even when I was wearing it day after day.

Price – 5/5
It's fairly rare that a piece of outdoor gear seems to be worth every penny without a "but" or "however," and this is one of those times. I found the Crater Lake Hoodie from Mountain Hardwear to be 100% worth its retail price. Every aspect of this hoodie appears to be perfectly tuned to support outdoor adventures, and I honestly didn't find a single item to complain about. Additionally, the Crater Lake is actually priced slightly below other comparable sun hoodies on the market. So after taking all this into account, I have to give this hoodie top marks for price; it's definitely worth the investment!
Bringing it Together
We've covered a lot of ground with the Mountain Hardwear Crater Lake Hoodie, so let's take a moment to recap all the highlights we've talked about. In short, this is a technical lightweight hoodie that offers superb sun protection with very soft yet durable materials that also dry very quickly. See the pros and cons below for the full recap of my testing experience in Vietnam.
Pros: 
Very quick drying – helps prevent odors
Good sun protection
Incredibly soft and comfortable
Great price
Surprisingly durable
Fun color options
Cons: 
Smaller hood design is great for function, but can limit how you wear your hair
Sun Hoodies – Why Are They So Popular?
As materials have become both lighter and more durable over the years, lightweight hoodies have become almost ubiquitous on the trails, so let's examine why they're so popular and how you may benefit from one. First off, many of us hikers may automatically think that a sun hoodie is too specialized or redundant to take on a trip. If it's warm and sunny, why not a short-sleeved top and sunscreen? And if it's chilly, why not a more insulated mid-layer? Well, a good sun hoodie slides right in the middle of those two scenarios to become a surprisingly versatile garment for the backcountry.
As their name implies, these lightweight hoodies offer sun protection without needing to deal with the chemicals or greasy feeling of sunscreen, but they also promote breathability to keep you comfortable on warm days. However, as the seasons change or you head to higher altitudes, this hoodie continues to provide a physical barrier against the sun while adding just enough warmth to cut the chilly temperatures and keep you comfortable without overheating in a bulkier insulating layer. And finally, regardless of the sun and temperatures, these lightweight hoodies continuously provide an extra barrier against insects. Put these benefits together, and the sun hoodie has carved out a niche for itself in the outdoor industry and has gained a loyal following of hikers who swear by its utility and comfort.
Final Thoughts
Intensive testing in both the USA and Vietnam have proved the Mountain Hardwear Crater Lake Hoodie to be a brilliant layer for outdoor adventures. I loved just about every aspect of this hoodie. From the wonderfully soft yet durable material to the remarkably quick-drying and low overall weight, this hoodie is a quality construction that kept up with me no matter how hard I pushed it. I found zero durability issues and numerous reasons to add this hoodie to my permanent adventure kit.
My only advice for potential buyers is to be aware that the hood is deliberately trim – so as to fit under helmets and not blow off in the wind – but it may feel constrictive to some folks. But apart from that very minor disclaimer, I believe the Crater Lake Hoodie is a very worthy addition to any hiker or adventurer's gear lineup, and the hoodie's reasonable price is the final fantastic brushstroke that completes this masterpiece. I look forward to using my hoodie on many future adventures!