Deuter Aircontact Lite 60SL Review
Wildland Trekking guide, Liz Lucas, shares her experience after testing the Deuter Aircontact Lite Pack during the 2022 season in the Rocky Mountains.
Welcome back to our gear guide, hikers! My name is Liz Lucas, and I'm a backcountry hiking guide with Wildland Trekking. Gear is naturally a vital part of my career. But when it comes to leading multi-day hiking trips in Rocky Mountain National Park, it is absolutely imperative to have an excellent working light backpack. That's why I was thrilled to test the Deuter Aircontact Lite 60+10SL pack this past summer. Let's take a look at this pack's details and how it performed in the field.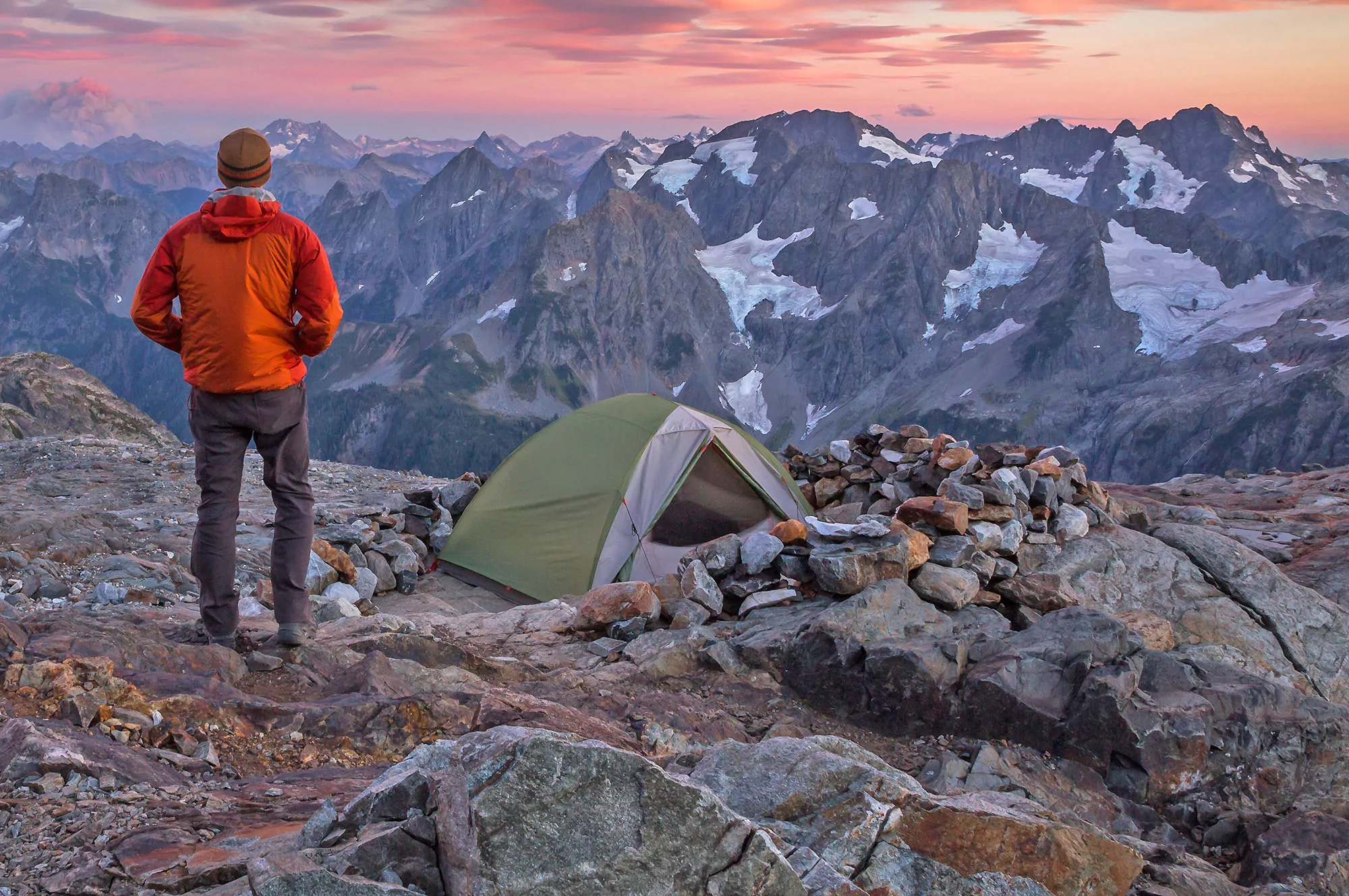 This pack is comfortable, lightweight, versatile, and has a decently large capacity. Let's take a look at the basic specifications to get familiar with what this pack brings to the table.
Price: $220.00
Weight: 1900 g (4.1 pounds)
Volume: 60 + 10 liters
Dimensions: 82 / 30 / 24 (h x w x d) cm
Back length: 35 – 56 cm
Material: 100D PA High Tenacity and 600D PES
Intended Use
The Aircontact Lite 60SL pack is made specifically for females wanting to get out into the woods for a multi-day backpacking/trekking trip or heading out for a gear-heavy day adventure. Overall, its lightweight design makes it ideal for anyone trying to save some ounces on the trail while still offering the tough durability you need for adventure. Lastly, it's large enough to carry all the trip essentials, from alpine excursion tools to camping gear.
Once we combine all these points, it's clear that this pack is truly built to tote everything you need for a trip to the outdoors and offers the support and durability to keep up with you no matter your destination.
Notable Features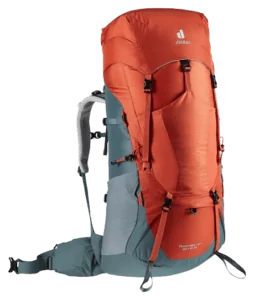 The Deuter Aircontact Lite 60+10SL is a solid and reliable hiking backpack. It doesn't go out of its way to blaze new trails with flashy features and instead focuses on being a burly workhorse on the trail with just enough features to get the job done. That said, there are still some important aspects that we should take a closer look at.
Separate bottom compartment with removable base – makes it easy to keep some gear away from the rest of the pack. Such as dirty clothes or shoes.
Elastic exterior side and back pockets – these are very convenient for keeping water and layers nearby and easily accessible. The large elastic pocket on the back of the pack can easily accommodate your rain or warm layers for quick changes on the trail.
Adjustable and removable lid – this feature allows the pack lid to be fine-tuned to your pack load. Adjust it higher to keep it from rubbing against your head when the pack is fully loaded, or remove it altogether if you're not needing it.
Deuter Company Background
Deuter is a German-based company that has been around since 1898 and has remained the top outdoor gear manufacturer in Germany since then. Their constant innovation and commitment to conservation and sustainability keep it at the top. They strive for excellence and are "mad about mountain sports." To this end, they're constantly creating products for adventurers to use in all types of terrain and weather conditions. Their lifetime warranty shows they stand by their product and want to serve the customer.
Deuter is also a Bluesign partner. Bluesign is the strictest environmental standard for textiles. They look at all the chemicals and resources used and constantly optimize the system. This means that the process is streamlined and resource conscious every step of the way – from the raw material to the end product.
I'm also particularly pleased that Deuter has taken a stand against Perfluorinated and polyfluorinated chemicals – or PFCs for short. These chemicals are used to make water-repellent materials but are harmful to the environment and impact our health. Since 2020 their products no longer have this harmful chemical. Instead, they use DWR (Durable Water Repellency), which is harmless to health and environmentally compatible, and completely dispenses with PFC.
Additionally, Deuter is partners with the Alliance for Sustainable Textiles, the European Conservation Association, and the Fair Wear Foundation.
THE TEST – QUICK OVERVIEW
As an outdoor and international traveler, I was able to test the pack on my latest llama-supported multi-day trek as well as an international trip. Therefore, this pack found itself in the backcountry of the Rocky Mountain National Park carrying all the necessary gear to support me and my 6 guests for a week. We saw amazing weather along with some hail during this trip. On average, I'd carry this pack with about 30 pounds of gear for several hours as we tackled 6-8 miles each day.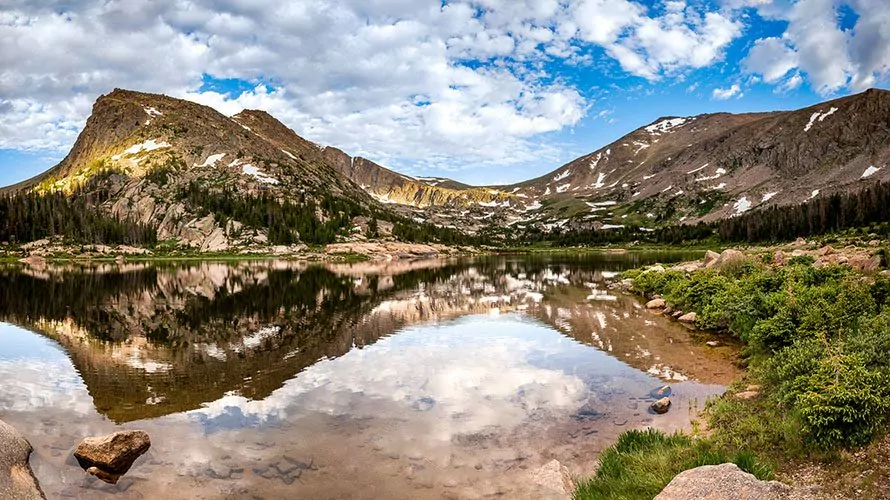 The Review
Now it's time to dive into the specifics of our Deuter Aircontact Lite 60SL review! We've covered this pack's specifications and company background, but let's see how it actually performed in the field.
I've covered important hiking backpack categories below and how the pack performed for each category. Additionally, I've given the pack a rating for each category between 1 and 5 – where a 5/5 is the best and 1/5 is the worst. So let's see how this backpack did.
Weight/Bulk – 5/5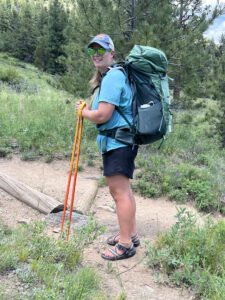 This is the most impressive thing for a pack of this type. It is relatively light at only 4.1 pounds, yet it has a fantastic support structure to carry your gear's weight when fully loaded. Many comparable packs on the market weigh in at about 4.5 pounds or more, so it's impressive that Deuter was able to make this pack trim and shave off a few ounces at the same time.
But don't think that lightweight means Deuter skimped on the essentials. The Aircontact Lite 60SL is still burly, well padded, and includes several key features. The 60-liter capacity is voluminous without making the pack seem overly bulky, while the pack materials are thin enough to trim weight but tough enough to take on the outdoors.
Durability – 4/5
This pack is much more durable than I expected based on its weight. The material stretched slightly to accommodate the extra gear I put in it. However, the material held up well when the pack scraped up against a tree or rock on the trail – which happened often.
Over the full course of my testing period, and after several more bangs and scrapes, the material did show some minor scuffs. But again, there were zero actual tears, rips, or any indication that the material's integrity was compromised. These scuffs may indicate some future spots where the material will wear down, but for now, I'm very pleased!
Storage – 4/5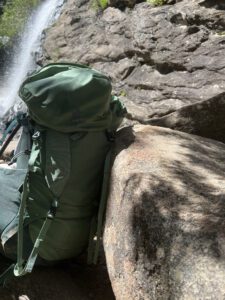 At 60 liters, this Deuter pack offers ample space for the vast majority of my hiking gear. As I mentioned earlier, I utilized this pack on a week-long trek and found that it had enough room to accommodate what I needed.
As a guide, I also need to keep my gear organized and easy to access. In addition to my own items, I also need to pack out the group's lunch, med kit, satellite phone, and emergency epinephrine kit (just to name a few). So proper organization is key! To this end, the Deuter Aircontact Lite 60SL includes many interior compartments in the body and lid, making it easy to pack and access gear from all parts of the bag. The separate bottom compartment and internal elastic sleeve both offered space to keep items organized and available. Moving to the exterior, I was also delighted with the side pockets that are large enough to store extra gear and trust that it will stay put and be easily accessible.
As we discussed earlier, this pack is a solid trail workhorse. Therefore, it didn't blow my socks off with a ton of high-end storage options or pockets (hence the 4/5 rating). But it still gets the job done, and what storage options it does offer, it does well.

Comfort – 4/5
I found this pack to be comfortable with loads in the 20-25 pound range. But as I pushed those numbers higher, I found that the main belt was a little too thin to offer enough support. Specifically, the belt tended to bite/hurt the belly area when tightened to carry a heavy load.
As for airflow and staying cool and comfortable, I was pleasantly surprised! The airflow back support system allows air to flow nicely – keeping my back cool despite having the pack on. The torso adjuster also allows for different body types and adjusts with quickness and ease.
Price – 5/5
A little market research shows that this price point is very reasonable and within product standards across different manufacturers. This doesn't mean it's a budget pack by any means. It's still certainly an investment in your hiking and adventure future. But when you consider the features, weight, and overall quality that this pack offers, this price tends to be getting ample bang for your buck.

Overall Quality – 4/5
The Aircontact Lite 60SL's quality is clearly very high. The material is durable and light, and I was happily surprised that the quality of the product was not minimized due to its lightness. In fact, I would prefer this pack over a heavier pack any day.
The zippers are great, and I have no worries about them busting from the seams; rather, the system works very well together. The compression straps also all work and function the way they are expected to.
I believe the waist belt would be more comfortable and functional if it were a few centimeters wider. However, this only comes into play when carrying s heavier load.
Lastly, the brain/lid comes off and can be used for a day hike. This is an excellent feature of the pack. The new design allows you to use the straps directly from the pack to clip into the brain for a day hike. This is great for a quick hike or peak summit when all you need is a rain jacket, water, and snacks.
Bringing it Together
This pack is a phenomenal product; I would use it over my other packs any day of the week. I loved the lightweight but large capacity ratio. I love the large cell phone pocket in the hip belt. I love the access to the sleeping bag pocket, and I love that I can take off the brain and use straps from the pack to make it work well – no need to buy extra straps. Clearly, there are a lot of features I love in this pack, so let's sum up the pros and cons below.
Pros:
Lightweight
Large capacity
Mesh pockets are very extendable
Comfortable
Torso size adjustable
Removable brain that doubles as a day pack
Back airflow system
High-quality material
Sustainably sourced and produced
Designed for a feminine body type
Cons:
Hip belt width (needs to be wider for more support and comfort)
Heavy loads 30+ pounds will get uncomfortable
AirContact Lite Materials and water-Repellency
As we mentioned earlier, Deuter has done away with PFC (polyfluorinated) chemicals to achieve water-repellency. These old chemicals were harmful to our own health and the environment. Instead, Deuter now employs DWR (durable water repellency) treatments that impart a hydrophobic quality to the fabric to keep water at bay. Now, this DWR treatment is not 100% waterproof by any means, but it's a worthwhile feature for surface-level protection. And the fact that Deuter is committed to a non-harmful way of waterproofing is outstanding.
As for the materials, we have 100D PA High Tenacity textile along with 600D Polyester. The first is a lightweight, tightly woven, and thinner polyamide yarn that provides excellent tear-resistance and durability. The second 600D Polyester material also prioritizes lightness and includes a PU coating for added weather resistance.
And lastly, the "D" in the 600D material refers to the fabric deniers – or the material's thickness. For more information, take a look at this article covering fabric deniers.
Final Thoughts
I would highly recommend the Deuter Aircontact Lite 60SL – especially to anyone with a slender feminine body type, as it's specifically designed for this body shape. The lighter weight saves me a few extra ounces, increasing my comfort on the trail. The large outside pockets are also fantastic for last-minute items, while the hip belt pockets are large enough to keep my phone safe and accessible. Lastly, the removable brain allows me to quickly transform it into a small pack for quick summits or day hikes.
The fact that Deuter has been around for a long time and is still at the forefront of technology, environmental impact, and sustainability makes this company worth supporting. They are choosing the best and most up-to-date technology in the textile field to make the best products available. That business focus has made this excellent pack perfect for those with a lighter gear load for a multi-day trip or anyone traveling. My only critiques are that the hip belt needs to be thicker for a more heavily loaded pack to increase comfort. And don't forget to purchase a dedicated rain cover for more complete waterproof protection. I truly hope this Deuter Aircontact Lite 60SL backpack review has helped you gain some perspective on this pack and if it's a good fit for your adventure needs.
In conclusion, I can safely say that I will be bringing this out on the trail often and lending it to friends who need a great pack!