Sea to Summit Ikos TR2 Review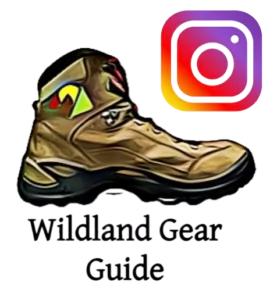 Don't forget to follow us on Instagram for the latest gear news!
Hello adventurers! I'm Liz Lucas, and I've been guiding backcountry trips with Wildland Trekking for many years, primarily in the southwest regions. These trips include Utah hiking tours and guided Arizona backpacking trips. As a backcountry guide, a solid and reliable tent is an absolute must in order to facilitate an amazing hiking experience for my guests, and I, therefore, have very high standards when it comes to backpacking tents. That's why I jumped at the chance to take the brand new Ikos TR2 tent from Sea to Summit during a month of intense camping in the Grand Canyon.
The following review will start with the basic specifications for the Ikos and some background about Sea to Summit. Then, we'll move on to each essential performance category for a backpacking tent and look at how the Ikos TR2 measured up in the field. So let's get started!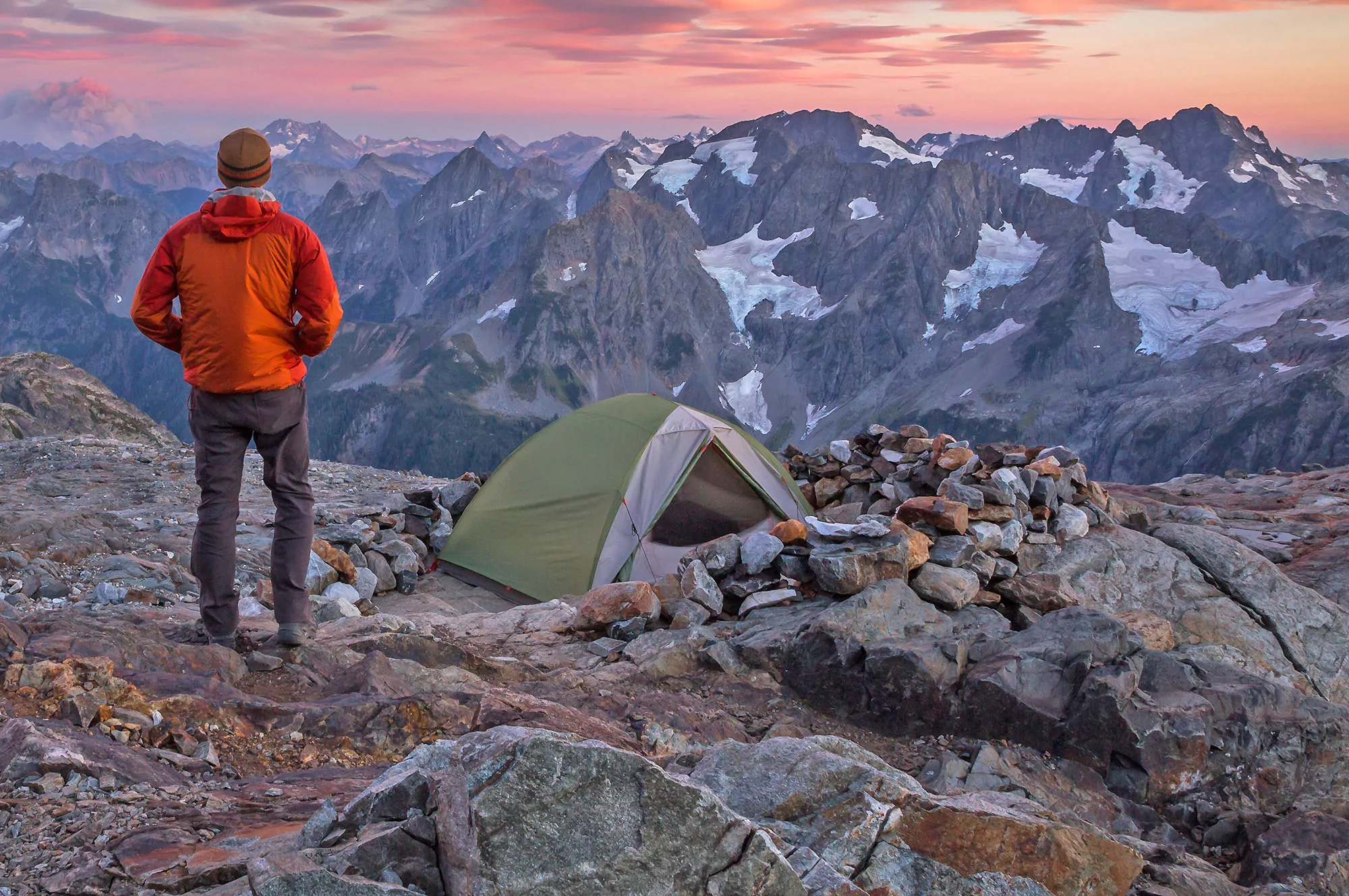 The Sea to Summit Ikos TR2 two-person tent is the latest in Sea to Summit's relatively new tent line. Let's take a look at its basic specifications to see what it has to offer. 
MSRP: $429.00

 

Trail Weight: 4lbs 12 oz

 

Packaged Weight: 5 lbs. 3.6 oz.

 

Peak Height: 41.3 in. (3.6 ft.)

 

Floor Area: 31.2 sq. Ft.

 

Floor Fabric: 68 – Denier Polyester
Canopy Fabric:

 

20 – Denier Polyester Mesh
Intended Use
The hefty weight provides our first clue for the Ikos Tent's target use for basic backcountry adventures and car camping. At over 5 lbs, this tent isn't geared toward grizzled hiking veterans counting every ounce or multi-week thru-hikes. Instead, the Ikos is intended for hikers or car adventurers who are looking for a tent with a premium feel and highly adjustable setup to make it a luxury base in the backcountry for all your day adventures in the area.
Ikos TR2 Notable Features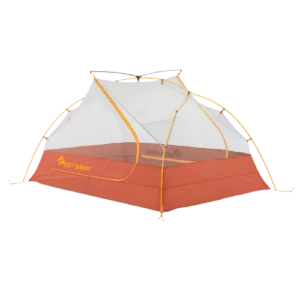 Sea to Summit has utilized several new features with this latest addition to their tent lineup. Let's take a closer look at a few of these features to get a better understanding of what the Ikos has to offer.
Tension Ridge Design – Made famous by the Sea to Summit Telos Tent, this features a prominent inverted pole design at the top of the tent. This allows for increased headroom along with larger doors for easy access.

 

Versatile Rainfly – Offers multiple setup configurations to give you maximum versatility while camping. You can also set up the fly solo to serve as an open-air shelter or as rain cover while you set up the main tent.
Improved Ventilation – Minor design upgrades and multiple venting options facilitate good airflow through the tent. 
Sea to Summit Background 
Sea to Summit has grown significantly since it was first started by Roland Tyson in Perth, Australia. As the name implies, this brand is dedicated to supplying gear for any adventure from sea level all the way up to the highest summits and has a proven track record of quality gear since its inception in 1990. From sleeping bags to cookware, Sea to Summit tries its best to balance weight, packability, and durability to create reliable backcountry gear for all types of adventures. Additionally, like many gear manufacturers in the industry, Sea to Summit has a strong warranty to back up its products.
THE TEST – QUICK OVERVIEW
I put the Ikos TR2 Tent through its paces during Spring in the Grand Canyon. Over the course of a little more than a month, we encountered significant rain that sometimes lasted for hours on end and fully saturated the ground we were camping on. Additionally, the temperatures ranged from the low 40s to the upper 60s. So overall, the tent was exposed to rain, some wind, soggy conditions, and rocky terrain.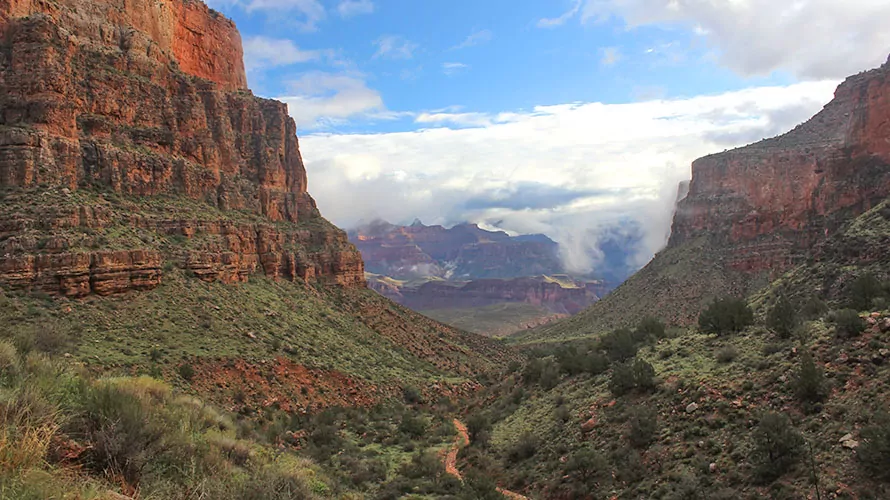 The Review
We've covered the Ikos TR2 Tent's basic layout, specifications, and my testing conditions. So now it's time to dive into the complete review. I'll discuss several performance categories below, assign a score based on my testing experience, and elaborate on what caused me to give that particular score. Each score will range from 1 to 5, with a 5/5 being the best score.
Tent Weight/Bulk – 2/5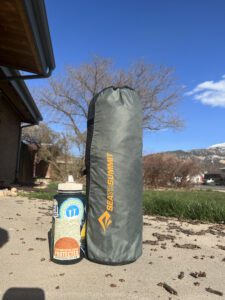 The Ikos Tent's positioning as a car-camping tent or entry-level backpacking tent quickly tells us that this is not an ultralight tent by any means – and my testing confirmed that. Weighing in at over 5 lbs, the Ikos is noticeably heavier than most purebred backpacking tents on the market.
Of course, I was a single hiker testing a two-person tent, so I was bound to feel the extra weight, and the fact that the Ikos itself is on the heavier end of the spectrum simply highlighted that extra bulk. This extra weight also naturally leads to the Ikos tent being less packable on the trail and taking up more space in a backpack than other tents.
Don't get me wrong, a heavier tent does not imply that it is a bad tent by any means. It simply means you need to carefully consider what you're going to use the tent for and plan accordingly. In this case, car-supported camping and shorter backpacking trips are where the Ikos tent is most at home. What's more, that extra weight hints at the extra features and durability that this tent offers, which we'll discuss next.
Setup – 4/5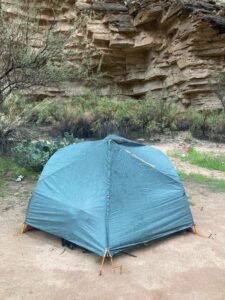 the Ikos Tent's setup was super easy and straightforward! The corner connections between poles, fly, and tent were all solid, and the poles never slipped out – making it very easy for me to set up the tent alone. The tension-ridge system with the upper crossbar pole design fits into the setup process seamlessly, and I'm also a big fan of how these poles facilitate more headroom and bigger doors. So top marks for an intuitive and easy setup process.
The only reason I gave a 4/5 rating in this department is because I wish the Ikos came with a footprint as part of the setup. This would help dramatically with weatherproofing and durability, and I highly recommend that anyone thinking of purchasing this tent include the optional footprint in their purchase.
Durability – Rating: 4/5
Right off the bat, the Ikos material feels robust and durable. At 60 deniers, the material is thicker than the more lightweight competition, and you can easily feel that added durability. We encountered plenty of rocky camping spots on the Grand Canyon, and I never worried that the floor material was going to rip or tear – and it didn't! Over the course of my month-long test, the tent held up fantastically, and I had zero durability issues.
The tent was robust and reliable, adding to my thought that the heavier weight pays dividends in other departments.
Inside Living Space – Rating: 5/5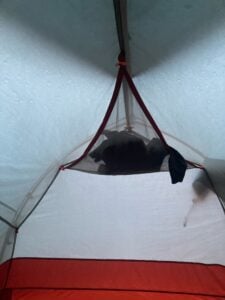 Off all the categories I tested while out in the field, the overall feel of Ikos Tent's interior was my favorite by far. This tent truly feels like a palace in the backcountry, and all the features are very thoughtfully designed.
First off, Sea to Summit's signature Tension Ridge design is phenomenal! The inverted crossbar at the top of the tent instantly increases the interior space and makes it feel like you've gained significant wiggle room – allowing the tent to feel much much larger than it actually is. I could easily sit upright in the tent and never worry about my head reaching the top canopy. Additionally, the storage area at the foot of the tent doesn't take away from the headspace and just makes sense to maximize the interior space while strategically storing your gear.
So full points for the inside space. Sea to Summit has clearly put extreme thought into this tent space, and it shows. The Ikos is an extremely comfortable and spacious shelter that can easily be used for multiple days as a basecamp for day adventures, or as a haven during bad weather, or as a backpacking tent for those that place a premium on maximizing their living space.
Weatherproofing – 2/5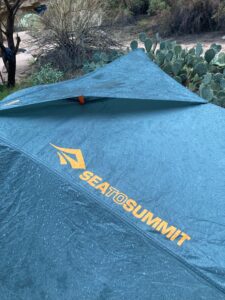 From my testing experience, this was the one Achilles heel of Ikos Tent that I encountered. To be clear, the rainfly material – which is your primary barrier against the elements – was absolutely solid and performed very well. We encountered some heavy rain in the Grand Canyon, and the rainfly certainly held its own. I did experience some minor seepage through the closed ventilation flap, however.
But although the rainfly kept the bulk of the rain away, I did experience noticeable water seeping in through the floor. Before I go further, let's set the stage. First, I was not using a tent footprint at the time. Second, We were camping on spongy ground that retained water and allowed it to pool under the tents. But nevertheless, I'd hope that a tent floor on its own would be able to provide a robust barrier against the heavy rains and water exposure we experienced. But sadly, I came back to the tent after significant rain to find that water was seeping through the floor.
I fully admit that I camped in a tent's worst nightmare with heavy rains in non-draining soil that constantly exposed the tent floor to standing water. I pushed this tent to the edge of its ability and found the line. Therefore, I have two main takeaways in this category. As previously mentioned, I highly recommend including a tent footprint in addition to the Ikos Tent to maximize your weatherproofing and durability – this would (and did once I deployed a spare tarp as a footprint) shore up this weatherproofing weakness that I discovered. Second, the Ikos seems best suited to your typical rain and poor weather conditions and isn't built as an extreme adventure tent that can hold up to everything short of a hurricane.
Overall Quality – 4/5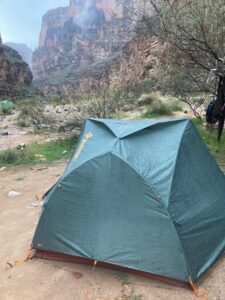 I would use this tent on any front country adventures and use it for backpacking if I had another person coming with me (to help spread out the extra weight). The Vestibule space is solid, and the doors are large enough to easily get in and out thanks to the Tension Ridge design. What's more, the material is durable enough to stand up to heavy use and light enough to use on a trip with another person.
The drawbacks for overall quality are twofold. First, the weatherproofing problems, which we discussed above, play heavily on my score for this category. Second, the zippers required two hands to open and close, and although I got the tent set up tightly, the zippers did not track as easily and needed a base hand to hold one end of the fabric to then open the zipper with the other hand. This is a minor gripe in the grand scheme of things, but it does adversely affect the tent's overall feel and quality.
Price – 2/5
Considering my testing experience and comparing prices across the market, it's my opinion that the Ikos TR2 is priced a little higher than it needs to be. This score is highly influenced by my experience in the field where the waterproofing seemed less than optimal – therefore, making a secondary footprint purchase necessary. However, folks who consider the interior living space to be their primary concern may find the higher price worth it to score such a spacious and customizable tent.
Bringing It Together
We've covered plenty of aspects of the Sea to Summit Ikos TR2 during this review! Let's summarize the main pros and cons below to provide a snapshot of what this tent has to offer. In short, the TR2 offers superior living space protected by durable and long-lasting materials that make it well-suited as a basecamp for car camping or backpacking adventures. Meanwhile, the higher-than-average weight and mid-range weatherproofing indicate that this tent isn't suited for intense, ultralight backpacking situations or extreme weather.
Pros: 
Tension Ridge design provides excellent headroom 

Durable materials and design 

Fantastic living space with tons of space and gear storage options
Very large doors
Easy setup process – even for one person
Cons: 
On the heavy side
Weatherproofing isn't as good as other options (should purchase a footprint to go with the tent)
Pricey
More Information About The Ikos TR2 Tent
Let's take a closer look at a couple of this tent's characteristics before we wrap up this Ikos TR2 Review.
Tension Ridge Design – what is it exactly?
Take a close look at the picture to the right. Notice the two distinct, black tent poles at the top of the Ikos that flare upward? That is Sea To Summit's Tension Ridge and the source for the Ikos TR2 Tent's superb interior living space.
Those poles' noticeable upward flare raises the corresponding tent corners directly above the doors – which, in turn, has two benefits. First, they increase the overall door size, making it easier to get in and out of your tent. Second, they increase your overall headroom inside the tent itself. Where most tent ceilings have a distinct taper as you move toward the sides, the Ikos TR2 ceiling stays nice and tall, with near-vertical walls throughout the interior.
Together, these benefits vastly improve the Ikos TR2 Tent's living area, giving you more space to move around and improved access through the doors. It's these benefits that propel this tent to the front of the pack for folks who want a solid, liveable tent from which to base their adventures.
Final Thoughts
My testing showed the Ikos TR2 to be a solid tent with a well-defined niche in the outdoor world where it will perform the best. Sea to Summit's signature Tension Ridge design, which first made its debut in the Telos tent line, offers noticeably improved interior space and headroom. I was also pleased that this Tension Ridge poles design didn't muddy the waters for setup, and setting up the Ikos TR2 Tent was straightforward and easy for one person to do alone. Additionally, I was very impressed with the quality materials used for the Ikos, and it never showed any signs of wear, even after a month of camping in the rocky Grand Canyon.
These extra features and durable materials add significant weight to the tent, however, and at over 5 lbs, this isn't the lightest 2-person backpacking tent on the market at all. Add to this the fact that I encountered some water seepage through the floor during significant rain in the Grand Canyon while camping on soggy ground, and we can see that the Ikos has a clear lane for the outdoors. Namely, this tent is an ideal cross-over option between car-supported camping and basic backpacking. The Ikos TR2 can function superbly as a car camping base tent for your day hikes and adventures while also serving as a solid entry-level backpacking tent with excellent living space and comfort in the backcountry for those that don't mind the extra weight. So if you dabble in both car camping and backpacking here and there, the Ikos may be an ideal tent for you. On the other hand, if you're looking for a specialized, lightweight backpacking tent, maybe check out the Sea to Summit Telos.