Enlightened Equipment Torrid Jacket
Wildland Trekking guide, Samantha Cooke, shares her thoughts and results after testing the Torrid Jacket during winter guiding and adventuring in Utah, California, and Colorado.
Hey adventurers! My name is Samantha Cooke; I've worked as a professional backpacking guide and llama wrangler for the Wildland Trekking company since 2017. From leading beautiful hiking trips in Utah to guiding llama-supported hiking in Colorado, I'm often out in the backcountry exploring.
Beyond guiding folks to some of the best hiking destinations in the USA, I also like to consider myself a hiking vacation concierge – where I'm always trying to inform, assist, and enable individual adventures into the great outdoors. To that end, I recently had the pleasure of testing the Enlightened Equipment Torrid Jacket. From the snow-covered peaks in Rocky Mountain National Park to the hottest, driest, National Park in the country at Death Valley National Park, I put this jacket through the wringer and had a lot of fun along the way. Now it's time to share the results so you can decide if this jacket is for you, so let's dive into this Enlightened Equipment Torrid Jacket Review to find out!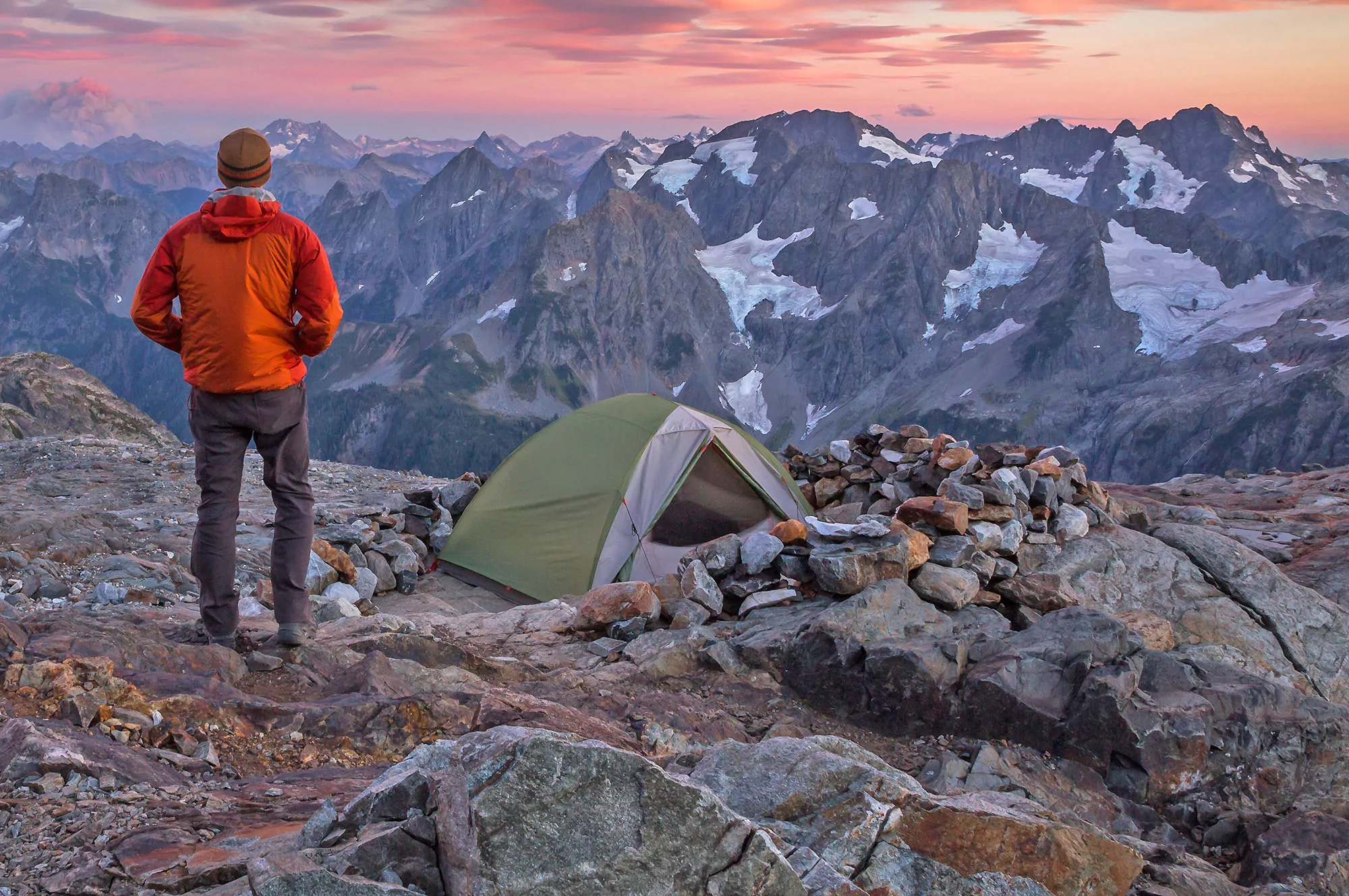 To get started, let's take a look at this jacket's basic specifications.
Intended Use
As advertised on the company website, this jacket is designed specifically for long-distance hikers. The durable yet lightweight design mixed with impressive warmth while maintaining good moisture resistance all combine to make a jacket for outdoor adventure. And after over a month of testing, I agree that the Torrid Jacket plays this role perfectly. Even though I didn't complete a thru-hike – but rather a series of individual backpacking trips – I can see how this jacket would be a staple in anyone's pack trying to tackle hundreds or even thousands of miles. The weight to warmth ratio is impressive; I couldn't believe such a lightweight jacket could retain so much heat, dry quickly, and pack down so small.
Notable Features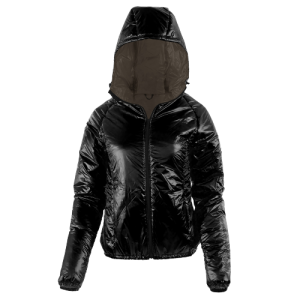 This jacket includes several interesting aspects that are worth mentioning. So, before we dive into this Torrid jacket review, let's take a look at these important features.
Raglan-Style Sleeves – offer more range-of-motion and comfort around the shoulder area.
Climashield Synthetic Insulation – improves the jacket's overall moisture and sweat resistance, durability, and washability.
Custom Jackets Available – allows you to pick the exact color, fabric thickness, and hood style that suits you.
Tim Marshall, the founder of Enlightened Equipment, started sewing quilts in his basement back in 2007 and has now grown that interest into a business based in Winona, MN. Today Enlightened Equipment has more than 50 employees creating quilts, clothing, accessories, and more.
Enlightened Equipment is driven by a passion for making great gear that goes wherever you go. The company philosophy is to be smarter and lighter, eliminating useless extra features, so you carry only what you need. They tirelessly test and update their designs to make them the best and lightest they can be. Therefore, Enlightened Equipment products result from endless tinkering, modifying, and updating to be the best in the industry and enlighten all your adventures.
Enlightened Equipment manufactures standard off-the-rack items (orderable online) but also offers customers custom garments, quilts, and accessories. This is a fantastic aspect of their business, as many avid hikers and adventurers want gear perfectly tailored to their size and taste.
In addition to outfitting people for the great outdoors, Enlightened Equipment is also committed to protecting those outdoors for future generations to enjoy. To that end, they are a proud supporter of the #giveashit (about public lands) campaign. Enlightened Equipment has also partnered with Save the Boundary Waters to protect the Boundary Waters Canoe Area Wilderness, which is currently threatened by sulfide-ore copper mining. They make monthly contributions to the campaign, urging others to do the same.
THE TEST – QUICK OVERVIEW
I first tested this jacket in Rocky Mountain National Park in Estes Park, Colorado on a personal trip. My husband (who also works for The Wildland Trekking Co.) and I went on a winter vacation to see if we could live in a winter climate year-round. The weather was great but cold as it never got above the high 20s Fahrenheit.
I then wore it faithfully on my early morning trail runs outside of Zion National Park through December and January. It has been bitterly cold this winter in the high desert. Most mornings it was between the low and high 20s.
Then my Torrid Jacket got more testing in January 2022 as I guided backpacking trips in Death Valley. Over four nights, we encountered nighttime temperatures in the low teens Fahrenheit.
Between winter hiking in Colorado, trail running in Utah, and backpacking in southern California, I probably put a total of 100 miles on this jacket. Testing it in various climates, elevations, and activities gave me a great perspective on this jacket's versatility.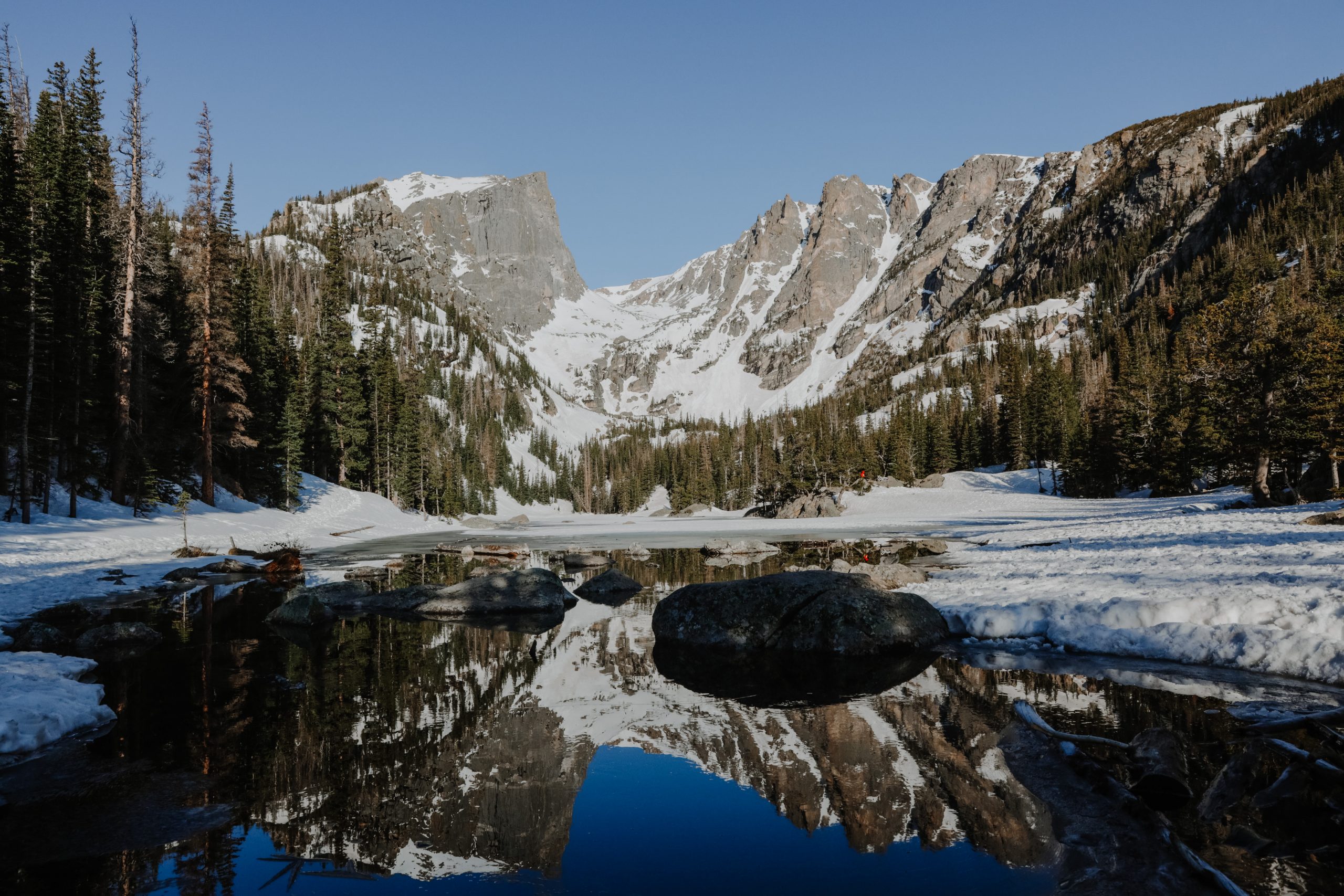 The Review
Now it's time to get down to specifics with this Enlightened Equipment Torrid Jacket review. I'll cover individual performance aspects below and give each one a rating from 1 to 5 – where a 5/5 rating is the best. So let's see how this jacket held up to my winter testing!

Warmth – 5/5
This jacket is a furnace! Again, I thought to myself, how can such a lightweight synthetic jacket hold in so much heat? Remember, down insulation is often touted as the best insulating material for ultralight gear, but the Torrid Jacket has definitely dispelled that belief.
The Climashield APEX insulation does an excellent drop retaining heat and is also reasonably compressible, which we'll talk about down in the packability section. This jacket's adjustable shock cord waistband and elastic arm cuffs also work in tandem with the insulation to retain as much heat as possible. All these benefits kept me nice and toasty during my multi-day test trips that often entirely took place in below-freezing temperatures – so top marks to the Torrid Jacket for warmth!
Durability – 5/5
When I first received this jacket, I doubted that the 10-denier nylon fabric would hold up against abrasions and pushing through bushes without creating holes. But I was quickly proved wrong!
I took the Torrid jacket through some very dense vegetation plus thorns in Death Valley, where there was ample opportunity for some serious snags. But, impressively, the jacket never got a single hole. I kept my patch kit close for all my tests and never needed to use it because the fabric was so durable. On top of that, just last week on my trail run, I totally bit the dust and fell while wearing the jacket. I thought for sure this thing would have a hole in it after that spill, and still nothing. I was shocked!
The Torrid Jacket is genuinely built for the rough outdoors and is ready to take on everything it can throw at you.
Waterproofing – 5/5
I didn't find myself in any wet weather conditions while testing – thankfully – but I still had ample opportunity to see how the Torrid Jacket held up under damp conditions. Specifically, I took this jacket out on trail runs several times, and I wasn't at all stingy with the sweat. Some days this jacket would be completely drenched in sweat after a tough run – sounds gross but true. After I got home, I hung it up, and within an hour or so, it was dry from the inside out. It's magic – a high-quality and quick-drying synthetic insulation kind of magic.
Enlightened Equipment utilized Climashield APEX insulation for just this reason. Prolonged exposure to moisture and body oils – as an active mid-layer jacket is likely to encounter – can cause down insulation to clump up and become ineffective. That's not the case here with synthetic insulation. The Climashield APEX doesn't lose any of its insulating capability when wet, dries quickly, and is also easy to clean. What's more, Enlightened Equipment also includes a Durable Water Repellent (DWR) Finish as an added layer of defense against moisture.
Even though I didn't encounter rain, I still splashed water on the jacket just to test what happened. I'm pleased to report that it did not absorb straight into the fabric and instead beaded up and rolled right off. Therefore, it's my opinion that Enlightened Equipment did a top-notch job in weatherproofing the Torrid Jacket. Excellent material and insulation choices combined with the handy DWR finish work together to make this jacket ready for all outdoor conditions.

Packability – 5/5
This jacket can be crammed into your pack without taking up unreasonable amounts of space. During one test, I even tried to pack the Torrid into one of its own hand pockets, and it fit – just leave the zipper open if you try this, so it doesn't snag. That information alone speaks volumes for this jacket's packability, which is doubly impressive since it uses synthetic insulation instead of down.
That said, it's important to note that synthetic jackets like the Torrid will rarely be as packable and compressible as a down jacket of comparable insulation ability. That's one of the classic tradeoffs of synthetic insulation in exchange for excellent moisture resistance. However, the Torrid still manages to impress even in light of this information – which earned it the 5/5 rating.
Weight/Bulk – 5/5
The women's Torrid jacket starts at a mere 7.75 oz (220g). Do I need to say more? That is fantastically light without taking up much space at all in your pack. For comparison, the majority of lightweight mid-layer jackets typically hover in the 10-12 oz. range. So the Torrid jacket is truly a remarkable design feat by providing excellent warmth and durability while still managing to stay exceptionally ultralight.
Therefore, Enlightened Equipment hit a bullseye on their target of designing a jacket for long-distance hikers where every ounce counts.
Comfort and Fit – 4/5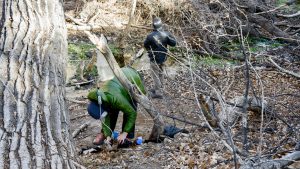 Perhaps my only critique of the Torrid centers on the overall cut and comfort. Specifically, the length seems a tad short. With my 6′ height, I noticed that the jacket was riding a little high on my torso. When I put my arms up – such as when adjusting my pack, reaching up to adjust a water filter, or reaching while setting up a tent – the jacket rides up and leaves my waist exposed to the elements. I found myself constantly pulling down the jacket to keep from getting cold. However, I'll concede that this may be an uncommon issue due to my long torso.
Beyond this single critique, this jacket is incredibly comfortable, and I highly recommend it to all hikers. Just remember that if my note regarding the length concerns you, Enlightened Equipment provides a detailed fit guide on their website so you can check your measurements against their sizing scheme.
Price – 5/5
Like all hikers and backpackers, I keep a close eye on gear prices. But in this case, I would actually pay more than the sticker price for this jacket and be very happy about doing so, knowing the quality and warmth I was investing in.
Starting at $185 before customizing, this is a bargain for the performance you get out of this jacket. Its quality and durability are evident, and all the custom jackets are handmade in Minnesota. Therefore, this is one of the few times that I'm giving the price category a solid 5/5!
Overall Quality – 5/5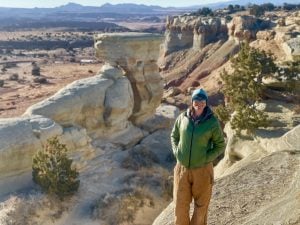 This jacket has made me a believer in the durability of nylon and Climashield ™ Apex synthetic insulation. It is warm and bombproof. This insulation and the Torrid's outer nylon shell have also proven they can hold up against snags, scrapes, and even taking falls while wearing it and still not yield any tears or holes. Additionally, I appreciated the raglan sleeves for maximum range of motion. And lastly, the fit is slightly larger to accommodate layers which came in handy while testing; on extra chilly days, I could fit a couple of layers under this jacket and not feel constricted.
In conclusion, the Enlightened Equipment Torrid Jacket is top-tier quality and has more than earned its place among my go-to hiking gear.
Bringing it Together
We've covered plenty of aspects of the Torrid Jacket in this review, so let's take a moment to recap the main points from my testing experience. In short, this is a fantastically high quality and effective cold-weather jacket, with my only critique centering on a slightly shorter cut that would occasionally ride up and expose my waist. For more specifics, take a look at the pros and cons below.
Pros:
Fantastic price for what you get
Quick-drying
Excellent warmth retention
Very durable and resistant to snags and abrasion
Ultralight  and good packability
Option to customize the fabrics and hood type
Cons
The jacket was slightly short on me, but this alone was not a deal-breaker
Fabric and Deniers – A Closer Look
Enlightened Equipment utilizes ultralight nylon fabrics with three weights: 20D, 10D, and 7D; the "D" refers to deniers – or the weight of 9000 meters of a single strand of the fiber measured in grams. The higher the denier, the higher the fiber weight used to make the fabric. Enlightened Equipment uses 10D with their non-custom jackets to hit the sweet spot with maximum durability, breathability, and weight. It is also soft and comfortable against the skin.
Raglan Sleeves – What Are They?
This style is named after Lord Raglan, who is said to have worn a coat with this sleeve style after losing his arm in the Battle of Waterloo (1815). Simply put, a raglan sleeve is a sleeve that extends in one piece fully to the collar, leaving a diagonal seam from underarm to collarbone. This feature is designed to maximize movement. Think of undershirts that baseball players wear typically all white with colored sleeves worn under jerseys. That's a raglan sleeve.
Climashield APEX Insulation
Climashield Apex insulation is a synthetic insulation made by the United States-based company Climashield. Their products focus on solutions for extreme environmental scenarios. What's more, they are the only major manufacturer of lightweight continuous filament insulation globally. The main highlights of this insulation include durability, lightweight, thermally efficient, compressible, flame retardant, and sustainability. They have been supplying the U.S. Armed Forces for over 30 years.
Final Thoughts
Overall, the Enlightened Equipment Torrid Jacket is not to be overlooked when selecting a puffy coat. It doesn't matter if you are clocking thousands of miles on the Pacific Crest Trail or taking it out for a week-long backpacking trip. If you are looking to cut weight without sacrificing quality, durability, and warmth, this is the jacket for you. I gave this jacket top-notch scores because it is truly a top-notch jacket for the price. The simple design features parallel the philosophy of the company, and it's truly built to go wherever you adventure in the great outdoors.