Gossamer Gear LT5 Trekking Poles
Wildland Trekking guides Samantha Cooke and James Barrett share their experience after spending the 2021-22 winter season testing the Gossamer Gear LT5 Trekking Poles in the Southwest Desert.
Hello gear lovers! Gossamer Gear recently allowed two of our professional guides to test their legendary LT5 Trekking Poles, and now it's time to compile the results of these two independent tests. Our guides rely on their gear for every minute of work outdoors, and their expertise in adventure equipment is enormous. Our testers, Samantha Cooke and James Barrett racked up hundreds of hiking miles in the Southwest Desert as they led Grand Canyon hiking trips and backpacking trips in Death Valley during the 2021-22 winter season. Therefore, you can rest assured that Samantha and James will provide you with accurate and reliable information in this LT5 Trekking Pole Review.
If you're looking for our top overall trekking pole recommendations, be sure to review our Best Trekking Poles page.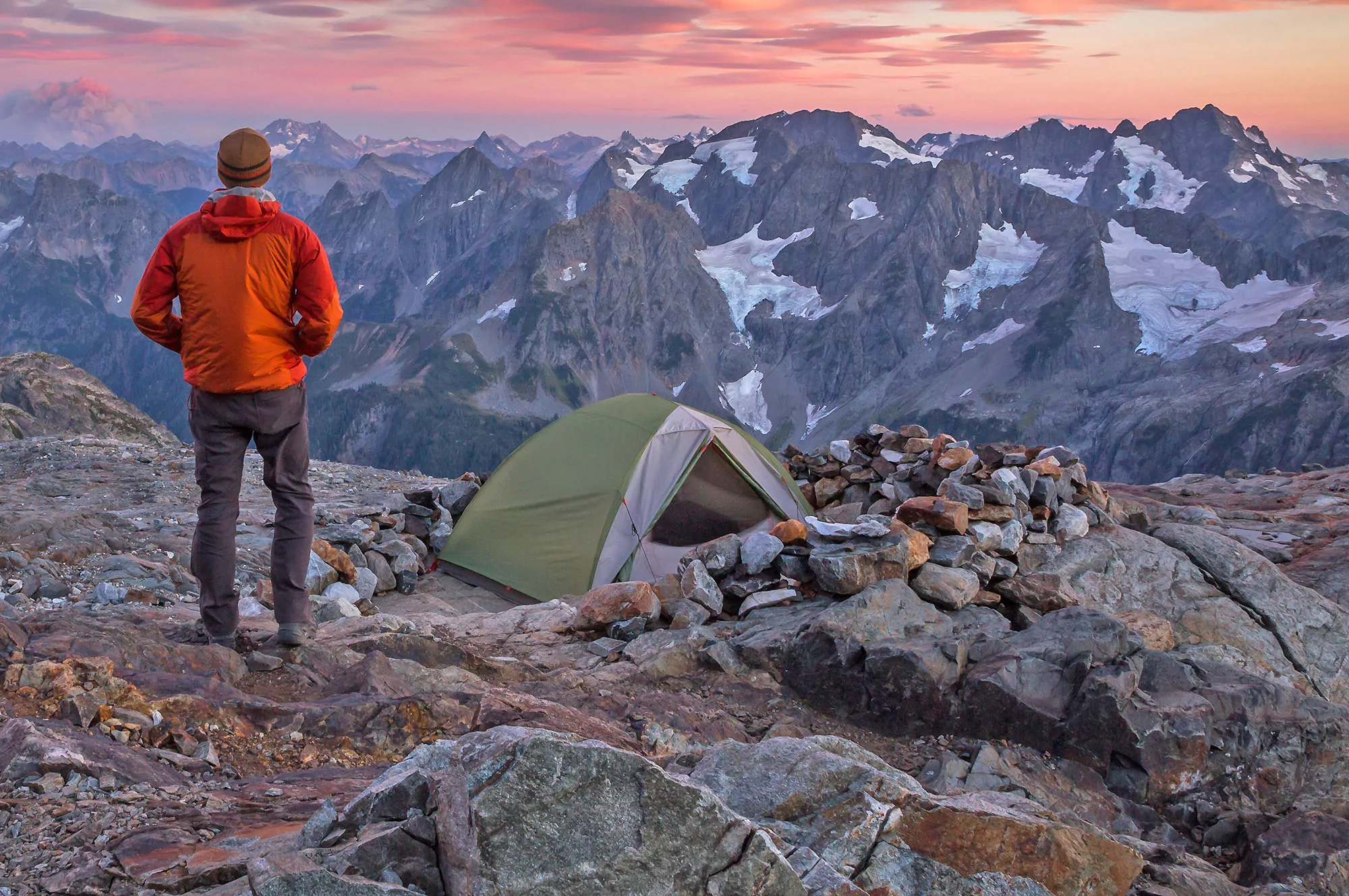 LT5 Poles Quick Look
The LT5 three-piece collapsible hiking poles are the most compact poles Gossamer Gear has ever brought to market. Let's take a look at their basic specifications.
MSRP: $195.00
Weight: 4.9oz/139 grams (per pole)
Collapsed Length: 23.5"
Maximum length: 51"
Grip Material: EVA Foam
Pole Material: Carbon Fiber
Tip Material: Carbide
Accessories: Includes basket and rubber tip
Buying Options: Available as a single-pole option
Intended Use
The LT5 Poles follow Gossamer Gear's ethic to a T. Take less. Do more. These are some of the lightest trekking poles in the world! Designed to support tired legs, these poles are the perfect balance of weight and strength for people who are extremely committed to having the lightest weight equipment.
Therefore, the LT5 poles are aimed squarely at hikers who carefully weigh (fun pun) the merits of each piece of gear before hitting the trail. Everyone from ultralight thru-hikers racking up hundreds of miles to more casual hikers who are concerned about how much weight they're taking into the backcountry can benefit from the LT5s.
Notable Features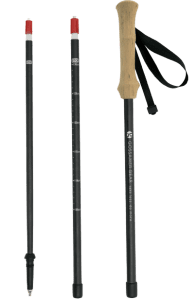 The Gossamer Gear LT5 Hiking Poles include several very important features and design points worth noting before we dive into the nuts and bolts of our review. So let's take a look at what they have to offer.
Ridiculously Lightweight – Most notably, the LT5 Poles are fantastically light at a mere 4.9 oz. each. That's only 0.3 lbs each and even carrying a pair of these poles still weighs less than two-thirds of a single pound at only 0.6 lbs. That's crazy!
Reliable Twist Lock – These hiking poles rely on a simple twist-lock mechanism to secure the poles pieces and adjust the length. This makes it easy to separate the three pole segments for easy and lightweight transport and fasten them together when you're ready to hike.
Ergonomic and Supple EVA Foam Handle – Gossamer Gear did a phenomenal job giving the pole handles enough body to be supportive and offer excellent grip while still keeping them lightweight and easy to handle.
Gossamer Gear was started as a passion project in Carlsbad, California by Glen Van Peski in 1998 and was initially known as GVP Gear. With Glen's background in civil engineering and his son's scoutmaster planting the seed of ultralight gear for backpacking, he got to making his own backpacks. Soon afterward, the company grew rapidly and became very time-consuming, and didn't allow for life around his normal 9-5 job. Glen found himself at a crossroads, sell everything off and close the business or bring some people in to run it and diversify and offer more products.
The fact that I am writing this review shows which choice he made. In 2005, Glen brought in some partners and people to run and manage the company, he is still very involved and is the head of the board of directors, but this decision allowed him to get back to living his life and using the gear that he created.
THE TEST – QUICK OVERVIEW
FROM JAMES BARRETT:
I've put these poles through the wringer! From December to March, they have seen just over 200 miles in Grand Canyon National Park and just under 50 miles of trail in Sedona. They have seen snow, rain, creek crossings, frigid cold, toasty warm, and everything in between.
Some notable trips they have been on are a couple of the Best of Grand Canyon lodge-based tours that feature some rigorous day hikes with close to 2000 ft of elevation change; A hermit loop backpacking trip that involves a big water carry on day one to a dry camp 3000 ft below the canyon walls and long days traversing the brushy Tonto trail;
FROM SAMANTHA COOKE:
I had the delight of being able to test these trekking poles extensively throughout the last few months. With close to 50 field days and well over 400 miles hiked with these poles, they have been to various locations between day hikes, base camp, lodge-based tours, and llama-supported hiking tours.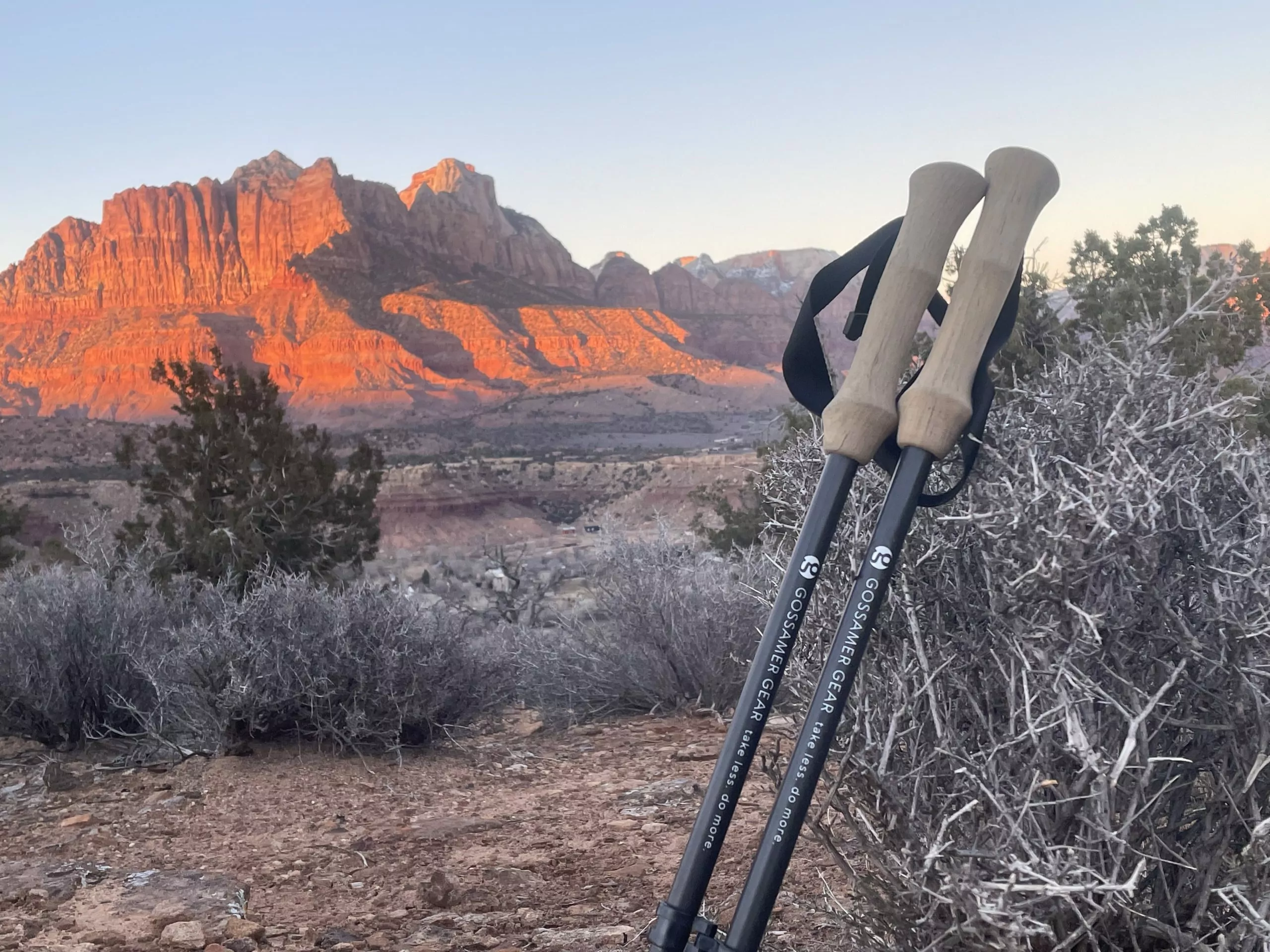 The Review
We've covered the basics of the LT5 Hiking Poles from Gossamer Gear. Now it's time to dive into the specifics and review our guides' test results in depth. Below, we'll cover important performance categories, include firsthand test data and observations from Samantha and James, and give each category a ranking from 1 to 5 – where 5/5 is the best ranking.
Weight and Packability

From James Barrett – 5/5
Every single time I use these poles, I am blown away at how light they are. This observation comes after I'd been using a pair of carbon poles for some time that I already thought were lightweight – little did I know how the LT5 Poles would change that perception with their ultra-low 4.9 oz weight.
While testing, I often thought about the energy it takes to pick and place a trekking pole and multiply that energy by the hundreds to thousands of reps a day while backpacking. It astonishes me how much force we might be expending by just using our poles! But with how light these poles are, I can guarantee you'd notice the difference in how much your arms and shoulders had to work.
What's more, these poles are perfect for lightweight hikers using a trekking pole tent (a tent that relies on trekking poles instead of dedicated tent poles). If I had used this tent option, these poles would have significantly reduced my pack's overall weight and added functionality, making them even more valuable in the backcountry.
From Samantha Cooke – 5/5
The weight of these poles is their crucial selling factor, and they sport a superior weight-to-bulk ratio over many other options on the market. In fact, I consider myself a part-time ultra-light gear packer, but after a few months of testing these poles, I now might consider moving towards more full-time ultra-light hiking because they're so awesome.
Before testing the carbon fiber Gossamer Gear LT5 Trekking Poles, I used 7075 aluminum Black Diamond Trail Trekking Poles. The difference between the weight of the poles was considerable. The Gossamer Gear LT5 trekking poles weigh in at under 10 oz. for the pair, while my previous poles are much heavier at just over a pound (16 oz.). I spent most of the time on the trail in shock. I was simply amazed at how much lighter the Gossamer Gear poles were compared to any other poles I had used previously. They handled extraordinarily well while romping around Death Valley National Park for a couple of weeks.
The next place I took them was to Joshua Tree National Park on a series of front country tours and a backpacking tour. While utilizing them for day hikes, I thought using them was slightly silly as we would only be out for the day. But I brought them anyway and continued to be in shock about out light they were. By this time, I felt like I had the secret sauce of trekking poles that I was keeping from my guests. A few times, a guest would pick the poles up to hand them to me, and they would be flabbergasted by how light they were – and sometimes not want to give them back.
The LT5 Trekking Poles are also fully collapsible by unscrewing the twist-lock system and sliding the telescoping pole segments together. When they are fully collapsed, the minimal 23.5″ length easily fits into the side pocket of my pack. I could also easily strap them to the outside of my pack by using the gear loops. So top marks for weight and packability. 

Ergonomics/Comfort
From James Barrett – 5/5
I am in love with the ergonomics of the grips. To start, the foam is supple and comfortable on the hands; it doesn't attract dirt or grime and does a great job of insulating your hands from vibration and cold. The poles are ambidextrous, so no need to worry about which is for the right or left hand. The shape and contours are superb compared to any pole I have used in the past, promoting comfort for many different hand positions and uses. The top of the grip is larger and fits in the palm well when descending big steps. While ascending, I like holding the large flare at the bottom of the handle as it provides a good base to push off from. This intricate and well-thought-out grip design is truly my favorite feature of the pole.
From Samantha Cooke – 5/5
The EVA foam grip on the poles is very comfortable. It was perfect for long days in Death Valley and paired perfectly with the trekking poles' overall low weight to make them effortless to wield on the trail. The wrist strap also falls into this category with a comfortable and supportive fit. 
The wrist strap is adjustable, allowing you to tighten or loosen it depending on your preferences and the type of terrain you're tackling. I did notice that the strap has the potential to loosen very slowly throughout the day while relying on the poles and putting pressure on the strap. However, this wasn't a deal breaker by any means, and I still wholeheartedly rank the Gossamer Gear LT5 Trekking Poles as a solid 5/5 in terms of ergonomics and comfort. 

Durability
From James Barrett – 4/5
After two hundred and fifty miles, all the poles show in terms of wear is a few scuffs on the carbon shaft. After normal wear and tear and the occasional accidental drop, the EVA foam handle hasn't ripped, flaked, or had any noticeable issues. It seems that the poles will stand up to a hefty amount of abuse for years to come.
From Samantha Cooke – 3/5
Most of the terrain I tested these poles on was groomed, well-established trails. The trekking poles held up great in this environment, and I don't have a single critique in this regard. It wasn't until I took them off the trail that I found these hiking poles' limits the hard way. But first, let me highlight that Gossamer Gear clearly mentions they make lightweight gear, and because of that, their products are not as durable. 
I found this limit when my husband, some friends, and I were carrying climbing gear up to an ongoing climbing project. We all had heavy packs, and there was no trail on this steep terrain once we left the road. About a half-mile in, I lost my footing descending a loose and steep drainage, and I started sliding down the rock for a few feet. Instinctively, I tried to use my pole to stop me from sliding, but I knew this was a poor choice as I put all my body weight and momentum into one pole. While I was sliding, I heard a snapping sound and knew that one of my beautiful LT5 trekking poles was breaking. Thankfully one of them survived the carnage, but the other one needs some serious love.

Ease of Use
From James Barrett – 4/5
Most poles on the market fold or compress using a three-piece design with a lock system to keep the poles from compressing while being used. From my experience, I have had excellent luck with twist-lock designs like the LT5s employ.
That said, I did notice the twist-lock system loosening up on a few occasions. This in turn led me to over-tighten the lock system, which made breaking down the poles a little more challenging a few hours or days later. But all in all, the function and reliability of the poles are still top-notch, and I'm very impressed; there is a chance I should clean up the segments of the pole more regularly to get more consistent performance.
From Samantha Cooke – 4/5
The easy-to-use twist lock system comes down to preference. Some people prefer the flick lock system, while others use the twist-lock system. For me, it had been about 7 years since I had used twist-lock poles, and I liked them on the LT5s.
Just as I was shocked at how lightweight these poles are, I was also amazed at their easy yet reliable use. While traveling in the backcountry of Joshua Tree, I had to use them extensively to navigate the rolling terrain of the park. They performed wonderfully while going up and down challenging terrain. The twist locking mechanism also never came loose, and I was able to rely on them while carrying a heavy pack and not need to tighten them up throughout the day. 
I was also able to test these poles as part of my tent setup with my vestibule/awning. They were again straightforward to use and performed just as they were intended.
Price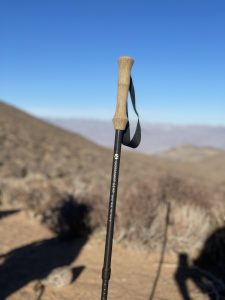 From James Barrett – 4/5
The world of ultra-lightweight backpacking isn't a very cheap place, but these poles in a weight/comfort to cost ratio are probably among the best deals. At $195, they may seem expensive, but think about how many times you lift and place your trekking poles throughout a hiking season. Additional weight and bulk will undoubtedly add up against you, so if you use the LT5s to their full potential, they're a far better choice than cheaper trekking poles that weigh twice as much.  It's my opinion that these trekking poles will truly pay for themselves in the long run by reducing how much energy you burn – and the price of the calories you'll need to eat to replace that energy!
From Samantha Cooke – 3/5
While these are not the most expensive poles on the market, they sure do rank pretty high up there. For close to the same price as a down jacket at $195.00, the LT5s are certainly an investment in your hiking. But remember, these are premium carbon fiber trekking poles. The reduced weight on the trail is a trade-off with what you will pay upfront, and for explorers who will use these poles to their full potential, it's a worthwhile trade-off.  
Bringing it Together
Our testing points to the Gossamer Gear LT5 Trekking Poles as highly specialized ultralight hiking items that are perfect for adventurers willing to invest a little more in their gear in exchange for high-quality and low weight poles. We've covered numerous categories up to this point during our Gossamer Gear LT5 Trekking Poles review, so now it's time to recap the benefits and drawbacks that we found during testing.
Pros:
Ultra-low weight (just 4.9 oz. each)

Very comfortable foam grip and wrist strap

Sleek, simple, black design 

Packable and easy to transport
Cons:
High price (but a worthwhile investment when every ounce counts)
Not as durable as heavier and burlier options
Need proper maintenance and cleaning for consistent performance from the twist-lock
Carbon Fiber – What is it and How Does it Work?
Contrary to the remarkably strong final product, carbon fiber starts as very thin and flexible threads. These carbon threads are woven into sheets, which are then layered onto one another to a target thickness. Lastly, these sheets are molded into the correct shape and then coated in a type of resin or plastic. Once dry, the final product is the firm, strong carbon fiber material that the LT5 Trekking Poles utilize.
Carbon fiber is a near-perfect material for ultralight trekking poles. Its strength-to-weight ratio is far superior to that of steel. This means that carbon fiber can achieve the same – or a comparable – level of strength to steel at a fraction of the weight. Therefore, we can have strong and robust carbon fiber hiking poles that weigh significantly less than their metal counterparts.
It's also worth noting that while exceptionally strong, carbon fiber is also more stiff and brittle than metal. Under enough pressure, metal trekking poles will hit a point where they start to bend – known as the yield strength. However, carbon fiber effectively does not have a yield strength and instead goes straight for its much higher ultimate tensile strength – or the breaking point. So don't expect carbon fiber poles to flex and bend quite the same as their metal counterparts.
Want to learn more about carbon fiber? Take a look at this blog post from the US Energy Department.
Final Thoughts
From James Barrett:
In conclusion, I am beyond stoked about how the Gossamer Gear LT5 Trekking Poles performed and the difference it makes to have a super light pole on big mileage days with a heavy backpack. These poles have permanently found their way into my kit for every trip from this point forward. The biggest hurdle that Gossamer Gear will have with these is telling the world they exist and getting them in the hands of more people to spread the stoke.
From Samantha Cooke:
Based on my experience of testing these poles over three months, I have definitely changed my lens on the use and function of ultra-light gear. Now, when I pick up non-carbon fiber trekking poles, I cannot believe I carried such heavy poles before using the Gossamer Gear LT5 trekking poles. I honestly feel bad for folks that have not felt the magic of lighter poles. While I do not think it is an ultimate game changer for everyone to have the lightest poles on the market, it certainly helps the overall enjoyment of a backcountry experience.
I would not recommend these poles for someone who is just getting into backpacking. It's similar to buying your first pair of climbing shoes. You shouldn't buy the most expensive shoes because you haven't yet developed technique and you'll wear out the rubber quickly while progressing as a climber. The same applies to a backpacker using trekking poles for the first time. You do not yet know how to hike with a heavy pack or properly use trekking poles until you get a few trips under your belt.
Using ultra-light gear is a delicate dance. I found this out the hard way while testing ultra-light trekking poles with a heavy load. Gossamer Gear does a great job of building some of the best ultralight backpacking gear in the world, but it is still ultralight. Therefore, I wholeheartedly recommend these poles to anyone doing some serious hiking, such as one of the long trails (AT, PCT, CDT), where every ounce of gear you take must earn its place