LEKI Black Series Carbon Trekking Poles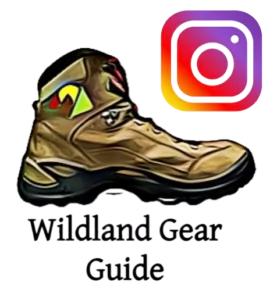 Don't forget to follow us on Instagram for the latest gear news!
Hello fellow trekkers! I'm Samantha Cooke, and I'm here today to talk about trekking poles. As a professional hiking guide with Wildland Trekking guiding Utah Hiking Tours among other Southwest locations, I cannot recommend trekking poles enough. They're seriously the secret weapon for successful hiking by improving your balance, helping maintain your pace, and taking the pressure off your hips and knees when going downhill (and that's just for starters!). Therefore, I was ecstatic about the chance to test LEKI's Black Series Carbon trekking poles during a series of trips in Utah and Colorado.
After a summer of testing, it's time to lay out my findings so we can see if the Black Series Carbon poles may be a good fit for your next adventure. In this review, we'll cover the trekking poles' basic specifications along with some background information about LEKI; then, we'll move into the nitty gritty on how the poles performed in the field.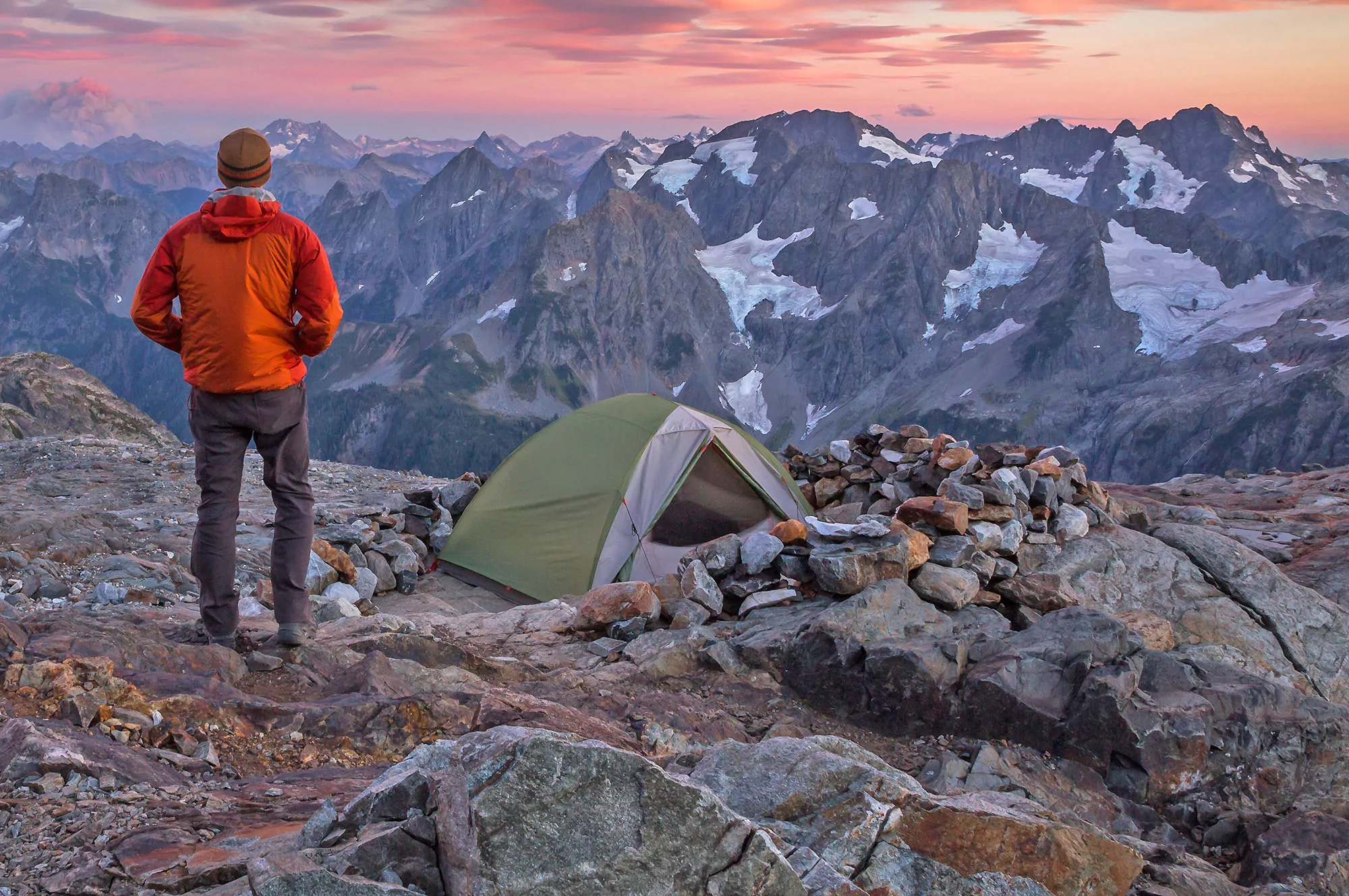 Let's start by taking a look at the basic specifications for these trekking poles. Note the mix of aluminum for the upper section and carbon for the lower, providing a nice blend of strength and low weight. 
MSRP: $199.95
Type: Telescoping trekking poles
Weight (pair): 1 lb. 0.4 oz.
Handle: Cork
Pole material: Upper section: aluminum (HTS 6.5); lower section: carbon (PRC 1000)
Size/Dimensions:

Collapsed Length: 68 cm
Minimum Length: 100 cm 
Maximum Length: 135 cm 
Intended Use
The LEKI Black Series Carbon trekking poles are built for trekking and backpacking in whatever shape it may take. They're designed to provide optimal stability on everything from a moderately level hike through the forest to the extreme ups and downs of mountain trekking. The unique blend of both aluminum and carbon in the shaft material speaks to this all-around versatility by, ideally, providing rugged support that can stand up to intense terrain and hard use while still trimming enough weight to be a fairly packable and lightweight pair of trekking poles.
We'll discuss the price in more detail below, but a quick squint at the retail price also indicates these poles' highly specialized use for trekking and adventuring. These aren't the type of poles that you throw into the closet for the occasional weekend hike in the city park. The LEKI Black Series Carbon trekking poles are built for tough adventure and for those that know they're going to put them to good use exploring some beautiful landscapes.
Notable Feature: Aergon Air Grip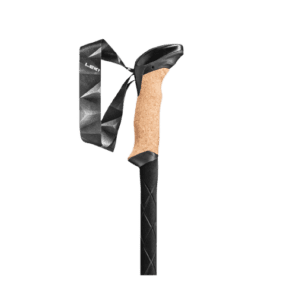 In addition to the basic information above, it's worth looking a little more closely at the Aergon Air Grip on the Black Series Carbon.
Now, it's easy to overlook all the information about grips as overblown or simply a gimmick. But let me tell you, these handles are incredibly nice and worth all the attention LEKI gives them.
These handles are perfectly angled and contoured for optimal grip and comfort for flat hiking and (most importantly) when going downhill – where your stability is paramount. I love the soft and supple feeling of the cork, and it also does a great job wicking sweat away when I start to build up heat. Honestly, these handles set the tone for the entire trekking pole. Their high quality and premium feel truly make these poles feel like they can take on any terrain in the backcountry, and we'll discuss them more in the comfort and ergonomics section below.
LEKI Company Background 
LEKI is an established and highly respected purveyor of high-quality gear. Since its beginning in 1948 under Karl Lenhart in Kirchheim, Germany (the word LEKI comes from these two names), the company has produced countless products, including the first-ever adjustable trekking pole in their 1974 Makalu.
The company also holds a 10-year availability guarantee on their gear and even spare parts. This means that you have a source to order parts from should anything break on your poles and you want to fix it yourself. Additionally, LEKI has taken notable strides in recent years to address its carbon footprint, and new, high-efficiency systems at its primary location in Kirchheim have reduced its CO² emissions by over 33 tons per year. 
Put all this information together, and LEKI is a reputable and reliable company in the world of outdoor gear. Even after 75 years, they're still working hard to innovate and improve – keeping them competitive in this vast market and ensuring that their gear is always top quality.
THE TEST – QUICK OVERVIEW
The first tour I used these poles on was Paria Canyon – on the border of Arizona and Utah – where we traversed the famous slot canyons. This is a wet hike to say the least. With no established trail through the canyon, you are constantly crossing the sediment filled creek trying to choose the easiest route in knee to shin-deep water – all while trying not to fall in with a big pack on your back. It's a blast!
However, the canyon was muddier than previous trips due to the late winter snow melt in Utah. If I wasn't using my poles for hiking, I was using them as depth finder for some of the deep pools we had to walk through. After the wet and narrow portion of the hike, the canyon starts to open up, the terrain changes and you encounter just about everything the desert can throw your way. Soft sand, deep sand, boulder fields, loose terrain, steep terrain, exposure to heights, sometimes quicksand, bush pushing through overgrown areas all still intermittently crossing the creek until you reach the start of the Grand Canyon National Park boundary at Lee's Ferry.
After traversing Paria Canyon, I went to Rocky Mountain National Park to guide a few tours. When I arrived, there was nice sized patches of snow on most of the trails in the higher elevations. The poles served me well while hiking on the snow.
Also, while in Rocky Mountain, I encountered the most consistent and sever thunder hail storm while on a backpacking tour in my entire career. We encountered rain and hail everyday on that tour and most of the time, both at the same time. The tour started with a hail storm on night one and ended with one on the afternoon of the last day while we were hiking out. At times, I felt like the trekking poles were a bit of a lightening rod in my hands. A bit scary in the moment but we made it out safe. I couldn't have written the drama better myself.
Since I have been back from Colorado, I have used these poles on various trails in Zion National Park and Bryce Canyon National Park.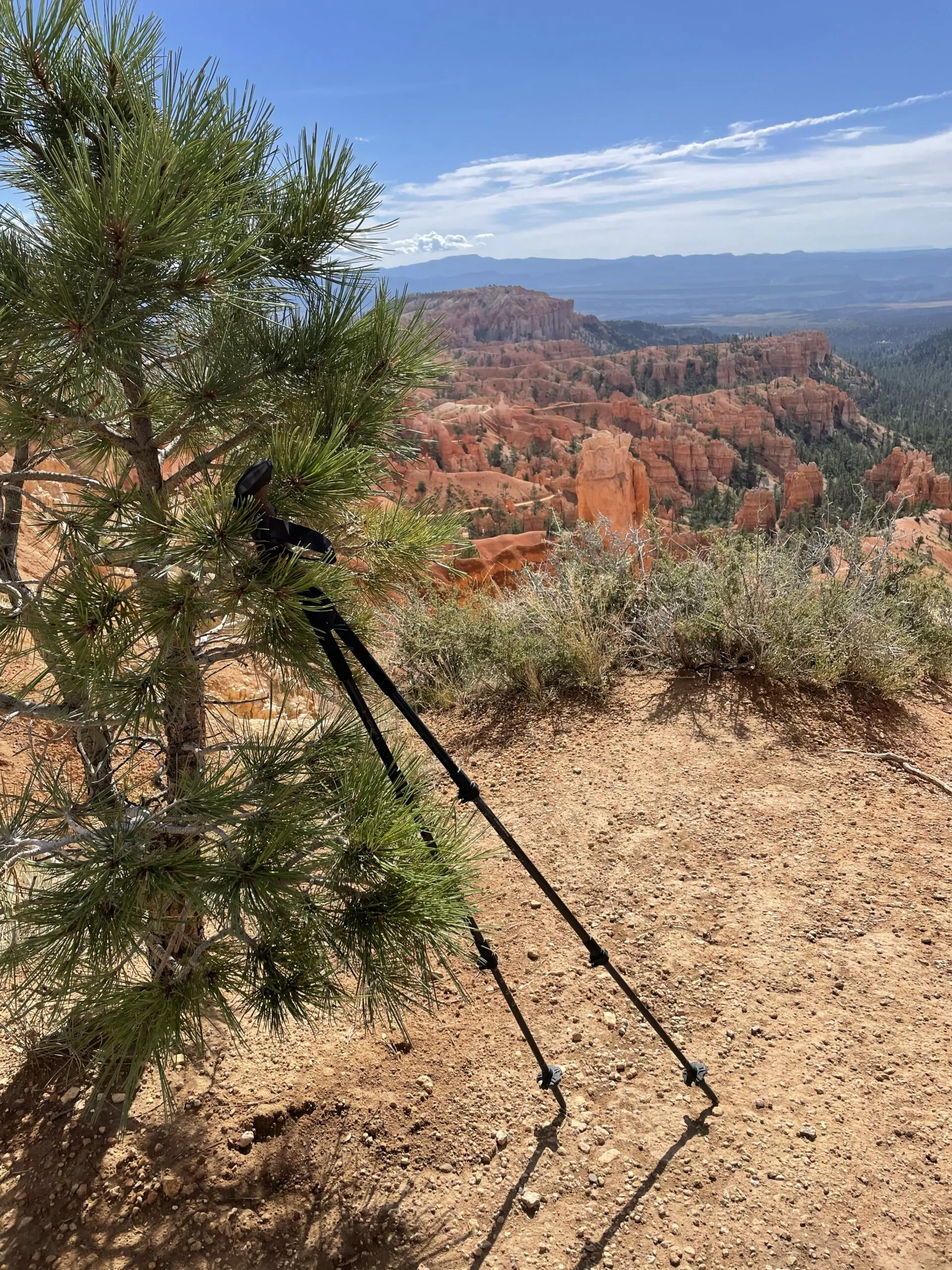 The Review
Now that we've established LEKI's background as a company, along with the basic specifications for the Black Series Carbon trekking poles, it's time to dive into the complete review! I've selected important performance criteria for trekking poles (durability, comfort, and so on) and included them below, along with my rating on a scale of 1 to 5 – where a 5/5 is the top rating. In addition to the score, I'll also include information from my test that influenced how I arrived at each score. So let's see how the LEKI Black Series Carbon trekking poles did!

Comfort/Ergomics – 5/5
I found these poles to be really ergonomically comfortable!
I like how the design provides you with the ability to use the cork handle on flat or easy terrain and the extended handle grip while going uphill for long periods of time. For reference, the "extended grip" is the black foam grip that extends downward from the main cork handle.
Since I encounter various types of terrain, a feature I look for in trekking poles is the extended grip handle. Being able to switch between the upper and lower grip handles makes the poles so much more versatile and enhances the overall hiking experience.
Additionally, I firmly believe cork is the superior material for a trekking pole handle than anything else out there. I've used rubber and other types of handles in the past – but once I used a cork handle, that is all I prefer to use. Depending on the rubber type used by other pole designs, they can make your hands feel gross on a hot day. Whereas the cork on the Black Series Carbon seems to absorb the sweat better and not make your hands feel sticky
The other feature I liked about these poles was the strap system. The nylon was soft against my skin, and the lock security worked great at keeping the strap in place all throughout the day. So top marks for comfort in my book!

Setup/Ease of Use – 4/5 
One feature that I look for in trekking poles is how quick and easy they are to deploy, and a crucial point in this is the locking mechanism. We typically either see a twist lock – where you need to twist and tighten plastic collars to secure the pole segments – or a speed lock – where each segment has a clasp that you open and close with your thumb. I've used trekking poles previously that included both of these options, and I have to say that the speed lock system on these Black Series Carbon poles is my favorite.
I have this opinion for two reasons. One, you can easily see when the lock is not working properly or when you accidentally didn't close it all the way. With an internal locking system (such as the twist lock), it is difficult to determine issues with a pole since the mechanism is typically inside the shaft of the pole.
Two, the speed lock system is quicker and more efficient to set up than the twist lock feature. Previously, when using twist locking poles, it always seemed like it took forever for the lock to catch in place. But with the speed lock system, once I have my desired length picked out and the lock is secure, I do not have to twist or re-twist the poles tight throughout the day.

Durability – 4/5 
It only took me 3 months to break a set of carbon fiber trekking poles. After that experience, I was hesitant to give ultra-light trekking poles another chance for fear of breaking them so easily. When these arrived, I was not sold on them but I thought I would give them a fair shot. So far, with a month's worth of testing and about 200 miles on these poles, they are still holding up really well.
One night during the "Thunder Hail Storm Tour," I even used one of the poles to set up a tarp shelter. I tied a clove hitch around the cork handle and secured it to the ground. The pole faired well in the high winds and rain/hail. After that night, I knew I could be hard on these poles, and they would perform well.
I went with a 4/5 rating in this category simply because a month of testing can't truly speak to a trekking pole's long-term durability. But overall, I'm very pleased and equally hopeful that these poles will be able to take everything a full-time hiking guide like me can throw at them.

Weight/Bulk – 5/5
These poles are slightly heavier than ultralight carbon fiber poles but lighter than most aluminum poles I have used. At just a hair over 8 oz. per pole, the Black Series Carbon poles seem to have struck the perfect weight-to-function ratio.
They aren't so heavy that they feel like an extra weight in your hand while hiking. But at the same time, they're not so light that they feel delicate or brittle, and you're afraid to push them too far for fear of snapping them. Instead, the Black Series Carbon seems to sit right in the middle, where they don't weigh you down but still feel plenty burly to take on everything the trail has to offer.
As we mentioned earlier, the perfect balance is thanks to LEKI using aluminum for the upper shaft material and then shifting to carbon for the lower segment. For my part, I love the results of this material combo and top points in the weight/bulk category!

Packability – 3/5 
With packability, we're talking about how easy it is to tote around a pair of trekking poles when they're not in use. This could simply be to and from the trail or stashing them in your pack for a more technical part of the trail down the line.
Because of their inherent shape, most trekking poles are among the more difficult items to pack – and the Black Series Carbon is no exception. While testing, I found that these poles don't quite seem to collapse as small as other options on the market, and the quick-release snaps are just large enough that they often snag when I was trying to push these poles into a pack pocket or the interior of my hiking backpack. But this is all on the narrow scale of packability, and I've found that almost all trekking poles are very similar in their collapsed shape and equally awkward to find a good place to stash them. But in favor of the Black Series Carbon is that they're slim enough to easily slide into a water bottle pocket or attach to the exterior of a backpack when you're not using them.
Price – 2/5
It's tough to justify spending an arm and a leg for a hiking item that most people view as simply an accessory – and trekking poles tend to fall into this category. For most average hikers out there, a comparatively low-cost pair of hiking poles will do just fine for run-of-the-mill hikes. Therefore, in the grand scheme of things, the Black Series Carbon trekking poles are extremely expensive and may not be for everyone because of the high price.
But on the flip side, the Black Series Carbon poles aren't built for occasionally average hiking. They're built for regular, demanding hiking in tough terrain where you need to rely on your poles to provide comfortable support no matter where the trail leads. In this case, quality and performance are key, and hardcore hikers may find the price well worth it for those reasons. For my part, at the price these poles retail for, that would be the max I would be willing to spend on trekking poles – but I would still be willing to pay it. It would hurt, make no mistake, but the quality and performance are definitely there, and I'd trust these poles to last a long time. But for folks who are looking for a good pole for intermittent or very causal hiking, the price of the Black Series Carbon poles may be too much to justify.
Overall Quality – 5/5
So far, these trekking poles have lived up to my expectations. I really tried to put these poles to the test by abusing them the best I could, and they have performed great. From the slushy river hiking through Paria Canyons to tough mountain hiking in terrible weather up in the Rockies, these poles never let me down once.
These are not the lightest poles on the market, nor the heaviest, but they're clearly very durable and can perform in a wide variety of terrains. I also found the cork grips to be of extraordinary quality and comfort, truly sealing the deal in my mind that these are some awesome hiking poles. I plan to use them for every hike from now on, and I expect/hope they will last for many many seasons.
Bringing it Together
We've covered a lot of information in this LEKI Black Series Carbon trekking pole review. Therefore, let's bring all of the above points together to create a concise picture of what these trekking poles have to offer.
Pros:
Incredibly comfortable cork handles
Not too heavy and not too light – great weight-to-function ratio
Excellent durability – no damage or breakage after heavy use
Very easy to deploy and use – quick-lock snaps are a breeze
High-quality feel and materials
Cons:
Incredibly expensive – a major investment for any hiker
Final Thoughts
If you're in the market for a premium-level pair of hiking poles that perform and feel the part, then you can't go wrong with the LEKI Black Series Carbon. Every aspect of these poles embodies a very high-quality approach, and I found them to be remarkably burly with their aluminum-carbon blend but always tolerably lightweight. What's more, the cork handle feels superb and is perfectly designed and angled to provide the ideal amount of grip and support through any type of terrain. I highly recommend these poles to frequent hikers who know they want a top-of-the-line pair of poles and are planning to use them regularly in the great outdoors. Of course, the poles have a very high price tag to match these premium features, and if you hike infrequently or feel that you may not appreciate the high-end materials, then a less expensive pair of hiking poles may be a better choice.