Which Rim to Visit at the Grand Canyon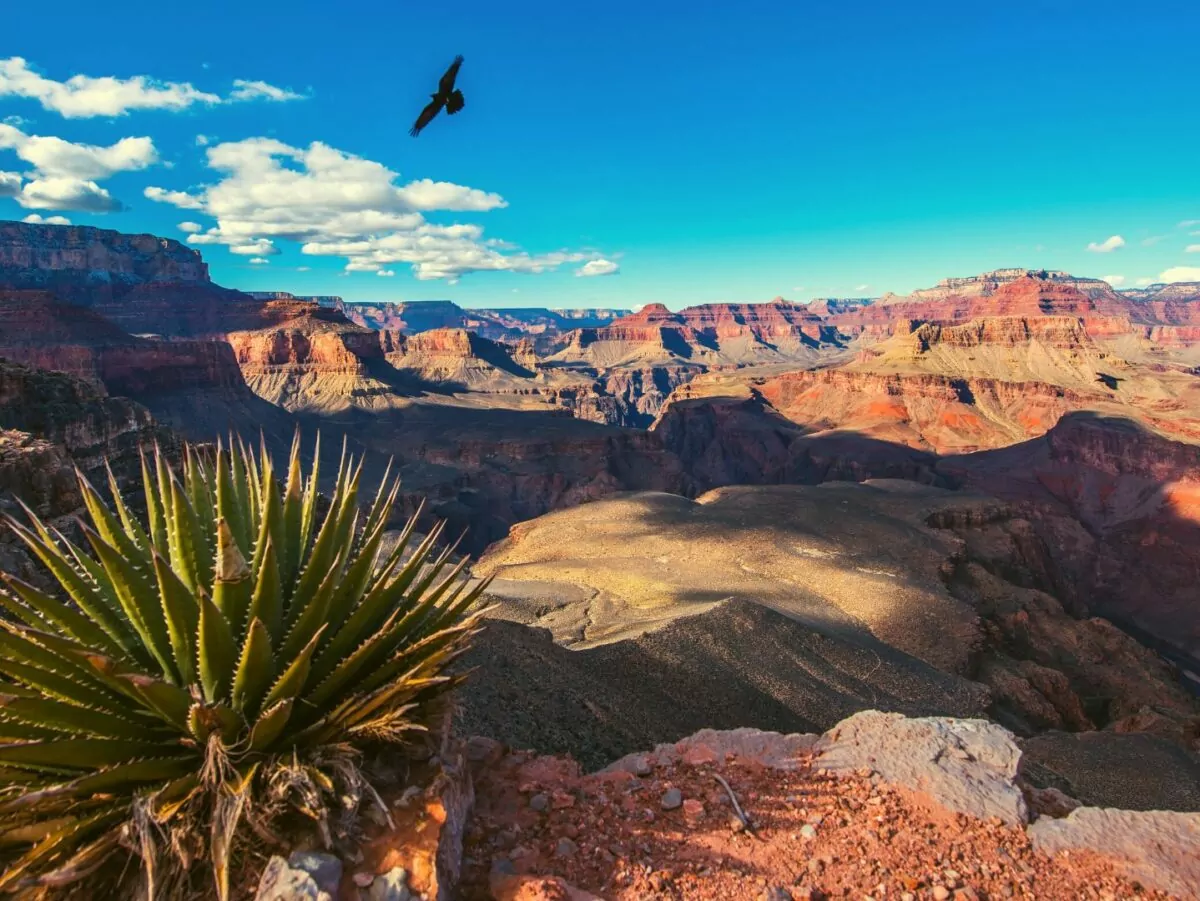 There is only so much that a picture, or blog post, can do to capture a place like the Grand Canyon. Two billion years of deposition, uplift, downcutting and erosion aren't easy to communicate in digital visuals.  It's one of the most studied geologic regions in all the world, a subject of endless philosophical debate and a place of untold cultural significance for its many native people. 
Which rim to visit depends on what you're looking to get out of your Grand Canyon experience, but either way, the impression is sure to leave you in awe. What the North Rim offers in mountain-inspired solitude and reverence, the South Rim counters with easy access, modern convenience, and iconic scenery. Only by visiting can the experience become tangible. 
Visit the South Rim of the Grand Canyon if…
you prefer expansive views, bucket-list trails and modern amenities. 
The entry gate of the Grand Canyon's south rim sits just over 90 miles from Flagstaff, Arizona and a mere 60 miles from Williams, Arizona, both common launching points for adventures in this region. 
The South Rim became popular among American road trippers in part because of its proximity to Route 66: our nation's most storied roadway through the West. Route 66 bifurcates both Williams and Flagstaff and became a central catalyst for the expansion of our country's fascination with wild places.  
Never let the South Rim's popularity belie its ability to inspire in visitors a respect for the force of nature.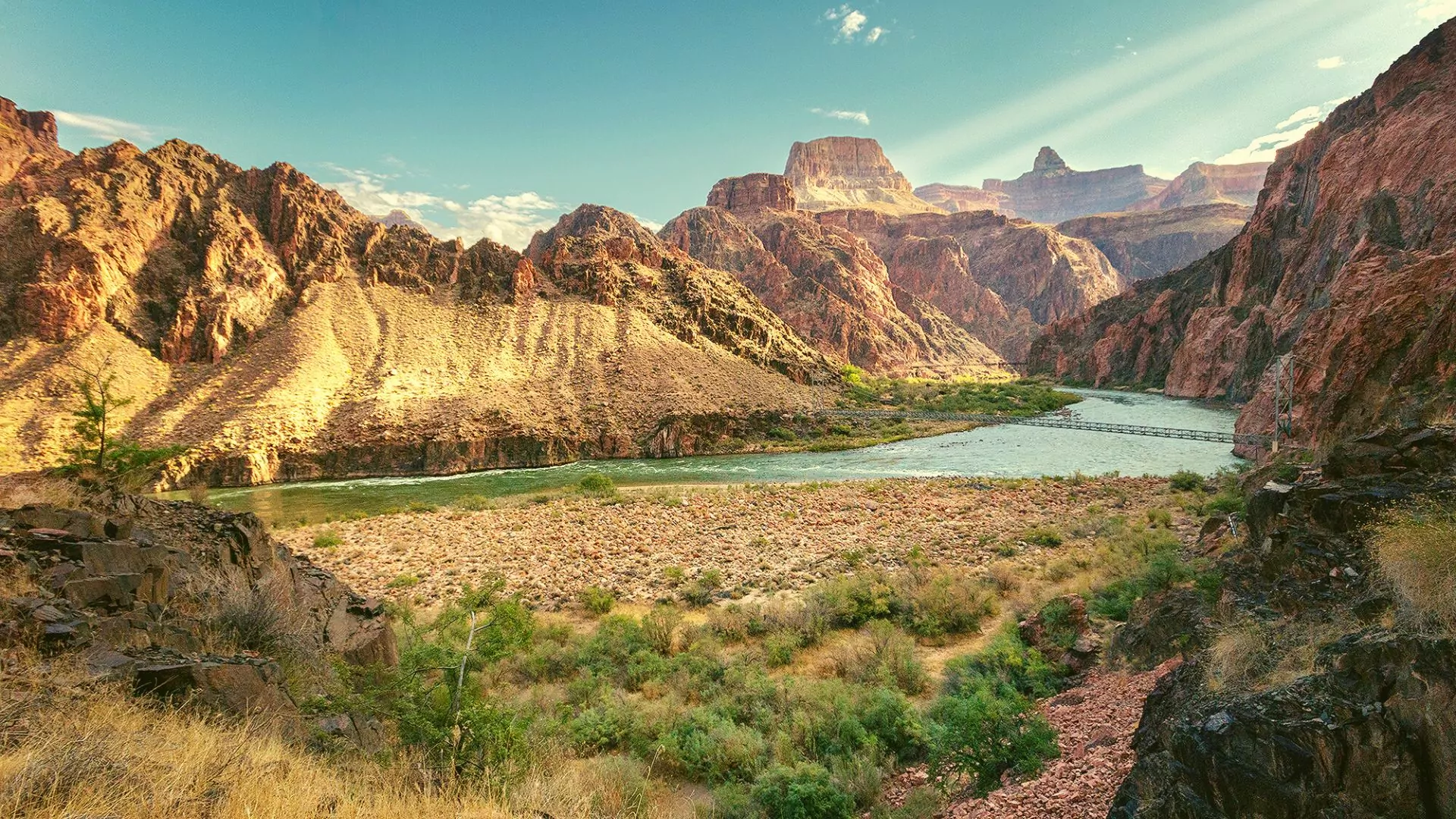 The South Rim is known for its unobstructed, horizon-length views highlighted by temples and buttes, clouds and storms. Introduced from Yellowstone, non-native Rocky Mountain Elk traverse its shady stands of pinyon pine and juniper, flanked by mule deer and hovered over by cantankerous ravens, ready to unzip the backpack's of careless sightseers for snacks.
With paved paths, practical in-park transit, countless indoor activities and retail amenities, bordered by an 18-mile wide, 277-mile long canyon, the South Rim offers opportunities for everyone. This is why almost 6 million people pass through its gates each year.

On the South Rim you'll find fine dining in places like the 120-year-old El Tovar Hotel, and double-scoops of chocolate at Bright Angel Fountain. Cocktails and tales of day hikes gone wrong are always on tap in the Tavern, a popular place for guests of the Mary Colter-designed Bright Angel Lodge – the most prominent architectural feature of the area. Maswik, Thunderbird and Kachina offer visitors a range of lodging and dining choices, each walkable from just about anywhere in the village. 
It is also along this park corridor, one of the busiest, where one is likely to spot the very rare and endangered California Condor, one of the world's largest bird species that at one time totaled a mere 25 members. Rehabilitated and managed condors are often released to the wild on the park's east side, many finding their way to the South Rim via the canyon's natural air currents and abundant food sources. Condors feed on carrion, often a byproduct of human activity. It's not hard to spot a condor given its nine-foot wingspan, and recognizable white, under-wing coloration.  
Mather Campground, while busy, offers beautiful tent camping amongst the Ponderosa Pines. The park's native residents, coyote, deer, elk, and ravens, are all common camp neighbors. And keep an eye out for the elusive mountain lion. Rarely spotted, the big cat is the park's largest predator. Bobcats are less reclusive, and provide no real reason to be feared. 
Accessible by foot and shuttle along the South Rim are popular viewpoints Mather, Bright Angel, Yavapai and Yaki. Sunset and sunrise crowds can be thick at times, but it's often worth the effort. Heading west on Hermit Road offers access to Maricopa, Hopi, Mohave, Powell and Pima viewpoints, from which to contemplate what lies below. 
If you're on a Wildland Trekking trip, you're likely visiting the Grand Canyon to hike, and that means breaking the grip of the South Rim's many comforts to cross the threshold into what this park is truly all about. The Bright Angel trail, most often the exit point for our popular rim-to-rim backpacking adventures, is within striking distance of its namesake lodge. It offers access to Havasupai Gardens, a shaded stop-over and in-canyon campground with water, bathrooms and a ranger station.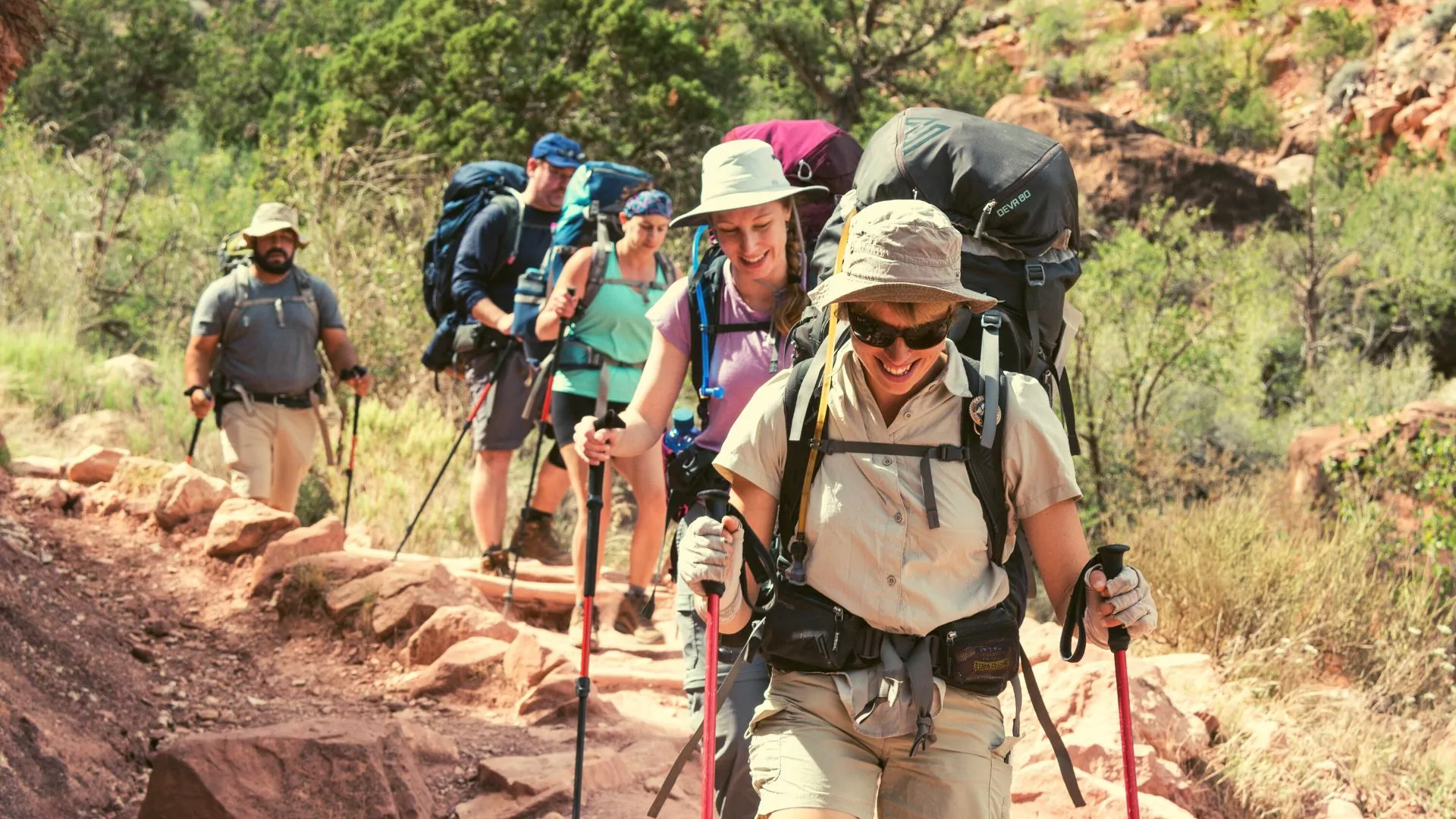 Camping here comes with almost certain visits from the Canyon's mule deer population, adorably nocturnal kangaroo rats, possibly desert bighorn sheep, and very likely, a tarantula or two. 
It's also the jumping-off point for the inner-gorge, where the hiking gets serious. 
East of Grand Canyon Village is the South Kaibab trailhead, a steep, seven-mile shadeless journey to the famous Black Bridge spanning the vibrant, Glen Canyon Dam-controlled Colorado River. This trail is one of many routes for reaching the bottom, ideal for dawn starts and massive views of almost the entire Grand Canyon. There is no water on this trail, and only one vault toilet. 
Hermit Trail is a more rugged, remote gateway into lesser visited western reaches of the Canyon, and one of our guides' favorite areas to lead guests. And the trails only get more rugged and worth the walk as their popularity with the general public declines, such as Grandview and Tanner, some of our more rewarding itineraries.  
In addition to the clearly defined layers of rock type, hikes departing from the South Rim will take guests through a layered menagerie of plant life. Pinyon pine and Utah Juniper trees erupt from high elevation cliffside cracks and hanging gardens fed just enough snowmelt and seasonal rain to break down sandstone and  limestone into vertical habitats. Bordering trails and reaching out from the shade of long-established scree, one can find many many kinds of cactus and cholla, or maybe even a century plant, used from heart to spine by the region's native residents. 
Know that hiking conditions often dictate early starts and many breaks, as temperatures tend to rise five degrees for every thousand feet of descent, meaning it can be more than 20 degrees warmer at the bottom of the Grand Canyon than on the rim. In fact the heat in the inner canyon can be downright dangerous when not respected. Guests are encouraged to cool off in streams, eat plenty, and drink often. Plan right, and it'll be an experience never forgotten.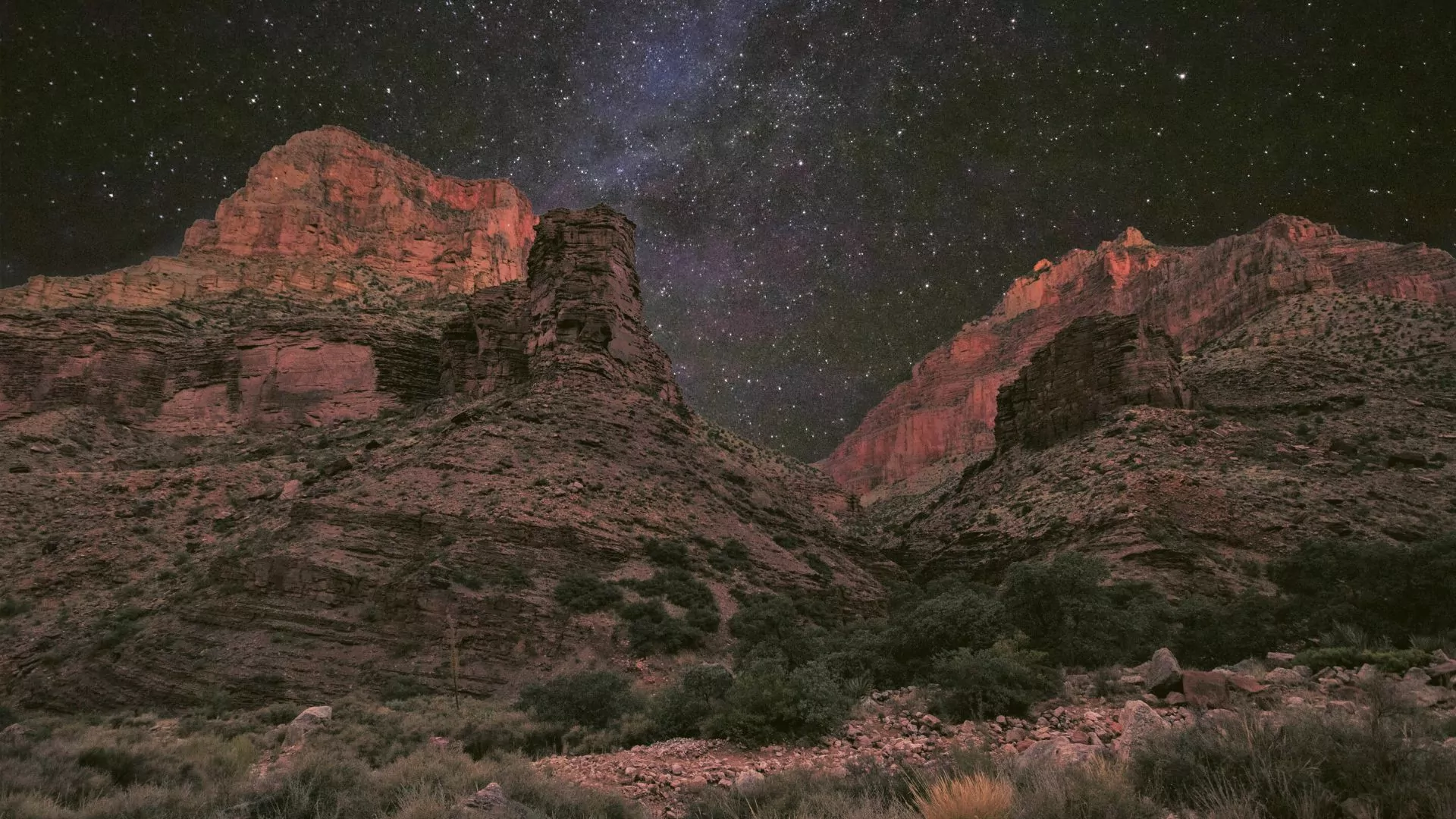 In summary, the South Rim offers a wide array of adventures, ideal for both the vacation-minded visitor not afraid to play tourist, and those who want to be part of the one percent who leave behind the comforts of cell coverage, cappuccinos and fresh sheets to journey below the rim.
Visit the North Rim of the Grand Canyon if…
you enjoy more solitude and being in places that most haven't. 
It's not unusual for the 8,200 foot North Rim of the Grand Canyon to be compared to the vast, undulating forestlands of Yellowstone National Park, another popular Wildland Trekking destination. Most of what visitors see upon the approach to the park after the Jacob Lake community, is the Kaibab National Forest: a surprisingly green and rolling, high elevation prairie.    
Whereas the South Rim feels like the southwest, its opposing region feels like the Rockies. Dense forests screen the Canyon's red and gray flaking walls and soaring scenery. It can be beautifully jarring, in the best of ways.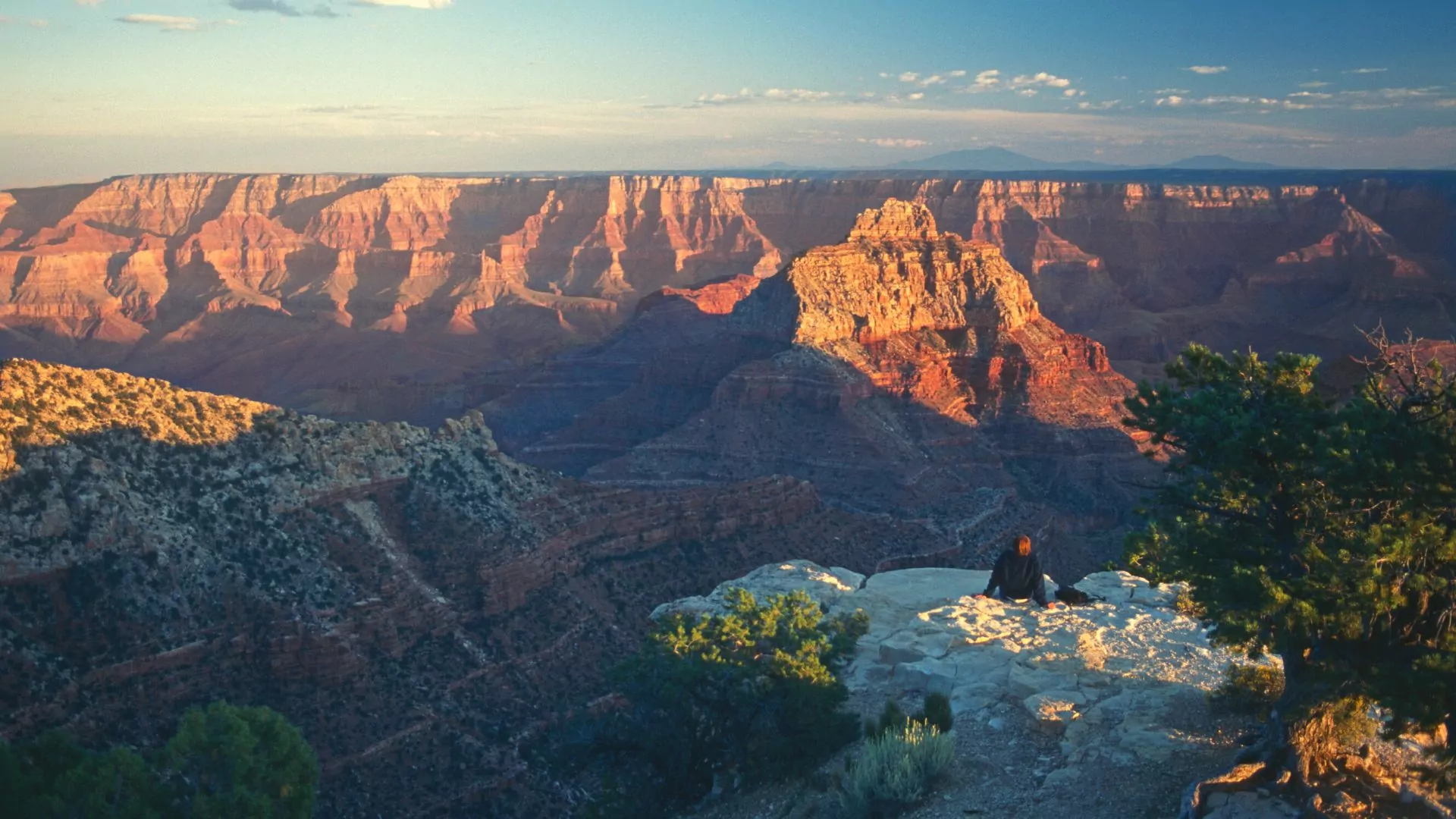 Services in this region of Grand Canyon National Park are limited to a campground, its general supply store, and one singularly magnificent cliff-hanging lodge, considered a trophy of the National Park System. 
In 1906, Teddy Roosevelt found the forests of the North Rim enchanting enough to establish it as a game preserve, spending multiple seasons hunting its predators – mountain lions, wolves, and coyotes – to increase its deer population. Like most early environmental endeavors, Roosevelt's actions proved more harmful than beneficial. Without predators, the North Rim's hooved animal population is believed to have flourished uncontrollably, according to a number of studies. The region he hunted was later deemed a National Forest, and eventually gained park status in 1919. 
A similarly misaligned effort led to the existence of a small herd of hybrid American bison, bred with cattle by an ambitious rancher. His experiment ultimately led to an invasive species taking up residency within the park's tree-lined meadows and rolling culverts. The Park continues to address their existence in a myriad of ways, including outright elimination. Studying them remains the priority as research reveals similarity to other parks' herds. Despite the debate, seeing them adds a unique sense of westward-expansion nostalgia. 
The North Rim's primary access point for Wildland Trekking trips is the North Kaibab Trail, at the narrowing mouth of Bright Angel Canyon. Late autumn hikes can mean warm layers to start and breath-stealing creek plunges to salve the heat of the inner gorge, six miles below. The trail descends past Roaring Springs, a primary canyon water source, a park service helicopter pad, an historical artists' cabin, and through the same number of life zones one would pass if traveling from Canada to Mexico. From ferns to cactus and from burly elk to the endemic Grand Canyon pink rattlesnake, exploring from rim to river offers a variety of nature unmatched elsewhere. 
The aspen and fir forests of the North Rim also offer gateways to our more arduous desert expeditions, one being the Wonders of the Grand Canyon, leveraging the Thunder River Trail, and our most remote trip within the program, the Kanab Creek Adventure. This tough, thrilling hike twists through slot canyons, meanders over stretches of high desert esplanade, and finally, visits the Colorado River. 
The North Rim provides guests options for inn-based and basecamp itineraries, as well, so you don't have to rough it simply because the terrain suggests it. On those trips, expect to visit a number of stunning day hike options, such as the Ken Patrick trail, Widforss trail and Point Imperial.
There is no complete visit to the North Rim of the Grand Canyon without time spent on the deck of the Grand Canyon Lodge, a chasm-side icon to early park system architectural majesty. The original burned down in 1932, four years after construction, only to have its replacement open in 1937, and remain in place, mostly intact, since.  
Defined by the motivation it takes to get there and accentuated by its unexpected wilds, Grand Canyon National Park's North Rim is one of those places that far fewer have seen, but more talk about. 
So what rim of the Grand Canyon should I visit?
It can be tough for guides to answer this question.  
For a typical family or friend group with limited time to explore places like the Grand Canyon (is there really ever enough time?), visiting the South Rim provides the greatest range of Grand Canyon experience for the least amount of commitment. The South Rim is more accessible, the views are beyond measure, and the excitement of the National Park experience is all-encompassing. If you're ready for the additional challenge, you can also easily gain access to its wild interior. Ultimately, the South Rim is more "iconic Grand Canyon." This is what you see on the posters, in the paintings, and on the PBS documentaries.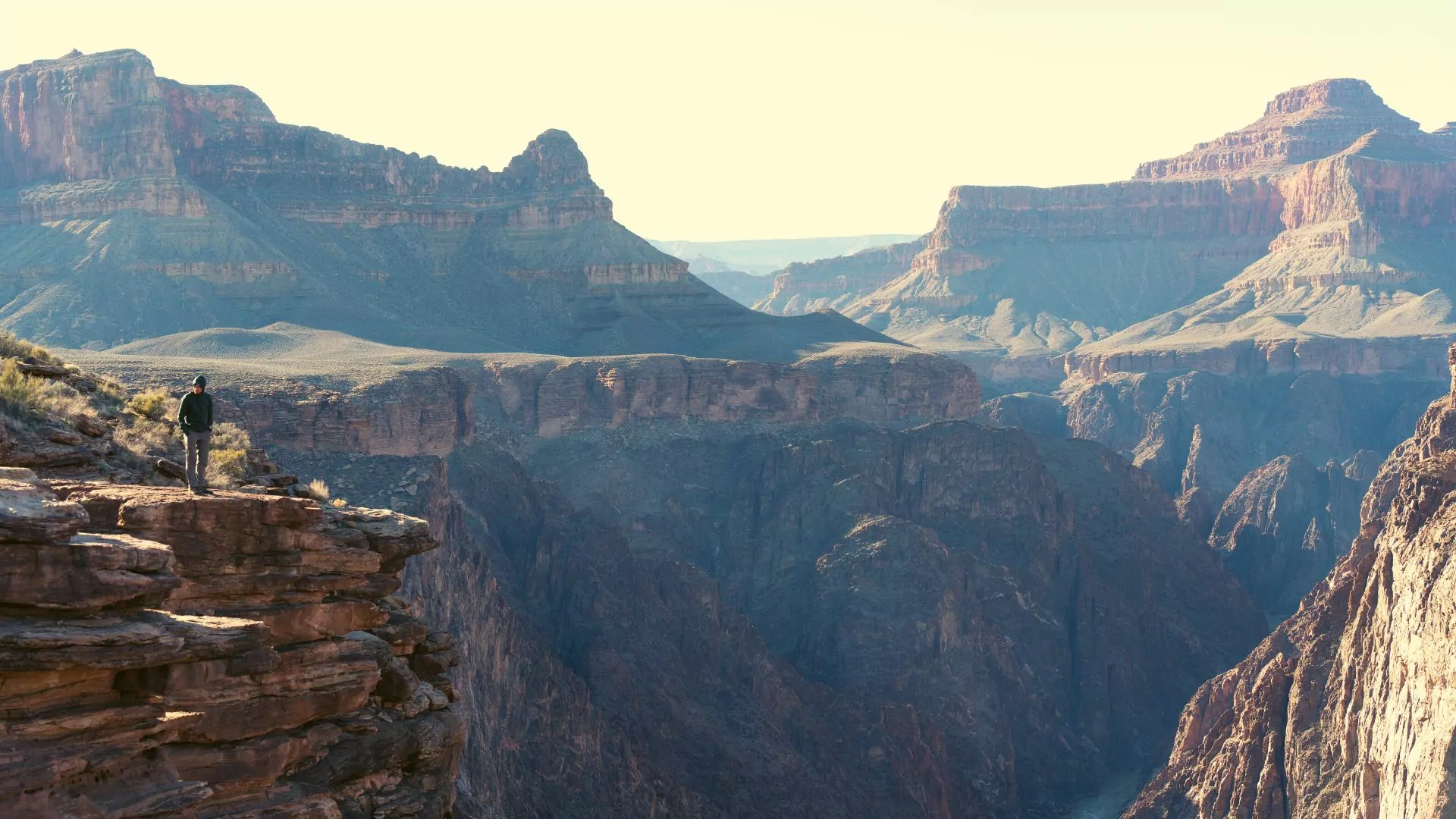 Again, it's a tough choice.  
And please, should an opportunity to visit the other side arise, don't let it slip.  
Wildland Trekking offers experiences on both rims of Grand Canyon National Park, escorting hikers into the deep, red miles of its twisting, cactus-trimmed corridors or orchestrating comfortable, lively vacations in its lodges and campgrounds. Our Grand Canyon itineraries are as variable as the landscape they celebrate.  
We hope that what is outlined here helps at least a few aspiring guests decide what is best for their time away, budget, and tolerance for adventure.