Top Washington Backpacking Trips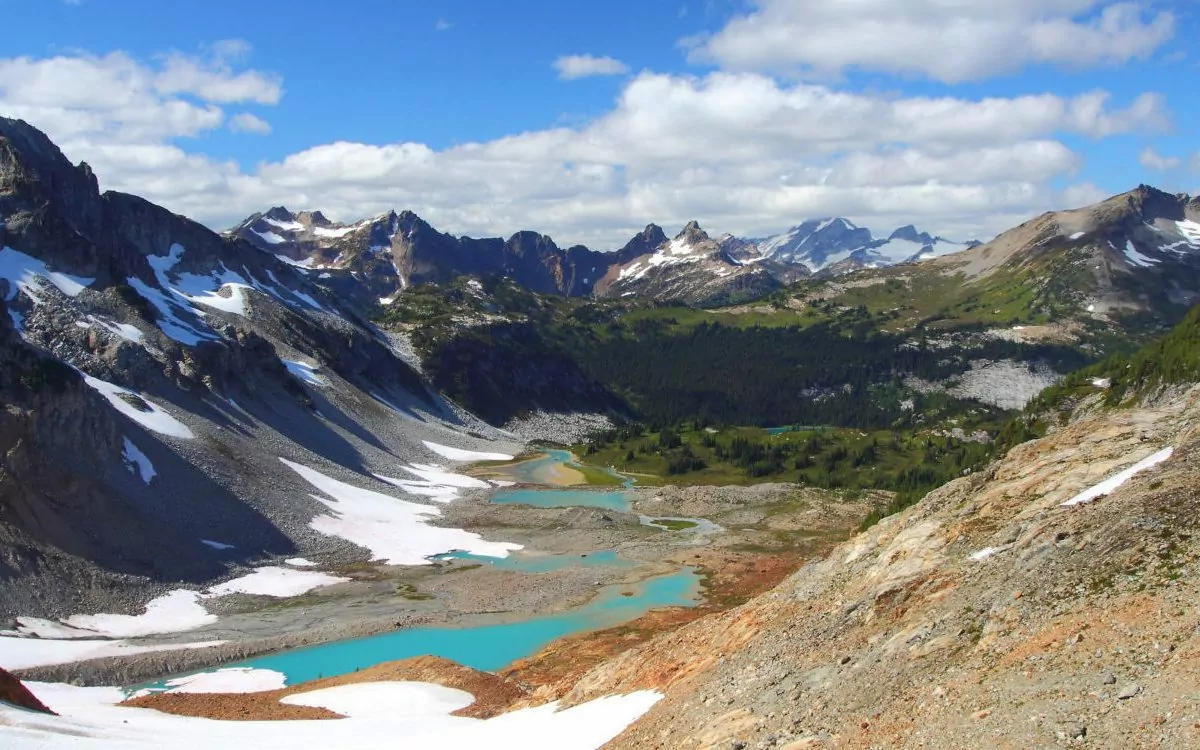 When you think about backpacking in the United States, does your mind immediately go to the lush old-growth forests, rugged peaks, and wild coastline of Washington State? If it doesn't – it should. Washington has some of the most beautiful, varied, and well-maintained trails in the country, so many seasoned backpackers are well aware of the multitude of trails that wait to be explored. It would take a lifetime to scratch the surface of all the magic that Washington has to offer, but here is a collection of some of the most impressive trail systems in the state. There's something here for everyone – from first-time backpackers to those already comfortable with harsh terrain, snow travel, and navigation.
The unique climate and heavy seasonal rainfall of the Pacific Northwest help to carve dramatic landscapes – from sea stacks to rainforests, to mountains so steep they are nicknamed "the American Alps." These Washington backpacking trips will leave you exhausted and dirty (with a smile permanently plastered across your face), but you'll undoubtedly be planning your next trip the moment you step off the trail.
| | | | |
| --- | --- | --- | --- |
| Trip | Difficulty | Days | Miles |
| Seven Lakes Basin/High Divide Loop | Moderate | 3 | 18 |
| South Coast Trail, Olympic National Park | Moderate | 3 | 17 |
| Cascade Pass/Sahale Glacier/Horseshoe Basin | Strenuous | 2-5 | 20+ |
| Spider Gap/Buckcreek Pass | Strenuous | 4-5 | 44 |
| | | | |
Explore the Pacific Northwest with Expert Guides
1. Seven Lakes Basin/High Divide Loop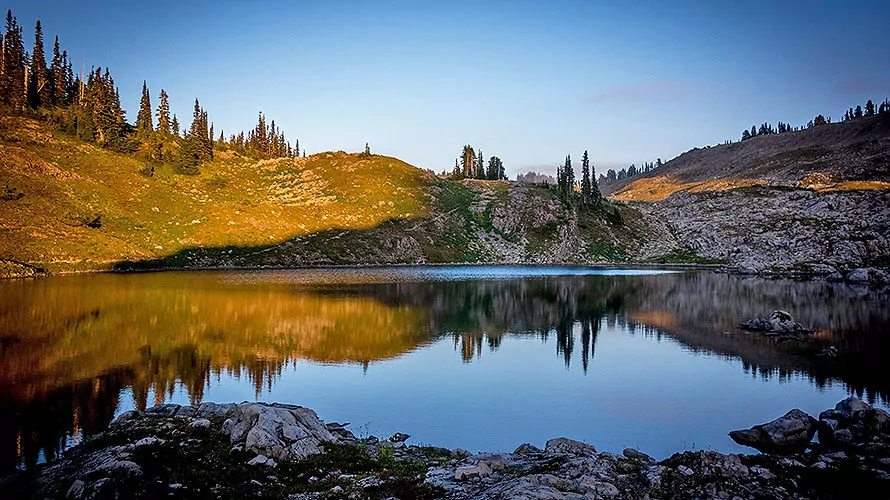 Trip Overview
The Seven Lakes Basin Loop is a classic destination that ventures into the high country of Olympic National Park. This eighteen-mile loop takes you past one of the most beautiful waterfalls in the state, through old-growth rainforests, and up into a subalpine basin sprinkled with lakes and tarns (a 'tarn' is just a more specific name for a small alpine lake residing in a glacially-carved bowl). The low mileage is deceiving – this hike climbs substantially but packs in the views: from wildflowers to wildlife, to the idyllic turquoise lakes set amidst rolling green meadows and rocky ridges.  Hikers also have the opportunity to take short detours to additional lakes or to ascend Bogachiel Peak, which sits along the High Divide Ridge at almost 5500 feet.
Trip Details
Deer Lake
Starting the loop counter-clockwise, you'll follow signs for Deer Lake as you hike through old-growth forest to Sol Duc Falls. If you begin your hike early, you may get to experience the falls with minimal crowds. Later in the day, this is a crowded day hike. Stop on the bridge and let the mist of the falls surround you. From here, you'll continue to climb and reach Deer Lake at around 3.4 miles. This lake, set amidst a sub-alpine forest, is deserving of its name. If you choose to spend a night here, listen for sounds of deer crunching through the woodland.
If you got an early start, you might choose to take in the sights and sounds of Deer Lake for lunch before advancing to a higher camp, such as Potholes Camp at 4.9 miles or one of many sites at the Seven Lakes Basin around mile 7.5.
High Divide and Seven Lakes Basin
You reach High Divide around mile six, and the grade of the trail eases while the views progressively get better. Around mile seven, a junction leads you down into the Seven Lakes Basin. This basin is home to more than the seven lakes that the name suggests and includes the scenic Round Lake and Lunch Lake, where there is a group camp. In addition to group camps, there are several single campsites further into the basin, towards Wye Lakes if you can secure a permit and want the added solitude.
Once you enter the basin, avoid the temptation to wander. Stay on the established trail and observe the variety of alpine species that surrounds you. Wildflowers begin blooming after the snowmelt, usually around late-July, and peak around early August. In the early fall, be on the lookout for blueberries to snack on. This basin is home to many wildlife species – namely deer, elk, marmots, and black bears.
Mountain goats were once a common sight in this area, but this may be changing. This controversial species was introduced to the Olympic Mountain range by hunting groups in the 1920s, so in 2018, the Park Service began the process of relocating the Olympic population to the Cascade Range on the Eastern side of the Puget Sound, where they are native. Mountain goat populations, when uncontrolled, are detrimental to fragile alpine environments, and ecologists hope that this relocation will help restore the park's ecology to a more natural state. Hikers can help maintain this balance by watching where they urinate – deer and goats crave the salt in human urine, so be mindful to pee on rocks and trails, rather than alpine plants. This will stop deer from pulling up these delicate species to get to the salt.
Bogachiel Peak
From High Divide, Mt Olympus dominates your view to the South as you stare straight at the park's largest glacier – Blue Glacier. It is hard to get a sense of scale from this view, but for some context: Blue Glacier contains around 580 million cubic feet of ice and snow. It's currently retreating, like many of the country's glaciers, and has lost 178 feet of depth at its terminus since 1987.
The trail meanders along the divide until you can choose to climb a short side trail towards Bogachiel Peak, a former lookout site. It offers spectacular views of the Bailey Range, the Seven Lakes Basin, Mt. Olympus, and the Hoh River Valley snaking its way through various shades of green at the bottom of a U-shaped valley.
Heart Lake
It's a steady descent for the rest of your journey. Heart Lake, located below High Divide at mile 10.5, sits around tree-line and has some great camping options. Keep an eye open for Roosevelt Elk, a species unique to the Olympic region, as hikers often see them grazing in the meadows. Once you leave Heart Lake, the trail dips back into the forest, regularly meeting up with the raging Sol Duc River before joining with the junction near the falls once again. From here, it's a quick walk back to your car.
Recommended Itinerary
Day 1: Sol Duc Falls Trailhead to Deer Lake. Total hike is 3.4 miles, 1650 feet elevation gain.

(Alternative with an early start: Sol Duc Falls Trailhead to Lunch Lake or other Seven Lakes Basin camp, Total hike is 7.5 miles, 3000 feet elevation gain.)
Day 2: Deer Lake to Heart Lake. Total hike is 6.5 miles, 1750 feet elevation gain.
Day 3: Heart Lake to Sol Duc Falls Trailhead. Total hike is 6.5 miles, 1860 feet elevation loss.
Getting There
The Sol Duc Valley is on the Northern side of the Olympic Peninsula, located off Hwy 101 between Forks and Port Angeles. Road conditions can vary with weather, especially in the early spring and late fall.
From Port Angeles:
Drive west on Hwy 101 for 29 miles until you reach Sol Duc Road. Turn left and continue on Sol Duc Road for 14 miles. Once you pass the hot springs and resort, you'll soon reach the parking lot at the end of the road.
Permits, Fees, and Reservations
There are a limited number of permits for overnight campers to protect this alpine landscape. You can make reservations in advance, which the National Park Service recommends between May 1st and September 30th. However, if you're looking for a last-minute trip, half of the campsites on the High Divide loop are kept open for walk-up permits at the Wilderness Information Center. Camping along the loop is permitted in designated sites only. Bear canisters are required and can be rented at the Wilderness Information Center.
An entrance fee* of $30 per vehicle, or $15 per individual, is required to enter the National Park.
*The America the Beautiful National Park Pass would cover this entrance fee.
Wilderness Camping fees of $8 per person are charged for each adult over 16. There is a $6 non-refundable reservation fee for each overnight permit reserved in advance.
When to Hike
Mid-July through September is the best time of year to hike this loop due to late snowmelt and early snowfall at higher elevations.
Hike Seven Lakes Basin with a Guide
Guided Seven Lakes Basin backpacking trips are available, and are a stress-free, exciting way to do this trip. The tour company handles permits, gear, transportation, meals, and provides a professional guide so you can focus 100% on enjoying your adventure. Read more…
Award Winning Hiking Adventures
2. South Coast Trail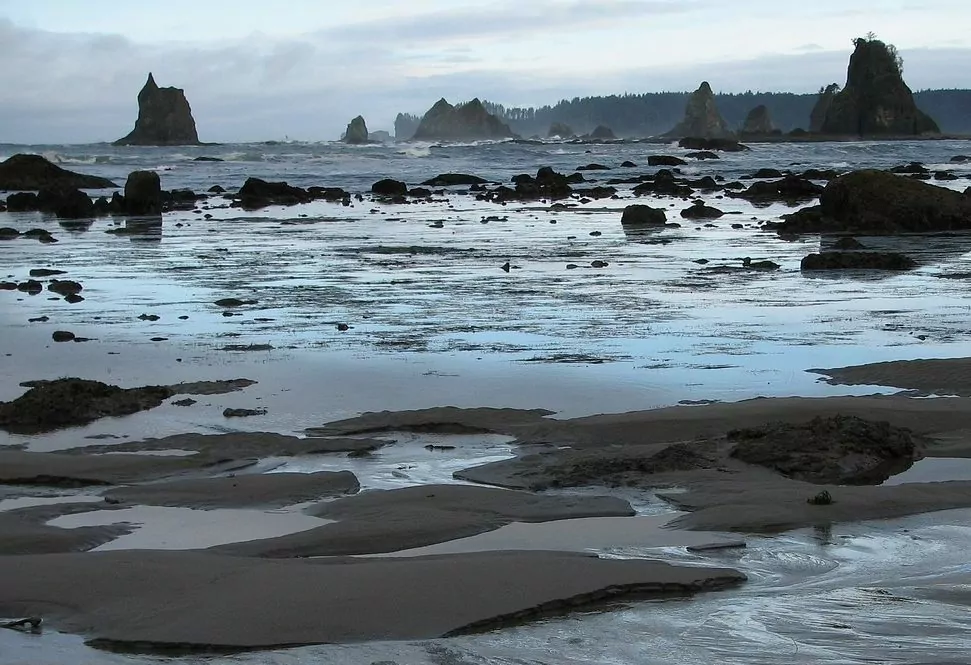 Trip Overview
The Olympic Coast is unlike any other location in the country. The beaches are unique – from sandy expanses to boulder-covered coastlines, to towering sea stacks silhouetted by the setting sun. Each mile provides a new challenge and adventure to backpackers willing to work with the changing tides. Two sections of the Olympic coastline are completely undeveloped – one of which is the Southern stretch, from Oil City to Third Beach. The low mileage doesn't mean a more leisurely excursion; this seventeen-mile trek requires you to hop on boulders and driftwood, ford rivers, and climb up and across wild headlands via rope ladders. For those willing to put in the work, a dynamic, wild coastline awaits – abounding with marine life and free from human development.
Trip Details
Oil City Trailhead
The stretch from Oil City to Third Beach is best hiked from south to north based on the tides. Before setting off on your hike, talk to a ranger at the Wilderness Information Center about the tides and best times to ford rivers and get past the rough sections of trail. Once equipped with a tide table, start at the Oil City trailhead and take the South Coast Trail along the Hoh River. You'll start on level ground as you quickly approach the coast. Hop along boulders and driftwood as you pass Diamond Rock – the lower the tide, the easier this section will be.
Hoh Head and Mosquito Creek
As you approach Hoh Head, you'll have to divert into the forest and climb a series of rope ladders. Gloves can be helpful during these stretches as you pull yourself (and your pack!) up these ropes. The first rope ladder you encounter is the start of a three-mile stretch overland through the forest. The rainforest contains thick beds of moss, huge banana slugs, bushes of edible thimbleberry, and soaring old-growth Douglas firs and Sitka spruce. You'll continue to descend and climb, adding elevation to what would be an otherwise gentle trail. The miles are slow here – with many groups averaging one mile an hour. Camp near Mosquito Creek and plan to ford the river at low tide the next day. During high tide or after heavy rains, this can be a very challenging crossing.
Strawberry Point and Toleak Point
Continue along the beach, watching for bald eagles, harbor seals, sea lions, and whales. At times, you'll turn back inland to climb bluffs when necessary.
A second night of camping at either Strawberry Point or Toleak Point will allow you ample opportunity to take in the immense diversity of sea creatures that inhabit this coast. Tide pools teeming with life should be observed during the lowest tides possible. Vibrant sea stars, waving anemones, sea slugs, and mollusks exist in depressions in and between rocks. The longer you watch, the more life appears before your eyes. Tiny fish dance amidst the floating kelp, while nearly invisible crabs scuttle back and forth in the pools. Barnacles open and close their shell, extending a feathery appendage, to take in microscopic plankton.
Third Beach
From your last campsite, head north towards the Third Beach trailhead, and take in the beauty of the Giants Graveyard, an iconic cluster of sea stacks near Scott Creek. Soon you will be back in the forest, where a mile and a half trek returns you to your parked car.
Recommended Itinerary
Day 1: Oil City Trailhead to Mosquito Creek Camp. Total hike is 6.1 miles.

Day 2: Mosquito Creek Camp to Strawberry Point. Total hike is 5.6 miles.
Day 3: Strawberry Point to Third Beach trailhead. Total hike is 5.5 miles.
Getting There
This one-way hike requires a two-car shuttle to complete. Drop one car at the Third Beach trailhead, and shuttle with the second car to the start of your trek at the Oil City trailhead.
From Forks, WA: 
To drop a car at the Third Beach Trailhead, drive north on Hwy 101 for 1.5 miles. Turn left onto WA-110 W/La Push Road. You will reach the Third Beach Trailhead in 11.6 miles. Hop in the second vehicle and backtrack to Forks. Turn right to head south on Hwy 101 for 15.8 miles until you reach Oil City Road. Turn right and follow Oil City Road for 10 miles until you reach the trailhead.
Permits, Fees, and Reservations
Permits are required for overnight travel in Olympic National Park, and you can obtain one at the Wilderness Information Center in Port Angeles. However, there is currently no limit on permit numbers and no advance reservations are necessary. Many camps, such as Third Beach, can get very crowded in the summer and finding campsites can get challenging.  Bear canisters are required and can be rented at the Wilderness Information Center.
An entrance fee* of $30 per vehicle, or $15 per individual, is required to enter the National Park.
*The America the Beautiful National Park Pass would cover this entrance fee.
Wilderness Camping fees of $8 per person are charged for each adult over 16.
When to Hike
May through October. Always bring a topographical map and tide chart to ensure you follow appropriate routes and times each day. Heavy rainfall and high streamflow levels in the winter and spring increase the challenge of this trail, so it is recommended only to experienced backpackers during these seasons.
Hike the Olympic Coast with a Guide
If the appeal of the coast draws you in, but you dread the logistics surrounding this trip, guided Olympic Coast backpacking trips are a stress-free, exciting way to do this trip. The tour company handles permits, gear, transportation, meals, tide table logistics, and provides a professional guide so you can focus 100% on enjoying your adventure. Read more…
All-inclusive Washington Trekking Trips
3. Cascade Pass/Sahale Glacier/Horseshoe Basin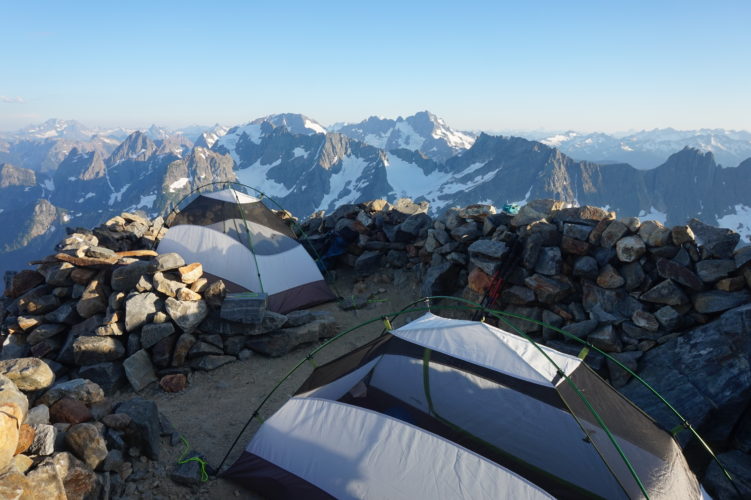 Trip Overview
The North Cascades National Park is an amazing hiking destination less than three hours from Seattle, but with a fraction of the visitors as other parks in the area. The backpacking trips in this park will lead you through old-growth forests, wildflower-filled meadows, into some of the best alpine terrain this country has to offer. As you look out onto a vast wilderness system of hundreds of glaciers crowned with jagged peaks, you'll gaze at a dynamic yet vulnerable ecosystem that is continually being shaped by our changing climate. Listen for the crashing of hanging glaciers, the humming of the varied thrush, and the bubbling of alpine streams as you traverse through some of the most magnificent environments you'll ever see.
Trip Details
Cascade Pass
The moment you arrive at the parking lot for the Cascade Pass trailhead, you know this is going to be a special trip. Johannesburg Mountain dominates your view to the Southwest — a dark, blocky, monolith with hanging glaciers dripping over its' steep relief — while water cascades down the rocky gullies of Cascade Peak and the Triplets, and into the valley below.
The trail takes off into the forest and gently ascends over thirty switchbacks in about three miles. Peek-a-boo views of Eldorado Peak greet you through breaks in the trees as you round switchback corners. As you start ascending higher into a sub-alpine zone, the trees get shorter, and wildflowers get plentiful – depending on the season. Talus fields lead the way towards Cascade Pass, and if you engage your senses, you may be able to hear the resounding whistle of a marmot before you see one scurrying between rocks or lounging in the sun.
Cascade Pass is a favorite day hiker destination – for a good reason. As you reach the crest, expansive views into Pelton Basin open up in front of you. Bears, mountain goats, and marmots frequent this basin and can often be seen moving through the valley. From the pass, trails branch off in multiple directions. A trail ascends north towards the Sahale Arm and Sahale Glacier Camp. A path, which leads into the Upper Stehekin River Valley and towards Horseshoe Basin, descends to the east.
Sahale Glacier Camp
If you've secured a permit for the Sahale Glacier Camp, you have a big climb ahead of you. As you head up towards Sahale Arm, be mindful to stay on the trail. You are entering an alpine zone with fragile vegetation. The hike up to Sahale Glacier camp  – the highest-elevation established campground in the North Cascades – is not for the faint of heart. It is a strenuous journey of almost 4000 feet of elevation gain. However, every step is worth the effort. As you climb higher, Doubtful Lake, which sits beneath Sahale Peak, comes into view. The various shades of turquoise look almost irresistible, but the trek down to the lake is best saved for another day.
The trail continues up onto the Sahale Arm, the ridgeline that leads towards the peak. The trail progressively gets more narrow and rockier as you gain elevation. The terrain in the last mile crosses loose boulder fields and requires navigation by cairns. Take caution; the trail can quickly become hard to follow in low-visibility conditions. Once you make it to Sahale Glacier Camp, you are rewarded with some of the best views in the state, and maybe even the country. Layers and layers of the Cascade Range extend before you, with new details revealed with the shifting of the sunlight. Choose a camp spot protected by one of the many rock walls. Stake your tent down well here; weather can roll in quickly in this alpine environment, and high winds are common.
Upper Stehekin River Valley
If you don't have a Sahale Glacier Camp permit or you're saving it for later in your trip, head downhill from Cascade Pass to descend into Pelton Basin through hills of blueberry bushes (which reach their peak in early-to-mid September). Black bears cubs often tumble around on the snowfields in this basin. The longer you stay on the trail, the higher the surrounding peaks tower above you. Pelton Basin Camp sits at the bottom of this valley and is a great basecamp to explore this area.
If you are continuing to Basin Creek Camp, cross a small pass through a stand of trees. This pass leads you to the adjacent valley: the Stehekin River Valley. Humans historically used this route as a crossing point in the Cascades. Native tribes first crossed these rugged mountains for hundreds of years before eventually, prospectors arrived to search for gold and other precious metals. Relics of mining history remain in Horseshoe Basin at the Black Warrior Mine. There were even talks of developing the Cascade highway through this valley!
Alternative Routes
This area offers many different options for backpackers with alternative routes of varying trip lengths. If you only have one car, it is best done as a four-day out-and-back that starts with a hike down to Basin Creek and Horseshoe Basin, before returning the way you came, to spend your last night at Sahale Glacier Camp. While this is one option, one-way variations of this hike (such as Cascade Pass to Stehekin or Thunder Creek) are available if you have multiple cars to shuttle or arrange a key swap with another party halfway through. If you want a more relaxed multi-day option, you can secure permits for Pelton Basin Camp for two or three nights, allowing you to day hike to Horseshoe Basin and Sahale Glacier Camp without a heavy pack. The options are limitless!
Recommended Itinerary
Day 1: Cascade Pass Trailhead to Basin Creek Campground. Total hike is 7.4 miles, 1800 feet elevation gain, 2300 feet loss.

Day 2: Horseshoe Basin day hike from Basin Creek. Total hike is 4-6 miles, 1000 feet elevation gain & loss.
Day 3: Basin Creek Camp to Sahale Glacier Camp. Total hike is 6.4 miles, 4400 feet elevation gain.

Day 4: Sahale Glacier Camp to the trailhead. Total hike is 6.4 miles, 4300 feet elevation loss.
Getting There
From Seattle:
Follow Interstate 5 north from Seattle until you reach Exit 208 towards Arlington/Darrington. Turn right onto WA-530 East. Continue to follow signs for 530 East until you reach the town of Darrington. Turn left to stay on WA-530 and continue straight for 18.6 miles. Turn right onto Hwy 20 E and follow for 8.4 miles. Directly after the town of Marblemount, turn slightly right and cross a bridge onto Cascade River Road. Follow this road for 23 miles to the Cascade Pass Trailhead.
From Sedro-Wooley:
Follow Hwy 20 east for miles until reaching the small town of Marblemount. Turn slightly right and cross a bridge onto Cascade River Road. Follow this road for 23 miles to the Cascade Pass Trailhead.
Permits, Fees, and Reservations
Backcountry permits are required year-round for all overnight trips into the North Cascades National Park. Advanced reservations are available for many sites in the park and are highly recommended if you want to secure a permit for the Sahale Glacier Camp. These reservations can be made from March 15 – April 15 for the summer season, and there is a $20 non-refundable application fee for each reservation submitted. You can secure walk-up permits for free for many sites the day before or the day of an overnight visit on a first-come, first served basis. You can obtain these permits at the Wilderness Information Center in Marblemount. Bear canisters are required by campers at Sahale Glacier Camp and are loaned to backpackers by the Park Service for free. Proper food storage, in canisters or by bear hangs, is required in all other parts of the park.
When to Hike
Mid-July through September is the best time to do this backpacking trip due to the high elevation of the trails. Weather and trail conditions are more variable at other times of the year and should be checked for every backcountry outing.
Hike Cascade Pass – Sahale Glacier with a Guide
Guided Cascade Pass – Sahale Glacier backpacking trips are available and are a stress-free, exciting way to do this trip. The tour company handles permits, gear, transportation, meals, and provides a professional guide so you can focus 100% on enjoying your adventure. Read more about backpacking with Wildland…
4. Spider Gap/Buckcreek Pass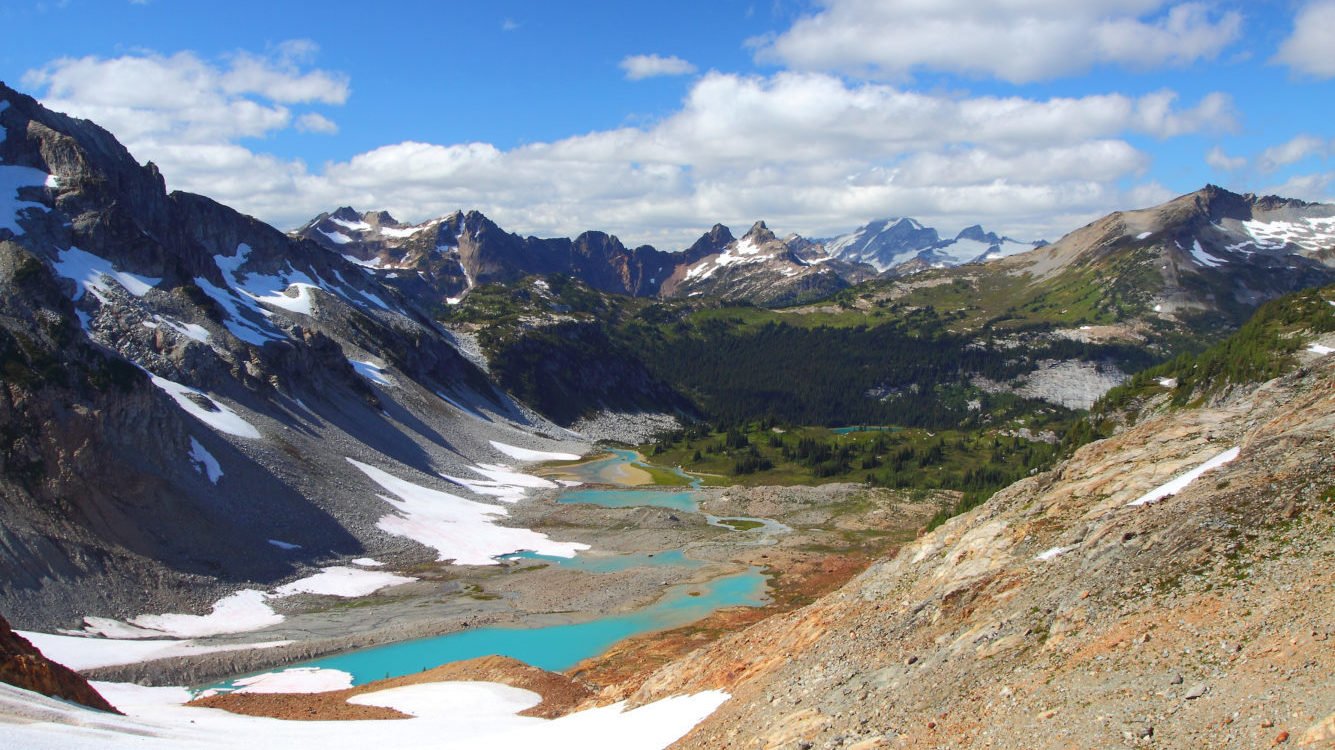 Trip Overview
The Spider Gap to Buckcreek Pass loop is a spectacular late summer backpacking trek that leads you through pristine wildflower-filled meadows, over snowfields, and through rugged alpine terrain. You will marvel at the beauty of the Central Cascade Range and get close-up views of Glacier Peak, one of Washington's five volcanoes. This 44-mile loop takes you through some of the most scenic lands Washington has to offer. You climb up and over multiple mountain passes, setting you up for over 8000' of elevation gain by the end of your journey. The endless mountain views, remote atmosphere, alpine lakes, and wildlife sightings will astound you, helping you to forget how hard you're working. This trip is best suited for those with backpacking experience as it requires navigation skills and travel over difficult terrain.
Trip Details
Spider Meadows and Spider Gap
You'll leave the Phelps Creek Trailhead and follow an old mining road along the creek for around 4.5 miles. Enjoy the gentle grade of this trail as you make your way towards Spider Meadows. At mile 5, you emerge from the trees and enter Spider Meadows: a popular backpacking and day hiking destination. In late summer, these meadows are alive with numerous varieties of wildflowers in all hues.
If you don't mind crowds, camping in these meadows is a great option for a more leisurely first day. However, these spots fill up fast on a summer weekend. Another option is to continue along the trail to a more isolated camp – either at Phelps Basin at the far end of the meadow, or the base of Spider Glacier. At the end the meadows, you will branch left to climb up and over Spider Glacier to Spider Gap — your highest point at 7100'. From here, the trail fades, and you will navigate by map and boot path. Traction can be helpful depending on the time of year and softness of the snow. Trekking poles are a must here!
Lyman Lakes Basin
At the top of Spider Gap, you will see your destination – the Lyman Lakes basin. The powdery blue color of these lakes is due to glacial "flour," the result of the immense pressure of moving glaciers grinding rocks down into fine silt. Descend steep terrain through scree fields towards the Lyman Basin. Early in the season, snow and ice coverage can make this section impassable. In August and September, a lovely campsite at Lower Lyman Lake awaits you. These lakes are a great place to set your pack down and explore the area; Lyman Falls and Hart Lake are worthwhile destinations to hike to from camp.
Image Lake
Once you leave Lower Lyman Lakes, head uphill for 1.5 miles towards Cloudy Pass, a high meadow set at around 6400'. Another 2.5 miles of hiking will take you to Suiattle Pass. Soon, you will turn left to join with the Pacific Crest Trail. You will only hike on this famous trail for about a mile before you turn onto Miner's Ridge Trail. This trail leads to Image Lake, an incredibly worthy detour to your trip at around 7.5 miles roundtrip. Spend a night at Image Lake, enjoying some of the best views of Glacier Peak – a notoriously remote mountain.
Buckcreek Pass
The next day, follow your steps back to the junction with the PCT. Turn here and descend 1000' feet along Miner's Creek. You'll eventually reach Buckcreek Pass Trail on the left and follow this for about five miles before a detour to Flower Dome calls to you. This .6 mile spur trail is well worth the extra effort. Buckcreek Pass (and your campsite for your last night) is less than half a mile away. On your final day, descend steep yet steady terrain into the Buck Creek Valley. Views of Liberty Cap and Buck Mountain keep you company as you hike out of the wilderness to the Trinity trailhead. If you only have one parked car, you will have to add on an extra three miles of road walking back to your vehicle.
Recommended Day by Day Itinerary
Day 1: Phelps Creek Trailhead to Spider Meadows. Total hike is 6.2 miles, 2000 feet elevation gain.
Day 2: Spider Meadows to Lower Lyman Lake. Total hike is 4.5 miles, 2000 feet elevation gain, 2000 feet loss.

Day 3: Lower Lyman Lakes to Image Lake. Total hike is 6.8 miles, 1900 feet elevation gain, 1500 feet loss.
Day 4: Image Lake to Buckcreek Pass. Total hike is 10.8 miles, 2900 feet elevation gain, 3000 feet loss.

Day 5: Buckcreek Pass to Phelps Creek Trailhead. Total hike is 13 miles, 3500 feet elevation loss.
Getting There
From Everett:
Head east on Hwy 2 towards Leavenworth. After 85 miles, turn left onto WA-207 N in Coles Corner. Continue 4.2 miles to a Y intersection after crossing the Wenatchee River. Here, take a slight right onto Chiwawa Loop Road and continue for 1.3 miles. Turn left to stay on Chiwawa Loop Road. Stay on this road for 22 miles until you reach a junction. If you have two cars, continue straight for one mile to the Trinity Trailhead to drop off a car for the end of your hike. If you only have one vehicle, bear right at this junction. Drive the last 2.3 very rough miles to the Phelps Creek Trailhead. Low clearance vehicles are not recommended. Check road conditions before attempting to access these trailheads.
Permits, Fees, and Reservations
A Northwest Forest Pass or Interagency Pass is required to park at the Trinity trailhead off of Chiwawa River Road. No permits or reservations are required for this backpacking trip, although visitors are asked to sign the trailhead register. Proper food storage is necessary, as bears are commonly sighted on this route. Bear canisters are recommended as hanging food at many of the campgrounds is difficult due to small alpine trees.
When to Hike
Like many hikes in the Washington high country, this trip is best done in late summer so that the last of the winter snowfall is melted out. August and early to mid-September are ideal. However, expect to encounter year-round snow travel as you cross Spider Glacier at the top of Spider Gap.
Snow levels can make this route impassable to most parties too early or late in the season.
Wildland Trekking Hiking Adventures
As the world's premier hiking and trekking company, Wildland believes in connecting people to fantastic environments in amazing ways. The Pacific Northwest region offers an array of incredible hiking and trekking experiences in Washington State. Wildland Trekking provides 14 different multi-day hiking and backpacking adventures in this region. Read more about our Pacific Northwest adventures.
To learn more about our guided backpacking trips and all of our award-winning hiking vacations, please visit our website or connect with one of our Adventure Consultants: 800-715-HIKE