Top Hut to Hut Hikes in New Zealand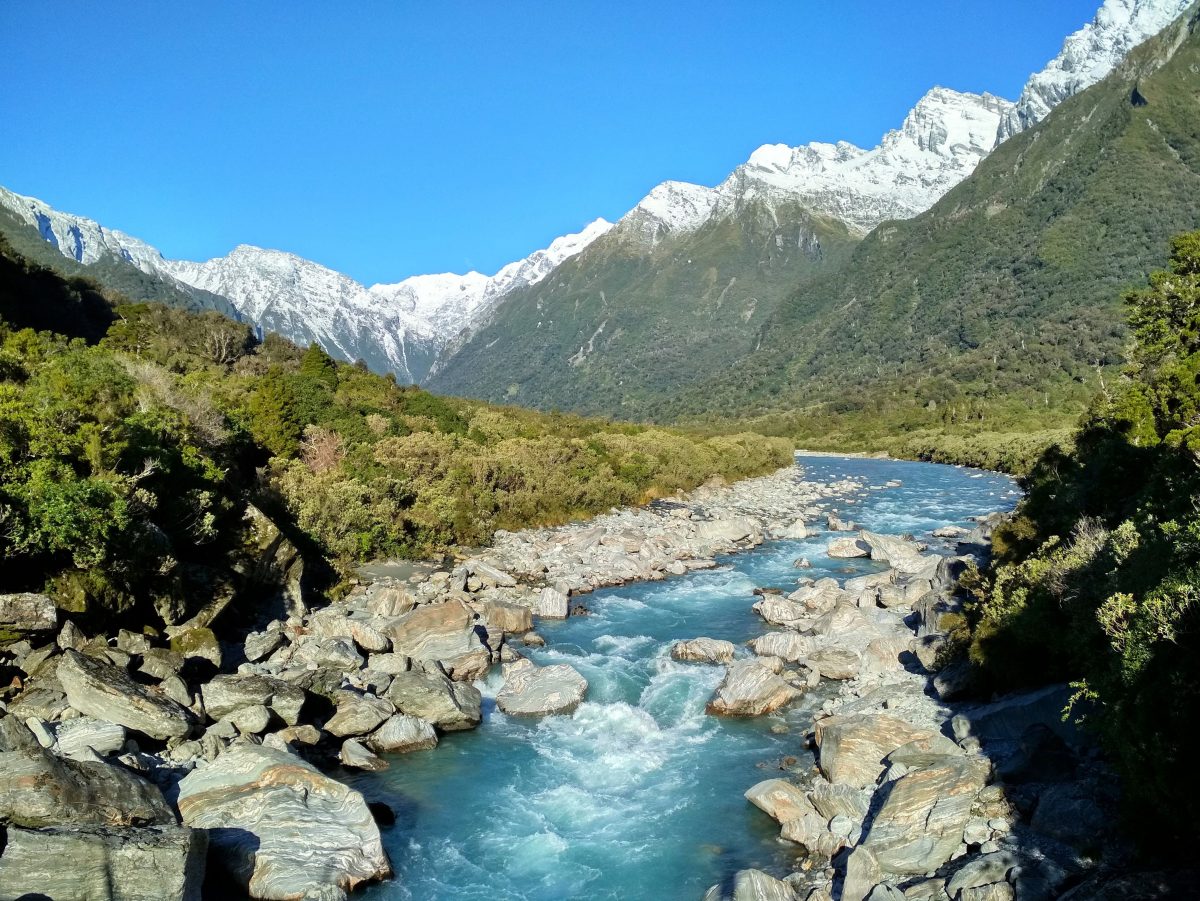 Haere Mai (Welcome in Māori) to The Land Of The Long White Cloud. Also known as New Zealand, the amazing little country down under. A place that hosts more sheep than people and where the mountains often meet the sea. The adventures are endless; the kiwis (New Zealand folk) invented the bungee jump and the jet boat, after all. Furthermore, within the action-packed country, there boasts some of the best hiking in the world.
Hut-to-hut hiking is one of the best ways to explore the country and have shelter away from the elements. The Department Of Conservation manages these wonderful backcountry huts. There are over 900 huts to choose from. New Zealand has 10 Great Walks that are the first-rate treks accessible from major towns, maintained often, and well established. There are two Great Walks included here in the list, in addition to one more off the beaten path that is highly note-worthy.
What to expect on a hut hike
Huts in New Zealand differ greatly from one another. Some huts can accommodate only two people, whereas others can hold up to fifty. The huts range from basic to luxury. The luxury huts are located on the Routeburn and Milford tracks. If you prefer having a shower, a three-course meal, and a nicer bedding situation at the end of the day, these are perfect.
For the average New Zealand hut, you will find some with lighting, stoves with fuel (in peak season), mattress pads on the beds, a common area with a fireplace, tables, chairs, and cooking areas. The more popular routes will have a friendly hut warden or volunteer. Some huts will look like giant lodges. The simple huts will be more like a cute old shack in the woods, very rustic and basic. They possibly will have a small table, a fireplace, a bunk bed or two, and a small outbuilding toilet. One thing these huts all have in common is they are always surrounded by beautiful scenery. Be ready to share a room with others in the bunk rooms. Note: "Track" in New Zealand kiwi lingo, refers to trek or hike, and "tramping" is the term they use for "hiking".
All-inclusive New Zealand Treks
1. Tongariro Northern Circuit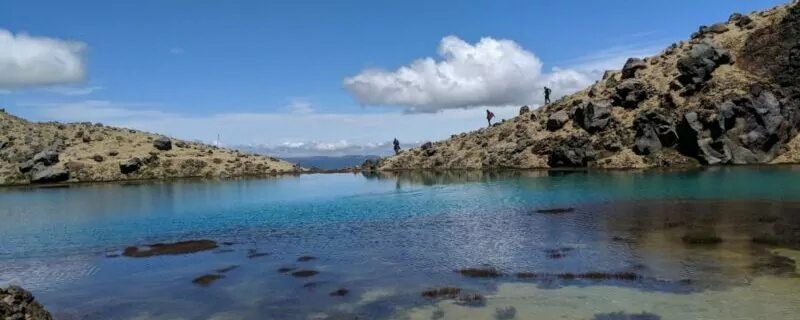 Difficulty: Moderate | Days: 3 – 4 | Mileage: 28
Trip Overview
One of New Zealand's ambient wonders, the circuit is a must-do if you visit the North Island.  Take an adventure circumnavigating Tongariro National Park along one of New Zealand's 'Great Walks'. Explore the volcanic alleyway next to brilliantly blue mineral lakes and stunning panoramic views. The trail is relatively well maintained and easy to navigate. Along the way, you will encounter open alpine vistas and forests. On a clear day, you can see breath-taking views for miles. In addition to the brilliant views, you will be also walking within history. You'll encounter major geologic transformations, walk through the sacred areas of the Māori people, and see one of New Zealand's oldest backcountry huts, Waihohonu, which was built in 1904.
Don't have 3-4 days? No worries. You can complete the shorter version of the trek known as the Tongariro Alpine Crossing. An amazing 12-mile day trip that takes roughly 6-9 hours. It is acclaimed to be the best day hike in New Zealand. Please note that this section can be very popular from May to October. Transportation for this hike will need to be arranged as it is a point A to B trip, not a circuit.
Planning And Preparing
The best time to complete this trek is from May to October. It is possible to complete the hike in other months, but this is not recommended. Many services are removed or closed at that time. The circuit can be packed with snow, experience extreme winds, have low visibility, and can be overall very dangerous in the outer peak season months. Even from May to October it is crucial to check the weather before going. During this peak season, the current hut price is $36 NZD per night per person.
There are three huts offered along this route you can stay in. There are pads on the bunks and you will find heating, gas cookers, dining tables, solar-lighting, toilets, and potable water. The Department of Conservation staffs rangers at these huts to help keep them clean, safe, and check tickets. Be prepared to pack out all of your trash. Planning in advance is key, as spots in these huts are limited.
Camping is an option, but do remember it can be notoriously windy or rainy here. The current camping price is $15 NZD per night per person. These are basic sites that offer sinks, toilets, and potable water. A few of them will have cooking areas with picnic tables. Hut use is available to the campers with the exception of sleeping in the huts.
You must book these huts or campsites in advance. It is important to plan and prepare properly for this trip. Always check the weather conditions prior to departure. Confirm all bookings, arrange transportation, know your limits, pack appropriately, read up on safety information, and be sure to print your ticket and track guide.
Getting There
The Tongariro Northern Circuit is located on the North Island. It can be accessed from four different locations. Desert Road, Ketetahi Road, Mangatepopo road, and Whakapapa Village. There are parking lots at all four locations if you drive to the hike on your own. You can arrange shuttles to and from the trek with a Department Of Conservation approved transport as well. Guided journeys are available for the Tongariro Crossing. Find out more information by clicking here. The closest major towns from the National Park are Turangi, Ohakune, and Taupo.
Recommended Day by Day Itinerary
Most hikers will begin their journey starting and finishing the circuit at the Whakapapa Village, but you can certainly start in one of the other three entrance and exit locations. I recommend beginning the adventure at Whakapapa village so you can utilize the information center to obtain up to date trail conditions, weather, and safety information. Before the start of the trek, staying at the Chateau Tongariro Hotel or the Whakapapa Holiday Park are good options.
Day 1: Whakapapa Village to Mongatepopo Hut, 6 miles, 3 – 6 hours
Lava flows, steam vents, plains, and cone volcanoes. Your day begins transitioning into what appears to be other-worldly. Magnificent views and sights begin almost immediately on this adventure.
Day 2: Mangatepopo Hut to Otuere Hut, 7.5 miles, 4 -6 hours
Connecting with the day hike Tongariro Alpine Crossing, you will have a bit of a climb today and steep descent with loose lava rock, but the views and rewards will be well worth it. Optional thirty-minute side-trek to Te Wai Whakaata o te Rangihîroa (Blue Lake). Do it. Craters, amazing blue lakes, and stunning alpine views.
Day 3: Oturere Hut to Waihohonu Hut, 5 miles, 3 – 4 hours
Open valleys and fields, cone volcanoes, panoramic views, forested valleys, and streams.
Day 4: Waihohonu Hut to Whakapapa Village, 9.5 miles, 4 -5 hours
Mountain ridges, pristine lakes, waterfalls, and the grand finale to your Tongariro journey.
2. Copland Track to Welcome Flat Hut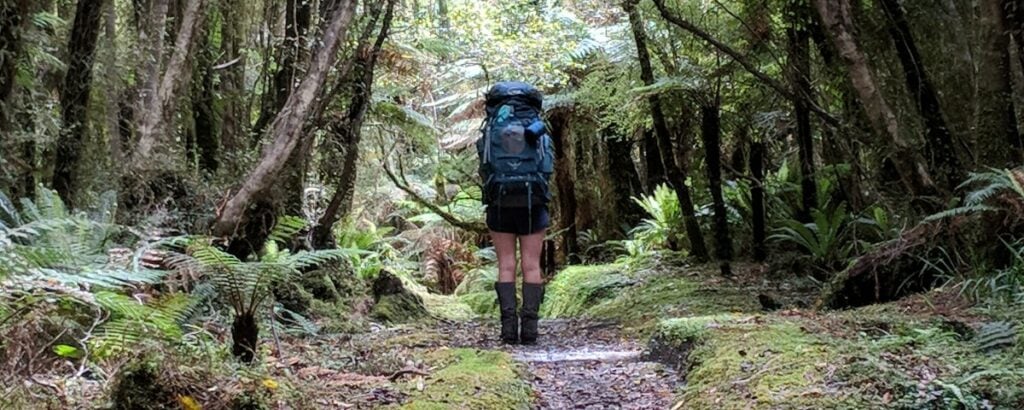 Difficulty: Moderate to Strenuous| Days: 2 – 3 | Mileage: Varies
Trip Overview
Looking for something a little off-the-beaten-path, but a hike that still has stunning alpine views, creek crossings, hot springs you can soak in, rivers, forest, and more? Here's the Copland Track to Welcome Flat. A lengthy first day into the valley, but it is well worth the work. Soak in the hot springs surrounded by alpine vistas in a lush forest. On clear days, you can get amazing views of the Sierra Range of the New Zealand Southern Alps. This hike with fairly minimal elevation gain or loss still offers a challenging and rewarding backcountry hut experience in a beautiful western region of the South Island. The trail was created from 1901-1913 in an effort to promote more hiking and tourism in the Southern Alps region.
Planning and Preparing
Booking both campsites and bunk rooms in the hut will need to be done in advance. Click here for more information on bookings. Alternatively, you can go with a guided company that will cover all of that for you!
This awesome trek can be affected by flash flooding as many areas of the trek follow the river and have creek crossings. Always check the weather and trail conditions before heading out on this journey. Do not attempt to cross the rivers or creeks in flash floods. Avalanche risk and landslides are also a risk to consider here. Leave your intentions with someone, take all necessary gear, and know your limits. A good topo map of this area to obtain is  NZTopo 50: BX14 and BX15. This trip is best done between late May and early October.
Welcome Flat Hut has a capacity of 31 bunks. It is a well-serviced hut, so there will be a ranger or volunteer on duty. If you are bringing a group, there is a group room with 4 bunks separate from the rest of the hut. There are also 8 tent sites, but due to the heavy sandflies at times and the rain, I recommend staying in the hut. The hut has bathrooms, sinks, potable water, a fireplace, lighting, a communal dining space, and several bunk rooms. You will need to pack your own stove, pack out all trash, and bring all the necessary gear. I highly recommend gaiters and waterproof boots for this trek as the trail can be rocky, uneven, slippery, and unstable at times. Be sure to pack a swimsuit and towel for the well-deserved soak!
The current hut fees in this region are $20 per night per person. The Sierra Room for private groups of 1-4 people is $100 per night. Campsites are $10 per night and are located right behind the hut. With the camping fee, you are allowed to use the hut during the day. Refunds can be issued if the trail is dangerous or closed at the time of your journey. The Westland Tai Poutini National Park Visitor Center and I-Site is a good place to visit prior to the start of your trek to obtain further information.
Getting There
The trek is roughly 16 miles driving from Fox Glacier. Heading south off of SH 6, you will find the sign along the road north side from the Karangarua River bridge. The dirt road goes for only a few minutes to the carpark with trail sign and bathroom.
Nearby areas are Hokitika, Franz Joseph, Fox Glacier. Staying in one of these areas prior works well and they all are additional areas worth exploring. If you are on a DIY trip, it would be best to either be driving in with a rental car from Christchurch or Queenstown to this region. If you start on the North Island flying first into Auckland and work your way south, you can take the ferry across and work your way south as well. Alternatively, you can go with a guided service and they will handle all the transport and logistics for you.
Recommended Day by Day Itinerary
I suggest doing this trek in three days. This way you will have an extra day to possibly explore the area a little more, rest, and most importantly, enjoy those hot springs. With the right conditions, it is possible to complete a day hike or additional overnight to Douglas Hut. This is a very basic mountain hut that has only 8 bunks. Beyond Welcome Flat hut, however, becomes demanding and the trail can be hard to find and becomes much more primitive. This is for experienced hikers only. Check with the volunteer or ranger at the Welcome Flat Hut and at the visitor center to obtain recent trail conditions. Washouts in this area can be common.
Day 1: Parking Lot to Welcome Flat Hut (and hot springs!), 12 miles, 6 – 10 hours

Following the river gently heading up into the valley, this is a beautiful journey into the pristine southern mountain views. Travel through the forest along creek crossings and little window pockets into the alpine world.
Day 2: Welcome Flat Hut or Douglas Hut, up to 8.5 miles, up to 7 hours
A day for rest, relaxation in the hot springs, or a hike/overnight to Douglas Rock Hut. Soaking up the views, possibly doing a day hike, or just enjoying a soak with other like-minded travelers.
Alternatively, this could be the hike out day. (6-10 hours duration & 12 miles distance).
Day 3: Welcome Flat Hut or Douglas Hut back to Carpark, 12 miles, 6 – 10 hours
A day for retracing the beautiful steps back through the forests, creeks, and along the beautiful river inside this wonderful valley.
Hike New Zealand with a Guide
Guided New Zealand trips are available, and are a stress-free, exciting way to do this trip. The tour company handles permits, gear, transportation, meals, and provides a professional guide so you can focus 100% on enjoying your adventure. Read more…
3. The Routeburn Track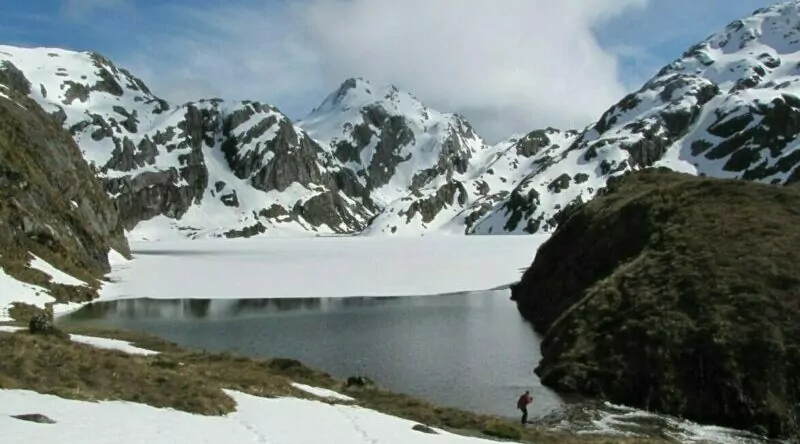 Difficulty: Easy to moderate | Days: 2 – 4 | Mileage: 20 – 40
Trip Overview
This spectacular Great Walk encompasses beautiful alpine vistas, waterfalls, lush forests, and glacial-fed rivers and valleys. It is well maintained and easy to navigate, with the exception of the winter-off season (the photo above is of that). This trek is extremely rewarding and offers a great hut to hut New Zealand experience within the Southern Alps.
It is possible to do this hike year-round, but there are avalanche dangers, limited hut usages, and a lack of a defined trail in the snow. The Department of Conservation advises against trekking in the off-season due to safety concerns. To complete this in the off-season, you need to be competent in snow travel and mountain terrain. In the main season of October-May, there may still be altered trail conditions and weather warnings, so always do proper planning and research.
Planning and Preparing
In the peak season from October 29th- April 30th, huts and campsites require a booking in advance. The huts have gas stoves during this time and will have hut wardens. During peak season, the cost is $130 NZD per night per person for International hikers. This is for the standard huts. Outside of peak season, it is $15 NZD per night per person. Camping in peak season is $40 NZD per person per night and $5NZD per person per night in the off-season. It isn't necessary to book outside of the off-season for the trek, but you will need to obtain a Backcountry Hut Pass/ Ticket. If you plan on doing multiple hikes throughout New Zealand, it is a great idea to check out the 6-month pass.
Allow plenty of time to complete this trek. Check and plan accordingly for the weather. Pack appropriately for this adventure. Obtain updated route information, and tell someone your intentions. Know your limits and your groups' limits. There is a lot of great information you can obtain by visiting either the Queenstown or Fiordland National Park Visitor Centers. Transportation will need to be booked in advance, as well as your hut or campsite tickets.
Getting There
The closest towns are Paradise, Kinloch, and Glenorchy. I highly recommend staying in one of these cozy little towns. It is a fantastic region to spend a few days exploring and settle into the simple quiet southern kiwi life. 45 minutes away sits a larger town- Queenstown, the adventure capital of the world. There is a small airport here. Alternatively, Christchurch is the major airport for the South Island, and Auckland is the major airport for the North Island. The easiest way to get to this area is by hiring a car, booking with a guided company, or booking a shuttle transfer.
Recommended Day by Day Itinerary
I have included here the 3-day itinerary from point A to B (Routeburn Shelter to The Divide). This would be an itinerary that will need to include a pick-up or shuttle transfer on the other side. Alternate options are to do a day hike, an overnight and back, hire a guiding company to arrange all logistics or to do the entire hike and then head back the same way (5-6 days total). This 3-day itinerary allows time to fully enjoy the trail and spend some quality time getting to know the area.
Day 1: Routeburn Shelter and Carpark to Routeburn Falls Hut, 6 miles, 3 – 5 hours
A gentle approach starting on the forest floor gradually ascending into the valley. Crossing rivers, seeing small pockets of alpine vistas, and open meadows.
Day 2: Routeburn Falls Hut to Lake Mackenzie Hut, 7 miles, 4 – 7 hours
The vistas really start to open up on this day. My favorite day of the hike, for sure! Five minutes from the hut, you will stumble across Routeburn falls. Heading up into the pass, you will encounter panoramic mountain vistas and views of the valley floors below. The scramble up to Lake Mackenzie hut and gradually descending back into the forest is magical.
Day 3: Lake Mackenzie Hut to The Divide, 7.5 miles, 4 -5 hours
It will be difficult to leave the stunning lake Mackenzie and all of the beautiful surroundings. It is time to hit the trail again, however. Along the way to the divide, you will encounter another waterfall along the way named Earland Falls. Before exiting, there is a rewarding side hike to the Key Summit. This is roughly an hour-two hour in addition, but has panoramic views of the Fiordland's and beyond.
Want to continue hiking? Link up the Routeburn trek up with another hut to hut trek in the region! The Heaphy, Kepler, Milford, Dart & Rees, or Greenstone/Caples treks are additional stunning Southern Alpine destinations!
Inspired Exploration with Wildland Trekking
Wildland Trekking Hiking Adventures
As the world's premier hiking and trekking company, Wildland believes in connecting people to fantastic environments in amazing ways. Wildland Trekking Company offers an array of incredible hiking and trekking experiences in 9 states and 11 countries. Read more about our world-class destinations.
To learn more about our guided backpacking trips and all of our award-winning hiking vacations, please visit our website or connect with one of our Adventure Consultants: 800-715-HIKE.