Top Five Best Hikes In Patagonia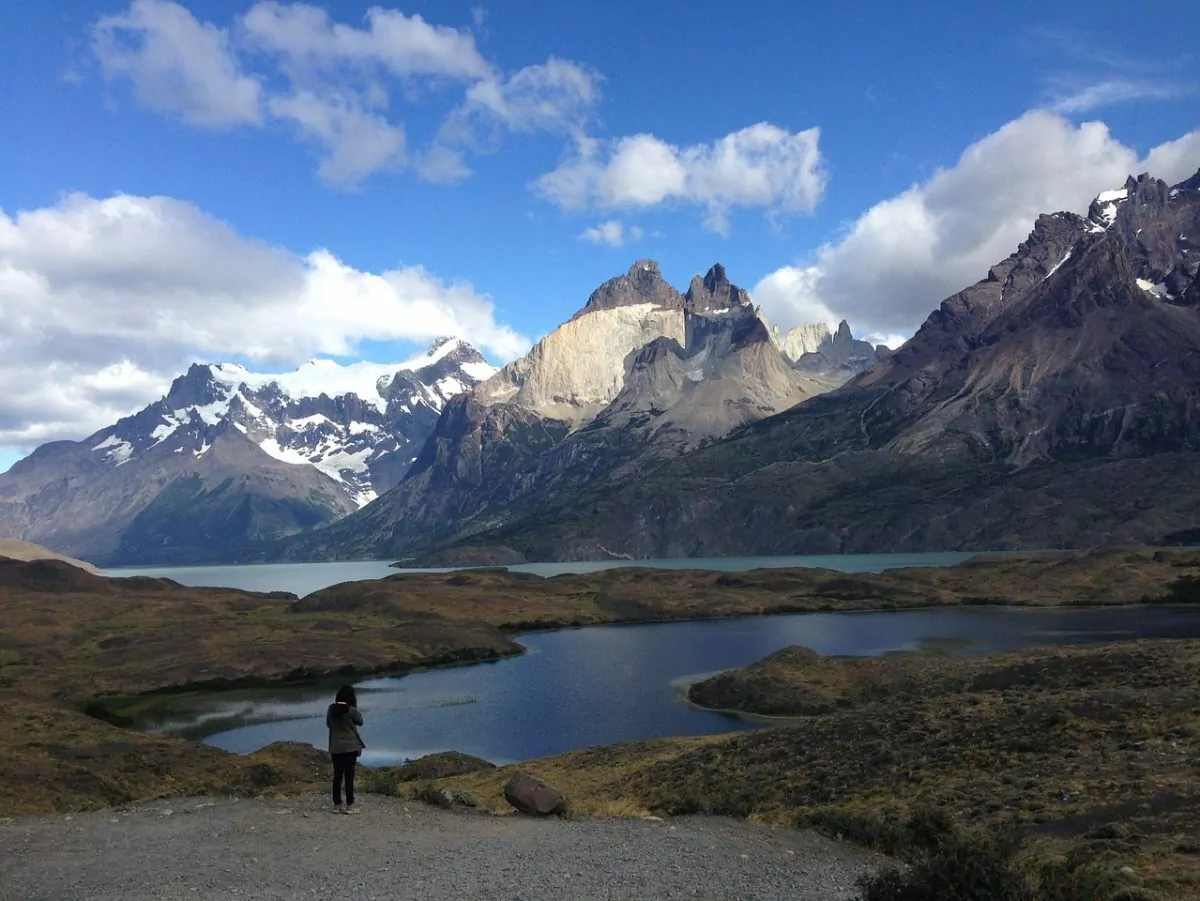 Patagonia. The word itself holds inquisitive notions. Planning a visit and wondering which hike to be footloose and fancy-free along? Look no further, we have you covered in the top five best hikes in Patagonia!
All-inclusive Patagonia Trekking Adventures
1) The W-Trek
Embark on the very classic multi-day pilgrimage route through one of the most stunning regions of Patagonia. Located in the heart of Torres Del Paine National Park in Chile, the W-Trek certainly will not disappoint. The hike itself viewed on a map is in the shape of a "W". On this well-trodden rite of passage, you will find glaciers, giant jagged-edged sedimentary peaks, wildlife, grasslands, wind struck flora, beautiful forests, and blazing blue lakes. This jaw-dropping hike is popular for a reason and is known to many as one of the best hikes in the world. Come see what this magical gem smothered in the middle of the Andean mountain range is all about!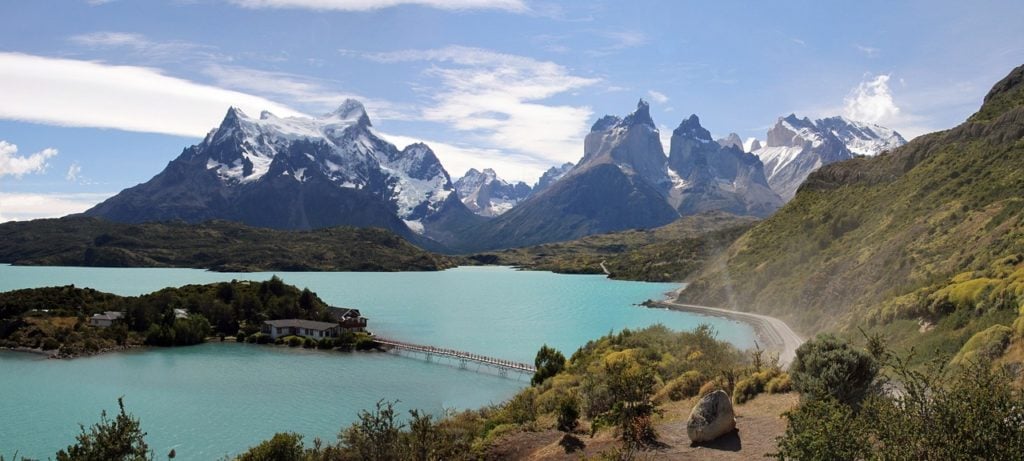 The W-Trek is rated moderate in difficulty. It covers up to 45 miles/72 kilometers with a cumulative elevation gain and loss of 9,700 feet/ 2,956 meters. The hike can be accomplished year-round, although the winter months may bring freezing temperatures, snow, and road closures. October to April is the best weather window, but crowds are to be expected this time of year. By mid-March in this region, you can begin to see the transformation of the fall leaves bursting into their autumn colors. If you are looking to avoid crowds on the W-Trek and are resilient to elements, visit in the fall or winter months.
The multi-directional route is typically accomplished between 3-7 days. You can certainly do the W-Trek on your own, or alternatively, you can join a guided company. If you plan to go on your own, booking in advance is essential and the key to a successful trek. There are a plethora of options when it comes to accommodation. It is wonderful to have so many choices, but it can also be a tad overwhelming. Refer to the list below for your sleeping and budget preference while on the trail. Along the W-Trek you may mix and match your accommodation choices. For example, you can book a stay for two nights at a refugio, and one-night camping or one night in a lodge, and two nights in refugios and so forth.
accommodations
Refugios
Refugios are similar to backcountry huts or lodges. This is a mid-range pricing option. They must be booked in advance, as spots are limited. Refugios typically are 6-8 person dorm-style rooms, equipped with kitchens, cooking staff, bathrooms, showers, and a communal area. These are fantastic hubs for social mingling with other trekkers. The refugios vary with either a simple bed option (no bedding, you will need to bring your own sleeping bag) or with a made-up bed (where all bedding is provided). It is advised to bring ear-plugs, as it can be a bit noisy. Accommodation pricing will be separate from the meal prices unless you are going with an all-inclusive guiding company. Some hikers who wish to camp, but not carry all of the food, opt to dine at some of these establishments along the way.
Camping
For camping along the W-Trek, there are designated campsites with cooking stations, assigned camping spots, and bathrooms. This would be the cheapest option to partake in along the trek. Many of these campsites are situated near lodges or refugios where further amenities can be found. The campsites vary from 50-200 tent spots available and are considered simple. Some of the more remote campsites are free to stay at, while other sites typically in close proximity to lodging have charges. The free campsites hold only basic amenities such as toilets and running water. The paid campsites will have toilets, showers, electricity, gear rental, a restaurant, running water, and wi-fi in some areas. All campsites should be booked in advance.
You can either bring all of your own gear or rent a sleeping bag, sleeping pad, and tent. This rental choice can be arranged so that you will not need to carry any sleeping gear on the duration of the hike, and the tent will be set up for you upon arrival. Do book this in advance when choosing your locations to camp.In general, the rental tents and sleeping gear are good quality and in a decent state. Renting gear permits you to only need a day pack with pertinent items. On the other hand, if you enjoy the challenge and can carry your own tent, sleeping bag, and sleeping pad- it can be very nice having your personal gear along.
When it comes to meals on the trail while camping, there are options as well. You can either carry and pack all of your own food and stove, or choose to dine in the restaurants at the refugios. You can certainly mix and match these as well. The refugio's host hearty meals with plentiful portions and can cater to various dietary restrictions. When cooking your own meals, it is extremely important that cooking is done only in designated areas.
Luxury Eco-Yurts 
A recent addition to Torres Del Paine, Luxury Eco-Yurts captures a unique experience with creature comforts along with modern amenities. This enables travelers to have private spaces, but still contains great communal areas for meeting other travelers. There are two companies in Torres Del Paine which run these great yurt options. Patagonia camp has its 18 beautiful yurts stationed along the bank of Lago Toro with even private Jacuzzies in each yurt. The property has kayaks and stand-up paddleboards for getting out on the lake and a restaurant with delectable local Chilean dishes. Eco-Camp is deemed as the world's first geodesic dome hotel. The 100 percent sustainable lodging sits in a stunning location within close proximity to all of the action in Torres Del Paine. Yoga, massages, unique tours, horse-back riding, and delicious meals await.
Lodges
Not keen on refugios, yurts, or camping? Have no fear, lodges are near. While staying in lodges within Torres Del Paine, you can still hike most of the W-Trek and be able to obtain further amenities and creature comforts. You can still see the highlights along the W-Trek and only need to carry a small day-pack for the hikes. These accommodations are comfortable, warm, and away from the notorious Patagonia wind. In many of the lodges, breakfast is included, dinner is available on-site, and wi-fi is available. Generally, the lodges are situated in a gorgeous location and offer tours, package deals, and activities around the vicinity. There are many choices when it comes to lodges in Torres Del Paine ranging from mid-range to up-scale. Check out a lodge-based hiking tour here.
Meals
Meal packages can be purchased in refugios and lodges if not already included in your stay. These will contain breakfast, a box lunch, and dinner. Typically guided tours will be all-inclusive and have 3 meals a day provided.  If you are camping, you can certainly get packaged meals as well. These meal packages along with most logistics in Torres Del Paine, need to be booked in advance. If meals aren't booked in advance, they may not be able to provide a meal for you. If you are camping the entire way or mostly camping, mixing and matching when you cook versus when purchasing a meal is very doable.
Hike The W-Trek with a Guide
Guided W-Trek adventures are available. It is a stress-free, exciting way to do this trip. The tour company handles permits, gear, transportation, meals, and provides a professional guide so you can focus 100% on enjoying your adventure.
2) The Torres Del Paine Circuit

The Torres Del Paine Circuit is an amazing continuation of the W-Trek located in Torres Del Paine National Park, Chile. This variation is a longer, rugged, more challenging, and further picturesque journey through the park. This sensational hike is also known as "The O". Additionally, for an even longer extension of The classic W-Trek and Torres Del Paine Circuit, there is also "The Q" which is a day tacked on at the beginning of the classic circuit. On the map, these treks complete an "O" and a "Q" in shape, consequently giving their names.
The circuit is a remarkable trek that takes you through open grasslands, around crystal blue lakes, dense old-growth forests, bridge crossings, and over the astounding John Garner Pass (Paso John Garner) to the flabbergasting and aptly named, Grey Glacier. The stunning Gray Glacier is the largest in the National Park, expanding a total of approximately 3.7 miles (6 kilometers).
If you have the time, energy, and stamina I highly recommend spending the extra days to complete the entire circuit. It is well worth it and an excellent feeling to come full circle, so to speak. The trail tends to be less crowded in the backside of the park for a bonus. The trek is rated moderate to difficult and the average journey on this trek is 6-10 days. It is a well-maintained trail, and fairly easy to follow. The trail heading up to Glacier Gray is loose, steep, and uneven. This counter-clockwise journey in total is approximately 85 miles ( 137 kilometers). The season runs mainly from October-March here as the pass can be impassable.
Unquestionably, the hike can be planned and accomplished on your own. This is only recommended for the experienced hiker, however. Planning and booking in advance is of the essence. On the other hand, there are many tour companies that operate this hike. Click here to find out more about guided tours. Going with a guided company relieves all the hassle of booking, planning, logistics, and heavy research.
This hiking odyssey holds 4 options for sleeping quarters listed below.
Your personal tent: Bringing your tent allows for flexibility, personal achievement, and is the most affordable option along the Torres Del Paine Circuit.
A rented and already set-up tent at each location along with a sleeping kit: This is a great option for cruising into camp and not having to set up your sleeping area, the work would already be completed for you! The tents, sleeping pads, and sleeping bags are well taken care of, clean, and are usually adequate in quality.
 Refugios and two nights sleeping in a tent: There are two areas along the trek that will need to be camped in (either with your tent or rented tent and sleeping gear), as there are no refugios available in those sites.
 A mixed alternative if you don't mind the extra planning and logistics, you can book nights in lodges, refugios, and camping combined to complete the circuit.
To book campsites and refugios  for the circuit, reserve from the three sites provided well in advance. CONAF campsites are the two free campsites in the park. Fantastico Sur offers packages, camping, refugios, and cabins. Vertice Patagonia offers camping, programs, and refugio stays. These sites can all be viewed in English and provide an assortment of options to choose from. Within the Refugio's there are the simple bed or made-up bed choices available. Meals will be purchased separately unless booking a package deal complete with meals, or going with a guided service.
For the W-Trek, O-Trek, and Q-Trek there is more than just hiking available. Fishing, wildlife tours, kayaking, boating, climbing, horseback riding, glacier tours, and even off-road tours may be arranged. With all of these alternative activities and ways to experience the park, you definitely don't have to be into just hiking to fall in love with this region.
For transportation to and from Torres Del Paine National Park, please refer to Dan Purdy's Wildland Trekking blog page titled "All About Torres Del Paine National Park" where you will find a wealth of helpful information on getting there and more.
Guided O-Treks are available, and are a stress-free, exciting way to do this trip. The tour company handles permits, gear, transportation, meals, and provides a professional guide so you can focus 100% on enjoying your adventure.
3) The Refugio Otto Meiling Trail

The Refugio Otto Meiling Trail is located near Bariloche, Argentina. Bariloche is a hub for outdoor adventures and definitely worth a stopover. The hike itself is unique in the fact that the peak named Tronador, straddles two National parks and two countries. It is located in the Nahuel Huapi National Park and Vicente Pérez Rosales National Park (the oldest National Park in Chile). The journey starts and finishes in Argentina, with the closest town being Pampa Linda. From Pampa Linda, this is the gateway to not just one, but many great hikes.
The peak named Tronador was first ascended by a German gentleman named Otto Meiling in 1934. The refugio along the trek and hike is now named after him. He also founded a mountaineering club in Bariloche, that still exists today. Tronador is a popular place for trekkers and mountaineers alike. It is now an extinct stratovolcano at approximately 11,400 feet (3,500 meters) that is home to 8 alluring glaciers. The Tronador translates to the word "Thundering" in English, which was noted due to the falling of rocks and ice. Along this hike, you will trace through U-shaped valleys carved out by glaciers, view stunning waterfalls plummet to the volcanic encrusted earth that surrounds, be captivated by giant glaciers, and be hiking on a volcano!
Getting there can be a fairly daunting task, but it is surely worth it and due to the location it is a less crowded hike within the Andes. From Bariloche Argentina, it is a 3-hour journey to Pampa Linda. The road here is very narrow, therefore results in the necessary use of a time-table system for traffic management. The Mountaineering Club, as I mentioned earlier named Club Andino Bariloche (CAB), can assist in arranging transportation, guides, and information for hiking as well as climbing. Buses depart regularly from Bariloche to head to the park. You may also take a rental vehicle, but it is a rough road.
The trek is on average 2-3 days and rated moderate in difficulty. This hike is best completed from December to April. It is roughly 18.5 miles (29.9 Kilometers) in total. It contains a total elevation gain and loss is 6,300 feet (1,920 meters). The Refugio Otto Meiling is where you can camp or stay in the dorm-style rooms overlooking the Cerro Tronador. The Refugio accommodates up to 60 guests and has a restaurant on site. It is possible the Refugio Otto Meiling hike can be combined for a longer adventure with Paso De Las Nubes.
4) Laguna de Los Tres (Fitz Roy Trek)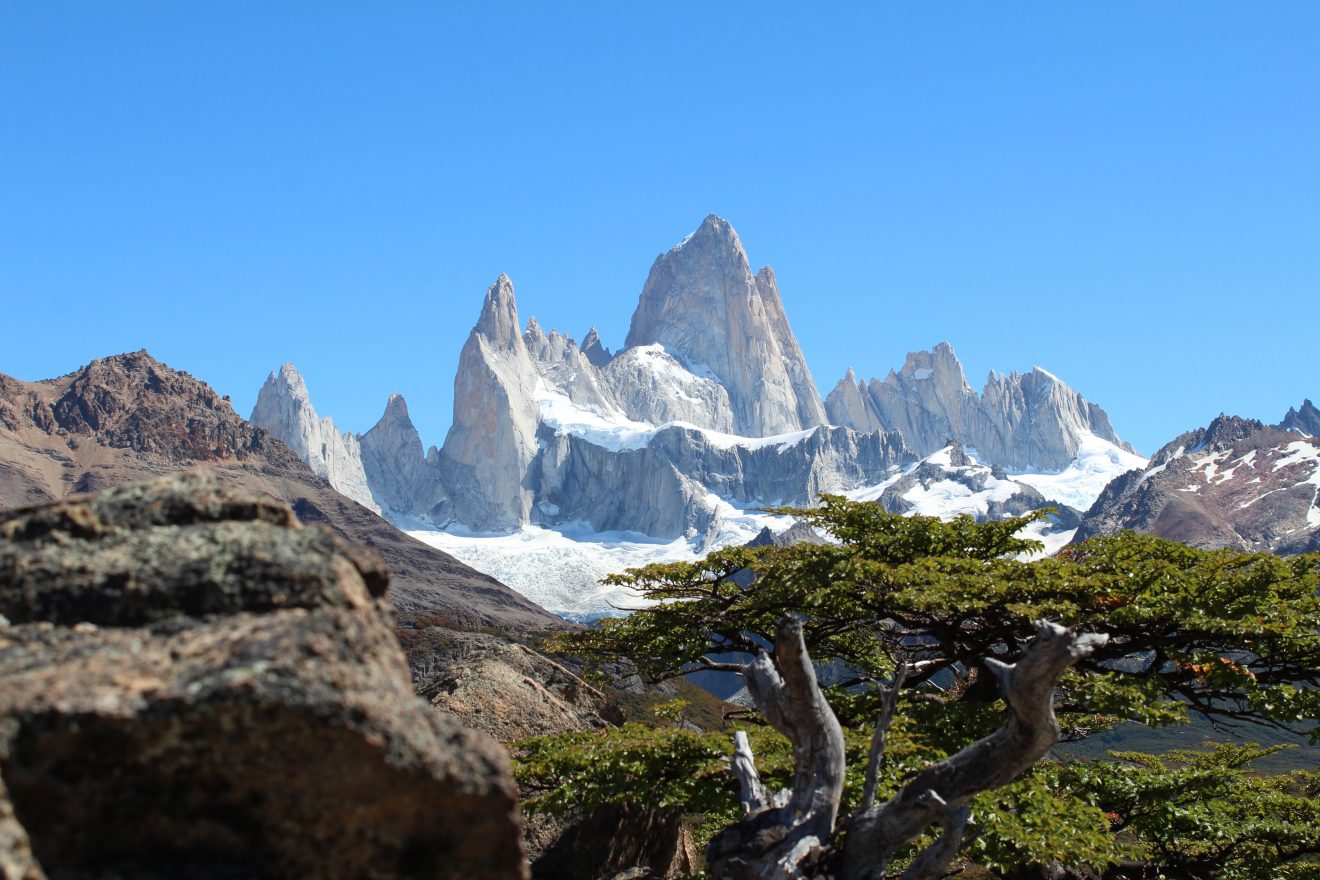 Photo by Rodri Caruso on Unsplash
The Laguna de Los Tres hike, also known as The Fitz Roy Trek, had to be put on the list. This shorter trek located near El Calafate in Los Glaciares National Park is unforgettable. The region is a bird watcher's paradise, filled with sheer jagged peaks, dazzling blue lakes, tranquil forests, spectacular glaciers, and panoramic views. The Laguna de Los Tres hike takes you right up to the foothills of the three beautiful peaks, the Poincenot, the Fitz Roy, and the Torre.
This popular hike is typically completed within one to three days and is roughly 16 miles (26 kilometers) in length and rated moderate in difficulty. It is fairly steep, with uneven surfaces. Overall, the trail is easy to find and well maintained. The trek is more commonly completed in one day, but many hikers will decide to tack on the Cerro Torre or Madre e Hija trails to complete a longer distance journey. The Fitz Roy Trek is possible to complete year-round but may be impassable when there is heavy snow in the winters. The total cumulative elevation for this trail is approximately 3,150 feet (960 Meters).
El Calafate is the basecamp mountain village to many amazing hikes. It is also a very popular spot for rock climbers. Los Glaciares National Park was established in 1937 and by 1981 was designated a UNESCO World Heritage Site. The region is free to enter and there is a wealth of information around Calafate' to send you well on your way. The start of the trail is just right outside of town, so it is within walking distance from all accommodations. There is also a parking lot at the trailhead if you are renting a vehicle. El Calafate has a wide range of lodging options, but they will all fill up very quickly in peak season. Be sure to book far in advance for your stay.
If you choose to camp overnight in Glaciares National Park along the Laguna de Los Tres trail, there is a designated free campsite named Poincenot along the way to the lake. The next morning you can either continue back down to El Calafate on the same trail or conjoin one or two other hikes. This trek can be completed as an organized tour, or with some planning, it can be done solo.
5) The Huemul Circuit

Last but not least, the amazing Huemul Circuit. This is known to be one of Patagonia's most challenging hiking trails. This intense, but extremely rewarding trail climbs over two passes, has several river crossings, requires strong navigational skills, and even has a zip-line crossing on one of the river sections. This is for the experienced hiker only, but it is possible to go with a guided company along this journey. This hike has absolutely breathtaking views and due to the challenging aspects of this hike, you won't see as many people here in comparison to the other hikes mentioned above. Massive glaciers, panoramic views, glacial silt-filled rivers, lush forests, and beautiful peaks await your eyes here.
The hike can be completed from December through April. The length is 40 miles (64 kilometers) in the circuit. The first day of this trek will feel very mild in comparison to the following days, but don't let that fool you! The second day will be the start of the real challenges with the ascent and descent of one of the passes, named Paso del Viento. The descents on this trail are known to be as equally challenging as the ascent. The river and stream crossings with a backpack over uneven terrain are deemed difficult. Know your limits before you embark.
Camping is the only option available on this journey, and you will need to carry a backpack with all of your essential gear. Going with at least one other person to help share the big gear items such as a tent is extremely helpful, and safer. You'll need specific items (like a harness, rope, and carabiners) to complete this trek. If you don't own this gear, a guiding service can provide these items or alternatively you can rent most of these items in El Calafate. Like most things in Patagonia, you will want to rent in advance or at least make sure there are plenty of these items still available when it comes time for your journey in the Huemul. El Calafate is a good place to obtain your backcountry meals as well.
The trek is in a deeper and less explored area of Los Glaciares National Park, which sits next to the charming town of El Calafate. The trek can be started from the town of El Calafate gently heading towards Torre Valley. The duration of this hike is three to five days. Before heading out on this endeavor, be sure to register at the park office in El Calafate with a ranger. A permit is required for this trek. Make sure you have a map, compass or GPS, and know how to use them. A ranger at the park headquarters will most likely want to check your equipment and gear for the zip-line as well. Know how to use the equipment before you go on this trail and before getting to park headquarters.
hike Patagonia!
I hope that the information provided has been a segway into assisting with what hikes to do while visiting Patagonia. Whichever hike you choose to embark upon, you really can't go wrong here. The hard part is just narrowing the choices down because you could honestly spend a lifetime hiking in this region and only scratch the surface. When you do choose your trek, travel safely, responsibly, and have an amazing journey south!
If you would like further information on Patagonia, these hikes, or others be sure to visit our website or read our other blog posts about Patagonia! Thanks for your time and see you on the trails down south!
Wildland Trekking Hiking Adventures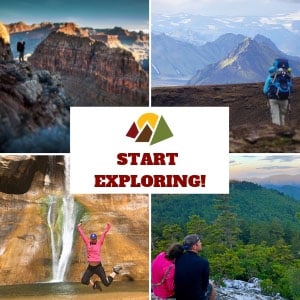 As the world's premier hiking and trekking company, Wildland believes in connecting people to fantastic environments in amazing ways. Patagonia offers an array of incredible hiking and trekking experiences. Wildland Trekking provides 5 different multi-day hiking and backpacking adventures in the region. Read more about our Patagonia trips.
To learn more about our guided backpacking trips and all of our award-winning hiking vacations, please visit our website or connect with one of our Adventure Consultants: 800-715-HIKE