The Ultimate Guide to North Cascades National Park in Washington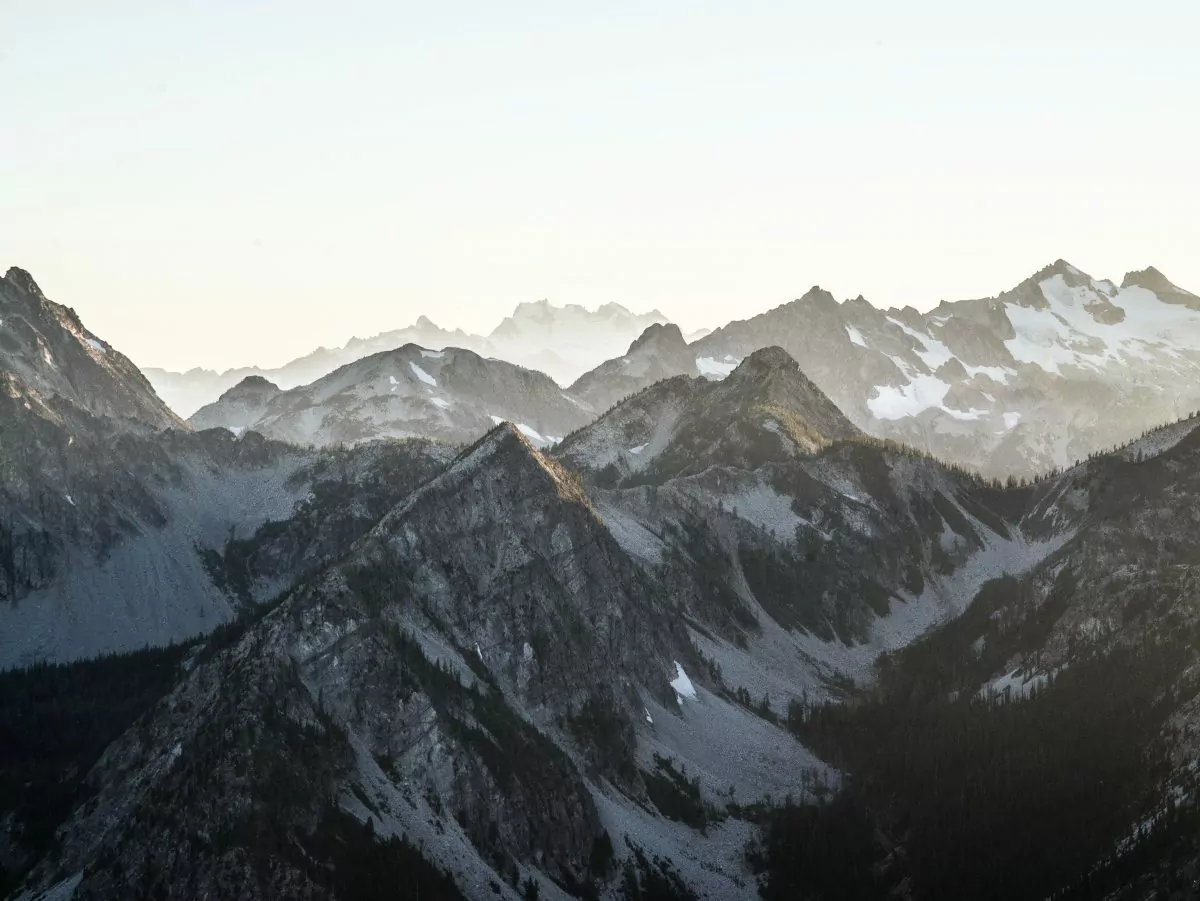 Picture an alpine wonderland full of blue lakes, meadows, and towering peaks. Glaciers cap the mountains and snow blankets trails well into the summer. Alpine animals such as pikas, marmots, and mountain goats peer down at you from rocky outcroppings.
Welcome to North Cascades National Park.
The unassuming National Park sign sits on the side of a highway, but there's no entrance gate, no entrance fee, nothing except the views, and a map to tell you that you have entered a spectacular national park. Many national park visitors skip this park in favor of other more popular destinations. 
But despite not receiving nearly the visitation of nearby Olympic or Rainier National Parks (in 2020, North Cascades received ~30,000 visitors compared to Olympic's 2.5 million and Rainier's 1 million), North Cascades National Park is well worth the visit. 
Read on for our guide to North Cascades National Park. You'll discover the hidden beauty of one of the most beautiful alpine regions of the country.
All Inclusive Backpacking Trips
Where is North Cascades National Park?
North Cascades National Park (NCNP) sits in northern Washington State, amidst the Northern Cascade mountains. The park surrounds Highway 20, which travels between Sedro Wooley on the west side of the mountains and Mazama and the Methow Valley on the east side. 
The park touches Canada on the north and reaches south to Lake Chelan, where you can access one of the gems of the North Cascades, Stehekin. Stehekin is a town cut off from the world, accessible only by boat, plane, or foot. 
If you know anything about the Pacific Northwest and the Cascades, you may imagine big snowy volcanoes, which there are plenty of in the area. But the North Cascades developed geologically separately from the volcanoes, so they look different from what most people think of when considering the PNW. 
These steep and rocky mountains tower above the surrounding area. Glaciers drape over their slopes, cracking around the terrain to expose deep icy-blue crevasses. NCNP features over 300 glaciers and even more snowfields, making it the most heavily glaciated area in the lower 48. 
Why Visit North Cascades National Park?
Glacier-covered granite peaks hide in the North Cascades, with cloudy blue lakes and alpine meadows sitting below. But to experience these sights, you'll have to get out of the car. 
Unlike many national parks, the North Cascades is not one that you can simply drive through to see the iconic features. In fact, you could easily drive through the park on Highway 20 and barely know you're in a national park (except for the Diablo Lake Overlook). To really see this spectacular park, you need to get off the highway. 
However, if you only have a day, North Cascades National Park is perfect for road trippers visiting all of the national parks in Washington (Olympic and Mount Rainier are also well worth the visit). You could drive Highway 20, stop at Diablo Lake, and then hike a few miles to Blue Lake at Washington Pass. This short driving tour would make for a scenic and very worthwhile trip to North Cascades National Park.
However, the trails are where North Cascade National Park really shines. If you like to get off the beaten path, hit the trail, or scramble to a summit, the North Cascades will blow your mind.
For families or travelers who don't want to spend multiple days in the backcountry, you'll have plenty of options for easy hiking, picnicking, kayaking, and exploring this beautiful area.
When to Visit
The most popular time to visit North Cascades National Park is July through September, when the snow has melted from the trails and the sun shines high in the sky. 
spring
Late spring can be a good time to visit the North Cascades, but Highway 20 does not typically open until April or May, so be aware that much of the area will still be in winter mode. Even once the highway is open, trails and dirt roads might still be covered with snow until deep into the summer. 
If you plan a spring trip to North Cascades National Park, be ready to explore trails at lower elevations and prepare for any sort of weather!
summer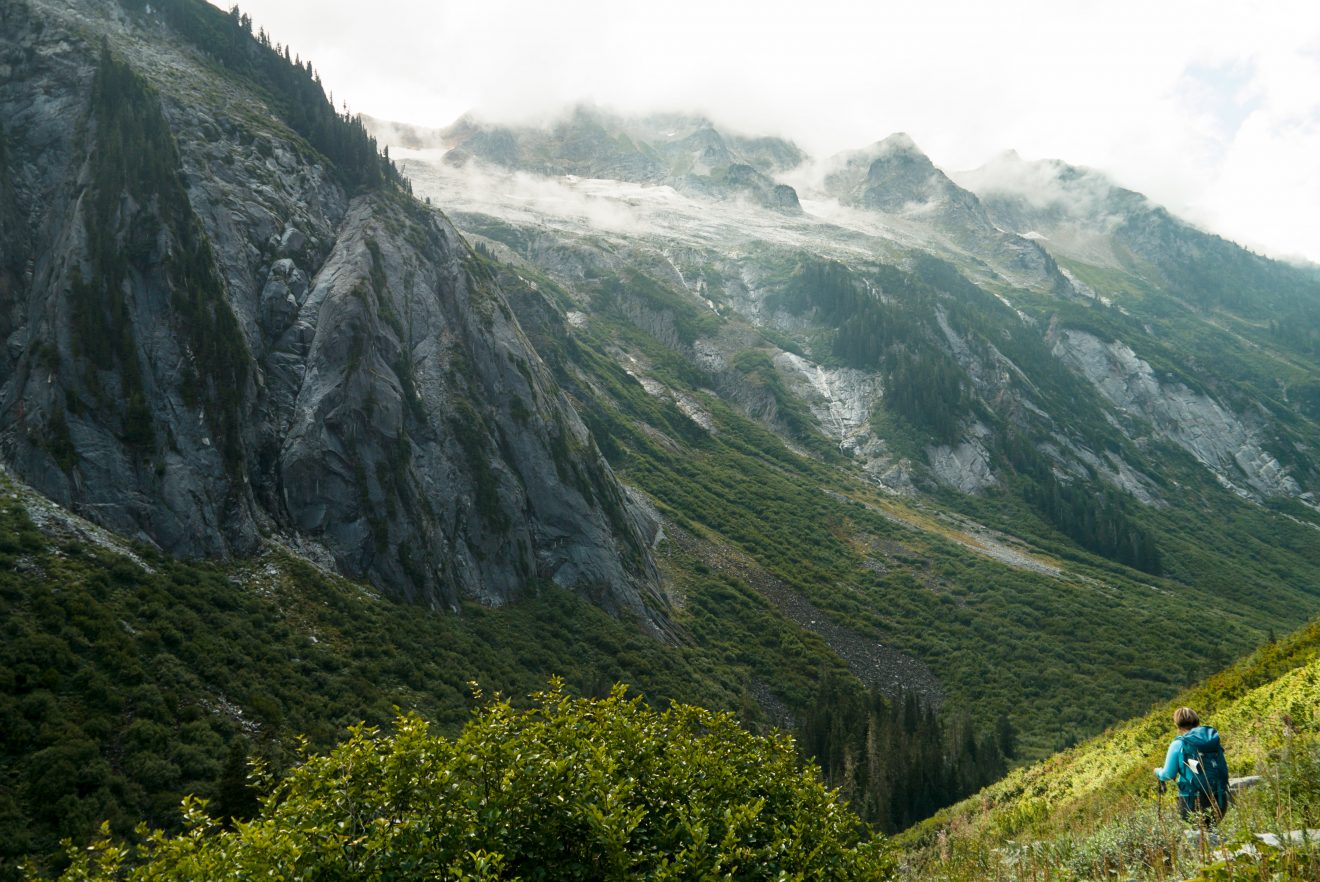 Photo Courtesy of Brook Peterson
Summer is an amazing time to visit North Cascades National Park, as once the snow melts out, you can find wildflowers blooming in high elevation meadows. Summer also has the most reliably good weather in the area — but always be prepared for storms and cooler weather at higher elevations!
Popular trails may be crowded on many summer and fall weekends, but you can always find secluded areas if you search. Ask a ranger or pick up a hiking guidebook to discover one of the less popular and hopefully less crowded hikes!
fall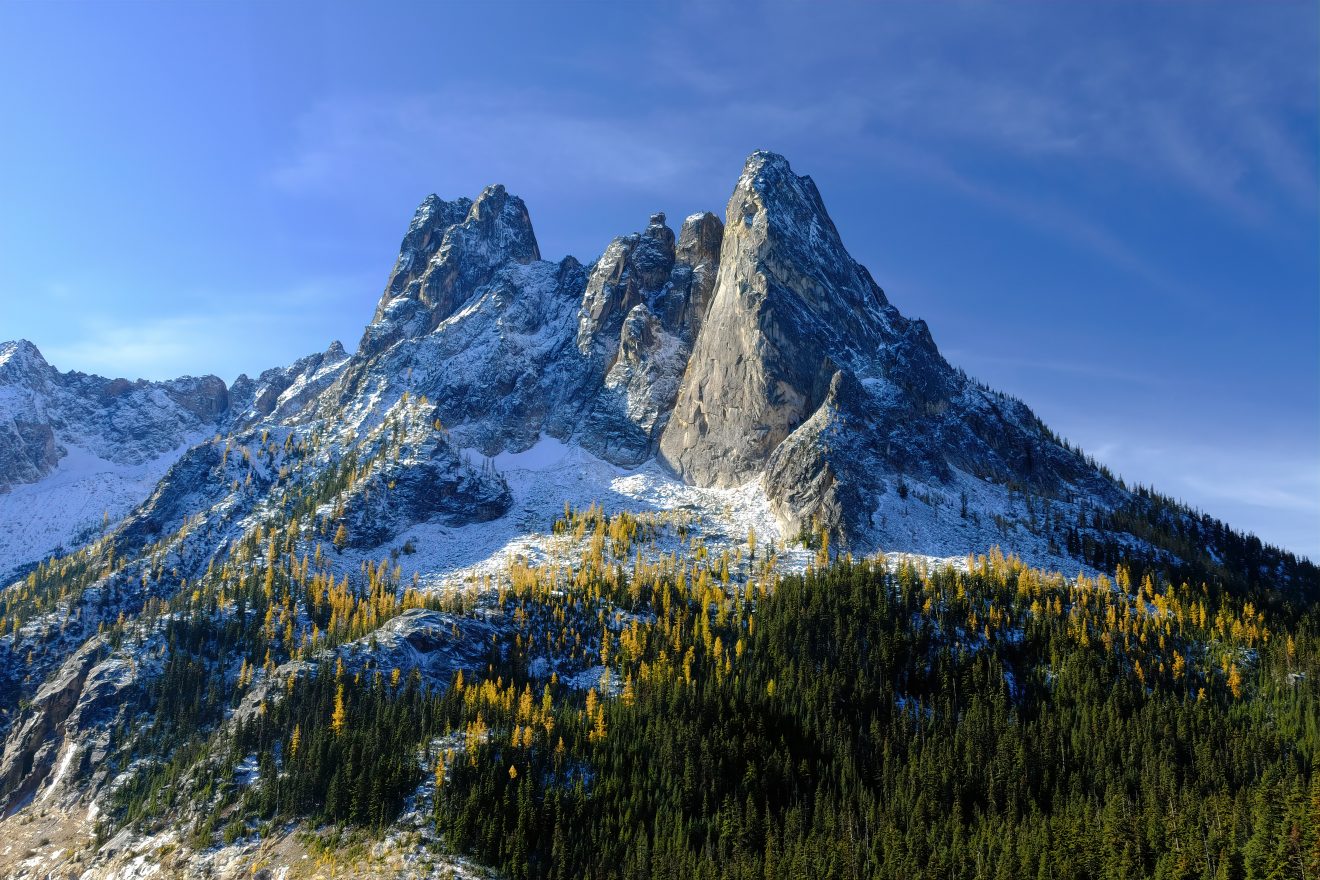 Photo by John Peters on Unsplash
Fall is also a spectacular time to visit, especially along the cascade crest and eastern side of the park, where you may be lucky enough to catch a glimpse of larches (also known as tamaracks) in full golden glory. 
These deciduous conifers grace the alpine zones of the North Cascades and turn bright yellow in the fall before shedding their needles for the winter. The timing changes every year, depending on the weather. Areas around Washington Pass or Heather/Maple pass often become crowded with hikers and photographers when Larch Madness descends in September or October.  
winter
During the winter, Highway 20 closes through most of the Park from just west of Mazama to Ross Lake. The area is popular with snowmobilers, skiers, and other winter backcountry travelers. However, the mountains are not accessible for most visitors since the risk of avalanches is often high. However, you can still drive to Diablo Lake and hike some of the lower-elevation trails like Thunder Knob. Once the road is safe to clear from snow, Highway 20 typically opens in April or May. 
Where to Stay
Camping
Camping is the perfect way to explore this beautiful national park. Within the park, camping is only allowed in designated campgrounds, and you can make a reservation on Recreation.gov. Six drive-in campgrounds are available throughout the park, with fees ranging from free to $16, depending on the campground. 
For a more secluded and peaceful camping experience, head into the backcountry on foot or by boat to one of many backcountry or boat-in campsites available. Make sure to get a (usually free!) backcountry permit from the ranger station in Marblemount before heading into the backcountry. 
You can also find options for camping in the National Forest surrounding North Cascades National Park, from established campgrounds to dispersed camping. Developed campgrounds, like Early Winters Campground, are more common in the National Forest to the east of the Park and are usually first-come first-served. 
In the Park
You only have two options for places to stay in North Cascades National Park other than at a campsite.
Ross Lake Resort is remote lodging only accessible by ferry or by foot. Stay in one of 15 floating cabins on Ross Lake with views out onto the lake and surrounding mountains, or access boat-in-only camping through the resort. 
In Stehekin, stay at the North Cascades Lodge at Stehekin. Rent either an entire house or cabin or a room at the lodge, where you can gaze out at the beautiful Lake Chelan and the mountains of the North Cascades. However, this option is accessible only by a ferry ride from Chelan or a 23-mile hike from Highway 20 and a shuttle bus from High Bridge.
outside of the park
There are also many options for lodging outside of North Cascades National Park. If you are staying on the east side of the park, I highly recommend one of my favorite places in the world: Mazama and the Methow Valley. 
This valley nestled at the base of the North Cascades has a magic unlike many places I have visited. It's well worth a stay in addition to being excellent access for North Cascades National Park and the surrounding mountains. The small towns of Mazama, Winthrop, and Twisp have lots to offer on their own, and the Methow Valley as a whole holds many opportunities for outdoor recreation. Make sure to check out the Mazama Store for local art, treats, and other goodies. 
On the other side of the mountains, coming from Seattle or Bellingham, you could stay in Sedro Wooley, Newhalem, or Marblemount. These small towns have many lodging options, but a few small hotels and inns mixed in with Airbnbs and other vacation rentals make for a great lodging option if you don't want to camp.
What To Do in North Cascades National Park
From hiking to kayaking to spending days in the backcountry, the real adventure begins when you get out of the car. The best part of North Cascades National Park is the hidden beauty. Unlike some National Parks, you can't truly experience the spectacle of the park without putting in some real effort. 
Check out the day hikes options below if you only have a day. If you have multiple days, the backcountry experience is where it gets good, whether you go by foot or by boat. If you like to get vertical, the alpine rock climbing, mountaineering, and scrambling in the park are incredible ways to get a view and experience without anyone else around.
day hiking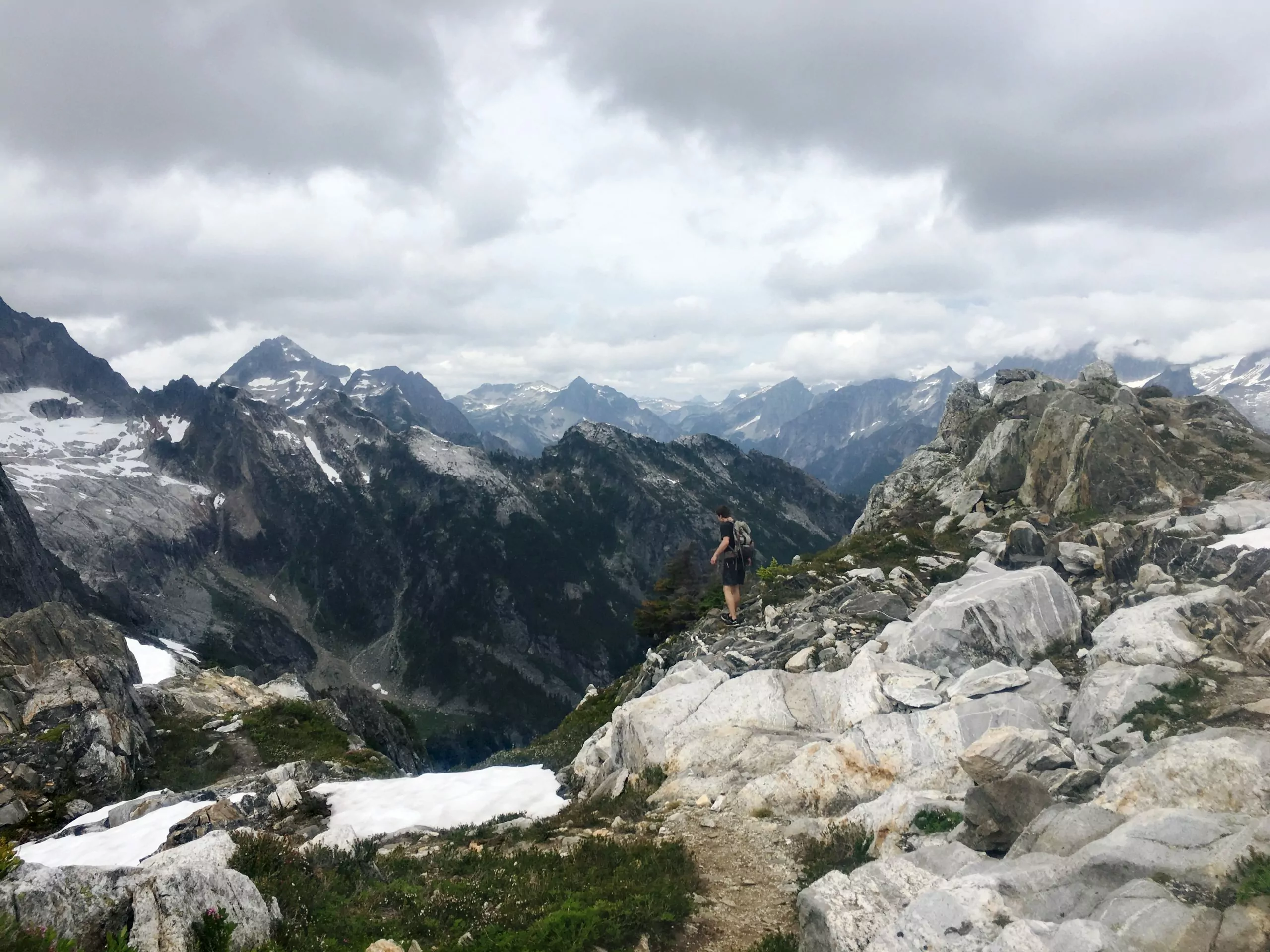 There are countless day hikes in North Cascades National Park. You could spend a lifetime and hardly explore it all. Some of the best options are often busy, with Seattle locals driving up on the weekends throughout the summer and fall. But if you hit it on a weekday or early in the morning, it can still be possible to have a popular trail all to yourself. 
From the popular to the obscure, here are a few good day hikes in North Cascades National Park. 
Cascade Pass + Sahale Arm

: Often called the best hike in the North Cascades, combine these trails for a challenging 12-mile hike through some of the most beautiful terrain in the country. Just hiking Cascade Pass on its own is about 8 miles but still worth it if you don't have time for the add-on to Sahale arm. Due to the popularity, this trail is often busy.

Thorton Lakes

: This 10 mile round trip trail leads you to a lake surrounded by rocky peaks. Add on the scramble to Trapper Peak above the lake for an additional challenge and great views. This trail makes for a great overnight trip as well. 

Heather-Maple Pass

: This popular loop trail traverses ridges and provides excellent views of mountains, wildflowers, and yellow larches in the fall. Most of it is not in the national park proper, but it is close enough and well worth the trip. 

Blue Lake:

This 4.5-mile hike right off of Washington Pass also might not be entirely in the National Park boundaries, but this is the perfect short hike to take a leg stretcher while driving the North Cascades highway. Enjoy views of the surrounding mountains as you hike to a peaceful (blue) lake. 

Rainbow Falls – Stehekin:

This is a classic hike in the Stehekin side of the park. This very short trail (.25 miles) takes you to a cascading waterfall. For a longer river hike in Stehekin, try the Stehekin River Trail, or for more elevation gain and more spectacular views, hike the 15 round trip up to Purple Pass.

Hannegan Pass and Peak: Access this hike with 360 views of the North Cascades from the park's north side off of Highway 542 near Mount Baker. You may find fewer crowds in this part of the park because of not being on the more popular North Cascades Highway. To the summit of the peak, it is about 10.5 miles round trip.
backpacking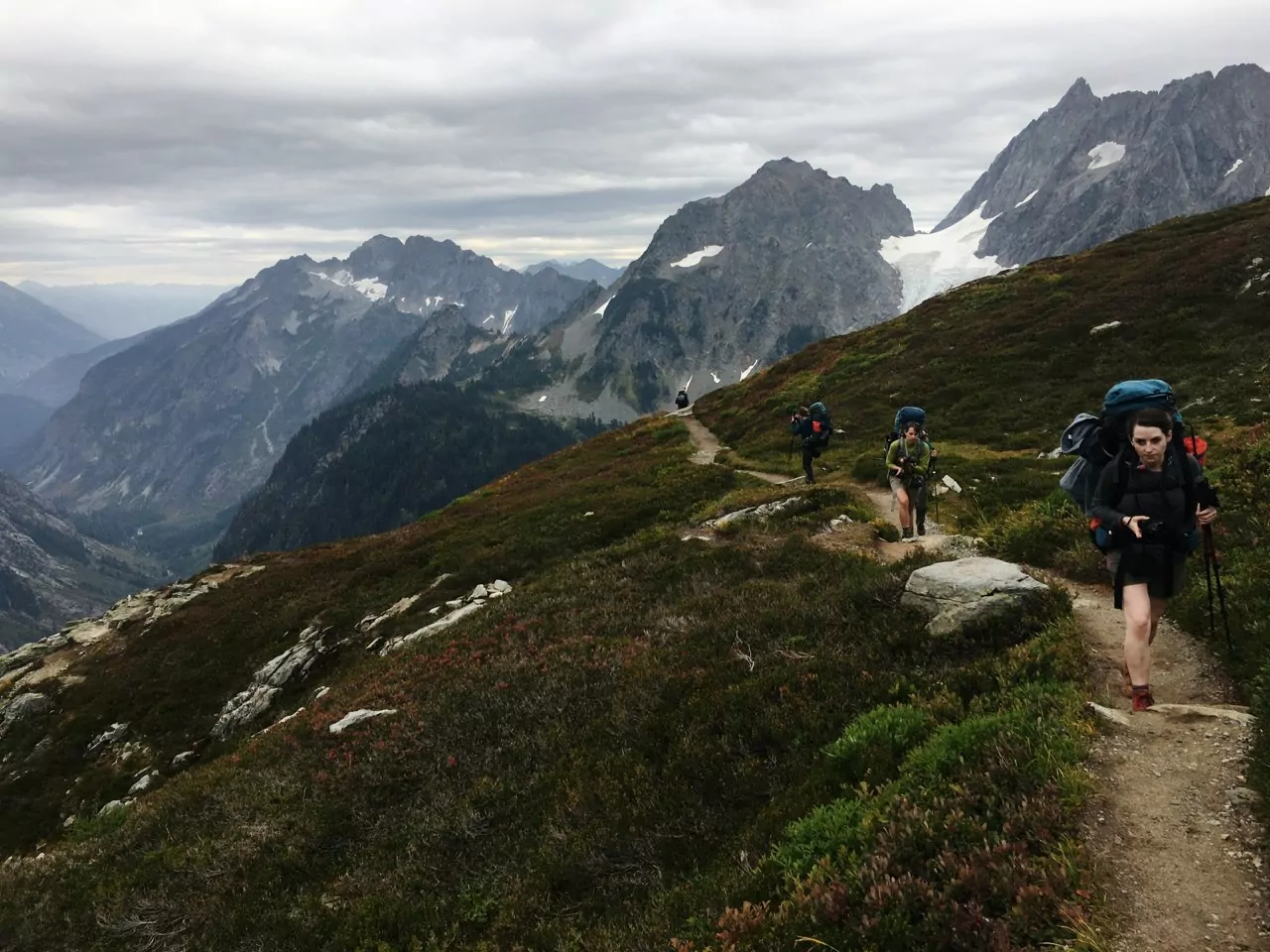 The backcountry is where the North Cascades shine if you have more time. If you want to try out backpacking but don't have the experience or gear, a guided backpacking trip is the perfect opportunity to get your feet wet and see if you like it. Wildland Trekking offers spectacular guided trips that allow you to get out there without the stress of planning the trip yourself! 
But, if you have the experience and gear to head out on your own, here are some ideas for backpacking trips in the North Cascades. 
Most of the day hikes listed above can be made into short overnight trips or extended into longer backpacking trips. One of my first backpacking trips was camping at

Thorton Lakes

, a perfect one-night trip with a good friend. Add on a morning scramble of Trappers peak, and you have a classic North Cascades backpacking trip. Another good day hike that could be a perfect short backpacking trip is

Thunder Creek to Fourth of July Pass

, an 11-mile round trip hike. 

Copper Ridge/Chilliwack River Loop

: This 35-mile trip traverses through some of the most beautiful terrains in the middle of the park. I recommend this trip if you want to immerse yourself in the area and have a few days to spend in the backcountry. 

Join a

guided backpacking trip

to experience the deep North Cascades wilderness. Or, if you'd prefer to DIY, find more backpacking trip ideas on the

NPS website

, or pull out a map and see where you want to go!
climbing and mountaineering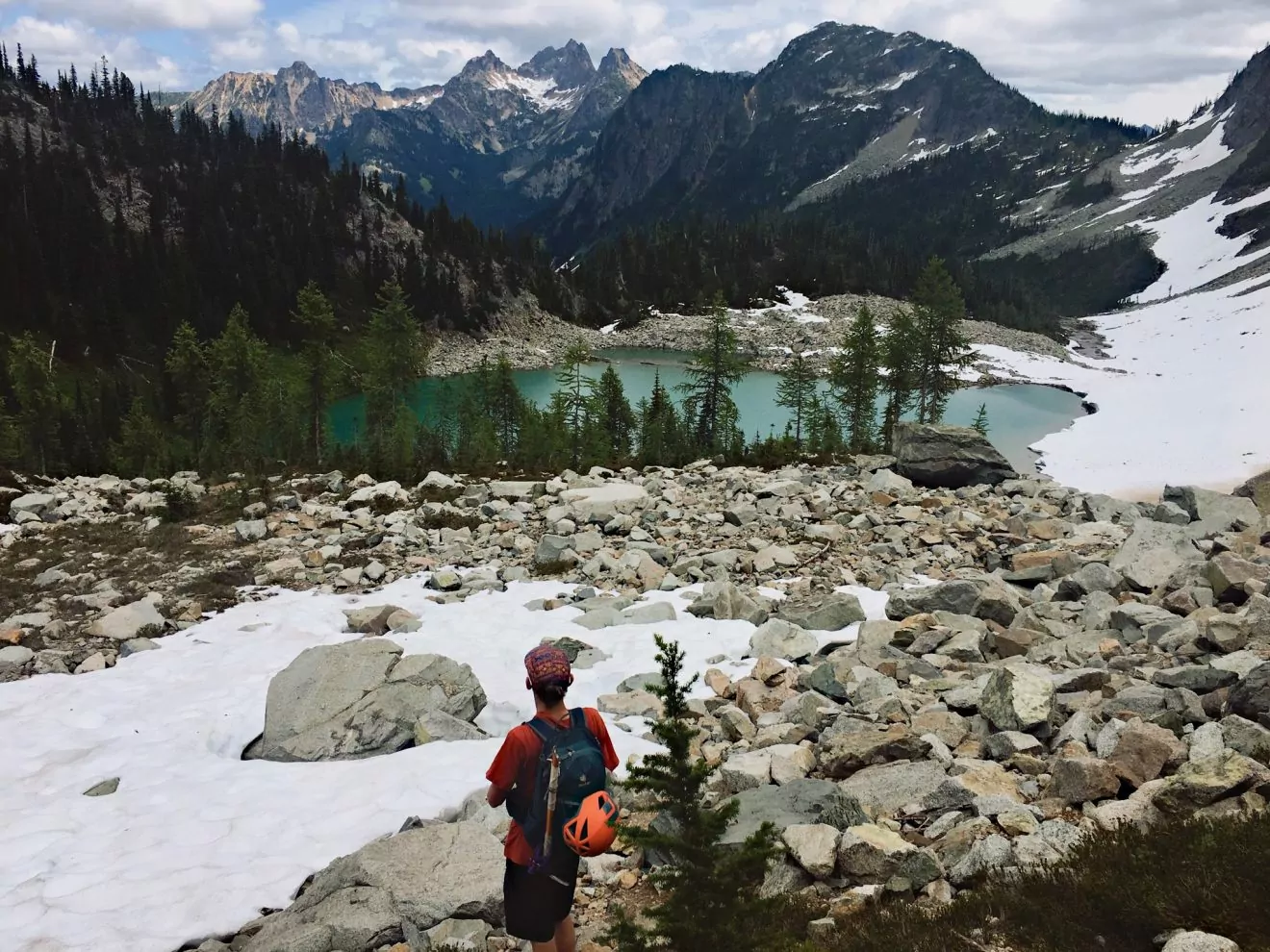 To get off the beaten path, heading up is always the way to find the best views with few crowds. While there are countless peaks in the North Cascades, some are still more popular than others. 
If you go climbing, scrambling, or mountaineering, make sure you have the knowledge and equipment to make it safe, or go with someone who does. Some peaks involve little more than hiking to get to the summit but still involve off-trail travel and the ability to read a map, and the fitness to get up and down. Check out our Ross Lake and Desolation Peak trip for an accessible peak that would be perfect for a first summit.  
Keep in mind, climbing and mountaineering requires technical skills and know-how. Some good options for "entry-level" scrambles and summits are:
Trapper Peak above Thorton Lakes:

Trapper Peak is a perfect entry-level summit as you follow the Thorton Lakes trail most of the way. Then the trail to Trapper Peak branches off to the right before you descend to the campsites at the lakes below. There are only a few class three moves as you follow the south ridge to the summit, so most experienced hikers will be able to attempt this summit. 

Black Peak:

A step up from Trapper Peak, this scramble takes you to an extraordinary summit above Washington Pass. Class three scrambling and route finding experience are necessary as there is no marked path to the summit. Even though technical rock climbing skills are not required, loose rock abounds on this summit, so wear a helmet! 

Liberty Bell:

A technical rock climb that needs experience and rock climbing gear, this is a fantastic first alpine climb with a few well-traveled, more accessible routes to the summit. Make sure you either find a guide, a friend with experience, or have the knowledge and gear yourself to do this climb. 
boating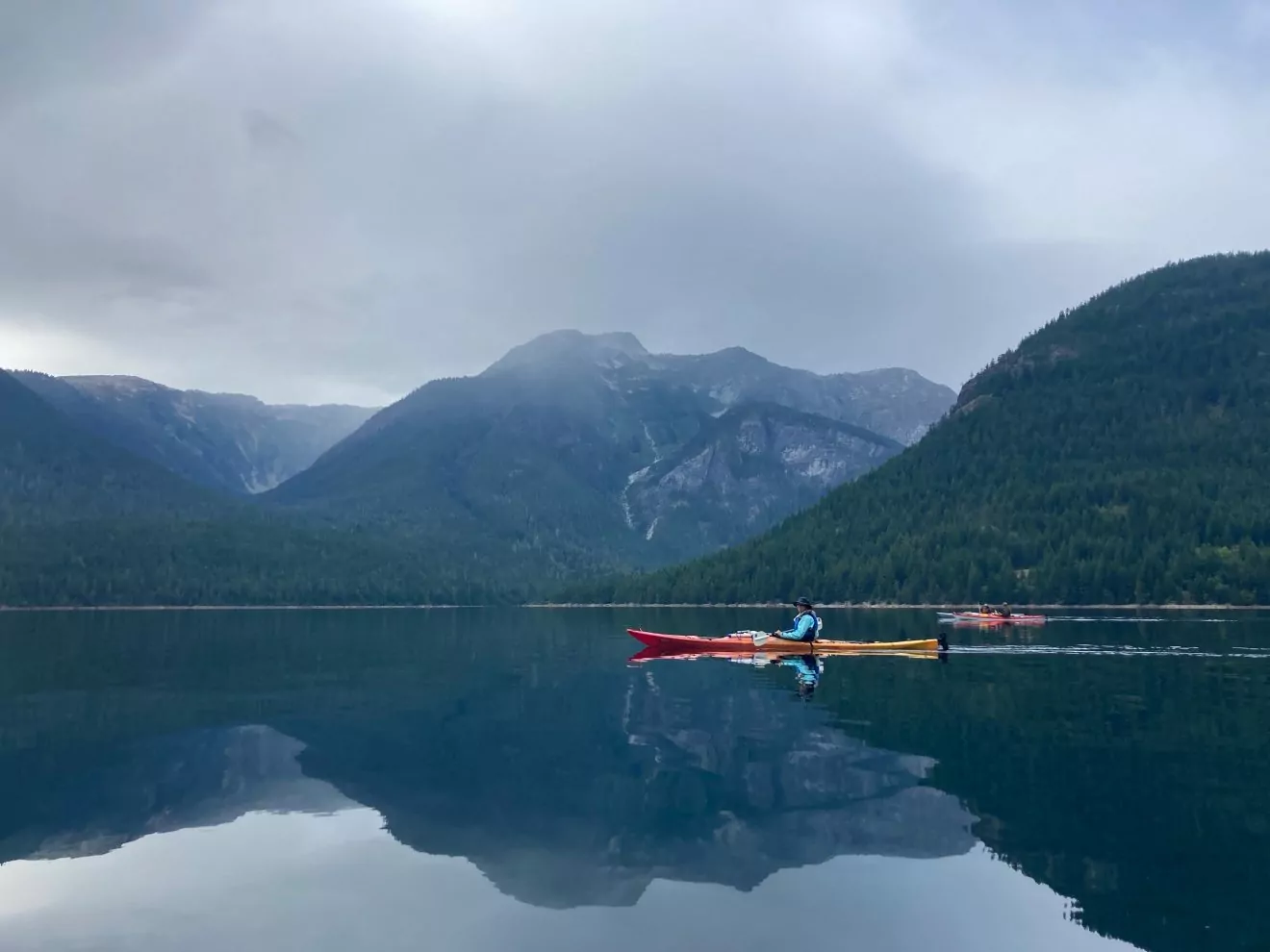 Photo by K Lee Corey on Unsplash
With beautiful mountainous lakes right off the highway, there are countless opportunities for kayaking, canoeing, motor boating, and other water activities in North Cascades National Park. Ross Lake, Diablo Lake, Gorge Lake, and Lake Chelan provide access to the North Cascades via the water. 
If you don't have a watercraft, Ross Lake Resort rents kayaks, canoes, motorboats, and other equipment, making the perfect daytime activity for families or anyone wanting to spend time on the water. Lake Chelan and Stehekin also have limited boat rentals. 
Whitewater enthusiasts also could check out the Stehekin and Skagit rivers for kayaking or rafting during the warmer months. Various guiding companies also run river trips in these areas for those who do not have gear or experience. 
Visit the Beautiful North Cascades!
Whether you end up booking a trip with a guide, hitting the trail by yourself, or just driving through to see the sights, make sure to add the North Cascades to your summer road trip schedule or make it a point to check it out next time you're in Washington.