The Ultimate Guide to Acadia National Park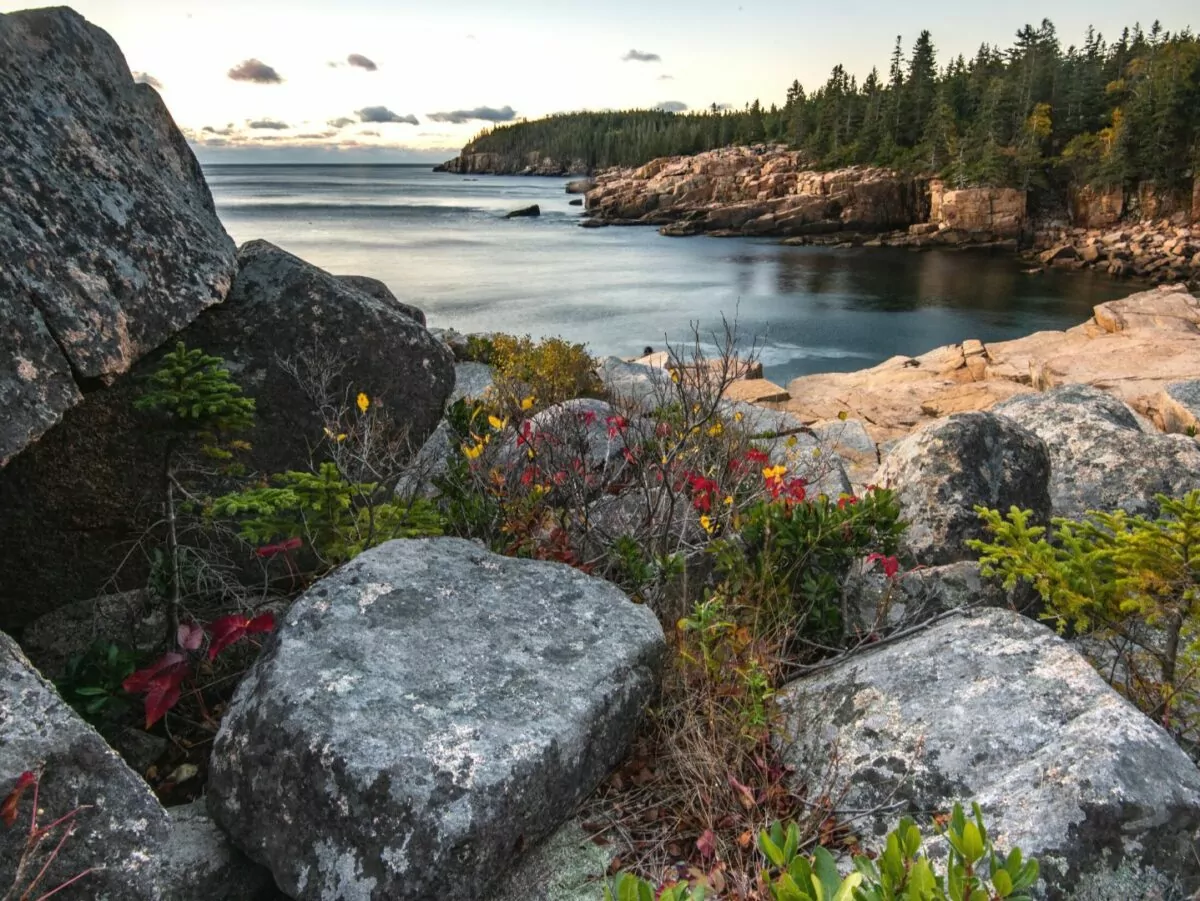 Acadia National Park, the crown jewel of the Northeast, sees over 3 million visitors a year. The only National Park east of the Mississippi Rivers, its 49,000 acres lie along Maine's rocky and rugged coastline. Acadia occupies around half of Mount Desert Island (MDI), a swath of Isle au Haut, the tip of the Schoodic Peninsula, and slices of 16 other islands that make up the Great Wass Archipelago.
Two visitor centers can be found on Hulls Cove and Thompson Island. With 27 miles of historic motor roads, 158 miles of hiking trails, 45 miles of carriage roads, and an abundance of recreational activities, it is no wonder nature lovers have been flocking here for generations. 
History
Acadia National Park started with the gift of donated lands, galvanized by the Village Improvement Association and the Hancock County Trustees for Public Reservations. These groups noticed the influx of tourists to the area and wanted to create a plan to preserve the environment for years to come. The wealthiest members of these groups purchased the land that was later donated to the United States government.
In 1916 President Wilson signed the Sieur National Monument into creation, beginning with five thousand acres on MDI. In 1919 an act of Congress designated Lafayette National Park. And in 1929, as additional lands were donated on the Schoodic Peninsula, the area and its new boundaries were renamed Acadia National Park. 
Acadia was the first National Park created from private lands donated as a gift to the public. The current land conservation movement wouldn't exist without it.
Park Layout
The Park is divided into three main regions: Mount Desert Island, the Schoodic Peninsula, and the Isle au Haut. Each region offers its own quaint charm and reason for visiting. Mount Desert Island includes the majority of the park's acreage and is the easiest to access. The most popular spot on the island is Bar Harbor, boasting beautiful historic lodges, superb seafood and restaurants, and effortless access to nature.
It's a Victorian-era getaway for affluent artists and those looking to get back to nature. The majority of the park's major draws are easily accessed from Bar Harbor such as the Scenic Park Loop Road, Cadillac Mountain, whale watching tours, sailing tours, the park's nature center, and Sand Beach. Bar Harbor is definitely the most popular tourist hub. If basing your trip from there, expect busy trails, packed parking lots, and to plan ahead of time during the high season.
The Schoodic Peninsula offers more seclusion across the bay from Bar Harbor. Choose the hour's drive from Bar Harbor or take a ferry across. Visitors enjoy the slower pace of life here. The Isle au Haut is even more remote and is only accessible by ferry from Bar Harbor. There are no cars or paved roads, but over 18 miles of panoramic, rugged, and mostly coastal walking trails. 
Geology
Acadia is renowned for the natural beauty of its panoramic views and pink granite mountains. The landscape speaks to a long history of glacial, tectonic and volcanic activity. The story continues today but in a gentler way, as erosion and the elements continue to carve new surroundings. The varied landscape of Acadia morphs through the weathering of granite ridges, the relentless flow of tides, and gusting coastal wind. Nature doesn't disappoint here, it's what helps bring visitors back year after year.
When to Visit
The high season in Acadia is the summer, May through October. Visitors flock here during the summer and for good reason. The temperatures rarely top 80 and the average highs in the 70s are perfect for hiking and other outdoor recreation.
Congestion is likely during the high season. Book accommodations ahead of time and try to have a backup plan for the day's activities. If you're an early riser, solitude can be found by visiting popular spots earlier in the day, or by venturing off the beaten path and opting for less popular itineraries. 
Springtime sees more wind, precipitation, and muddy trails. May and June are the best of spring with mellow temps in the 60s and 70s, and significantly fewer crowds. Most of Bar Harbor is open by Memorial Day weekend. 
The first half of September still provides summertime weather with bluebird skies. This is also the beginning of the fall color change. The East Coast is one of the best places to peep the fall foliage. The transition from green to gold and fiery red, is made even more dramatic when combined with a body of water nearby to mirror them. The middle of October provides peak leaf-peeping opportunities.
Off-season is winter, from November through April, and you'll find many accommodations, restaurants, and shops in Bar Harbor closed for the season. The winds pick up, the fog rolls in, and the precipitation reaches its max with an annual snowfall around 60 inches. Temperatures sit between 15 and 45 degrees. Quality snow allows for cross-country skiing and snowshoeing, and rentals can still be found in Bar Harbor.
There is no shortage of natural beauty to be found during this season, but most of the tourism dies down, so check availability.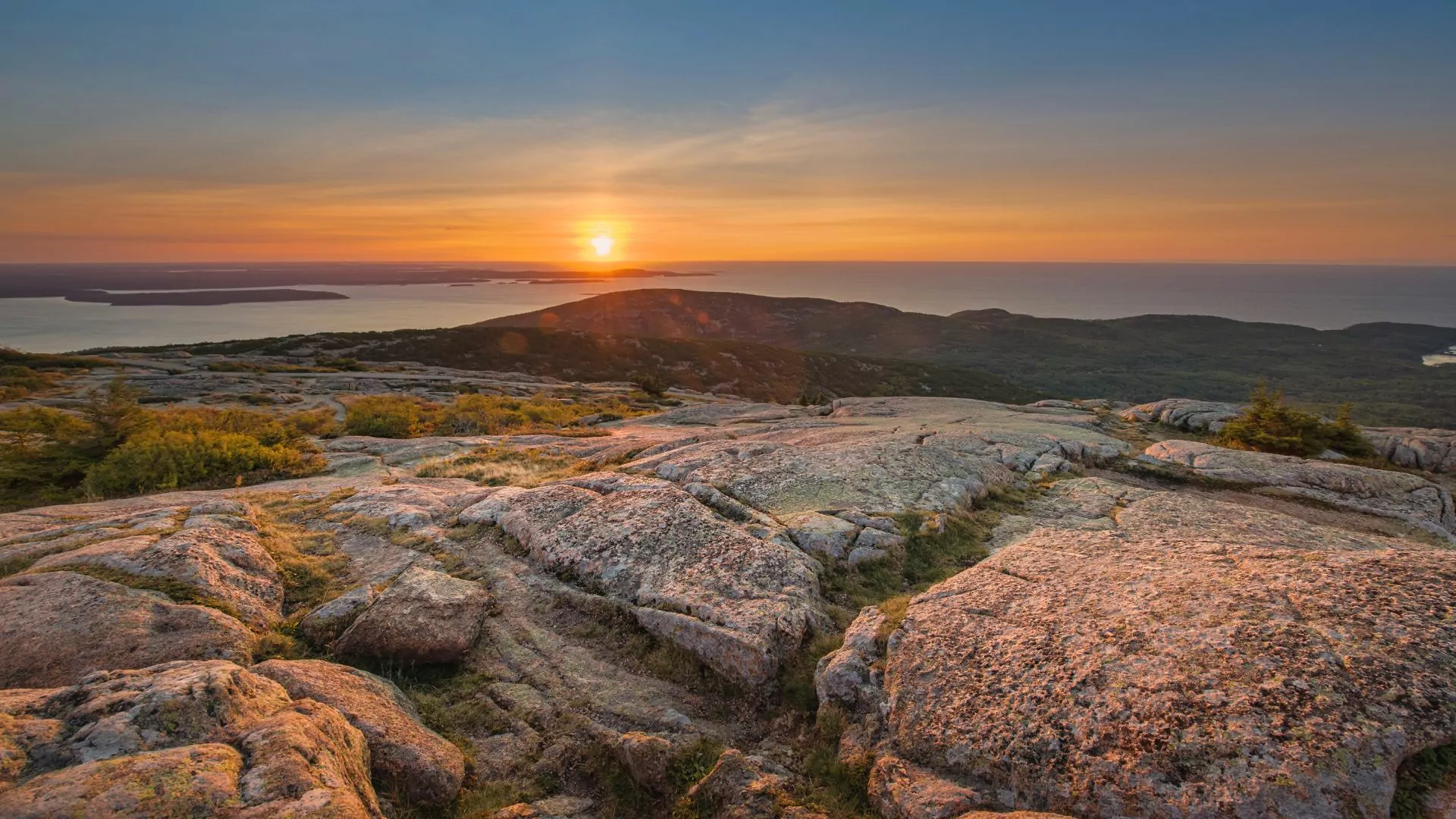 What to do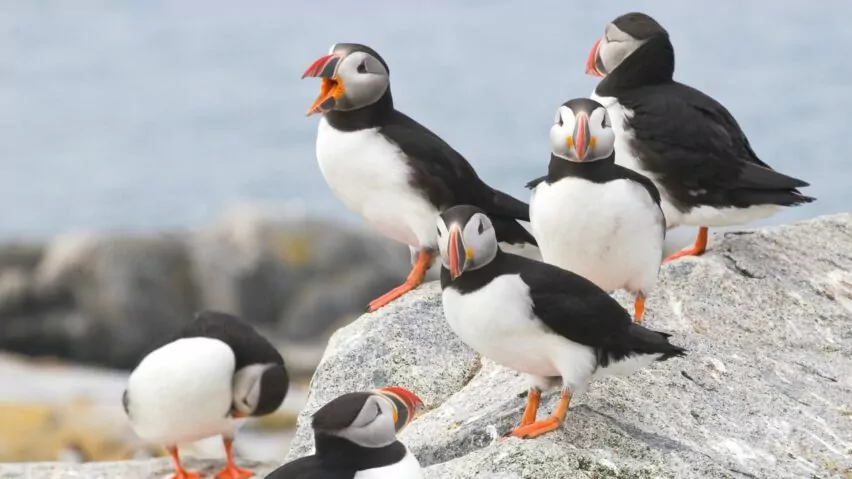 There is no shortage of activities available in Acadia National Park. From sightseeing, and movement-oriented recreation, to dining, this National Park provides it all.
Summit Cadillac Mountain – With over 158 miles of hiking trails in the park, there is something for everyone. Must-see attractions include Cadillac Mountain, Sand Beach, and Thunder Hole, all located on MDI. Cadillac Mountain is the highest peak in the park and on the eastern coastline. Be some of the first in the States to see the sunrise while sitting atop these spectacular east-facing views. The hike is 4.4 miles roundtrip. Parking is located along Park Loop Road, requires advanced vehicle registration during peak season, and is only sold online. 
Explore Sand Beach – Sand Beach is a long stretch of beach on the eastern side of Mount Desert Island. It nestles in the mountains and rocky coastline and is one of the more popular places to swim in the park each summer. Sand Beach is the only beach in the park with actual sand, providing 800 feet of coastline. The sand is made from shells crushed against the shoreline by the waves, making for a unique beach adventure. Visitors flock to Sand Beach during the summer months to take dips in the frigid Atlantic and soak up the expansive ocean views. Sand Beach is accessible from Park Loop Road.
Visit Thunder Hole – Thunder Hole is a narrow channel of stone carved out on the eastern shoreline of MDI. When the tides or storms force water into this channel, the noise of the air escaping can be deeply felt and heard, providing a thunderous clapping sound. Spray from the waves can reach up to 12 feet in height! It's recommended to arrive an hour before high tide for the best chances of hearing its thunder. Thunder Hole is reachable via Park Loop Road and the parking area even has a gift shop filled with Thunder Hole souvenirs.
Traverse the Carriage Roads – Carriage roads were gifted to Acadia by John D. Rockefeller Jr. and his family, and provide a fabulous opportunity to explore the park on rustic cobblestone roads free of cars. These well-groomed, 16-foot-wide carriage roads wind around Mount Desert Island for 45 miles. Visitors are able to walk, bike, or ride horseback while gently meandering past stone bridges, lakes, and waterfalls. Pack a lunch and stop for a picnic anywhere along the path.
Try Tidepooling – A coastal trip isn't complete without shoreline exploration, and Acadia's tide-pooling doesn't disappoint. Tidepooling is typically done 1.5 hours before or after low tide when small pools of water left behind in hollows of the shore, provide a miniature glimpse of sea life. Don't get caught up gazing at colorful sea stars, periwinkle snails, or large crabs and lose track of time though. 
Always check the tide charts before going, and stay safe and aware.  It's best practice to leave as the tide starts to come in again. Stay on the rocks, do not wade into the water, and wear sturdy and protective shoes. 
Take a Paddle – Kayaking and canoeing are fond summer activities in Acadia. Long Pond, the park's longest pond, is tucked away from the coastal wind and waves and reaches four miles in length! Other gorgeous paddling spots include Eagle Lake, Echo Lake, and Jordan Pond. Jordan Pond is Acadia's deepest lake reaching 150 feet in depth and subsequently a hot spot for tourists. Jordan Pond House is a restaurant overlooking the pond and has been serving tea and popovers since 1893.
Space is extremely limited here so go early or make reservations.
Learn About the Area –  Take a look at the National Park ranger programs for more outdoor activities and engagement. Each season (outside of winter) has its own activities, so check ahead to find more information. Programs include hikes, art walks, bird watching, whale watching cruises, educational talks, amphitheater programs, and children's shows.
The main theme of ranger-led programs is education, so go learn something new from these park experts!
Go Birding – Unbeknownst to many, Acadia National Park is a premier birding location with over 308 different bird species. It is also the Warbler capital of the world, with 20 different species of warblers breeding on Mount Desert Island. Ranger-led bird walks are offered from late spring to mid-fall. Puffins are also a big draw for many birders, and viewing these adorable creatures can be achieved by boat from Bar Harbor.
The best months for puffin viewing are June and July. To find more information on bird species in Acadia look here.
Where to Stay
From primitive campsites to luxurious lodges, there is a place for everyone here. There are four campgrounds in the park: Blackwoods Campground and Seawall Campground on MDI, the Schoodic Woods, and Duck Harbor Campground on Isle Au Haut. Blackwoods on the east side of the island, closer to Bar Harbor and the park's most popular attractions, is $22 a night and does not have electric hookups or water.
Seawall, located on the west side of the island,  is less crowded than Blackwoods while offering the same amenities. Schoodic Woods is the newest campground and is located on the Schoodic Peninsula. It offers water and electric hookups, a dump station, 100-seat amphitheater, and the widest range of camping options – all for the same $22 a night.
The most primitive campground is Duck Harbor on the Isle Au Haut. This option is only accessible by boat. A rustic affair, Duck Harbor offers five lean-to shelters for $20 a night. It is important to note none of the campgrounds offer showers, but there are paid showers available at the Schoodic Institute on the peninsula. All campgrounds require advanced registration and there is no backcountry or overnight parking allowed in the park.
Bar Harbor provides the largest breadth of lodging near the park. Bar Harbor Grand Hotel is a replica of a historic Victorian-era Inn that sits directly on the coastline. For those looking for something softer on the wallet, the Bar Harbor Villager Motel provides reasonable rates and sits closer to museums and the park entrance.
If glamping is more your style, check out the KOA's first luxury camping venture for a family-friendly, oceanside experience. Choose from five different furnished tent options and have dinner and a signature cocktail in their glass-walled lodge.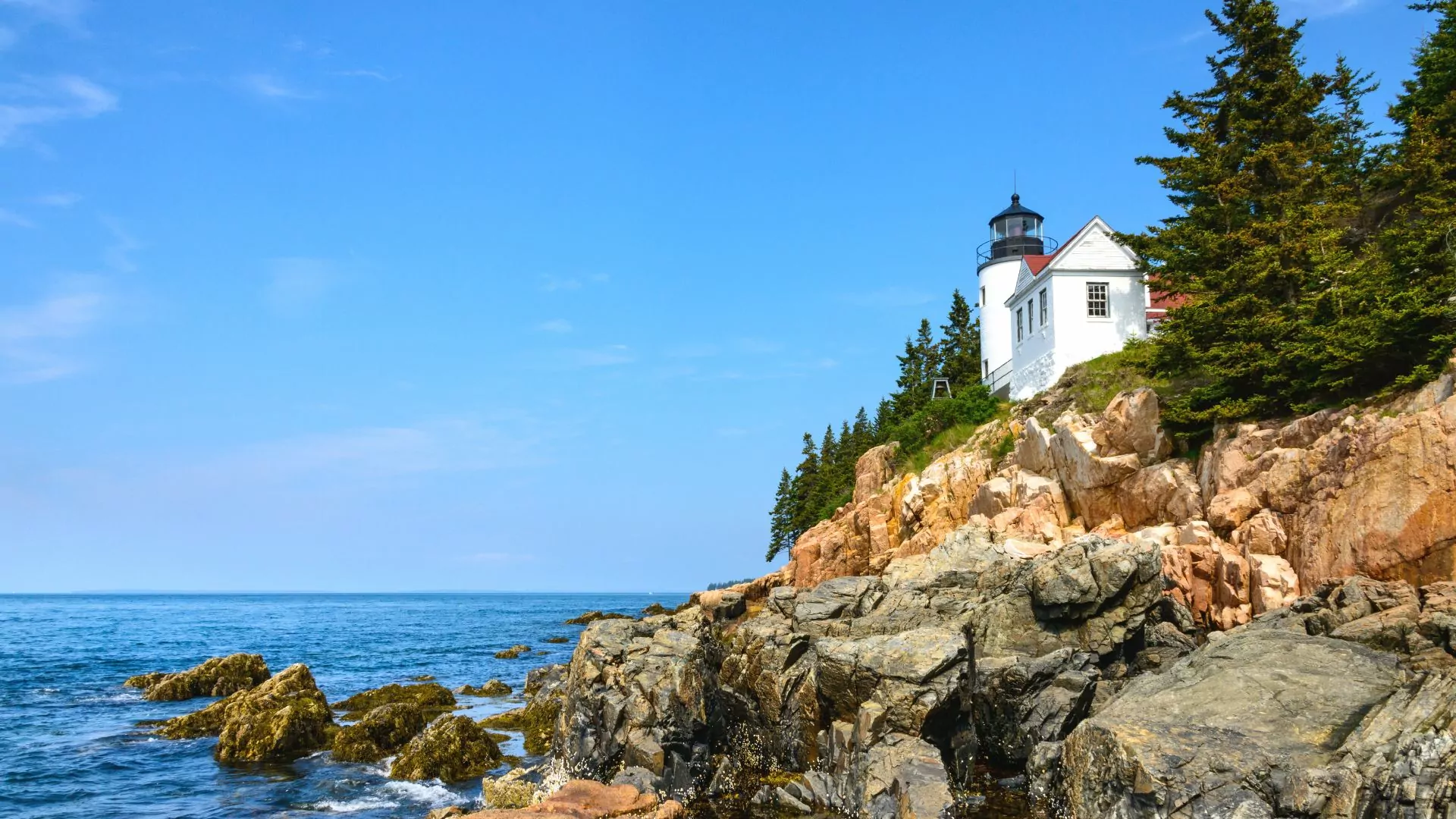 Food & Drink
The only dining experience in Acadia National Park proper is the Jordan House, yet the cities throughout the islands have a thriving food and beverage scene. It might be a sin to visit Maine without eating lobster. Thurston's Lobster Pound in Bernard on MDI boasts some of the best lobster around with impeccable views. Delight in your dinner as you look out on the comings and goings of Mount Desert Island's busiest working harbor. For a more down-home and less expensive seafood dinner, try Gateway.
Gateway supplies lobster to most restaurants on MDI and you won't find yourself lacking. Sweet Pea's also provides vegan fare on the way into Bar Harbor. For libations stop over at Fog Town Brewing, you could have a beer you might never have again. Their tap list is constantly rotating to showcase new small batch offerings. Looking for ice cream or sweets? Head over to Blueberry Hill Ice Cream to indulge in creamy bliss. 
Transportation
Four words: Island Explorer Shuttle Bus. This shuttle runs from late June through Columbus Day and makes touring around the park a breeze. It travels through Bar Harbor, northeast harbor, southwest harbor, and various locations in the park. Parking can be very challenging to find during the summer months. Save time, gas, and the environment by planning ahead and choosing the Island Explorer. Specific trips require reservations so check ahead and find out more on their website. 
Otherwise, day passes are required to get in the park and most popular tourist attractions require advanced parking passes. Bikes can be found for rent in Bar Harbor and offer a lovely alternative to driving. Many hiking trails can be accessed from Bar Harbor as well.
Know Before you go:
Always check ahead which areas of the park require advanced registration. Not all areas require parking passes or registration but some do. You can skip the lines by buying passes online.
Pets are allowed in the park but rules apply. The park requires pets to be on a leash no longer than 6ft and that owners always collect and dispose of waste. For a list of what animals are restricted, check here.
Cell service is often very spotty in the park, so avoid getting lost by bringing an extra map and planning your route ahead of time from home. 
As with all natural places, aim to leave it how you found it. Only walk on designated trails and durable surfaces. Pack out what you brought in. Secure your food from wildlife. Do not stack rocks or change cairns used for trail navigation.
Blackflies are the most prevalent and irritating bug you will run into on your trip to Acadia. They are common from mid-May to mid-June. Most convenience stores have bug repellant.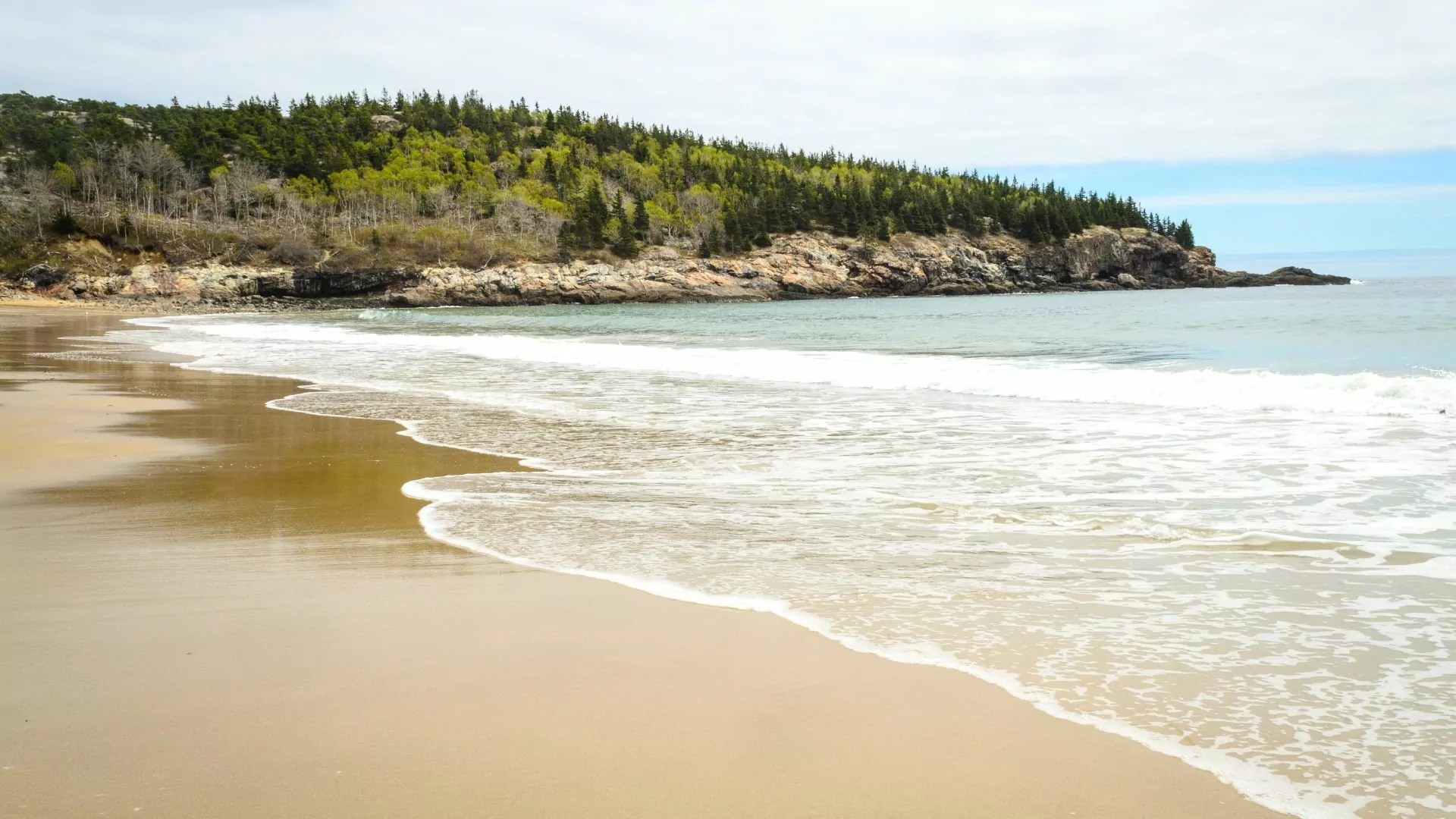 Our Trips
Interested in getting the most out of your time in Acadia with the least pre-planning and logistics? Consider joining one of our guided hiking adventures or adding a little paddling for the full ocean experience. Either way, let our experienced guides arrange the ideal itinerary, share their expert knowledge of the area, and secure all accommodations and equipment.