The Magic of Yellowstone Backpacking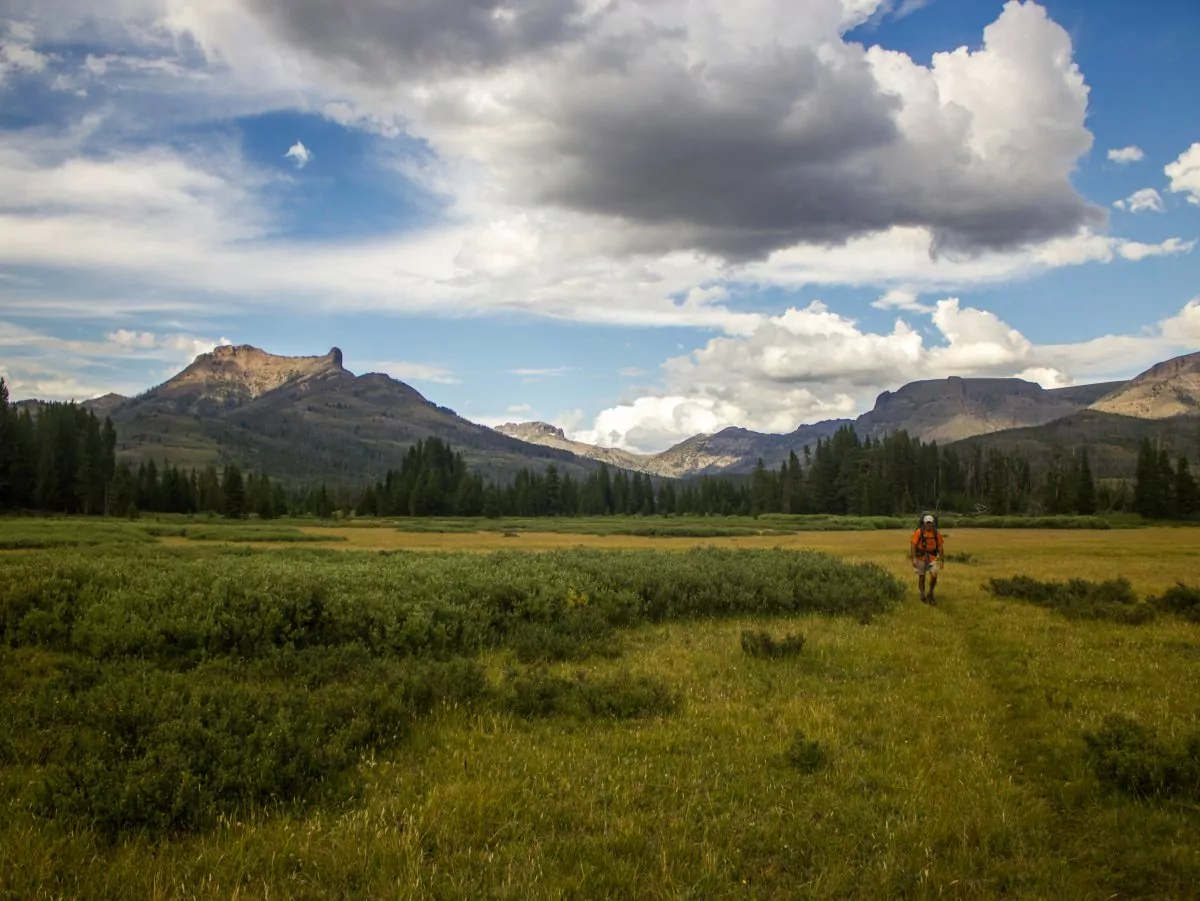 Each year in May or June, our Yellowstone program starts up in the northern, lower-elevation part of the Park where snow has melted and flowers begin to bloom. This early-season Spring Trekking Adventure is a traverse of the Yellowstone River as it flows through the pristine depths of the Black Canyon. This trip kicks off what is a magnificent five-month season of hiking and backpacking throughout Yellowstone National Park and the surrounding wilderness areas.
There's something magical about backpacking in Yellowstone. Maybe it's the combination of vast wilderness, expansive meadows, geysers, hot springs, waterfalls, pristine lakes, rushing rivers, rocky outcroppings, alpine peaks, and amazing wildlife that make for an extremely unique backpacking experience.
Most visitors to the famous park experience the tip of the iceberg. From the roads and boardwalks, one can see some truly amazing sights — like Old Faithful, Grand Prismatic Spring, the Grand Canyon of the Yellowstone, Upper and Lower Yellowstone Falls, and tons of wildlife, including bison, elk, and grizzlies.
When you venture off the boardwalks and into the backcountry of Yellowstone, though, new features and experiences begin to emerge. As the highway sounds fade, and you drift between open meadows and thick forests, a quiet alertness merges into the experience like a cloud of sand swirling through water. The anxieties of civilization evaporate as your senses open up to this new world — you begin to notice colorful wildflowers, the murmur of a distant river, or the sound of birds. This is one of the great benefits of a meaningful hiking vacation.
As you venture deeper and deeper into the backcountry, these experiences both intensify and become normal. Every meadow offers the possibility of seeing a grizzly bear or pack of wolves; every forest is a possible home to grouse or fox; every river holds the promise of a swimming otter or pelican hunting trout. (My brother and I once sat on a bluff above a backcountry creek and watched four pelicans float downstream, spearing and swallowing fish, then fly back up and float down again, over and over for hours.)
As you hike, you might pass a geyser, hot spring, or other thermal feature, where steam drifts up and dissipates from a mysterious hole in the earth. Your mind will drift as you think about this Eden of a national park, how sits atop a megavolcano that one day will explode and erase all life for hundreds of miles in every direction. The reality of this thought seems like a myth that can't be true – how can this beautiful, flourishing place with so much life be a ticking time bomb that will eventually explode? It doesn't seem right. But at least it's here now, and the experience is invigorating.
Eventually, you'll reach your campsite for the night. You don't hear any sounds other than the wind in the trees, bugling elk, and singing birds. Oh, and is that the howl of a wolf in the distance? A quiet evening next to a campfire and a peaceful night of sleep put the period at the end of a heck of a great first day.
Whether the trip is three days or seven days, this experience continues day in and day out, and you fall into the rhythm of the deep wilderness experience. This place gets in your blood, becomes part of you. When you return home, the memories of Yellowstone inspire new adventures, dreams, and goals. And every so often, you'll think about that magnificent Wyoming megavolcano wilderness of Yellowstone, and you'll yearn to go back.