Recommended Grand Canyon Packing List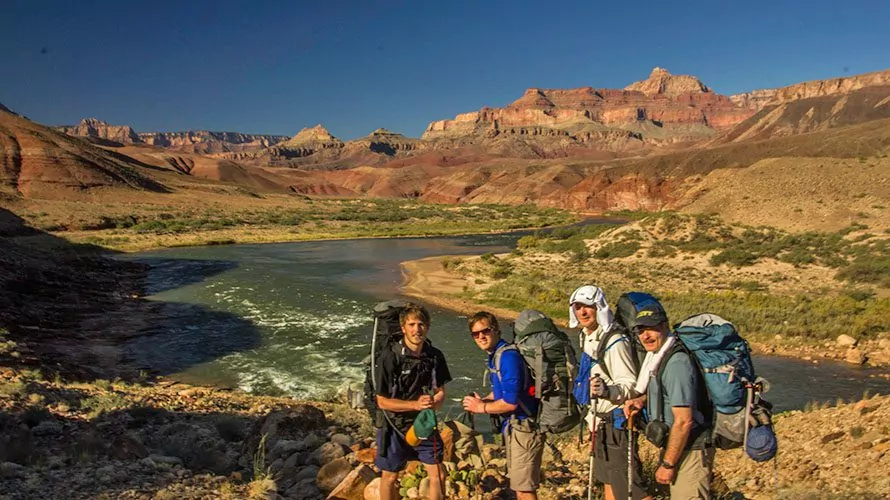 Grand Canyon Packing List
From the rim at the top to the river at the bottom, the Grand Canyon offers a hiking experience like no other. Whether you're taking a short overnight trip to the bottom and back or heading out on a multi-day camping trip, you're going to make memories that last a lifetime. Wildland Trekking has hiked across some of the most beautiful destinations on the globe, and we know better than anyone that a trip through the Grand Canyon should be high on your hiking bucket list.

What to Bring When You're Hiking the Grand Canyon
Hiking the Grand Canyon isn't a simple walk in the park. Even experienced hikers admit that trekking through this unique landscape is unlike any other experience on the continent. Though you can easily plan your journey to be a relaxing vacation or a challenging adventure, knowing what to bring to the Grand Canyon is vital for every overnight trip. Our travel experts at Wildland Trekking know that a visit to one of the Seven Natural Wonders of the World requires a specific packing list geared toward safety and comfort.
All-inclusive Grand Canyon hiking Adventures
Our Grand Canyon packing list is broken down into five categories — clothing and footwear, winter clothing and footwear, gear and equipment, personal items and food. Whether you're joining us for an unforgettable guided tour or you and your group are venturing into the park on a private camping trip, we believe adventurers of all abilities should have the following items in their pack.
Clothing and Footwear
When you're preparing for a camping trip or hike, your choice of clothing and footwear will determine whether your trip is comfortable or totally inconvenient. Before you pick out a piece of clothing based on its appearance and comfort alone, check to see which materials were used in its creation. Certain fabrics are ideal for warm weather hiking, while others are best used for cold weather camping. Let's discuss the benefits of three popular clothing materials:
Cotton: Though cotton may be comfortable for everyday wear, it may not be the ideal material for hiking in the mountains. For Grand Canyon hikes in the hotter months though it's perfect. Cotton absorbs moisture quickly and takes a long time to dry, which helps regulate body temperature in hot, arid climates.
Moisture-wicking fabric: Many fabrics are available with moisture-wicking properties, including polyester, nylon and Merino wool. These fabrics wick away sweat to keep you dry and reduce heat loss. Nylon and polyester are also very lightweight, lightening the load on your back and in your pack. These fabrics are great year round, but especially in the cooler months.
Waterproof, water-resistant and water-repellent materials: Waterproof materials do not allow water to penetrate beneath their surface. Water-resistant materials actively prevent some, but not all, moisture from penetrating. Water-repellent materials have a coating that delays water from getting through.
The quality of your clothing will directly impact the level of comfort you feel. Fortunately, plenty of high-quality clothing options are perfect for hiking and camping in variable climates like the Grand Canyon, including:
Sturdy hiking boots: Your choice of footwear is one of the most important and impactful decisions of your trip. For backpacking trips, we suggest wearing mid-weight, lug-soled shoes that reach above the ankle. Make sure your boots are broken in and will feel comfortable for long periods of time. If you're purchasing new boots, consider buying a pair that's half a size larger to accommodate thicker socks and foot swelling. Boots with waterproof or water-resistant properties are also advantageous for hiking in the rain.
Sun-shielding hats: A brimmed sun hat will protect the top of your head and face from direct sunlight. A bandana is also useful for extra protection.
Jackets: Even though temperatures in the Grand Canyon can rise into the triple digits, they can just as quickly fall when the sun sets. You need a breathable piece of clothing like a comfortable jacket or long-sleeved sweater for staying warm at night. A lightweight rain jacket or poncho is also good to have on-hand for sudden showers.
Pants: The pants you bring should be breathable and have waterproof, water-resistant or water-repellent properties. You should also bring one pair of leggings or light sweatpants to keep you warm at night.
Shirts: We recommend bringing a mix of cotton and moisture-wicking shirts, including one or two long-sleeved shirts for sun protection. Try to purchase light-colored shirts, as darker colors will attract more heat.
Socks: Cotton socks should not be in your pack. Instead, purchase hiking socks that are designed to dry quickly, breathe and not give you blisters. Bring one pair of hiking socks for every two days, and also consider wearing a thin liner sock under the hiking socks.
Leisure shoes: After hours of hiking, you'll want to give your feet some air. Bring along a pair of sandals, flipflops or tennis shoes to wear around the campsite.
Whatever clothing you choose, make sure it's comfortable to wear, designed with quality materials that will endure your outdoor adventure and convenient to carry in your pack.
Award Winning USA Hiking Vacations
Winter Clothing and Footwear
The weather around the Grand Canyon is constantly changing. From season to season, temperatures can vary drastically from day to night. Temperatures at the top can be nearly 20 degrees different from temperatures at the bottom. The weather even changes from rim to rim, which means you need to be prepared if you're hiking the Grand Canyon outside of the summer months. Spring and fall have variable weather conditions like light snow and rain, so it's always wise to check the forecast prior to your trip.

If you're trekking the South Rim in the wintertime, you're definitely going to need to dress for warmth. Temperatures between December and February along the South Rim can fall below 20 degrees. Though the inner Grand Canyon may have average monthly temperatures as low as 36 degrees, the South Rim has an average low of 18 degrees in January. To prepare for the cold and potential for snow, you'll need to pack clothing that was built to withstand winter weather.
Warm hat and gloves: When you're deciding what to wear to the Grand Canyon in February or another winter month, the first items on your Grand Canyon packing list should be a warm hat and a pair of gloves. Though cotton hats and gloves will keep you warm, they may not be ideal during rain or snowstorms. Instead, try to find winter hats and gloves that are waterproof. Make sure your gloves don't limit your ability to grip or hold items like hiking sticks.
Long underwear: Your inner layers are just as important as your outer layers. Choose long underwear made from moisture-wicking fabric for both your top and bottom. These pieces will wick sweat off of you and help you retain your body heat.
Fleece jacket: A fleece jacket made from synthetic fibers like polyester or wool can provide you with a lightweight, warm layer that dries quickly.
Rain pants: December, January and February actually have some of the highest monthly averages of rainfall throughout the year. As you create your Grand Canyon checklist, we recommend that you pack hiking pants that feature waterproof materials. It's likely that you'll be exposed to temperatures below freezing along the South Rim. Rain pants will help you stay dry and not lose body heat as quickly.
While you're trekking through the Grand Canyon, you'll be happy you chose high-quality clothing to keep you comfortable. If you're unsure of which pieces of clothing to pick out first, allow us to help. We have a wide selection of clothing for men and women of all sizes, including our special Get Ready Packages that have the basic essentials, like a pair of pants, a t-shirt, a hat, a jacket and socks.
Grand Canyon Gear and Equipment
Now that you're properly dressed for your trip, it's time to choose which non-clothing items you'll also need during the hike. First, you'll need a reliable backpack. We suggest purchasing a pack in the range of 60 to 80-liters. You should also buy a smaller pack around 30 liters for side hikes so that you can leave your large one at camp. Each pack should ideally have ergonomic features to keep you comfortable. Look for options that are:
Waterproof
Compressible
Durable
Lightweight
Adjustable in shoulder and sternum straps
Available with a roll-top closure
You'll also need a reliable sleeping bag. Sleeping bags come in a variety of shapes and designs that cater to different body types, sizes and comfort preferences. Look for sleeping bags with inner fabrics made of breathable materials and outer fabrics that are nylon, ripstop or have a DWR finish. Consider the seasonal rating of each bag, and choose one that will suit the temperatures you'll experience on your trip. Consider the bag's weight and how convenient it is to carry inside or tied to your pack.
We also recommend purchasing insect netting for your sleeping bag to protect you from mosquitoes and no-see-ums as you sleep. This lightweight netting will cover your entire sleeping bag so that you never have to worry about insects disturbing your sleep. Here are a few other supplies you should have on your Grand Canyon gear checklist:
Multi-tool: These handy, pocket-sized utility tools are useful resources out on the trail. There are a variety of different tool combinations on the market, but we suggest that you choose one with one or two blades, scissors for sewing, a can opener, tweezers and nail clippers.
LED headlamp: Headlamps are convenient for navigating around the campsite at night and staying safe during night hikes.
Water treatment system: A water treatment system is extremely useful, especially if you're headed on a long trip. These devices allow you to purify water from any source, which means you can fill your canteen straight from the Colorado River.
Matches/lighter: Keep your matches and lighters inside a waterproof container so they won't get wet. Even if you plan to rely on your lighter, bring a pack or two of matches as a backup just in case.
Fire starter: Of course, lighters and matches can get damaged or become unreliable when you need them most. Pack a portable fire striker with you and some kindling like cotton balls or dryer lint in case of emergencies.
Cookware: Like the multi-tool, you can choose to bring cookware sets that are extensive or that have the bare minimum. Whichever you choose, make sure you at least have a frying pan, a pot, serving spoons, cutlery and bowls or plates.
You need to rely on your gear throughout the trip. You can choose to search for affordable options, but make sure that whatever you purchase is made with high-quality materials from reputable companies. A tear in your sleeping bag, a broken backpack strap and a burnt-out headlamp won't help you or your group.
Personal Items
Next, we move on to the personal items. One important thing to note is that while these items may be necessities, you don't want to weigh down your backpack with too much clutter. For items such as toiletries, sunscreen and insect repellent, it's wise to purchase travel sizes. Doing so will give you enough of each item to get you through the trip, but it won't add extra weight or take up extra space in your backpack. We suggest the following personal items:
Sunglasses with polarized lenses to cut down on glare.
Sunscreen with an SPF of 30 or higher to protect against sun damage.
Insect repellent, particularly one that contains DEET to repel mosquitoes, ticks and other pests found in the area.
Lip balm with an SPF rating of 15 or higher to keep your lips moisturized and protected from sun damage.
Toiletries like a toothbrush, toothpaste, tissues, hand sanitizer, toilet paper, a small washcloth and a face towel. Keep small plastic bags with your toiletries so that you can store your used items for disposal after your trip. A first aid kit is also helpful. If you're taking any prescription medication while on a guided hike, please inform your trip leader so that they're aware of your unique health needs should an emergency occur.
Camera with spare memory cards or film. If you plan on using your smartphone for taking pictures, be sure to bring portable charging devices like battery sticks.
Entertainment like paperback books, notebooks, crossword puzzles, drawing supplies, playing cards and any other small items you can enjoy during the trip.
Whistles, which are great to have in case you get lost, hurt or need help.

Another important item that you may require for your journey is a permit. Depending on where you set up camp within the Grand Canyon, you may need to obtain an approved permit that specifically covers those in your group as well as your predetermined camping dates and itinerary. You do not need a permit to hike or camp within the following areas of the North and South Rims:
Mather Campground
Desert View Campground
North Rim Campground
Phantom Ranch
Any day hiking or day stock rides, which include trips that occur at nighttime but do not have overnight stays
Backcountry permits are required for all other overnight hiking and camping within the Grand Canyon. The trip leader must carry this permit at all times and display it on the campsite in plain view overnight in case a park ranger needs to check it. If you're trekking alone, it's important that you keep your permit safe and accessible throughout the trip. If you're traveling with Wildland Trekking, you're already covered! We take care of all park permitting, so all you have to do is focus on your adventure.
Food
Trust us — you're going to work up an appetite as you explore one of the world's most magnificent landscapes. When you're miles away from everyday conveniences, you need to make sure you have enough food to keep your strength up. You need options that give you the energy to begin each day, the strength to trek to your next campsite and the nutrients you need to recover each night. These foods also need to be lightweight and convenient to keep in your backpack.
Fuel up before your hike with these foods:
Oatmeal
Eggs
Fruits and vegetables
Nut butters
Pasta
Lean meats
Snack on these foods while you hike:
Trail mix
Jerky
Fresh or dried fruits & vegetables
Nutrition bars
Tuna or salmon packets
Nuts and seeds
Eat a hearty dinner with these types of foods:
Freeze-dried meals
Instant noodles or rice
Lentils or beans
Refresh with these foods after your hike:
Cheese
Greek yogurt
Potatoes
Lean meats
Leafy greens
If your group is trekking without guided support, we recommend that you make sure each person in your group has sufficient food and water for themselves for the entire duration of the trip. Splitting or sharing meals is also an option, but everyone must agree on which items to bring to avoid running out of supplies. If you're traveling with Wildland Trekking, we'll provide you with delicious meals that are always made with the freshest ingredients.

Plan Your Next Grand Canyon Hiking and Camping Trip With Wildland Trekking
Nothing in the world compares to the unique beauty of the Grand Canyon, and the best way to experience everything this amazing landscape has to offer is to spend a few days discovering it on your own two feet. If you'd love to explore the Grand Canyon without having to worry about itineraries, meals or permits, consider booking the #1 Grand Canyon hiking tour on Trip Advisor. Our professional, award-winning hiking guides will guide you through the greatest gorge in the country for a safe and spectacular vacation.
Contact us to learn more about our once-in-a-lifetime backpacking and hiking trips through the Grand Canyon.