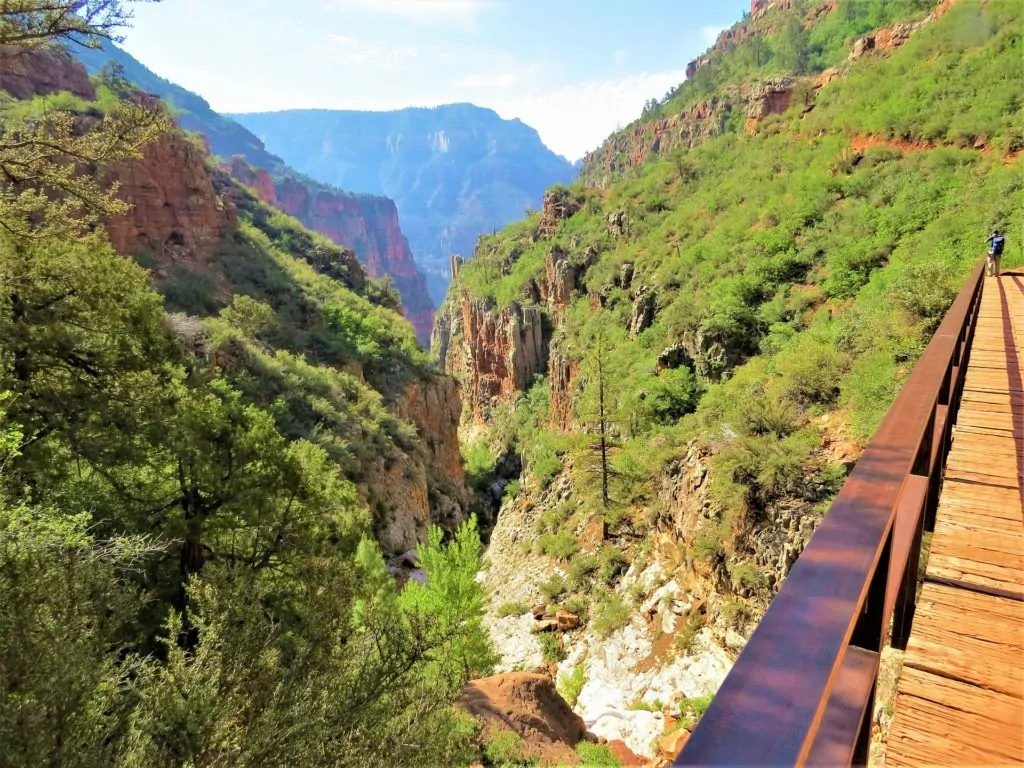 North Kaibab Trail
General Description
The North Kaibab Trail is the most famous trail on the North Rim and is the gateway to your Grand Canyon adventure.  The North Kaibab Trail drops thousands of feet down Roaring Springs Canyon to the Grand Canyon floor and eventually meets up with the Bright Angel Trail and South Kaibab Trail at historic Phantom Ranch on the mighty Colorado River.  From the North Rim, enjoy scenic vistas of Grand Canyon geology as you descend through colorful rock layers.  There are many options for day hikes and the trail is well maintained, making North Kaibab Trail on of the best North Rim trails for kids and families of all ages.  For the more adventurous hiker, the historic North Kaibab Trail makes up over half of the Rim to Rim route, passing the cascades at Roaring Springs, the majestic Ribbon Falls, and the infamous "Box," a narrow section of Bright Angel Canyon with towering cliffs of Vishnu schist, the oldest rock layer in the canyon. Whether you are day hiking down from the pines forests of the North Rim or are tackling the once-in-a-lifetime adventure of the Rim to Rim, you'll see why the North Kaibab Trail is one of the best North Rim Trails.
Explore Grand Canyon with Expert Guides
Getting to the North Kaibab Trailhead
The North Kaibab trailhead is located 1.5 miles north of the Grand Canyon Lodge on Highway 67. There are bathrooms and water at the trailhead.
History of the North Kaibab Trail
The North Kaibab Trail was constructed in the 1920s, following the old trail that local schoolteacher David Rust had used to get to Rust's Camp, now known as Phantom Ranch.  The trail was rerouted to intersect with the North Rim Entrance Road (Highway 67), and the Park Service used dynamite to blast the Supai Tunnel and "half tunnels" along the Redwall limestone, making the North Kaibab trail a feat of engineering designed to wow tourists in an already awe-inspiring setting. The North Kaibab trail crosses Bright Angel Creek 7 times on steel and concrete bridges, an improvement over the 94  creek crossings of Rust's original trail.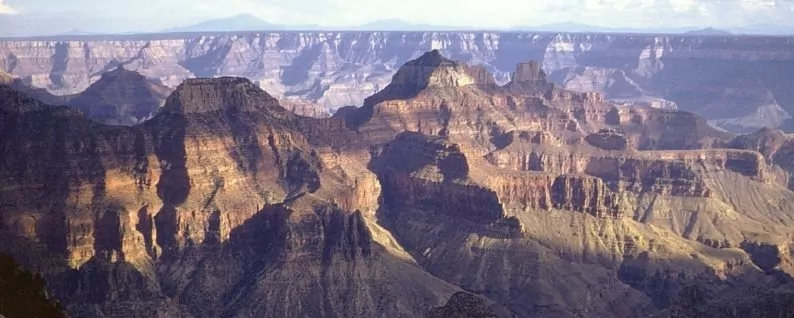 3 Best Day Hikes on the North Kaibab Trail
The North Kaibab Trail may be 14 miles long from rim to river, but there are many options for doing shorter day hikes. The starting elevation at the North Kaibab Trailhead is 8,241 feet/ 2,511 meters.
Below are the primary options for day hiking the North Kaibab Trail:
| | | | | | |
| --- | --- | --- | --- | --- | --- |
| | Destination | Miles | Elev | Difficulty | Style |
| | Coconino Overlook | 1.3 mi | 7776 ft | Easy | Out and Back |
| | Supai Tunnel | 3.4 mi | 6800 ft | Moderate | Out and Back |
| | Redwall Bridge | 6.9 mi | 5610 ft | Strenuous | Out and Back |
1. Day Hike Option 1: Coconino Overlook
This 1.3 mile roundtrip out-and-back hike takes you down through the Douglas firs and Engleman spruces to the first sweeping vista on the North Kaibab Trail- the Coconino Overlook.  Named for the Coconino sandstone on which you stand at the viewpoint, the overlook makes a great destination hiking with kids or families of all ages and is a good introduction to the Grand Canyon geology.  Keep an eye out for the big blue Steller's jays, common at this elevation.
2. Day Hike Option 2: Supai Tunnel
This 3.4 mile roundtrip out-and-back hike takes you down through the pinyon pines and junipers to a tunnel blasted out of the Supai formation- the fifth layer of Grand Canyon geology.  Looking up trail, the Supai Tunnel artfully frames a colorfully streaked slab of Coconino sandstone, a sight you will not soon forget. There are bathrooms and seasonal water at Supai Tunnel.
3. Day Hike Option 3: Redwall Bridge
This 6.9 mile roundtrip out-and-back hike takes you down to a bridge at the top of the Redwall limestone.  At this elevation you begin to see more cacti as well as spiky yuccas and agaves. Below you can see the Redwall narrows of Roaring Springs Canyon and feel dwarfed by the canyon's immensity.
Maximize Your Visit to Grand Canyon National Park on Hiking Tour
Multi-day packages allow visitors the opportunity to make the most of their time in Grand Canyon National Park and to do it hassle-free. Guided tours include gear (backpack, trekking poles, crampons in winter), meals, accommodations on multi-day tours, local transportation, and a professional Arizona hiking guide. Through their knowledge, stories, and personal passion, guides can bring a place to life in a way that's much more difficult to do on your own. Read more about Grand Canyon Hiking Tours.
Award Winning USA Hiking Vacations

3 North Kaibab Trail Backpacking Trips
The North Kaibab Trail is the North Rim gateway to your greatest Grand Canyon backpacking adventure. All Rim to Rim hikes either start or finish here, but there are also options of out and back backpacking trips on the North Kaibab Trail.
Route
Miles
Difficulty
Campgrounds
North Rim to Cottonwood Campground
14 mi
Strenuous
Cottonwood CG
North Rim to Phantom Ranch
28 mi
Strenuous
Cottonwood CG
Bright Angel CG
Rim to Rim
24 mi
Strenuous
Cottonwood CG
Bright Angel CGHavasupai Garden CG
1. Option 1 :North Rim to Cottonwood Campground (3 days)
Descend down the North Kaibab Trail into Roaring Springs Canyon.  The trail gets exposed as you traverse beside sheer cliffs of Redwall limestone. Past the cascades and pump station at Roaring Springs the trail continues to descend towards Bright Angel Creek. Dozens of brachiopod fossils can be found along the trail as you hike down, eventually arriving at the Manzanita Ranger station where you'll find bathrooms and seasonal water.  Continue across the creek down Bright Angel Canyon, keeping an eye out for beavers as you make your way through the last few miles to Cottonwood Campground.  Spend the night listening to the creek as you marvel at the thousands of vertical feet of stone framing the jaw-dropping star-scape of Grand Canyon. Enjoy a day trip up a wet side-canyon lush with maiden hair ferns and cardinal monkeyflowers to the mysterious and ethereal Ribbon Falls, before ascending through the pines back to the North Rim.
2. Option 2: North Rim to Phantom Ranch  (4 days)
This out-and-back route continues on the North Kaibab trail past Cottonwood Campground on day 2.  As you continue to descend to the Colorado River, the canyon broadens giving and great views of Oza Butte and the Grand Canyon Supergroup rock layers beofore the canyon narrows bringing you to the historic Phantom Ranch at the bottom of Grand Canyon. After enjoying a lemonade with your comrades and sending a postcard by mule, set up camp at Bright Angel Campground and enjoy dinner at Boat Beach beach on the banks of the mighty Colorado River.  Return up the North Kaibab Trail, through the famous "Box" of Bright Angel Canyon- a narrow and especially scenic section of trail where American dippers splash in the creek below the cliffs of Vishnu schist.  Arrive at Cottonwood Camp where you spend your final night below the rim before ascending back to the trailhead on day 4.
3. Option 3: Rim to Rim (4 days)
This 4 day through-hike of the Grand Canyon Corridor takes you past Phantom Ranch of day 3 and up one of Americas most famous trails, the Bright Angel Trail. Cross the Colorado River via the silver bridge and ascend the glorious Bright Angel through colorful Tapeats sandstone along Garden Creek before taking respite at Havasupai Garden Campground, where deer frolic under the canopy of cottonwood trees in their oasis beneath the cliffs.  Follow the 1.5 mile spur trail from Havasupai Gardens to catch sunset at Plateau Point, a true gem of a vista and one of the best viewpoints in Grand Canyon. On day 4, keep an eye out for California condors as you tackle the infamous switchbacks of the Bright Angel Trail before topping out in historic Grand Canyon village.
Join a Guided Grand Canyon National Park Backpacking Trip
Joining a Grand Canyon backpacking tour  is a worry-free, adventurous way to experience Grand Canyon National Park. With your gear, meals, local transportation, permits, and fees taken care of for you, you can travel light and focus 100% on enjoying the hiking experience, while the guide company takes care of everything else. Also, by going with local experts you'll enjoy a greater level of safety and gain a much better understanding of the history and ecology of this remarkable region. Read more about a guided Grand Canyon backpacking trips.
All-inclusive Grand Canyon Backpacking Trips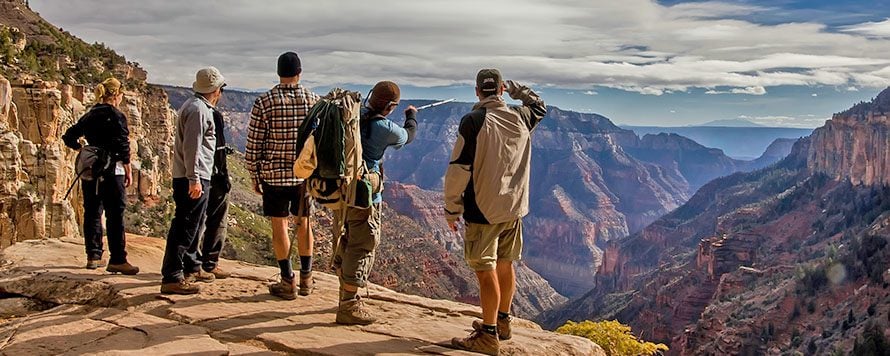 When to Hike and Seasonal Considerations
The North Rim entrance road, amenities and facilities are closed between October 15 and May 15. Summer temperatures at the bottom of Grand Canyon  soar above 100 degrees F. Make sure you check the Grand Canyon weather before your trip.
Necessary Permits
Day Hike Permits
Permits are not required for day hikes in Grand Canyon National Park.
Backpacking Permits
Permits are required to camp in Grand Canyon National Park.  For more information on Grand Canyon's permit system, click here.
Suggested Packing List
Day Hike Packing List (edit)
3-6 liters of water (more in summer)
Salty, calorie-rich snacks
lunch
backpack
trekking poles
crampons (in winter)
sunscreen, sunglasses
cotton t-shirt (spring-fall)
non-cotton t-shirt (winter)
warm non-cotton layer
1st-aid kit
Backpacking Packing List (edit)
all items listed for day hikes PLUS
multi-day backpack
3-season tent
sleeping bag
sleeping pad
headlamp
backpacking stove and fuel
backpacking meals
3 pairs wool socks
extra t-shirts
Please Respect Our National Parks – Leave No Trace
We strongly recommend abiding by all Leave No Trace ethics guidelines and practices so that our national parks and public lands are preserved for the enjoyment of future generations and for the people and animals who call these places home. Simple things like packing out your trash, obeying national park rules, and respecting the peace and quiet of our national park trails is a great start. If you're going on a backpacking trip, you can read about more about the 7 Leave No Trace Principles.