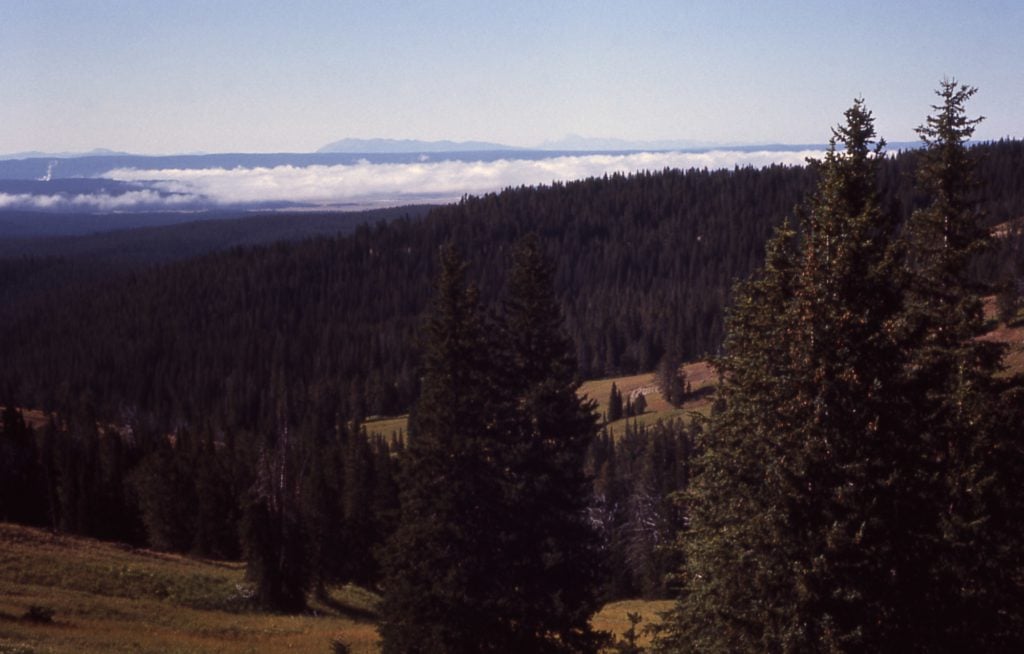 Mount Washburn Trail
General Description
Mount Washburn is one of the most popular day hikes in the park and with good reason. The trail climbs 1,400 feet of moderate switchbacks with diverse plant life and open views along the way. The 10,243-foot summit offers an endless panorama from the Tetons to the Grand Canyon of the Yellowstone and beyond. The peak also boasts a fire lookout tower with restrooms and an enclosed deck. 
Explore Yellowstone with Expert Guides
Getting to the Mount Washburn Trailhead
The Mount Washburn Trail is located at the top of Dunraven Pass on Grand Loop Road. Click here for directions to the parking area. If you are choosing to take the Chittenden Road trail to the summit of Washburn the parking area is located 5 miles north of Dunraven Pass on Grand Loop Road. There is no water at either trailhead. The closest potable water is located at Tower Junction. There are composting toilets at the top of Dunraven Pass.
History of the Mount Washburn Trail
This mountain is named after Henry Washburn, one of the leaders of the famous 1870 Washburn-Langford-Doane expedition. Members of this voyage made the first documented ascent on August 29th, 1870 using a rugged version of the current trail. Shortly thereafter, the route was polished to accommodate stagecoaches. Until automobiles were allowed in the park in 1915, visitors would rise to the summit via horse drawn wagon. The Chittenden route still accommodates service vehicles.
Atop the summit sits a fire lookout tower which is listed on the National Historic Lookout Register. Construction of the tower took place between 1939 and 1940. It has been continually occupied each year during fire season. Visitors of the viewing deck can sometimes meet that season's firefighter who lives alone in the tower from June to August watching for signs of fire.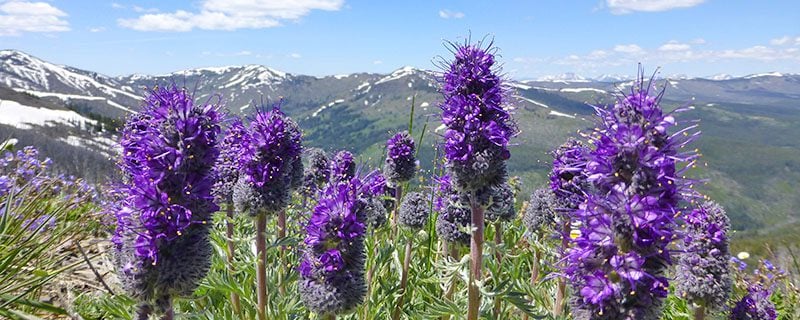 3 Best Day Hikes on the Mount Washburn Trail
A trip to Yellowstone is not complete without a day hike to the summit of Mount Washburn. Big views, eye-popping wildflowers, and the possibility of seeing big horn sheep are a few of the rewards one receives on this moderate climb.
Below are the primary options for day hiking the Mount Washburn Trail:
| | | | | | |
| --- | --- | --- | --- | --- | --- |
| | Destination | Miles | Elev | Difficulty | Style |
| | Dunraven Pass to Mt Washburn | 6.4 mi | +/-1400 ft | Moderate | Out and Back |
| | Chittenden Road to Mt Washburn | 5.4 mi | +/-1490 ft | Moderate | Out and Back |
| | Mt Washburn to Grand Canyon | 11.2 mi | +1400/-2500 ft | Strenuous | Thru-hike |
1. Dunraven Pass to Mount Washburn
This route is as classic as they come in Yellowstone. From the Dunraven Pass trailhead, the wide paved path heads Southeast with a gentle uphill grade. After about half a mile it will bend sharply North to continue wrapping around the bottom of a small peak that is connected to Mount Washburn. The trail finally hits the Southwest slope of Mount Washburn and continues to scale North before making a series of switchbacks. The alpine plant life along the trail boasts a palette of wildflowers in July and August. Even the slope of Dunraven peak across the road pops with color.
Keep your eyes peeled for the families of bighorn sheep who frequent the mountainside. You may even see them walking along the trail, sometimes obstructing the path for quite some time. Do not approach, whistle to, shout at or otherwise harass the animals. Maintain that distance of 25 yards for safety as bighorn sheep, especially with young, have been known to gore humans. Just enjoy your lucky chance to view them up close, no matter how long it takes for them to move on.
The trail begins to scale the southern spine of the mountain allowing for big views on either side. With one last mile long push strait North, you arrive at the summit. There is so much room up there, it takes a 360 degree walk around the edge to appreciate the view in all directions. As the top tends to be wickedly windy, you should also check out the viewing deck in the shelter of the fire tower. There are bathrooms, trash cans, and maps to show you which landmarks you are looking at in each direction. When you've had your fill, return the way you came. If you are able to drop a vehicle prior or willing to hitchhike, you can head down the Chittenden trail for a different perspective. You should plan on this hike taking 4-6 hours.
2. Chittenden Road to Mount Washburn
If you want the fastest route up the most popular peak in Yellowstone, try the Chittenden trail. In just 2.7 miles you scale straight along the Northwest spine of the Mountain. It is a gradual incline with no switchbacks. Like the Dunraven Pass trail, you will enjoy alpine vegetation, wildflowers, and big horn sheep habitat. Unlike the more popular route, you may also share the trail with cyclists, horses, and service vehicles. The width of the trail accommodates these travelers well. Whereas Dunraven is asphalt, Chittenden is a gravel road. It is still very easy terrain and the views are wide open for the entire hike.
Return the way you came so you can face the epic scenery the whole way down and appreciate it even more. As an alternative, we are big fans of arranging a vehicle drop at the Dunraven Pass parking lot, so you can enjoy both trails. Hitchhiking is also a good option as the 5 miles between trailheads is very well trafficked. Either way, this hike typically takes 4+ hours to complete.
3. Mount Washburn to the Grand Canyon of the Yellowstone
If you want your day on Mount Washburn to include miles of solitude and greater diversity, Washburn to Grand Canyon is your route. You get to scale the most popular peak in the park and then leave the summit on a trail that sees a fraction of the use of Dunraven or Chittenden.
Start off by enjoying either classic trail up to the summit. Don't let the crowds get to you. You will soon escape them on a trail that none of them knows exists. When you're ready to leave, head back down to the junction with the Chittenden trail. Chittenden, on your left, is wider and more noticeable. However, there is a thinner trail on your right heading Southeast. This is your get away. The first 1.5 miles follows the Southeast spine of the Mountain with a gradually increasing downward grade. At times, you are immersed in a cozy tree tunnel. Still, there are many more open views along the way, particularly of the Grand Canyon of the Yellowstone.
Next, you leave the ridge and head virtually straight down to the base of the mountain. You will descend 1,200 feet in 1 mile through thick forest. The trail is steep, narrow, rocky and free of switchbacks. Trekking poles are a great asset. Once the hard part is over, you enjoy a virtually flat trail through the glorious Washburn Meadows. After a mile, the trail passes through a backcountry geyser basin with sulphurous vents and bubbling hot springs. Stay on the impacted path for safety. The route continues through meadows and tree tunnels for another couple miles. The last mile hugs the rim of the Grand Canyon of the Yellowstone offering awe inspiring views of the colorful walls and river below. You have completed your hike when you've reached Glacial Boulder trailhead. Like any through-hike, this route requires a shuttle or vehicle drop, but it is well worth it! Plan on a minimum of 6-8 hours to complete this hike.
Maximize Your Visit to Yellowstone National Park on a Hiking Tour
Guided day hike tours and multi-day packages allow visitors the opportunity to make the most of their time in Yellowstone National Park and to do it hassle-free. Guided tours include gear (backpack, trekking poles, crampons in winter), meals, accommodations on multi-day tours, local transportation, and a professional Yellowstone hiking guide. Through their knowledge, stories, and personal passion, guides can bring a place to life in a way that's much more difficult to do on your own. Read more about Yellowstone Hiking Tours.
Award Winning USA Hiking Adventures

When to Hike and Seasonal Considerations
The Mount Washburn trail is best hiked from late May until mid-October with July being the optimal time for viewing wildflowers. The road over Dunraven Pass is one of the last to open in Spring and first to close in the fall. Dunraven Pass can also close unexpectedly due to snowfall at any time. You can check the park's roads current conditions by clicking here.
Weather can change drastically at any time in Yellowstone. Always check the forecast at the start of your hike. Pack proper layers for wind, rain, and cold. The summit of Mount Washburn is not a good place to be in a thunderstorm.
Another condition to consider is fire. If there are active fires in the area, views will be hazy and air quality poor at the summit. Consider saving Washburn for a clear day in fire season.
Animal Safety 
Wildlife is one of the best reasons to visit Yellowstone. With the privilege of hiking through their habitat comes great responsibility to uphold respect and safety. Becoming accustomed to humans is not good for the well-being of any wild animal. Even our docile herbivores can maim or kill people. The key to these guidelines is to just let the animals be.
Never feed wildlife (Not even a squirrel)
Do not approach wildlife
Stay at least 100 yards away from bears and wolves
Stay at least 25 yards away from all other animals
Do not shout, whistle, or otherwise harass wildlife
If you want to view wildlife from the road, always stop in a designated pull out.
Bear Safety
Yellowstone is black and grizzly bear country. Special practices are necessary to improve the safety of yourself, other visitors, and the animals. Most of these tactics aim to avoid making a bear react defensively. A bear will feel threatened if we surprise it, approach its cubs, or encroach on its food source. We must also do everything in our power to prevent a bear from eating human food or smelling an attractant where we sleep.
While Hiking
All of the following practices are necessary whether you are hiking in bear country for 5 minutes or 5 days.
Don't hike alone (At least 3 people is best)
Always be alert
Make noise
Carry bear spray and know how to use it
Never feed a bear
Do not leave packs or any food unattended
Stay on maintained trails
Avoid carcasses
Avoid hiking at dawn, dusk, or night
Stay out of areas closed for bear management
Bear Encounters
As the park service says, safety cannot be guaranteed in these wild places. These are best practices to lower the risks of an aggressive bear encounter.
Do not run
Slowly back away (taking any food with you)
Speak calmly, do not shout
Group together, make yourselves look large
When necessary, use bear spray
Report conflicts to park rangers
Check out Yellowstone National Park's great reference on how and when to use bear spray.  
Necessary Permits
Day Hike Permits
There are no permits required to do any day hiking in Yellowstone National Park. However, some areas can be closed to due high bear activity. Before you head out, you can check to see which Bear Management Areas are closed by clicking here.
Suggested Packing List
Day Hike Packing List
bear spray
2-3 liters of water
salty, calorie-rich snacks
lunch
backpack
trekking poles
wide-brimmed hat
sunscreen, sunglasses
bug spray
non-cotton hiking shirt
rain jacket
warm non-cotton layer
1st-aid kit
Please Respect Our National Parks – Leave No Trace
We strongly recommend abiding by all Leave No Trace ethics guidelines and practices so that our national parks and public lands are preserved for the enjoyment of future generations and for the people and animals who call these places home. Simple things like packing out your trash, obeying national park rules, and respecting the peace and quiet of our national park trails is a great start. If you're going on a backpacking trip, you can read about more about the 7 Leave No Trace Principles.