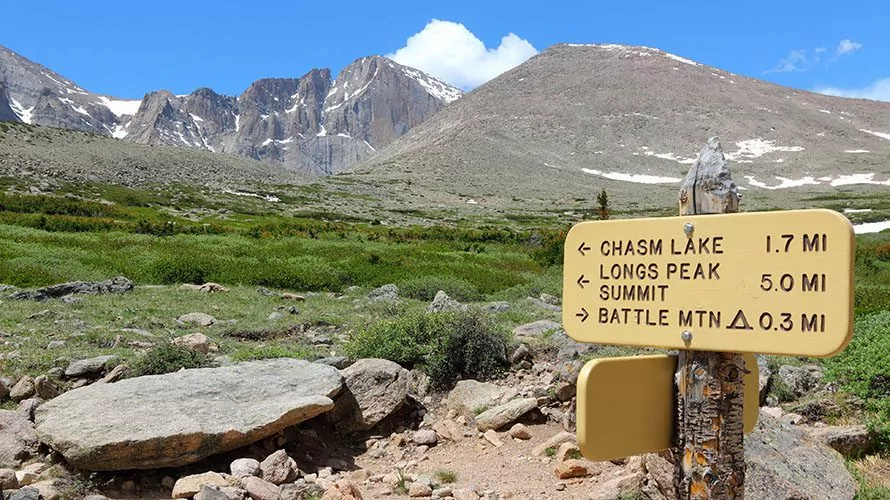 Longs Peak Trail
Trailhead | Hiking the Keyhole | Conditions | Best Longs Peak Hikes
Trail Description
Towering above the clouds at 14,259 feet, Longs Peak is the tallest summit in Rocky Mountain National Park. This majestic mountain is visible throughout the Colorado Front Range and draws numerous hikers each year. The mountain's sheer cliff face, known as The Diamond, is a world-famous rock climbing destination.
Thankfully, the mountain's most popular route to the summit can be completed with nothing more than trekking poles and an early morning start. With these tips from an experienced Longs Peak climbing guide, you can safely transverse the Longs Peak trailhead and conquer a view that has made Longs Peak a bucket list trail to hike.
Explore Rocky Mountain NP with Expert Guides
History of the Longs Peak Trail
The Longs Peak mountain was named after Major Stephen H. Long when he gazed upon it during an expedition of the Front Range in 1820. The first man on record to scale this mountain, however, was John Wesley Powell. After Powell climbed it in 1868, the Father of Rocky Mountain Enos Mills led climbs to the summit hundreds of times. Today, this physically and mentally challenging mountain invites thousands of visitors to ascend to the top on the Longs Peak summit hike.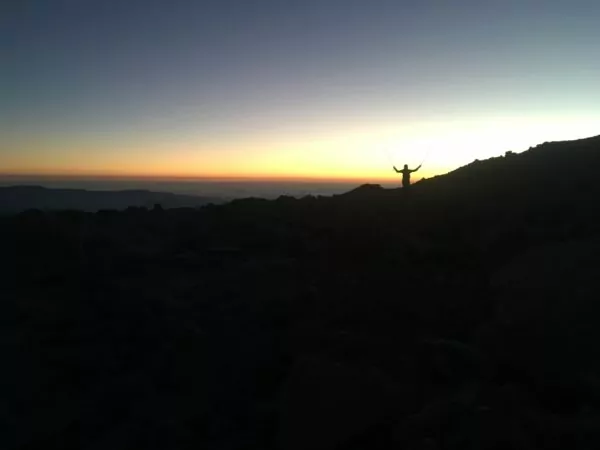 Why is this park such a popular destination for hikers? You'll find out when you reach the top and receive an unspoiled view of 100 miles in every direction. Unlike other trails in the Rocky Mountain National Park, Longs Peak route is more than a hike. It's an easy-to-follow trail that challenges you to scramble over rocks, cross sheer vertical faces and venture around steep cliffs, over loose rocks and across narrow ledges.
Longs Peak Trailhead

A Longs Peak Colorado hike is one of the best in the Rocky Mountain National Park. Even though it's a popular trek among hikers and climbers, this world-famous trail is not for the faint of heart. Its easiest pathway still requires skilled transversing and confidently scrambling up exposed cliff edges. The hike can be accomplished in one long day — stretching as long as 15 hours — or completed as part of a multi-day backpacking trip. No matter how long your adventure lasts, the memories will last a lifetime.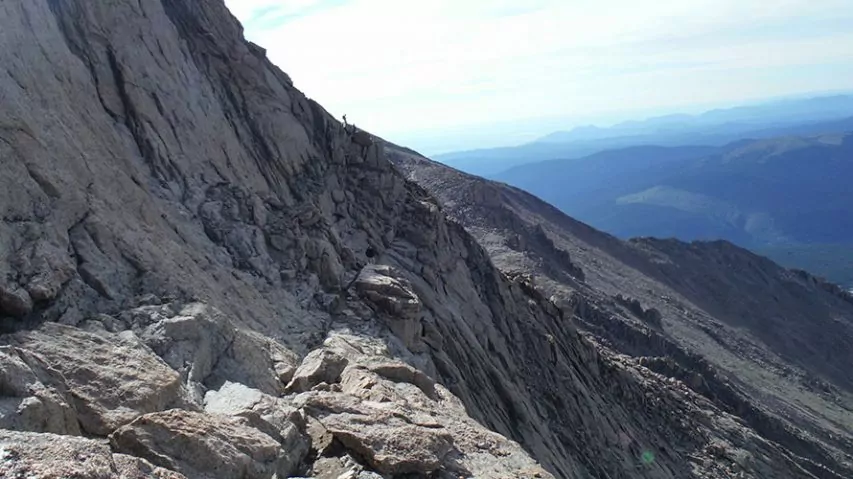 Getting to the Longs Peak Trailhead
If it's your first trip into Rocky Mountain National Park, you should first know that there are two entrances — one via Estes Park on the eastern side and one via Grand Lake on the western side. Both ends are accessible in either direction, which means you can easily access the Longs Peak Trailhead if you base yourself in either town. From the Beaver Meadows Visitor Center in Estes Park, take Highway 7 south of town for 7 miles. Turn right onto Longs Peak Road and drive 1 mile.
Keep in mind that the Estes Park entrance is the most popular entrance to the park. During the summer, the trailhead parking lot is typically full before sunrise. While you can park on the shoulders of the road leading into the park, it's not uncommon for Highway 7 to be crowded. In 2018 alone, 2.5 million of the nearly 4.6 million visitors came to the park during July, August and September. Keep in mind that hiking to the Longs Peak summit can take up to 15 hours alone.
Hiking the Longs Peak Keyhole

As you aspire to reach the Longs Peak summit, you'll follow the hiking/climbing route known as Keyhole Route. The Keyhole Route is well-marked and easy to follow during the first stretch. However, the seven sections of the route leading to the summit require trail-finding skills. These sections are known as The Boulder Field, The Keyhole, The Ledges, The Trough, The Narrows, The Homestretch and The Summit. Following the red and yellow bulls-eyes will help you stay on track.

Longs Peaks conditions can change at any time, resulting in winter-like weather that can be quite dangerous. Even if you're on a Longs Peak guided hike, you should become as familiar as possible with these seven sections so that you're as prepared as possible. You'll first encounter the Keyhole route via Boulder Field. This is the end of the hiking trail. The rest of the excursion involves scrambling and climbing. As you move through Boulder Field, you'll then reach a series of yellow and red bulls-eyes marking the route.
Following these markers will help you scale out and back from the summit in the safest route possible. The Ledges are named for the series of narrow cliff edges you'll pass through. This slit-like section involves patience and strength as you climb up the Ledges then descend into the junction of the area known as The Trough. Moving up and down between The Ledges and The Trough can be confusing, and some hikers may have difficulty locating the transition point. Continue moving up to reach The Trough.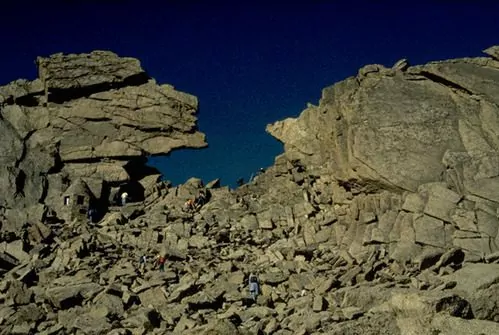 Where The Ledges were narrow, the gulley of The Trough is broad. However, this area is full of loose rocks. Some travelers can be injured by the loss of traction and falling rocks, so it's wise to take your time climbing this section. As you reach the top of The Trough, you'll view a short but steep section called The Narrows. A narrow ledge and vertical rock face offer only boulders and handholds to guide you across, leading you to The Homestretch.
Guarding The Summit is the smooth granite wall known as The Homestretch. Making your way up this polished slab of rock is easier with help from the yellow and red bulls-eyes, but there are also other options for scaling. Be aware that snow or ice may be present in this section, even in the summer. Since you're scrambling with your hands and feet, be sure to wear comfortable waterproof gloves and boots. Find your way to up the wall, and you'll finally reach the Summit.
Congratulations, you've navigated the Longs Peak trail and reached the top! Take a moment to sit and appreciate the stunning 360-degree views. Don't celebrate for too long — you're only halfway done with your trek. You'll now need to retrace your steps and move back down to the Longs Peak Keyhole and make your way back to camp. Try to begin your descent in the early afternoon to avoid thunderstorms and darkness that can complicate your descend. Make it back to the trailhead and applaud yourself for conquering Longs Peak.
Longs Peak Trail Conditions

As with any excursion into the great outdoors, you must be prepared to hike the Longs Peak Trail as safely and responsibly as possible. All hikers should be aware of the unique seasonal and geographical challenges that may impact your trip — even a sunny day can be challenging as you increase in altitude. To make sure you and your hiking companions have the best experience possible without creating unnecessary risks, we encourage all hikers to learn about Longs Peak conditions and plan their trip accordingly.
When to Hike the Longs Peak Trail
Rocky Mountain National Park is one of the most popular parks in the country, cracking the top 10 thanks to its astounding scenery and the temptation to summit Longs Peak. This park receives visitors throughout the year, and some may choose to attempt the Longs Peak trailhead and turn around at Longs Peak Boulder Field during certain conditions. While many trails and roads throughout the park are open to hikers all year, the best time to climb Longs Peak is typically when weather conditions limit risk.
Even when you are choosing to hike the Longs Peak trail in the mid-summer or early autumn, you must also be aware of changing alpine weather that could occur drastically at any time. In the ideal conditions, we recommend that hikers begin their trek around 3 a.m. This route typically takes travelers between 10 to 15 hours to complete, depending on how quickly you wish to tackle the 15-mile trail.
Seasonal Considerations
Not unlike many other mountain hikes, the best months for hiking Longs Peak are July, August and September. Weather patterns throughout seasons frequently cause snow to be present along the trail into the last days of June. Many experienced Longs Peak climbing guides and hikers encourage the use of Micro Spikes in July after long winters because snow can create slippery conditions on steep slopes. Winter conditions of Longs Peak are considered technical mountaineering ascents even by the Keyhole Route.
Checking Weather Conditions Via National Park Service Webcam
The National Parks Service website is an excellent resource for all travelers to Rocky Mountain National Park to reference. This website is continually updated to advise travelers of the current weather conditions within the park, including information such as road closures and avalanche warnings. Their six dedicated webcams include one focused on Longs Peak, providing a glimpse of the weather conditions around the mountain. We encourage all hikers to bookmark these webpages so that they can stay up to date on any official changes.
Preparing for Longs Peak Conditions
Every hiker's pack should contain essential supplies. We recommend that all travelers carry: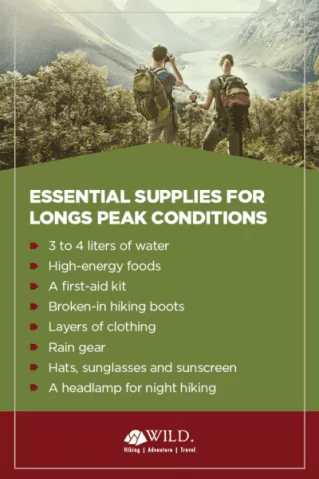 3 to 4 liters of water
High-energy foods
A first-aid ki
Broken-in hiking boots
Layers of clothing made from insulated and moisture-wicking fabrics
Rain gear for sudden weather changes
Hats
Sunglasses
Sunscreen
A headlamp for night hiking
A compass, GPS, firestarter, and satellite phone may also be useful in an emergency for those hiking alone or in a group of two.
Along with packing the appropriate gear, you must also be physically prepared for the hike up Longs Peak. This 15-mile hike will take more than half of a day to conquer, and difficult terrain plus increases in altitude can wear you down. All hikers should spend a few days acclimating to the altitude by hiking at lower elevations during the warmest parts of the day. You should also practice running up and down stairs to increase your muscular and lung strength.
Best Day Hikes and Wilderness Campsites on Longs Peak Trail

If you believe that the most difficult decision was choosing which hike to take on in Rocky Mountain National Park, think again! Longs Peak Trail alone has a handful of amazing sites to visit, sending travelers to various destinations on the trail. Whether you plan to spot a sight and turn back or stay the night and enjoy life under the Colorado sky, you should plan your full excursion ahead of time. Here are five of our favorite destinations along the Longs Peak routes that you'll love.
Day Hikes on Longs Peak Trail
| | | | | | |
| --- | --- | --- | --- | --- | --- |
| | Destination | Miles | Elev | Difficulty | Style |
| | Longs Peak Summit- Keyhole Route | 13.5 mi | + 5,140 ft | Strenuous | Out and Back |
| | Chasm Lake | 8 mi | + 2,705 ft | Moderate | Out and Back |
| | Boulderfield | 11 mi | + 3,337 ft | Moderate | Out and Back |
1. Longs Peak Summit- Keyhole Route
A strenuous out and back excursion that will have you transverse 13.5 miles in elevations increasing over 5,140 feet, the Longs Peak Summit — Keyhole Route is the easiest way to reach to Longs Peak Summit. This trek involves scrambling over rocks and heading through exposed sections with sudden drops, especially in the street trail section known as The Trough. Trust us, those daring enough to venture up the nearly 60-degree summit will be rewarded with an unbelievable view.
2. Chasm Lake
A pristine alpine lake situated at the base of Longs Peak's impressive sheer cliff face known as The Diamond, Chasm Lake is a great place to sit and watch climbers ascend this world-famous rock. This day hike is a moderate difficulty, rising less than 3,000 feet in elevation and transversing 8 miles from out and back. Although it isn't as intense as the Keyhole Route, hikers will be walking along a cliff edge for approximately a mile, so caution and patience are always recommended.

3. Longs Peak Boulderfield
If you're searching for a physically challenging hike without venturing too close to the cliff edges, The Boulder Field may be the best destination for you. Stretching 11 miles, this moderate out and back route climbs just over 3,000 feet in elevation and acts as a great waiting point for those who don't wish to follow their partners up to the Longs Peak summit. The Boulder Field campsite is located within the first 5 miles and only 1 mile from the summit, offering a great base camp for leisurely hikers.
All-inclusive Rocky Mountain Backpacking Adventures
Wilderness Campsites on Longs Peak Trail
| | | | | |
| --- | --- | --- | --- | --- |
| | Campsite | Miles | Difficulty | Starting Trailhead |
| | Boulderfield | 5 mi | Moderate | Longs Peak Trailhead |
| | Battle Mountain | 2.5 mi | Moderate | Longs Peak Trailhead |
| | Boulder Brook | 2.5 mi | Moderate | Storm Pass Trailhead |
1. Boulderfield (2-3 days)
If your intention is to beat the crowds and weather. Boulderfield is the best starting location for an alpine start to summit Longs Peak. Starting at Longs Peak Trailhead, hike in 5 miles of gradual incline to camp above the tree line. Multiple campsites are semi protected by wind by walls constructed by rocks. Even still, this campsite can feel extreme during thunderstorms. Longs Peaks summit is only 1 mile from the Boulderfield on the the Keyhole Route. However, this is no excuse to sleep in, as this leg is the most difficult part of ascent. Exit at Storm Pass Trailhead to avoid retracing your steps.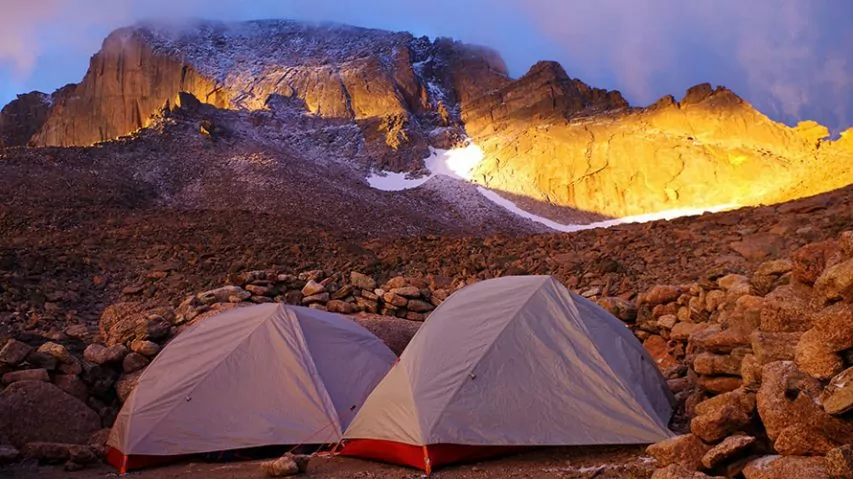 2. Battle Mountain (2-3 days)
Camping at the tree line-protected Battle Mountain site is ideal for large groups who wish to explore everything the Longs Peak trail has to offer. From this location, nestled in the tree line and offering protection from afternoon storms, hikers can begin at the Longs Peak Trailhead and access both Chasm Lake and Longs Peak summit.
3. Boulder Brook (2-3 days)
Another fantastic campsite for those headed for the Longs Peak Keyhole Route, Boulder Brook is similar to Battle Mountain — both are 2.5-mile moderate hikes. The starting trailhead is not Longs Peak but Storm Pass. You can also choose to access the Glacier Gorge area for additional hiking.
Hike Longs Peak With Wildland Trekking
Take one look at Longs Peak, and it's easy to see why so thousands of climbers ascend the summit each year. While some adventures through Rocky Mountain National Park aren't for everyone, a Longs Peak hike is an excursion that nearly any hiker can complete safely with preparation and guidance.
Along with Longs Peak, the Rocky Mountains offer countless opportunities to enjoy unforgettable experiences. We invite you to take a guided day hike of Longs Peak and other areas of the Rocky Mountains with Wildland Trekking. Our all-inclusive Rocky Mountain backpacking & hiking trips cater to a variety of travel styles. With an exceptional Longs Peak climbing guide leading the way, you'll check this magnificent mountain off of your bucket list.
To learn more about taking a guided day hike of Longs Peak, or to discover the other wonderful areas of the Rocky Mountains via hiking, snowshoeing, or with porters and llamas, contact us today!