Hiking Angel's Landing: One of the World's Most Dangerous Trails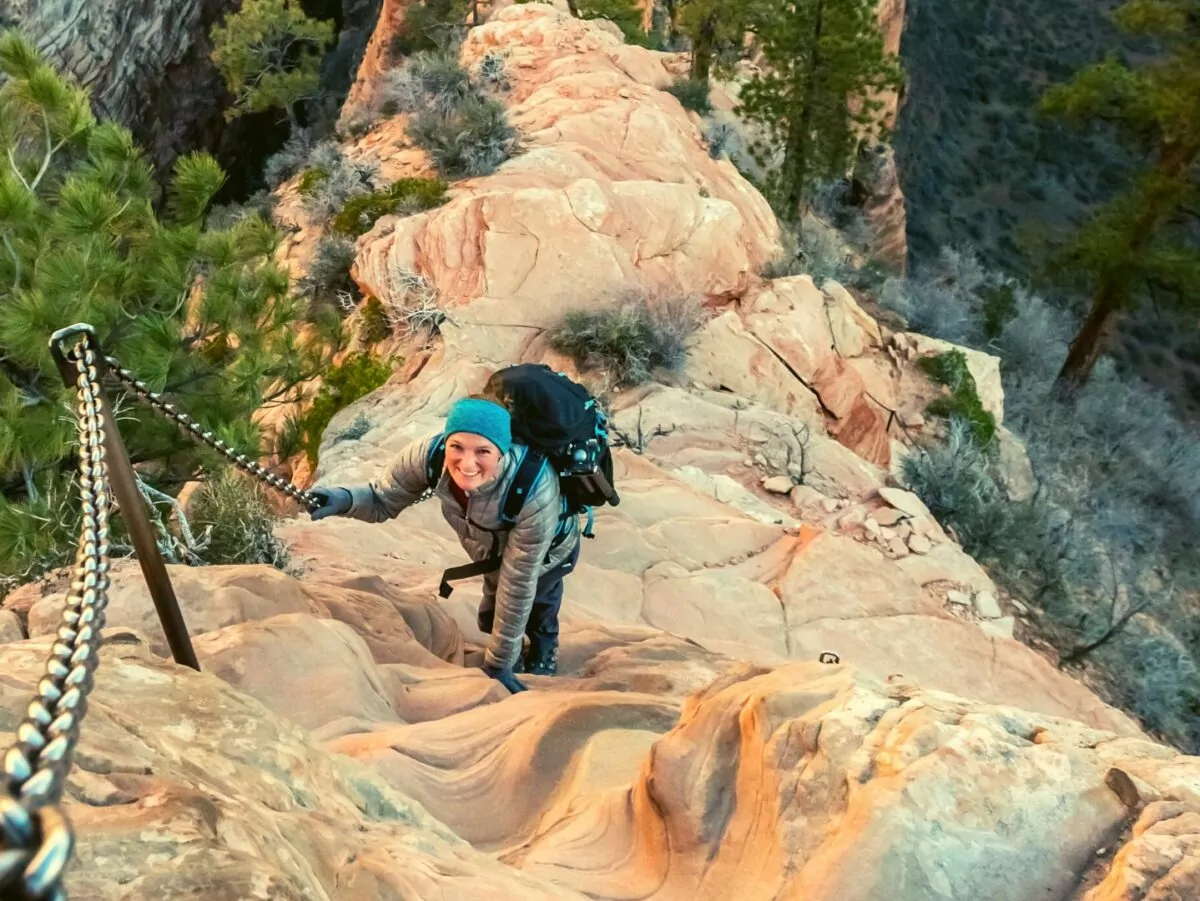 Angels Landing is one of the most popular hikes in Zion National Park, Utah. One of the most dangerous hikes in the country, this hike is famous for its stunning views of Zion Canyon, and the unique way you get to the top of Angels Landing. 
If you're looking for an adrenaline rush, breathtaking views, and a unique adventure, then Angels Landing is the perfect hike for you. But there's a lot you need to know before you lace up your hiking boots and head out on your Angels Landing hike. 
This guide will give you all the information you need when hiking Angels Landing. From what to expect, when to hike, what makes it dangerous, and how to prepare, once you read this guide, you'll be ready to hit the trail in Zion National Park.
What to Expect
The hike to Angels Landing is 5.4 miles roundtrip and gains 1,488 feet of elevation. It takes the average hiker about 2-4 hours to complete. Steep grades, slippery ledges, and steep drop-offs make Angels Landing a strenuous trail. It is not recommended for children. 
The trail begins at the Grotto shuttle stop, crosses the Virgin River, and follows the West Rim Trail for the first two miles until reaching Refrigerator Canyon. This appropriately named canyon is much cooler than the main canyon, s0 make sure to bring layers, especially during cooler seasons.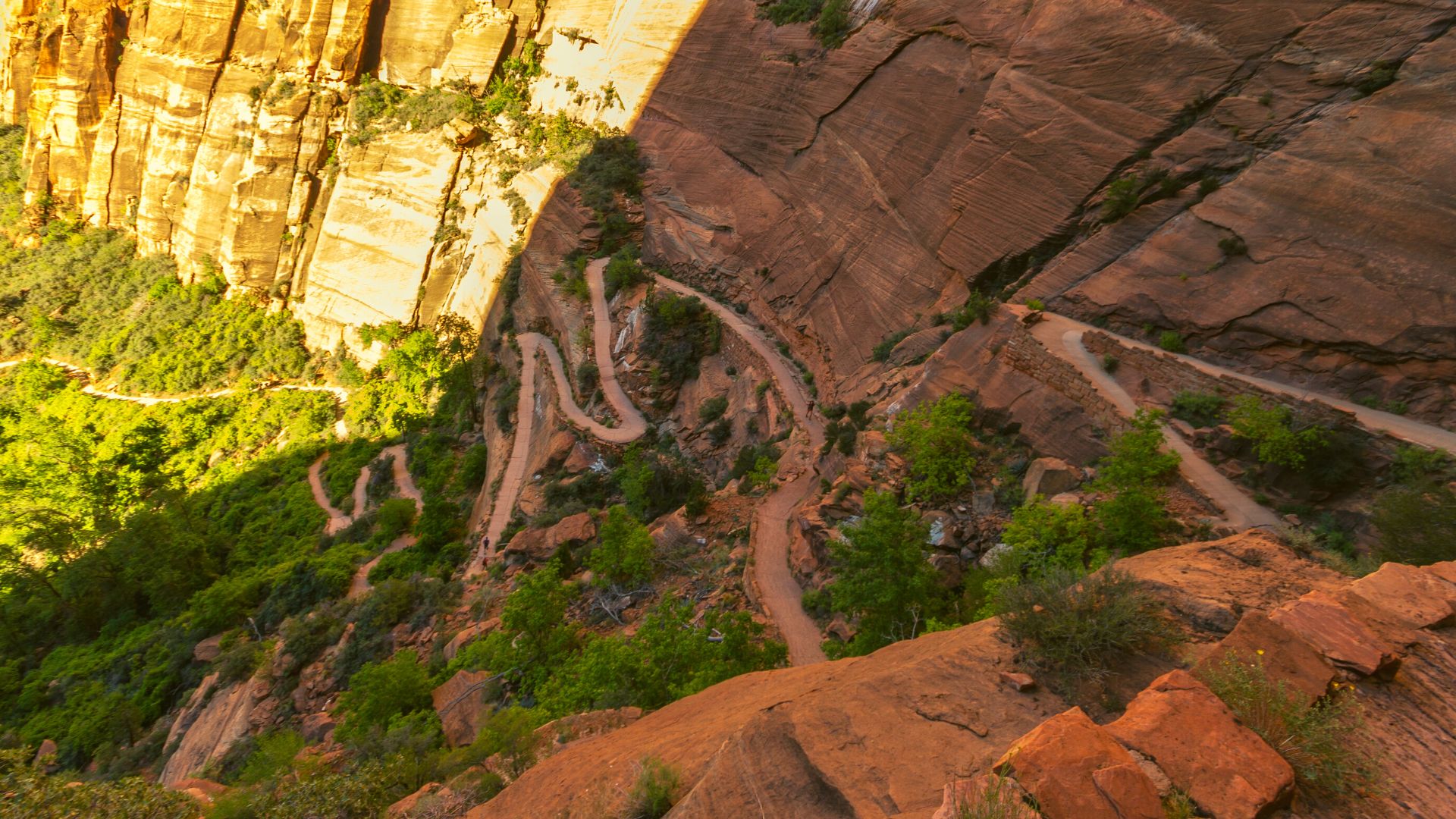 At the top of the canyon, a series of switchbacks called "Walter's Wiggles" after the park's first superintendent, Walter Ruesch, winds up the side of the canyon, gaining elevation quickly. Then the trail continues ascending to the first viewpoint over Zion Canyon, known as Scout Lookout. This is a good turnaround spot for anyone not up for the final palm-sweating 500 feet of elevation gain or who was not able to obtain a permit.
The last section of the trail is what (some of us) come for. The trail follows a knife-edge ridge with steps carved out of the soft sandstone. Chains are attached to the rock for handholds at most of the sections with steep drop-offs, but hikers should feel comfortable with exposure since there is not much space to turn around or let people pass. 
Angels Landing is one of the most popular hikes in Zion National Park. You'll almost definitely encounter crowds, which can also contribute to some of the danger in the narrow section of trail with chains. 
Although Angels Landing is a well-marked trail with plenty of traffic, it's still important to have a map, whether a paper map or one downloaded to your phone.
What makes Angels Landing Dangerous?
Angels Landing is known as one of the most dangerous hikes in the United States. The summit is over a thousand feet off the valley floor and has no guard rails. People have hurt themselves, and even fallen to their deaths, so this is a trail to take seriously. 
While the hike to Angels Landing is challenging based only on elevation gain, what makes it dangerous is the final ascent to the summit. The last half-mile of the trail is a ridge only a few feet across with steep drop-offs on either side. Heavy chains are attached to the rock for hikers to hold on to as they make their way up the ridge, but it's important to take precautions when starting up this section of the hike.
The chains and rock path can be slick in wet or icy conditions, so it's essential to wear proper footwear with traction. It's also important to wait your turn to cross the knife-edge ridge section of the trail. If you have a fear of heights or are uncomfortable with exposure, this may not be the hike for you. There are other great hikes in Zion National Park with equally spectacular views, like Canyon Overlook, that are not nearly as dangerous.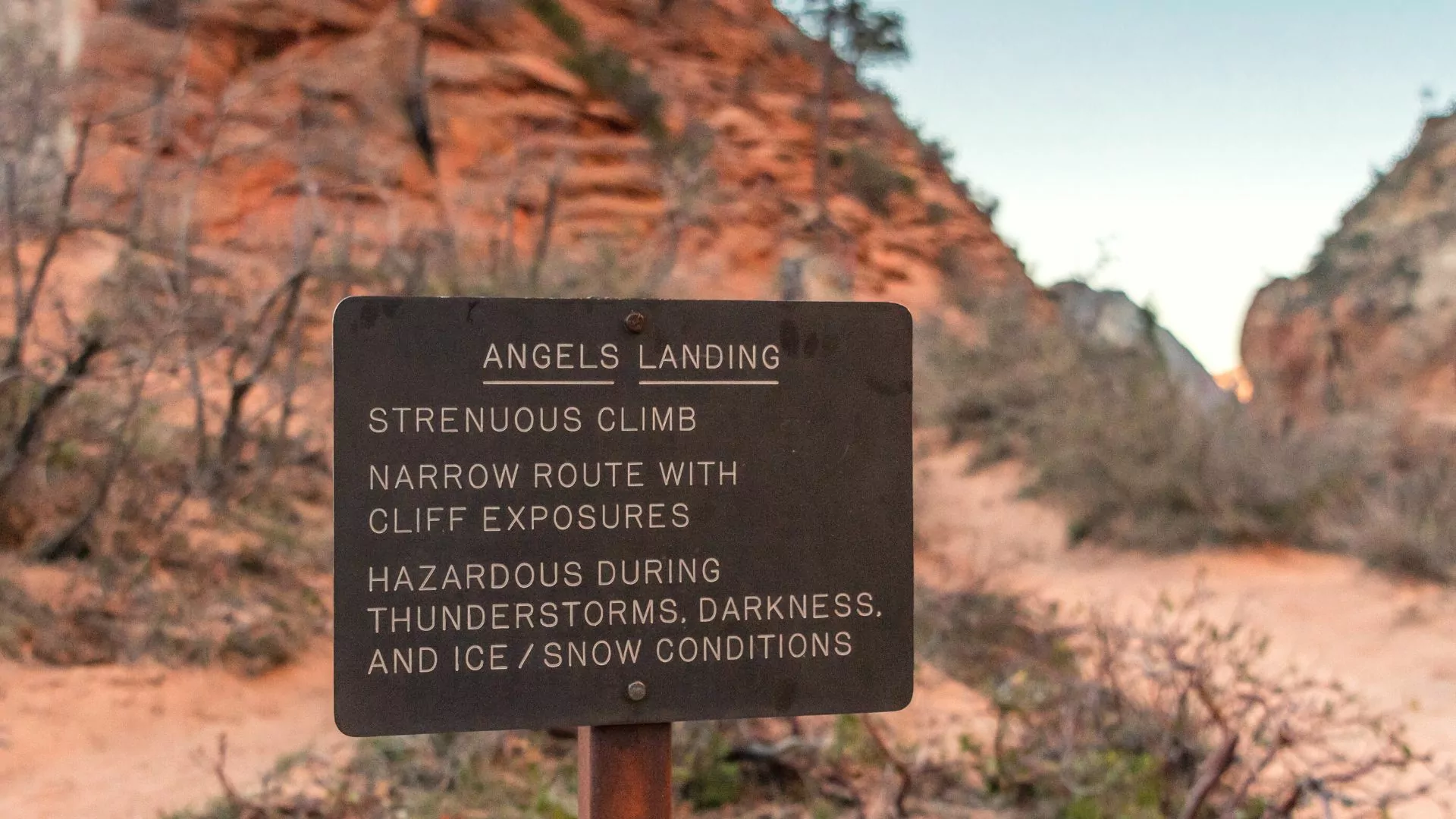 How to get to Angels Landing?
The Angels Landing trailhead is located at the Grotto shuttle stop in Zion Canyon. Private vehicles are not allowed on the Zion Canyon Scenic Drive during the peak season (March-November and Winter Holidays). A free park shuttle runs every 10-15 minutes through Zion Canyon starting at the Visitor Center. 
There are 9 stops on the shuttle, and the Angels Landing trailhead is at stop 6, The Grotto. Each shuttle includes an illustrated guide to each stop inside the bus, and the bus driver will announce each stop before arrival. 
Parking is available at the Visitor's Center, or in Springdale, once the Visitor's Center parking lot fills up. This happens most days during fall and spring, so make sure to get to the park early
Need to Know:
Permits
A lottery-based permit is required to hike Angels Landing. The permit system (started in April 2022) helps manage the high volume of visitors and protects the natural resources of the park. 
You can apply for a permit seasonally or the day before your hike. The seasonal lottery takes place two months before the season you are applying for. For example, if you want to hike Angels Landing between March 1 and May 31st, you will need to apply for a permit between January 1st and January 20th with permit holders announced on January 25th. 
If you don't get a permit (or don't apply) during the seasonal lottery, you can enter the lottery the day before your hike. The daily lottery is open from 12:01 am to 3 pm MT, with permit holders announced at 4 pm MT.
Don't forget to download or print out your permit before your hike. Rangers may ask to see your permit at any time on the trail.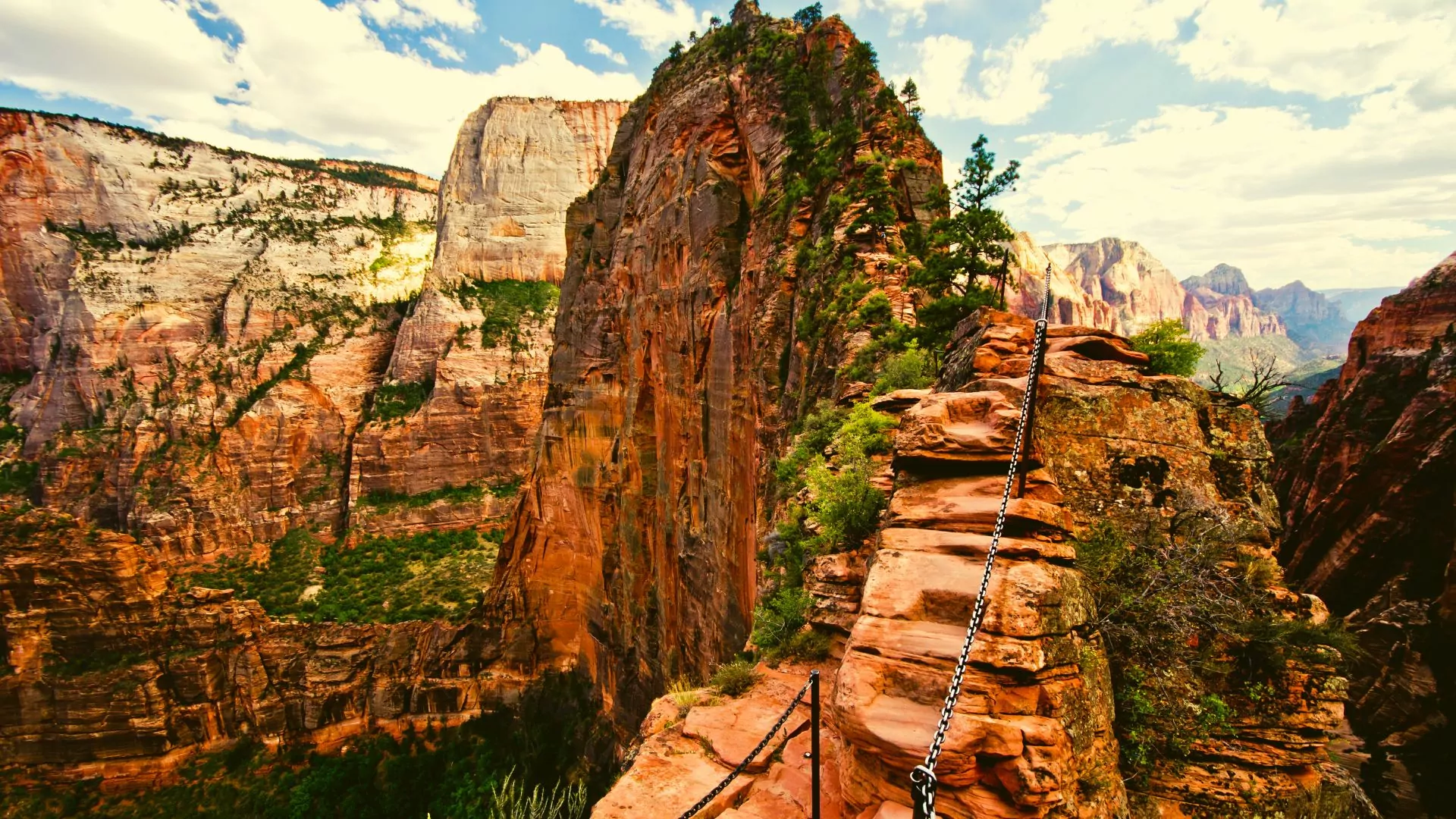 What time of year should you hike Angels Landing?
The best time to hike Angels Landing is during the spring or fall when the weather is best. During the spring, wildflowers bloom on the canyon floor, and cottonwood trees provide shade along the Virgin River. In the fall, the same cottonwoods turn yellow, bringing a gorgeous contrast to the red walls of the canyon. 
Temperatures can be volatile in the spring and fall, with hot days and freezing nights, so make sure to plan for everything and check the weather before your trip. But compared to the dramatic temperatures of summer and winter, spring and fall are the best times to hike Angels Landing. 
Summer in Zion Canyon can be scorching — Zion Canyon reaches 100 degrees Fahrenheit most days in July. Especially if you're planning on hiking a trail with lots of exposure to the sun, the summer is not the best time. If you do decide to hike Angels Landing in the summer, make sure to start as early as your permit timeslot allows, bring lots of water, and wear light colored sun-protective clothing. 
The winter months can be cold and icy, which is not ideal for hiking an exposed rocky trail like Angels Landing. But if you are up for the chilly temperatures and have the proper gear for hiking in the winter (traction devices like micro spikes), the winter is a beautiful and quiet time to be in Zion National Park. 
What Else to do in Zion National Park
Zion National Park has so much to offer beyond hiking Angels Landing. From beautiful vistas and incredible trails to scenic drives and educational ranger-led activities, Zion National Park can keep you busy for as long as you want.
If you're looking for other trail possibilities, the Narrows is another popular hike that takes you through a narrow slot canyon, while walking up the Virgin River. The Canyon Overlook trail is another challenging trail that brings hikers to a viewpoint over Zion Canyon, similar to Angels Landing but with less exposure. The Pa'rus trail is a paved river walk that allows dogs (unlike most trails in the park) and provides beautiful views up the canyon. 
There's an endless amount of exploring to be done in Zion National Park, from its main canyon to its lesser known Kolob Canyon section to the west, or the eastern expanses beyond Mt. Carmel Tunnel . Whether you only have one day to see it all, or you spend a week or more in Zion National Park, there's something for every type of visitor.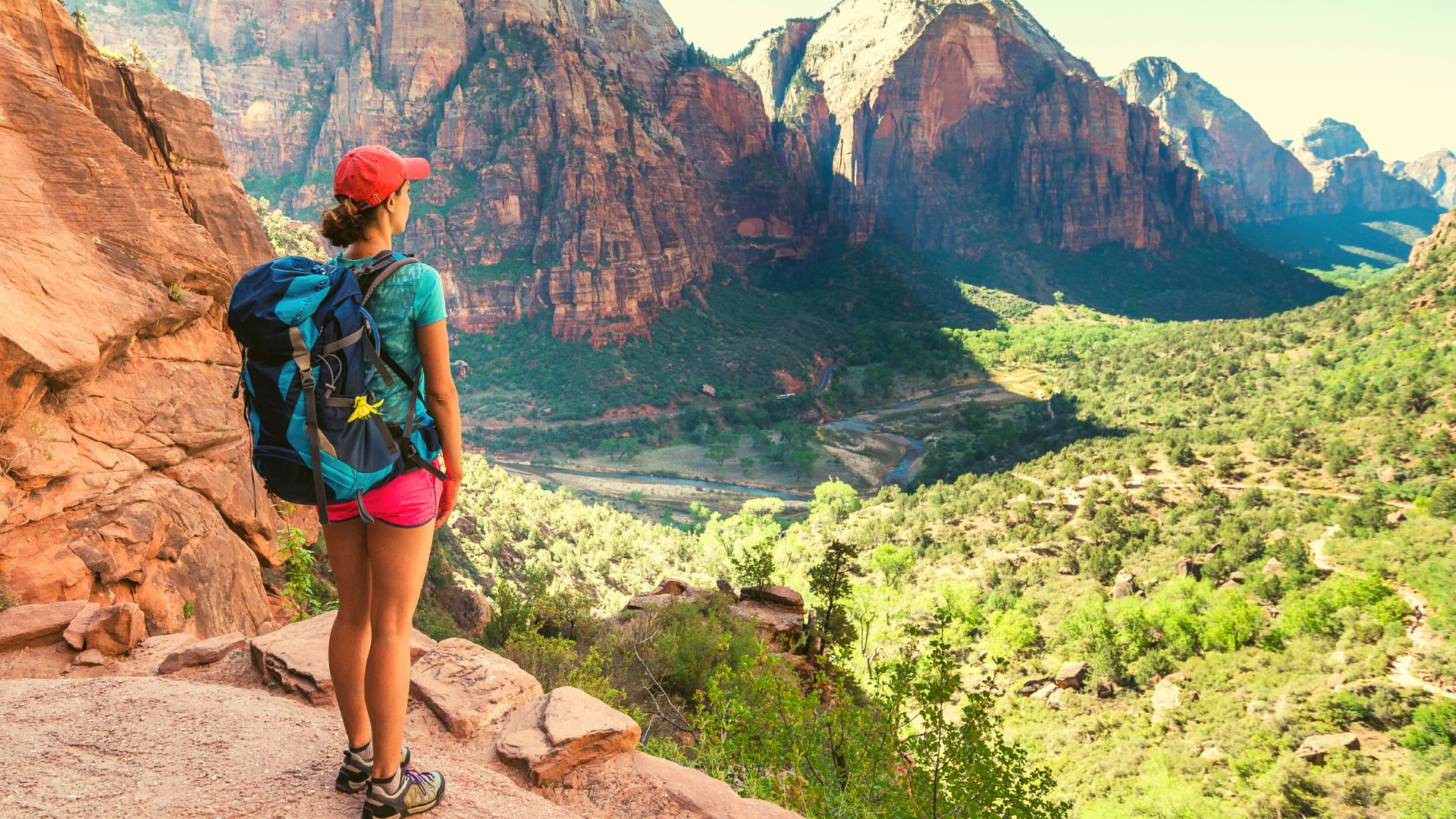 Hike Angels Landing!
Visiting Zion National Park and hiking to Angels Landing is an exhilarating experience that offers stunning views of Zion Canyon from the summit. The climb to the summit is challenging, but the reward is worth the effort. 
Remember to get a permit ahead of time, wear proper footwear and clothing, bring lots of water (and snacks), and take safety seriously while hiking on exposed sections of the trail. With proper planning, hiking Angels Landing is a great adventure to undertake. But if planning your Angels Landing hiking trip seems daunting, a guided hike might be right for you. There is also a wealth of other Utah wonders to explore while in the area.