Best Fall Leaf-Peeping Hikes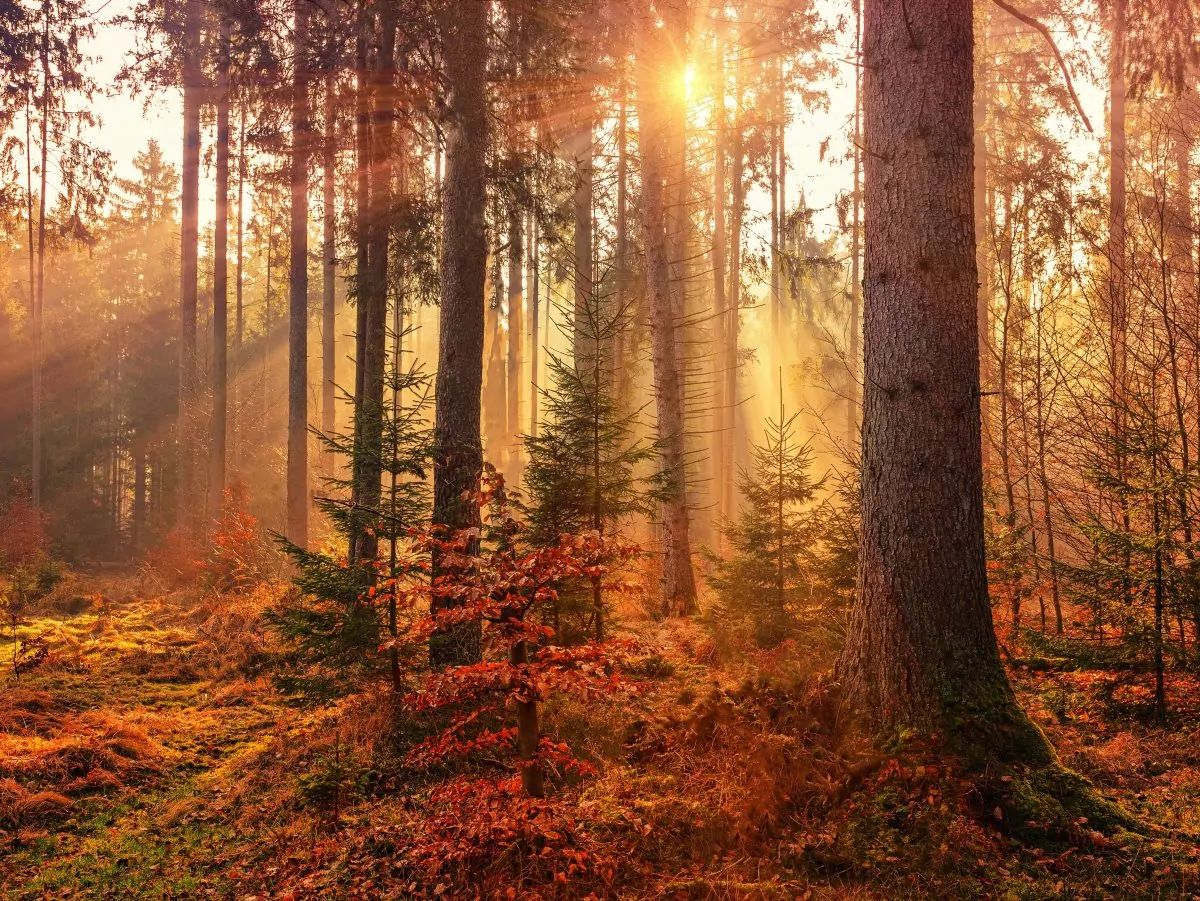 Photo by Johannes Plenio on Unsplash
The transition from summer to fall means two things (1) those of us who are more "heat adverse" can truly start our hiking seasons and (2) hikes are going to get even more stunning. Fall is one of the best times of year to hike. Landscapes dramatically transform from green to a wave of oranges, reds, and yellows. Even some otherwise mundane hikes become adventures full of photo-ops. Unfortunately, peak foliage is a fleeting moment, only lasting for two weeks in many regions. So, most hikers will want to pack in the best of the best during this brief time frame. To help you make the most of this leaf-peeping season, we have compiled a list of the top fall foliage hikes in each region across the United States.
Explore Your World with Award Winning Guides
Appalachia: Mid-October to Early- November
Appalachia is home to some of the most dramatic scenery and tallest mountains in the eastern half of the country. From scenic vistas and mountaintops, you can witness the color change on the rolling mountainsides of the Appalachians. Not sure when to visit? Check out the Smoky Mountains Foliage Prediction Map to help you plan your visit around peak foliage.
1. Mount Cammerer, Great Smoky Mountains National Park, Tennessee
Photo Courtesy of Darshan Simha (CC BY 2.0)
Length: 11.9 miles out-and-back | Elevation Gain: 3,169 feet | Difficulty: Hard
Mount Cammerer was named after the Director of the National Park Service who helped establish Great Smoky Mountains National Park, so this peak has a reputation to live up to. Luckily for hikers, it earns its place of distinction. Situated right on the border of Tennessee and North Carolina, Mt. Cammerer offers fantastic fall views of the national park, an exquisite gorge along the Pigeon River, and other prominent peaks. The fire tower, which provides hikers with uninterrupted 360-degree views, adds to the fun. If you're looking for an extended backpacking trip, you should consider adding this hike to your itinerary due to its proximity to the Appalachian Trail and the abundance of nearby shelters and backcountry campsites.
2. Buzzard Rock, George Washington National Forest, Virginia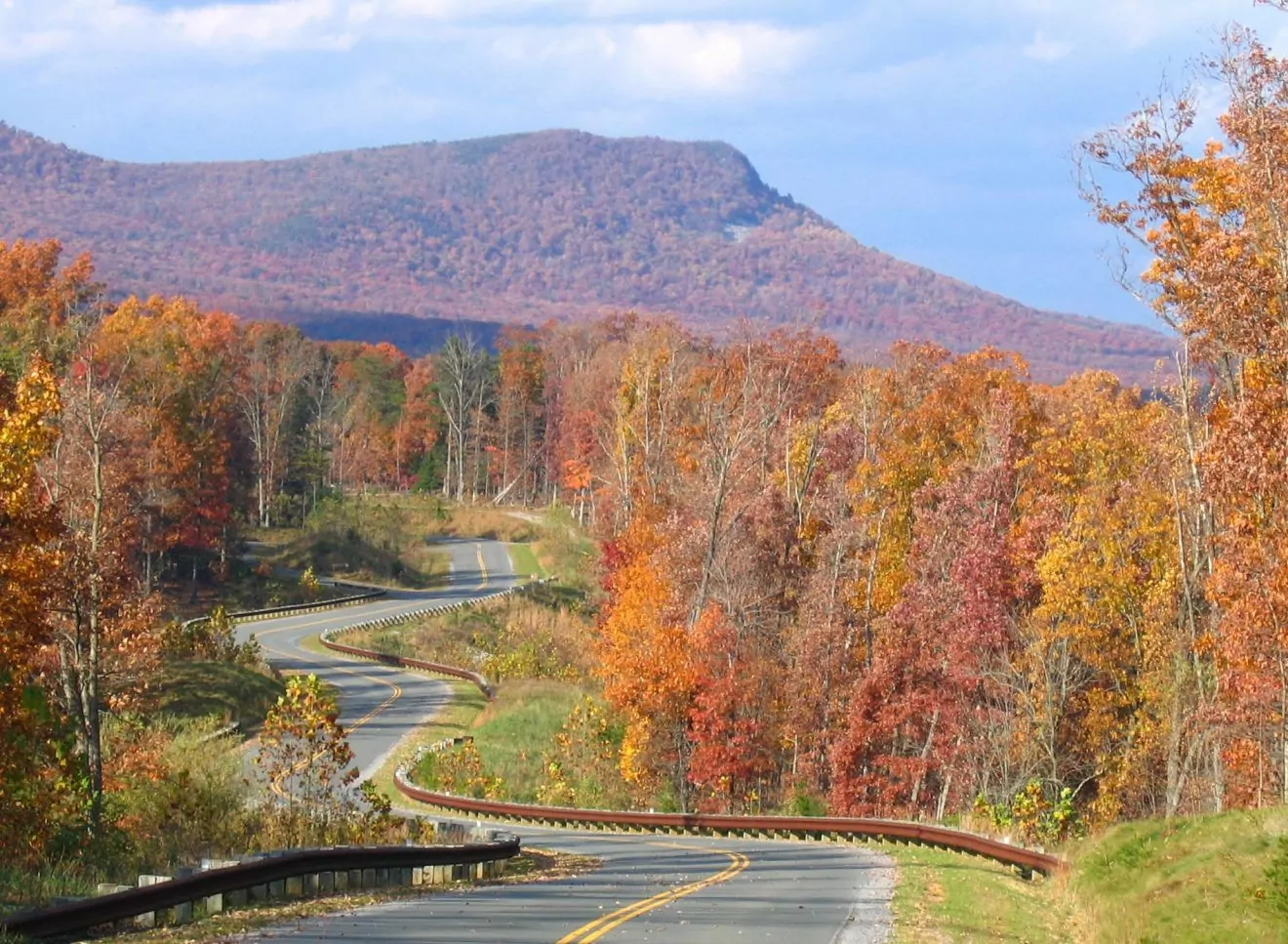 "Buzzard Rock" by vastateparksstaff is licensed under CC BY 2.0
Length: 3.8 miles out-and-back | Elevation Gain: 700 feet | Difficulty: Moderate
Just a few miles west of the Appalachian Trail, Buzzard Rock is the high point of a series of cliffs in George Washington National Forest. This rocky trail provides hikers with a brilliant series of vistas that are perfect to take in Virginia's fall views all the way out to the Shenandoah River. On this short hike, the density of vistas and overlooks per mile are unbeatable east of the Mississippi. Those looking to extend their hike can continue down the trail a few miles to get to the Elizabeth Furnace camping area. For an even more extensive trip, hikers can trek past High Peak and into the Veach Gap region to stay at the Little Crease Shelter. No matter the type of adventure you're seeking, this trail allows you to customize your day hike or even stay for a few nights in the national forest. 
3. Table Rock, Table Rock State Park, South Carolina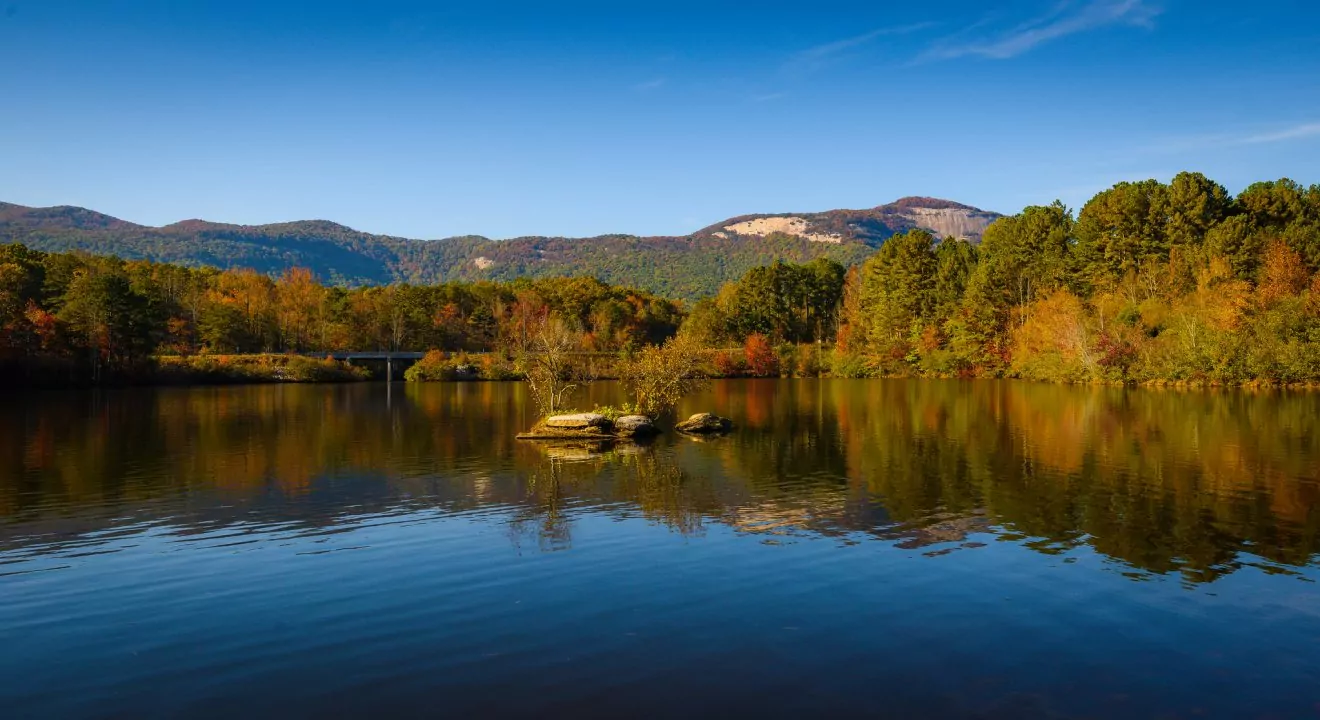 Photo Courtesy of Scott Ritchie (CC BY 2.0)
Length: 6.9 miles out-and-back | Elevation Gain: 2300 feet | Difficulty: Hard
Situated in northwestern South Carolina, just under an hour away from Greenville, Table Rock earns its moniker as the "most photographed natural wonder" in South Carolina. With its bold cliffs and spectacular overlooks, the Table Rock Trail rewards hikers willing to brave the elevation gain. From the expansive viewpoint, you can take in everything that fall in Southern Appalachia has to offer. This trail also serves as the eastern terminus for the 77 Mile Foothills Trail, offering backpackers a great launching point for a week-long adventure.
The Midwest: Mid-September to Mid-October
The Midwest often gets a bad rap when it comes to hiking and backpacking. However, in between the cornfields lie some of the best outdoor recreation opportunities in the United States – you just have to look for (and drive to) them. The Great Lakes region in particular provides many opportunities for beautiful fall hiking. Stay up-to-date on when the best times to see peak foliage in the Midwest are with the following resources: Minnesota Department of Natural Resources Fall Color Finder, Fun in the UP's Upper Peninsula of Michigan Fall Color Report, and Enjoy Illinois Fall Color Report.
4. Oberg Mountain, Superior National Forest, Minnesota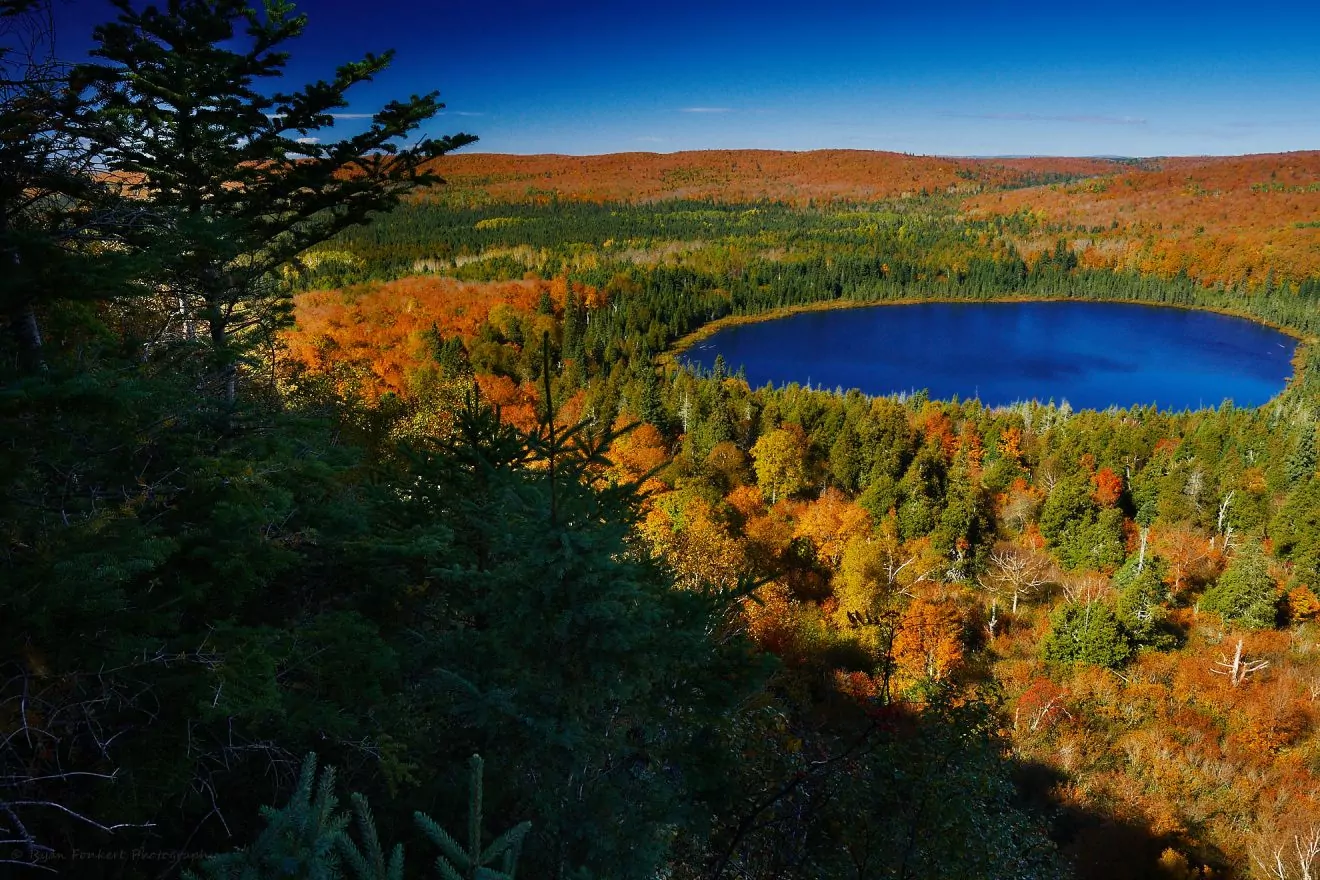 Photo Courtesy of Ryan Fonkert (CC BY-ND 2.0)
Length: 2.3-mile loop | Elevation Gain: 500 feet | Difficulty: Easy
The North Shore of Minnesota is well worth the journey because of the ample opportunities for outdoor recreation in this beautiful, remote location.. While the Oberg Mountain Loop hike is short, it packs an incredible amount of stunning views into just a little over two miles. Following the Superior Hiking Trail, hikers will encounter unbeatable views in both directions. To the South, you will get to look over Lake Superior through a frame of foliage/ To the North, hikers will see Lake Oberg nestled like a blue gem floating in a sea of red, orange, and green leaves. Since you're hiking along the SHT, you can easily add Oberg Mountain as just one stop along a more extensive fall backpacking trip. Or, if you're looking for an ideal weekend retreat without too much mileage, you can stay in the area overnight using the nearby camping sites and shelters.
5. Tahquamenon Falls, Tahquamenon Falls State Park, Michigan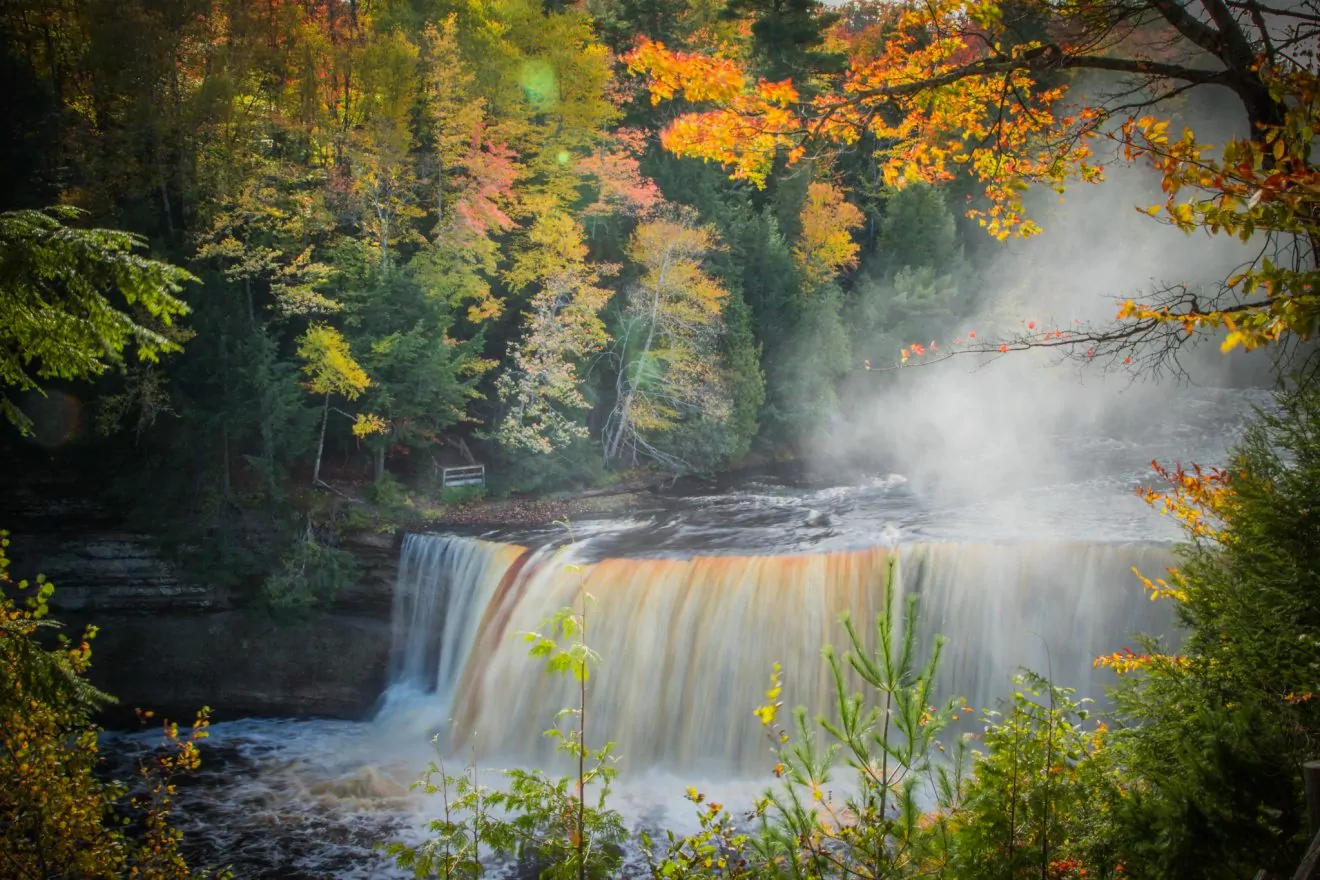 Photo Courtesy of LadyDragonflyCC (CC BY-ND 2.0)
Length: 10.2 miles out-and-back | Elevation Gain: 600 feet | Difficulty: Moderate
Michigan has some of the best leaf-peeping in the world. Yet even in a crowded field of competition, Tahquamenon Falls stands out amongst its peers (after all there is even a song written about it). Following the North Country Trail, hikers will visit both of the falls in Tahquamenon Falls State Park. Within the first mile, this hike will take your breath away as you approach the 200-foot-wide, 50-foot-tall Upper Falls. As you continue along the trail, you will pass the five different steps that make up the Lower Falls. Along the way, the trail is mellow enough that you can take time and enjoy some leaf-peeping along the Tahquamenon River.
6. Starved Rock, Starved Rock State Park, Illinois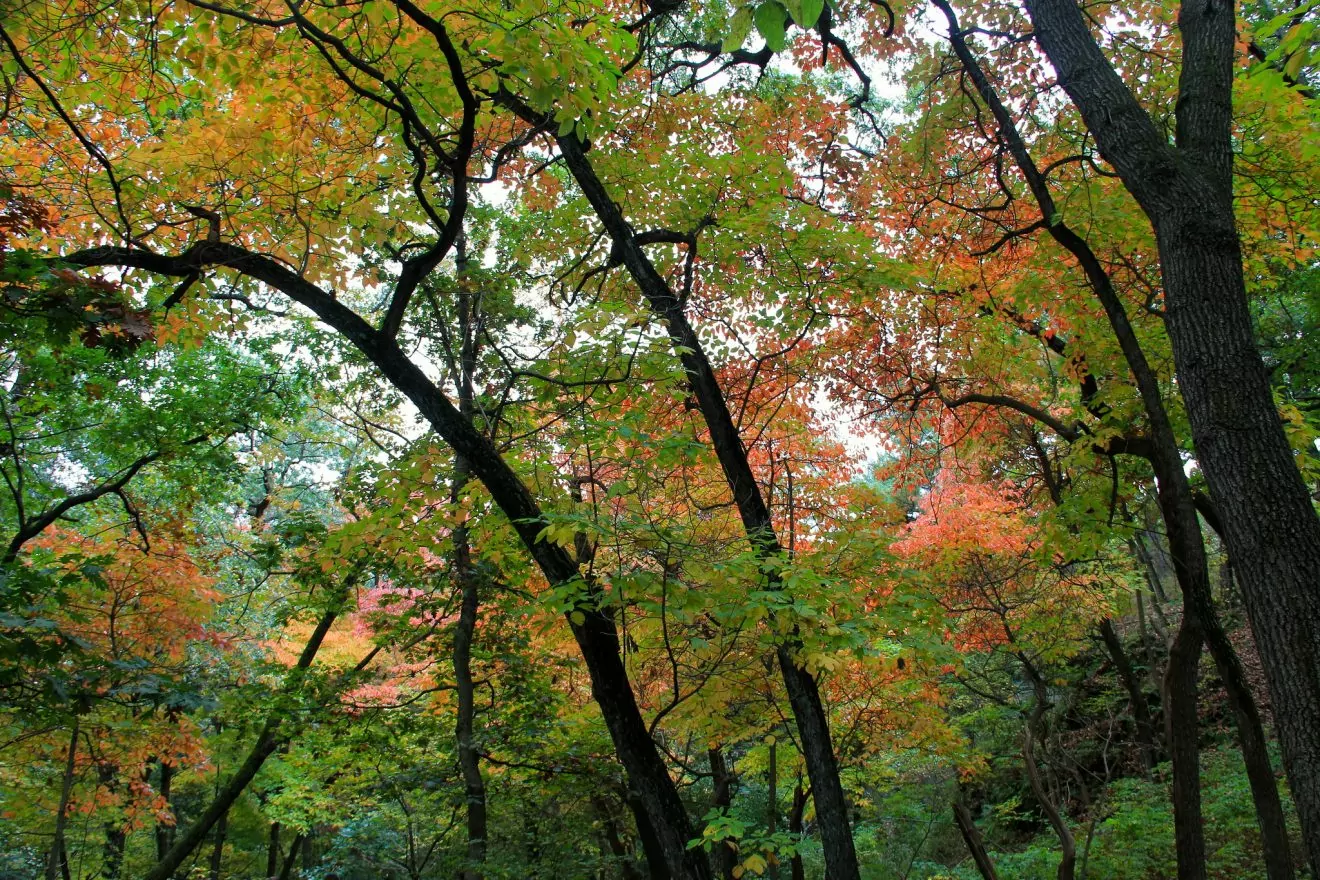 Photo Courtesy of Daniel X. O'Neil (CC BY 2.0)
Length: 4.3-mile loop | Elevation Gain: 350 feet | Difficulty: Moderate
Nestled along the Illinois River, Starved Rock State Park is the gem of public lands in Illinois. Every year, this park attracts over two million visitors due to its unique rock formations, waterfalls, and wild terrain unlike anything else in Illinois. During fall, the park becomes an island of orange amongst the sea of the farms that surround it. Starved Rock has everything you could want from a fall hike: an overlook that provides mile-wide views of central Illinois's fall colors, a canyon to feel swaddled by fall, and dramatic waterfalls that stand in stark contrast to the foliage. At less than two hours from Downtown Chicago, this hike is available as a quick day hike for the majority of the Illinois population.
The Northeast: Mid-September to Mid-October
New England is famed for its fall foliage. Every year, millions of tourists flock to the region to see the maple trees turn the rolling mountains into a vibrant oil painting-like scene. In order to stay in the loop on peak fall foliage times, make sure to check out the foliage map online to see when various parts of the region will be hitting peak foliage.
7. Camel's Hump, Green Mountain National Forest, Vermont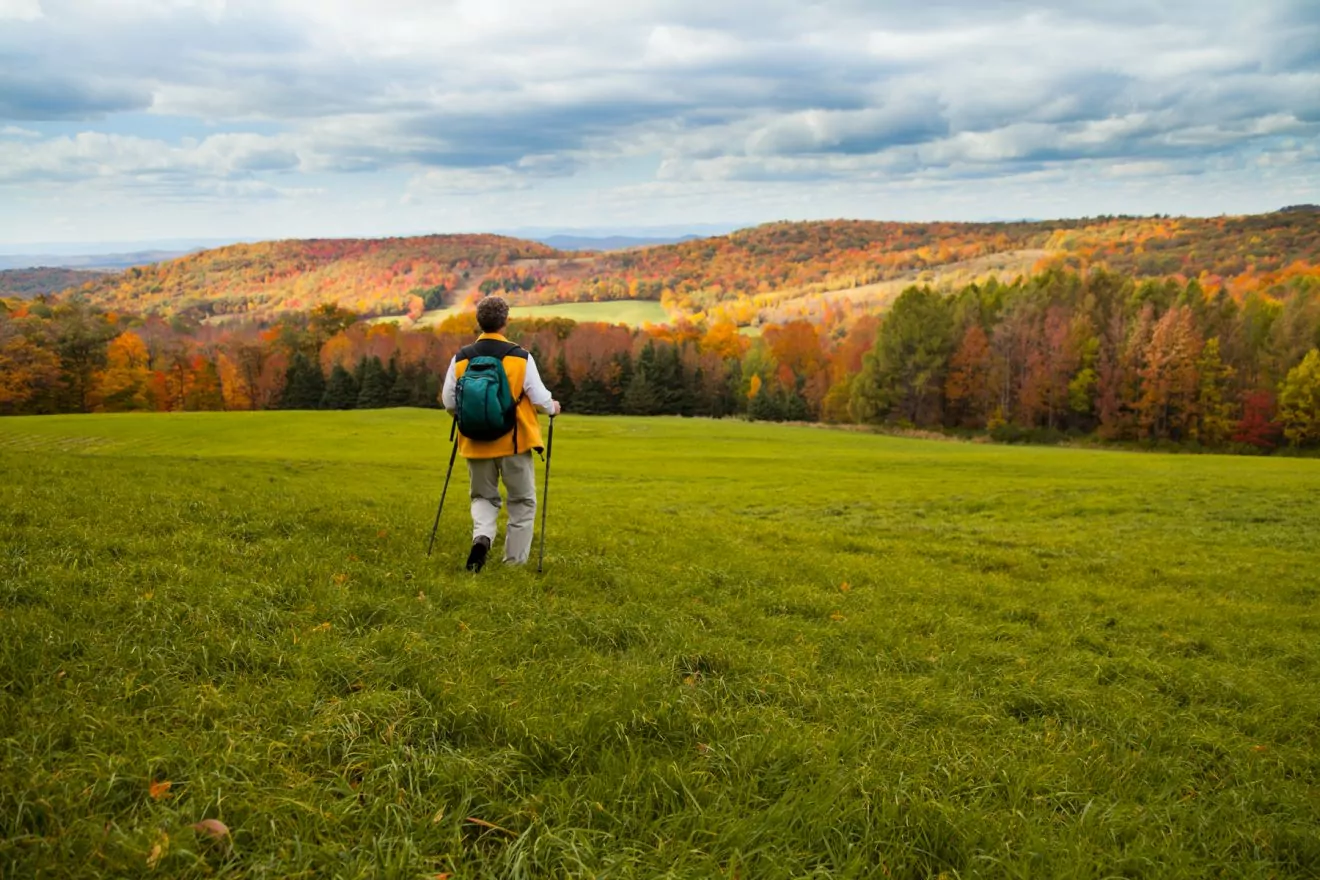 Length: 5.5-mile loop | Elevation Gain: 2,400 feet | Difficulty: Hard
As one of Vermont's three 4000 footers (and the only one without ski development!), Camel's Hump is a great choice for a day hike at any time of year. However, the views from this summit are at their best during foliage. While this hike packs a punch with over 2000 feet of elevation to climb in just over two miles, hikers will be rewarded with 360-degree views of Vermont's famed fall foliage. Looking to do more than a day hike? Just hop on the Long Trail which crosses over the summit of Camel's Hump and find yourself on the foliage backpacking trip of your dreams. Or, join our Vermont Fall Foliage Tour to hike the Camel's Hump and other orange-hued classics. 
Hike with us on the Vermont Fall foliage Tour
8. Mount Greylock, Mount Greylock State Reservation, Massachusetts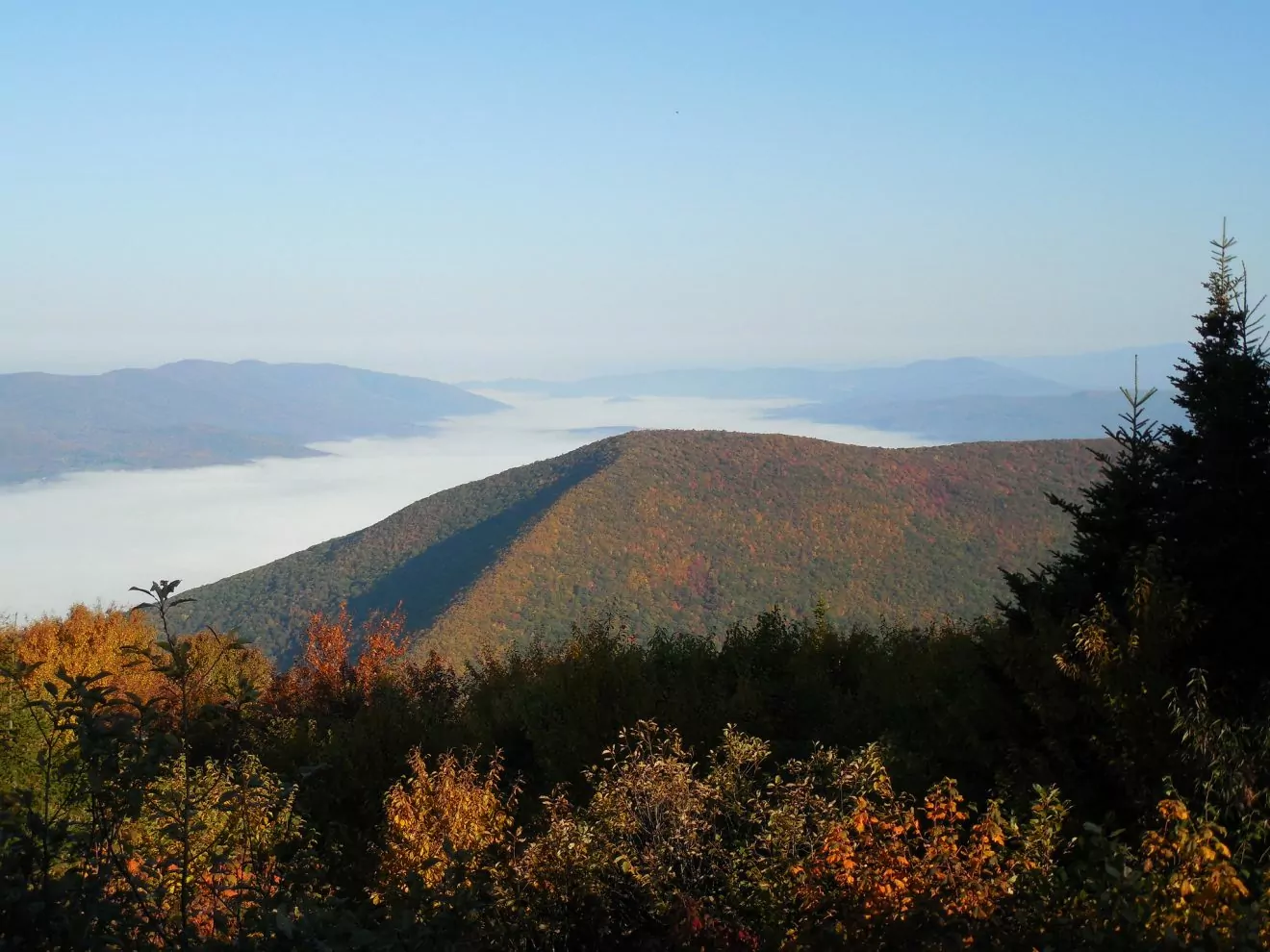 "Mount Greylock – Massachusetts" by Dougtone is licensed under CC BY-SA 2.0
Length: 5.7 + miles | Elevation Gain: 2,300 feet | Difficulty: Hard
Massachusetts is often overlooked for outdoor recreation when compared to the rest of her New England siblings, but Mount Greylock should be on every hiker's bucket list. The tallest mountain in southern New England offers stunning views in every direction. In fact, on a clear day, you can even see as far as 90 miles away, making it the perfect place to sit down and soak in all of the vibrant foliage. Mount Greylock State Reservation has a massive trail system featuring a web of trails, shelters, and ample parking opportunities. So, it's a great area for you to customize and design your own route to fit your needs.
9. Arethusa Falls, Crawford Notch State Park, New Hampshire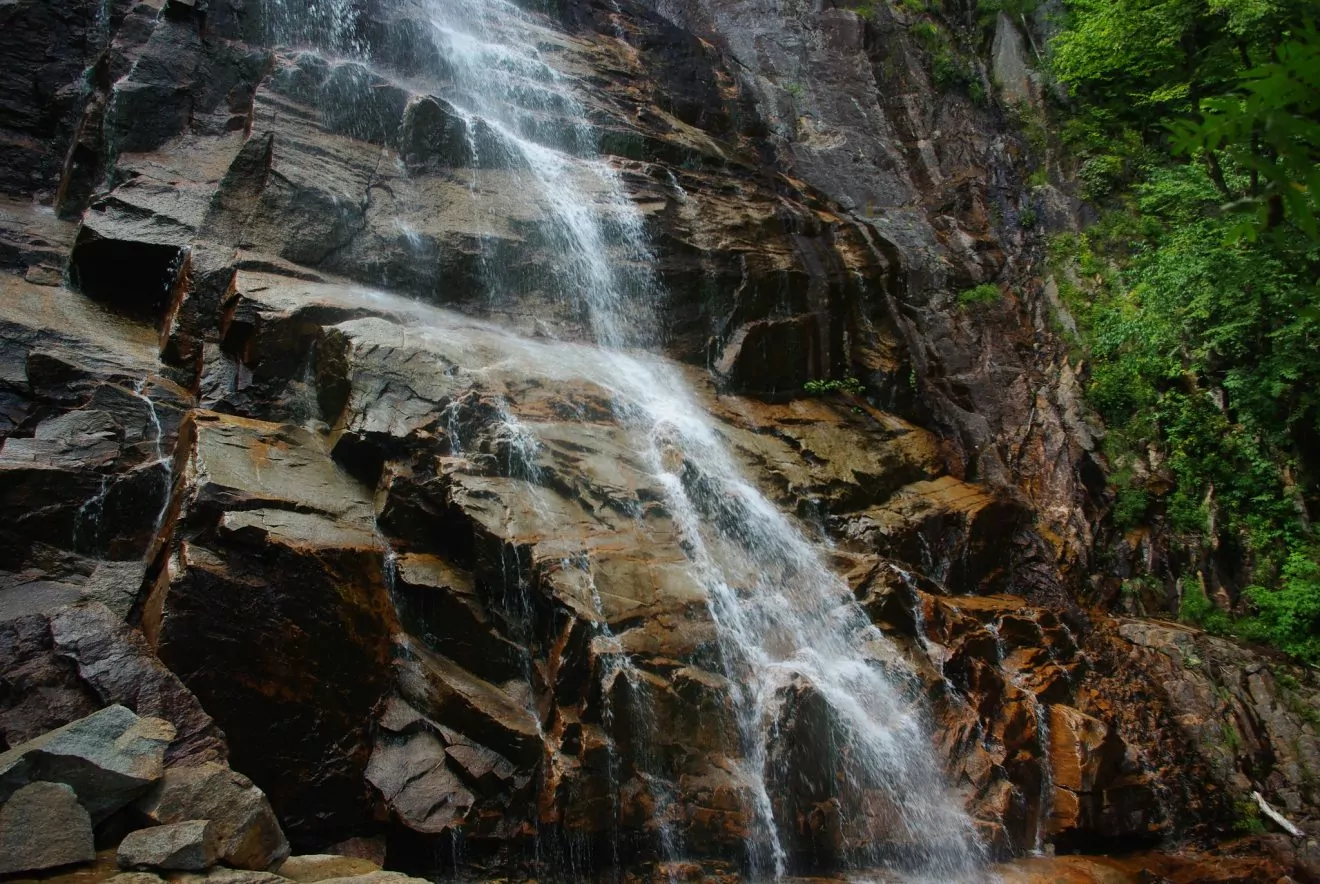 Photo Courtesy of Chris Luczkow (CC BY 2.0)
Length: 2.8 miles out-and-back| Elevation Gain: 800 feet | Difficulty: Moderate
As the highest free drop waterfall in New Hampshire, Arethusa Falls is a sight to behold in any season. However, seeing the 160 foot falls framed by vibrant fall foliage is like being transported into a fairy tale. The trail to the falls is a quick family-friendly hike that deserves its place on any fall foliage tour of New Hampshire — just be sure to watch the kiddos on the slippery rocks!  While this hike stands on its own, its short mileage and close proximity to major NH peaks means that you can use this as your warm-up and then head out on a more extended hike in the White Mountains.
The Pacific Northwest: Early to Late October
The Pacific Northwest is arguably the most environmentally diverse region in the United States. After all, Olympic National Park alone has rainforests, glaciers, alpine forests, and deciduous groves. If you throw the deserts of southern Oregon into that mix, you have an incredible amount of ways to experience fall hiking in the same region. To stay informed on when peak fall colors will come to the Pacific Northwest, use the following guides: Travel Oregon's Guide to Fall Foliage and Roves Washington Fall Color Guide. 
10. Hoh Rain Forest Loop, Olympic National Park, Washington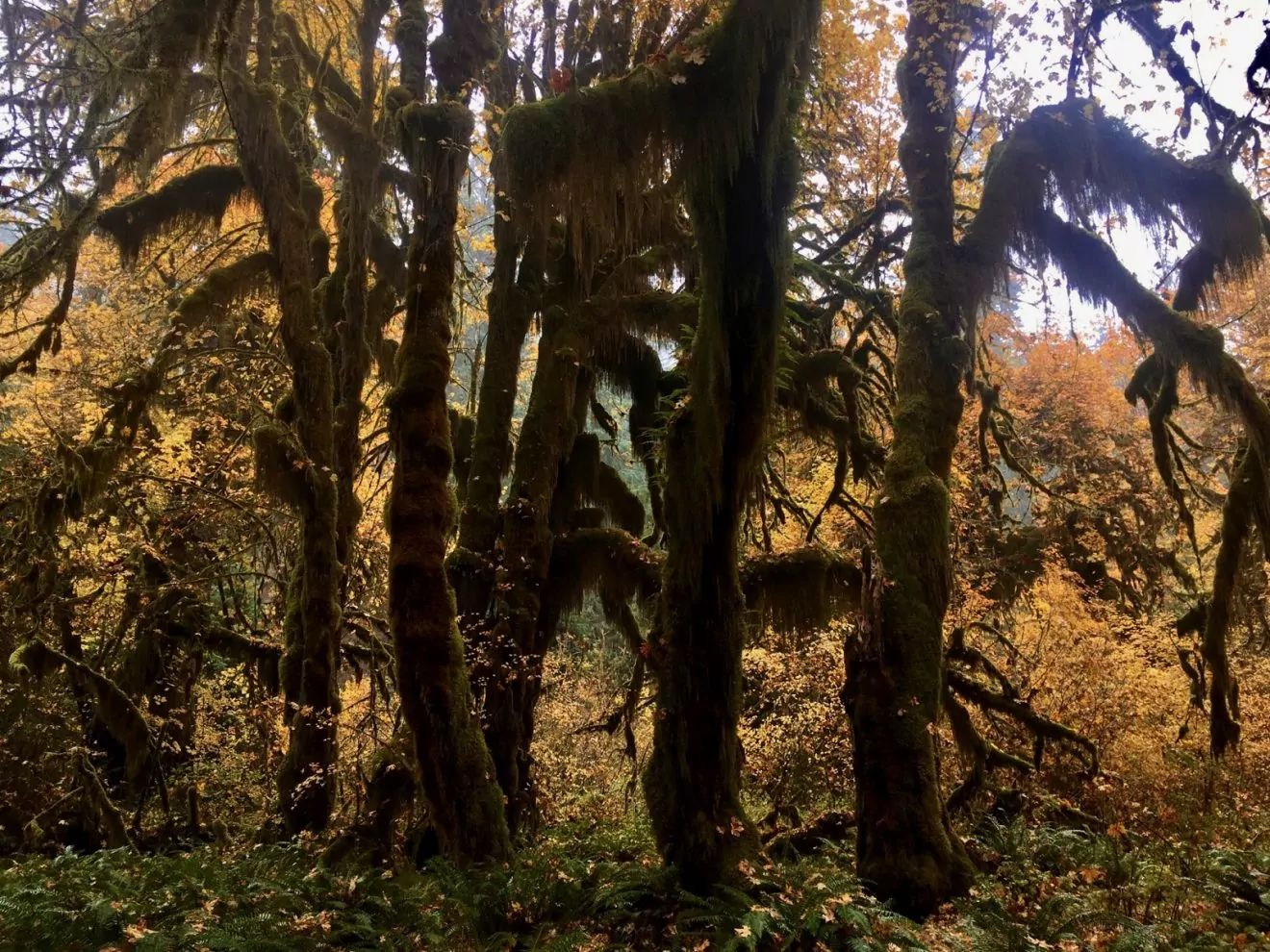 Length: 1.4 mile loop| Elevation Gain: 200 feet | Difficulty: Easy
Rainforests are not typically thought of as bastions of fall, however, a quick fall hike through the Hoh River Rain Forest is sure to change that perception. In the Hoh Rain Forest, which is fed by the glacial waters of the Hoh River and over 112 feet of rain a year, flora covers every available space with green growth. Tree trunks are coated in mosses and the ground is blanketed in ferns. However, the fall provides a rare reprieve from the green as deciduous plants begin to speckle the forest with fall colors. This drastic contrast to the almost overwhelming green provides one of the most interesting fall hiking experiences in America. Be sure to hike past the maple grove along the Interpretive Loop for the mesmerizing fall colors.
Hike Olympic National Park with Wildland!
11. Heather – Maple Pass, Okanogan-Wenatchee National Forest, Washington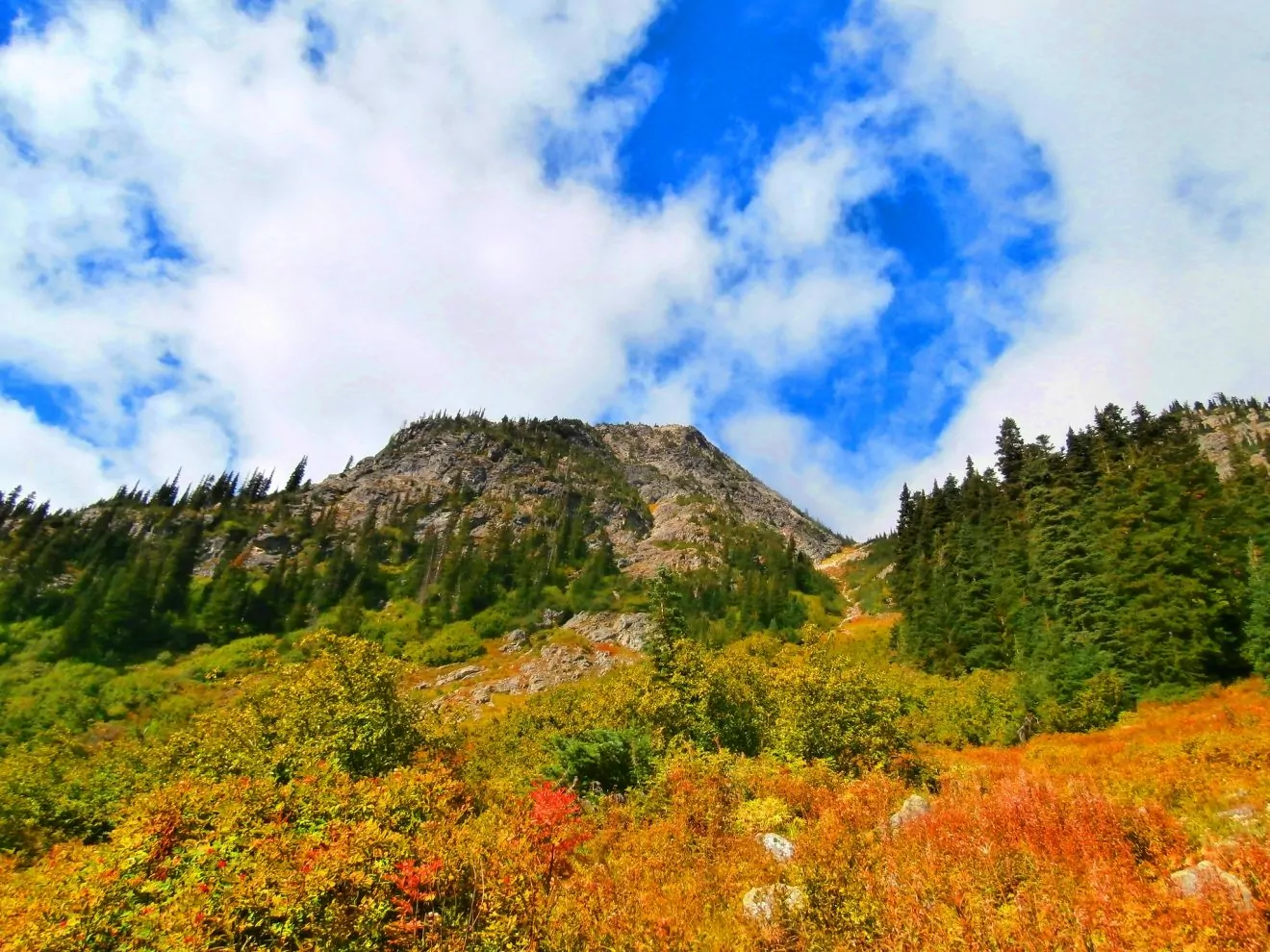 "Maple Pass Loop (Frisco Mountain, Washington)" by www.metaphoricalplatypus.com is licensed under CC BY 2.0
Length: 7.2-mile loop| Elevation Gain: 2000 feet | Difficulty: Moderate
The Heather-Maple Pass Loop in the North Cascades makes for the perfect fall day hike. Maple Pass is famed for its high alpine ridgeline trail where you feel like you are walking amongst the clouds while surrounded on all sides by stark rocky peaks. However, when fall hits, the area transforms as it bursts into color. The larches turn a magnificent yellow that dot the mountainsides and ring around Lake Ann. The blueberry bushes add a splash of rich red tones. If you are able to take your eyes off the lake and valley, you will be greeted with awe-inspiring views of the fall's embrace on the North Cascades.
12. Trail of Ten Falls, Silver Falls State Park, Oregon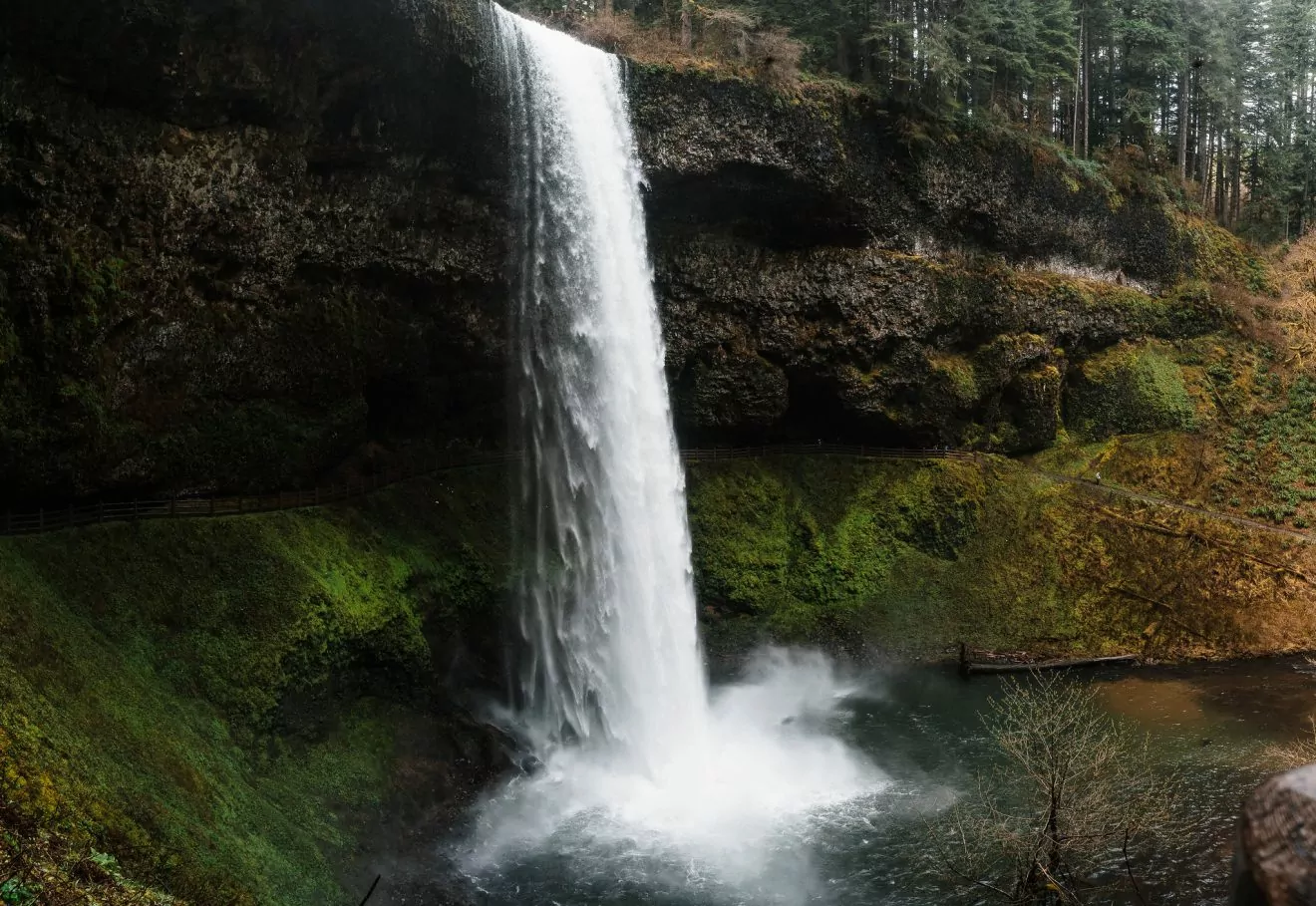 Photo Courtesy of Christine Madeux (CC BY 2.0)
Length: 7.8-mile loop| Elevation Gain: 1,300 feet | Difficulty: Moderate
The Trail of Ten Falls hike is not only home to an exorbitant quantity of waterfalls (more than one per mile!) but those 10 waterfalls are also some of the best in the Pacific Northwest. During the summer and spring, Silver Falls State Park is washed with green. However, during the fall, the colors of the park's various deciduous trees (alders and maples) pop out and paint the falls in a whole new light. The transition to fall colors sets the stage for the poetic sight of seeing red and yellow leaves flowing down the 177-foot South Falls.
The Rockies: Mid-September to Mid-October
The Rockies are famed for their golden fall colors. The change of aspens from green to yellow is the universal signal that a long winter is on its way. However, this region is not simply monochromatic in autumn, the reds and oranges of the deciduous trees peep through the pines and aspens. When you're planning your trip, keep track of the weather. Fall tends to be short in the Rockies, and winters can come suddenly. The best foliage tracker for the entire region is the Foliage Prediction Map.
13. Maroon Bells, Maroon Bells Snowmass Wilderness, Colorado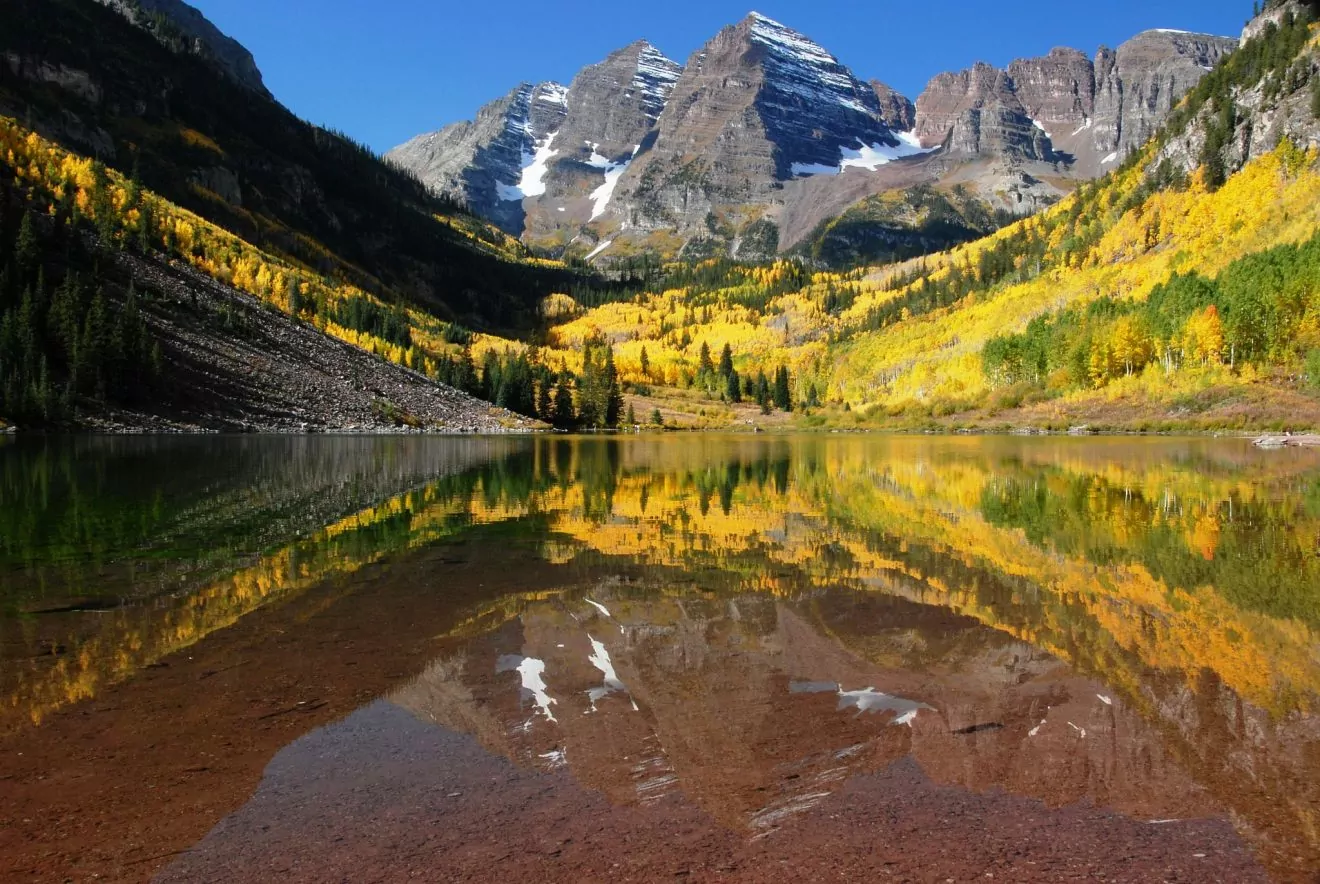 "Maroon Bells Spectacular! Aspen Trees in Colorado at Maroon Bells" by TheRealWilliamDayton is licensed under CC BY-ND 2.0
Length: 1.9-mile out-and-back| Elevation Gain: 160 feet | Difficulty: Easy
Aspen, Colorado is famed for having the best leaf-peeping in the west, and the Maroon Bells in the fall is sure to convince any visitor that it deserves that title. After the leaves turn, the peaks above Maroon lake look like the gems adorning a crown of gold surrounding the lake. While the Scenic Loop is a more family-friendly option, this short hike is also a great jumping-off point for more extended adventures. Hikers can bag a 14er by climbing the 14,163 foot Maroon Peak, or visit nearby pristine alpine lakes like Carter Lake or Willow Lake.
14. Blodgett Canyon, Bitterroot National Forest, Montana
Length: 2.8 miles out-and-back| Elevation Gain: 600 feet | Difficulty: Moderate
Blodgett Canyon in Montana might have fewer trees than the rest of the hikes on this list, but it makes up for that in spades due to the lovely contrast of fall colors on the ever-climbing canyon walls. This trail will take hikers to the most accessible overlook into the canyon. From here, you will see fall transform the canyon from a two-tone mashup of green and grey to a painting-worthy wall of color. For those looking for a longer hike, you can skip the overlook and venture down the 26-mile Blodgett Canyon Trail. There, you'll travel through meadows and forests as you make your way through the fall colors and ascend into a (likely) snow-adorned lake at the very end of the valley.
15. Lake Blanche, Wasatch-Uinta National Forest, Utah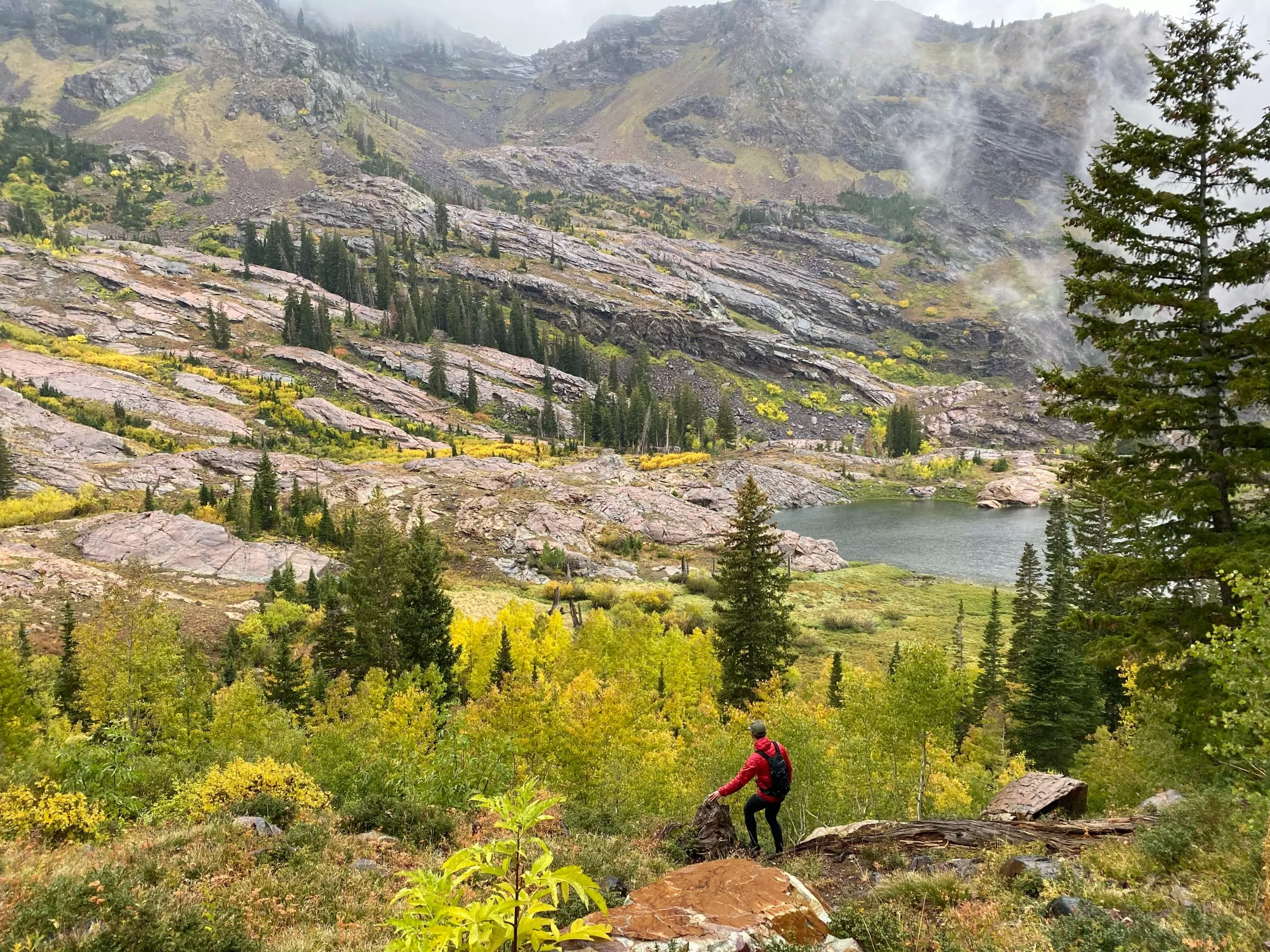 Photo by Alex Bertha on Unsplash
Length: 6.8 miles out-and-back| Elevation Gain: 2,800 feet | Difficulty: Hard
The Lake Blanche Trail is one of the most iconic hikes in the Salt Lake City region – and for good reason. The view of Sundial Peak towering dramatically over Lake Blanche is a breathtaking sight on its own. However, when you add in a ring of vibrant yellow leaves around the lake, this scene becomes something out of a fairy tale. Lake Florence and Lake Lillian are just an additional .6 miles away and well worth the additional hiking. All three lakes sport camping areas, so this is an ideal spot to spend a night basking in everything fall in the Rockies has to offer. Just bring a puffy!