Explore Vietnam With Wildland Trekking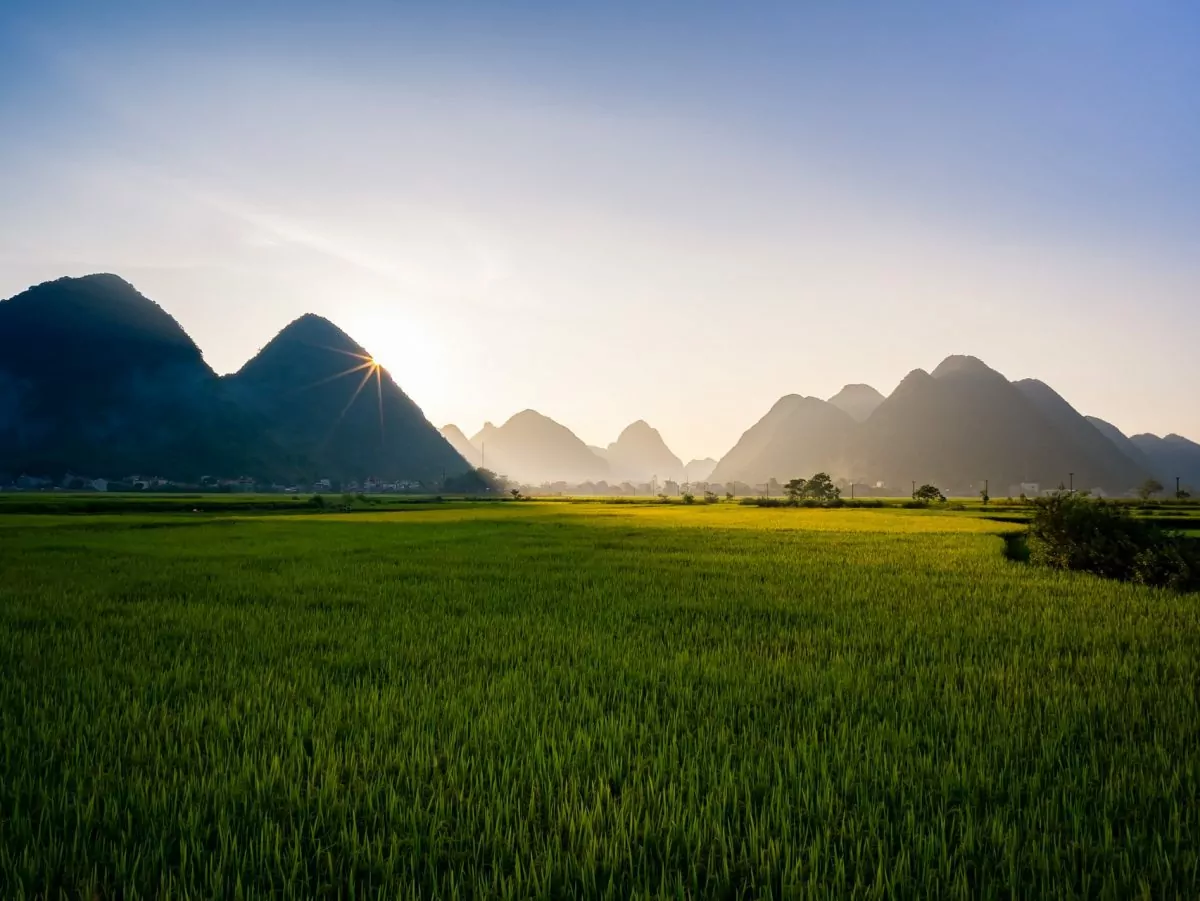 The chaos of Hanoi's scooters and street vendors. The misty mountains of the North. The limestone karsts of Ha Long Bay. Northern Vietnam is the pearl of Southeast Asia. For first time travelers to Vietnam, there's a surprise waiting for you around every corner. These surprises could be in the form of seemingly impossible motorbike acrobatics as drivers stack more goods and people on a single motorbike than anyone thought possible. Or it could be coffee so intense that you'll see into another dimension. On the nature side, the surprise could be the sunrise sending rays of light over terraced rice fields. Whatever it is, there's a lot of fun to be had in this vibrant nation.
Even if you've been to Southeast Asia before, you will be struck by just how unique Vietnam is when compared to other nearby destinations – such as Thailand.
When To Go
Vietnam has an incredibly diverse climate. The South is your typical tropical environment with only two seasons – wet and dry. Meanwhile, the North is notably more temperate with four fairly distinct seasons. Therefore, let's take a look at Vietnam's seasons and find the best times to plan an epic adventure.
Summer Season
The primary hot and wet season occurs between July and August. Most of Vietnam during this time experiences consistently hot and humid weather, which is perfect for tropical-loving adventurers. Keep in mind that very heavy rains typically accompany this heat, especially in the central highlands and northern regions. Therefore, trekking and hiking can be challenging during this time due to poor road conditions and tough hiking weather, both due to the heavy rains.
Winter Season
December to March is a relatively stable time, weather-wise, to visit Vietnam. Most of the country is drying out after the heavy rains of summer, and the temperatures will be noticeably cooler, making for a more comfortable travel experience. Take note, however, that the northern mountains typically experience chilly weather during this time, so pack layers. While the country may be relatively quiet in December, rest assured that that will change in late January to early February when Tet, the Vietnamese Lunar New Year celebration, kicks off.
If you are looking for a cultural experience, this is a fun time to go. The buildings are decked out in beautiful yellow flowers. There are exciting festivals everywhere you look. The drawback is that it's the most expensive time to go. This price increase is because the whole country is on the move at this time of year, going to visit friends and family.
Spring and Autumn
For a healthy balance between the dry and cool winter months and the wet and hot summer months, visit from April to June and September to November. The spring will see temperatures slowly rising, along with rainstorm frequency, but will provide excellent weather to see most of the country. The autumn, conversely, will experience gradually falling temperatures and rain frequency as the country's hiking opportunities once again emerge after the constant deluge of summer showers.
Deeper Dive: More About When to Visit

Trip Dates

Keep in mind that we only schedule a select few Vietnam trips per year. To view our scheduled adventures, visit our trip dates page, select the month you wish to visit and view our scheduled trips. If you don't see any scheduled trips for Vietnam, it means that we don't have any tours scheduled for that particular month. You can also view all our Vietnam tours directly by visiting our Vietnam Trip Page, and scrolling down to the 'Trip Dates and Booking' section.

Climate Information

Always remember that the weather in Vietnam is often very unpredictable. Heavy rainstorms often appear on short notice, and temperatures fluctuate dramatically depending on the region you're visiting and your elevation. Therefore, ensure that you stay up to date on the latest Vietnam weather forecast leading up to your trip so you can be prepared for whatever the weather throws your way.
Trip Styles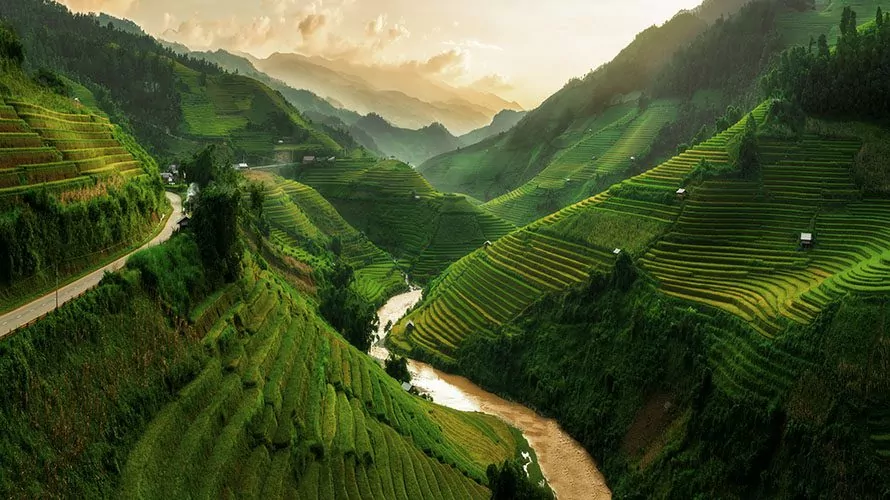 Experience the beauty and splendor of Vietnam's capital, Hanoi, as we stay in charming luxury accommodations before taking a train to our hiking region. Once there, we'll trek from village to village exploring Vietnam's incredibly rich culture. Our nightly homestays will further enhance your connection to the region as we interact with local families and learn about their lives in the beautiful rolling green hills and stunning mountains of northern Vietnam. This trip truly introduces you to Vietnam's most iconic elements and is the perfect way to explore everything this magical country has to offer.
Deeper Dive: Our Top Recommended Trip

Northern Vietnam: Sapa and Ha Long Bay Tour

The whole of Vietnam is incredibly beautiful, but many visitors believe that the North is the best – and we agree. So join us as we experience the magic of this region on an epic 10-day tour where you'll experience a trek through the verdant mountains of Sapa. Some R&R on a luxury cruise will follow this trek as we drift through the limestone karst formations in Ha Long Bay. Not to mention an acclimatization day in the country's capital, Hanoi, for the first portion of your trip.

Trip Highlights:

Hanoi: Ho Chi Minh Mausoleum, Temple of Literature, Ethnology Museum, Hanoi Hilton Museum
Mountain city of Sapa
Terraced rice paddies built into mountains
Cultural and homestay experiences with mountain tribal cultures
Breathtaking views from a luxury eco-lodge
Visits to typical rural villages of Northern Vietnam
Ha Long Bay: karsts, kayaks, and a cruise
An overnight sleeper train ride
Cooking classes

There's just so much to see and do on this adventure! Let's take a look at our planned day-to-day activities to paint a complete picture of everything you can see and experience.

Trip Itinerary:

Day 1:

You will get picked up at Noi Bai International Airport in Hanoi by a Wildland Trekking representative and taken to a hotel just outside of the historic district. Freshen up from the flight before enjoying our first dinner in Vietnam together.

Day 2: 

If you are traveling from the Americas or Europe, you will probably feel jet-lagged. Before we set out on a trek, you will get an extra day to sync up your body clock and explore the bustling Vietnamese capital. you will get to see the main sites including:

Ho Chi Minh Mausoleum: Visit the final resting place of Ho Chi Minh, the founding President of the socialist state.
Hanoi Hilton Museum: Explore the place where US prisoners of war, including John McCain, were held.
The Ethnology Museum: Learn about the diverse people of Vietnam and their history
The Temple of Literature: A splendid example of traditional Vietnamese architecture

At 10 PM, you will get on a comfortable sleeper train to Sapa. No journey in Vietnam is complete without an overnight train ride!

Day 3:

In the morning, you will arrive in the mountainous city of Sapa. A driver will take you to the luxurious Aira Boutique Sapa Hotel & Spa. You can explore Sapa on your own for the day. Don't miss the colorful markets filled with beautifully made textiles and friendly merchants.

Day 4:

The first day of hiking. Your guide, a member of the local Black H' mong tribe, will take you along a mountain track where you will encounter women eager to sell their wares to you. They'll be persistent! But it's always a lot of fun to get to know the locals, even with the language barrier. You will continue through the breathtaking rice paddies, so green they'll hurt your eyes. It doesn't get much more Instagrammable than this.

In the afternoon, you will get to Tara Van Village. You will spend the night in a rustic but comfortable homestay owned by a local family. This homestay is a wonderful opportunity to get a taste for authentic village life among the Black H'Mong and Red Dzao people.

Day 5:

You will set out for the village of Giang Tai Chai. Your backdrop will be picturesque rice terraces built into the side of the hills. You will see how the environment shapes the locals' everyday lives. For example, you will see that their houses stand on stilts to deal with the monsoonal floods.

Day 6:

You will trek into the village of Thanh Phu and on to Nan Tong village. Locals use the trails between these villages so you will get a unique glimpse into everyday life in rural Vietnam. You will then spend the night in a one-of-a-kind eco-lodge nestled on top of a hill that has some of the best views you will see in your life.

Day 7:

Today you will go to Lech, a village where you can encounter daily life for the Red Dzao people. Then it's a 5.5-hour ride in a private mini-bus to go back to Hanoi for the night.

Day 8:

In the morning, you will get a transfer to Hai Phong. From there, you will get a small boat to the cruise ship. After a welcome drink, you will set sail onto Ha Long Bay. This cruise is when you'll get the first glimpses of those world-famous white limestone karsts jutting out of the azure blue water.

Following lunch on-board, you will get to explore a 2000-year-old cave called Trung Trang and take a dip in the refreshing water. You will then head back to the cruise ship for a cooking class or relaxation time before dinner. Tonight, you will be sleeping in luxury on the cruise ship.

Day 9:

If you are tired, you can sleep in. But why would you do that when you can witness the spectacular sunrise over Ha Long Bay? After breakfast, you will go out on small wooden rowing boats or sea kayaks to explore the karsts a bit closer. After that, a driver will take you back to Hanoi. We'll have our final celebratory dinner.

Day 10:

The final day! If you are continuing your journey in Vietnam, you will say goodbye to everyone in the hotel lobby. Or you will be taken back to the airport by your guide if you're heading home.

Learn more and book your Sapa and Ha Long Bay trip today!
Need to Know
Remember that all your transportation and meals are covered for the duration of your trip. However, you'll be required to arrange your transportation to and from the country. Also, the logistics for any extra exploring before or after your Wildland trip is up to you.
Book in Advance
Make sure you book well in advance for your Vietnam tour. We only run a select few trips a year, so be sure to get your spot! Additionally, please make sure you book your visit with us before you move on to reserve your flights. Once you Wildland booking has been confirmed, go ahead and book your travel arrangements.
General Travel Advice
There isn't anywhere quite like Vietnam. If you haven't traveled to the region before, there are a few things you should know before you arrive.
Transportation
We organize all the transportation for you during the trip. However, if you are continuing by yourself afterward, you will have a blast on Vietnamese transport.
The long-distance buses are amazing with A/C and comfy bunk-bed style seats. They regularly stop along the way at roadhouses with tasty food and reasonable bathrooms. Apart from the Hanoi-Sapa train, the train system is no way near as effective as the buses. They run very slowly, there is no food on-board, and the bathrooms can be the stuff of nightmares.
In the cities, the traffic is crazy. You can get around by foot, on the back of a Grab scooter (like Uber for South East Asia), or a metered taxi. Before you get a cab, check which brands are the most reputable in whichever city you are visiting. Otherwise, you may end up paying much more in an unmetered taxi. You can also easily hire a motorbike for the day. While this is a thrilling experience, be aware that if you get into an accident, most insurance policies won't cover you.
Visas
If you are a US citizen, or from almost any Western country,  you will need a tourist visa to visit Vietnam. You will most likely need a single-entry 30-day visa, which is available for $25. See the US State Department's Vietnam page for the most recent visa and travel information.
You can apply for a tourist visa in a few different ways. The first option is to follow the normal visa process by contacting the Vietnamese embassy by email or phone. Alternatively, you can also apply online ahead of time to receive a visa on arrival. You will get approval in 3-5 days, and you will obtain the actual visa upon arrival at the airport.
However, the most straightforward method is an e-visa. These only rolled out in the last couple of years. Right now, e-visas are only available to US, UK, Australian, New Zealand, and Canadian citizens. You can apply for an e-visa through Vietnam's immigration portal.
Keep in mind that the tourist visa system in Vietnam is VERY complicated. It also tends to change often. We have, therefore, tried to keep it as simple as possible. But we recommend you check with your local Vietnamese embassy to find out exactly what you need to do to get a visa.
Deeper Dive: More Need to Know Info

Vaccinations

Before you visit Vietnam, you will need to make sure your vaccinations are up to date. We recommend you speak to a travel doctor before you go.

Vietnam is a developing country in the tropics. As a result, there are some health risks that you need to consider. First, make sure you've had all your routine shots and boosters against the usual suspects. These are diseases like measles, Diptheria, tetanus, pertussis, polio, influenza, and any other immunizations that your doctor recommends.

You will also probably need a few extra vaccinations that you would have never received if you've lived in a Western country your whole life. These include:

Hepatitis A and B (a must)
Typhoid (a must)
Japanese Encephalitis (check with your doctor)
Rabies (check with your doctor)

You may want to think about bringing along some anti-malaria pills as well. While malaria is very rare in the coastal towns and cities of Vietnam, it's much more common in the rural inland areas where our treks take place. Don't forget bug repellent, either. There are several mosquito-borne illnesses – such as dengue fever – present in the region. There are no vaccinations or preventative medicine for these illnesses, so the best thing you can do is avoid getting bitten by mosquitos. The best cure is prevention!

Remember, we're not doctors. Please speak to a travel doctor with experience in tropical diseases to make sure you've got all the facts. You can also read more about your options on the CDC's Vietnam guide.

Food and Water

Don't drink the tap water. You can buy big bottles of water everywhere. However, you can still use the tap water for typical day to day uses – such as dish and clothes washing along with showering or bathing.

The food in Vietnam is one of the highlights. It's incredibly fresh and healthy. From a classic pho and crunchy spring rolls to delectable vermicelli salad, Vietnamese food is one of the most sophisticated cuisines around. It's packed with bold flavors that strike the perfect balance between salty, sour, sweet, bitter, and a little umami for good measure.

On our tours, you will even get a couple of opportunities to learn how to make some delicious Vietnamese food yourself.

Currency

The currency is the Vietnamese Dong. You will need cash to pay for just about everything except hotels.

In the cities, you will never have a problem finding an ATM or getting cash. However, some machines will only spit out $50 for any transaction. Therefore, ask your hotel reception about the best machines in the area. As with every travel destination, try to use ATMs located within banks or other monitored locations.

Language Tips

While tourism workers speak good English, they are the exception. Most people in Vietnam cannot speak English, especially if they are older or live in more rural parts of the country.

The language barrier can be challenging at times, but that's the joy of travel! You'll discover that sign language and a smile get you a long way.

It's always a good idea to learn some essential Vietnamese words too. You will find Vietnamese people will appreciate you making an effort, even if your pronunciation is awful – and it will be! Here are some useful words:

Hello: xin chào

Goodbye: tạm biệt

Thank you: cảm ơn bạn

Yes: dung

No: kong

Cultural Tips

On a day-to-day level, Vietnamese people are laid back, generous, and friendly. They like to share a joke, even if you don't share the language. It's a lot of fun in Vietnam!

That said, Vietnamese society is still quite conservative in many ways. Unlike nearby countries like Thailand, tourism is quite new to Vietnam. Don't expect full moon parties or nightclubs. Nightlife in Vietnam is authentic. It's about sitting on a small seat on the sidewalk, eating street food, drinking homebrew, and watching the city life.

The dress code is casual in Vietnam, and nobody will take a second look at what you are wearing. The exception is if you are visiting temples where you should be respectful and avoid wearing shorts or entering with your shoulders exposed. You should also remove your shoes before entering a house and some hotels. If you are not sure, look around the door. If there is a pile of shoes, it means you should take yours off. And like anywhere else in the world, if in doubt, just ask!

Trip Insurance

We all hope that our wilderness adventures will go smoothly and leave us with beautiful memories, but sometimes unexpected events happen. At Wildland, we strongly recommend that all our clients travel with comprehensive travel insurance. This way, any unforeseen circumstances that could harm, hinder, or otherwise harass your travel plans are covered. These circumstances may include accidents that require medical evacuation, natural disasters, extreme weather, or any number of other events that we cannot predict in advance.

Wildland offers several travel insurance packages that cover all reasonable risks you may encounter on your journey. If you choose to travel with a different insurance provider, please be sure to check the exact nature of your coverage to ensure you are adequately protected.

Packing List

We provide you with most of the items you will need on the trail – such as packs and food. However, we ask that you supply a few gear items on your hiking tour. These items are two 1-liter water bottles per person, and essential items like sunscreen, bug repellent, lip balm, and toiletries. Most of these items are available online at Wildland Trekking Outfitters.

Don't expect tropical weather around Sapa and the North of Vietnam. It can get chilly in the evenings, so make sure you bring a few warm pieces of clothing. And if you're traveling onwards after the tour, you'll probably be heading south. If so, make sure you bring plenty of light and breathable clothing as it will be much warmer down in the southern regions.

You should also bring sturdy hiking shoes or boots, rain gear, and breathable clothes you can layer. Additionally, please have at least two to three pairs of hiking socks. Please direct any gear or packing questions to your guide before your trip, or call us at 1-800-715-HIKE(4453) with any questions.

Conditioning

The Sapa-leg of this trip is active. You will be hiking 5-10 miles a day in moderately mountainous terrain. Your body and your mind must be up to the challenge. We highly recommend you physically prepare yourself for your adventure, especially if you are not accustomed to hiking.

Our training tips are the perfect starting point to accomplish this. Start easy, tailor the workouts to your particular circumstances, and you will be ready to enjoy your trekking vacation in no time!
Gallery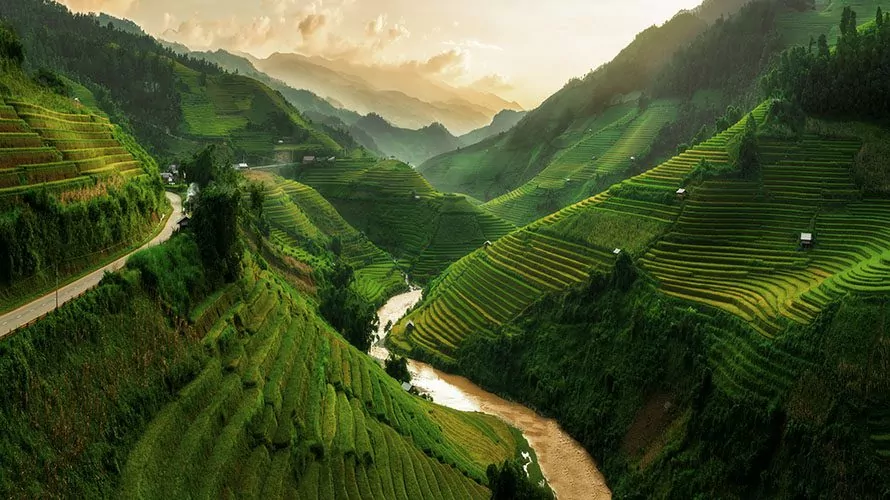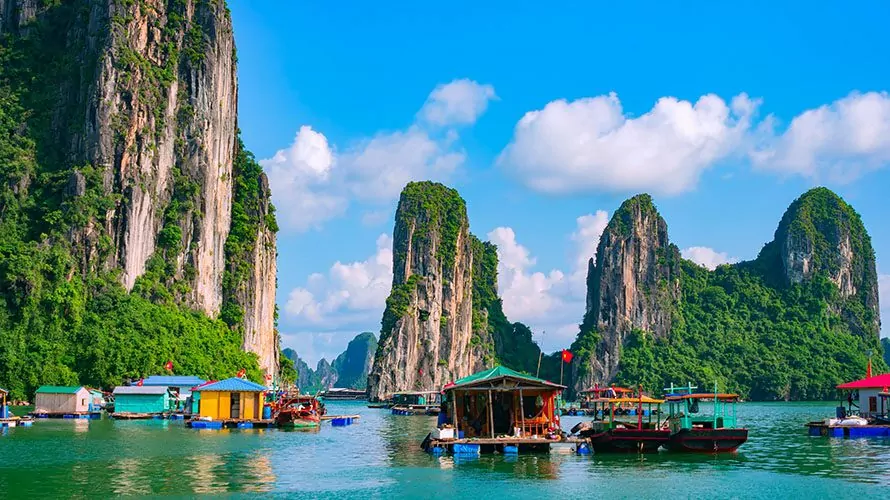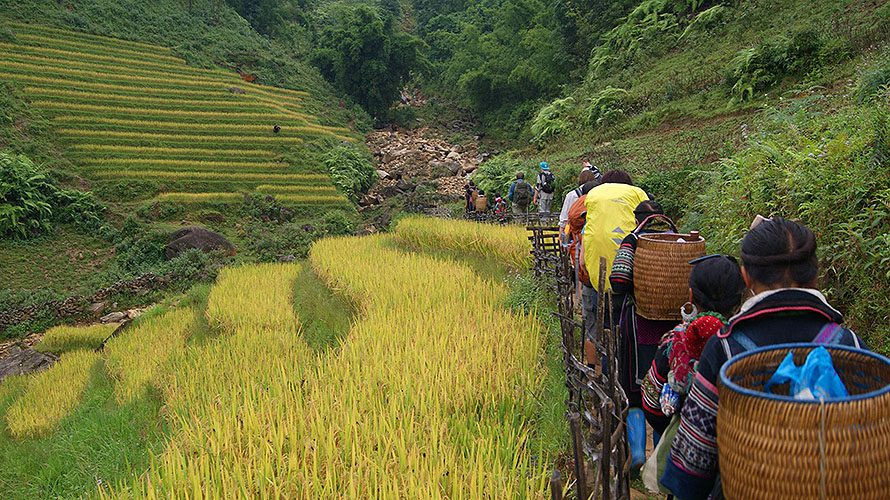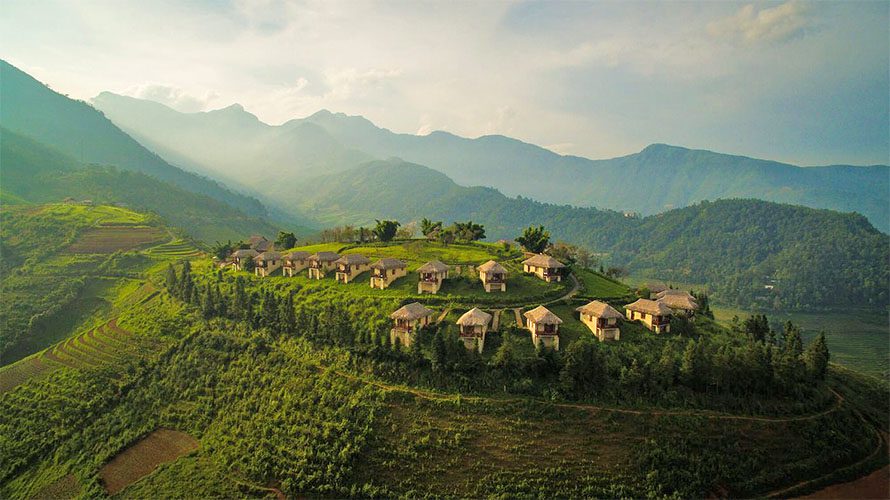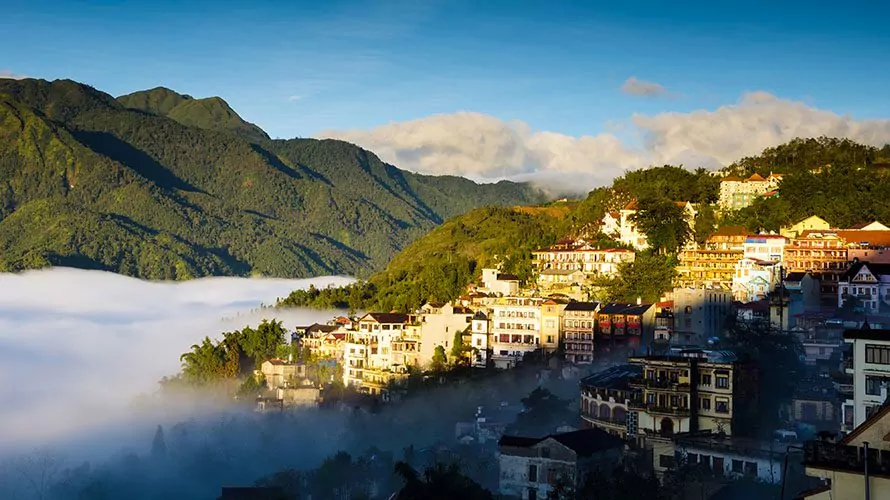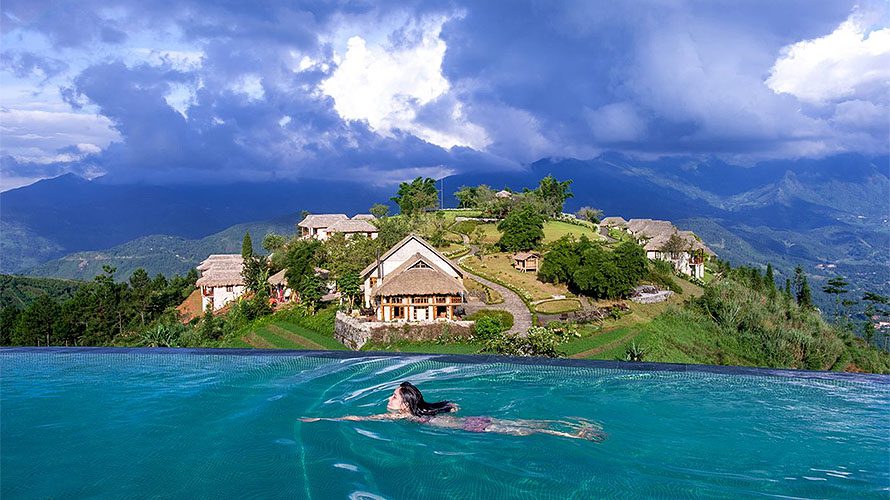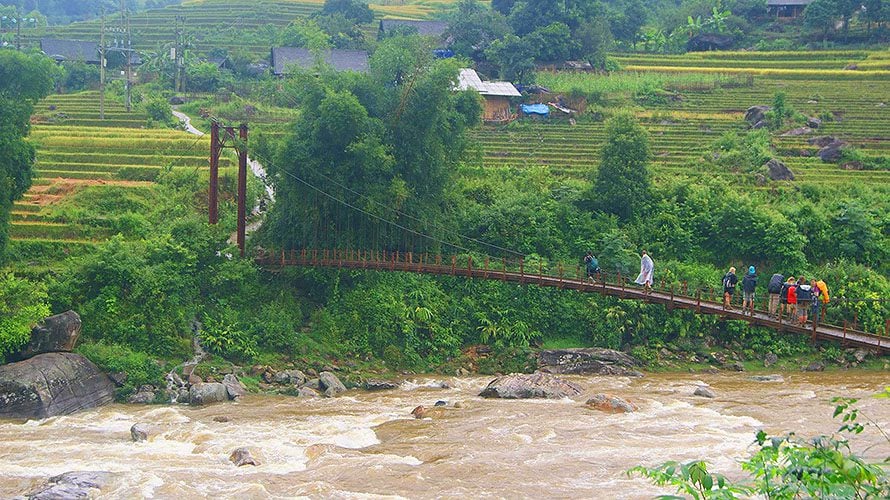 Have Questions?
Have more questions? Send us an email or call us at 1-800-715-HIKE(4453). We're here 7 days a week from 9:00 to 4:30 Mountain Time to make sure your trip planning goes as smoothly as possible.
Trip Information
For more information about all your options, check out our Vietnam page on the website with the button below! Individual trip pages have detailed itineraries, trip specifics, travel information, and more.