Explore The European Alps With Wildland Trekking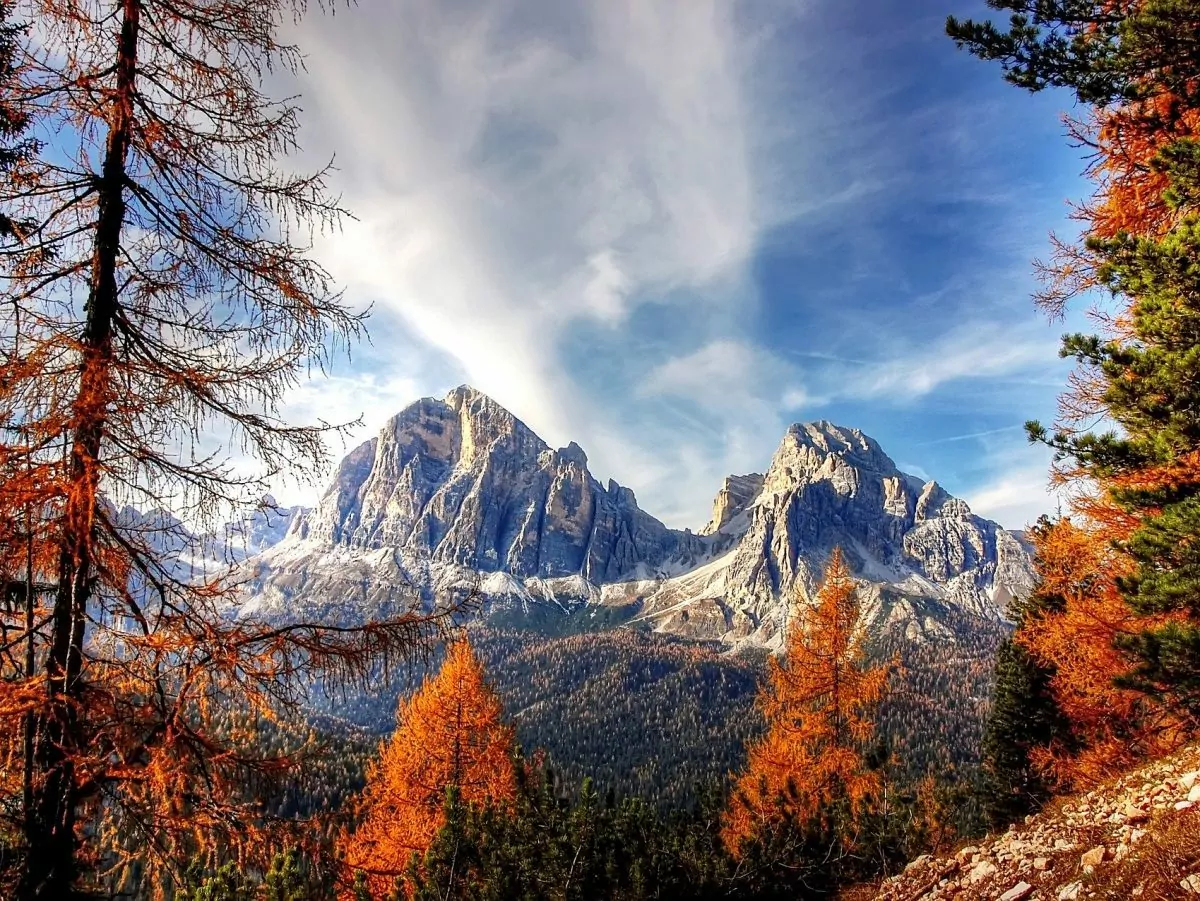 The Alps are the highest and most expansive mountain range that resides strictly in Europe. They stretch across eight different countries for a total of 750 miles (1200 kilometers). The countries that are lucky enough to be a part of the Alps landscape include Italy, Austria, France, Switzerland, Monaco, Germany, Slovenia, and Liechtenstein.
Wildland Trekking offers Alps hiking trips that delve into the mountain trails of Italy, Switzerland, and France. These amazing treks give you a local's look into the landscape of the Alps' expanse of mountain ranges. You will have a chance to hike past ancient glaciers, alpine lakes, and charming towns and cafes, giving you the absolute best experience that the mountains and European cultures surrounding them can offer.
When To Go
As Wildland Trekking Alps trips span Italy, France, and Switzerland, it is easier to pinpoint the times of the year that best suit overall travel. Whether you are going on a tour or just on your own, you will want to research the average temperatures for the time of year and specific location you plan to visit.
The time of year you plan to go will also depend on your planned activities. If you are a winter sports enthusiast, then you will prefer the snowy conditions of the winter months. Our "when to go" section will only outline the best seasons for backpacking and trekking.
The Alps are famous for their severe weather and have been studied at length due to unique weather patterns. All of our trip dates are chosen to provide an optimal travel experience. However, we still offer many dates across different seasons. Read more about the best time of year to travel to the European Alps below:
High Season:
June – August (Summer) is high season for hikers and backpackers in the Alps. The summer brings more stable temperatures across most areas in the mountain range, especially the Southern sections. Temperatures increase steadily through June and July, and by mid-July, most trails within the mountains should be snow-free.
By the middle of summer, depending on your location in the Alps, the weather may be too hot for certain activities, especially in recent years, due to climate change. However, most of the summer days are excellent for hiking, biking, rock climbing, and more.
At the beginning of summer, the alpine lake and river water levels will be much higher than usual due to snowmelt. As the summer progresses, the water levels will drop. These lower water levels provide visitors with improved access to the area's canyons and make the white water tamer. The summer's warm temperatures will also bring a wave of afternoon thunderstorms to the mountains. When viewed safely from a distance, the thunderstorms are a gorgeous site as lightning brightens the far away peaks.
Shoulder Season
Spring
April to May is also a very popular hiking season in the Alps. Although temperatures will begin to warm up in March, snow generally won't start to melt in the mountains until April. The lower altitudes will see clear hiking trails early in April, whereas higher elevation areas won't have trail access until at least June.
Springtime is also a brilliant time of year for nature enthusiasts to visit. Even if all of the hiking trails are not yet open, you will be able to view a plentiful array of wildlife and, of course, fields of wildflowers. Not only that, but as the snow begins to melt, the rivers flow more aggressively as the water rises. This change in water levels brings many white water athletes to the alpine rivers.
Autumn
September to mid-November is when the thunderstorms will become less frequent, but visitors can still enjoy plenty of warm, sunny days. You will have to bring layers for the morning and evening, however, as temperatures will drop quickly once you break into October.
Many hikers and bikers enjoy the serenity of the trails and the Autumn colors in the changing leaves. Not only that, but many locals (especially in France) enjoy the Fall by foraging for mushrooms along the hillsides and in the forested trails. If you are looking for a tranquil mountain experience, the Fall is one of the best times to visit.
As soon as November rolls around, trail access becomes much less certain. Depending on the year, many higher elevation trails will close due to snowfall. By late November, some ski resorts may even begin to open. However, many lower trails will remain open nearly through the end of the month.
As temperatures and weather patterns will vary in both the Spring and Fall, many outdoor lovers may need to find alternative activities. Most tourists enjoy scenic train rides, or simply explore the nearby villages and cafes.
Low Season
Mid-November to March (Winter) is considered the low season for backpacking and other warm-weather sports. However, that does not make the Alps any less busy than the summer months. As the snow begins to fall in mid-November, winter athletes start flocking from all over the world. In fact, almost all the ski resorts in the Alps region will be open for business no later than mid-December.
January is when the higher altitude skiing is premier, and even lower altitude areas are covered in snow, making cross country skiing a popular sport as well. From then on through mid-March, the mountains will be filled with skiers and snowboarders.
If you're not a winter sports enthusiast, there are still plenty of things to do and see in the Alps during the winter months, especially in December. Christmas is a magical time of year in many European Alps regions, and if you are thrilled by culture and history, visiting cities and villages via train may be a wonderful winter getaway.
Deeper Dive: More About When to Visit

Trip Dates

Usually, our European Alps expeditions do not begin until June. This later timeframe is to ensure that we will have access to the trails and have enjoyable weather as we are hiking. We do not cancel trekking days due to weather often, so we want to make the most of sunny days when we can!

Choosing your Alps trek will revolve not only around your schedule and preferred temperatures but also when we have tour dates available. We schedule and block off dates ahead of time to give our clients and guides ample time to prepare for their journey.

Once you've decided what your holiday schedule will look like, visit our Trip Dates page and select the month you're most interested in joining an Alps trek. Then, you will be able to choose a trip under the section "European Alps." If that section does not appear, we are not running tours in the Alps that month.

Climate Information

The Alps are an Alpine environment. These high mountain peaks create such a drastic divide in Europe that they largely determine the region's weather patterns. The mountains divide the European weather into a wet north and the dry south. This divide occurs as moisture is sucked out of the air as weather flows over the mountains.

When in the mountains themselves, you can expect severe weather, including a seasonal foehn wind. It is indeed an interesting region to explore as some valleys will be quite arid, while others receive extensive precipitation and occasional flooding. Much like other Alpine environments, the Alps themselves can be split into five climatic regions. Each climatic zone even has different vegetation. These diverse climate zones give the Alps a diverse array of flora and fauna.

It would be near impossible to break down the average temperatures of the Alps as it spans across such a large portion of central Europe. There are dramatic variations in elevation and general exposure that influence the temperatures and climate of a given area. The location, wind direction moving over the mountains, and passage of cyclonic storms all impact the daily weather.

One certain fact is that the valley areas will be warmer than high alpine trails as they are at a lower elevation and generally have less exposure to wind. When traveling to a specific region of the Alps, it is best to research that destination specifically for more accurate weather forecasting.
Trip Styles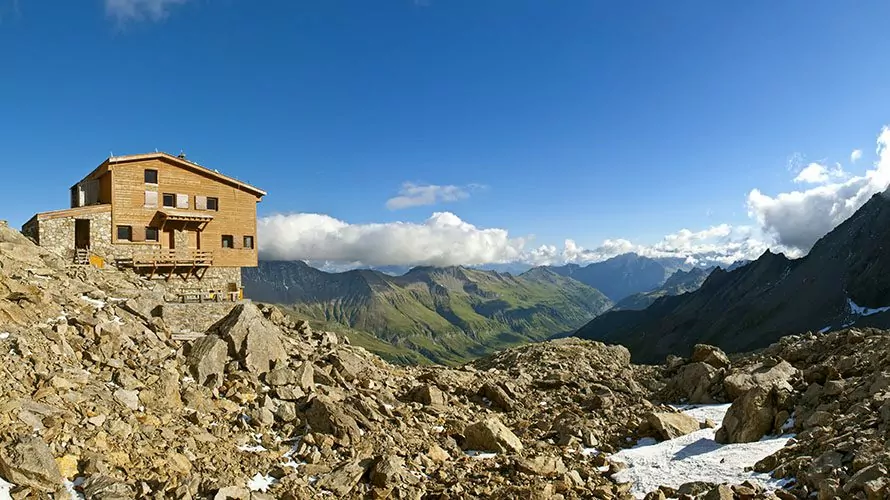 This Iconic adventure into the Mont Blanc range happens to be our #1 recommended Alps trip! The Tour du Mont Blanc leads you from France to Italy to Switzerland to provide a full perspective of landscapes. Beyond the towering mountain peaks and deep valleys, we will venture in and out of quaint alpine villages for a full taste of European culture, cuisine, and hospitality.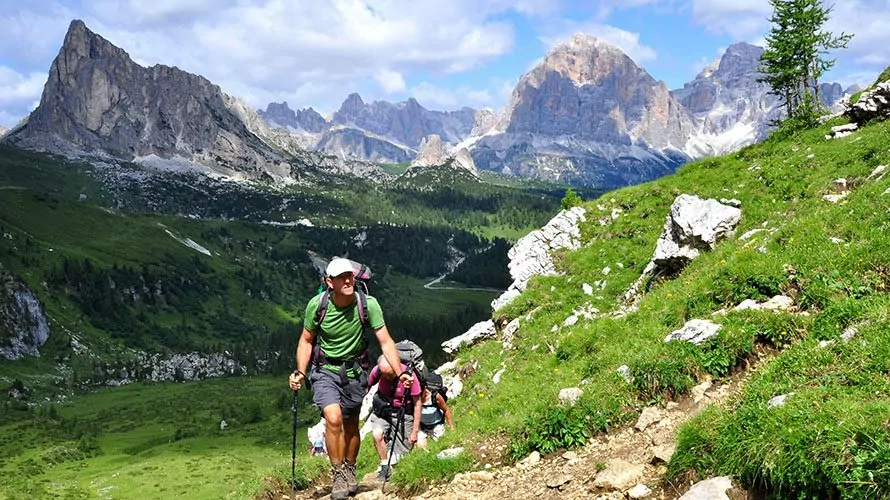 This exclusive tour focuses entirely on the Italian Dolomites, one of the most exciting and unforgettable mountain ranges in the world. The magic of this area in the Alps will surpass your imaginations with the uniquely shaped limestone features, pristine rivers, endless wildflower fields, and a surprising amount of wildlife. You'll almost believe that you're living a fairytale as we explore these mountain passes and villages.
Deeper Dive: Our Top Recommended Trips

Tour Du Mont Blanc: European Alps Inn-To-Inn Tour

Experience the beauty of the Alps across the expanse of Italy, France, and Switzerland in this Inn to Inn hiking tour. A fantastic 9-day trek spanning 51 miles (82 kilometers) in which you'll experience jaw-dropping views, magnificent glaciers, and picturesque villages.

Day 1

Arrive at Geneva International Airport, where your guide will pick you up and bring you to the village of Les Houches. Depending on the time of your arrival, a short guided walk around the village is a possibility. No matter the time your flight lands, we will have dinner ready at the hotel.

Day 2

Our first day of hiking will be a 7-mile trek into the Alps. You will ride an Alps cable car high into the mountains so we can traverse high above the Bionnassay Valley with views of Mont Blanc and a stunning alpine glacier. This first hike will come to an end as we descend switchbacks to reach our Les Contamines hotel and French cuisine.

Day 3

After breakfast and a short shuttle ride, we will begin the 9-mile journey over two high mountain passes to the Chapieux Valley. We'll take in the phenomenal surrounding summit views as we hike. We'll then hunker down for the night at an inn nestled into a classic mountain hamlet.

Day 4

This is the day we begin our 9.3-mile trek into Italy. You will hike over the Col de la Seigne to reach the Italian border. At the end of the day, we will take a short bus ride to reach our accommodations.

Day 5

Starting in Italy, we will end the day in Switzerland. Our 8-mile trek will lead us across the Grand Col Ferret mountain pass to arrive in the village of La Fouly, Switzerland. Another short shuttle and we've reached our lakeside lodging.

Day 6

Today will be a bit longer, and also the day you'll reach the highest point on the trek. We will cover a distance of 10 miles as we climb Fenêtre d'Arpette (2,750 m, 9022 ft), and descend beside the Trient glacier. The day will come to an end at a gorgeous mountain lodge.

Day 7

An 8-mile trek will lead us up and over Col de la Balme back into France. We will have views of Mont Blanc as we descend into our iconic French Alps village for some french cuisine and panoramic alpine views.

Day 8

On the final trekking day, we will travel 9 miles Balcon des Aiguilles Rouges ("Balcony over the Red Peaks") and then to Lac Blanc, one of the most iconic area hikes. The Lac Blanc hike features a gorgeous alpine lake with the mountain in its reflection. Not to mention, area wildlife such as ibex and marmot. The final lodging will be in a lovely inn quaintly situated in a mountainside hamlet.

Day 9

The last day with our guide will include breakfast, and then they will bring your back to the Geneva Airport.

The Italian Dolomites: European Alps Lodge-Based Tour

Enjoy a week exploring the Italian Dolomites mountain range along with exquisite European cuisine. The total trekking distance is 42 miles (68 kilometers) over seven days.

Day 1

The first day of the journey is a travel day. Your guide will meet you at the Venice International Airport at 3 pm. They will then take you to explore the alpine village of Cortina d'Ampezzo as they arrange food for the next week's journey. At 6 pm, you and your guide will head to Pocol, where you'll be staying for the next four nights. The first night features an exquisite Italian meal and a trip orientation from your guide.

Day 2

After breakfast and a short bus ride to the trailhead, the first hike is upon us. For a total of 6.2 miles, we will seek out the limestone cliffs of Averau, stone towers of Tofane, and the world-famous Cinque Torri. Lunch will be provided on the trail, and dinner will feature a charming local restaurant in Cortina d'Ampezzo.

Day 3

Another short bus ride to the trailhead, today's hike is a 6.5-mile trek on one of the Dolomite's most photographed trails. Hiking towards Lake of the Croda, where we will enjoy lunch, we will traverse alongside limestone cliffs. Once back at the hotel, we will relax and enjoy dinner with the Alps as our backdrop.

Day 4

The 6.5-mile trek begins after breakfast and a short bus ride. We will explore the mountain region opposite of the Cirque Torre by traversing along the southern face of Tofane de Rozes.

Day 5

After breakfast and packing our bags, we take a short bus ride to the accommodation overlooking Lake Misurina, where we will stay for the next two nights. Then, we will begin our 9.3-mile hike over the north-facing mountain pass of the towering Tre Cime. This peak is by far one of the most famous peaks in the Dolomites.

Day 6

Another breathtaking day of hiking will bring us 8.1 miles through the area surrounding Tre Chime di Lavaredo. With views of mountains previous climbed and breathtaking valleys, this hike is one of the best that the Italian Dolomites can offer.

Day 7

Our final day features a short 5-mile hike to the Fonda Savio Refuge for one last panoramic view of the Italian Dolomite region of the Alps. After returning to the hotel, your guide will bring you to either the Cortina Bus Station or the Venice International Airport.
Need to Know
Primary Departure Cities For The European Alps
Each of our Alps trip types will have a different primary city for arrival and departure. For either trip, a Wildland Trekking guide or representative will meet you at the airport and escort you to the scheduled lodging. To coordinate this pick-up, your guide will be in contact well before your trip start date. You will also need to provide a copy of your passport and flight information upon registration.
If you are planning extra travel time in Europe and arrive before the scheduled trip dates, we can provide you with the hotel name and location. You will need to arrive early enough at the hotel to be present for the trip orientation. Please call 800-715-HIKE (4453) for hotel information.
Tour du Mont Blanc
This tour will begin and end in Geneva, Switzerland. You will need to arrive no later than 3 pm, although we recommend arrival time at or before 2:30 pm to be on the safe side. As for post-trip departure time, anytime after 1 pm is excellent as there is no hiking scheduled for the final day of this trip.
The Italian Dolomites
This tour will begin and end in Venice, Italy. Your scheduled flight should arrive sometime before noon on your scheduled trip date. For post-trip departure, you should plan a flight anytime after 3 pm. There is a short hike planned for the final day of this trip, so plan accordingly.
Book in Advance
For all our Alps adventures, lodging and transportation are included during the length of your trip with us. If you plan on arriving earlier or staying later to enjoy more of Europe, you will need to make arrangements on your own.
International Flights
The price of your flight is not included in the cost of your trip with us. You will need to make all the flight arrangements on your own. We do provide scheduling guidelines to ensure you will be able to meet your guide on the appropriate date at the scheduled time.
We will also require that you send your flight information to us, or your guide, as a Wildland Trekking representative will meet you at the airport. This coordination allows us to track flights in case of a delay or travel change so we can adjust accordingly.
Additional Travel Considerations
All of your additional luggage can be stored in the originating hotel if needed. However, we do not take responsibility for your stored belongings, and you should do so at your own risk.
In the interest of your safety, we also recommend that you consult the Center for Disease Control website. You will be able to find up-to-date immunization requirements and recommendations before you embark on your international trip.
Deeper Dive: More Need to Know Info

Trip Insurance

Unlike many of our other Wildland Trekking trips, our European Alps treks have a trip insurance requirement in cooperation with our partnerships with European vendors. The insurance required on our Alps expeditions must cover field evacuation, repatriation, and medical insurance.

If you need to purchase the required insurance, we recommend IMG/iTravelinsured. For more detailed information about our Alps Insurance requirements, visit our Trip Insurance page or feel free to contact our trip insurance exclusive agent at [email protected]

If you already have insurance and do not wish to purchase the recommended IMG/iTravelinsured, be sure that you look over any policy exclusions and have a consultation so that your coverage meets our minimum requirements. You will need to provide proof of insurance during trip orientation to your assigned guide.

Packing List

When traveling internationally, it can be hard to decide what the essentials are, especially with an outdoor adventure-based trip. The weather in the Alps can be sporadic at times, so we encourage you to monitor the weather carefully leading up to your trip dates. Additionally, keep in mind that we won't be carrying all our gear on the lodge-based and inn-to-inn expeditions. This added benefit allows you to bring a few more clothing and gear options than you would on a backpacking trip.

What you bring may also be influenced by your length of stay. If you are coming strictly for the trip dates, then you won't need very versatile clothing options, outdoor wear will do. However, if you plan to extend your holiday before or after your trip dates, you may need to alter the packing list.

For your packing convenience, we have put together packing lists for all of our destinations. Visit our Packing Lists page and select the "European Alps" for our recommended gear and clothing for your Alps vacation. If you don't own gear or recommended clothing that we have listed on our packing list, check out our Online Gear/Apparel Store for access to the top of the line outdoor wear and equipment.

Conditioning

Wildland Trekking adventures are a trip of a lifetime. We do our best to bring you to wild places, but to do that, we have to cover a fair amount of ground. In our Alps tours, we offer unique lodge-based and inn-to-inn hiking experiences. While we aren't necessarily backpacking, we are still hiking daily for up to 10 miles at a time. This kind of vacation requires some planning beyond booking plane tickets and a packing list, and you should be preparing physically for the conditions of the trail.

We've put together some training and conditioning tips that will help you get the most out of your Alps trek. Read more on our Training Tips page.
Gallery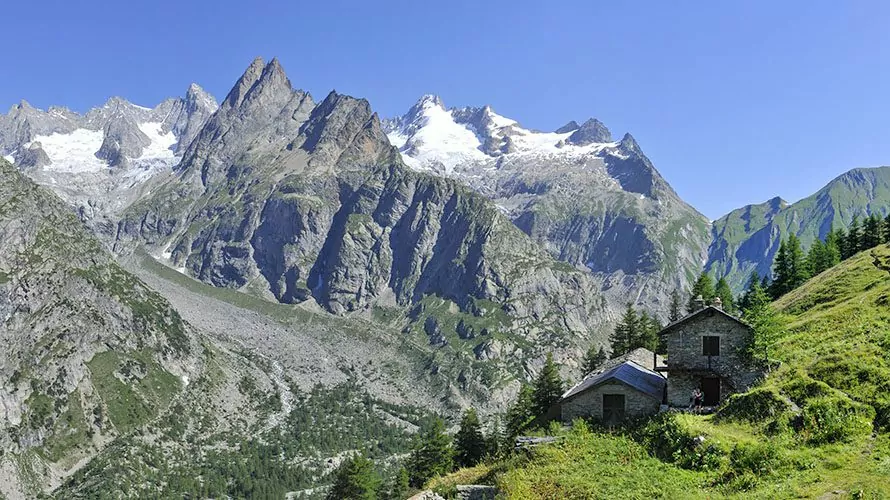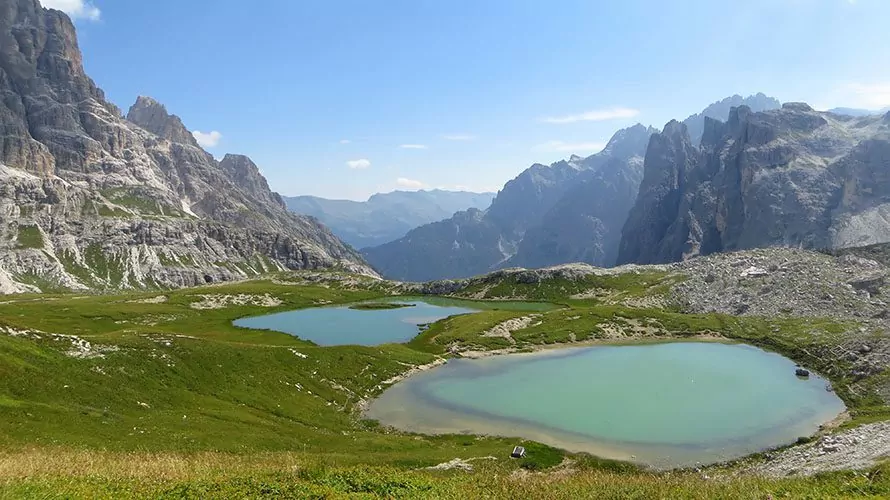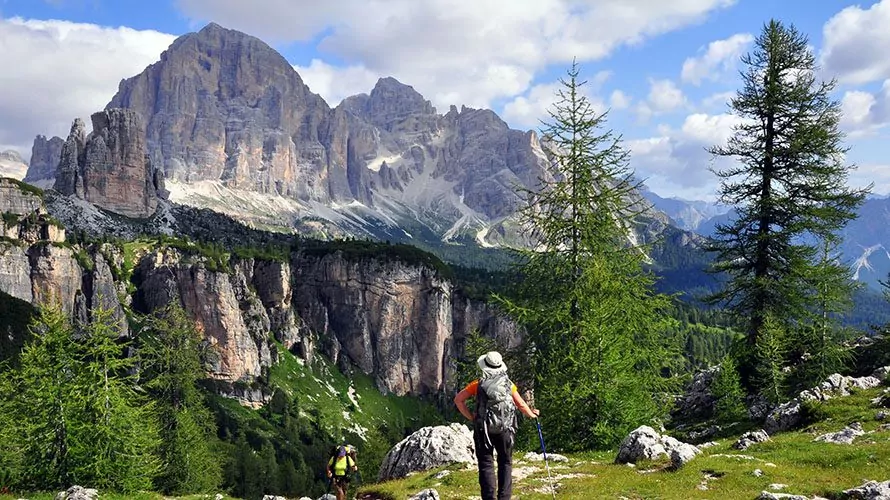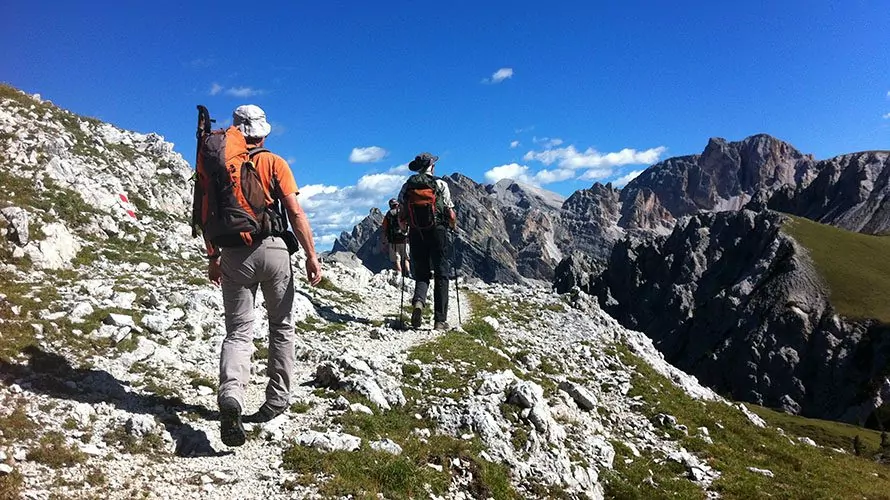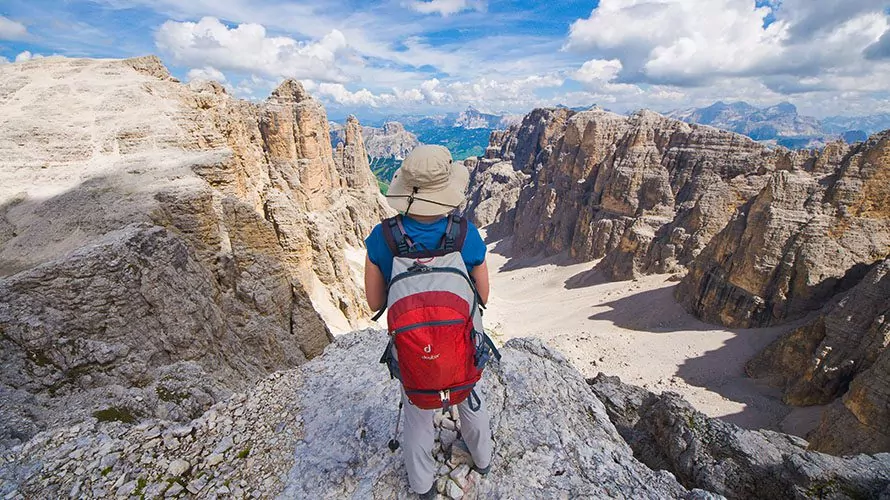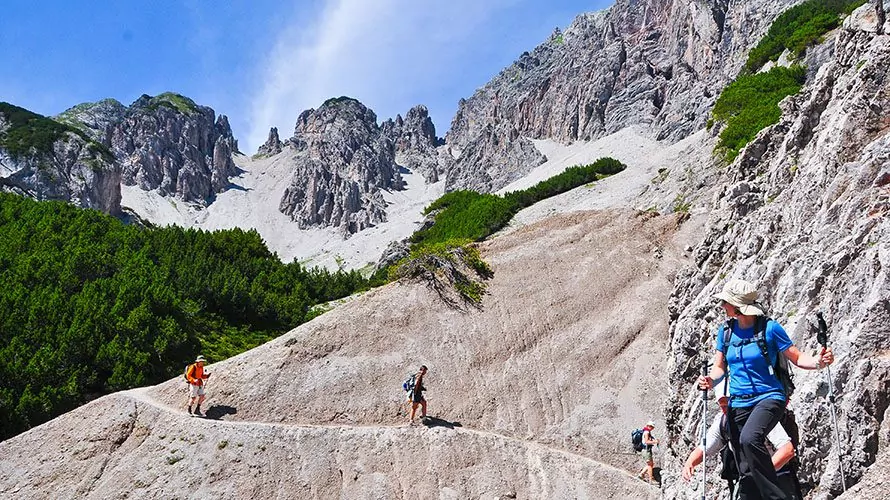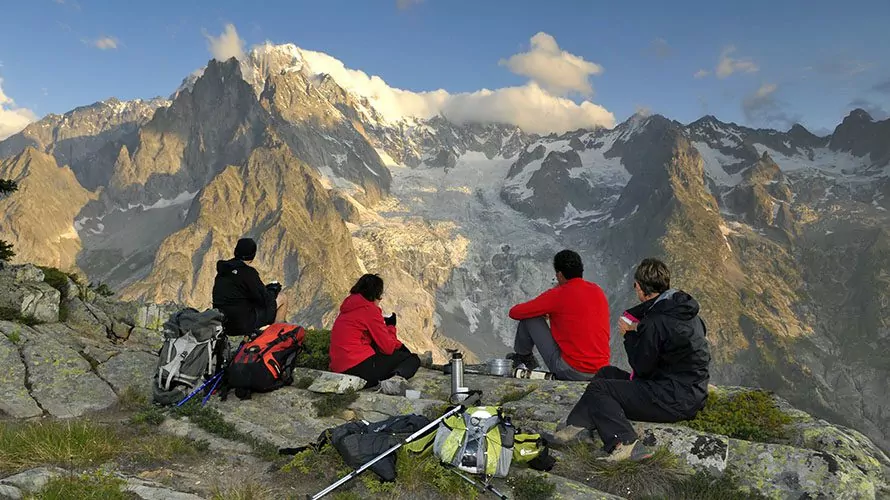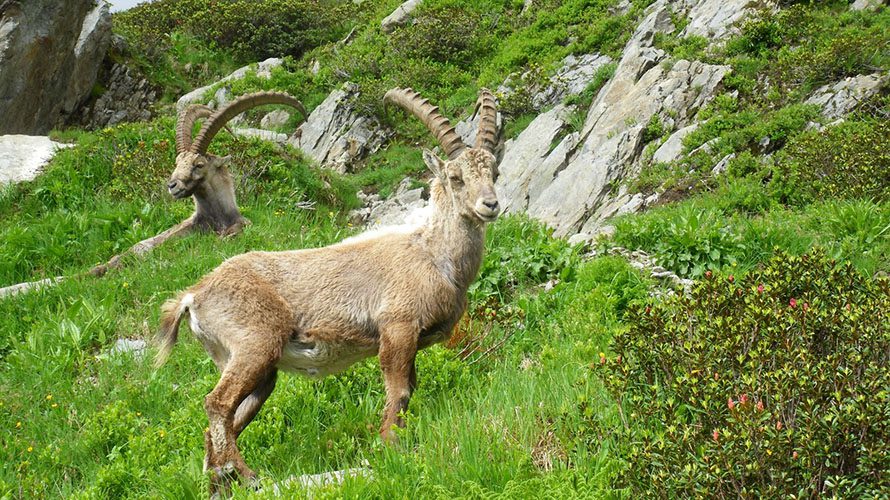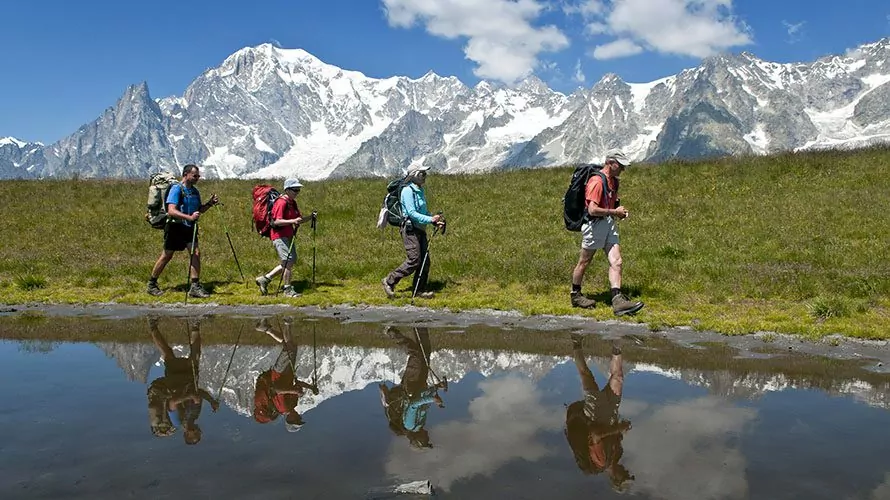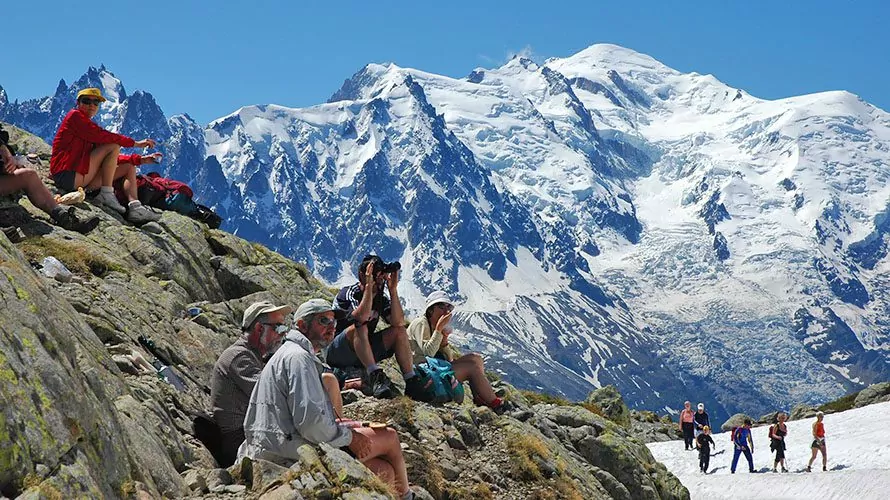 Have Questions?
Have more questions? Send us an email or call us at 800-715-HIKE (4453). We're here 7 days a week from 9:00 to 4:30 Mountain Time to make sure your trip planning goes as smoothly as possible
Trip Information
For more information about all your options, check out our European Alps page on the website with the button below! Individual trip pages have detailed itineraries, trip specifics, travel information, and more.