Explore The Eastern Sierra Nevada Mountains With Wildland Trekking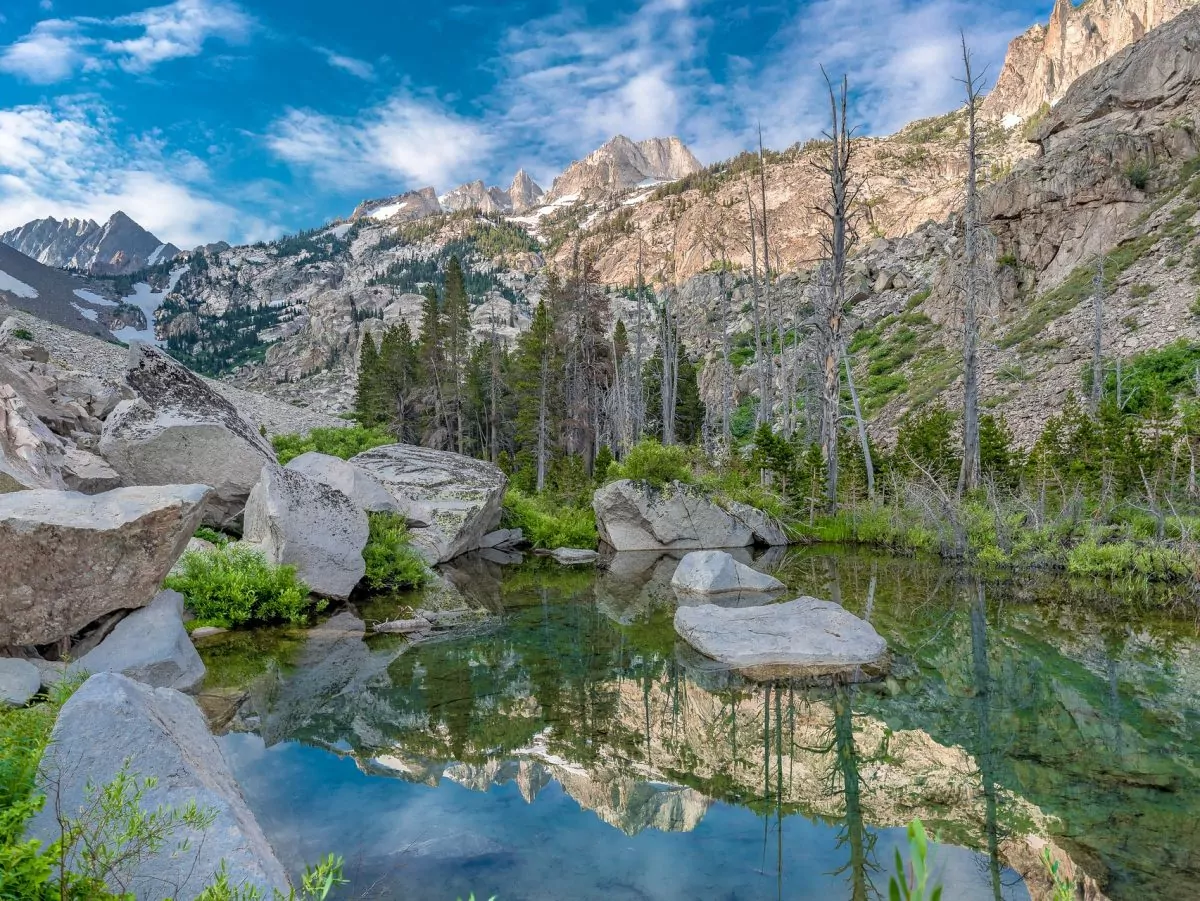 The Eastern side of California's Sierra Nevada mountain range will give you a taste of Yosemite National Park, without having to deal with the immense crowds. The Eastern Sierras scenery is incomparable to any other mountains in the world, mixing unique desert valley vistas with a full alpine experience. This rugged and magnificent terrain stretches from Lone Pine in the south all the way to the northern Nevada border. If you're looking for some of the best hiking in the country, you can't go wrong with an Eastern Sierras backpacking trip.
The Eastern Sierra region offers a wide array of scenery, including major ski areas, beautiful lakes, Bodie Ghost Town, and of course, plenty of trails for hiking and backpacking. One of the most notable peaks in the area is Mount Whitney, the highest peak in the contiguous United States. The unique area's landscape introduces you to 14,000-foot summits descending to fields of sage and limestone columns surrounding ancient alkaline lakes.
Venturing outside of the Yosemite National Park borders, you will have a chance to escape crowded highways and trails to experience the Sierras more intimately than ever before. You will have no shortage of activities to choose from in this area. Year-round recreation is available in the Eastern Sierra region, including world-class rock climbing, mountaineering, backpacking, hot springs, fishing, and winter sports recreation.
When To Go
Although the Eastern side of the Sierra Nevada Mountain range offers year-round outdoor recreation and tourism, Wildland Trekking's main travel focus in the area is backpacking. Hiking and backpacking are primarily warm-weather activities, and the Spring, Summer, and Fall in this region are perfect for this type of adventure. Our "When to Go" section will, therefore, focus on the best times of the year for warm-weather activities, not winter sports.
When you visit the Eastern Sierras, the time of year that you visit will largely depend on what activities you enjoy. You will also want to consider the temperatures you prefer and the sites you want to see. Our overview will detail the times of year that have the highest concentration of visitors, but the shoulder season and low season may be preferable for your travel needs, depending on your activity and desired temperature.
High Season
June-August (Summer) is the most popular time of year to be in the Sierra Nevada Mountain Range. The great daytime temperatures make the Sierras an excellent environment for summer backpacking trips or day hiking excursions. Even in the valleys, the temperature rarely gets above 90 degrees Fahrenheit. Average temperatures vary from month to month, starting a bit cooler in June and then reaching summer highs mid-July through August. From May to August, alpine average highs climb from 60 degrees to 80 degrees Fahrenheit. So, the later in the summertime that you come, the warmer it will be in the alpine environment.
Early in the summer, even into June, snow is a possibility on the higher mountain trails. The rate of the snowmelt off of these higher trails will change every year, but once the snow is gone, you can expect rain showers throughout the rest of the summer.
As this is a high mountain environment, the weather can change quickly, making temperatures hard to gauge correctly. Sudden shifts in weather conditions and temperatures can be an exciting part of a mountain trek, but only if you are prepared for them! We will get into how to pack and prepare for a Sierra backpacking trek later in this article.
Shoulder Season
September-November (Autumn) can also be a pleasant time of year to visit the Eastern Sierra Mountains. With temperatures similar to that of the summer season, Autumn is also a popular time of year to venture into the region. In the valleys, the average high sits between 70-80 degrees Fahrenheit until November, when it will gradually become colder until the mid-50s are the norm.
Since backpacking and hiking are the main focus, visitors participating in these activities will enjoy fantastic fall colors and vistas. Hiking up in the alpine, you should expect and prepare for cooler temperatures. Most of September will be in the 70s, and as the Fall season progresses, the temperatures will become colder. October will sit in the mid-60s for an average mid-day temperature. Then, moving into November, and you can expect highs in the 50s.
Many rock climbers enjoy the crisp Fall air, and an influx of climbers may occur during September and October. While their locations of interest are somewhat isolated to certain parts of the mountain range, you can expect some parts of the Eastern Sierras to be busier in the Fall due to prime climbing conditions. During September and October, you can also expect the easily accessible lakes to continue hosting large crowds, as many visitors enjoy the view of changing leaves and mountain reflections in the water.
Although thunderstorms are more frequent throughout the summer, sudden changes in weather are not uncommon this time of year. Usually, storms in the Fall do not last very long, but they will deliver sudden drops in temperature.
winter and early spring
While December-May (Winter/Spring) are somewhat unpopular for warm-weather sports, that does not mean that the Eastern Sierra Mountains see a lower visitor count overall. The Eastern Sierras are well-known for their fantastic winter weather conditions and, more specifically, their backcountry skiing and snowboarding. Many winter sports enthusiasts flock to the Eastern Sierras throughout the winter months and, depending on the year, during the early Spring as well.
It is not uncommon for snow to remain in high elevation locations into the first few weeks of June. However, the valleys do warm up as spring arrives and will present an array of tree blossoms and wildflowers. Spring can, therefore, be a lovely time of year if you plan on staying in the valley regions. In May, the average high in most valley regions will sit in the mid-70s, making outdoor activities very accessible.
Spring is not quite as popular as Summer and Fall due to the unpredictability of the snow and temperature conditions. May can be a safer month as it is near the end of the Spring season, but many folks looking to hike in the area will not be able to access many of the higher alpine trails until June.
Deeper Dive: More About When to Visit

Trip Dates

As our Eastern Sierra trips are primarily focused on hiking and backpacking, we run our tours during the times of the year that are the most suitable for warm-weather activities. Namely July through September.

If you are thinking about joining a backpacking adventure in the Eastern Sierra mountains, pick the time of year that works best for you. Then, check out the individual trip pages and scroll down to the "trip dates" tab. Under that tab, you will be able to see the available dates for that specific excursion for the next two years.

If you don't find the date you're looking for under that menu, you can always check our other Eastern Sierra trip options and schedules to find an adventure that suits your schedule. Alternatively, you may also review our Trip Dates Page. This page allows you to search by month. Once you select a month, the page will list all our Wildland Trekking trip locations that can be visited during that timeframe. If you do not see the Eastern Sierras listed under California, then we are not running a trip that month.

For more questions about when to visit or if there is a trip date you want but can't find, call us at 1-800-715-HIKE (4453). We may be able to add new trip dates to fit your travel needs better.

Climate Information

The Eastern Sierra's are a high mountain environment. The Sierra Nevada Mountain Range sits between the Central Valley of California and the Great Basin region of Nevada. The Mediterranean climate of California dramatically influences the entire ecosystem of the mountain range. This climate is characterized by dry summers and mild but wet winters.

The Eastern side of the Sierra range usually receives less precipitation per year than the Western slopes. Afternoon thunderstorms are frequent throughout the summer, especially near the end of the summer during monsoon season. Monsoons bring on heavy rains in short periods and can cause flooding in isolated low-lying areas. Lightning strikes, depending on location, have also been known to start fires during the summer months.

Although the winters are considered to be mild, the mountains see a high level of the annual snowpack. This high snowfall makes the region suitable for winter sports. The snow also provides a significant amount of electric power generation in California. There have been many reservoirs constructed in the Sierra Mountain Range in the 20th century that provide water for agricultural purposes as well as urban areas in California.

The Sierra Nevada Mountains stretch across the state of California for about 400 miles north to south and 70 miles east to west. This wide landmass creates a vast barrier between the Central Valley and the Great Basin. Due to their size, the mountains then cast a rain shadow over the Great Basin. This climatic phenomenon creates a dry area on the leeward side of the mountains and is one of the reasons why Nevada is such a dry state.

Weather Forcast

The previously mentioned rain shadow also creates dramatically different ecosystems on either side of the mountain range. Overall, the weather in the Sierras is a hard one for scientists to predict. The weather changes spontaneously and drastically each year bringing more or less precipitation than expected in the various regions of the area. Climate change has also impacted the area's weather, making some seasonal changes vary.

We highly recommend that you consult the region's weather forecast regularly leading up to your adventure. Doing so will allow you to customize your packing list to fall in line with the expected weather, and give you time to mentally prepare for any wet or otherwise inclement weather.
Trip Styles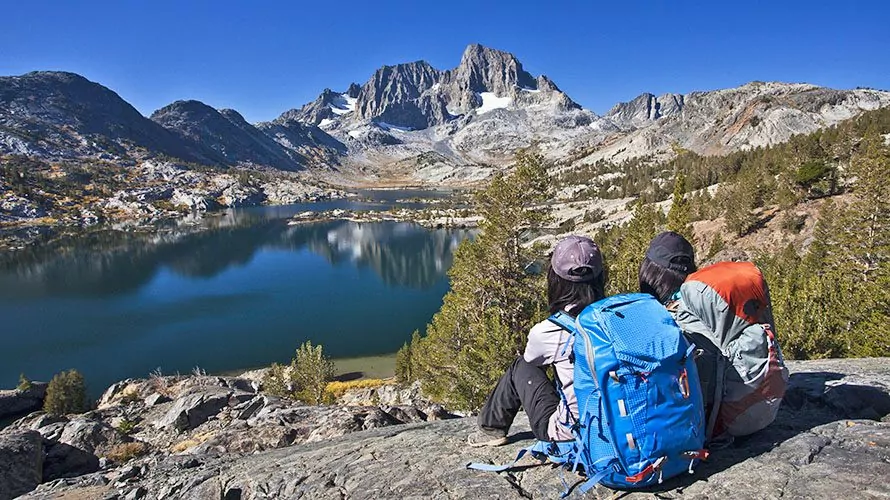 Come dive into the wonder and wilderness of the Sierras with a backpacking trip. Our hikes will take us to awe-inspiring vistas, beautiful lakes, and peaceful forests. We'll set up camp every night and enjoy a delicious guide-prepared meal as we bask in the alpenglow. During the day, we'll continue hiking and exploring as we move towards that night's new campsite. What's more, our Eastern Sierras backpacking trips will share certain segments with the famous John Muir Trail, the Pacific Crest Trail, or both! These trips all include a professional and knowledgable guide, all meals and snacks, and most of the camping equipment you'll need.
Deeper Dive: Our Top Recommended Trip

Thousand Island Lakes: Our #1 Recommended Eastern Sierras Trip

Venture deep into the solitary trails of the Eastern Sierra's on this six-day backpacking trek. You will have a chance to follow sections of the famous Pacific Crest Trail and the John Muir Trail. We will spend our days hiking through unforgettable parts of the lesser-known Inyo National Forest and our nights camping along the banks of Thousand Island Lake.

This trek, in particular, covers a variable array of terrain. There will be a significant amount of elevation gain and loss throughout the hike as well as steep, mountainous trails. While some of the hiking will be on trails, there will be sections of off-trail hiking. The daily hiking distance will be between 5-10 miles, and travelers will have to hike while carrying packs weighing up to 40 pounds. Being in good physical condition is recommended for this trek.

Trip Highlights: 

Camp with views of Mount Ritter and Banner
Explore the region's largest lakes
Experience serenity of the Sierra's in Inyo National Forest
Hike a portion of the Pacific Crest Trail
Spend two nights at Thousand Island Lake

Learn more and book your Thousand Island Lake trip today!
Need to Know
We'll take care of all the details during your trip – from transportation to food. However, you'll need to arrange all your travel and lodging reservations prior to our trip departure time. Let's take a look at some helpful information to help you make these arrangements.
Primary Departure Point For The Eastern Sierra
All our trip options will start and end at the Mobile Station in Lee Vining, CA. This iconic gas station is located on the corner of Highways 395 and 120, past the east entrance of Yosemite National Park.
Primary gateway cities for the Eastern Sierras will be similar to that of our Yosemite trips. The cities in California that we recommend include Fresno, Bakersfield, Merced, Sacramento, Oakland, San Francisco, San Jose, and Visalia. Other common gateway cities for the Eastern Sierras include Reno and Las Vegas, NV.
You can also elect to stay in Yosemite National Park pre and post-trip as there is lodging available there. However, keep in mind that Yosemite is substantially more busy than the Eastern Sierra region. Your other lodging option is to book accommodation in your gateway city and then travel to the meeting point on the first day of the trip.
Book in Advance
Once you have your trip dates confirmed with us, you can go ahead and make arrangements for pre/post-trip lodging as well as transportation. Transportation to and from the meeting point will be up to your personal preference. You can choose to drive a personal vehicle if you're not flying. Otherwise, if you do fly into a gateway city, you can rent a car. There are also shuttles to Yosemite, an Amtrak network, and the YART bus system.
As you will be camping throughout your Eastern Sierra trip, you may also decide to camp before and after your trip dates. There are several free camping options in the area. Otherwise, there are several paid campgrounds available near our starting point.
If you would rather have a bed to sleep in pre- and post-trip, you should arrange lodging in advance. Staying in a hotel can also give you the option of bringing more items than just your backpacking pack. Many hotels in the area allow guests to store their luggage throughout the length of their backpacking trip.
General Travel Advice
Before you book any additional transportation and lodging, be sure that you have received confirmation dates from Wildland Trekking for your trip. Once your dates are confirmed, then you should proceed to plan your pre and post-trip ventures.
We recommend that you plan all flights and drive times with a buffer of at least one day before and after your trip dates. Our expert guides do their very best to ensure that all trips start and end according to the planned schedule, but delays happen. We wouldn't want you to miss your flight home because we're late getting off the trail, or miss your adventure altogether due to an arriving flight delay or vehicle issues. In most cases, tours will begin between 5 and 8 am and end before 5 pm. These times will vary according to weather and road conditions.
For more information and travel resources specific to your Eastern Sierra trip choice, go to the trip's webpage and select the "logistics" tab. This section of the webpage will provide more detailed information regarding flights, shuttles, and lodging in the area.
Once you've successfully booked your trip with us, you will also receive a trip packet with details on meeting locations, orientation, itinerary, packing lists, and more.
If you have any other questions, feel free to contact us at 1-800-715-HIKE (4453).
Deeper Dive: More Need to Know Info

Trip Insurance

Wildland Trekking trips are active, adventure vacations. This means that something as minor as a twisted ankle or head cold can get in the way of you being able to complete your trip. Minor inconveniences like these can not only hold up your travel plans, but they can give you financial grief as well.

Life's natural way of bringing forth unpredictable challenges is the reason why we recommend trip insurance. Our trip insurance not only pays for the cost of your trip with us, but it will also cover the cost of transportation and lodging. So, even if you can't make it this time, at least you'll have the money back to book a new adventure later on down the line!

Visit our Trip Insurance Page for more information.

Packing List

Depending on the time of year and the type of trip you decide to book with Wildland Trekking, you will need to consider what items you plan to bring on the trip. We have put together several generalized location-specific packing lists that you can use as a guide. Once you have your trip packet from us, there will be a more detailed guide for what to pack.

One thing to keep in mind is that the weather can change quickly in the Sierra Nevada Mountains. Keep track of the weather leading up to your trip dates and always come prepared for potentially inclement weather. Remember, we rarely cancel trips due to weather, so be prepared for whatever the forecast predicts!

Conditioning

To get the most out of our Eastern Sierras backpacking adventure, we recommend being in good physical condition when you arrive. This will not only allow you to enjoy each day of the trip more fully, but it can help prevent injuries along the way.

Ideally, you will have several months to prepare for your trip and should work up to exercising multiple times a week (at least 4 days a week). Participate in aerobic exercises as well as strength training and stretches.

For more information about our physical conditioning, visit our Training Tips page or call us at 1-800-715-HIKE (4453).
Gallery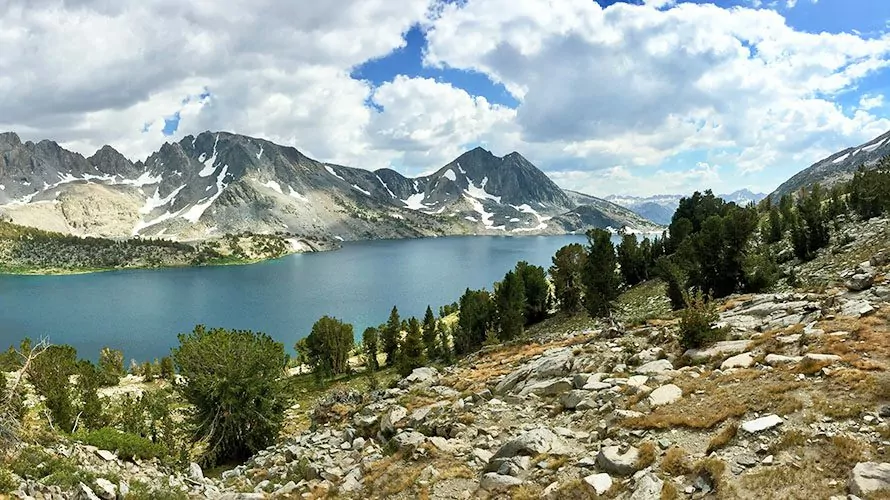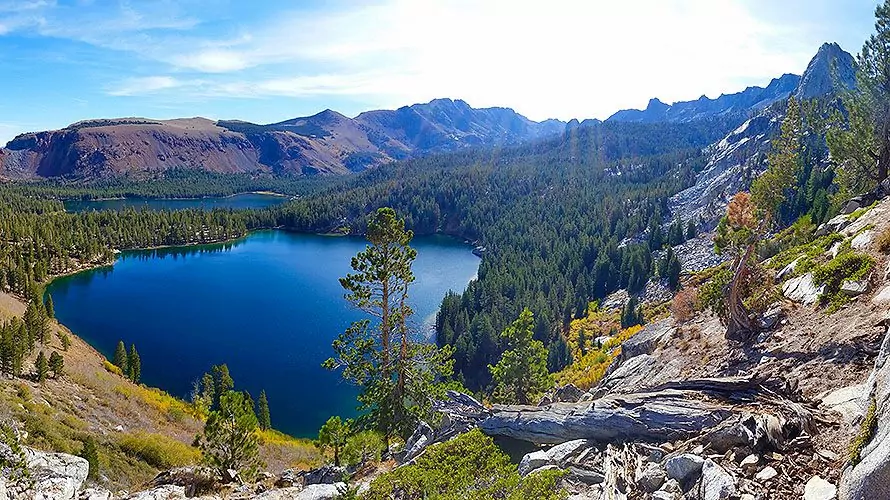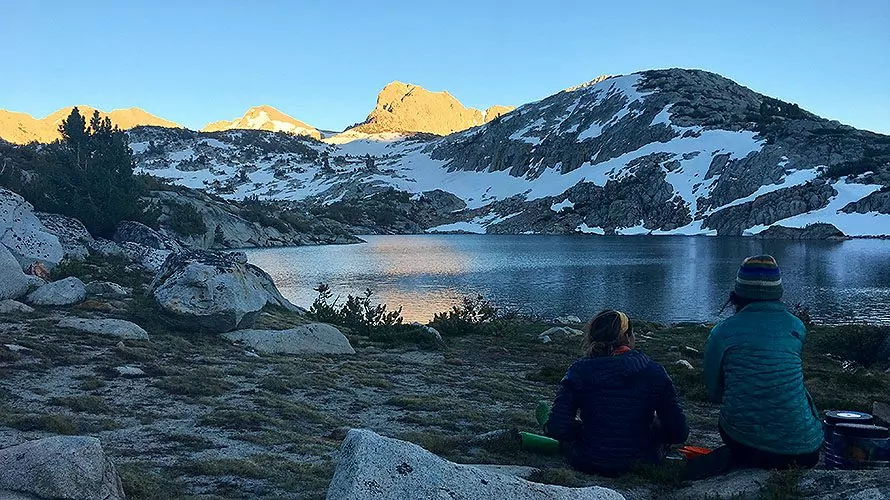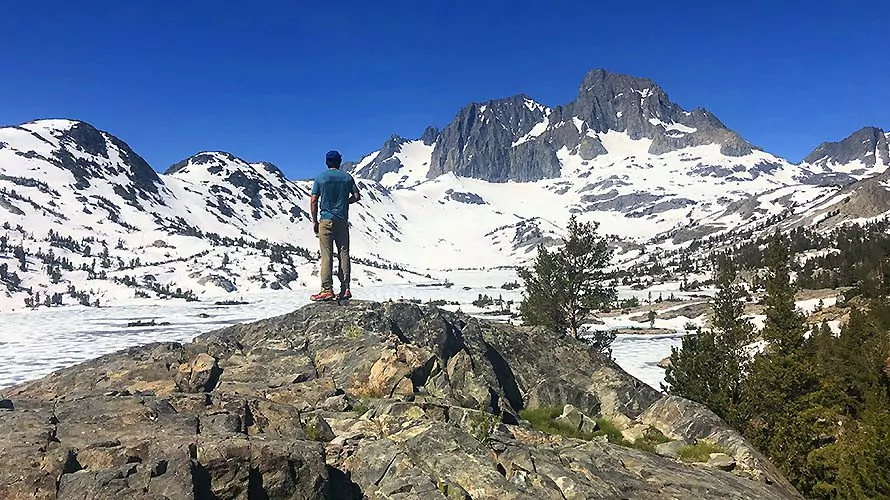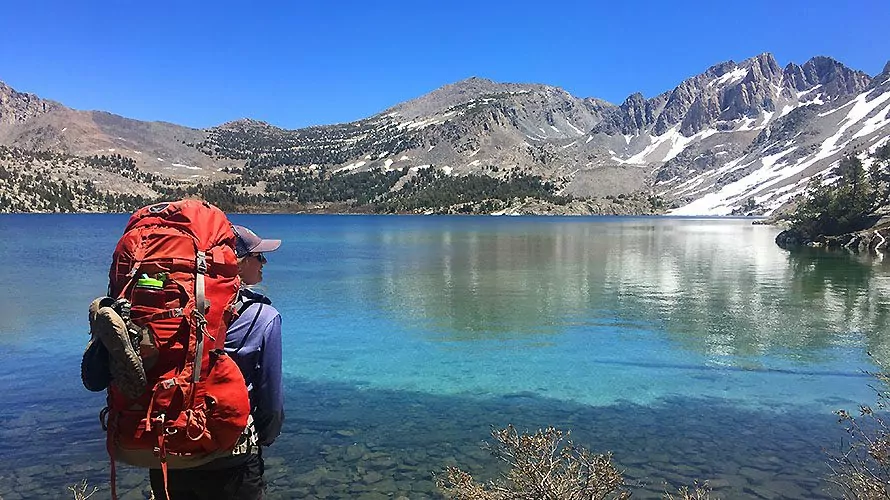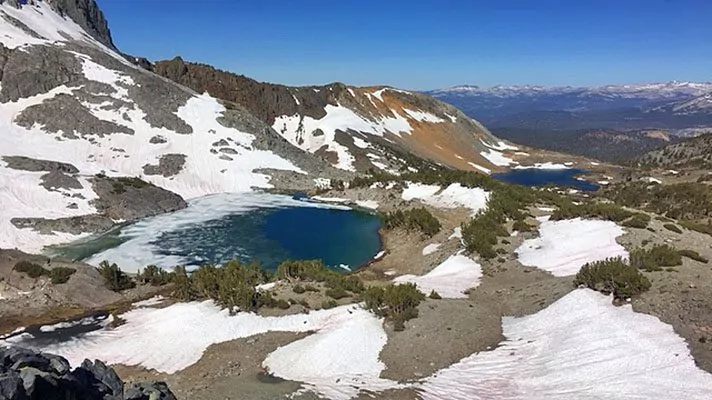 Have Questions?
Have more questions? Send us an email or call us at 1-800-715-HIKE(4453). We're here 7 days a week from 9:00 to 4:30 Mountain Time to make sure your trip planning goes as smoothly as possible.
Trip Information
For more information about all your options, check out our Eastern Sierras page on the website with the button below! Individual trip pages have detailed itineraries, trip specifics, travel information, and more.