Explore Sequoia & Kings Canyon National Parks With Wildland Trekking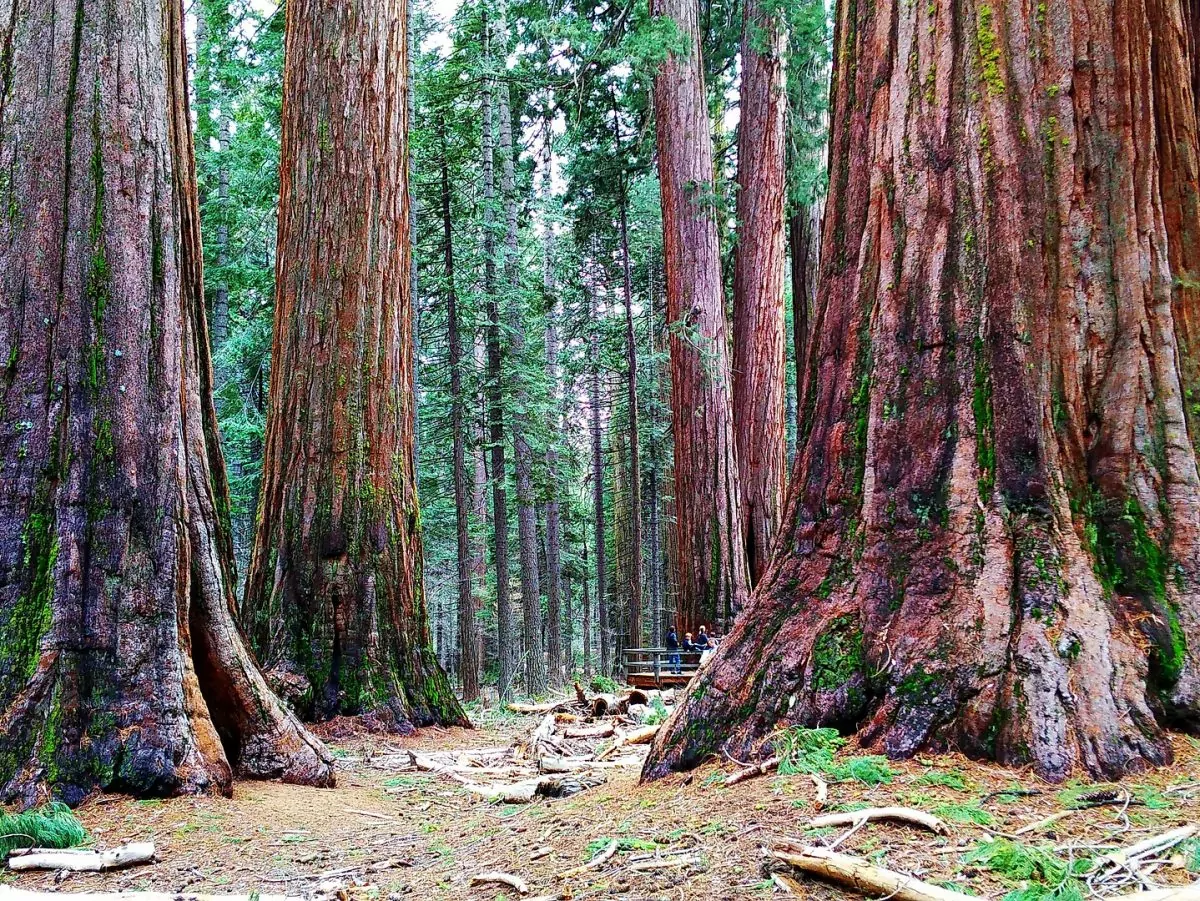 Located in the southern end of the Sierra Nevada Mountain Range of California lies the awe-inspiring Sequoia-Kings Canyon National Parks. Encompassing nearly half of the north-south distance of California, the Sierras span a vast array of terrain. But the very best of what the Sierras have to offer can be found right here in Sequoia-Kings Canyon.
Appropriately referred to as "The Range of Light," the Sierras are home to glistening high mountain lakes nestled under sparkling granite peaks. You'll find rumbling waterfalls whose rivers flow into deep groves of giant Sequoia trees, and excellent wildlife habitat everywhere you look. Sequoia-Kings Canyon National Park offers what some consider to be some of the best remote backpacking in the Sierras and is home to one of the largest groves of Sequoia Trees and the highest mountain in the lower 48 states, Mt. Whitney.
Come be inspired by two of America's oldest national parks. Together, Sequoia and Kings Canyon cover 1,353 square miles, 97% of which is an established wilderness area, leaving you ample room and opportunity to explore and adventure in a beautiful landscape. Our trips take you from the humbling tree forests into the jaw-drawing alpine of the Sierras, providing gear, meals, and a professional guide.
About the Park and When To Go
This beautiful area spans two adjacent parks connected by Grant Grove and Cedar Grove, home to the Giant Sequoia trees. These parks, Sequoia Park and Kings Canyon Park, are managed together by the National Park Service to create Sequoia-Kings Canyon National Parks.
Sequoia Park is named after the largest individual trees in the world, the Sequoiadendron Giganteum, commonly known as the Giant Sequoia Tree. These trees can live to be over 3,000 years old, with the tallest of them growing to be 275ft high. Two must-see trees in Sequoia-Kings National Park are the General Sherman and General Grant Trees – the two tallest trees in the park. Just imagine what these trees have seen and what has passed by them over 3,000 years. These are trees of (pre)historic proportions!
The second park, Kings Canyon National Park, is named after a deep, glacially-carved canyon where the King River flows. This canyon is one of the deepest canyons in the United States, rivaling the Grand Canyon. Kings Canyon plummets over one mile straight down, creating steep vertical terrain that looks rugged and wild in sharp contrast with the beautiful vegetation near its riverbeds. These sights will leave your hearts full and jaws dropped.
The weather in Sequoia-Kings Canyon National Parks varies throughout the year. From summer hikes amongst the granite peaks to snowshoeing in a winter wonderland under the snow-covered Sequoias, there is something for everyone. To get the most out of your trip, it's essential to consider where in the park you want to visit along with seasonal weather patterns.
High Season
Summer, from Mid-June to late August, is the most popular time to visit the parks. This period is when the weather is most stable, and most of the park is accessible.  The days are long, providing you with plenty of sunlight to adventure all day and enjoy everything the parks have to offer. You can experience a range of temperatures depending on where you are in terrain and elevation. Be sure to check out any campfire restrictions as some areas may become dry and hot over these months. The park service works hard to create healthy prescribed fires and keep travelers up-to-date on any wildfires or prescribed fires that may occur in the area. We recommend signing up for email updates from the Park Service if you plan on visiting.
During the high season, some parts of the region may be hot. The Sequoia trees offer comfortable shade from the sun, but you can expect direct sun exposure and a wide range of temperatures as you climb higher. Temperatures can vary from the 40s at night into the 70s during the day. This high season is also the parks' driest time, but you may encounter the occasional evening thunderstorm, so always be prepared!
Shoulder Season
The autumn – September to Late October – and Spring – April to June – offer cooler temperatures, unpredictable weather, and less access to park areas. You may have snowfall beginning in early autumn and lasting until the spring melt creates fast-moving creeks and rivers. Temperatures in the shoulder seasons span from highs in the 50s and 60s degrees Fahrenheit to lows in the 30s and 40s. Due to the variety in temperatures during the shoulder seasons, it is best to be prepared and bring plenty of layers.
There are certainly some benefits to shoulder seasons, however. Many hikers and adventurers look forward to the reduced traffic and fewer crowds at the park. If the timing is right, the shoulder season explorer can also bask in the joy of viewing wildflowers in the spring and changing colors in the autumn. For some, this is a preferred way to experience the park.
Low Season
The low season in the park generally spans from November to the end of March. This period can change year to year, depending on temperature and snow conditions. During this time, roads may be closed, tire chains required, and some facilities and services may not be available in some areas of the park. This winter season is also the time of year that the park experiences the most precipitation – ranging from rain, to low hanging fog, to snow. The temperatures typically range from highs in the 40s degrees Fahrenheit to lows in the 20s.
The perks of winter include unique opportunities to ski and snowshoe amongst the Sequoias. As March approaches, you may also be able to enjoy wildflowers this time of year and enjoy cooler hiking temperatures at lower elevations. Solitude is abundant and you'll be sure to experience the quiet and serene nature of this park!
Trip Styles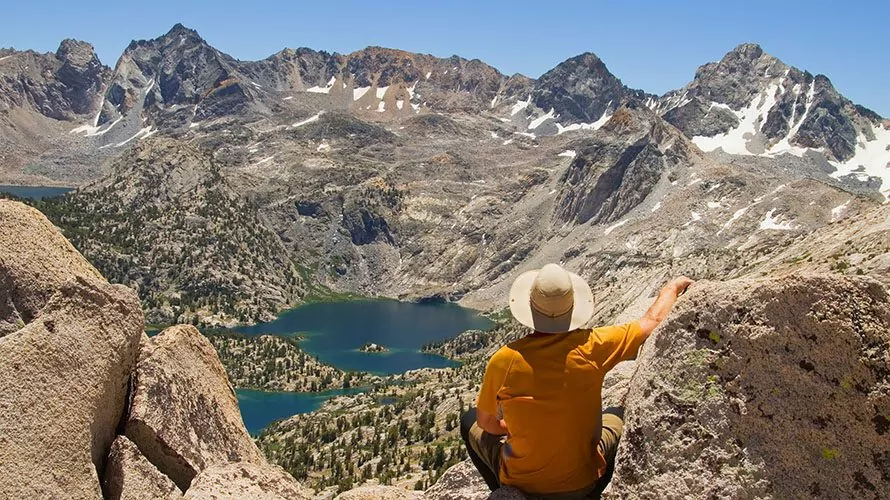 If solitude and variety are what you are looking for, you'll be sure to find it while exploring the beautiful alpine terrain of the High Sierras and the Great Forest of Sequoia trees in Sequoia-King Canyon Parks on one of our backpacking trips. Trip options are available throughout the beautiful summer months and into early autumn and include spectacular views, delicious guide-prepared meals, and an unforgettable experience. Trust us; nothing compares with the majesty of these towering trees and mountain peaks.
Deeper Dive: Our Top Recommended Trips

Rae Lakes Loop: Our #1 Recommended Sequoia-Kings Trip

The challenge and scenery provided on the Rae Lakes Loop make it our number one recommended backpacking trip in the Sequoia-Kings Canyon National Parks. Climb from the forests past pyramid-like peaks and gushing waterfalls. Enter John Muir's high sierra environment and cross paths with the famous John Muir Trail. We'll pass by many pristine lakes and streams during our journey that are perfect for fly fishing or a cool post-hike dip.

Your tired muscles and content adventuring soul will be ready for a good night's rest under the towering peaks and star-filled sky. This trip is the perfect mix of work and relaxation. On your rest day, you can enjoy camp or push yourself to hike to the top of Cotter Peak, where you will be rewarded with astonishing, panoramic views. Just picture the beautiful peaks basking in the cotton candy colors of a mountain sunset.

Trip Highlights:

Pristine alpine lakes, rivers, streams
Campsites with jaw-dropping views
A layover day to explore the alpine, find some marmots or pika, and more!
Climb to astonishing vistas overlooking beautiful mountain passes and valleys

Learn more and book your Rae Lakes Loop trip today!
Need to Know
While we're happy to cover all logistics during your adventure, there are still a few items you'll need to schedule and reserve before leaving for your epic Sequoia-Kings Canyon trip.
Primary Departure Point For Sequoia-Kings
The primary departure city for the Sequoia-Kings Canyon is Fresno, CA. Many major airlines service this city, providing ample options for easy travel arrangements. Rental cars and other transportation options may be available for your convenience to get to our rendezvous destination.
Book in Advance
The prime travel season for the Sequoia-Kings Canyon area is relatively short, meaning that trips fill up fast. Therefore, we highly recommend that you reserve your hotel and flights as soon as possible after confirming your tour with Wildland. This early booking will ensure you get what you need and not have to scramble for reservations at the last moment.
Keep in mind that planning ahead also gives you time to prepare your mind and body for the physical demands of an epic hiking trip in the mountains. You can also use this time to identify items you may need to buy, borrow, or rent for the trip.
Lodging
The recommended lodging for all our trips to Sequoia-Kings National Parks is the Wyndham Garden Hotel in Fresno, CA. Arriving early is advised as there is an orientation meeting beginning at 5:00 p.m. the day before your trip departure. Our guides will contact you approximately two weeks before your tour to confirm your meeting time and location. If you choose to stay at this recommend hotel, you can arrange to store extra luggage and park your car for the duration of your trip.
Transportation
Travel for our Wildland Trekking trips in Sequoia-Kings Canyon National Parks is thankfully very straightforward. The local Fresno airport offers car rentals for flexibility and convenience. Uber and taxis also service the airport for quick transportation to your hotel. If you're staying at the recommend Wyndham Garden Hotel – where your hiking tour will begin and end – all your transportation from the trip start to finish is covered. However, if you're staying at a different hotel, you will need to discuss a rendezvous with your guide and be prepared to arrange transportation to the arranged meeting place.
Gallery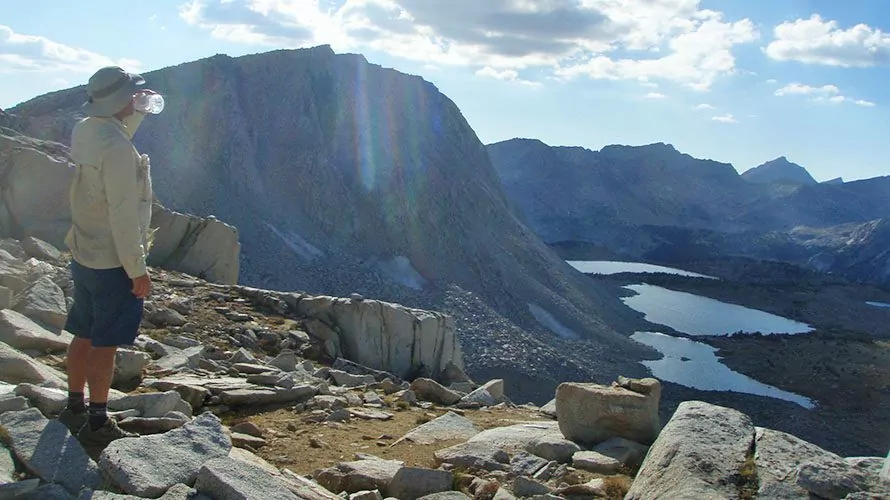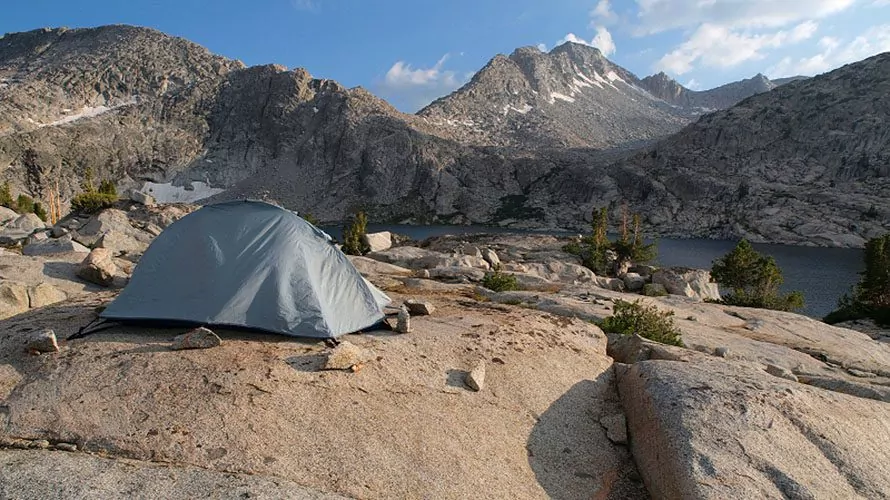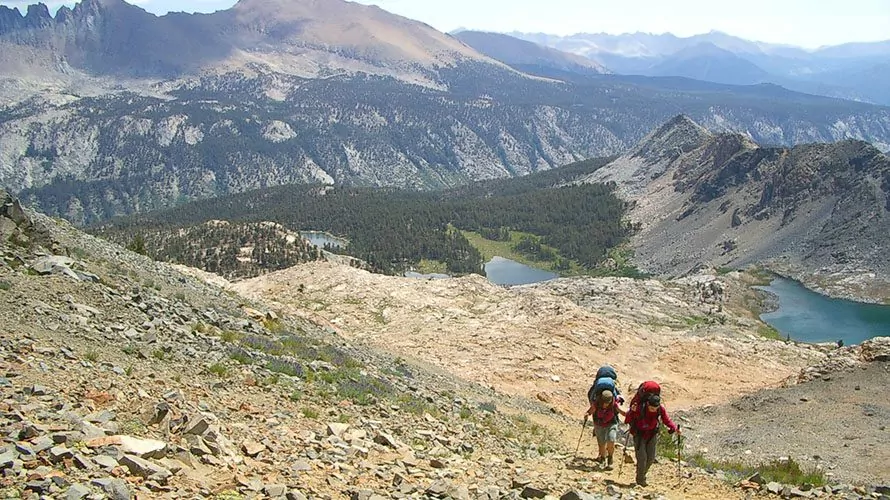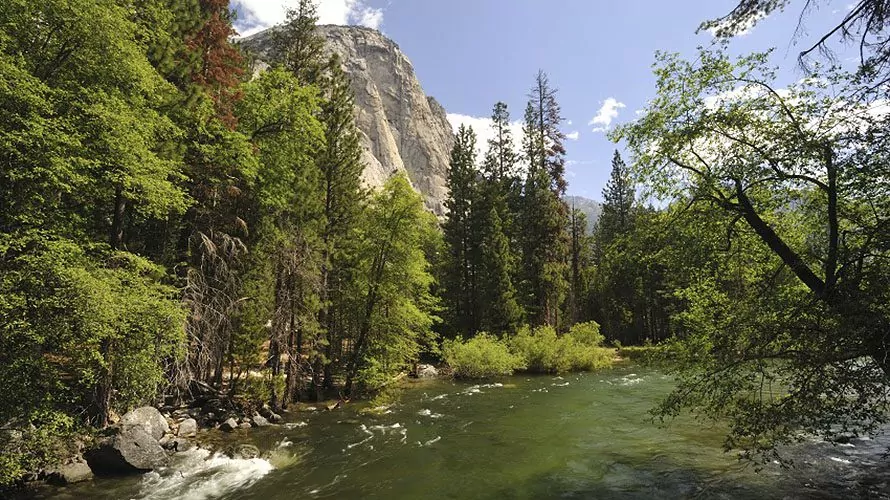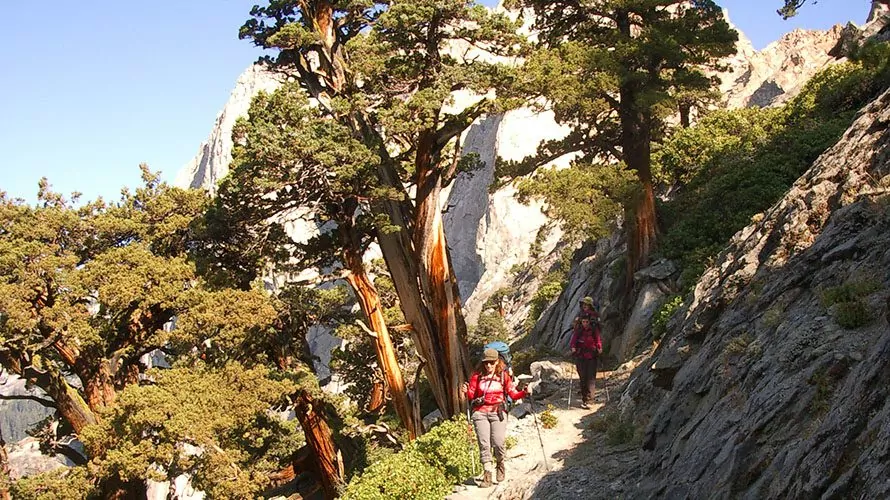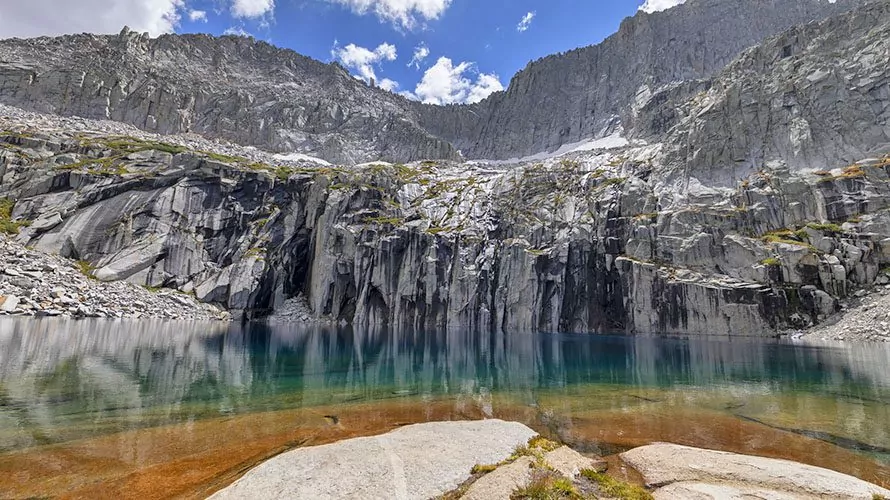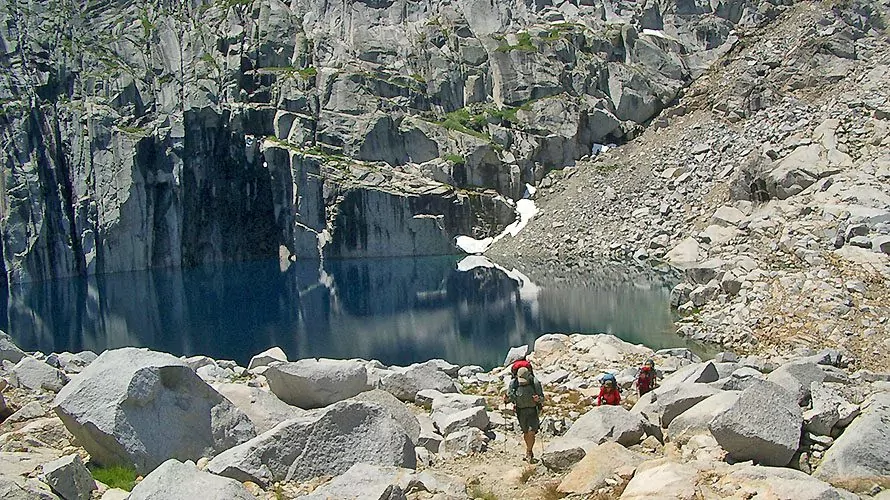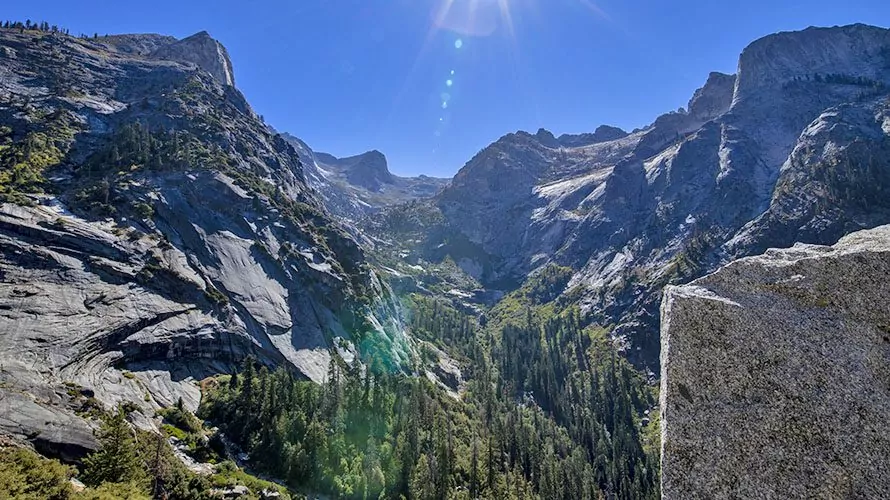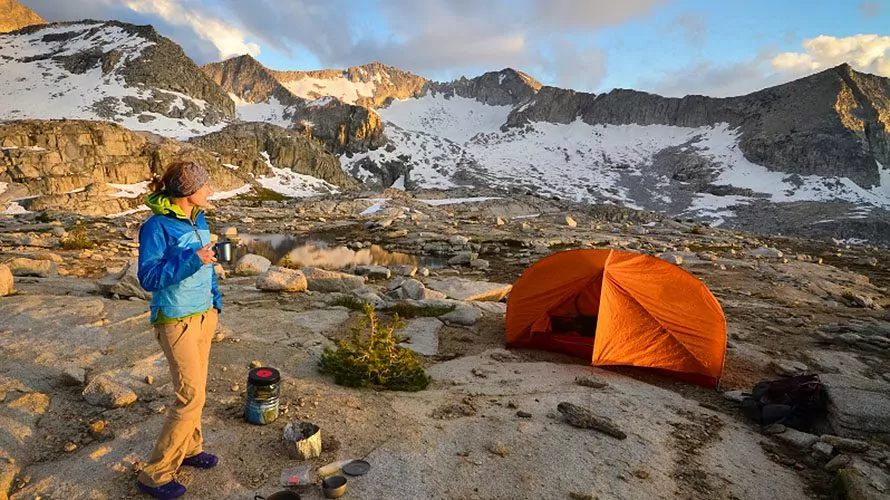 Have Questions?
Have more questions? Send us an email or call us at 1-800-715-HIKE(4453). We're here 7 days a week from 9:00 to 4:30 Mountain Time to make sure your trip planning goes as smoothly as possible.
Trip Information
For more information about all your options, check out our Sequoia-Kings Canyon page on the website with the button below! Individual trip pages have detailed itineraries, trip specifics, travel information, and more.