Explore Peru with Wildland Trekking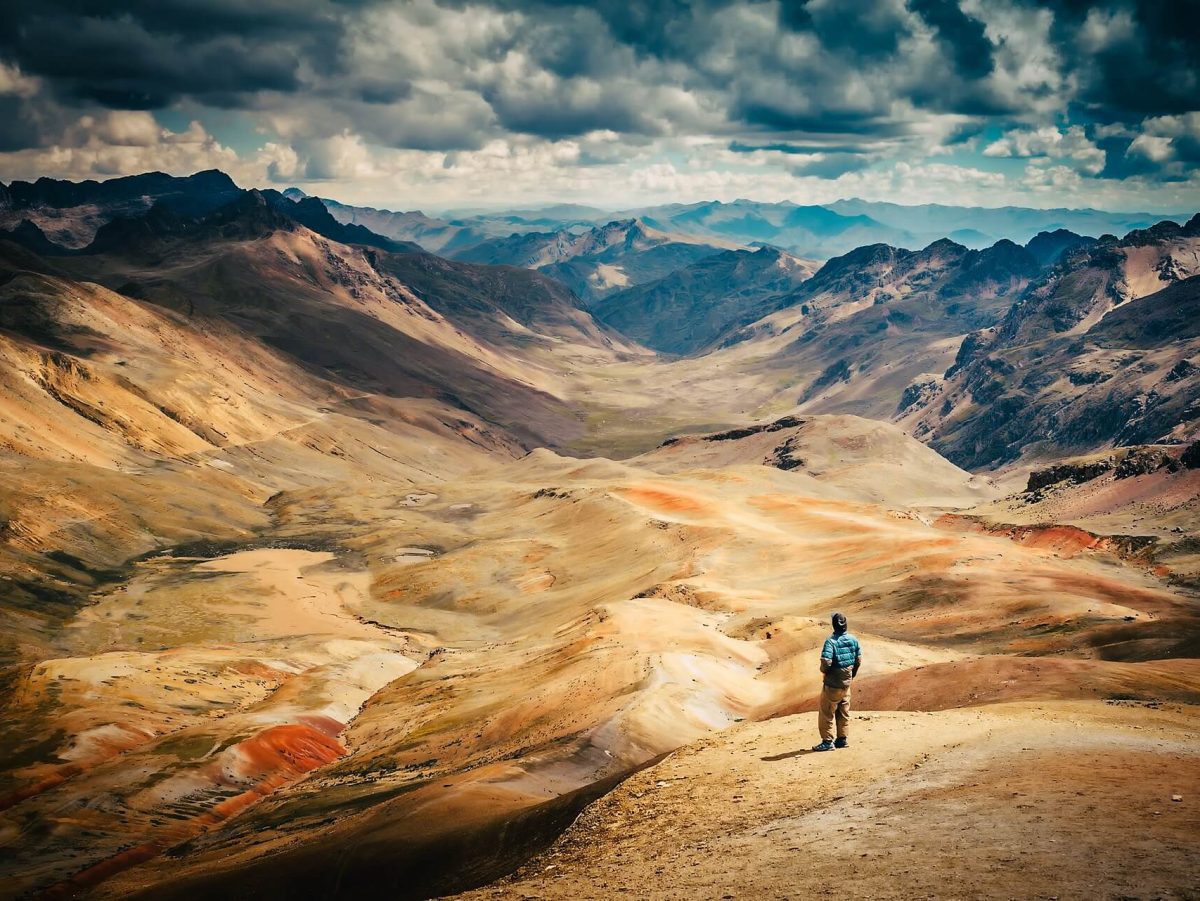 Peru is a picturesque country steeped in rich history and stunning mountain vistas. It's home to the ruins of ancient Incan civilizations, beautiful beaches, the tallest sand dune in the world, the deepest canyon on Earth, and a part of the Amazon rainforest – which happens to be the largest rainforest on the planet. It's also home to some of the most famous treks in South America.
If you've ever wanted to step into history atop Machu Picchu or take a photo with a llama amidst the vibrant colors of Rainbow Mountain, you're not alone. These treks have captured people's interest around the globe and have become some of the most popular Wildland Trekking trips among our customers. And, for more intrepid travelers, our Cordillera multi-day treks will take you away from the crowds and into some of the most impressive mountain backcountry out there. These treks promise a portered experience that's approachable for beginner backpackers, yet challenging enough for our seasoned adventurers.
Imagine walking in a lush alpine valley, with guanacos grazing freely and towering mountains that reach up to 20,000 feet in the distance. Or, picture yourself quietly walking through morning mist as you admire the ancient ruins of Machu Picchu, hidden deep in the Andes Mountains and shrouded in mystery for almost six centuries.
This is Peru. And we invite you to discover everything it has to offer on one of our portered multi-day trips, llama-supported treks, premium lodge-based experiences, or exhilarating day hikes into high altitudes.
When to Go
Peru is a very biodiverse country in the Southern Hemisphere. It's also infamous among travelers because of its extreme elevations, which often dictate the weather and pose additional challenges to hikers and backpackers.
Rather than talking about spring, summer, fall, and winter, it's easier to define Peru's climate as being in the dry season or wet season. Generally speaking, the best time to visit Peru will be during the dry season. However, that is different times of the year for different regions. For example, August is a great time to plan a Machu Picchu trek, while it could be quite gray and rainy in Lima and the Cordillera Mountains may have a lot of rain.
To help make it easier to navigate Peru's diverse climate, our all-inclusive multi-day Peru trips give you the chance to see the country's sites in the best possible weather. Of course, we can never guarantee it'll only be blue skies and sunny trails. But we like to put the odds in our favor when we can. We offer Machu Picchu treks from April to September, and offer our Cordillera treks to Cordillera Huayhuash in June and July.
You can review the Wildland Trekking trip calendar to find all of our trip availability.
High Season
June – September is considered both the Andean summer and winter in Peru. If that's confusing, don't worry! You simply need to know that it's the dry season – and that makes it high season. Most people plan their treks in July or August. That's when prices are generally higher, and availability will be lower. So, booking in advance is absolutely necessary. You'll see a lot more tourists during this time, but you'll also have a better chance of good weather, which can make your 9-day trek a truly unforgettable experience.
Peak season offers mild daytime weather (68°F to 80°F) for your hike and the best chance of clear blue skies in Cusco and on all the Machu Picchu treks – including the Inca Trail and the Salkantay Trek. As you rise in elevation, though, the temperatures will get colder, and fog and rain become more likely.
Meanwhile, the rainy season in the Cordilleras begins a bit earlier and lasts a little longer. So, the peak season in this region is from June to August. Additionally, if you plan to go to the Amazon before or after your trek, you'll want to plan your trip toward the end of the high season. There's a lot of rain and humidity in the rainforest all year, but the best temperatures are between 89°F and 98°F from June to October.
Shoulder Season
April/May and September/October are Peru's two shoulder seasons for most major attractions. Temperatures range from 45°F to 75°F, and there tends to be more rain. But the trails to Machu Picchu and Rainbow Mountain will be open, and you'll see slightly fewer people while you hike. This is often a great chance to get a lower rate on flights, and you'll experience more sides to Peru's mountain weather. But, as Peru becomes more of a popular destination (and depending on the weather that year), the peak season can be from the mid-end of May to the end of September. So, again, it's always best to check before booking!
This timeframe is also the shoulder season for the Amazon jungle areas and Lima. The Amazon starts moving into high water rainy season between October and December and out of it between April and May. But the weather begins getting better in Lima. You'll be moving into peak season here toward the end of the year.
Low Season
December to March is the rainy season in most of Peru, including Machu Picchu, the Amazon, and the Cordillera mountains. Trekking can be difficult and, in some cases, dangerous. In fact, the Inca Trail is closed the entire month of February for repairs due to high rainfall. However, the ancient ruins at Machu Picchu are still open, and they still experience a large number of visitors throughout the entire year. Many tourists are limited to reaching the ruins by train, as trekking is often not an option during the low season.
Temperatures during low season range from 20°F to 45°F. Peru's average rainfall is 30 inches a year, and most of it happens during this time. The only exception is Lima and the desert region, which see beautiful weather and are sunny from December to April.
Deeper Dive: More About When to Visit

When and How to Visit Machu Picchu

When it comes to doing multi-day treks to Machu Picchu, we think the best time to visit is from April to September. One essential tactic to help ensure there is availability during your trek is to register before October 1 for trips the following year. Peru's Inca Trail permit system can be unpredictable and fills fast. Therefore, this is the best method to increase your chances of getting the trip you want! Plus, we offer a 5% early registration discount, allowing you to save money at the same time.

We offer four amazing treks during the high and shoulder seasons. These include the Salkantay Trek and two different options for the iconic Inca Trail. In the same region, we also offer a Rainbow Mountain Trek, accompanied by llamas, which are always a crowd-pleaser!

When and How to Visit the Cordillera Mountains

The best time to visit the Cordillera Blanca and the Cordillera Huayhuash is in June and July. At this time of year, you'll be surrounded by snow-covered peaks reaching into the clouds, but probably won't be trekking through it by yourself! The Andean Summer is a true sight to behold, and you'll get to experience relaxing solitude in what we consider Peru's best-kept secret.

Warm, sunny days may see a high of 70ºF, while the afternoon can be as cold as 32ºF and evenings dip even lower. These are great temperatures for a trek, as we'll be generating some body heat while hiking. So, layers – as we mention below – are key.

What to Pack for Peru

Mountains can have unpredictable weather changes, and it's important to always pack for rain and cold evenings. (We teach you how to do this in our Peru packing list.) We'll include all the camping gear you need for an enjoyable experience – including tents, daypacks, tents, sleeping pads, sleeping bags, trekking poles, and cooking gear. All you need to worry about is your clothing, rain gear, a few miscellaneous items, and your toiletries.

Our suggestion is to bring high-quality, three-season clothing that you can layer. There are times you may want to hike in a t-shirt and shorts and, moments later, you may find yourself wearing all your layers!
Trip Styles
Deeper Dive: Our Top Recommended Trips

The Salkantay Trek to Machu Picchu: Our #1 Recommended Machu Picchu Trip

Take a walk through centuries of rich history during our Salkantay Trek. Hiking to the mysterious city of Machu Picchu, perched high in the Andean Mountains, is a bucket list trip for many. We invite you to soak up as much fascinating history and stunning beauty as you can on our longest trek to Machu Picchu. This portered, nine-day trip is also the most scenic route. Led by our experienced guides, you will circumnavigate Mount Salkantay, the highest peak in the Vilcabamba mountain range, while hiking along sections of the original Inca trail as well as more unknown parts of the ancient Incan Empire.

Trip Highlights

From a rich history shrouded in mystery and amazing views to delicious cuisine and challenging hiking, this trek has everything you need for a memorable experience in Peru.

Stunning views of Mount Salkantay, a sacred mountain to the native Quechua people
Sections of the original Inca Trail used centuries ago by the Incans
Off-the-beaten-path adventures through cloud forests and alpine valleys
High altitude hiking of up to 15,000 feet
Cultural stories and historical background to better understand the history of Machu Picchu
Authentic Peruvian meals prepared for you each night
A full day to explore the ancient ruins of Machu Picchu

What to Expect

This is an adventurous trek through some of the most sacred and beautiful parts of the ancient Incan Empire. You'll be bathed in history as you hike through mountain passes, across expansive valleys, and through cloud forests. While this is a long trek (over 29 miles), it is portered and moves at a slow enough pace to let your body acclimate to hiking in the Andes. Therefore, we invite backpackers and hikers of all levels to enjoy the best of Machu Picchu!

Learn more and book your Salkantay Trek today! 

The Cordillera Huayhuash Trek: Our #1 Recommended Cordillera Trek

Briefly put, the Huayhuash Trek is a hiker's paradise, chock-full of aqua blue alpine lakes, colorful wildflowers, high altitude mountain passes, and untouched wilderness as far as the eye can see. You'll experience nature at its finest and see the remains of the great Incan Empire as you walk under the Andean giants and unplug with us during a 10-day portered trek that will leave you feeling rejuvenated and inspired.

Trip Highlights

Inspiring hikers and daring adventurers for thousands of years, the Cordillera Mountains will give you the chance to experience a side of Peru that few people know.

36 miles of trekking and camping with top-notch gear
A breathtaking route through the world's second-highest mountain range
Four mountain passes, all over 14,000 feet in altitude
Ruins of an ancient Incan city
Experienced porters and delicious backcountry meals
Acclimatization and learning about hiking at high altitudes

What to Expect

There isn't another trip like our top Cordillera trek. You will be living in peaceful solitude for ten days, surrounded by nothing but nature. While it will challenge you physically and mentally, you will leave with a renewed sense of wonder, awe, and accomplishment from trekking amongst Peru's highest peaks.
Need to Know
Getting Acclimated to Peru's Elevation
One thing to keep in mind while trekking in Peru is that, even if you are hiking among crowds in the peak season, you are still hiking at a high altitude. You'll be at 5,000 feet of elevation or more (Rainbow Mountain and the Cordilleras reach up to around 15,600 feet above sea level). It can take your breath away – literally!
If you've never hiked at high altitudes before, there's no way of knowing how your body will respond. In fact, many people don't notice any changes, while others may experience a slight headache, stomach ache, or shortness of breath. These are normal symptoms. But there are a few things you can do to reduce your chances of being impacted by the altitudes in Peru.
First, adding cardio to your training routine before your trek can strengthen your heart and lungs, which may help you keep your breath. Second, we recommend that you arrive in your starting city a day or two early (or more, if your schedule allows.) Most people only need a couple of days to let their bodies adjust! Once you are there, eating small meals but more calories, drinking a lot of water, and taking naps when you feel tired will help your body recover faster. Last, you can bring the medication Acetazolamide as a backup — but consult your doctor before you go if you're considering this option.
We always recommend monitoring your body's response and letting it adjust naturally before taking any medication. As we said, most people have no problems at all! Additionally, you can trust our team to take care of you. In addition to (literally) taking the weight off your shoulders with portered hikes, we gain elevation at a steady pace during our treks, giving your body time to recover at each stage.
Primary Departure Cities For Peru Adventures
Our Machu Picchu and Rainbow mountain trips will begin and end in Cusco, Peru. All treks to the Cordillera Mountains will convene in Huaraz, Peru. Please remember that transportation to and from these cities is not included in the overall cost of your trip. However, a Wildland Trekking representative will meet you upon arrival in the city.
Travel Advice for Peru
Peru is a popular destination in South America that is considered fairly safe for tourists. As it is one of our international trips, you will be required to have a valid US passport and obtain a tourist visa upon entry. If you do not have a passport, or yours will expire within a month of your trip, it's important to apply for one at least six months before your flight.
You will receive your visa when you arrive at customs at the airport. They will stamp your passport, allowing you to stay in the country for up to 90 calendar days. Citizens of the United States do not need any additional permits or visas.
Transportation and Lodging
Your accommodations before and after the trip – as well as your bus or flight to our meeting point – are not included in the cost of your tour. Those going to Cusco before our trips will find no shortage of hotels, hostels, Airbnbs, and homestays at every price point. Huaraz is also a sizable city (over 100,000) and will have plenty of options, though some may not cater to English-speakers as much.
If you are traveling during peak season, it's best to start making your flight reservations as soon as you book your Wildland Trekking tour!
International Flights
Peru has become a popular tourist destination, and flight prices may vary depending on how far in advance you book, what time of year, and which airport you arrive at. It's always a good idea to start looking one to four months before your trip. The two major airports in Peru are located in Lima and Cusco.
The meeting point for all our Machu Picchu treks is in Cusco, a city of more than 400,000 people. Our guests on the Cordillera trips have the option to be picked up and dropped off in Huaraz, Peru (at the bus station or your accommodations) or the Comandante FAP Germán Arias Graziani Airport (Airport code ATA), in the village of Anta, Peru. You will need to arrange transport to and from both of these locations.
Vaccinations and Medication
Please note that a Yellow Fever vaccination is usually required for Peru. You will need to check the latest information after booking your trip, but you may be asked to show proof of vaccination before boarding your plane. Malaria pills are also highly recommended for anyone hiking to Machu Picchu. It's a good idea to visit your doctor and get all your travel vaccinations at least four weeks before traveling.
Other optional, but recommended, vaccinations include hepatitis A and B, typhoid, rabies, and influenza. Several of these are spread through contact with dirty water, which you may encounter while traveling in remote parts of Peru. Finally, the CDC always recommends that you stay up to date on all routine vaccinations before any international trip.
Please bring any medications (including those for altitude sickness) that you think you may need, including over-the-counter ones, such as Ibuprofen.
Deeper Dive: More Need to Know Info

Currency and Banking

Each of our treks – including our one-day hikes – is all-inclusive. So, you won't need to worry about bringing money for essentials like gear, accommodations, or food. However, souvenirs, alcoholic beverages, and guide/porter tips, as well as transport, accommodations and meals before and after your tour, are not included.

Much of South America runs on cash, and that includes Peru, where the local currency is Peruvian Sol. While we always recommend notifying your bank before traveling, it's not uncommon to visit a store or vendor that does not accept credit cards. ATMs are available in major cities. Though, we advise exercising caution when visiting an ATM and never visiting one at night. The best option for international travelers is to exchange money at your local bank, at a "cambio" in town, or at the airport when you arrive. The last option may cost you more in fees but could ensure you have some money for transport to your hotel and a meal or two.

Language

Peru is a melting pot of culture and history. Spanish is the official language, but many people still speak indigenous languages, and the high level of tourism in the country has encouraged business owners and locals alike to learn English. You'll find many restaurant menus and hotels with English-speaking staff and translations. Quechua and Aymara are also official languages in certain parts of the country and an integral part of their traditional culture that you'll learn about while hiking.

All of our Wildland Trekking Peru trips are offered in English and led by local backcountry guides. We're sure if you ask them, they'd be happy to share a bit of their native language with you!

Trip Insurance

While it's not required, we find that short-term traveler's insurance is a great way to get peace of mind while abroad. You can choose from a variety of plans – some even cover lost luggage and flight cancellations!

Every Wildland Trekking guide is an experienced hiker, well-versed in backcountry skills and first-aid. However, we are counting on you to have a baseline level of fitness and good health when you arrive. Remember, you may not be carrying your backpack, but we'll still have long hiking days at high altitude. This high altitude hiking can take a toll on even the fittest people.

Wildland Trekking Trip Insurance offers a done-for-you solution that will cover the total cost of your trip, including flights, hotels, and other expenses in the event of delays, emergencies, illness, natural disasters, and more.

Conditioning

Though our Peru treks are enjoyed by people of all fitness and experience levels, they are not for the faint of heart. You'll be spending up to ten days hiking on uneven trails, navigating different weather conditions, and climbing up to 15,000 feet in elevation! Even our guests doing a lodge-based tour will be putting significant miles on their hiking boots.

You can prepare for your trek in advance. Six to eight weeks before your trip, begin introducing up to three days of cardio exercises into your routine. As you get closer to the trip, long walks and leg and hip strengthening exercises are also a good idea. When going on walks, just remember to wear your hiking boots – this will help break them in!

Packing List

When packing for Peru, it's essential to think about a three-season layering system. A quality base layer will keep you comfortable, a second insulating layer will add warmth, and a top shell can block out that Andean wind or rain. Waterproof boots, gloves, and pants are a great idea – and a few extra pairs of clean socks will be a luxury after a long day of hiking.

The most crucial aspect to keep in mind when selecting hiking clothes for your trip is that everything is in good repair and has been broken in! You never want to be three days into a trek and realize your boots rub blisters or your jacket isn't truly waterproof.
Gallery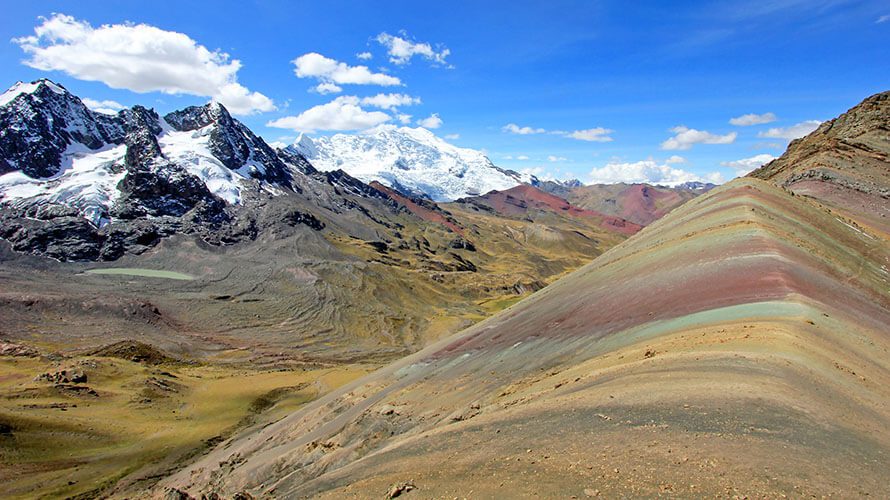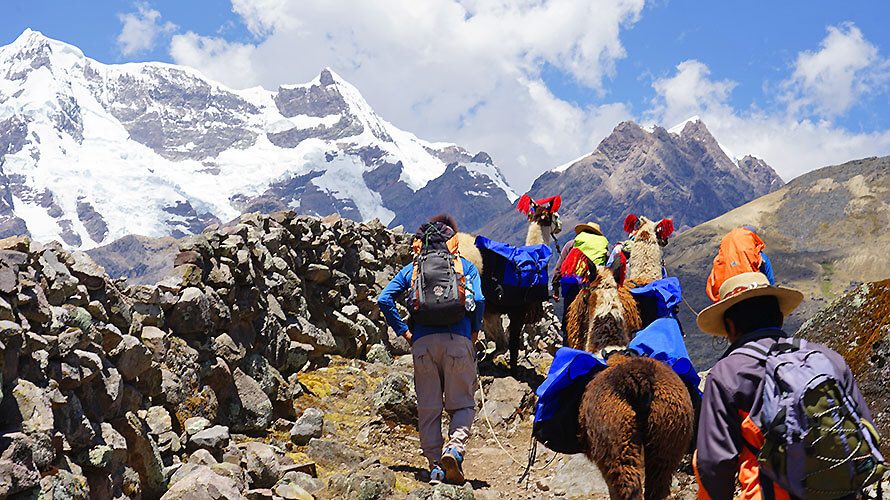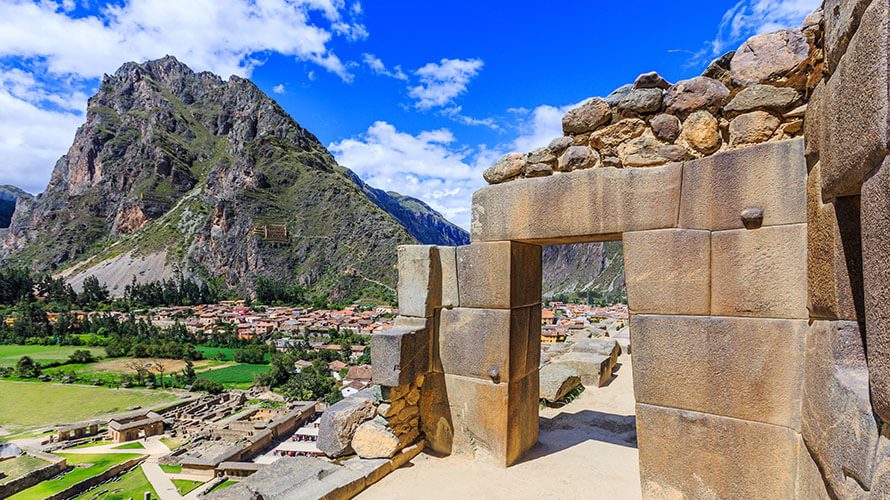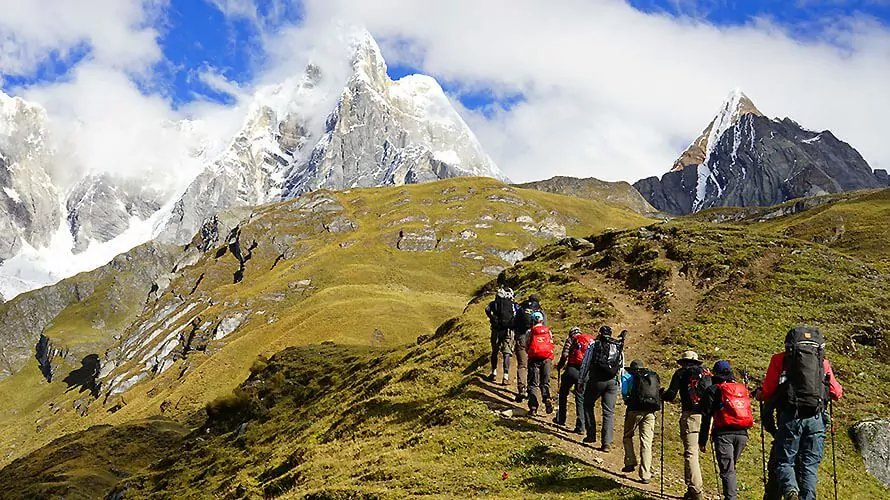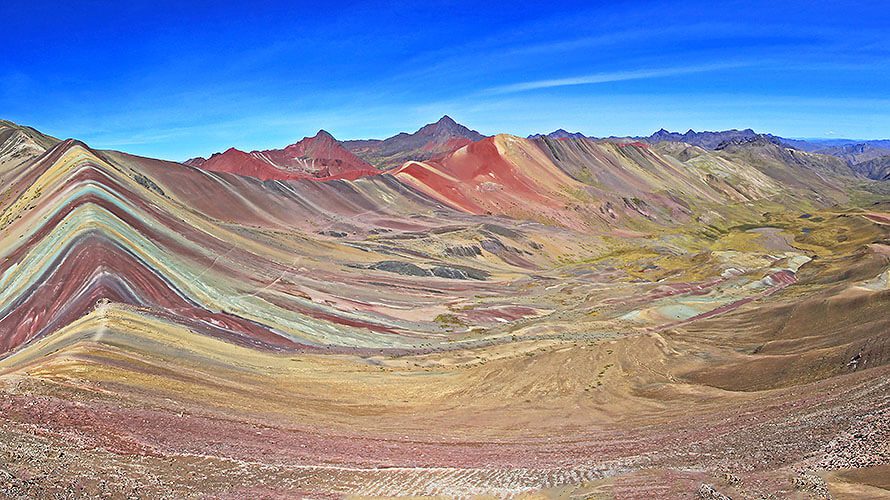 Have Questions?
Have more questions? Send us an email or call us at 800-715-HIKE (4453). We're here 7 days a week from 9:00 to 4:30 Mountain Time to make sure your trip planning goes as smoothly as possible.
Trip Information
For more information about all your options, check out our Peru page on the website with the button below! Individual trip pages have detailed itineraries, trip specifics, travel information, and more.