Explore Patagonia With Wildland Trekking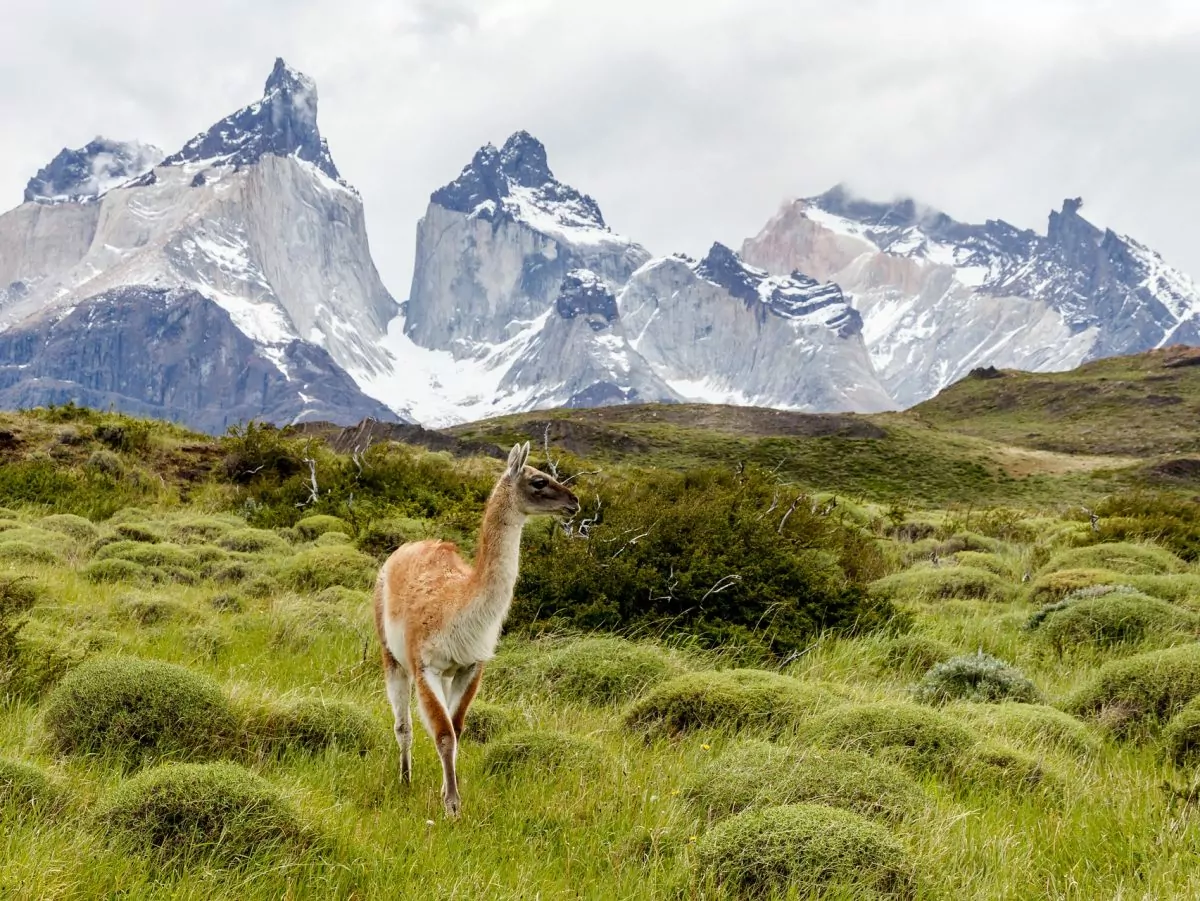 Patagonia is home to some of the world's most pristine wilderness. Its towering, snow-capped Andean peaks, brilliant blue lakes, stunning fjords, and awe-inspiring glaciers have been immortalized by some of the greatest travelers, photographers, and writers in history. Yet the pure beauty of the place will still take your breath away when you see it for yourself on one of Wildland Trekking's premium multi-day Patagonia trekking trips.
Located in the Southern Hemisphere, Patagonia is a sparsely populated area that encompasses 300,000 square miles. It follows the Andes Mountain range and spans both Argentina and Chile in South America. While there is no set northern boundary, many people begin their travels of the area in the Lake Region around Bariloche, Argentina. Tierra del Fuego – the farthest land-based point on Earth before Antarctica – is both the end of the South American continent and the Patagonian region.
Some of the highlights in the region are the famous W Trek in Torres del Paine National Park, backpacking the lesser-known Parque Patagonia, and witnessing the day-to-day life of the gauchos living on the steppe. This is an adventure lover's paradise, and we invite you not just to see but truly experience life in Patagonia on a Refugio trek, lodge-based trek, camp-based experience, or an adventurous backpacking excursion.
When to Go
Like the region itself, the weather in Patagonia is wild and unpredictable. Strong winds and frequent showers are common. To account for the rapidly changing weather, most forecasts are updated every three hours. People in the area joke that you often get to experience four seasons in one day!
Knowing that, it's not surprising that the summer months (late December to early March in the Southern Hemisphere), will increase your chances of having good weather during your trek, backpacking trip, or other Patagonian adventure. You'll find that the Wildland Trekking Patagonia tours are offered during this time, for this very reason.
Still, it's always a good idea to check the average temperature of the exact park or area you are visiting. This knowledge will help make sure you are prepared.
High Season
December, January, and February are the summer months and high season in Patagonia. You can expect plenty of sunny days, little to no chance of snow, and temperatures ranging from 45 to 65°F during the day and in the 30s at night. Even though it's warmer, the winds can be record-breaking (up to 120 mph) and unexpected. Although generally short, occasional showers are also known to occur.
Summer is when the hiking trails will be completely accessible and wildlife viewing is best. Accommodations will be widely available and range from budget hostels and five-star hotels to refugios and glamping domes. But peak season means spaces fill fast. You will also see more tourists, especially at the most famous locations such as Perito Moreno Glacier, Mt. Fitz Roy, and Torres del Paine. However, you can often beat the crowds with an early start or by choosing to camp in the parks themselves. Multi-day hikes in Patagonia, such as the famous W Trek and O Circuit of Torres del Paine National Park, have become more popular in recent years. It's recommended to book well in advance or with an experienced company such as Wildland Trekking to ensure you have bookings at the correct refugios or campsites during the summer.
Shoulder Season
March/April and October/November mark the spring and fall shoulder seasons of Patagonia. Tours during this time will offer a different glimpse of the mountains and surrounding steppe. The winds are not as strong, but the temperatures are colder, and snow or rain is more likely. However, the changing leaves in the fall and the colorful splash of wildflowers in the spring will offer up a visual treat everywhere you look.
Because of the changing seasons this time of year, average temperatures are more challenging to define, but you can expect temperatures to be between 35 to 60°F during the day. Early or late season storms may cause trail closures, and some roads may not be accessible. So, it's important to check the weather conditions before you leave for your trip and confirm trail conditions each day with your guide and/or park rangers.
Due to the decrease in tourism during this time, many lodging options have lower rates, while others won't be available. The lower prices are making spring and fall more popular with budget travelers, rock climbers, and backpackers.
Low Season
May, June, July, August, and September are winter and, subsequently, low season in Patagonia. Snow blankets most of the region and some of the lakes will be frozen over. Winter in Patagonia offers its own breathtaking views and winter wonderland charm, but the weather is extreme. Temperatures range from 30 to 45°F during the day in May and dip to 25 to 40°F after that. In May, it's a destination for only the most adventurous travelers seeking skiing or snowboarding.
Multi-day treks in May and September require careful planning and extensive backcountry experience. From June to October, travel is not advisable, trails may not be passable, and most will be covered in snow. Many parks (including Torres del Paine) will even be closed.
Deeper Dive: More About When to Visit

Trip Dates

We have spent years exploring Patagonia and leading our guests along some of it's most beautiful trails. We've found January to be the ideal month for a hike or multi-day trek in Patagonia, but offer tours throughout the entire summer season. This is when you'll have the best chance of trail openings, better weather during the day while we hike (we only cancel our plans if the weather becomes dangerous!), and will be able to forgo bulky winter gear. You'll also have a good chance of seeing beautiful mountain views, the grandeur of Patagonia's wild valleys, and the bright stars that light up the night sky.

Knowing this, you'll want to plan out your Patagonia trip well in advance to coordinate your work schedule and travel plans before and after your trek. During your tour, you won't need to worry about food, lodging, trail conditions, or watching the weather. We make all the arrangements for you. We even list the dates of our upcoming Patagonia trips up to a year in advance to make the planning easier for you!

To look at what's already on the calendar, you can go to our Trip Dates Page and view the options by month. Scroll until you see "C" for "Chile" and see what we have in store!

Climate and Packing Information

Check the Weather

Patagonia is a land of extremes. It's home to the Andes Mountains, glaciers, lakes, fjords, windy channels, and the eighth largest desert on Earth – the Patagonian Steppe. Needless to say, that makes defining Patagonia's climate no small task. And, even if you pick the most optimal time of year for your trek, the weather can swiftly change.

The weather in Patagonia can vary drastically from town to town, as well as in different latitude lines and at different elevations. While Patagonia is considered its own climatic zone, the different classifications for this region are: arid desert, arid steppe, temperate, cold, and polar.

Pack Smart

The best way to prepare for the weather during your trek is to research the historical temperature averages for the month that you plan to hike (available in both Celsius and Fahrenheit). Then, you can pack accordingly. Your Patagonia packing list doesn't need to have the most expensive items available, but they do need to be trustworthy and rated for the weather. Learning to layer your clothes will be a useful skill (and one that we can help teach you.) There may be moments you find yourself wearing everything you brought!

Waterproof items – such as a jacket, pants, gloves, and boots – are essential. And optional items like a buff, sunglasses, and gaiters can make a windy Patagonia day more enjoyable.

Once you register for a tour, we'll send you a comprehensive guide and a pack list. And, as a part of our all-included exclusive treks and backpacking trips, you'll also be able to use our top-of-the-line backpacks, sleeping bags, sleeping pads, tents, and trekking poles. The team at Wildland Trekking has tested and trusted the same outdoor brands in the Patagonian mountains for years. We're confident we've found the best gear to offer you a comfortable camping experience.

While on the trek and hiking in Patagonia, we always do our best to prepare for each day's weather forecast. We'll advise you when a windy pass is up ahead, show you how to use your cold-weather gear, and find the most sheltered areas to set up camp each night (on the trips that are camping and backpacking based.)
Trip Styles
Deeper Dive: Our Top Recommended Trips

Torres del Paine O Circuit: Our #1 Recommended Patagonia Trip

The "Paine O Circuit" is the most extensive trek you can do with us in Torres del Paine National Park. The name derives from its shape on the map, which encircles the massif. That 'O' shape means we'll get to experience the park from every angle, and explore every stunning vista the park has to offer!

You'll be hiking 85 miles over 11 days and traveling through time as you view mountains that were formed over 12 million years ago. You'll also get to walk on ancient glaciers and take photos of one of the world's most iconic granite spires – and a UNESCO World Biosphere Reserve.

Trip Highlights:

The O Circuit includes the famous W Trek and the Base of the Torres day hike, but it goes even further to immerse you in the beauty of Patagonia.

Views of a world-famous national park
Circumnavigation of Torres del Paine, letting you see the spires from every angle
Kayak day trip on a vibrant blue glacial lake
Ice hike across a prehistoric glacier
Guided hiking and navigation by local Chilean guides
Ten nights spent sleeping in backcountry campgrounds and cozy refugios

What to Expect:

This trek is for anyone excited about pushing their body and experiencing a more raw version of Patagonia. You'll be far from any WiFi connection or phone service and will be walking, eating, and sleeping in the backcountry for over a week. During that time, you'll cross windy mountain passes with stunning views of expansive valleys. You'll hear the gush of waterfalls and rivers, and you'll drink crystal clear water from the Patagonian glaciers. By the end of the trip, you'll be well-versed in basic backcountry skills. What's more, you'll hopefully forge new friendships that go beyond your time in Patagonia!

Learn more and book your Torres del Paine O Circuit today!
Need to Know
Primary Departure City For Patagonia Adventures
Patagonia is a big place, and each of our trips immerses you in different parts of this beautiful region. So, it's important to check your tour's specific pick-up point before booking your plane ticket and pre- and post-trek accommodations.
You'll be starting in one of three places:
Punta Arenas, Chile
Puerto Natales, Chile
Balmaceda, Chile
All of these can be characterized as small, mountain towns, with plenty of lodging and eating options. We recommend arriving the day before your tour begins to have plenty of time to prepare and get a good night's rest. There are grocery stores and outdoor retailers in case you need any last-minute provisions.
You should also plan to stay in town one day after the tour end. Doing so will help you avoid rushing to catch a bus or flight.
Travel Advice for Chile and Argentina
Patagonia is one of our international trips, so a valid US visa is required for the adventure. If you do not have one, or your current passport will expire within a month of your trip, we recommend that you apply for a new one up to six months in advance.
Citizens of the United States do not need any additional permits or visas to enter Chile or Argentina. Upon entry, you will go through customs and receive a tourist visa stamp, which allows you to stay in the country for up to 90 calendar days.
Please Note: When you enter Chile, you will also be issued a document called a PDI (tourism card). Please do NOT throw this away. You will need it to exit the country, and nearly every lodge we stay in also asks for a copy.
Transportation and Lodging
Your accommodations before and after the trip – and your transportation to our starting city – are not included in the cost of your tour. Patagonia offers a wide variety of lodging options to every type of traveler. These options range from luxury spas to budget hostels and homestays.
If you are traveling during peak season, it's best to start making your reservations as soon as you book your Wildland Trekking tour!
International Flights
To get the quickest and most affordable international flight to Chile, we recommend beginning your search 1-4 months in advance. You can also search neighboring airports in the towns of Calafate (Argentina) and Punta Arenas (Chile) – both close to Puerto Natales. Or, if you're heading to Balmaceda, the airport ar Puerto Montt (Chile) is also a nearby option.
If you arrive at a town that is not your trip's designated rendevous point, you will need to arrange transportation via coach buses or small, local flights from there. However, these connecting cities may offer cheaper flights or could be a part of your extended travels before or after your trek.
Vaccinations and Medication
The CDC recommends that you stay up-to-date on all routine vaccinations – such as Tetanus and MMR – before any international trip. For Chile, they also recommend vaccinating against Hepatitis A and Typhoid, which are spread by contaminated food and water.
We recommend that you speak to your doctor at least one month before your trip to ensure you have the correct vaccinations and medications. Certain medications can be difficult to find once you arrive. Please bring with you any prescriptions you may need and some optional over-the-counter medications, such as Ibuprofen.
Deeper Dive: More Need to Know Info

Currency and Banking

Everything you need is accounted for in our fantastic, all-inclusive treks. However, souvenirs and alcoholic beverages, as well as accommodations and meals before and after your tour, are not included.

Patagonia is a cash society, and the local currency in Chile is the Chilean Peso (CLP). You should put a travel notice on your debit and credit cards but be advised that many businesses won't accept them without a hefty charge – or at all. Instead, we recommend that you check the exchange rate before your trip and exchange money at your local bank (this is the best option) or at a "cambio" at the airport in Chile. Once you arrive in one of the smaller towns in Patagonia, ATMs are difficult to find and often enforce very low daily limits on foreign withdrawals.

Language

Spanish is the primary language spoken in all of Patagonia. However, you'll discover that many signs, hotels, and tours offer an English translation. All of the Wildland Trekking multi-day treks and camping tours are offered in English and led by local Chilean backcountry guides.

It's still fun to learn a few words in Spanish before your trip. And we'd be happy to practice with you when you arrive!

Trip Insurance

You're about to embark on an amazing adventure with Wildland Trekking. We recommend protecting yourself and your trip with short-term traveler's insurance. Many of our Patagonia treks require a baseline level of physical and mental health, as well as an open mindset and adventurous spirit. And all of our guides are well-versed in backcountry skills and first-aid.

But life can be unpredictable, and any outdoor activity means assuming some risk. In addition to the unforeseen moments that may happen during your trek, you could encounter travel delays, family emergencies, injury, illness, or a natural disaster that causes you to change your travel plans.

In any of these scenarios (and more), Wildland Trekking Trip Insurance will cover the total cost of your trip. This includes your flights, hotels, and other travel-related expenses.

To view our insurance plans and policies, please visit our Trip Insurance Page.

Packing List

During your trek in Patagonia, you could be hiking through a plethora of different weather conditions. What's more, you'll be trekking across glaciers, kayaking in frigid lakes, riding horses, and camping. Being prepared for these adventures by having the right clothing and gear will make for a more enjoyable and memorable experience. Be sure to consult our packing list before you leave for your trip!

Conditioning

We work to make all our Patagonia treks as accessible as possible. However, we highly recommend starting some level of physical conditioning at least one month before your trip. You'll be walking over uneven terrain for up to 10 hours a day, often with a backpack. Our Torres del Paine W Trek and O Circuit can be particularly challenging because of their duration. They will, therefore, be much more enjoyable if your body is prepared for the physical demand. Even our guests doing a lodge-based tour or horseback riding experience will be exerting a lot of energy every day.

Conditioning doesn't have to be expensive, daunting, or overly-complicated. Doing some daily bodyweight exercises in your living room and getting in some good long walks will help immensely. We recommend you do pre-trek walks in your hiking boots and with your backpack to help break them in!
Gallery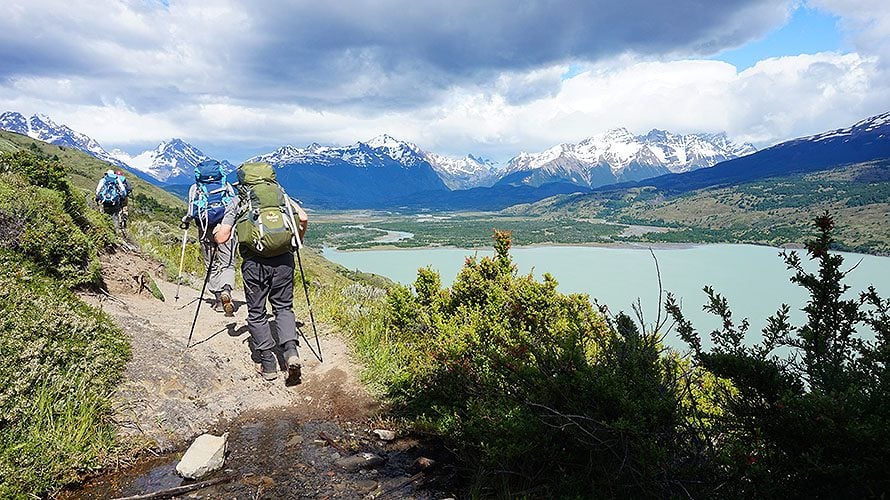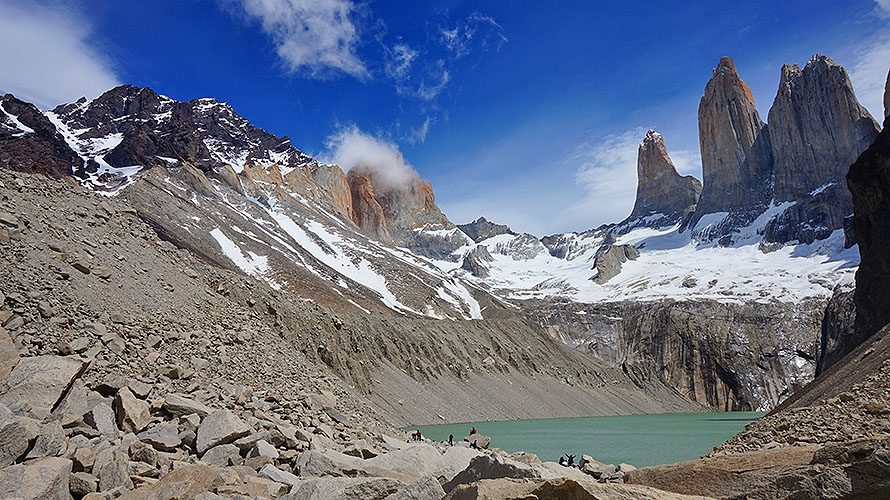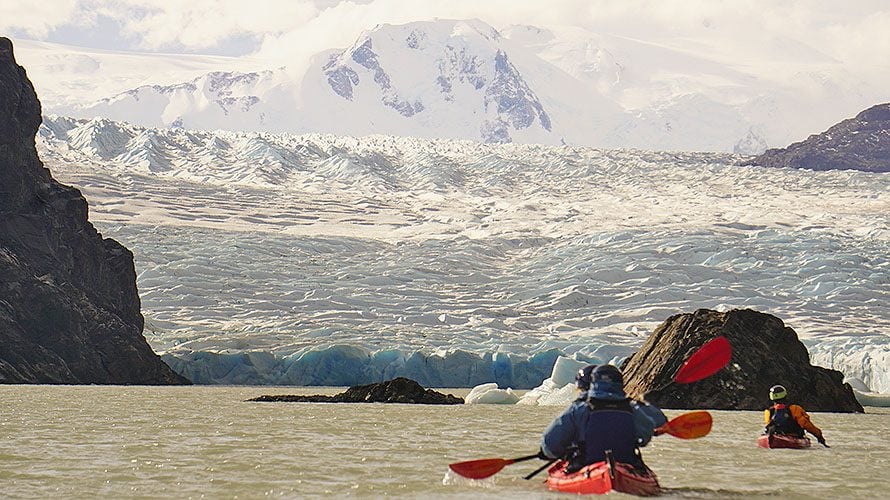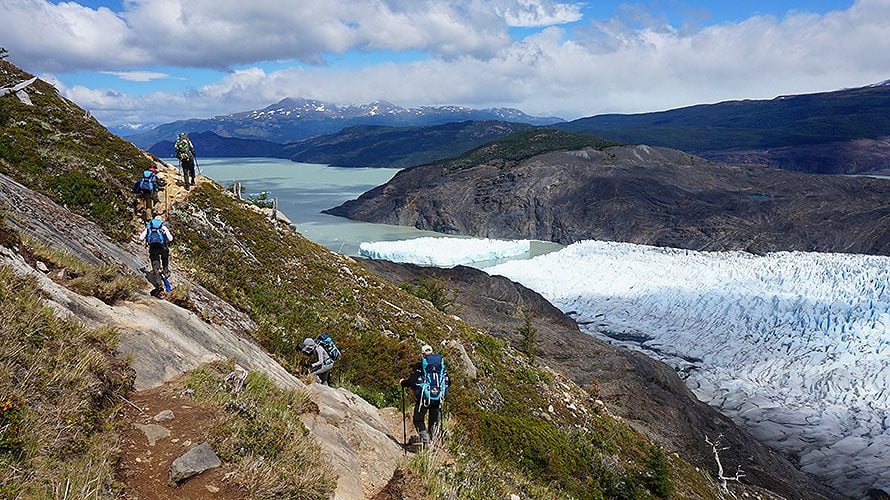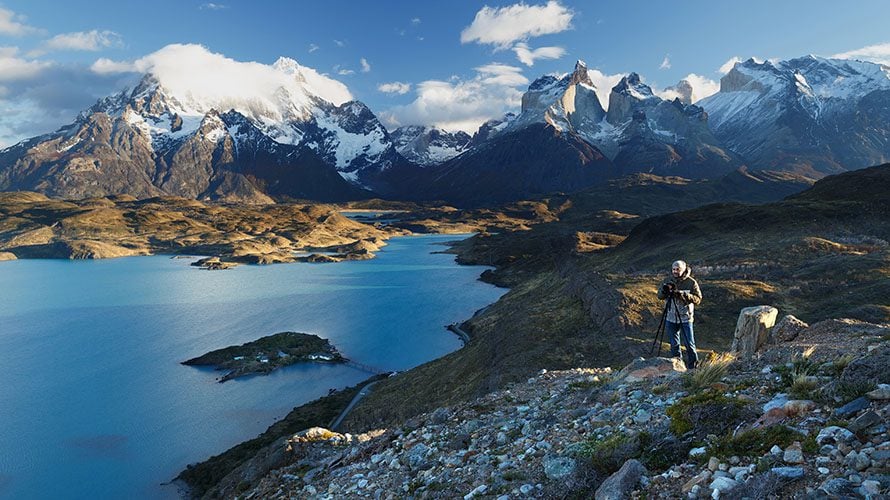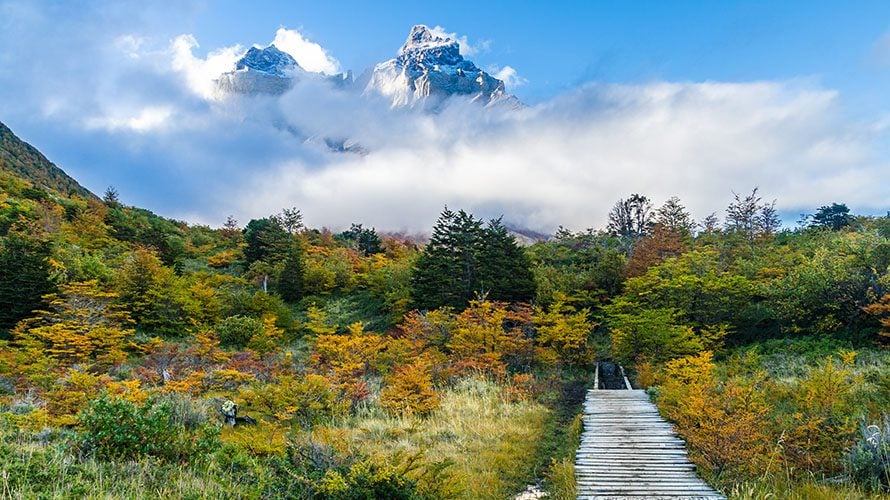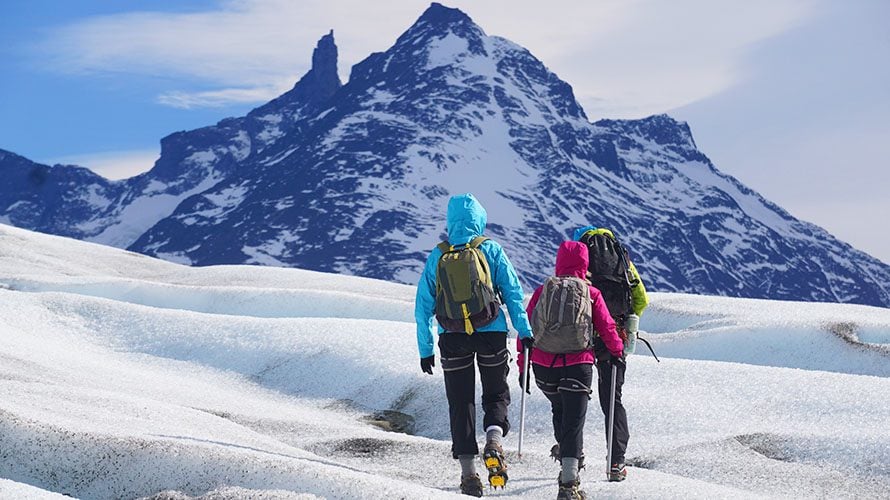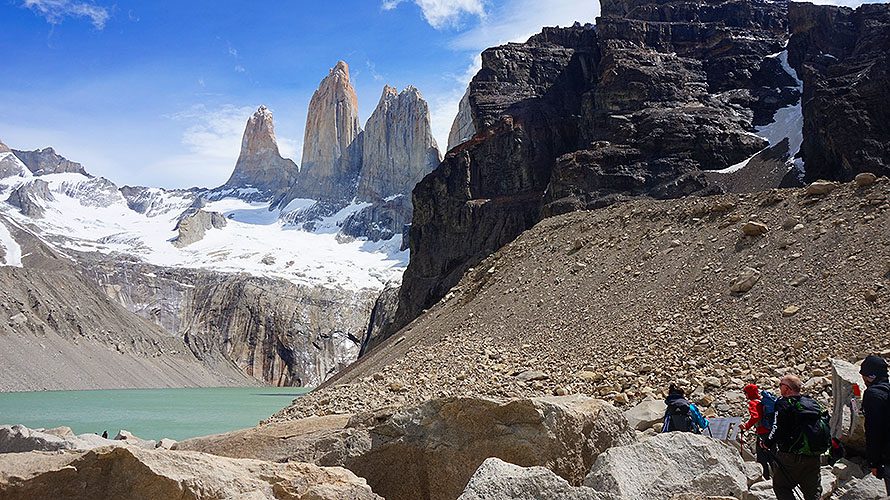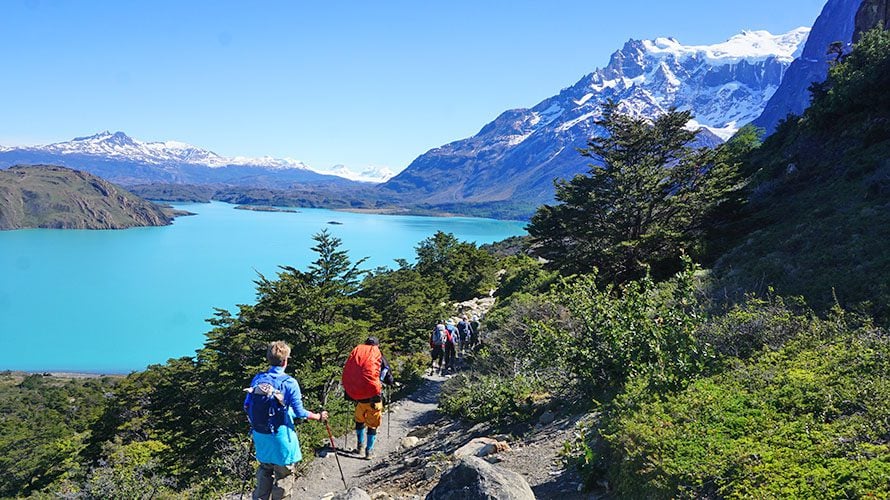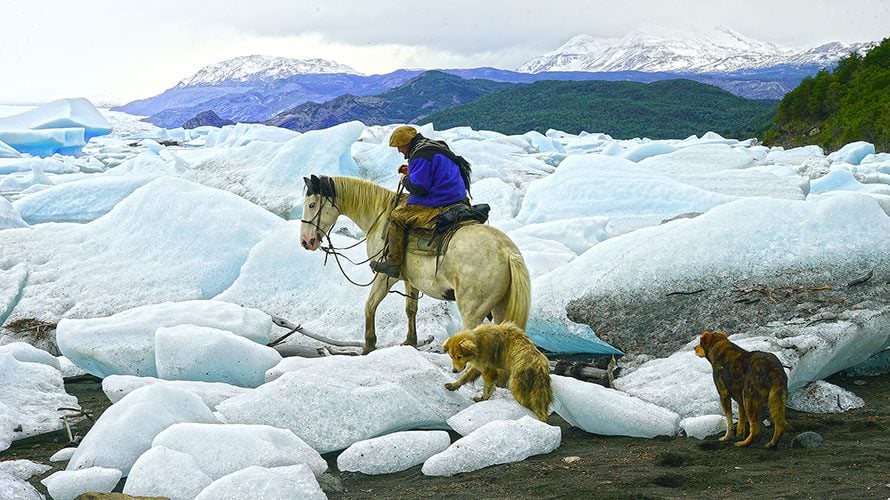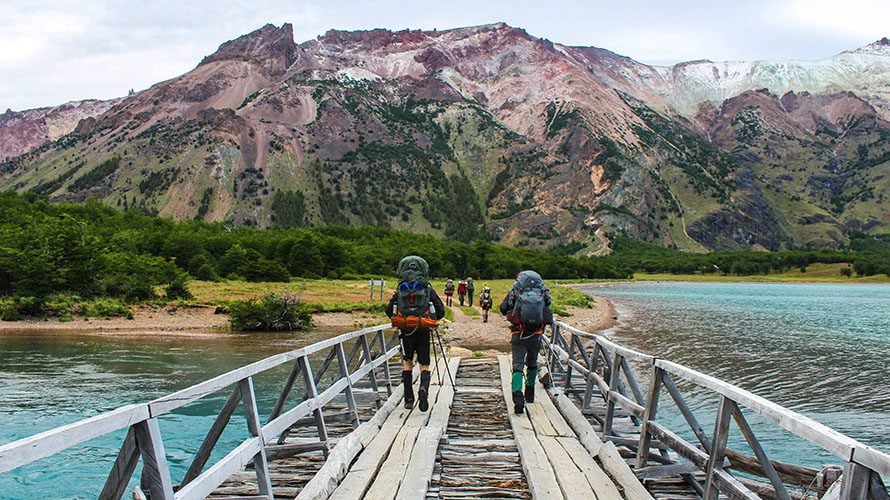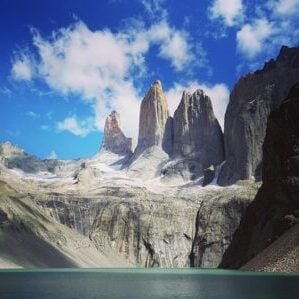 Have Questions?
Have more questions? Send us an email or call us at 800-715-HIKE (4453). We're here 7 days a week from 9:00 to 4:30 Mountain Time to make sure your trip planning goes as smoothly as possible.
Trip Information
For more information about all your options, check out our Patagonia page on the website with the button below! Individual trip pages have detailed itineraries, trip specifics, travel information, and more.