Hiking in Norway: Everything You Need to Know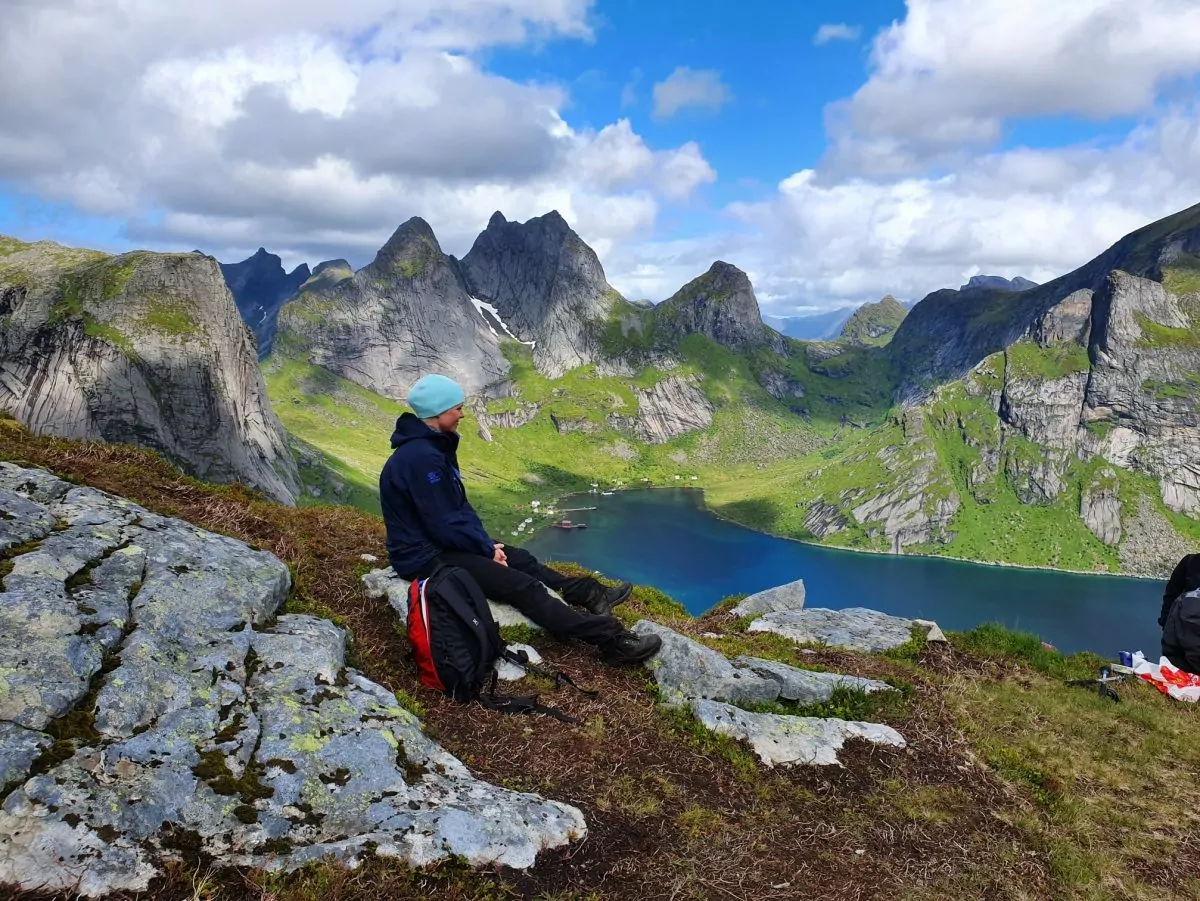 Norway is a fascinating country known for its majestic mountain peaks and iconic fjords. It's made up of dense forests, glistening mountain lakes, and expansive fields of wildflowers. A visit here is sure to leave you feeling humbled by the enormity of the landscape! Although small (population: 5 million), Norway is beloved by hikers from all over the world. Why? Well, the photos speak for themselves. But if you want more of a reason, it's because Norway is one of the most stunning landscapes. It features incredible hiking trails that weave through vast and diverse ecosystems. Norway has over 29,000 km of coastline — and over 26,500 km of that comes from the complex puzzle of fjords (over 1200 of them!) cutting into the mainland.
In addition to the vast wilderness, Norway is a country with a rich history, unique culture, and exciting folklore and legends. Small, picturesque villages dot the Norwegian landscape. You may see coastal fishermen's cabins painted red, yellow, or white. Or, keep your eyes open for tiny brown cottages with flower-covered roofs that blend into the mountain landscape so seamlessly you almost can't find them.
When you put all this together, you have a fascinating land in the "Home of the Giants" which is just begging to be explored. Allow the timeless hamlets to take you back to when Viking ships commanded the high seas. Picture yourself as an intrepid explorer, venturing out into the unknown. You're sure to feel awestruck by all that Norway has to offer with a Wildland Trekking trip!
All-inclusive World Class Hiking Vacations
Visiting Norway: Planning Your Hiking Trip

What Makes Norway Unique?
This little country is known for its connection with nature. As a people, Norwegians pride themselves on going out into the mountains in any kind of weather — rain, shine, gale-force wind, or snow. As long as you have good gear, you can go anywhere. (Although not all Norwegians entirely agree with this.)
Along with the hiker attitude to go anywhere at any time,  you are also legally allowed to. Norway is one of the few countries with the "right to roam." Although Norwegians do own private land, it is every person's right to explore that land in a respectful way. You can camp and hike anywhere, as long as you follow the social code of ethics to be polite and responsible.
Not only do the Norwegian people have a focus on nature, but so does the country and government itself. Norway prioritizes sustainability, as evident by 99% of its energy coming from hydropower and more electrical cars per capita than any other country in the world. Norway is a wealthy, developed, and highly functional socialist country. This modern nation uniquely balances age-old traditions with today's progressive values and technology. You need to experience this blend for yourself to fully appreciate its charm.
Visit Norway on a Guided Tour or DIY?
Many people prefer guided trips to DIY trips when it comes to traveling in Norway because they're sure they're packing in the best sights and experiences. However, how you travel depends on what kind of person you are and what type of experience you want. Norway is a very safe country, so it is okay to travel alone. Norwegians typically speak some level of English, although the more remote you get, the less English you will find. Everything in Norway is set up in Norwegian, so you should be prepared to navigate in a foreign language. That being said, if you speak German, Swedish or Danish, you may be able to get around more easily as the languages are very similar.
Pros of a Guided Trip
Knowledge of the places to stay, eat and explore based on the local guides' knowledge and expertise.
Travel logistics and reservations are taken care of so you can enjoy your trip rather than pouring over Google Maps and Google Translate each evening.
With small group travel, your guide will have the experience to tailor the trip to group needs and preferences.
You'll prioritize safety in the mountains in a new environment. No matter how experienced you are, every ecosystem has different risks that it's hard to stay aware of as an out-of-town traveler. Having a guide with knowledge of the local environment will help you make safe decisions each day.
The itinerary is set, so you are just along for the ride and to enjoy life! All of the hard decisions are made for you, and logistics are all set in advance. Just follow your guide!
If you are traveling solo, guided trips can be a great way to make travel buddies.
Norway is expensive! Guided trips help you set your budget ahead of time without surprise expenses.
Pros of a DIY Trip
You can create your own itinerary, instead of following a set itinerary.
You are the master of your decisions, rather than going along with the group's collective travel goals.
If you're a natural-born leader with some safety skills, you're in charge of your own well-being, which can be exciting.
Why go guided? Norway Hiking Vacations
It can be hard to choose a guiding company to travel with internationally. You may have been saving up for a trip to Norway for years, and you want it to fit your expectations. When looking into guiding companies make sure you look at their customer reviews. People just like you have traveled with each small group travel company, so read over reviews online and see if the descriptions of the tour fit your expectations. Your guide is very important for how your trip will feel, as the guides help create group culture – read over some of the guide testimonials to get a feeling for who you will be traveling with.
Expert-led Norway Hiking Adventures
Wildland International has an excellent reputation when traveling abroad, and only works with trusted partners in foreign countries. Local guides, knowledge and expertise create the trip to flow smoothly and keep our guests safe. The steep mountains in Norway can be very challenging for hikers and the Norwegian weather is unpredictable and harsh- its best to travel in the Norwegian mountains with experts to guide you safely in new terrain. Booking with Wildland International provides a safe, logistically easy and trustworthy experience.
When to Go
When traveling to Norway, you should prepare for a variety of climates and temperatures. Precipitation and cool weather are commonplace due to Norway's coastal landscape. Rainfall is the highest on the west coast near Bergen. This moisture creates vibrant green colors and allows a variety of plant life to grow in the region. Further inland, the climate is noticeably more dry and predictable.
Due to the extreme north-south length of the country, you can expect to experience warmer temperatures towards the south and colder weather in the north towards the Lofoten Islands and beyond. Despite Norway being situated far north on the globe, it is located next to the Gulf Stream – a warm ocean current. This current makes the country's average temperatures much milder than one might expect.
High Season
Summer, from June to August, is the high season for visiting Norway. Over the last five years, summers have been getting warmer, so you can expect summer temperatures to stay around 60-70º Fahrenheit,  with occasional jumps into the '80s. However, don't forget to take into account which region in Norway you will be visiting. Depending on which part of the country you're in, you'll find slight differences in average temperatures.
The summer months are an ideal time to enjoy all of the outdoor activities Norway has to offer. The mountains usually become accessible in early to mid-July, as the remaining winter snows melt. During this time, the coastal and inland areas also become warmer. If you plan to be in the mountains, remember that the weather can change very quickly. You might sunny warm days mixed with windy, cold, rainy days. Additionally, some days may provide a mixture of weather — from occasional showers to warm temperatures and sun. On average, the weather is the most stable in July and August when the rain falls less.
What's more, thanks to the country's extreme northern position, summer has a period of time when the sun does not set. This natural phenomenon, known as the "Midnight Sun," is more pronounced the farther north you travel.
Shoulder Season
Shoulder season consists of both fall (September-November) and spring (March-May.)
Fall offers a cozy and colorful environment: as the leaves change, rich variations of gold and red colored leaves coat the forest floors. Spring offers the birth of wildflowers, fruit trees, and gushing waterfalls as the snowmelt gives life to the landscape. Additionally, Norway will emerge from the long, dark days of winter.  More daylight gives way to more adventuring (and warmer temperatures.)
Both fall and spring overlap with summer and winter activities. For example, you can find good skiing at the beginning of spring, with the benefit of warmer days and more sunlight. In the mountains, snow can fall as early as September, blocking trail access. Or, other years, snow doesn't fall until November, allowing you to explore stunning views of the autumn forests without needing to travel on snow.
In these shoulder seasons, you should expect less predictable weather, as temperatures vary significantly throughout each season. However, don't let this deter you. Viewing nature's magic in the changing seasons offers a unique and enriching experience, with significantly reduced crowds.
Low Season
Spanning December through February, the low season transforms Norway into a winter wonderland of snow. Temperatures often hover around 20-30º Fahrenheit but vary depending on how far north or south and how far inland you are. No matter your location, Norway is world-renowned for its cross country skiing, downhill skiing, and dog sledding.
Unlike the summer, the winter days are fairly short. In the far northern regions, the sun does not rise for some time towards the end of January. One perk to the long nights and cooler temps is the Aurora Borealis – often called the Northern Lights. If you want to improve your chances of viewing this magnificent dance of electrical charge across the sky, travel north. The temperatures become more cool and dry towards midwinter, allowing for this magical display of lights.
Deeper Dive: More About When to Visit

Natural Phenomena

As mentioned above, a unique phenomenon that occurs in the summer is the "Midnight Sun" or a "polar day." This phenomenon, when the sun never sets or falls below the horizon, occurs across the country during the summer months. The earth's tilt and rotation align during this time, pointing the northern hemisphere towards the sun. The further north you go, the more days without night you will experience. During this magical time, you'll soak in the alpine glow as light casts a soft gold and cotton candy pink and purple color across the landscape during dusk and dawn.

Another phenomenon that is prevalent in northern Norway is the Aurora Borealis, or Northern Lights. This phenomenon occurs as charged particles in the earth's atmosphere collide, causing a spectrum of colors that appear to dance across the sky. This beautiful sight is something that only occurs in very far north or very south regions of the globe.

Trip Dates

We offer a select few trips to Norway every year, so be sure to book your spot in advance. Head to our Trip Dates Page to view which trips we have scheduled; they are organized by month. When you select the month you're interested in, scroll down to "N" for Norway, and look at your options. If Norway isn't listed, it means we don't have any trips scheduled for that particular month.

Weather Information

We very seldom cancel trips due to weather. Therefore, keep a close eye on the forecast during the weeks and days leading up to your trip to ensure that you're properly prepared! Once you know what weather to expect, make sure you pack appropriate clothes so you're comfortable in all potential conditions.
Trip Styles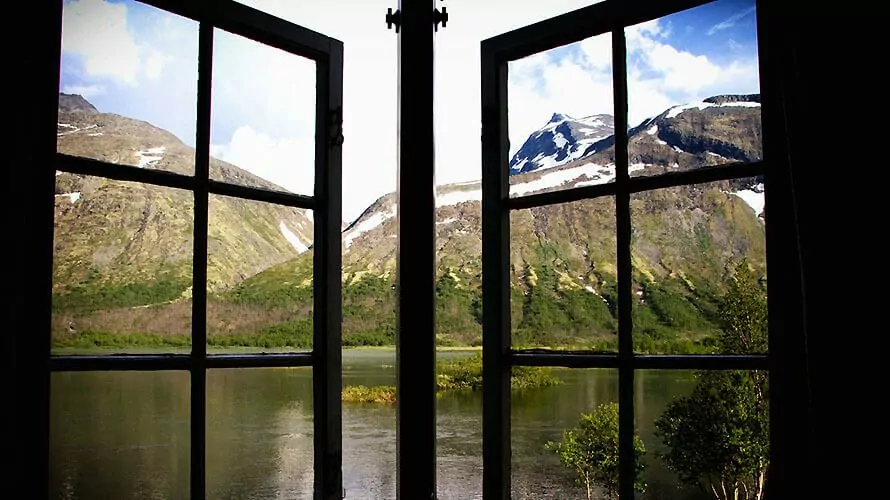 If you're looking for an easy-going and relaxed adventure with all of the comforts and amenities of a home base, look no further than our lodge-based trip. This experience offers a variety of activities and stunning scenery at a manageable and pleasant pace, and you won't have to worry about a heavy backpack! You'll boat, hike, and eat your way around the country while enjoying a warm shower and comfy bed each night. Lodge-based trips encompass multiple locations and landscapes, and even include visits to historic fishing villages. Lodging, food, and transportation are all included for a carefree experience!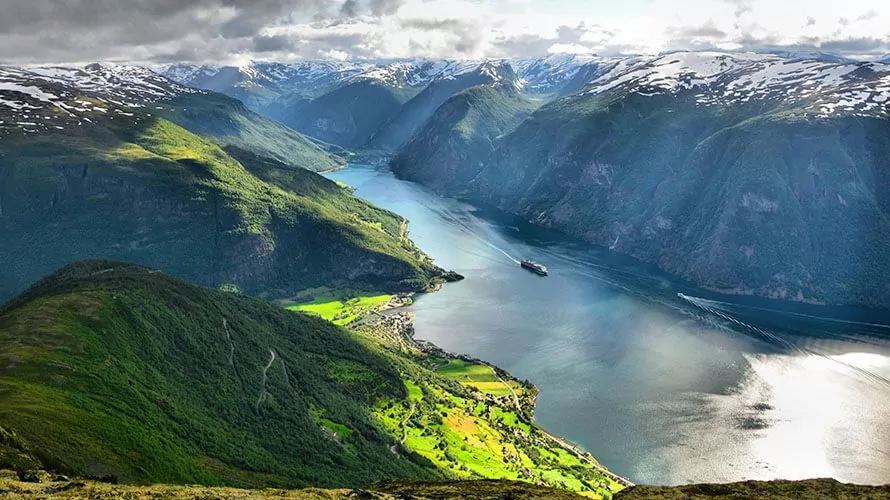 Experience all that Norway has to offer from the fjords to the mountains. Get up close and personal as you backpack your way across the land. This hut-to-hut tour spans the mountains beginning in the city of Oslo and ending in Bergen. With a light pack, you'll make your way across the vast landscape as the Vikings once did. You'll get to rest your legs at the end of each day by enjoying a quaint mountain hut. This is a unique and environmentally sustainable way to explore the culture, history, and astonishing landscape of Norway.
Deeper Dive: Our Top Recommended Trips

Lofoten Islands Lodge-Based Tour: Our #1 Recommended Norway Trip

If you are looking to experience the best of Norway, look no further than the Lofoten Islands Inn-based Tour. Experience the "Land of the Midnight Sun" as you enjoy long days and adventure across the ancient terrain above the arctic circle. This land, once inhabited by Vikings, offers 1000-year-old fishing villages, gleaming seas, and rugged exposed mountain terrain to entertain the imagination. As a small grouping of island communities, you will be sure to create lasting memories in Lofoten where history meets modern charm and adventure amidst mountains and sea.

Explore some of the best hiking in Norway with our 8-day hand-picked itinerary of the most spectacular views and welcoming accommodations!

Trip Highlights:

Explore picturesque streets in historic fishing villages
Feel refreshed by the sea's breeze on a scenic boat cruises
Experience jaw-dropping views of the grand peaks of Lofoten
Witness unique and diverse wildlife

One perk to our lodge-based trip is that you'll have a cozy place to relax, refresh, and rejuvenate each night. You'll feel well-rested and better able to absorb all the sights, sounds, and smells of immersing yourself in a new place. We work with a variety of lodges along this journey to ensure you get the most out of your trip.

The first two nights of the lodge-based Lofoten Island trip will be spent at Nyvagar Rorbuhotell in Bodo, Norway. You'll wake up to the call of adventure by the sounds and smells of the ocean right out your front door! This lodge is located directly on the sea and provides stunning ocean views.

The second lodge we'll stay at is Lofoten Links near Kleppstadheia Mountain. The highlights of this lodge include jaw-dropping views of the midnight sun and northern lights over the ocean, as its cabins are facing north for your viewing pleasure.

For one night, Solsiden Brygge puts a modern twist on the classic charm of other lodges. This lodge is a great place to relax, complete with a hot tub and stunning views!

Last, guests will stay at Eliassen Rorbuer. End your trip immersed in history and charm in these renovated fisherman cabins at this famous Lofoten Island lodge. Located on a small island in a small village, this lodge will take you back in time!

See Lofoten Islands Lodge-based Tour

Best hikes in Norway

Multi-day Norway Hikes

Hut to hut trekking in Norway is very common, with incredible hut systems set up throughout the country. Well-marked trails guide the way through the Norwegian mountains and cozy cabins appear to shelter you from the weather. Norwegian social rules of not talking to strangers disappear the second feet hit the trails. Jotunheimen, named after the land of the giants from Norsk Mythology, is a premier hiking destination in Norway. This alpine landscape with turquoise lakes, cascading waterfalls, fields of wildflowers, and towering peaks is home to 250 summits above 1,900 meters. The most prominent are Galdhøpiggen (2,469 meters) and Glittertind (2,465 meters), the two highest mountains in Northern Europe.

Norway Day Hikes

There are premier day hiking destinations all over Norway. It would take years to explore all the hidden gems the country has to offer. However, our recommendation for the most stunning day hike destination in Norway is Lofoten. Lofoten is famous for its dramatic mountains shooting straight out of the ocean. At 68 degrees North, Lofoten sits above the arctic circle to offer 24-hour sun during the summer months. Although its latitude suggests it would be cold, the gulf stream provides warm temperatures to Norway as a whole, keeping the temperatures moderate instead of glacial. Lofoten has an old Norwegian fishing culture, and once you visit you can see why. Famous for its Cod, Lofoten has survived the centuries through fishing. In fact, one of the oldest Viking settlements to date is located in Lofoten. The trails in Lofoten are steep and often muddy and slick, but the summit view is well worth the effort.
Need to Know
Primary Starting City For Norway Adventures
All Lofoton lodge-based trips will convene in Bodo, Norway, and all hut-to-hut trekking trips will meet in Oslo, Norway.
If you're heading out for a lodge-based trip, you'll find that navigating Bodo is extremely easy. Once you have arrived, you will meet up with your guide and group at the Bryggerkaia restaurant in Bodo around 3:30 pm. This restaurant is conveniently located next to the airport, a quick 3-minute taxi ride or a 15-minute walk away. You should land no later than 2:30 pm on the first day of your trip.
Hut-to-Hut trekkers will have the opportunity to explore Norway's capital city, Oslo, before heading out on your adventure. You'll meet your guide approximately 1.5 hours before the first day's bus ride out to your hike.
We highly recommend arriving in Norway a day early if you're able. This extra time will allow for a buffer for any flight or travel interruptions, as well as help you recover from jet-lag. Trust us, you will not regret the extra time to feel more adjusted, rested, and relaxed.
Booking Advice
Be sure to register as soon as possible; trips fill up fast. When you are ready to register online, click on the green dates on the dates section of the trip page.
Any dates listed in blue must be reserved by emailing our customer service team. In this process, we confirm the availability of the trip you want and minimize any booking hiccups along the way.
Keep in mind that children 12 and older may join standard groups on scheduled tours. However, children 5-12 years of age will need to be a part of a private tour with separate logistical requirements judged on a case-by-case basis. Please feel free to direct any questions to our customer service team who are available to answer help you 7 days a week!
Transportation
Please keep in mind that accommodations before and after the trip – and transportation to the starting city – are not included in the cost of your tour. But don't worry! It is very straightforward to arrange both lodging and accommodation in Norway, and we're certain that you'll love the opportunity to explore a new country.
Norway has very reliable standard public transportation. For many Norwegians, buses, trains, and ferries are common ways to travel in daily life, so these services are extremely well managed. They are clean, up to standard, and very timely. If you are going to use these public options, be timely and efficient — they will not wait for you!

Lodging
Norway's lodging is highly valued for its feeling of "koselig"-ness. This Norwegian word means a blend of "cozy" and "homey." Unlike the United States and other countries, privacy in shared spaces is not as important in Norwegian society.
Norwegian cabins or "rorbuers" — refurnished fishermen's cabins — often have shared bathrooms, kitchens, and living spaces with separate bedrooms. These bedrooms are often bunk-style. Unless there is an option to book a single room, you can expect to share space with your fellow travelers.
When you stay in this type of lodging, all are encouraged to cozy up in shared spaces and feel at home. Board games, drinks, and a good book are common ways to enjoy cabin life during poor weather. Candles are a must – otherwise, the "koselig" factor decreases significantly.
Visa Information for Norway
Norway is a member of the European Schengen Zone. This means that your 90-day visa – which is granted upon arrival with no pre-application required – is also valid for all members of the Schengen zone. Such a system makes it very easy to include a stopover in one or more other countries while you're on the far side of the Atlantic! We recommend you consult the U.S. Department of State for the most up-to-date travel information and advisories.
Phones, Wifi, and Electricity
Norway has excellent cell phone service, but certain portions of the mountains will not have reliable service. The cabins for hiking hut to hut vary in terms of wifi access. Some have wifi while others don't — and generally, it is not very reliable if you need it.
You will need a European adapter in order to charge your electronics in Norway.
Deeper Dive: More Need to Know Info

Language

Naturally, Norwegian is the primary spoken language in Norway. But don't fret! The vast majority of Norwegians are fluent in English and will be very willing to help you with directions, should you need it.

Trip Insurance

Life is uncertain, and that is part of what makes travel so great. Discovering the unknown of new culture and landscape makes traveling so thrilling. On the other hand, we never know what may happen at home or abroad. Preparation and safety are key ingredients to a worry-free trip, so we highly recommend purchasing insurance for field evacuation, repatriation, and medical emergencies. Travel insurance is a small cost compared to the overall expense of an international trip and can have great rewards when we most need them.

More information about our international travel policies can be found on our Trip Insurance Page.

If you wish to purchase insurance through other providers, please consult with the provider to make sure you will be getting the coverage you need, as many other providers have policy exclusions.

Packing List

Norway is a coastal country, therefore, it is wise to prepare for all conditions as rain and adverse weather are common. Sturdy hiking boots, rainwear, non-cotton base layers, and wool or synthetic hiking socks are essential. These layers, paired with a fleece or warmer mid-layer, will help keep you warm and dry!

Moreover, a water bottle, bug repellent, sunscreen, and other toiletry items will be your responsibility to bring. If you need to purchase some items, please refer to Wildland Trekking Outfitters to acquire any gear items you may need.

Lastly, keep an eye out for the trip packet, which will be emailed to you upon registration. This packet will include a recommended clothing list and more detailed information about other recommended packing essentials and gear.

Permits and Maps

You do not need a permit to hike in Norway. The "free to roam" rule prohibits this.

You can purchase hiking maps locally in Norway for your trip, but keep in mind the maps will be in kilometers and meters so reading the maps will be different than USGS maps in the USA. We also recommend you download the apps NorgesKart and UT.no onto your mobile device if you prefer an electronic map. Paper maps to consider for your trip include:

Jotunheimen Hut to Hut Tour

DNT – Jotunheimen Aust 1:50,000 Turkart (for 4 days of the trip)
DNT – Jotunheimen Vest 1:50,000 Turkart (for 1 day of the trip)
Nærøyfjorden 1:50,000 Turkart (for 1 day of the trip)

Lofoten Inn-Based Tour

DNT – Vest Lofoten 1:50,000 Turkart
DNT – Vestvågøy 1:50,000 Turkart
DNT – Vågan 1:50,000 Turkart

Overview Map

DNT – Lofoten 1: 100,000 Turkart

water

You can drink the water from any tap in Norway. There is no need to buy bottled water, bring your favorite water bottle and continue to fill it up! Norwegian hikers do not treat their water in the mountains but drink directly from streams and creeks. Norwegian water is known for its purity and excellence!

traditional Food

Norwegian food culture is largely based on traditional food. Norway was very poor until the 1970s when oil was discovered on the Norwegian Continental Shelf. Therefore, many traditional foods are based on local, hearty, and easy-to-grow foods that farmers grew themselves. Potatoes, carrots, onions, garlic make up most of the vegetable scene, and hefty meats such as lamb, cow, reindeer, and moose make up the meat scene. Traditional sauces are poured over the meal to make them delicious, with some freshly pickled lingonberries on top.

Fish is another common Norwegian dish, and you will eat a lot of it if you visit Lofoten. You can expect to eat seafood fresh from each morning's catch. You may also consider trying whale meat (it is available and regulated in Norway) and Stockfish, the traditional way of drying and preserving cod in the north of Norway.

Fresh apples, pears, and plums grow readily in Norway, and you can expect them in your dessert alongside wild strawberries, blackberries, and cloudberries (Yes, cloudberries. Just wait until you try them!) Although the food culture in Norway is limited in terms of variety, the farm-to-table availability is truly stunning. If you value sustainable food from local farms, Norway is the place to get it.

Last but not least, we need to talk about the Norwegian "Matpakke". This is lunch for 95% of Norwegians. It consists of open-faced slices of bread with a single slice of cheese, or a single slice of meat on each piece. This is how Norwegians have eaten lunch for generations. Be prepared to be amused, they cannot break from this ingrained habit.

dietary needs

Special dietary needs are not as common outside of the big cities in Norway. At restaurants, your Wildland guide will ensure the server knows about your dietary restrictions in advance, but it is important to check in with your guide or your server to make sure your needs can be met. Being vegetarian or vegan while traveling in Norway can be challenging, as much of the traditional food is meat or fish-based. Gluten-free, lactose-free and other restrictions are also not as common in Norway, but when you have an allergy such as those named above, the restaurant business is ready to support you. Double-check with your guide and server at each meal, but there will be alternatives available for you.

Your servers and guides can work together to find a good solution no matter your dietary restrictions. Just be open to the food presented to you — it will be delicious, if simple. Don't expect too many leafy vegetables while traveling in Norway, meat and hearty veggies are the backbone of Norwegian food culture.

Grocery Shopping

Norway, again, is a bit limited in this regard compared to the United States. Stores are small with little variety and contain very little ready-to-eat foods. However, the simplicity of the stores makes your choices easier! If you have a food intolerance or dietary restriction, you will have a limited number of snacks available to you for hiking. If you have specific hiking snacks you enjoy eating while on trail, please bring them. You won't find the hiking snacks, such as bars (Clif bars, Probars, Larabars or the like). Nuts and trail mix are available but will be expensive!
Responsible Trekking and Cultural Considerations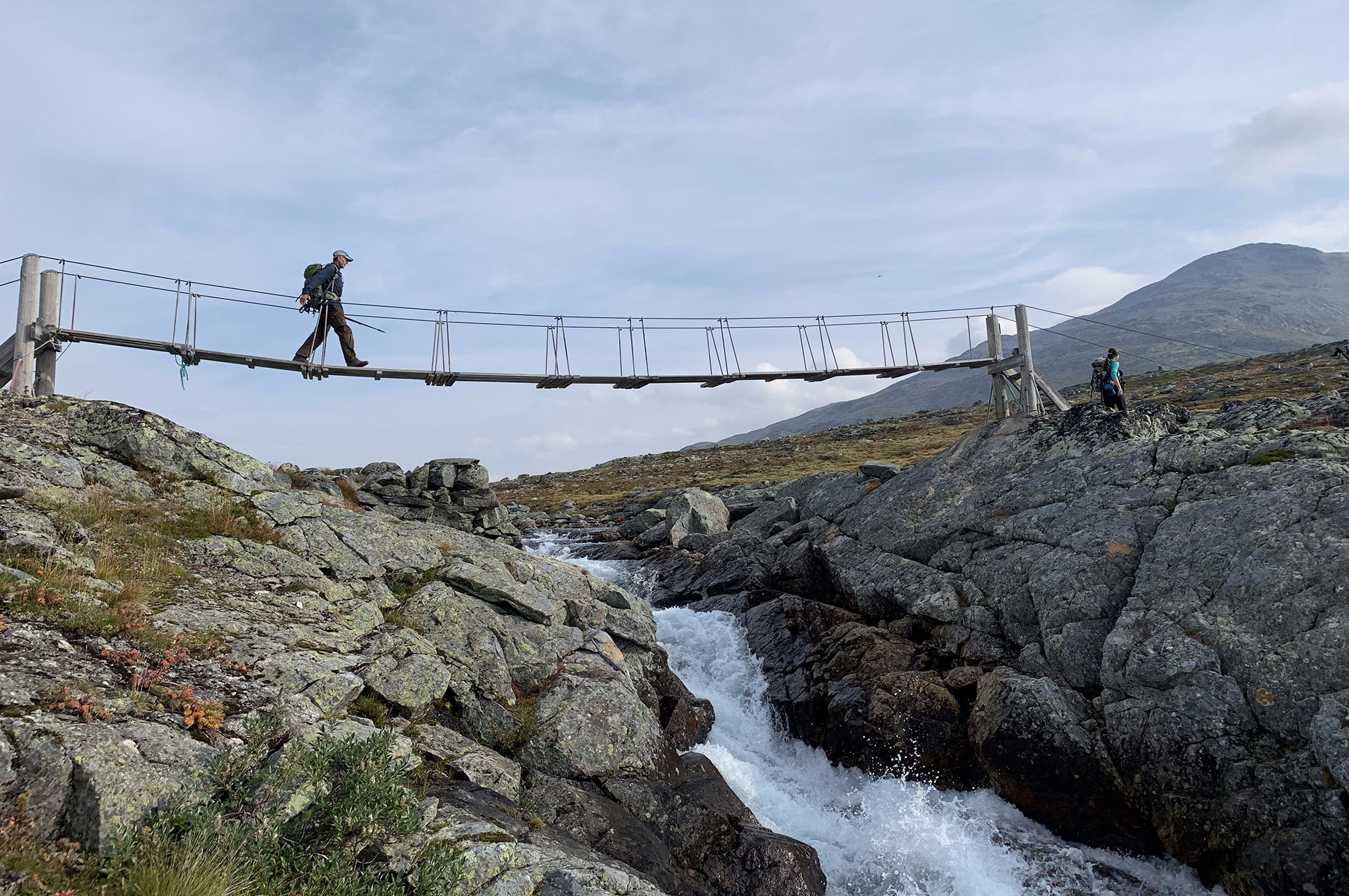 The mountain culture in Norway is accessible and available to everyone. Generally, the rules are the same as other mountain areas. For example, please follow the 7 Leave No Trace principles.
Plan Ahead & Prepare.
Travel & Camp on Durable Surfaces.
Dispose of Waste Properly.
Leave What You Find.
Minimize Campfire Impacts.
Respect Wildlife.
Be Considerate of Other Visitors.
Norwegians value silence in the mountains. Being loud or disturbing others, playing music or being disruptive to the general hiking population is seen as rude and obtrusive.
a. LNT
Historically, Norway has had a small population of people with a vast amount of natural space to roam. The ecosystem in Norway is robust with high amounts of rain and strong soil for biodegradation. Tourism just began to boom in Norway the last 5-7 years, and with the high influx of tourists, the landscape is facing a much higher impact. Norway is still discovering how to manage the large numbers of tourist to keep the ecosystems intact and pristine. Its our responsibility as guests in this country to act as good role models by following Leave No Trace (LNT) guidelines and encouraging others to do the same. Norwegian culture has a strong tone for doing what is best for everyone and following the rules in place- therefore Wildland International Trips will follow LNT principles by leaving the space better or the same as we found it.
b. Cultural/Religion/Customs
Norway is a largely Christian country, but there is no dominant religion or religious rules in society travelers need to be aware of. Culturally, it is generally considered polite in Norway to "not disturb others". Whether that is how loud you are speaking in a public place, talking on the phone on the bus, or sitting too close to someone when you could sit further away. Norwegians tend to be more reserved and quiet. For Americans, it can appear rude or uninterested, but this is normal socially in Norway. Norwegians can be direct, to the point and straightforward. Making conversation, greeting or waving at a stranger is deemed odd in Norway. Feel free to be yourself, but Norwegians will classify you as the outgoing tourist- which most likely you are! Ah, also, nudity is not as sexualized as in the United States. You will likely see a few people bathing naked in the ocean, alpine lake or river – this is completely acceptable and a normal part of being out on a trip. Alsok highly respected. Going for a sauna, or just finished a long hike? Get ready to jump in glacial water- the Norwegians will respect you for it!
c. Staff/Porter treatment
In any culture, anywhere in the world, staff and porters should be treated with respect and dignity. In Norway, you can treat your local Guide as you would your Wildland Trekking guide.
Gallery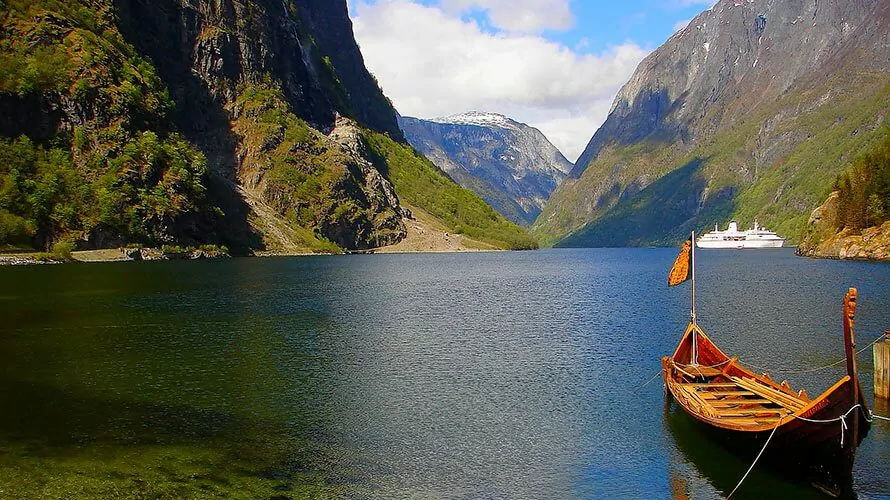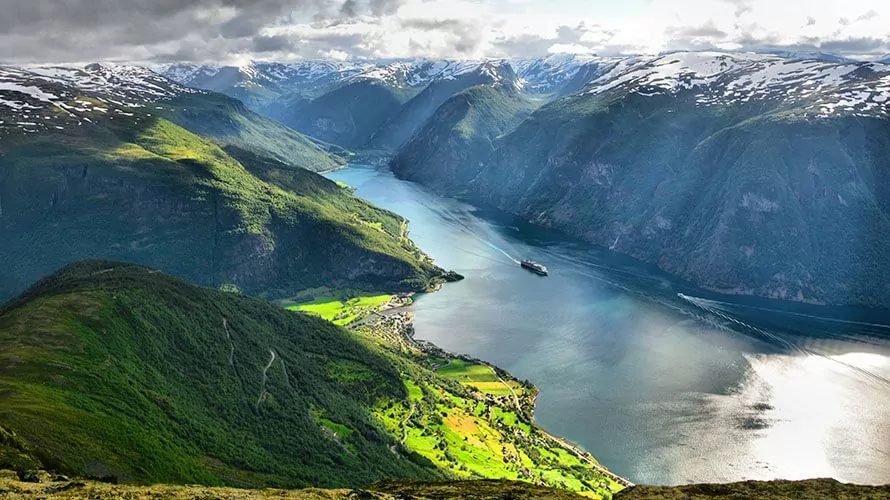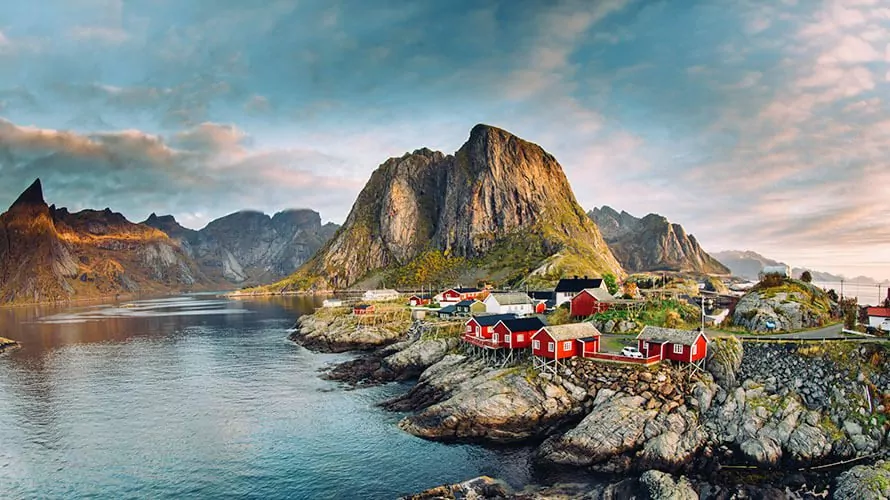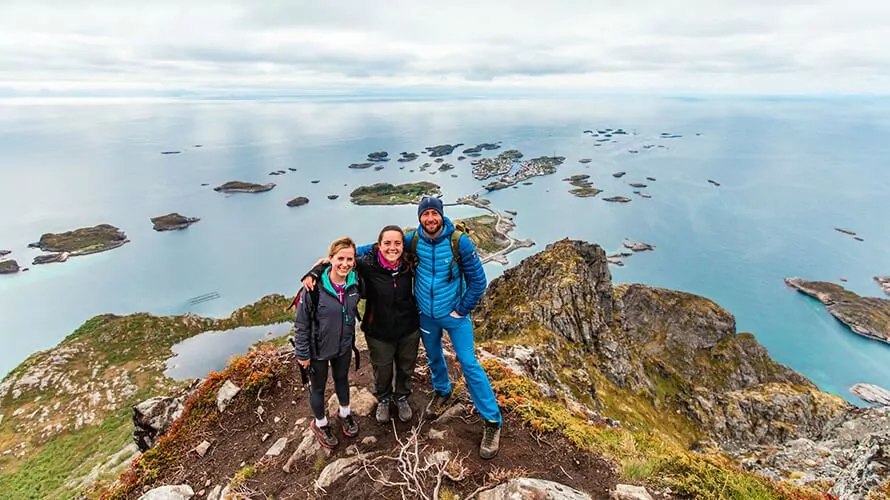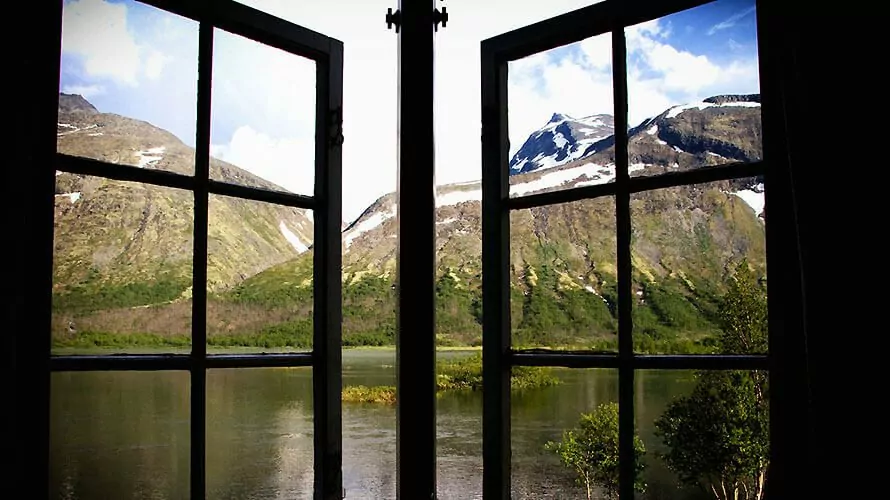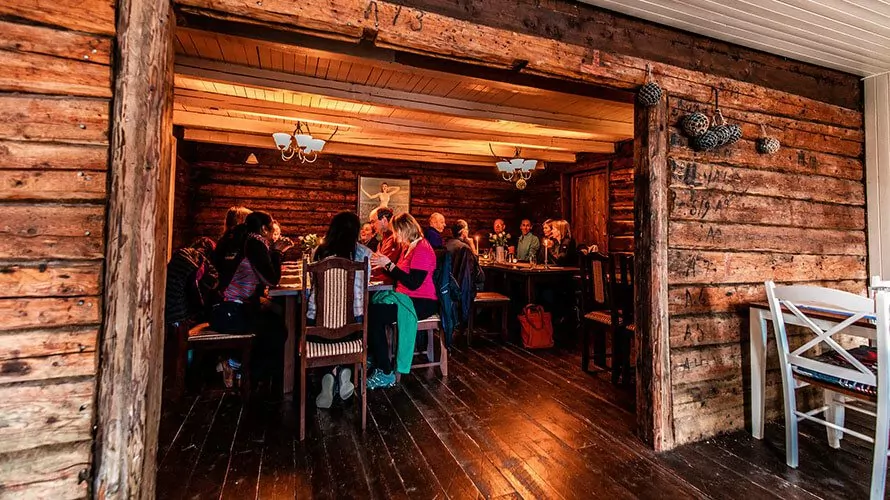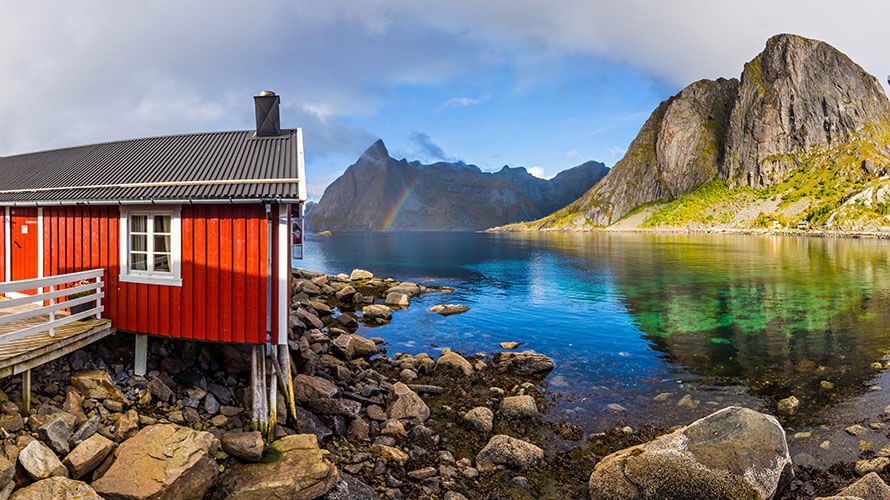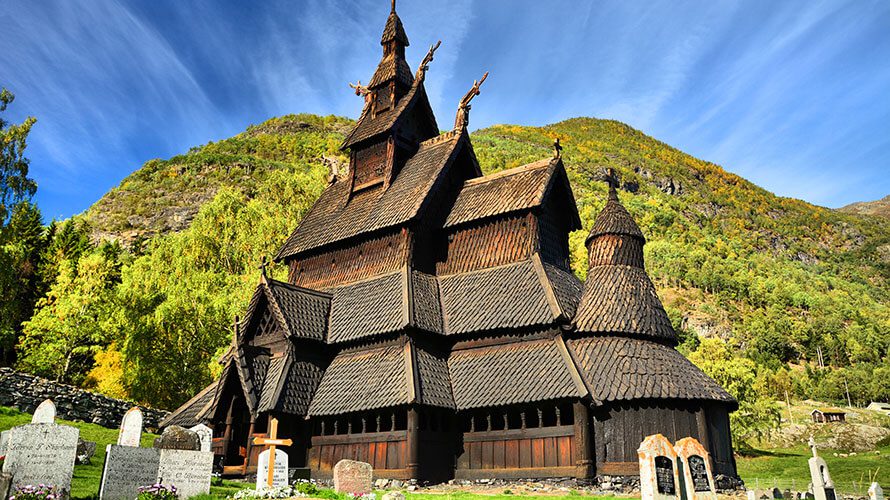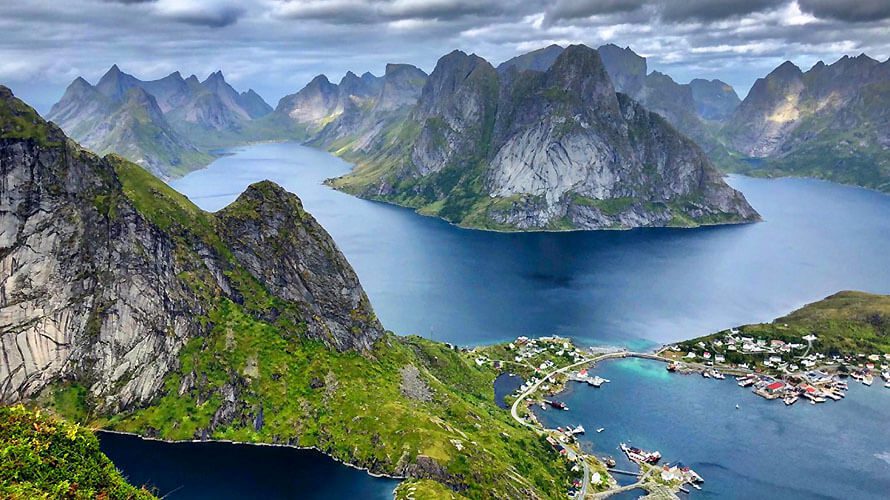 Join Wildland Trekking in Norway
Wildland Trekking's Norway tours are premier adventures to some of the very best hiking and trekking areas in Europe. Soak up amazing solitude as you discover not only stunning scenery but also a friendly, welcoming culture with a fascinating history.
Enjoy a Hut to Hut tour across mountains and dramatic fjords; or join us on a lodge-based trip dedicated to enjoying the splendor of the dramatic Lofoten Islands.
For more information about all your options, check out our Norway page on the website with the button below! Individual trip pages have detailed itineraries, trip specifics, travel information, and more.
Have more questions? Send us an email or call us at 800-715-HIKE (4453). We're here 7 days a week from 9:00 to 4:30 Mountain Time to make sure your trip planning goes as smoothly as possible.