Explore Joshua Tree With Wildland Trekking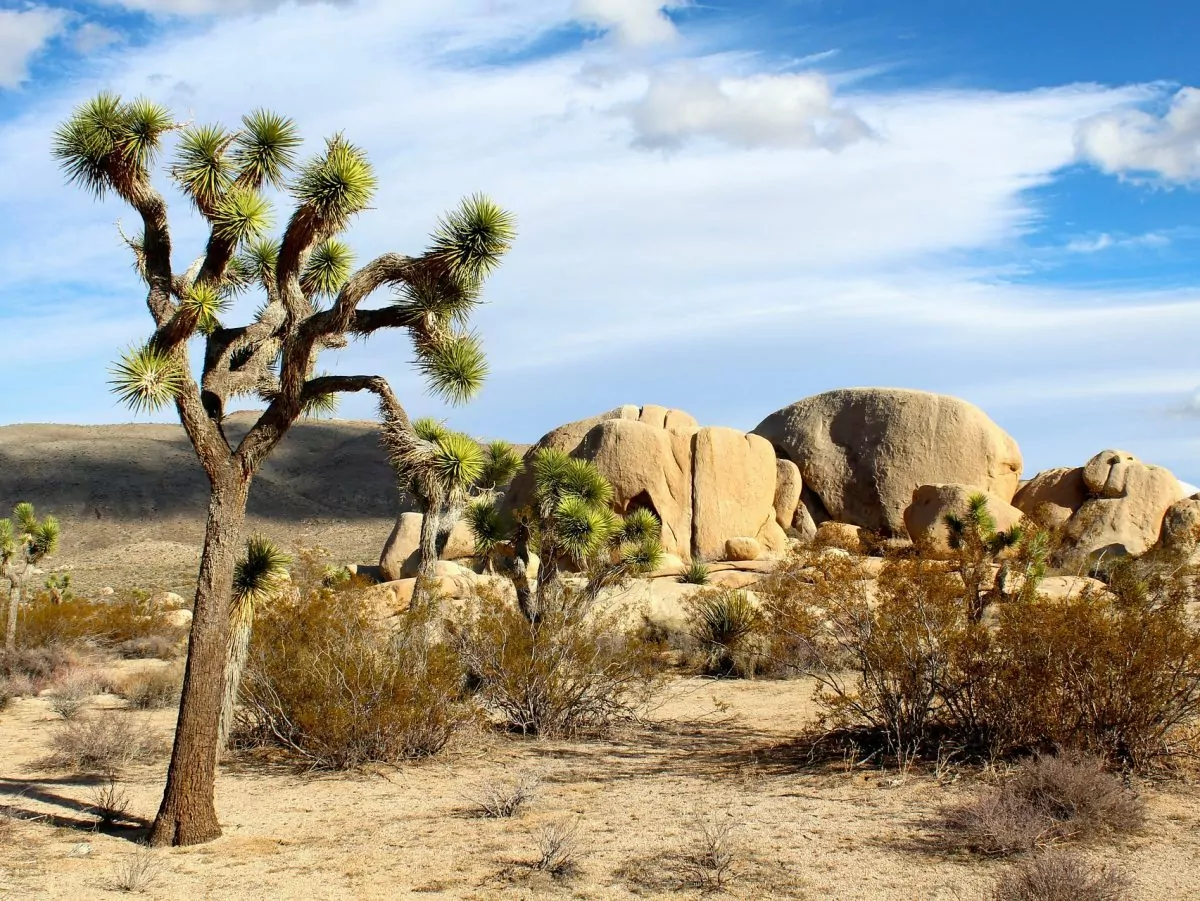 Upon your first visit to Joshua Tree National Park, you will be wondering if you are in a desert, savannah, or maybe on another planet altogether. This otherworldly destination is internationally known for its world-class rock climbing, geological history, and of course, the Joshua Trees. The park is a vast protected area that brings stark desert landscapes to life with rugged rock formations and desert flora that's as skewed as it is diverse.
Located in Southern California, Joshua Tree straddles the Colorado and Mojave Deserts. This prime location makes the park remote yet accessible to over 2.8 million visitors each year. Navigating crowds, activities, and the desert climate can be a challenge, however. That's exactly why Wildland Trekking has designed adventure trips in Joshua Tree National Park that any outdoor enthusiast can enjoy.
We take on the hassle of planning your trek so you can take in all that Joshua Tree has to offer and enjoy your trip. Optimize your time in Joshua Tree by joining our expert guides as they lead amazing hikes and find prime camping locations. We will find the right trails at just the right time to maximize your level of desert solitude. Plus, traveling with us will help make your Joshua Tree adventure a safe and memorable hiking vacation.
When to Go
Joshua Tree offers a wide variety of activities, and because of this, it draws in a large number of visitors each year. From family campers to rock climbers, people travel from all corners of the planet to explore this unique and charming landscape. So, whether you're planning to travel alone or with one of our guided tours, you will want to consider your activities, the temperatures you prefer, and how many people you can tolerate on the trails.
High Season (March to May)
The busiest season in this National Park is the Springtime. Early Spring tends to slightly more congested, and the crowds gradually become smaller as the daytime temperatures rise. Like other famous desert landscapes, a stunning array of wildflowers is Joshua Tree's biggest draw in the Spring. The wildflower blooms tend to be somewhat unpredictable and will largely depend on how much rain the park received the previous winter. Many visitors use the National Park's Wildflower Report as a guide to the spring blooms.
March to May can also be a busy time due to the number of school vacations that occur during that time. Many families and college-aged students take advantage of their Spring Breaks or long weekends throughout the Spring to get out and explore the park. Not only that, but the park hosts National Park Week in April, with some of the days being free admission. Then, as daytime temperatures start to heat up, the park hosts the Joshua Tree Music Festival each May. Both events draw in large numbers of visitors, and many areas will become crowded.
Throughout March and April, daytime temperatures will usually be somewhere in the 70s (Fahrenheit) with nighttime temps in the 40s. As we enter May, temperatures will get up to the 80s and above during the day with nights in the mid-50s. There is a very low chance of rain during this period, but temperatures may be cooler in areas above 5,000 feet.
Shoulder Season (October to February)
As the Fall rolls around, the summer temperatures drop back to the 80s, and outdoor activity becomes more tolerable. While the Fall temperatures are comparable to the Spring, the park does not see quite as many visitors. The Fall months, however, will be busier than winter months on average. Fall temperatures will sit between 70 and 80 degrees Fahrenheit.
The golden light of autumn and early sunsets of winter make both seasons a great time to visit if you are an avid photographer. While snow is a rare sight in Joshua Tree, it makes for a breathtaking scene. Many winter visitors tend to be rock climbing or outdoor backpacking enthusiasts. When other popular California destinations are covered in snow, Joshua Tree makes for a fantastic winter getaway. The desert sun gives the 50-65 degree daytime temperatures a much warmer feel. Nighttime temperatures often get into the 30s during the winter months, so be sure that you prepare with proper sleeping equipment or lodging along with plenty of layers.
Low Season (June to September)
Scorching daytime temperatures of 100 degrees and above make summer the slowest time of year in Joshua Tree. We don't recommend traveling to Joshua Tree in the summertime as heatstroke and severe dehydration are real possibilities thanks to the unrelenting sun and heat. Unlike many other National Park destinations, water is not readily available at many park locations. This scarcity of water adds another layer of complexity and danger to a summer visit. If you do visit the park during the summer, however, you should limit your outdoor activities to the early morning and night time to avoid the summer sun. Of course, be sure that you drink plenty of water and wear protective sun gear!
The primary draw to the Joshua Tree area during the summer is stargazing. If you are an astronomer, in any sense of the word from novice to professional, you will be able to find a great campsite and miss many crowds at popular lookouts. Plus, you could always aim to catch a glimpse of the annual Perseid Meteor Shower that occurs every August. As the summer months come to a close in the desert, the park hosts an annual Night Sky Festival in September. So, you can come to wrap up the summer constellations and enjoy the dazzling night sky.
Deeper Dive: More About When to Visit

Picking out the perfect time for your Joshua Tree adventure isn't dependent on the seasons alone. Let's take a look at other factors that will play a role as you begin to plan your trip to this stunning National Park.

Trip Dates

If you plan on visiting Joshua Tree with one of our many fantastic tour options, then you will need to consider not only the time of year but also the dates we have available. Once you have a month and time range picked out, check out our Trip Dates Page. Click on your desired month in the lefthand column and scroll down to 'California' to see Joshua Tree trips that are running during that particular month. Remember, trip dates are also shown for each of our individual Joshua Tree Trips, beneath their introductory description.

Climate Information

Joshua Tree is predominantly a desert climate. The park is located in both the Mojave and Colorado deserts with the Little San Bernardino Mountains on the southwest edge of the park. The Joshua Trees themselves are native to the Mojave desert, and each ecosystem in the area is determined primarily by elevation. In fact, the Mojave is at a significantly higher elevation than the Colorado desert.

Being a desert, Joshua Tree is typically a warm, dry area. The average rainfall is 8 inches of rain while the average snowfall is 1 inch. Most of the precipitation will occur during the winter months or the summer monsoon season. July and August are when desert monsoons will occur most frequently, but these monsoons can stretch into mid-September. Most visitors will miss the monsoon season, however, as general travel to the park is not advised during the summertime. Remember, summertime features extreme temperatures and limited access to water, both of which work in tandem to make visits very difficult.

Winter temperatures throughout December, January, and February will be relatively cold with short days. Nighttime temperatures can get as low as 30F. Proper gear is required to camp during this time of year as some days will experience extreme wind and the possibility of precipitation. Even after you have chosen a date and booked your trip, keep tabs on the weather, so you know what to expect. This knowledge will affect your packing decisions and allow you to be prepared for whatever lies ahead.
Trip Styles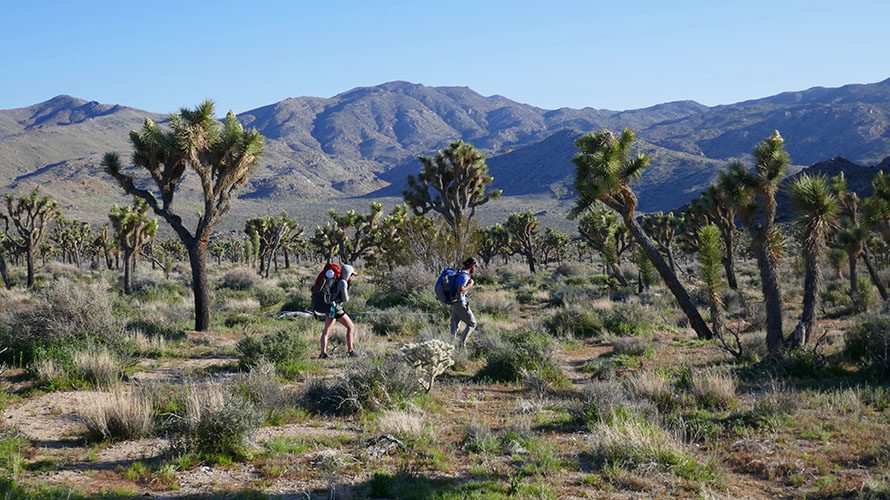 One of the most intimate ways to get to know Joshua Tree National Park is through a tour of the backcountry. On our backpacking trip, hikers will experience the most beautiful parts of the park leading up to the summit of Eureka Peak. Join our expert guides on more than just a regular backpacking trip, but an in-depth tour of Joshua Tree's geology, natural history, and ecology.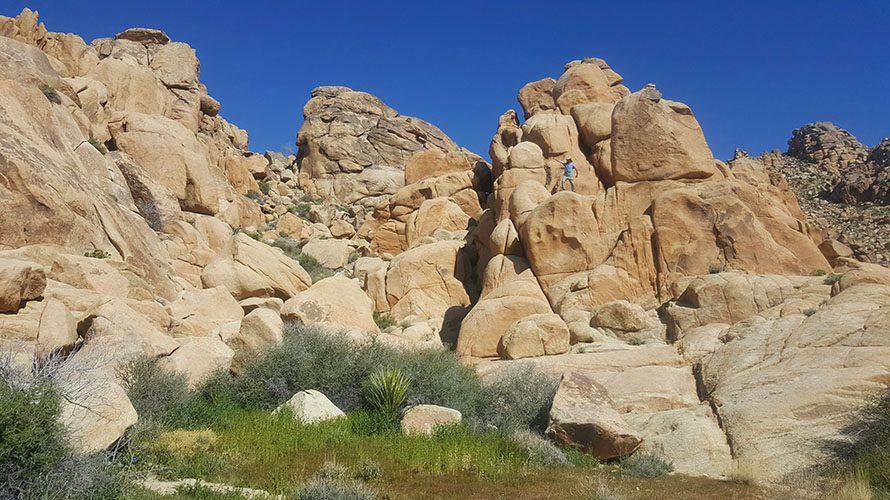 This combo adventure is an inn-based tour of both Joshua Tree and Death Valley. You will enjoy the best trails in both amazing desert landscapes while still having a warm bed to return to each night. Explore vast sand dunes, towering granite monoliths, salt flats, alpine peaks, and see unique desert flora and fauna on our week-long desert escape.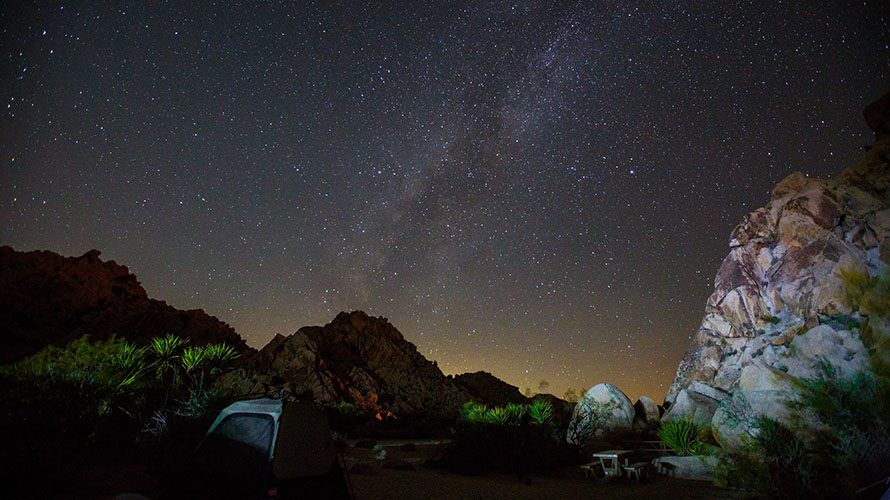 Similar to our backpacking trip, the basecamp tour will give you an incredible backcountry view. The main difference between the two trip styles is that you will only have to carry your daypack for each day of hiking. Plus, you can enjoy a relaxing afternoon and evening enjoying our private, secluded campsite at Sheeps Pass after a day on the trail.
Deeper Dive: Our Top Recommended Trips

Joshua Tree Basecamp Tour: Our #1 Recommended Joshua Tree Trip

One of our favorite Joshua Tree trips is our point-to-point 4-day backpacking adventure. No matter the time of year, you will be able to escape the crowds as we travel overland through the natural wonders of this other-worldly park. Starting at the iconic Wonderland of Rocks, you'll have a chance to hike amongst the surreal granite formations as we move towards the western edge of the park. At the end of our journey, we will summit Eureka Peak, a 5,001-foot mountain. This final leg of the journey gives a 360-degree view of the Coachella Valley and the surrounding San Bernardino Mountains.

Keep in mind that the blissful solitude you'll enjoy on this backcountry trip comes at a price, and we have rated this hike as difficult. It follows unmaintained trails, and we will pass over rugged terrain throughout our journey. Remember that you will also be carrying your pack that could weigh upwards of 30lbs. Our daily hiking distance will range from 4-9 miles, and we will be gaining significant elevation as we summit Eureka Peak. We recommend that you be in excellent physical condition and are able to maintain vigorous exercise without many breaks.

Trip Highlights

Summit Eureka Peak
Point-to-Point Thru-Hike
Delicious Guide Provided Meals
Area history, geology, and ecology
Desert Solitude

Learn more and book your Joshua Tree Basecamp Trip today!

More About Women's Only Trips

As a nod to Mother Nature and the universal spirit of adventure, Wildland Trekking offers Women Only Adventures. Yes, that means that all the guides and guests are female for this particular adventure. These exclusive excursions cater directly to women as the clientele and can provide a more personal hiking adventure, even for solo-travelers. We include all the same features as our standard adventure tours, so you and rest assured you won't miss out on any part of the adventure!

Learn more about our many Women's Only Adventures today!
Need to Know
The nice thing about traveling to Joshua Tree with a Wildland Trekking tour is that we handle all of the planning and logistics within the set trip dates. This professional planning allows you to have a chance to truly enjoy the area without worrying about what you need to plan next. With that in mind, you do still have a few things to book ahead to time. These bookings include your plane tickets along with lodging before and after our trip together.
Primary Departure City For Joshua Tree
The primary city for our Joshua Tree trips is Las Vegas, NV. So if you are traveling from a distance, you should have no trouble finding flights to the city and accommodation once you land. Our guides pick you up and drop you off at your hotel. For many of our Joshua Tree tours, we also offer the option to rendezvous in the park at the Oasis Visitor Center. Your guide will be in contact well before your trip start date to coordinate meeting times and locations. Take note that, unlike many of our other tours, Joshua Tree only tours do not include a night before orientation. The orientation will instead be held at our rendezvous point.
Book in Advance
First, you will want to choose and book the Joshua Tree tour that you want to join. After we have confirmed trip dates with you, book other travel arrangements as soon as you can. These travel arrangments include flights, pre and post-trip lodging, and transportation to and from the airport. We recommend that you leave at least one extra day for travel before and after your trip to ensure that you do not miss our pick-up or your flight home. While our guides work hard to keep the itinerary on schedule, delays are always a possibility.
Lodging
While there is no shortage of lodging options available in Las Vegas, NV, we do recommend that our Wildland Trekking guests choose to stay at the Tuscany Suites. This clean, off-the-strip lodging option makes it easier for our guides to get to and from the hotel in the chaotic traffic of Las Vegas.
If you choose to stay at another location and plan to be picked up in Las Vegas, we may ask you to meet our guide at the Tuscany hotel on the first morning of the tour. No matter where you are staying, you should inquire about where to store your luggage during the duration of our trip. You are welcome to leave it in the company vehicle while we are trekking, but we are not responsible for any lost or stolen items.
Transportation
Many hotels in the Las Vegas area, including the Tuscany Hotel, offer shuttle services to and from the airport. These are a very convenient option to get around the city with minimal hassle. Remember, all transportation during your excursion trip is covered by Wildland Trekking.
And there we have it: epic adventures in Joshua Tree National Park, important weather information, and travel tips for a smooth vacation. Now all you have to do is pick your preferred trip, book with us, and we'll have you out enjoying the stunning landscape of Joshua Tree before you know it!
Deeper Dive: More Need to Know Info
Gallery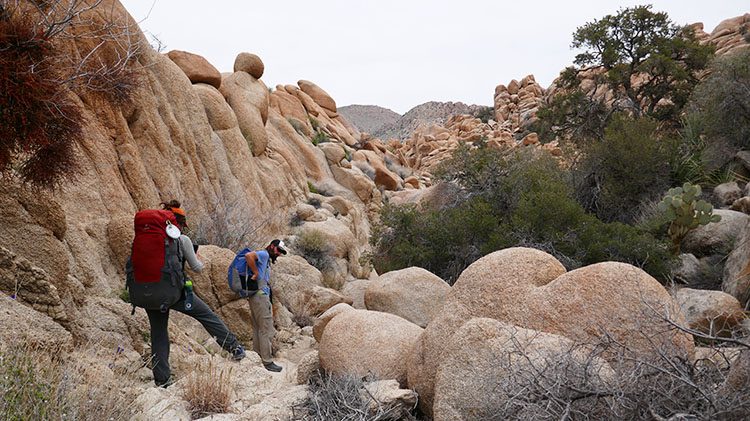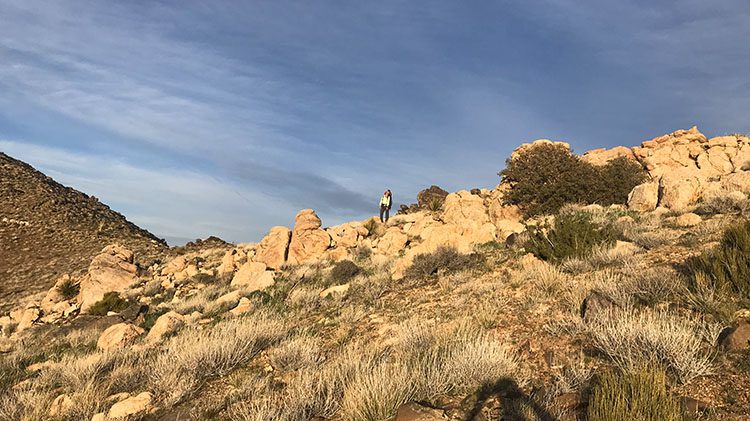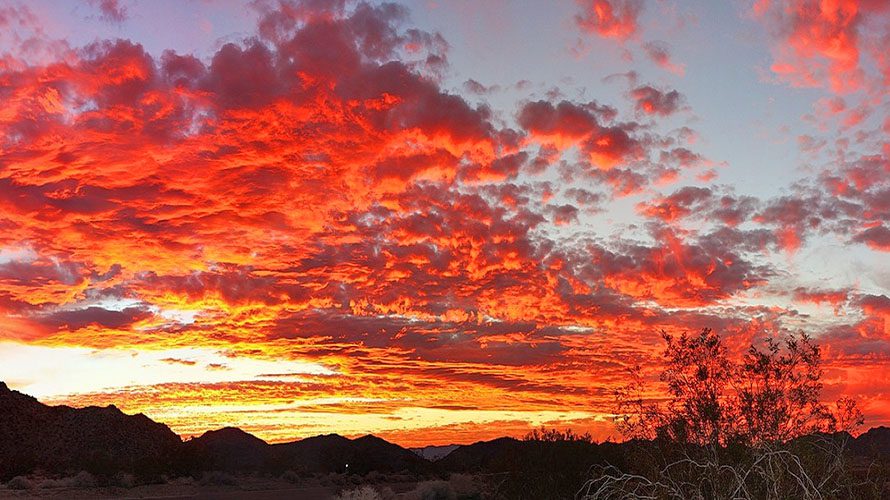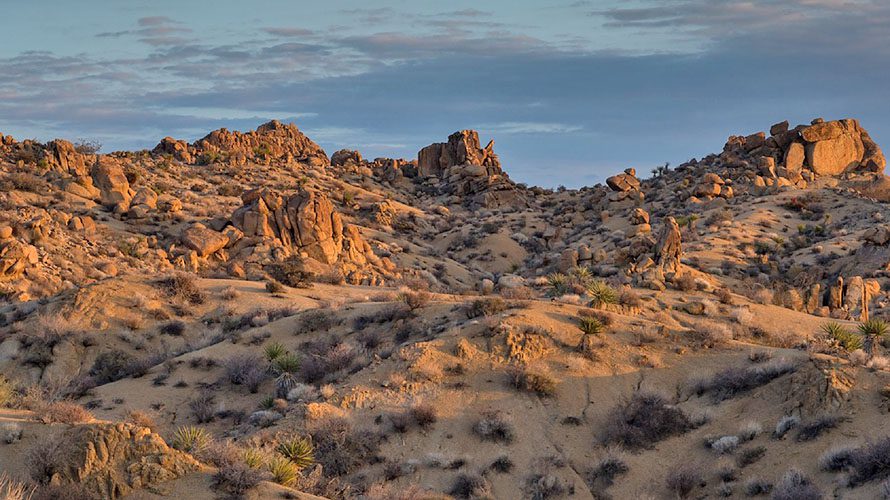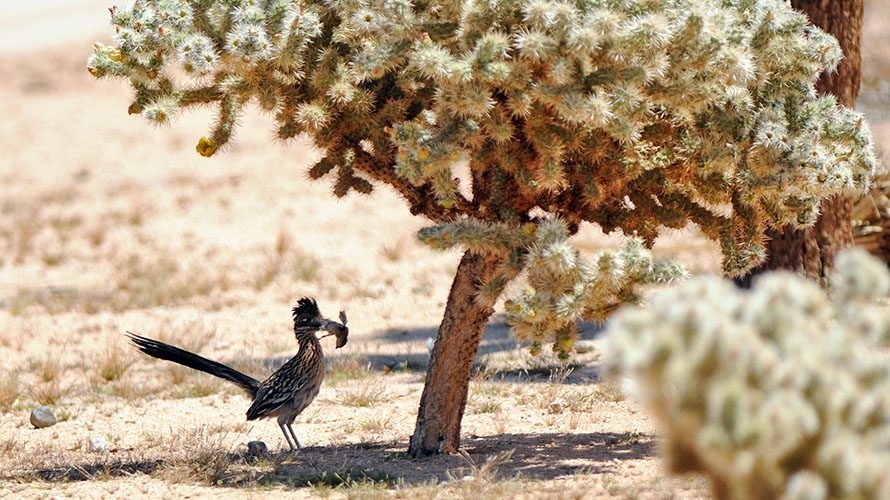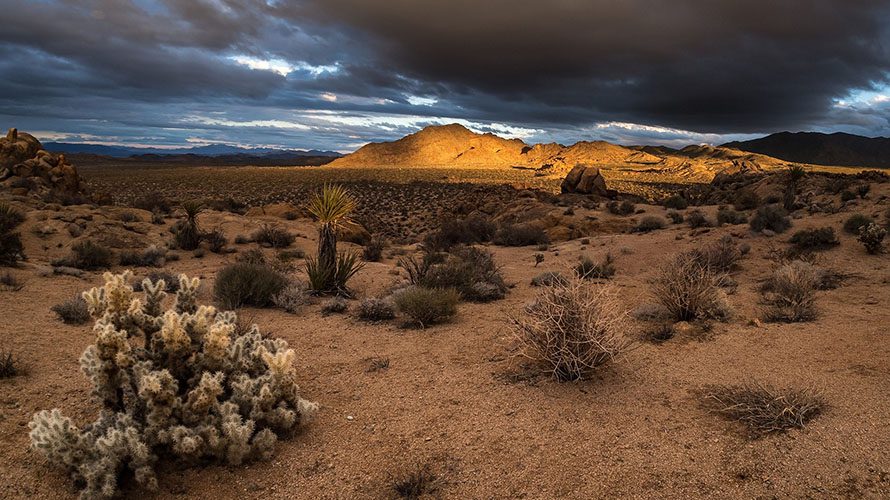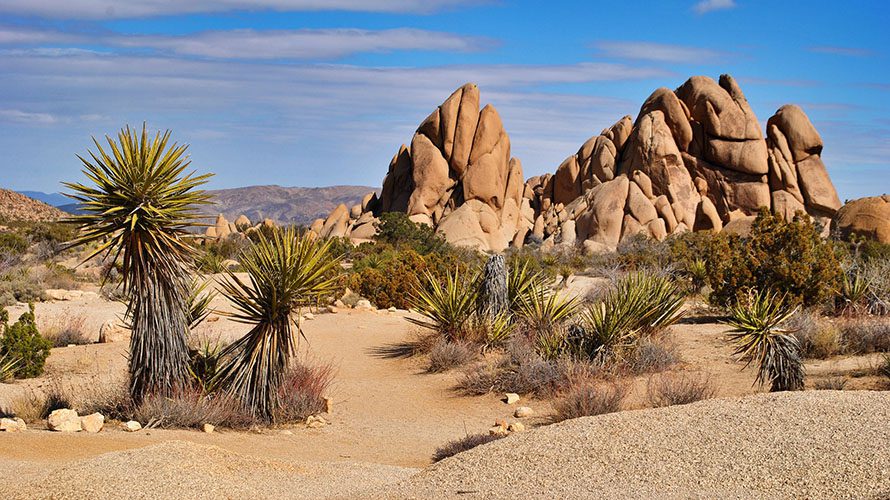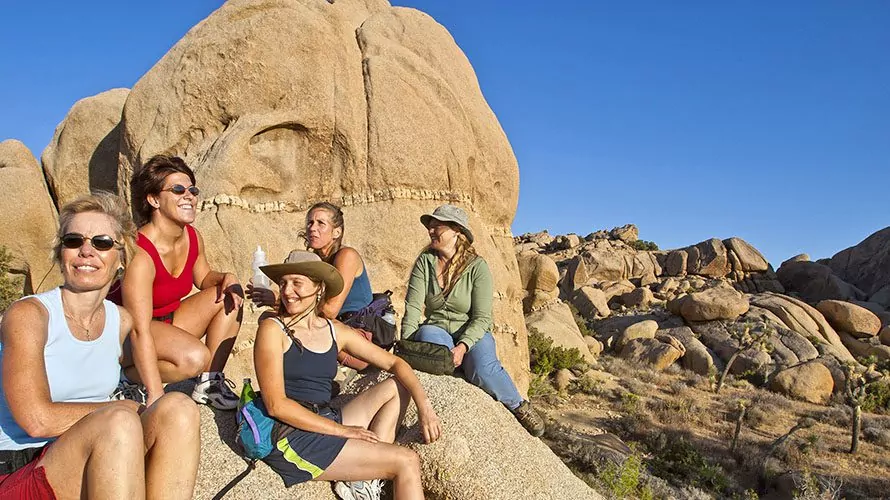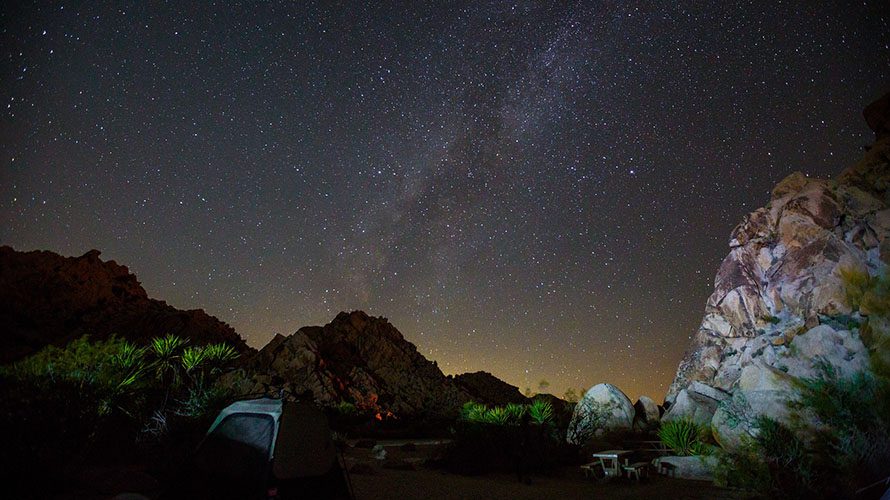 Have Questions?
Have more questions? Send us an email or call us at 800-715-HIKE (4453). We're here 7 days a week from 9:00 to 4:30 Mountain Time to make sure your trip planning goes as smoothly as possible.
Trip Information
For more information about all your options, check out our Joshua Tree page on the website with the button below! Individual trip pages have detailed itineraries, trip specifics, travel information, and more.