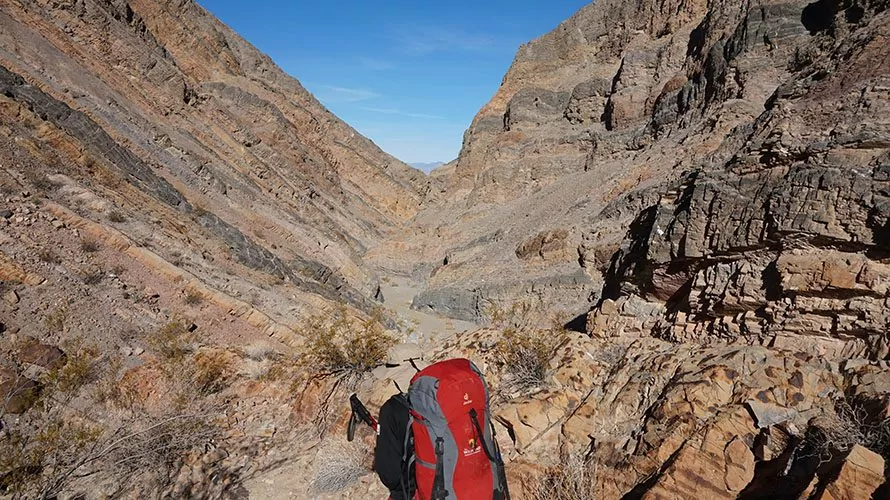 Cottonwood-Marble Canyon Trail
General Description
Hiking the Cottonwood-Marble Canyon Trail is the pinnacle of backpacking adventure in Death Valley National Park. This hike explores lush desert oases, ancient Native American petroglyphs, and some of the most astounding canyon narrows around.  Lounge in the shade of a spring-fed cottonwood tree on a hike into Cottonwood Canyon. Hunt for ancient fossils and rock art in the masterfully sculpted narrows of Marble Canyon.  None of the trail is developed and it requires good navigation skills. This is truly an unforgettable experience on the wild frontier of backpacking. Backpacking in Death Valley's remote backcountry and arid climate should be approached with caution.  Know your route and especially your water sources.  Make this hike the one you remember for the rest of your life.
Explore Death Valley with Expert Guides
Know Before You Go
Backpacking Death Valley's Cottonwood-Marble Canyon Trail can be the experience of a lifetime.  Underestimate the gravity of this undertaking, and it can be the last experience of your lifetime.  Take the following into consideration before you set out on this epic adventure.
Hydrate Hydrate Hydrate!
Death Valley is one of the driest places on the planet. Relative humidity here often reaches the single digits, spelling rapid moisture loss. Even if you don't think you are sweating, you are losing moisture.  Every time you exhale, you are losing moisture.  Therefore, it is not only important to hydrate during your hike, but before your hike as well.  A little prehydration a few days before your hike can go a long way.  It is also essential to keep up on your intake of electrolytes. Salty snacks will help your body absorb the water you drink during your hike.  Hyponatremia is a serious condition and onsets quickly.  Keep an eye on your urine color and remember that just because your urine is clear doesn't mean you are adequately hydrated. Know your water sources, inquire about current condition when acquiring your voluntary permit, and bring backup water purification.
Know Where to Go
Around 91% of Death Valley National Park's 3 MILLION acres is designated untrammeled wilderness. The Cottonwood-Marble Canyon Trail is no exception.  The route is more a loose connection of canyons and gravel washes than an actual trail and good navigational skills are required in many places.  It is a good idea to bring along detailed maps, a compass and/or GPS, and a satellite communication device or SPOT to ensure that you stay safe and on the correct route.  It is also highly advised to file a route plan with park personnel and someone you know and trust.  A good route plan includes information about what dates you plan to hike, when and where you plan to camp, emergency contact information, contact information for local authorities (for friends and family), and a time and date you plan on contacting someone after completing your hike.
Getting to the Cottonwood Canyon Trailhead
The Cottonwood Canyon Road can be accessed by entering the Stovepipe Wells Campground off of CA-190W. Turn left onto the Cottonwood Canyon Road (marked by a sign for the airport).  The first 8 miles of the Cottonwood Canyon Road can typically be accessed by high-clearance 2WD vehicles.  The final 2.5 miles to the junction with Marble Canyon Road dips into the gravel wash of Cottonwood Canyon and 4WD is required due to deep gravel pockets and small boulders.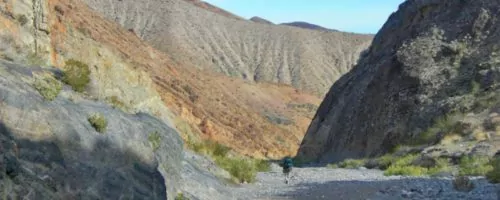 3 Best Day Hikes Near the Cottonwood-Marble Canyon Trail
Backpacking the Cottonwood-Marble Canyon Trail is an incredibly fulfilling trip on its own.  If you are looking for a few warm up hikes, or just want to see more of what Death Valley has to offer, check out these other nearby day hikes.
| | | | | | |
| --- | --- | --- | --- | --- | --- |
| | Destination | Miles | Elev | Difficulty | Style |
| | Ubehebe Crater Trail | 0.5-2 mi | 300-1000 ft | Easy-Moderate | Out and Back or Loop |
| | Fall Canyon Trail | 6 mi | 1500 ft | Moderate | Out and Back |
| | Thimble  Peak Trail | 3 mi | 1600 ft | Moderate-Strenuous | Out and Back |
Ubehebe Crater is a stunning testament to Death Valley's violent volcanic past.  At 600 feet deep and one half mile across, Ubehebe is the largest of a series of craters that pockmark the area.  Take a walk along the loop trail at the rim of the crater and explore several other smaller, more eroded craters. From the high point along the rim, observe the massive blanket of grey-black cinder; the result of Ubehebe's eruption. Another great way to experience the enormity of Ubehebe is to take the short but steep trail to the bottom of the crater.  Although the 600 feet of elevation gain to come back up doesn't sound like much, it can seem twice as far when hiking up the steep, loose cinder trail.  Hikers of all ages and abilities are sure to have a blast at Ubehebe Crater.
Easy access, gentle grade, and colorful canyon walls extending 2000 feet above make Fall Canyon an outstanding hike in Death Valley National Park. Dropping into the wide wash of Fall Canyon, you will immediately know that you are in for something big.  Along the hike, the canyon walls display vibrant reds, whites, blacks, and greys of geologic strata uplifted at varying angles.  Wind your way up canyon passing intriguing side canyons to the base of a 20 foot dry fall.  For most, the adventure stops here.  A short stroll back will reveal a short slope scramble to bypass the falls on the south side.  Adventurous souls will be treated to a beautiful section of narrows above the dry fall.  The stunning narrows of lower Titus Canyon are a great way to add on a few miles. Whatever you fancy, Fall Canyon is a sure bet for a great hike.
If you happen to be taking a drive on the amazing Titus Canyon Road, then why not take a break and bag an equally amazing peak.  At just 5 miles round trip and a little over 1300 feet of total elevation gain, Thimble Peak is the best high return hike for minimal effort in Death Valley National Park.  The trail begins on the south side of Red Pass (you'll know when you get there). From here, follow the well-worn path up the ridgeline to the base of Thimble's sheer limestone cliffs.  It may look intimidating initially, but the path is a series of careful switchbacks straight up the northern ridge.  From the summit, the outstanding views rival those from even Telescope Peak.  Although it is a relatively tame hike, exercise extreme caution on the final approach as it involves some steep, loose, and partially exposed scrambles. Enjoy the view!
Maximize Your Visit to Death Valley National Park on a Hiking Tour
Guided multi-day packages allow visitors the opportunity to make the most of their time in Death Valley National Park and to do it hassle-free. Guided tours include gear (backpack, trekking poles, crampons in winter), meals, accommodations, local transportation, and a professional Death Valley hiking guide. Through their knowledge, stories, and personal passion, guides can bring a place to life in a way that's much more difficult to do on your own. Read more about Death Valley Hiking Tours.
Award Winning USA Hiking Vacations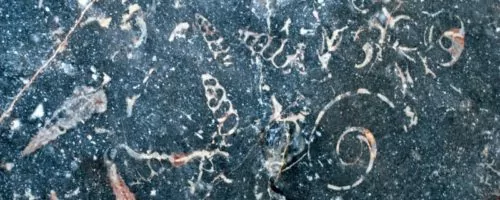 Join a Guided Death Valley National Park Backpacking Trip
Joining a Death Valley backpacking tour is a worry-free, adventurous way to experience Death Valley National Park. With your gear, meals, local transportation, permits, and fees taken care of for you, you can travel light and focus 100% on enjoying the hiking experience, while the guide company takes care of everything else. Also, by going with local experts you'll enjoy a greater level of safety and gain a much better understanding of the history and ecology of this remarkable region. Read more about a guided Death Valley National Park backpacking trip.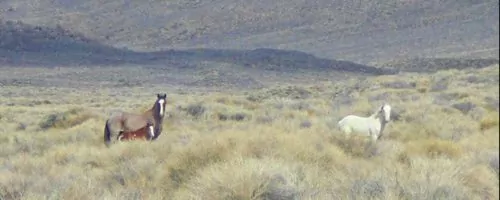 When to Hike and Seasonal Considerations
Fall through spring is the best time to hike the Cottonwood-Marble Canyon Trail.  Summertime temperatures can easily soar into the triple digits, making hiking in this exposed, remote area quite dangerous.  Check weather and road conditions before your hike as well.  Flash flooding can occur in these canyons, and the gravel roads can wash out, restricting access.
Necessary Permits
Day Hikes
No permits are required for day hiking in Death Valley National Park.
Backpacking Permits
Backcountry camping permits are voluntary and may be obtained at the Visitor Center or any Ranger Station. Due to the extreme environment and remoteness, it is recommended that solo hikers and backpackers provide itinerary information and emergency contacts to park personnel.
Suggested Packing List
Day Hike Packing List
3-4 liters of water per person
Salty, calorie-rich snacks
lunch
backpack
trekking poles
crampons (in winter)
wide-brimmed hat
sunscreen, sunglasses
cotton t-shirt (spring-fall)
non-cotton t-shirt (winter)
rain jacket
warm non-cotton layer
1st-aid kit
Backpacking Packing List
all items listed for day hikes PLUS
additional water AND water filter/purification method
multi-day backpack
3-season tent
sleeping bag
sleeping pad
backpacking stove and fuel
backpacking meals
2-3 pairs wool socks
extra t-shirts
Please Respect Our National Parks – Leave No Trace
We strongly recommend abiding by all Leave No Trace ethics guidelines and practices so that our national parks and public lands are preserved for the enjoyment of future generations and for the people and animals who call these places home. Simple things like packing out your trash, obeying national park rules, and respecting the peace and quiet of our national park trails is a great start. If you're going on a backpacking trip, you can read about more about the 7 Leave No Trace Principles.