Backpacking the Laugavegur Trail in Iceland: Everything You Need to Know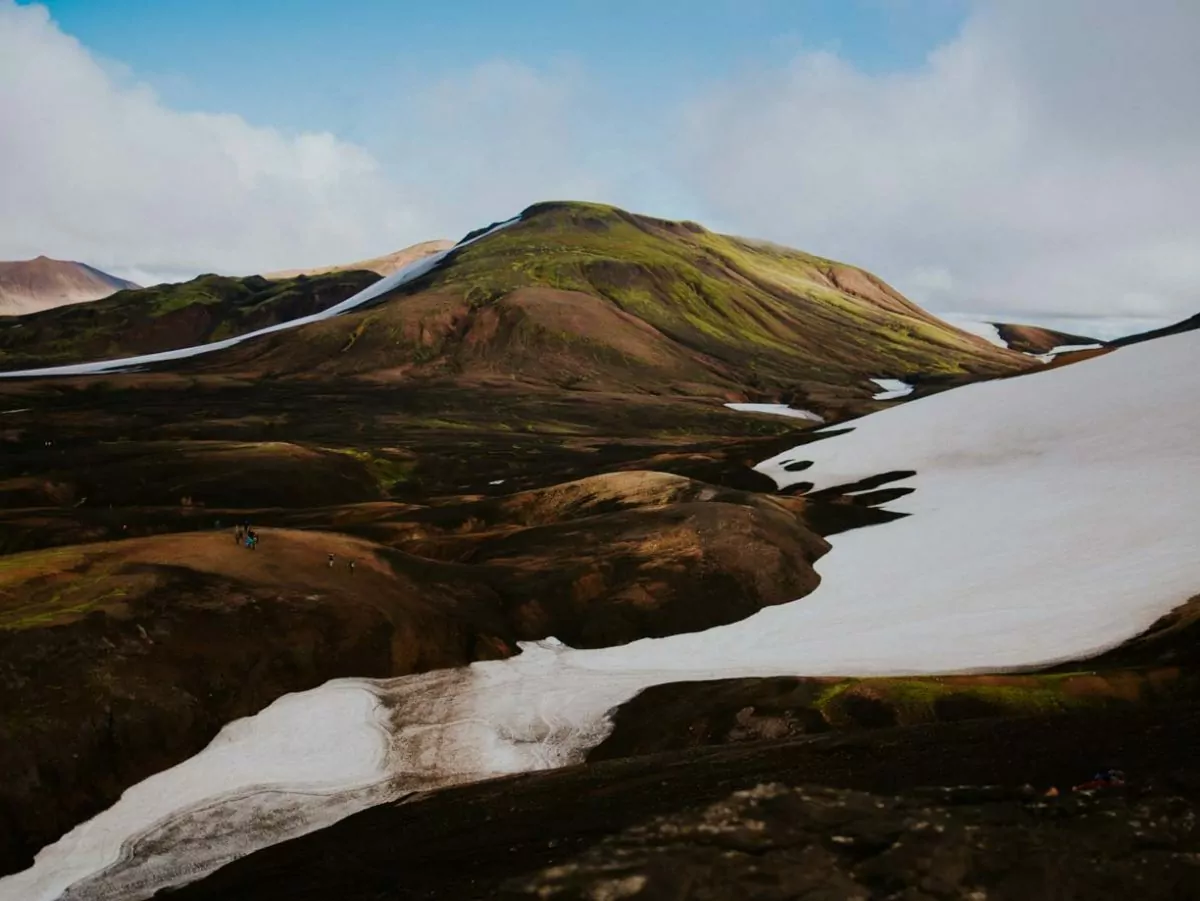 The rain was coming in sideways and every inch of me was soaked. I shifted my weight from leg to leg, trying to get the pressure of my overweight backpack off my sore hips. Looking behind me I could see the faint shapes of Max and Louisa, the German couple I would meet in the coming days. 
"As long as they stay behind me, I will be okay," I kept telling myself, feeling the slight panic of being alone in the middle of the Icelandic wilderness. Looking ahead, all I could see were grey skies, rain coming in sideways, and the faint shapes of snowfields and red and gold streaked hills.
It was the first day of my first solo hiking trip, and I was backpacking the Laugavegur Trail, smack dab in the middle of Iceland. The trail runs 55 kilometers from Landmannalaugar to Thorsmork, passing through a variety of out-of-this-world landscapes. From red, gold, and green hills dappled with snow, to black lava fields, to plummeting canyons with waterfalls, this trek covers some of the most spectacular terrain on earth. It's a trip that anyone who loves to travel and hike will dream about for years to come. Just don't forget your camera!
hike the Laugavegur trail with Award Winning Guides
Why Hike the Laugavegur Trail?
The Laugavegur Trail travels about 35 miles (55 kilometers) from Landsmannalauger to Thorsmork. As you traipse across black sand basalt fields with mountains towering above you, you will feel like you are on the moon. You will pass by glaciers stretching to the horizon. The trail brings together people from different countries who come to explore this out-of-this-world area in the Highlands of Iceland. 
For many, including myself when I hiked it in 2016, this trail challenges every fiber of your being. But why do we hike? Why do we travel? For some, it may be to relax and recover from a stressful job or lifestyle. But if you are even considering hiking for four days in Iceland, you probably find satisfaction in pushing your body. In stepping outside of the norm, and exploring places that few get to see. If you are someone who looks back on a challenge and sees the beauty, the joy, and the fun — even in the pain — this trip is for you. 
Of course, like any backpacking trip, it helps to be in good shape. If you're comfortable carrying a pack and hiking long distances over rugged terrain, this trip will be more enjoyable in every way. Although I could've been way more prepared for my Laugavegur trek, it was still one of the most memorable and life-changing experiences of my life.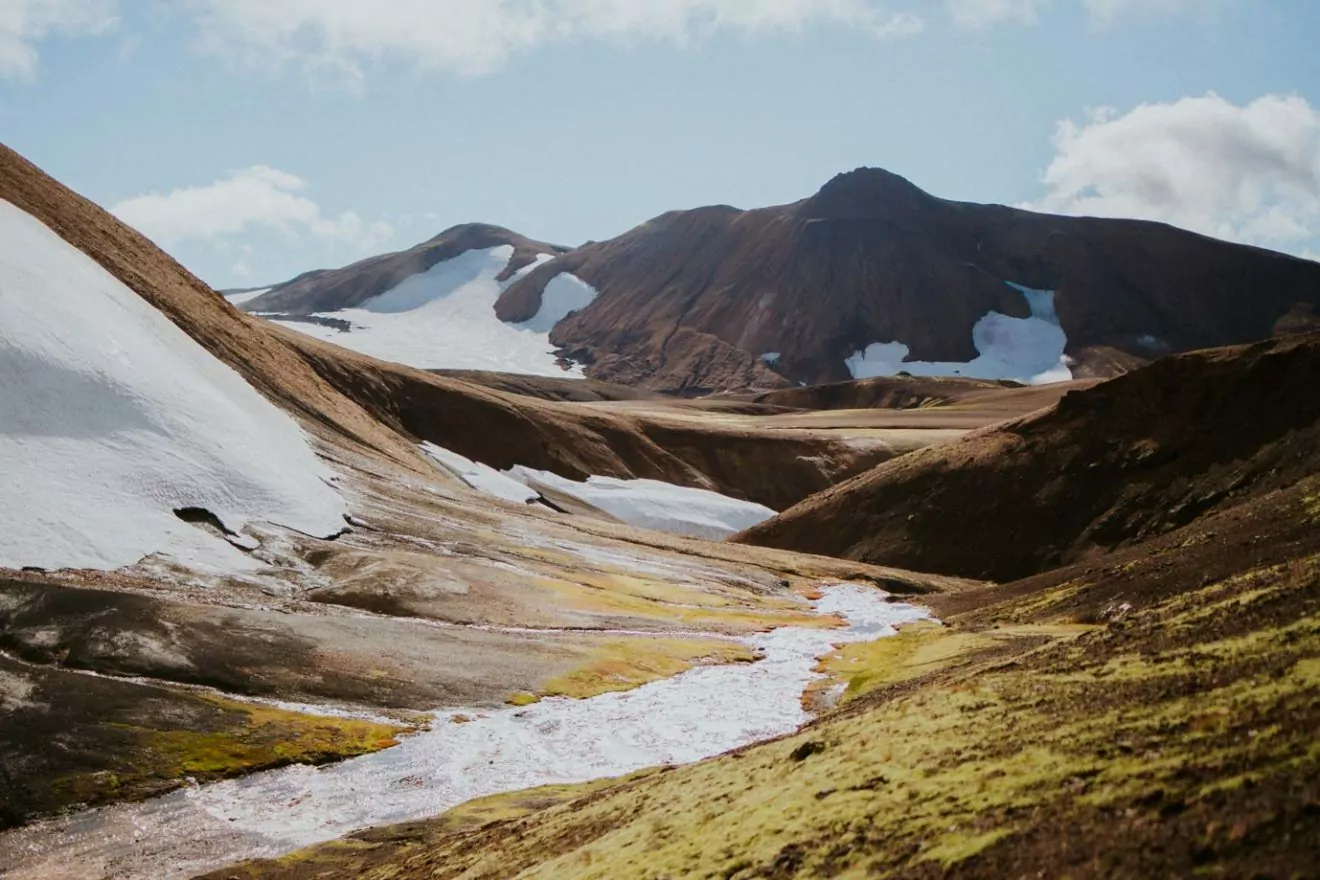 And then there's the weather. I could feel the water squelching in my boots, and may have even shed a tear or two that day as I hiked the first 10k (~5m) from Landmannalaugar to the Hrafntinnusker Mountain Hut. Arriving at the hut, soaked to the bone, I immediately abandoned all plans of setting up my tent, and headed inside to get warm. 
It was in the hut, after I changed into dry clothes and strung all of my wet gear around the wooden walls, that I met Adelaide. We were sitting next to each other at a long wooden table, both writing in our notebooks. We struck up a conversation, connecting over the fact that we were the only young, female solo travelers in the hut. Neither of us had done anything like this trip before, both having purchased sleeping bags and backpacking packs specifically for this trip. We ended up hiking together for the rest of the trail. For both of us, it changed our lives. 
What to Expect
Whether you are planning to hike the trail on your own, or as part of a guided trip, the journey will typically take four days/three nights. Of course, if you are speedy, or want to take your time, you can extend or shorten it as you wish. I followed the detailed itinerary below, and it is the itinerary we run as our Laugavegur Classic Trip.  
Typically, you start in Landmannalaugar and head to Thorsmork, going north to south. From Thorsmark, you can take a bus back to Reykjavik. Or, you could continue hiking an extra day or two to Skogar (Laugavegur to Skogar). You could also go south to north, starting in Skogar or Thorsmork and heading to Landmannalaugar. However, this direction would have more elevation gain. 
Whichever direction you decide to hike, you can easily catch busses to and from to and from Landmannalaugar and Thorsmork at the start and end of your trip. 
Pro Tip: Before you head out, make sure you check out the hot springs in Landmannalaugar! Or, if you finish in Landmannalaugar, a post-hike recovery soak would be perfect. 
Day One:
Landmannalaugar to Hrafntinnusker
Distance: 6 miles, ~1300 feet of elevation gain
Hike through red and gold rhyolite hills frosted with snow. If you are lucky enough to have good weather (unlike my experience), you will be able to see glaciers in the distance. The trail weaves over hill after hill, steadily climbing and descending throughout the day. Keep an eye out for evidence of the geothermal activity — like steam rising from the warm ground— underneath this otherworldly landscape! 
Day 2:
Hrafntinnusker to Álftavatn
Distance: 8 miles 
Start the second day at Hrafntinnusker Hut, high in the Icelandic mountains. Continue hiking over rolling terrain, crossing a few small creeks before arriving at a ridge overlooking Alftavatn. The huge valley and lake mark a turning point in the landscapes along the Laugavegur. Suddenly green mountains and mossy tundra dominate the views. The trail descends into the lush green valley where you can camp or stay at the Alftavatn hut for the night.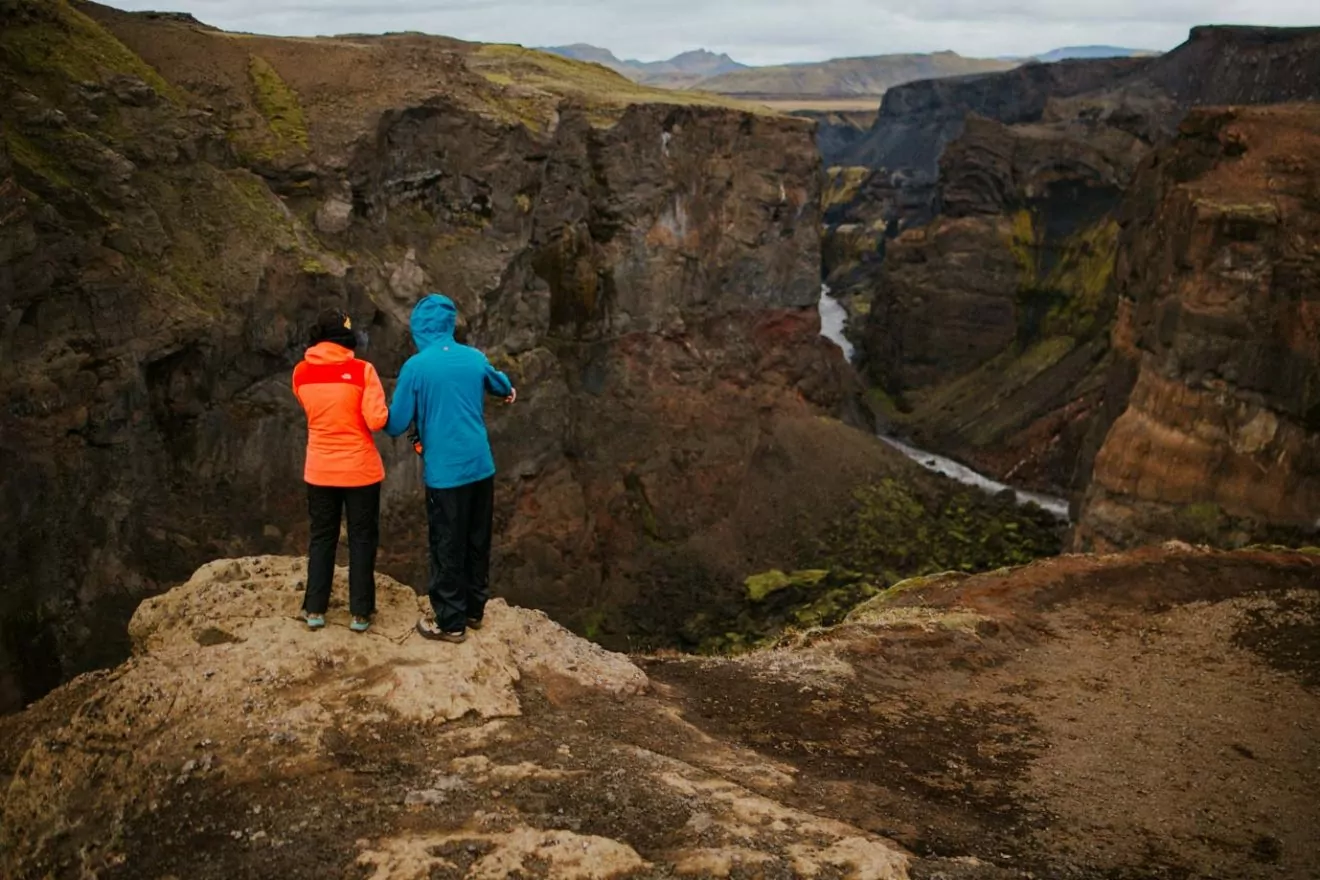 Day 3:
Álftavatn to Emstrur/Botnar
Distance: 10 miles 
The third day of the trek takes you through a black volcanic rock desert. As you pass grassy mountains and endless black rock, you'll feel a bit like you're on the moon. Snow-covered mountains in the distance remind you of where you came from. A few river crossings keep you humble; changing in and out of river shoes is just another part of the wet nature of hiking in the Icelandic Highlands. 
When you arrive at your destination for the evening, you can choose between the Emstrur or Botnar Huts, or you could set up camp by a small creek. Make sure to check out Markarfljótsgljúfur Canyon, a stunning gorge only a short distance from the huts. 
Day 4:
Emstrur/Botnar to Thorsmork
Distance: 10 miles 
The last day of my hike was, inevitably, pouring rain just like the first. My Columbia rain jacket — designed for light rain in a city — completely wetted out, soaking me to the bone. We hiked the ten miles to Thorsmork, and I barely remember the scenery. If we had been able to see, we would have witnessed spanning views of another glacier stretching into the distance. We crossed the largest river on the trip and then descended into a rare stretch of Birch forest as we headed towards the Thorsmork Valley. Soaked through, Once I arrived in Thorsmork, I once again splurged on a bed in a hut, despite having prepared for camping. 
Know Before You Go

trail culture
One of the most memorable aspects of Iceland trekking is the other travelers you meet in the huts. On my trip, we formed a little trail family. Adelaide and Romi, both solo travelers from France, had been hiking with me for the past few days. Romi's uplifting spirits motivated Adelaide and me as we dragged through the last miles of pouring rain. The three of us joined Max and Louisa, the German couple, in the hut that last night. It was Max's birthday, and we all pooled together the hiking food we had left. That night, we feasted on lentils and rice, mashed potatoes and gravy, stew, and a bite of chocolate. Louisa had brought streamers and decorations, and we had the hut to ourselves as we celebrated Max's birthday — and the end of our Highland adventures. 
Other than Adelaide, I would never see the other travelers again. But the memory of the community and support I found on that first solo backpacking trip has lasted through the years.
weather on the Laugavegur Trail
The weather on the Laugavegur Trail is, at the very minimum, unpredictable. Wind, rain, and snow are common on the trail at any time of year.  Heavy winds could cause a pleasant day to turn bitterly cold. Quickly, a light drizzle can become soaking rain. 
The trail is only accessible from June until mid-September. I hiked the trail at the end of August/early September — nearing the end of the Iceland Highland season. July is the most popular time, as you are most likely to have pleasant weather. Even in the middle of summer, you will hiking across snowfields, and the weather can change at any moment.
Where to Stay
The options for lodging on the Laugavegur Trail are limited. You can camp or stay in the huts. The huts consist of bunk beds with single and double mattresses. Some of the huts have the optional showers for a small fee. They all have kitchen spaces and cooking supplies, as well as gas heating (so cozy when it's brutally cold outside!) The huts are also stocked with snacks and essentials available for purchase. 
By choosing to do a guided trip, we take care of all of the the accommodations for you. You'll lessen the stress of planning and be able to fully enjoy your adventure! 
If you travel solo, the huts cost 9500 IKR (about $80 USD) per night. Camping costs 2300 IKR ($19 USD). It is recommended to reserve your spot at the huts ahead of time. Sometimes you may find an open bed upon arrival, but if you leave the camping gear at home to stay in the huts, definitely make a reservation. 
what to bring
On any backpacking trip, it is vital to have the proper gear. Knowing what to bring could not only be the difference between comfort and discomfort but could be as serious as life and death.
Some necessities to backpack the Laugavegur trail include (but are not limited to):
Waterproof everything. Make sure to have a raincoat! Rain pants would also be worthwhile. Also, you should bring a backpack rain cover to protect your gear. To keep everything dry, you can use a dry bag on the inside or just line your backpacking pack with a plastic garbage bag (cheap waterproofing!)

Worn in hiking boots or shoes (also waterproof!)

Water shoes for river crossings (river sandals like Chacos are perfect for this)

Wool socks  (wool stays warm even when it gets wet so it is crucial for Iceland hiking!) 

A warm jacket (down or synthetic)

A sleeping bag (even if you stay in the huts, you'll need to bring your own sleeping bag! Synthetic insulation stays warm when wet, compared to down)

Water bottle. (You can treat water from any of the streams along the trail, but the huts also have potable water.) 

Camping equipment (Only if you are planning to camp)
Guided or Independent?
Having a guide can give you invaluable insight into the natural history and landscape of the local area. Plus, you trip will be brightened by jokes and stories on the trail. Guides know the best trail snacks, the best lunch locations, and the off-the-beaten-path destinations. Overall, a guiding service will lessen the stress on you as a traveler so you can fully immerse yourself in the experience. 
Guides love the places they travel and work, and this is contagious! Taking a guided trip can not only relieve the stress of planning and preparing for your trek, but also amplify the experience by providing entertainment and a built-in community. 
Going independently can also be incredibly rewarding. With added responsibility often comes added reward, and planning and executing a trip on your own is no different. 
However you decide to backpack the Laugavegur Trail, it is a once-in-a-lifetime experience that you will never forget.