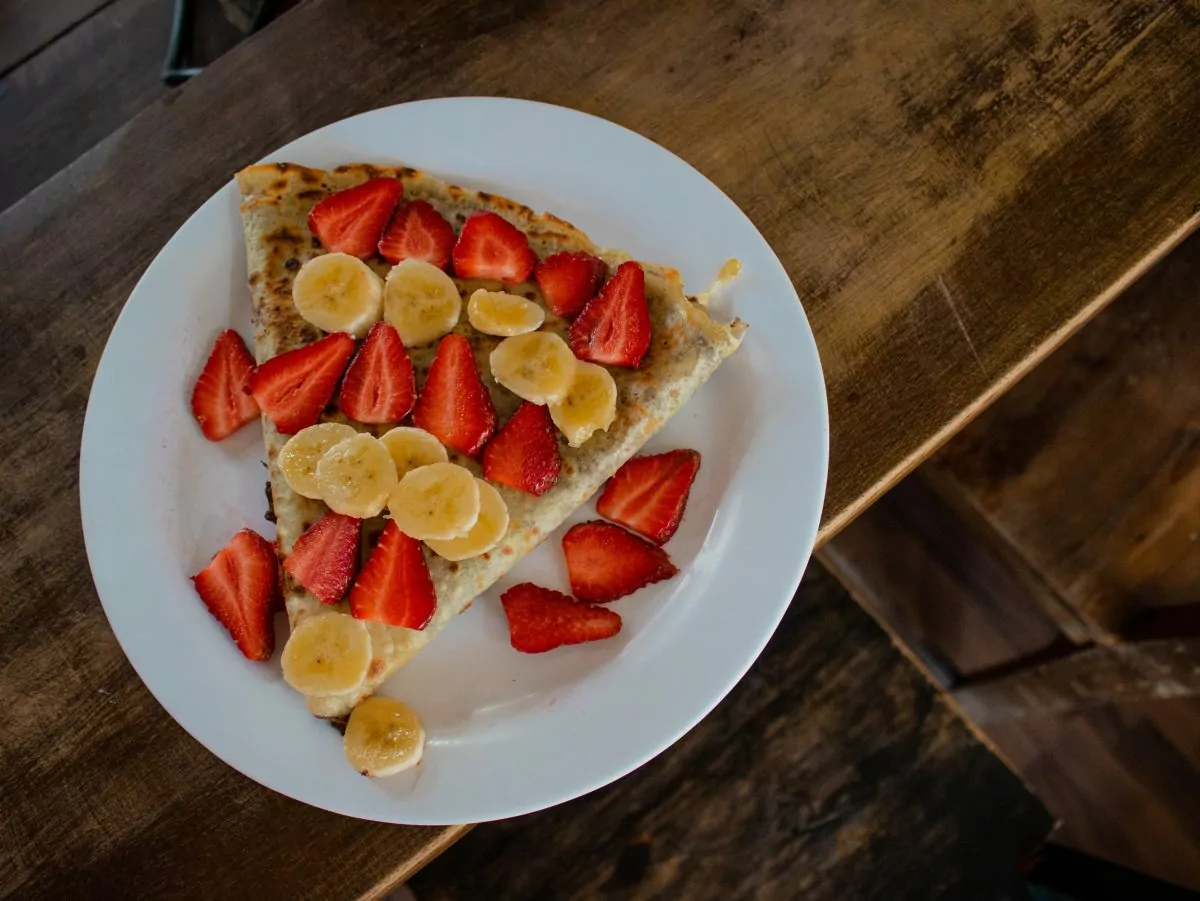 Backcountry Chef: Jordan Dikeman's Camping Crepes
Ask anyone that's been on a Wildland trip and they're likely to agree: we make pretty great meals. And our number one request is for our backpacking and camping recipes, so, we're finally delivering you the goods. In this new blog series, Backcountry Chef, each post will feature one guide, tell their story of all things backcountry-cooking-related, and then share the coveted recipe for their favorite backpacking or basecamp meal. Today, Jordan Dikeman shares his favorite backpacking recipe: Lester's Crepes. These camping crepes will become a staple in your home kitchen and when you're out in the woods.
Jordan has been working for Wildland Trekking since August 2016. He primarily guides out of Grand Canyon National Park/Havasupai and Death Valley National Park, so if you head out to the desert on a camping trip, you may get lucky enough to try his tasty breakfast camping crepes.  Jordan knows the importance of eating well while you're hiking, "Meals are the keystone of trips. Calorie and salt intake are right up there with water intake. During hard hiking and backpacking trips, our bodies are calorie-burning machines and are a great excuse to eat a lot of awesome food."
The Makings of a Backcountry Chef
How did you get interested in hiking and backpacking?
I first got into the outdoors in the Marines from 2002 to 2008. I spent a lot of time outside running patrols over remote terrain. My first non-military backpacking trip was a 2009 five-day trip in the Grand Canyon. We hiked from Grandview Trail and across the Tonto to South Kaibab Trail. I also met my wife on that trip!
I love the problem-solving aspect of guiding, and that it requires and sharpens a wide array of skill sets: physical, mental, and social. Planning for the weather, knowing water sources and back-up water sources, staying in shape, motivating guests, assisting other hikers, learning the routes, and getting to know the plants, animals, geology, and history–I love it all.
How did you learn to cook outdoors and in the backcountry?
In the Marines, we had MREs (Meals-Ready-To-Eat) which didn't require a lot of technical know-how. I've learned to cook in the backcountry from all of my Wildland co-guides, and by applying what I learned from them. My first few co-guided trips were incredible learning experiences, not only with food but with guide craft in general. Every trip, both solo and especially co-guided, I learn new aspects (and mistakes) of backcountry cooking.
Cooking Mishaps in the Field
What's the worst meal you've made on a trip? How did your guests react?
Probably during my first solo-guided Grand Canyon Rim-to-Rim. It was the second day, and we just hiked into Bright Angel Campground near Phantom Ranch. While my guests were hanging out in Bright Angel Creek, I was preparing 'The Spread', a guide staple that includes hummus, fresh vegetables, crackers, and summer sausage. I mixed water with the backcountry hummus powder but didn't leave any spare hummus powder in case it was too runny. Well, it was super runny and there was no way to take water back out. It was a hard and hot day of hiking, but my guests luckily took it with good humor.
Have you had any major cooking-related mishaps while working? 
My co-guide and I, and a guide-in-training, were running a four-day Death Valley Camping Trip. We took the guests on a sunset walk into Badwater Basin, probably one of the most other-worldly and surreal natural features in the country. A six-mile expanse of hexagon salt flats 282 ft below sea-level and between two mountain ranges.
My co-guide and I returned from the walk early to the parking lot patio to prepare a sunset and moonlit salmon pasta dinner that included a set-up of folding chairs, folding tables, table cloths, and a cooking table with Coleman stoves topped with cooking food. It was breezy, with occasional strong gusts. Right before our other guide and guests returned from their sunset walk, we heard a wind roar that sounded like a train. The cliffs of the Black Mountains created a sort of wind eddy, and I could tell we were about to get hit in seconds.
My co-guide held the cooking table and I laid on one of the other folding tables when a gust of about 80 mph struck. It blew me backward with the table I was on, and our entire setup got blown into the side railing of the patio. Pots full of sauce and pasta were wrecked. What would have been an incredible dinner alone under twilight — turning to moonlight and starlight — had to be scratched. Just like the ending of A Christmas Story, we went out to eat, at Furnace Creek Ranch.
Jordan's Backcountry Cooking Tips
What are your top three tips for making great meals on your trips?
 Good preparation before the trip starts makes all the difference. The more work you put in on prep-day, the less work and uncertainty you face during a trip–especially on backpacking trips where no store or backup will be available. For backpacking trips, I plan every meal right down to the number of mustard packets.
Dessert items for most meals. A lot of guests are undertaking the hardest and most intimidating trip of their lives, so keeping up morale is absolutely critical. Happy guests hike harder, have more fun, learn more, and get hurt less. One simple way to keep morale up is with desserts. Have an easy dessert item for lunches, such as chocolate bars or pocky sticks (most people have never had them). And, a more elaborate dessert for dinner, like brownie bites with whipped cream and fruit, or shortcake.
Incorporate the meal plan with the hiking and weather plan. It's a sort of holistic approach to the whole trip. For example, plan hot meals for cold weather, cold meals for hot weather, quick breakfasts and lunches if you're on the move or getting up early, etc. If you have a backpack soft cooler, plan to use those meals in the first couple of days before the ice melts. Know where each meal will likely be, and a backup spot if the hiking is slow or delayed. Know the shade spots, areas with soft or easy sitting, etc.
Basecamp Recipe: Lester's Crepes (feeds 4 -5)
I learned this camping recipe from my father-in-law and have made it on several of my trips. Guests are blown away by the meals guides prepare in the field, and camping crepes definitely keep with that tradition.
This is a staple of my basecamp trips. It's also doable on the first morning of backpack trips if you put the eggs in a Nalgene and keep them, the milk, and cream cheese cool. A simple backpacking pan works great.
Camping Crepes Batter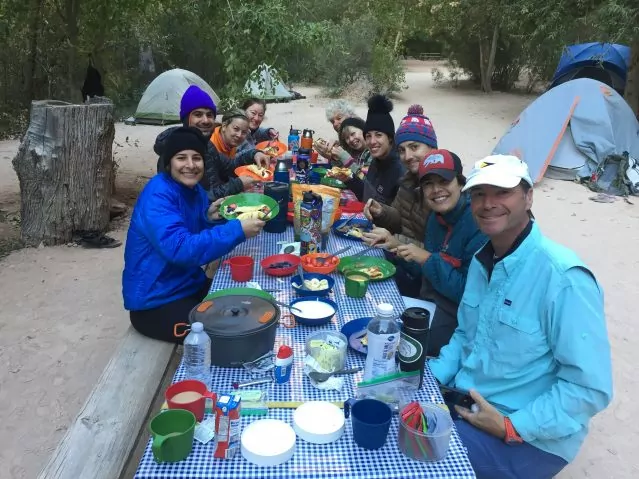 5 large eggs plus 1 extra egg as a backup
1.5 cups flour
about 2-3 cups of whole milk (For trips, take a quart bottle of milk (4 cups). Add a little over half of it (2-3 cups) to the mix and hold some milk back in case you need to add more.)
1 tablespoon of sugar.
camping Crepes Preparation
Whisk the crepe batter until smooth. Add more milk as necessary: egg size and flour mix vary, so the whole milk amount may vary.
Use butter, Crisco, or just plain oil to
cook the crepes. Carefully pour the crepe batter into the pan using a circular motion.
The crepe should thinly fill the bottom of a normal backpacking pan. Set the stove to near-high; cook one side until the edges slightly curl, then flip with a spatula. It should be golden brown on each side. Be careful, crepes cook quickly once the pan gets hot. The first crepe prepared is often the 'guide crepe', because the pan may still be getting to temp or the batter is thin. If the first crepe is too fragile and falls apart, add the backup egg to the whole mix give it more structure.
*For crepe mornings, I get up before dawn and get this mixed first because getting it smooth can take a while.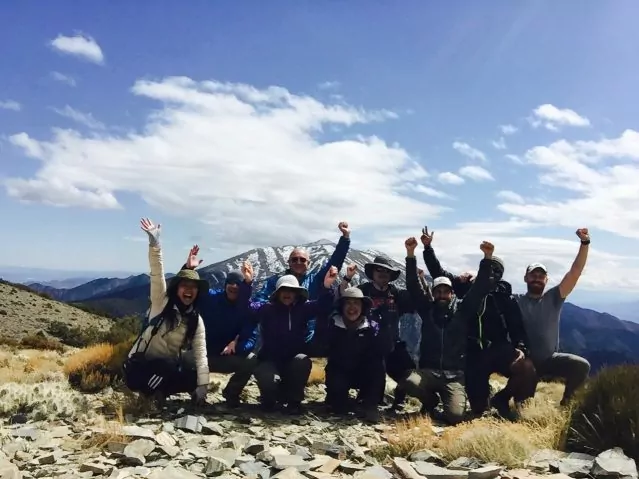 Almond Cream Filling
8oz cream cheese
1/4 cup powdered sugar
a dash of almond extract
a dash of milk.
Whip until smooth. Add slightly more milk if it's too thick.
Toppings
Almond Cream filling
(real) maple syrup
sliced fruit (bananas, strawberries, blueberries, and/or raspberries)
Assemble the camping Crepes
Once you're made your stack of crepes, fill them with the almond cream, fold them, and top them with maple syrup and sliced fruit!