All about The W-Trek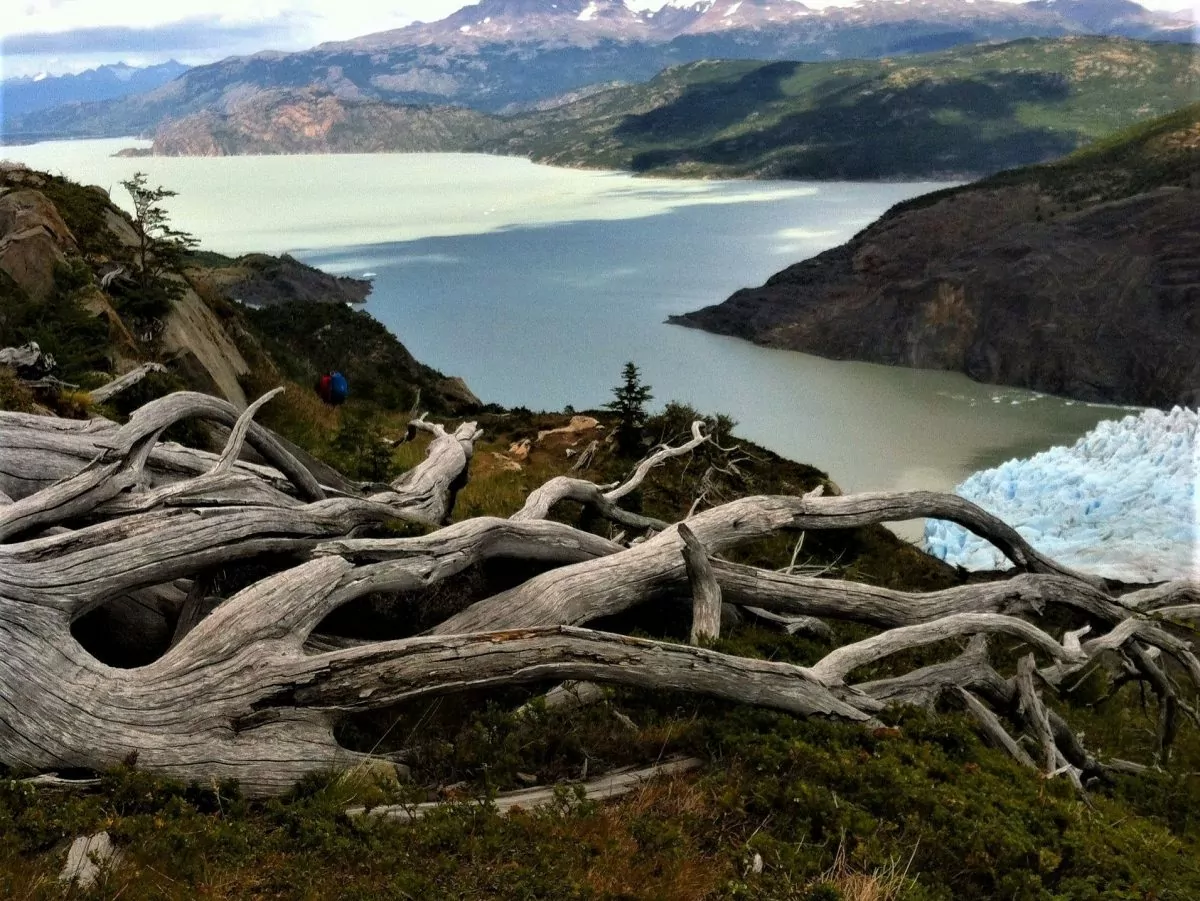 The W-Trek.
You may have heard the name before. What is it? Where is it? How do you get there? How do you go about hiking it? What do you bring? When do you go? What can you expect on the trip? All of these questions and more are answered below!
Explore Your World. Award Winning Hiking Guides
What is The W-Trek?

Located in Torres Del Paine National Park, the W-Trek is acclaimed as one of the best hikes in the world.
The fame is in the name. This incredible trail creates the shape of a "W" on a map, hence the name. Torres Del Paine translates to Towers Of Blue (not Towers of Pain). This "W" shaped trail within the park covers an amazing region of Chile that is in the heart of Patagonia, the Andes, and the southern Ice-Field. If that right there doesn't strike your interest, think massive glaciers, shear jagged-edged peaks, unique wildlife, indigo lakes, beautiful rolling grasslands, and endless stunning scenery. Become bamboozled and amazed every step of the way. To start off, let's cover the basics of the journey.
This is a multi-day trek which will typically take 3-5 days to complete.
Rated moderate difficulty, the trail is well maintained, easy to follow, has many marked signs along the way, but has uneven, steep, and loose surfaces at times. It is important to always know your limit, physical capability, and comfort level before embarking on such endeavors.
It can be completed year-round, but we will talk about the weather and seasons below.
Going with a guide isn't mandatory, but it certainly takes the hassle out of the planning, logistics, meals, transportation, and booking ahead for this journey. Going with a guide is also an excellent way to learn about the people, flora, fauna, geology, culture, and history of the region.
Patagonia is notorious for wind. Be prepared for this. The wind may bother you, but the views surely will not.
The hike is 45 miles or 72 kilometers long and is a multi-directional point a-b trek.
Most hikers will start east and head west, but it can certainly be done west to east.
You can choose the option to carry a backpack with all of your camping gear or just carry a day pack with a few necessary items packed and stay in various accommodations.
It can be done camping, staying at refugios (backcountry huts), eco-yurts, lodges, or a combination of these. These options are discussed below.
Booking in advance for campsites, meals, and lodging is extremely recommended for most of the year on this hike.
The campsites are designated and must be booked prior.
 Getting there is a journey in itself, but it is definitely worth it. See below for how to get there.
The trek is popular, especially from October to April when the weather is the best. Expect to see other hikers on the trail and the accommodations booked full.
Anticipate hiking 6-9 hours per day.
Within this jaw-dropping, wild, rugged, and remote region you can also have the opportunity to kayak around ice-bergs and walk on a glacier.
 Upon entering Torres Del Paine, you will have an entrance fee and a free map will be included. It is recommended to purchase a more detailed map of the region especially if you are hiking solo.
The highest elevation of the trek is about 3,900 feet in total, so there shall be no issues with altitude in Torres Del Paine.
How to get there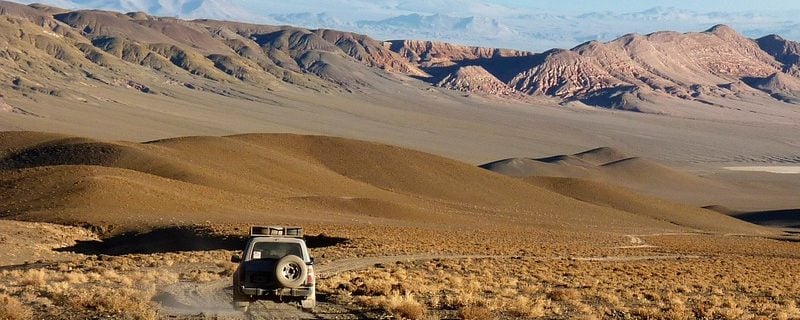 Let's just say it's not instant gratification in Patagonia. Good things take time. Getting there is half the fun. Here's hoping that this helps you plan your journey south with ease.
Most hikers will find their way starting south by booking their international flight into first either Buenos Aires, Argentina or Santiago, Chile. For the quickest option, from either of these airports, you can then fly into Punta Arenas, Chile.
From Punta Arenas, you can either bus, taxi, or rent a vehicle and drive (approximately 3 hours) to the town of Puerto Natales. Like most things in Patagonia, it is recommended to book in advance. Buses can be booked by clicking here through both Bus-Sur and Busses Fernandez. Print out tickets beforehand for an easier transaction. Uber and Lyft don't exist in Punto Arenas or Puerto Natales yet, but it may be on its way in the near future? Taxis can be fairly regular and group share rides can also be arranged. With renting a vehicle, be sure to be aware of driving rules & regulations for Chile. Bring extra supplies, a map or GPS, and make sure the car seems safe and sound before hitting the road.
Puerto Natales is the closest town to Torres Del Paine, so be sure to stock up on supplies, rent gear if you need any, head to the ATM, and it may be a good option to stow extra luggage here before entering the park here. Accommodations vary from hostels to upscale hotels. It is a nice town to make a basecamp from for all of your Torres Del Paine adventures.
From Puerto Natales, there is an additional drive which again will require a bus, taxi, or rental car into Torres Del Paine National Park. It is at this time you will need to decide which direction to start the W-Trek from. The most popular and common start of the trek is from Terminal Pudeto and finishing at Terminal Laguna Amarga. Regardless of whether you choose to start or end at Terminal Pudeto, there is a mandatory stop at Terminal Laguna Amarga to pay the cash-only entrance fee into Torres Del Paine.
To get to Terminal Pudeto, there is a ferry involved across Lago Pehoe. This ferry does not have a booking in advance, so it is important to show up early. The cash-only payment will be collected before embarkation. To view the departure times, click here. The ferry and bus times usually coordinate well together. Buses depart daily from Puerto Natales to Torres Del Paine and back in peak season. The same website may be used to book both bus tickets. From Puerto Natales to Torres Del Paine it will take about another 2 hours to reach the entrance. Then, at last! You made it.
In summary, the easiest route to get to Torres Del Paine looks like this:
International flight into Chile or Argentina.
Flight to Punta Arenes
Go with a Torres del Paine guiding company. Or Alternatively, rent a car, hire a taxi, or bus from here to Puerto Natales
Drive, taxi, or bus from Puerto Natales to Torres Del Paine
Decide which direction to hike from. Enter the park, and either take a ferry to start at Terminal Pudeto or start at Terminal Laguna Amarga.
There are also longer, more scenic routes available such as a 4-day ferry journey through the fiords from Puerto Montt to Puerto Natales.
World Class Trekking Adventures
When to go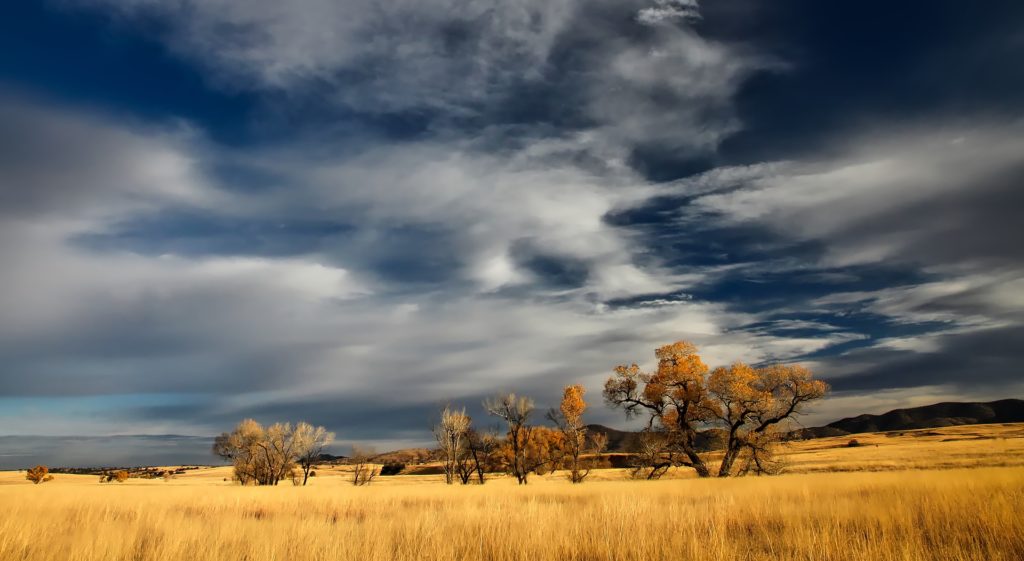 It is very possible to complete the W-Trek year-round, weather permitting. All seasons hold varying benefits. When deciding what season to head south, do consider your comfort level, crowd tolerance level, desire for solitude, good weather, open facilites, and so forth.
Spring:
Torres Del Paine begins to blossom as spring begins around September and follows through until mid-November. Daytime temperatures are very pleasant this time of year, especially for trekking, but you can anticipate having a few breezy days. Spring typically has moderate tourism.
Summer:
Summer is the best weather window to hike the W-Trek. Summer in Torres Del Paine is between the months of late November-February. This also is peak season, so tourism is at full swing in these months. Be sure to book things well in advance. Expect crowds, full buses, and lines for the entrance, ferries, and transportation. Winds are still capable in some areas of reaching over 70 miles per hour, so pack plenty of layers and always be prepared. Torres Del Paine is known for encountering four seasons in a day.
Fall:
The fall leaves are marvelous here, peak season slows, and photography pops with the splashes of color throughout as the region prepares itself for winter. An amazing time of year to visit this zone. The wind typically dwindles down, but there becomes a fall chill in the air. The fall season is March-May. If you wish to avoid the peak tourism season and can handle colder temperatures, hiking the W-Trek this time of year is superb.
Winter:
Winter from May to mid-September beckons few visitors along the W-Trek. Many tourist attractions and roads can be closed at this time of year. This is an extremely peaceful time of year to go. It often contains many days of below-freezing temperatures and snow blankets the region. Days are shorter, but if you can embrace the cold, the W-Trek's snow-capped peaks are at their finest this time of year. Check to make sure lodging, transportation, and roads are still open for your travels.
What to pack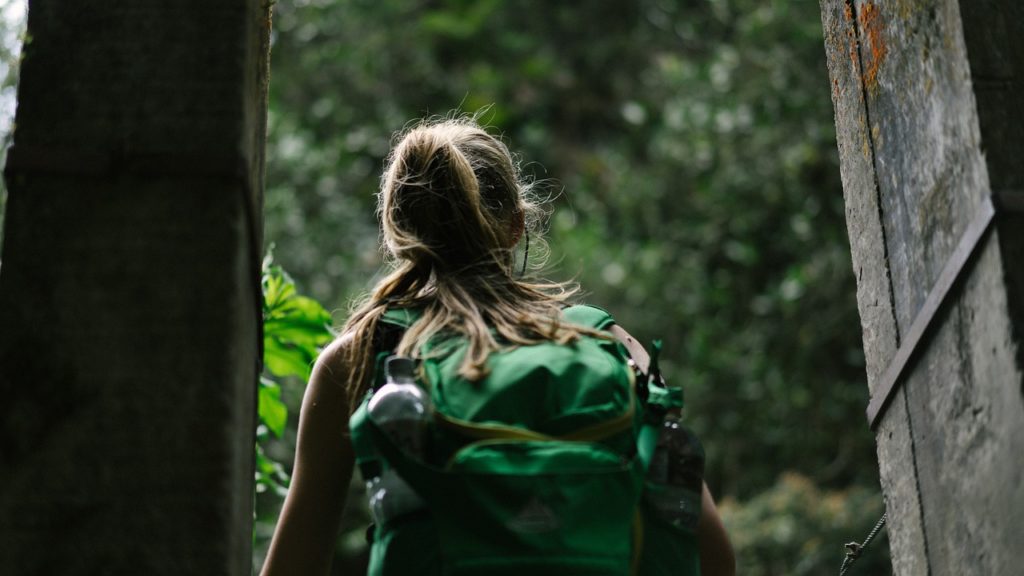 Here is a general list of what to bring on the W-Trek. I have separated the pack lists towards specific accommodations as gear for these will vary.
Passport
Chilean Pesos
PDI (tourism card) you will receive this upon entry into Chile and it is a very important piece of paper to keep with you.
Wallet with a second form of I.D.
Medical/Travelers insurance is highly advised
Copies of your passport, identification, & travel plans.
Sunscreen
Sunglasses with sunglass cord and hat with a synch cord
Backpack – The size will vary depending on what accommodation you choose. For portered trips or lodges a day pack will be sufficient. On a camping trip if you are bringing all of your own gear you will need at minimum a 45 L pack.
Raincover for the backpack and/or a garbage bag liner
 Well broken-in hiking shoes or boots
Sandals with straps
A toilet kit (while on the trail). This should have a trowel (shovel), hand sanitizer, zip-lock bags, toilet paper, etc.
A first-aid kit with pertinent medications, electrolytes, blister care,
Toiletries (these should be minimal and think biodegradable/eco-friendly products)
Water bottles or a water bladder of at least 2 liters capacity
Water treatment
Camera with extra batteries or phone with battery power-bank or solar charger
A headlamp with extra batteries
Chapstick
A  map
Clothing:
A down jacket or warm insulated jacket. If you plan to hike in fall or winter, bring two or an expedition-style jacket
A fleece or warm mid-layer
Baselayers
Pants and/or shorts (again, depending on the time of year and what your preference/comfort level is)
Wool hiking socks
Underwear
A warm hat and gloves. Some enjoy waterproof gloves in addition to warm gloves.
Quick-drying shirts, no cotton.
Rain jacket and/or rain poncho and rain pants (optional)
Optional items:
Kindle or tablet
A windbreaker
A Scrubba laundry wash bag
A Buff or Bandana for wind protection
Camp/hut shoes
Binoculars
Compass
Insect repellent
Playing cards
Small repair kit
Extra zip locks or reusable storage bags
Fleece or down pants for camp
Trekking poles
Multi-tool or a pocket knife
An SOS device
Gaitors
Snacks from home you can't live without
A book or journal. I enjoy bringing a small travel watercolor set to paint postcards as well.
Eye-mask
A laundry/dirty clothes bag
A small pack towel
Knee braces
If you wear glasses bring an extra set, plus anti-fog spray may be helpful, and extra contact lenses and solution if you wear contacts.
If you are staying in refugios pack these items:
A sleeping bag at minimum 20F and backpacking pillow if you are not purchasing the bedding package.
Ear-plugs
A charging cable and 220V type C or L adaptor
Casual clothing (optional)
Refugio confirmations
small travel games to play in the evenings with others (optional)
If you are staying at a lodge or luxury yurt, pack these items:
A charging cable and 220V Type C or L adaptor
A swimsuit for lodging with jacuzzis or pools
Sleeping wear
Casual clothing
Lodging confirmations
Books, games, or other small hobbies
If you are camping, pack these items:
A tent, at minimum 3-season with paracord or tie-downs to anchor in strong winds
A sleeping pad
A sleeping bag at least 20F in warmth
A padlock for your tent if you would like to lock your items in the tent while away from the site
A small stove
Pack cold-weather clothing as you will be exposed to the elements more
Enough meals for the duration of your trek (Be generous with portions)
A mess kit- items to eat your meals with.
Fuel
Ear-plugs
Print-outs of campsite confirmation
A couple of other tips before heading on the W-Trek:
Visit a travel Dr. at least 3 weeks prior to your departure so you can obtain proper information, ensure your vaccinations are up to date, and obtain any over the counter medicine you may wish to have such as medication for food or water-born illnesses.
If you suffer from motion sickness, it is advised to obtain an over the counter relief such as Dramamine or an all-natural motion sickness pill.
 Know your gear before starting the trek. Make sure your hiking shoes are comfortable and broken in.
Only pack what you need. Packing too much makes it difficult to haul around your luggage and it is more items to keep track of.
Contact your banking institution prior to departure and inform them of your travels.
Training is always good for any activity of this kind. Walking, jogging, gym workouts, swimming, biking, yoga, going up and downstairs, hiking with weight on your back, and gentle stretches are always excellent ways to get in shape, build muscle, boost balance, and create stamina.
What to expect

I highly recommend seeing a sunrise, a sunset or viewing the night sky at least once on your visit. There is a good chance of seeing some local wildlife such as native birds like the giant Andean Condor, or a guanaco (wild lama) just keep your eyes open. If you are into taking photos, be sure to bring extra memory cards and batteries. There will be endless opportunities for photography. Expect to meet a cultural melting pot of people from all over the world on this trek. If you don't enjoy the crowds, there is plenty enough space here to go find some tranquil solitude and take in the beautiful scenery.
The picture above is not the W-Trek itself, so you don't have to picture yourself here unless you'd like to do so! Along the W-Trek, there are incredible opportunities to get to hike on Grey Glacier or kayak into lake Grey to be alongside some beautiful icebergs. Check out hiking tours that include both of these activities.
Camping:
If camping is the route you take, this is where it becomes a little confusing. It is, however the most cost-saving. There are three companies in which you will need to book campsites from if you plan to do the entire trek. Vernice Patagonia, CONAF, and Fantastico Sur are the three operators. CONAF has a wonderful map that can be used to help you route the campsite bookings with all three companies along the trek. Paid campsites have more amenities and will be easier to obtain as they can host more tents.  The free sites are limited. All campsites have water and toilets available. Each campsite area can host 50-200 tent spots.
You can either bring all of your own gear or rent a sleeping bag, sleeping pad, and tent. This rental option can be arranged so that you don't need to carry any sleeping gear on the duration of the hike, and the tent will be set up for you upon arrival. Do book this in advance in addition to booking the actual campsites. In general, the rental tents and sleeping gear are of good quality. Renting gear permits you to carry a much lighter backpack. On the other hand, if you enjoy the challenge and can carry your own tent, sleeping bag, and sleeping pad- it can be very nice having your personal gear along.
Main W-Trek Campsites:
Frances
Italiano
Los Cuernos
Campsite Paine Grande
Grey
Chileno
Las Torres Central
Lodges:
Not keen on refugios, yurts, or camping? Have no fear, lodges are near. While staying in lodges within Torres Del Paine, you can still hike most of the W-Trek and be able to obtain further amenities and creature comforts. You can still see the highlights along the W-Trek and only need to carry a small day-pack for the hikes. These accommodations are comfortable, warm, and away from the notorious Patagonia wind. In many of the lodges, breakfast is included, dinner is available on-site, and wi-fi is available. Generally, the lodges are situated in a gorgeous location and offer tours, package deals, and activities around the vicinity. There are many choices when it comes to lodges in Torres Del Paine ranging from mid-range to up-scale. Check out a lodge-based hiking tour here.
Refugios:
Refugios are similar to backcountry huts or lodges. This is a mid-range pricing option with simple accommodation. They must be booked in advance, as spots are limited. Refugios typically are 6-8 person dorm-style rooms, equipped with kitchens, cooking staff, bathrooms, showers, and a communal area. These are fantastic hubs for social mingling with other trekkers. The refugios vary with either a simple bed option (no bedding, you will need to bring your own sleeping bag) or with a made-up bed (where all bedding is provided). It is advised to bring ear-plugs, as it can be a bit noisy. Accommodation pricing will be separate from the meal prices unless you are going with an all-inclusive guiding company. Some hikers who wish to camp, but not carry all of the food, opt to dine at some of these establishments along the way. Many of the refugios can be booked at Vertice and Fantastico Sur websites.
The main refugios to mention:
Refugio Torres Central
Los Cuernos
Chileno
Paine Grande
Refugio Grey
Meals
For meals, within the refugios, lodges, and yurts many will have an all-inclusive price with the meals included. Breakfasts and dinners will be served in the accommodations and they will provide you with a pack trail lunch. If the meals are not included in the price, it is important to book these in advance. They can accommodate most dietary needs.
With meals when it comes to camping, you can either bring all of your own food and cook it in the designated cooking areas with an approved stove. Simple, quick-cooking, lightweight foods or pre-packaged backpacking meals are best. Always pack a little bit extra. Alternatively, when camping at the paid sites next to refugios, you can eat breakfasts and dinners at the refugios and have a to-go lunch available if booked for in advance.
When all the planning, booking, and logistics are sorted and out of the way, the moment you step foot into Torres Del Paine you will forget about all of that and be so glad that you put the time and effort out to do so. I remember feeling excited around every corner of the trail because there is so much beauty. I hope that you can go to experience that beauty around every corner soon, the W-Trek is waiting for you!
Hike the W-Trek with a Guide
Guided W-Trek trips are available and are a stress-free, exciting way to do this trip. The tour company handles permits, gear, transportation, and meals. Provided is a professional guide so you can focus 100% on enjoying your adventure. Read more…
Wildland Trekking Hiking Adventures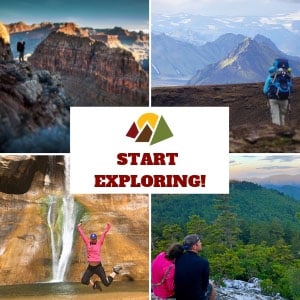 As the world's premier hiking and trekking company, Wildland believes in connecting people to fantastic environments in amazing ways. Torres Del Paine National Park offers an array of incredible hiking and trekking experiences. Wildland Trekking provides 5 different multi-day hiking and backpacking adventures in Patagonia. Read more about our Torres Del Paine and Patagonia trips. 
To learn more about our guided backpacking trips and all of our award-winning hiking vacations, please visit our website or connect with one of our Adventure Consultants: 800-715-HIKE