6 Best East Coast Hiking Destinations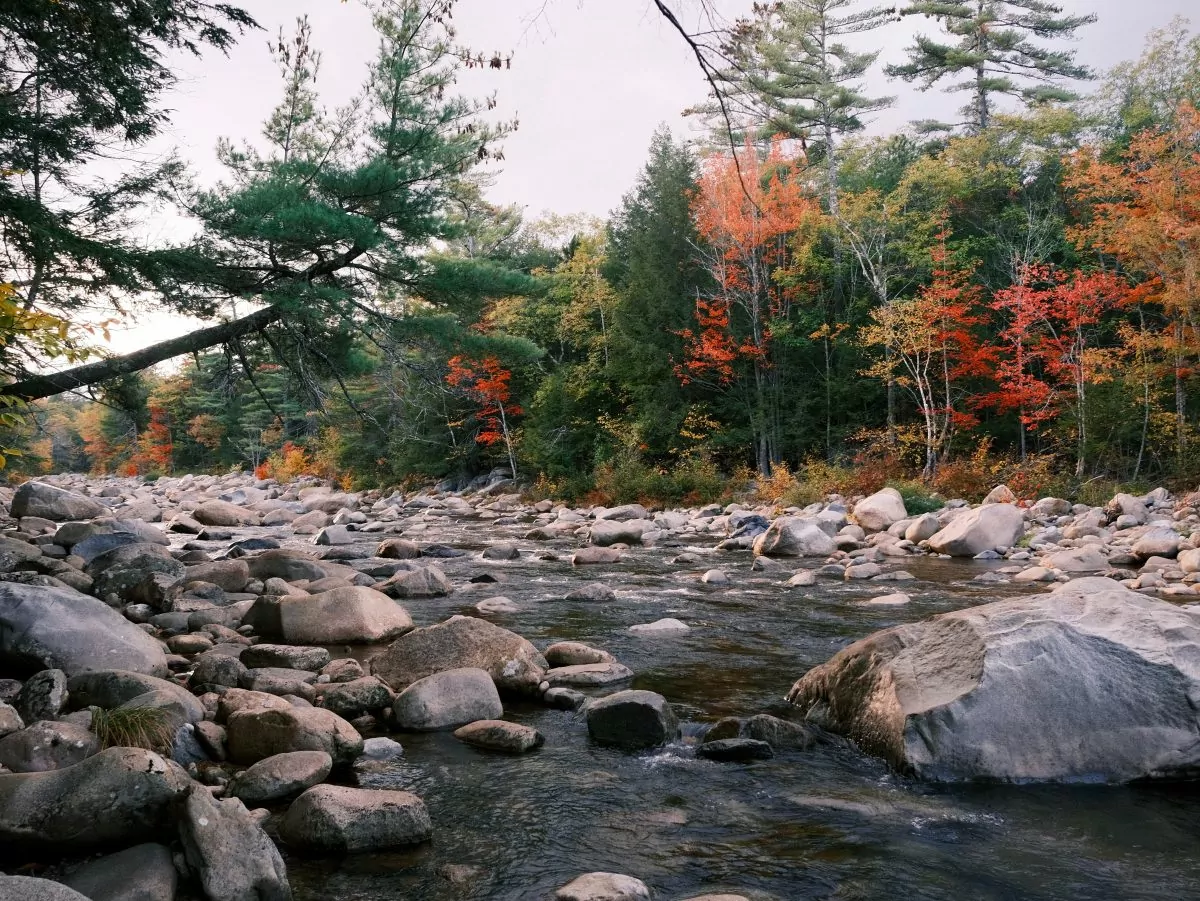 While often overshadowed by the mountain majesty of the West, the East Coast is home to some of America's most picturesque mountains and trails. From the rocky coastline of Maine to the rugged peaks of New Hampshire and the rolling mountains of North Carolina, the Eastern seaboard offers countless hiking opportunities. If you're looking for deciduous forests, babbling streams, and striking fall foliage, you won't be disappointed. 
The East Coast features diverse terrain and unpredictable weather conditions. So, it can be challenging to pick the best place to embark on a hiking adventure. To make planning your next trip a bit easier, we've compiled six of the best places to enjoy a hike on the East Coast. Take a look at the exceptional hiking destinations featured below. We've outlined what sets them apart, what you should do and see, what types of travelers would enjoy them, and the best time to visit. So where is the best hiking on the East Coast? Hopefully, our guide helps you find the hiking destination that's right for you!
Hike the East Coast with Wildland Trekking
Acadia National Park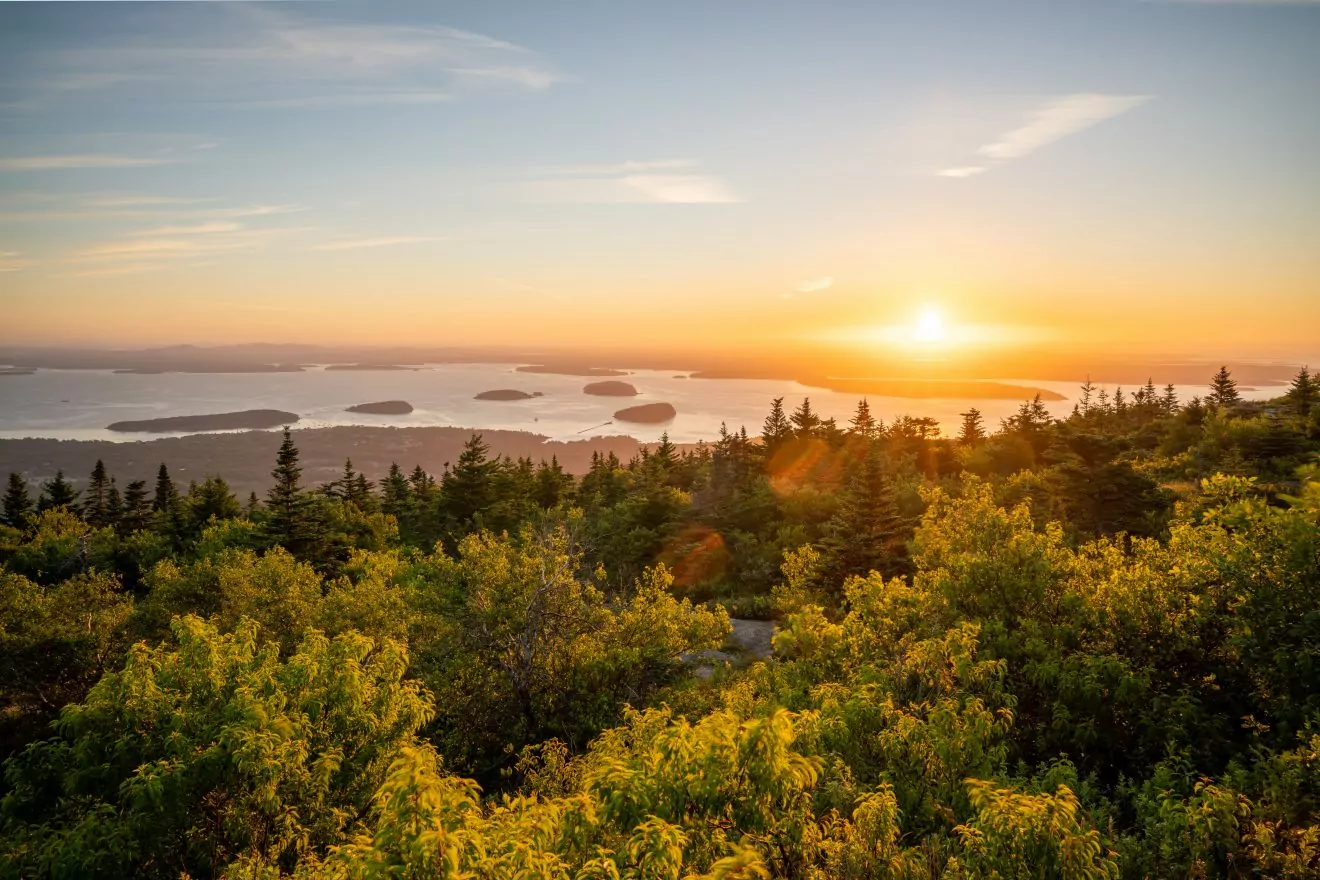 Acadia National Park features some of the most stunning hiking in the northern United States. This magical region where land meets sea is a premier spot for oceanside hiking, biking, and overall outdoor exploration. The park is fantastic for beginner hikers, but with over 150 miles of varied trails, Acadia National Park has something for everyone. The park is three hours from Portland and just under five hours from Boston, so it might not be the most accessible spot on the list, but its remote nature is part of its charm!
What makes it special
Acadia's location along the coastline results in remarkable ocean views from nearly every trail. The majority of the park's 47,000 acres is situated on Mount Desert Island, with other portions of the park on the Schoodic Peninsula and Isle au Haut.
Who will like it
Beginner hikers 

Hikers who enjoy short hikes with jaw-dropping views

Families seeking kid-friendly trails
Things to do
Beat the crowds with a sunrise hike to the park's highest point on the Cadillac North Ridge Trail

Travel to Isle au Haut by mail boat to experience the beauty of Acadia from a new perspective. Plus, you'll find eighteen additional miles of hiking trails. 

Take a scenic drive on Park Loop Road and make pit stops for short hikes and photo ops

For an advanced challenge, hike the Precipice Trail and enjoy the views from the summit of Champlain Mountain
Time of Year to Visit
You'll find beauty to enjoy at any time of year in Acadia National Park, but hiking conditions are prime from late spring to early fall.
Spring (May-June) means cooler temps and fewer crowds, which makes for ideal hiking conditions. Late April can be pleasant but expect snowmelt and muddy trails earlier in the month. If you visit in early May (before Memorial Day weekend) you might just have the trails to yourself!
Fall (September-October) is definitely one of the best times to visit Acadia because of the cooler temperatures. While the summer crowds have gone home, fall brings crowds of its own, so it's best to explore early in the morning or just before sunset.
The summer months (July-August) are the park's busiest months, so if you must come during this time, try some of the park's less popular trails.
The winter months (November-March) are quiet in Acadia and the snow-covered expanse is better suited for snowmobiling and skiing.
Vermont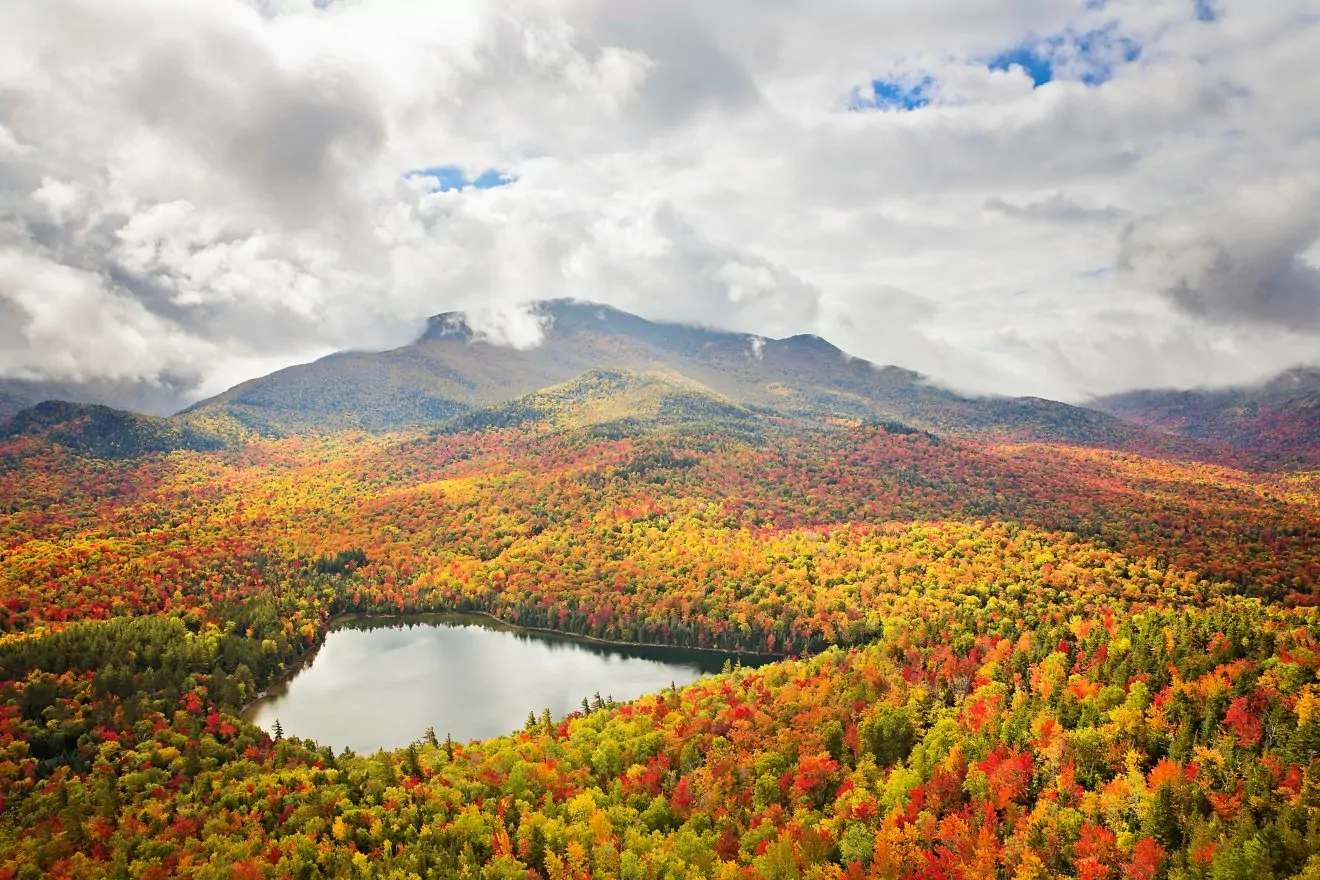 Vermont's hiking is without a doubt some of the best the East Coast has to offer — with thousands of acres of mountain terrain, rolling hills, quaint towns, and stunning scenery. It's no surprise that so many flock to this small New England state to hike each year. Vermont's Green Mountains run for 350 miles from north to south and house some of the best hikes in the region.
What makes it special
Looking for some peace and quiet? With hundreds of miles of hiking trails and a small population, Vermont is one of the best places to find solitude outdoors. Looking to conquer a challenging summit? Or maybe you're feeling a low-key meadow stroll? Vermont's varied terrain has you covered.
Who will like it
Hikers of all ability levels

Hikers with dogs

History buffs

Solitude seekers
Things to do
Enjoy a challenging 6-mile round trip day hike to the top of Camel's Hump (4,083 ft)

Take a guided hike on the Long Trail, America's oldest long-distance hiking trail, to enjoy 360 views and Vermont's glorious fall colors

Soak in views from Mount Mansfield, the highest point in the Green Mountains (4,395 ft)

For a kid and dog-friendly portion of the Long Trail, hike up Stratton Mountain
Time of year to visit
You can enjoy the beauty of Vermont year-round, however, the state's hiking trails are most accessible from late spring to early fall. (April-October)
Fall is undoubtedly one of the best times to visit Vermont for the fall foliage. Starting in late September and the beginning of October, the leaves begin to change color, resulting in glorious swaths of red, orange, and gold.
Winter in Vermont brings unpredictable weather, freezing temperatures, and trail closures. During this time, the mountainous areas are better suited for snow sports like skiing and snowshoeing!
The White Mountains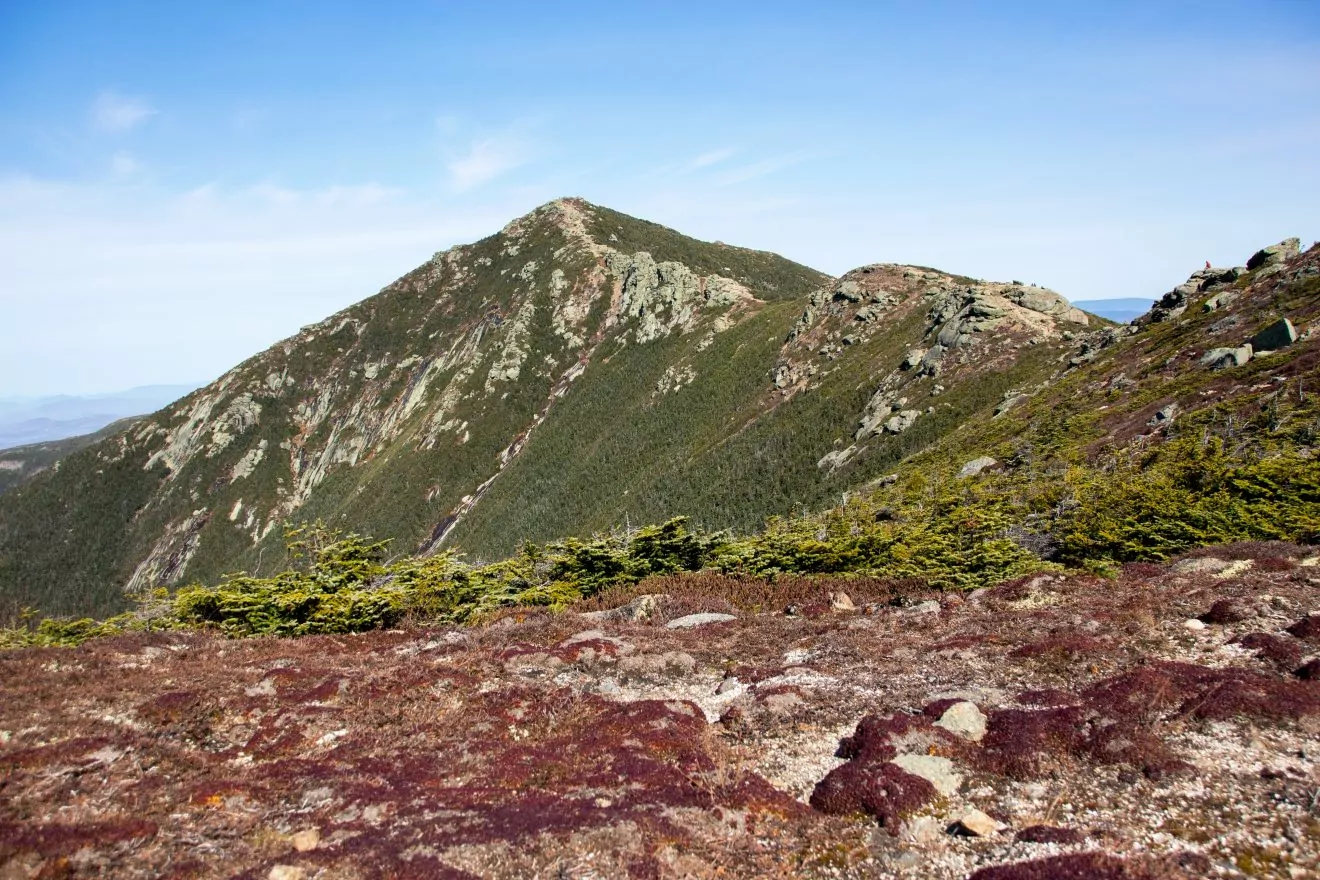 The rugged White Mountains, which span across north to central eastern New Hampshire and a portion of western Maine, offer some of the most challenging hikes on the East Coast. Located just over two hours from Boston, the Whites feature nearly 8,000 miles of hardwood forests and magnificent alpine peaks.
What makes it special
This mountainous region includes the Presidential Range, home to Mt. Washington, the most prominent and tallest peak in the northeastern U.S. The Whites also have an extensive hut system where hikers can stay in comfortable overnight lodging in remote alpine areas.
Who will like it
Hikers of all ability levels

Day hikers looking for a challenge

Solitude seekers

Backcountry campers

Climbers

Mountaineers
Things to Do
Enjoy a moderate hike up Mount Eisenhower for 360 views

Embark on a hut-to-hut trek to experience the Appalachian Trail and the Presidential Peaks

Hike (or drive) to the top of Mount Washington
Time of year to visit
The weather in the White Mountains is known to change suddenly, so it's best to plan your visit according to the seasons. (But always check the weather the day-of before your hike, and prepare for harsh conditions!)
Late Spring (April-May) marks the start of hiking season in the Whites, but be on the lookout for icy trails.
With mild temperatures, the summer months (June-August) tend to be the best time to hike in the White Mountains.
Winters (November-March) in the White Mountains can be harsh and while hiking may be possible in some areas, the trails are most enjoyable in the spring and summer.
Shenandoah National Park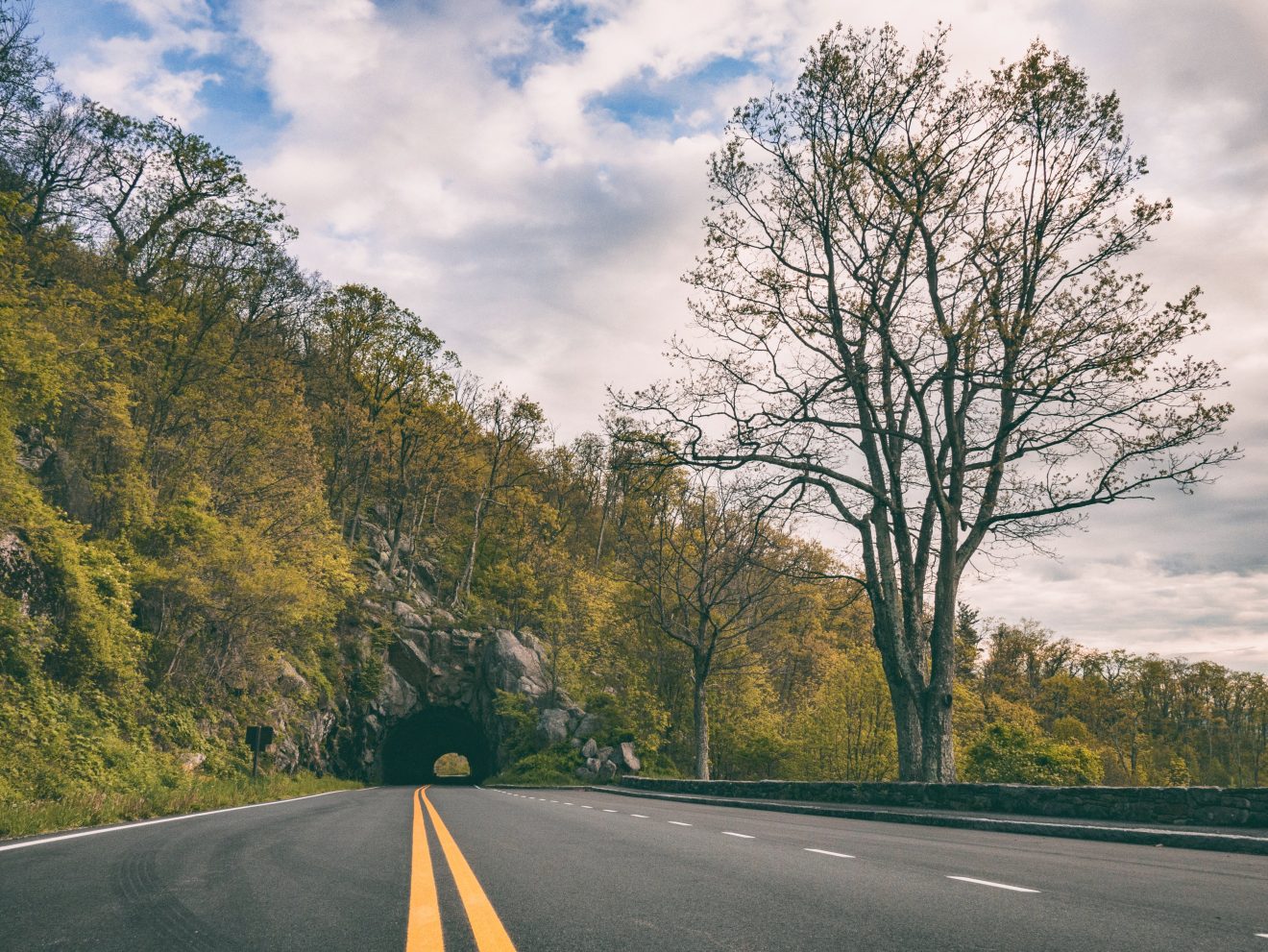 This expansive wilderness, located just an hour from Washington D.C., is a hiker's haven filled with cascading waterfalls, scenic trails, and rich historical landmarks. The park has four convenient entrances, which are connected by Skyline Drive, the park's historic, winding, tree-lined road that extends for 105 miles and features nearly 70 scenic overlooks of the surrounding Shenandoah Valley to the west and Piedmont to east.
What Makes it Special
The park is studded with old-growth forests and a variety of wildlife, but it's the park's rich history that makes SNP especially unique. There is history around every corner in Shenandoah and many of the park's trails showcase old cemeteries, structures, and settlements.
Who Will Like It
Hikers of all ability levels

First-time campers and backpackers

Families

Hikers with dogs (Shenandoah is one of a few national parks that allow dogs on trails!)

History lovers

Solitude seekers
Things to Do
Enjoy a moderate hike up Hawksbill Mountain, the park's highest point, for stellar 270 views of Massanutten Mountain to the west, Stony Man Mountain to the north, and Old Rag Mountain to the east

Drive along scenic Skyline Drive, the park's winding artery which features countless scenic overlooks and trailheads

Hike the 4-mile round trip trail around Rapidan Camp, the camp that was once a presidential getaway built by President Hoover

Enjoy a short and sweet sunrise hike to the top of Bearfence Mountain for unbelievable 360 views of the surrounding Shenandoah Valley
Time of Year to Visit
Spring months (March-May) bring blooming flowers and less crowded trails. 
The summer months (June-August) are by far the busiest, but you can't beat cooling down in one of the park's many swimming holes. 
Visiting in the winter (November-March) also has its benefits, as you get more expansive views without the foliage. However, Skyline Drive often closes due to inclement weather, so parts of the park may not be accessible in the winter months.
Blue Ridge Mountains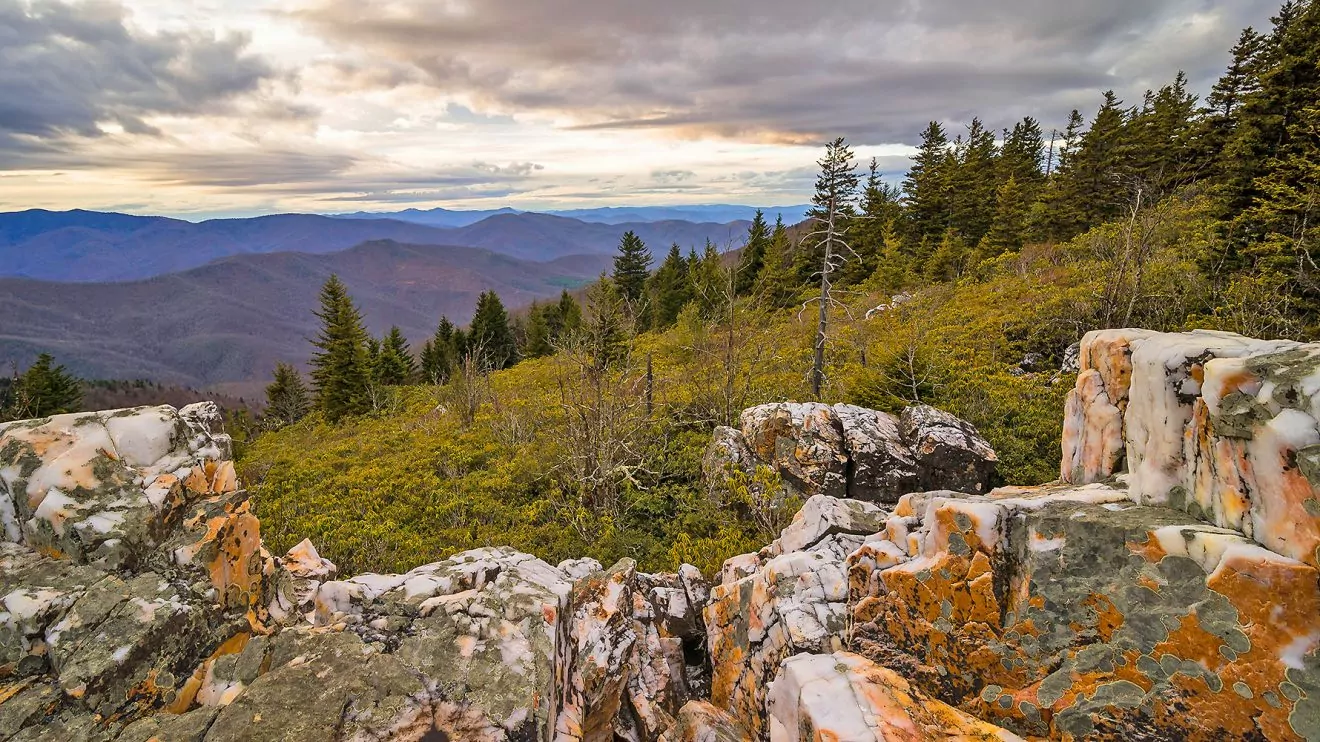 Spanning from southern Pennsylvania to northern Georgia, the Blue Ridge Mountains are 615 miles of sensational beauty. These stunning mountains are most accessible from Asheville, North Carolina — which makes a great basecamp. However, you can find great hiking all along the Blue Ridge Parkway, the scenic bypass that connects Shenandoah National Park to the Great Smoky Mountains.
What Makes it Special
With cascading waterfalls, expansive views, and peaceful hardwood forests, the Blue Ridge Mountains are a southeastern gateway into another world. No matter whether you're a novice hiker or more experienced and looking for a challenge, the Blue Ridge's nearly 400 miles of hiking trails offer a little something for hikers of any ability.
Who Will Like It
Hikers of all ability levels

Road trippers 

Solitude seekers

Hikers with dogs

Beginner to experienced backpackers
Things to Do
Enjoy a challenging hike to the top of Mt. Mitchell (6,684 ft.), the highest peak east of the Mississippi River

Embark on a guided backpacking trip to Shining Rock Wilderness to see stunning Appalachian views and waterfalls

Go for a scenic drive down the Blue Ridge Parkway where you'll find endless trailheads and scenic overlooks
Time of Year to Visit
The spring and fall months in particular (April, May, September, October) bring the best hiking weather to the Blue Ridge. 
Summer is also a wonderful time to visit, but expect crowds and traffic at times.
Since the temperature doesn't typically drop below 20 degrees Fahrenheit, winter hiking is accessible, but inclement weather often causes closures on the Blue Ridge Parkway.
Great Smoky Mountains National Park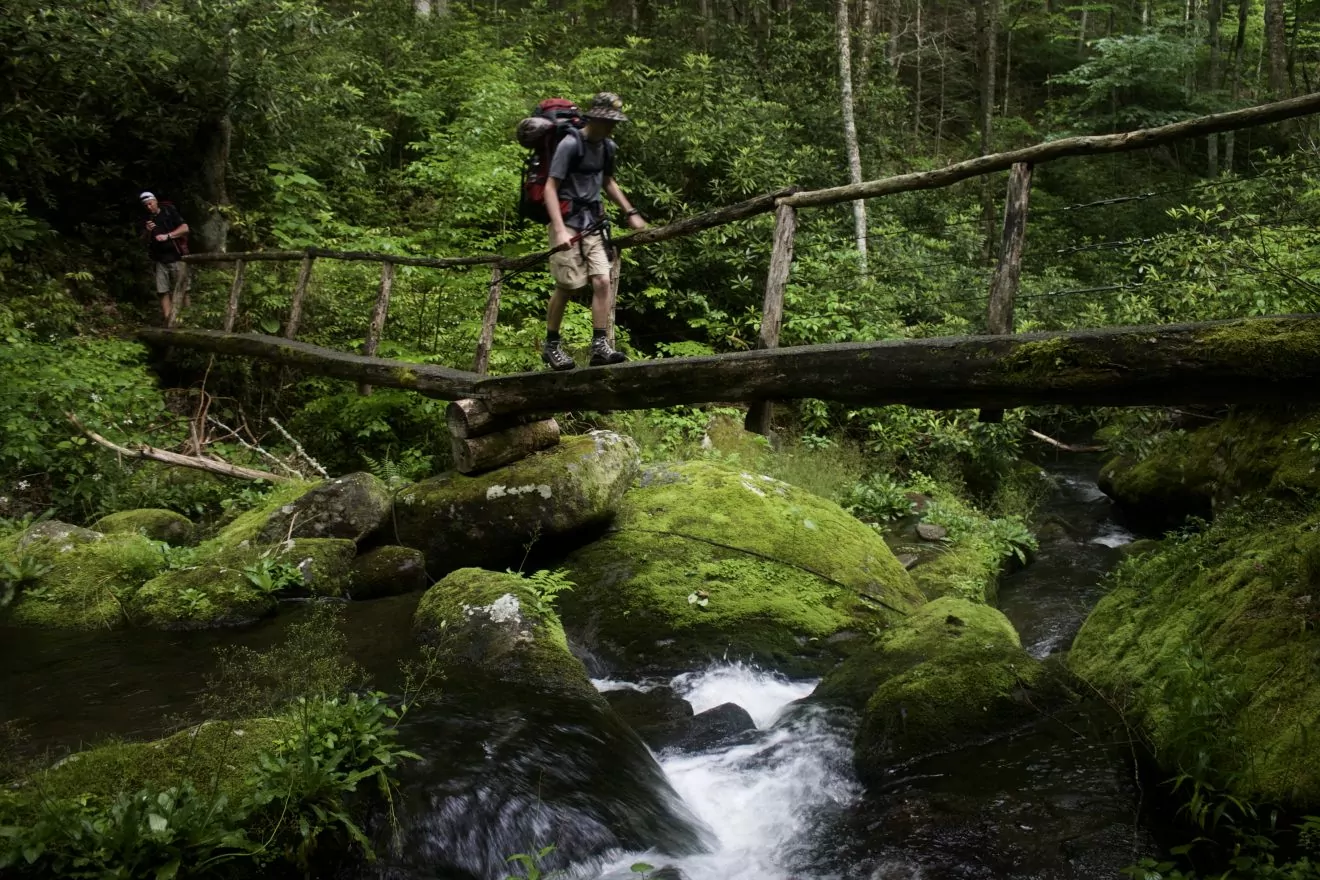 Great Smoky Mountains National Park (GSMNP) is the most visited national park in the country and with its endless outdoor offerings, it's easy to see why. The park is great for hikers and campers of all skill levels, but is best suited for those looking for a more challenging East Coast trek. 
What Makes it Special
The Great Smoky Mountains are an East Coast gem with incredible mountain vistas, pristine wilderness, and diverse wildlife. The park is also the most biodiverse National Park and is home to more than 65 species of mammals, over 80 types of reptiles and amphibians, over 200 varieties of birds, and nearly 70 native fish species!
Who Will Like It
Day hikers looking for easy to strenuous hikes with major payoffs

Beginner to experienced backpackers

Roadtrippers looking for easy photo ops

Biology lovers
Things to Do
Backpack Spence Field Loop, one of the park's many wonderful backcountry trails, to see stunning views of North Carolina and springtime wildflowers

Drive up to Clingmans Dome (open April-November) to take in expansive views from the park's highest point

Hike through an old-growth forest to Ramsey Cascades, the park's biggest waterfall standing at 100 ft
Time of Year to Visit
The summer months (June, July, and August) are three of the park's busiest months so if you visit during this period, expect crowds at the park's most popular spots.
To avoid the summer crowds, consider visiting the Smokies during the spring and fall months. April and May are wonderful times to enjoy the Smokies' wildflowers and budding trees.
September and October bring crisp fall air and a glorious palette of fall colors.
Even the winter months are a great time to enjoy the Smokies, as they bring even more viewpoints, quieter trails, and temps that usually don't drop below 20 degrees Fahrenheit.
Before You Go
It's worth noting that you do need to pay to enter any of the national parks listed above — either with an individual park pass or the America the Beautiful Pass. With any mountainous area, weather can (and does!) change quickly. So, be sure to pack proper gear and equipment including a raincoat, an extra layer and socks, and sturdy hiking boots. Oh, and don't forget your camera! Happy trails.