5 Types of Camping Trips for Adults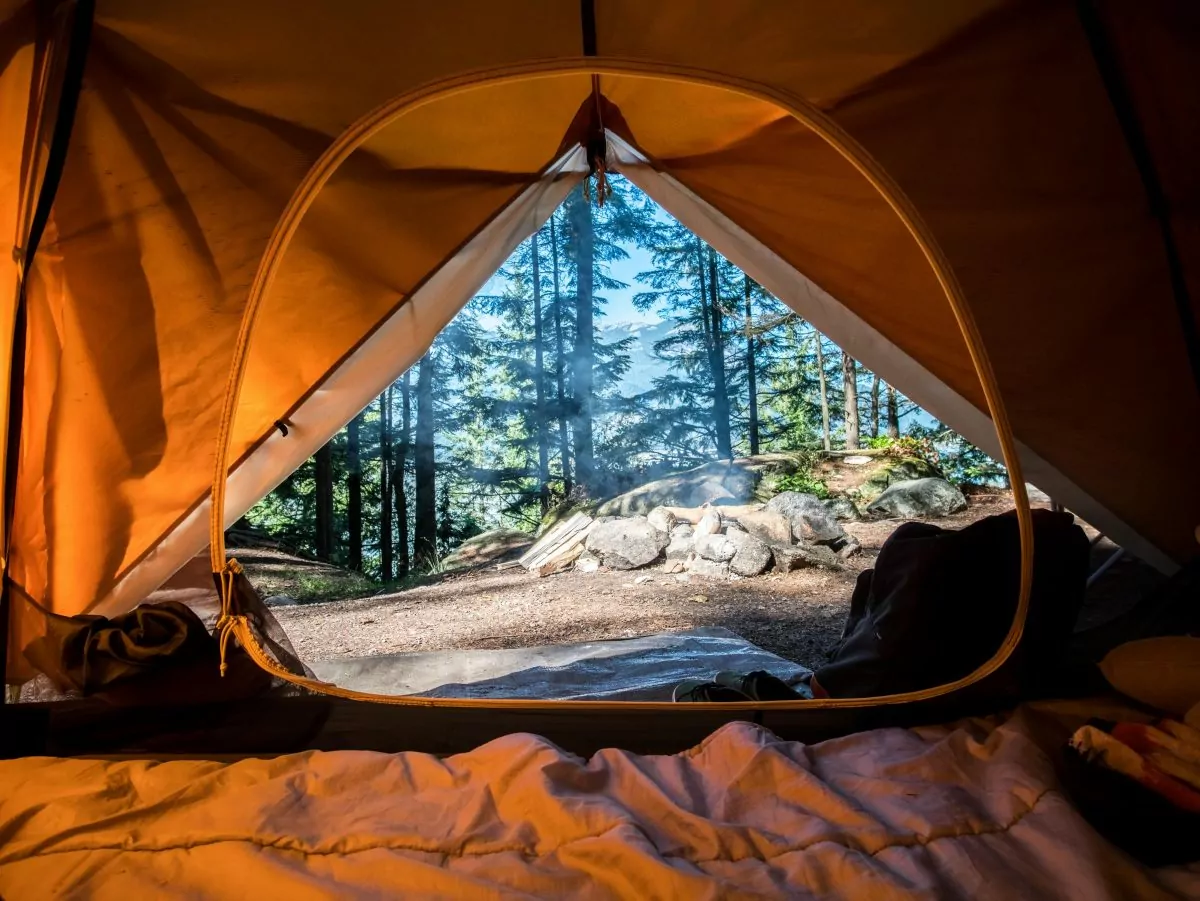 Few activities blend adventure and relaxation quite as seamlessly as camping does. Camping is a deeply rejuvenating, fulfilling, and joyful experience. It's also a relatively accessible and affordable vacation option. Yet what truly makes camping such a widely loved pastime are the endless ways you can do it. No matter what type of adventurer you are, you can find camping trips for adults to suit your style.
For first-time campers, planning a trip can be intimidating. For instance, you'll need to decide where you'd like to go, whether you'd like to partake in a guided or self-led trip, and what gear you'll need. For this reason, getting clear on the type of camping you want to do is crucial.
Do you want to sleep under the stars but also have access to bathrooms, a firepit, and potable water? What about having all of those amenities while sleeping on a queen-sized bed in a luxury yurt? Or is a rugged and remote adventure more your speed? Read on to explore five types of camping trips for adults and discover which kind is calling your name!
Go Camping with Wildland Trekking!
Car Camping, Front Country Camping, and Basecamping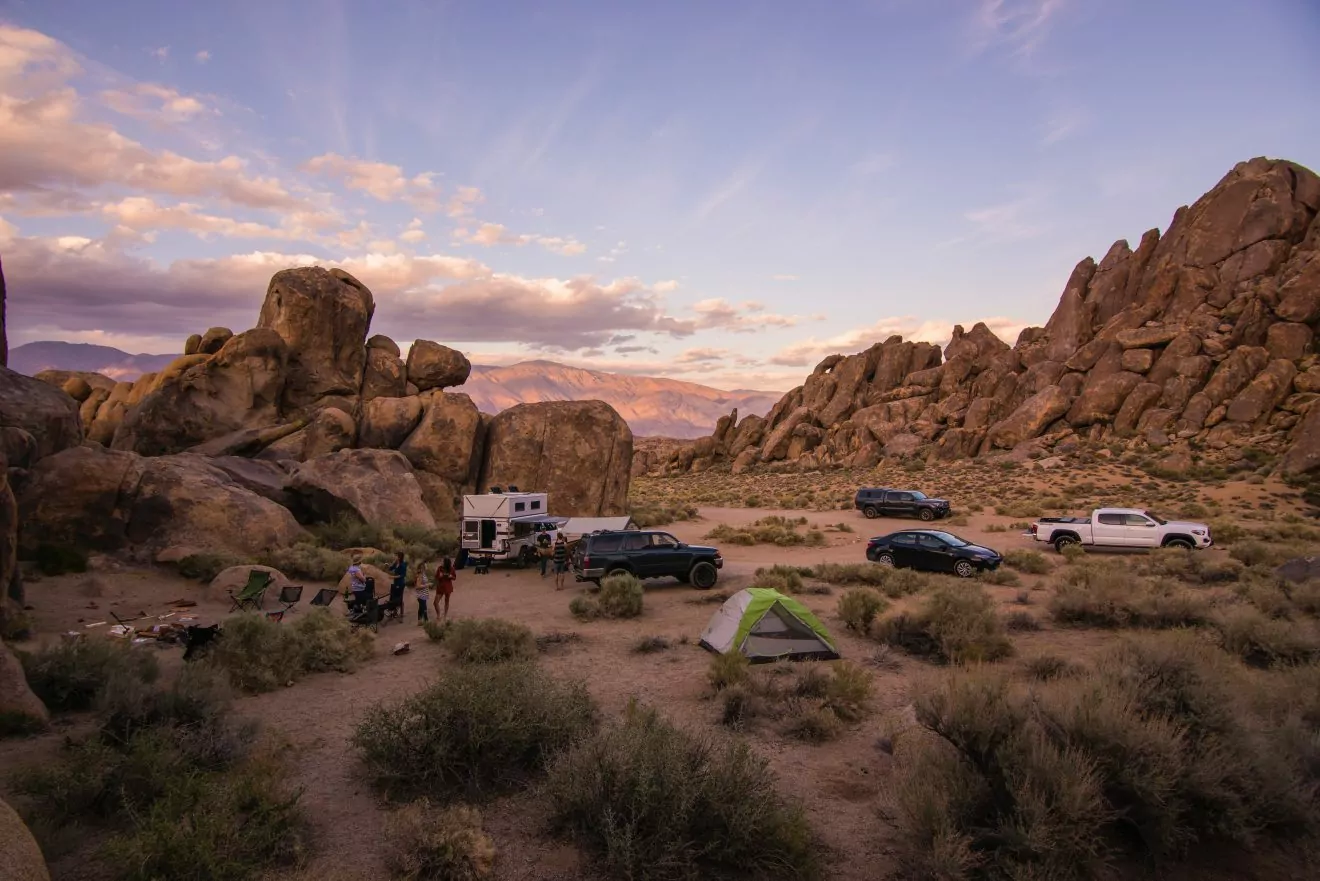 Front-country, car, and base-camping all fit within the same category of camping. With this style of camping, you can often drive a vehicle directly to your campsite, establishing a temporary home for the duration of your trip. You can leave your tent pitched in the same spot each day while you go explore. Car camping is great for both solo and group adventures and is an ideal option for first-timers looking for a "traditional" camping experience. It's easy, accessible, and affordable. Additionally, since your campsite is drive-in accessible, you can bring ample supplies to make your trip extra comfortable. 
Campsites vary: you'll find everything from official state park campgrounds with full amenities, to Forest Service sites with pit toilets, to dispersed primitive camping on public land. State and National Park campsites are sought-after destinations, so they usually require that you make reservations months in advance. Throughout many states in the West, like California and Utah, you'll also find plenty of Forest Service and BLM land where you can camp free of charge. However, dispersed camping — as this is known — requires you to bring water and supplies, pack out all trash, and properly dispose of human waste.  Research public land camping on the Bureau of Land Management's website to find a destination before your trip, and be sure to practice Leave No Trace ethics.
If you're a first-timer who would like a little structure, guided base-camping tours will do the trick. Wildland Trekking offers first-class guided tours through picturesque camping locations across the country. Check out the unbelievable ocean and mountain views on our Olympic & Rainier Pacific Northwest Basecamp Tour. 
Llama Trekking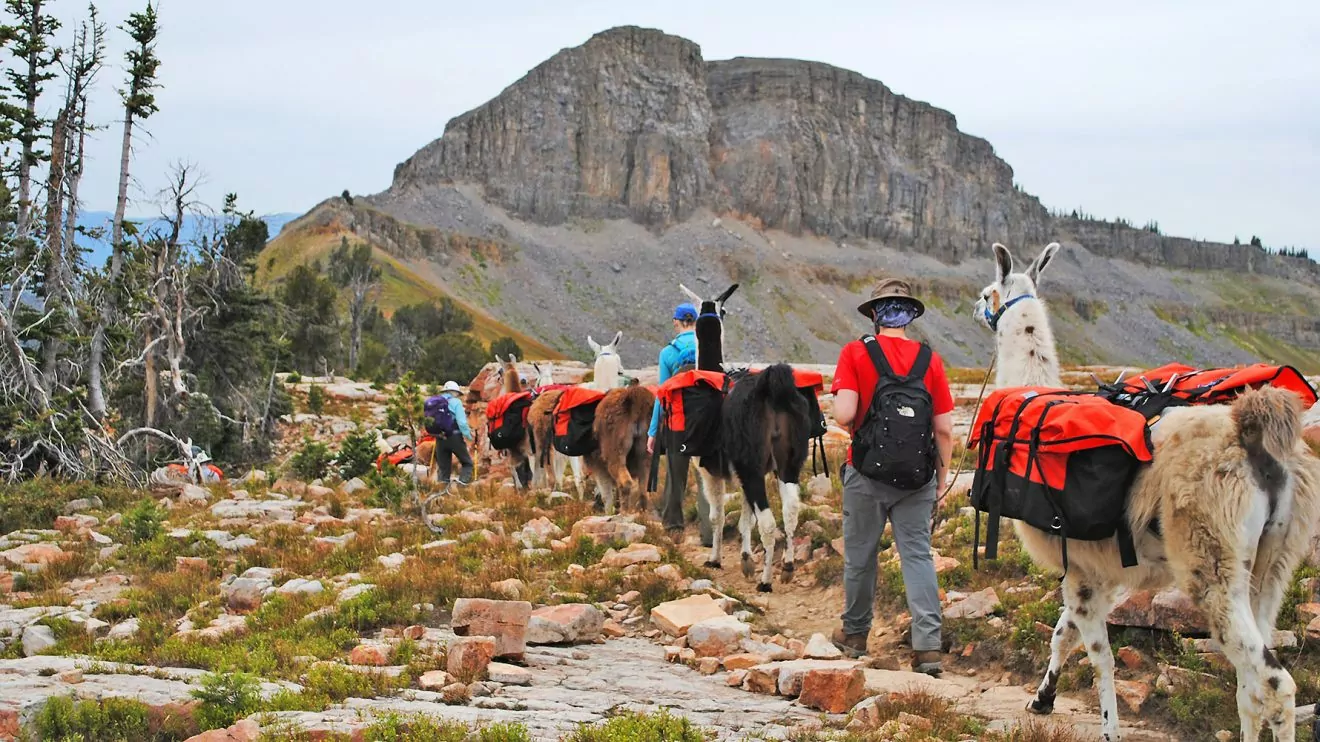 Guided llama treks might sound pretty niche, but they are an excellent choice for those looking to get further into the backcountry without the level of physical exertion required on a conventional backpacking trip. These treks have grown in popularity because a llama's soft padded feet reduce trail impact, so these creatures are an ethical choice as pack animals. They can also carry 20-25% of their body weight while on challenging terrains, require less feed load, and have great personalities! To learn more, check out this in-depth article about hiking with these eccentric animals. 
Joining a guided llama trek will take you on a unique camping trip unlike any you've experienced before. These treks are an excellent option for solo travelers who'd like to go on their first backpacking trip. For outdoorsy parents looking to give their children a memorable and seriously fun first trekking experience, this is your trip! Llamas are known to be well-behaved around kids, so these trips are safe and family-friendly.
Llamas are native to the Andes Mountains in Peru. However, llama trekking has grown in popularity worldwide, including in the US. Wildland Trekking offers guided llama trips through some of the country's most breathtaking landscapes, such as the Wind River Range Titcomb Basin in Wyoming. Our other expeditions travel through Yellowstone National Park, the Tetons, the Absaroka-Beartooths, Utah, and Colorado. Check out a complete list of Wildland Trekking's guided llama treks.
Backpacking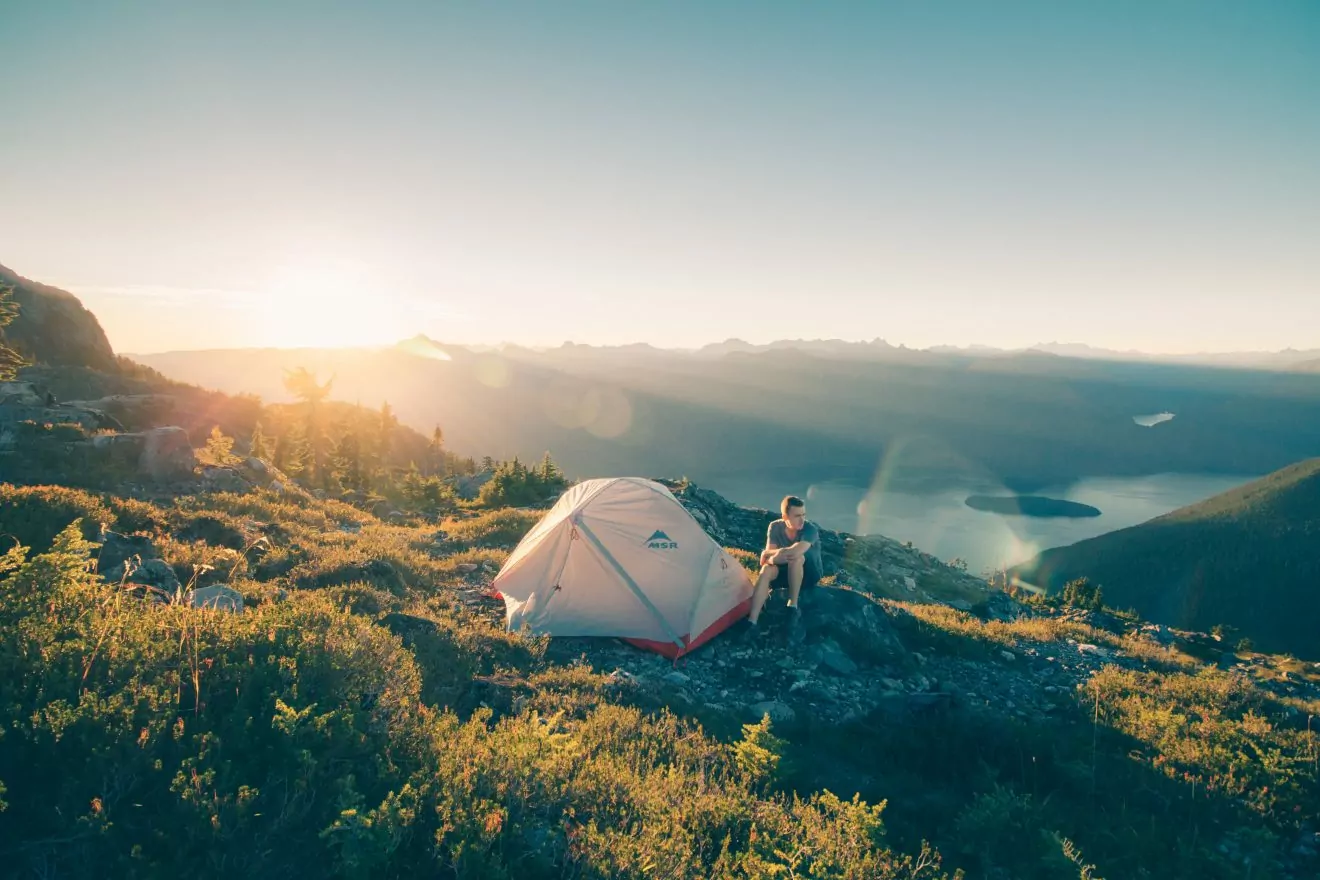 If you want to get deep into the backcountry and off the grid while camping, there is no better option than backpacking. Part of why backpacking is such a cherished and timeless activity is that it allows you to disconnect from daily life and truly immerse yourself in the great outdoors. While backpacking, hikers carry all of their belongings on their back. A bonus of backpacking is that you get to stay at various campsites throughout your trip. Backpacking trips can range from simple overnight treks to long trails, like the Pacific Crest and Appalachian Trail, that require serious planning, preparation, and training.
Backpacking trips are best for those who have previous hiking and camping experience. The decision to camp in remote places must be made with proper research, education, and respect for the ecosystem that you'll be exploring. A basic understanding of wilderness safety skills is essential. You can acquire these skills through a class, mentorship, or prior outdoor experience.
First-time backpackers should go with a group of seasoned trekkers or on a guided tour. Joining a guided backpacking tour will teach you foundational skills and make your first trek as seamless as possible. On guided trips, transportation, permits, and meals are all taken care of for you. That means you'll access some of the country's most famous backpacking trails stress-free. Wildland Trekking offers guided trips to hike the iconic Grand Canyon Rim to Rim Trail and Half Dome in Yosemite! 
Glamping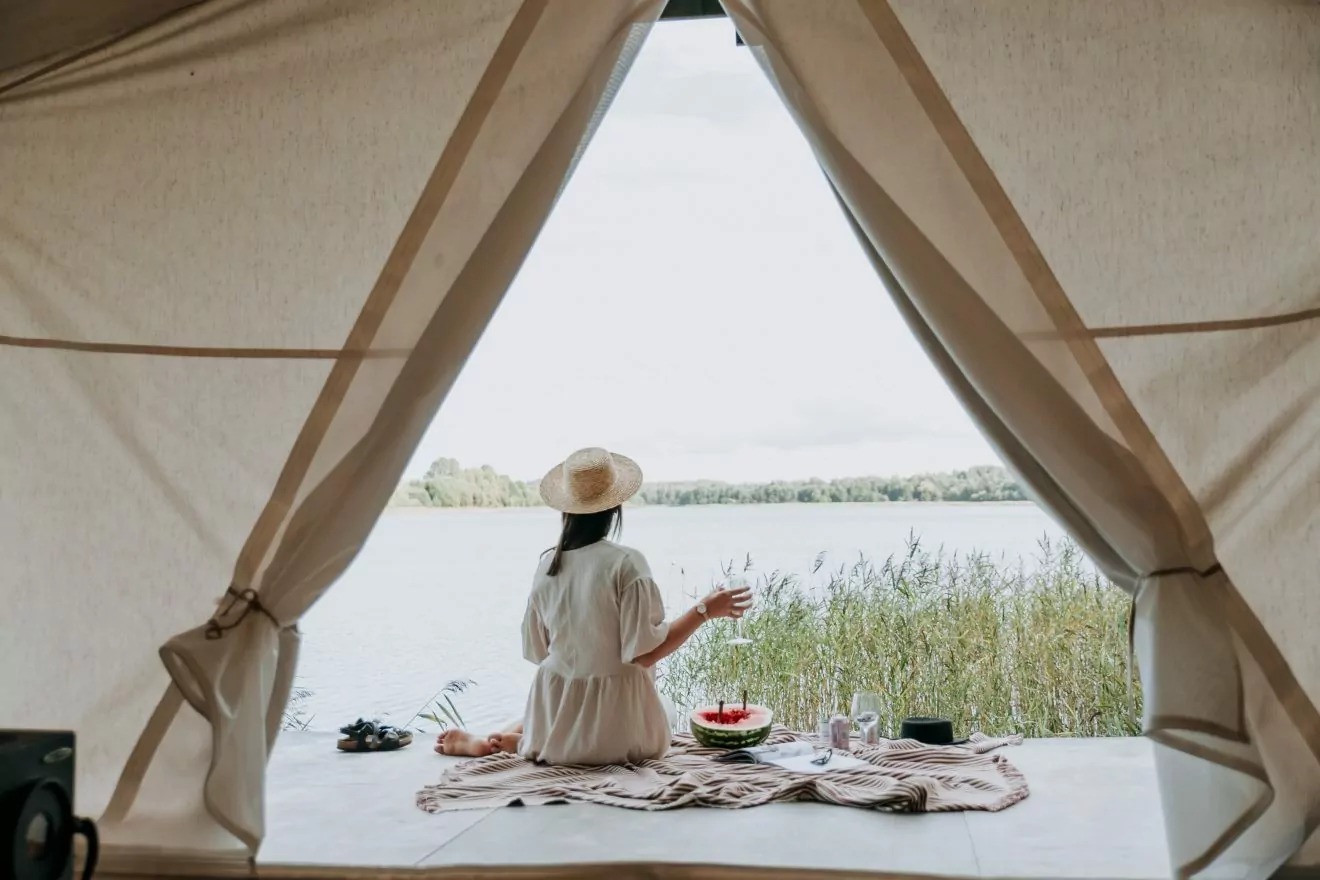 Glamping is by far the most luxurious camping option around. Glamping is a happy medium between staying at a hotel and spending time outdoors. You'll find a variety of glamping experiences, from luxurious retreat centers to adorable boutique operations available through sites like HipCamp. 
Glamping is an excellent option if you aren't a big outdoors person, or if you are looking for a lavish trip to mark a special occasion. Glamping is family-friendly and available all over the US. 
When glamping, you'll have all of the amenities you expect while staying at a hotel, such as showers, bathrooms, and a bed, but with a fun wilderness twist. For this reason, glamping comes with a higher price tag than other types of camping. However, the memories you'll create will make it worthwhile. Sites like Hipcamp have stellar glamping options, such as Belcampo Farms nearby Mount Shasta or Yurt Glamping & Stargazing in New Mexico. If you'd like a retreat-style glamping getaway, check out Mendocino Grove in California or Sinya on Lone Man Creek in Texas.
Bikepacking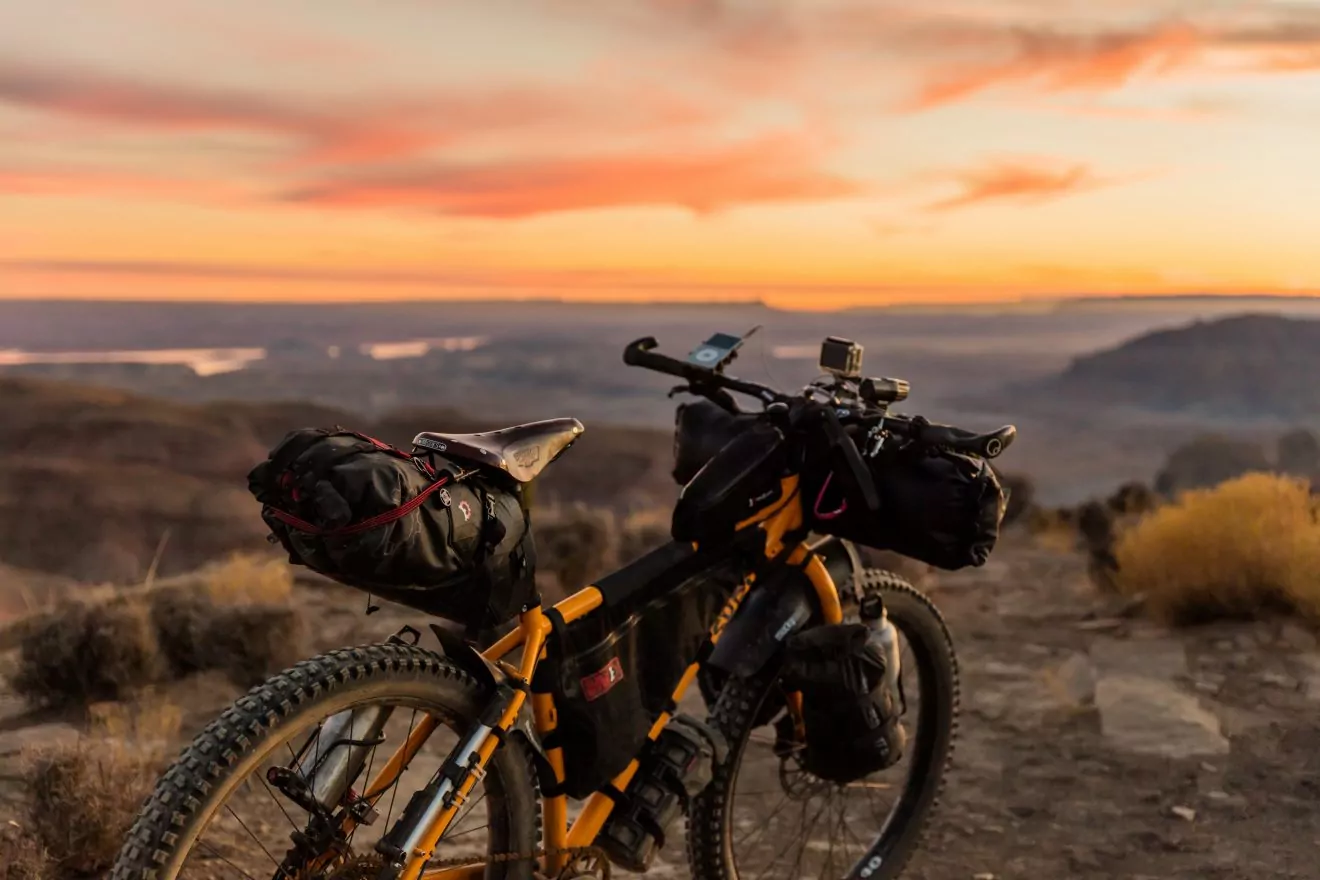 Bikepacking is a camping style that blends backpacking and bike touring into one adventurous experience. Bikepacking affords campers the ability to cover many more miles than one could ever cover while backpacking in the same trip length. Also, instead of carrying your gear on your back, you'll carry it on your bike in frame bags or panniers. But don't get too excited. Depending on the trail's terrain, you may still have to pedal yourself and your gear up some monster hills. 
Options for bikepacking trips in the United States are varied and range in difficulty and length. Bikepacking across the US and down its West and East coasts has grown in popularity over the years for avid cyclists and wanderlust-stricken explorers alike. Just as biking styles vary, so too do bikepacking trail options. Popular routes include roads, rail trails, like the Great Allegheny Passage, and rugged mountain trails, like the Colorado Trail and the Kokopelli Trail, which cut through Colorado's Rockies and Utah's high desert, respectively. 
Bikepacking is an excellent camping option for those who already partake in bike touring. However, anyone with an interest and willingness to train for a trip can do one! As with backpacking, it is highly recommended that first-time bikepackers join a guided tour. Guided bikepacking tours cover transportation, permits, gear, meals, and of course, have a seasoned guide. You also will get to try bikepacking without investing in all of the necessary and expensive equipment. Check out Western Spirit: Cycling Adventures for an incredible roster of bike tours in the US, ranging from private to group and family tours. Or, if you're a mountain biker, we recommend Sacred Rides, which offers tours created for and by mountain bikers.