5 Best Backpacking Trips on the East Coast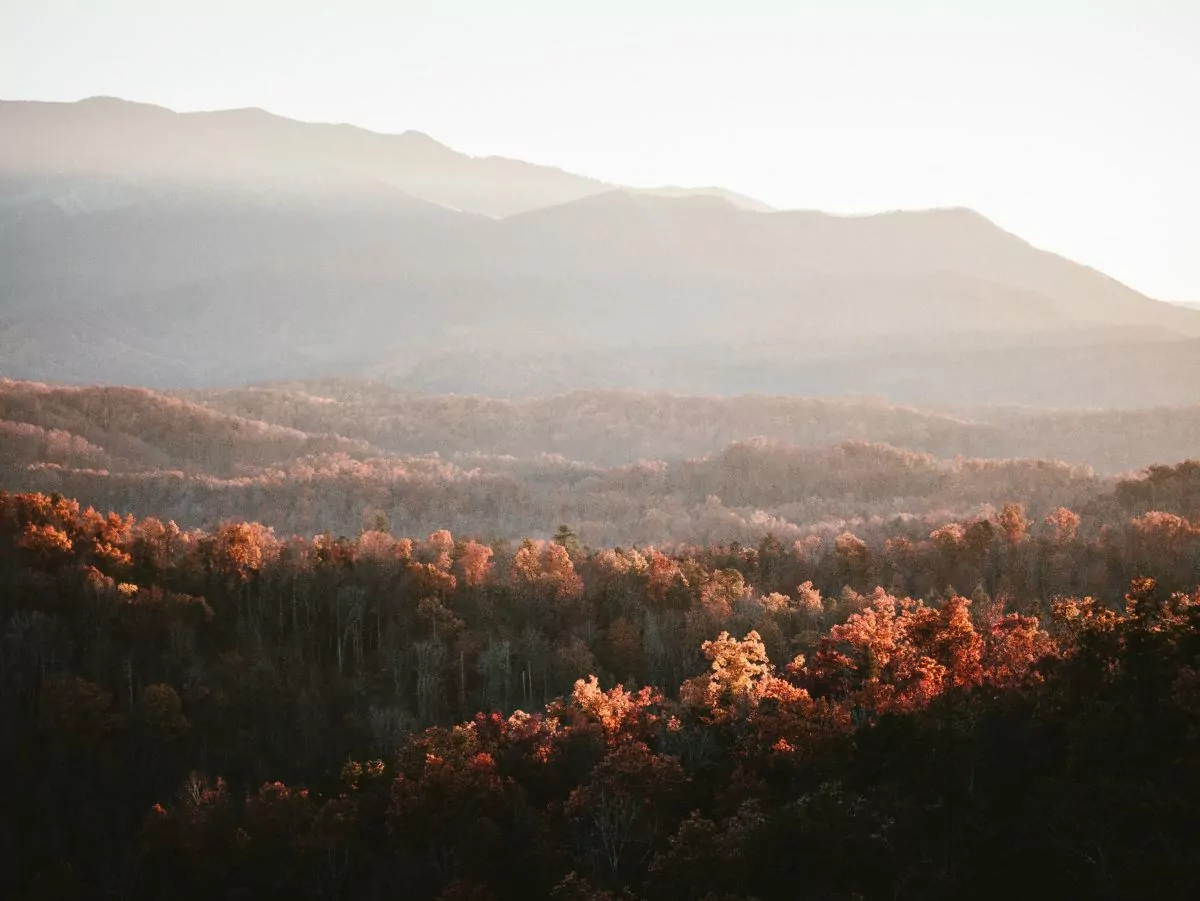 Photo by Sean Foster on Unsplash
Old-growth forests, towering waterfalls, and trails steeped with history: there is something magical about backpacking trips on the East Coast. Along with the dramatic cliffs and lush, green forests, one of the most prominent East Coast hiking attractions is the Appalachian Trail (AT). This long-distance trail stretches approximately 2,200 miles from Georgia to Maine but offers endless shorter multi-day hiking options. 
Unsure about where to go for your next hike? You can find outstanding opportunities for backpacking all up and down the Eastern Seaboard. However, this guide will highlight five of the best backpacking trips on the East Coast, specifically in Tennessee, North Carolina, and Virginia.  Before planning your next backpacking trip, check out the trips we've outlined below so you can experience all the beauty the East Coast has to offer!
All Inclusive Backpacking Trips
Hiking on the East Coast: Considerations
Before diving into the hikes, take a look at a couple of considerations for hiking in this region:
 The East Coast has a temperate climate, so it receives lots of rainfall, especially in the spring and summer months. Be sure to bring a raincoat and rain cover for your backpack (even if rain isn't in the forecast!) – to avoid lugging around a sopping wet pack. 

Wildlife abounds in this part of the word. While hiking brings us closer to wildlife, it's essential to stay safe during encounters. Black bears inhabit many of the mountainous areas on the East Coast, so do some research and acquire any necessary bear-proof gear. Some areas require bear canisters for storing food. In other areas, bear spray may be prohibited. It's always a good idea to do some research beforehand so you can hit the trail prepared.
1. Art Loeb Trail, North Carolina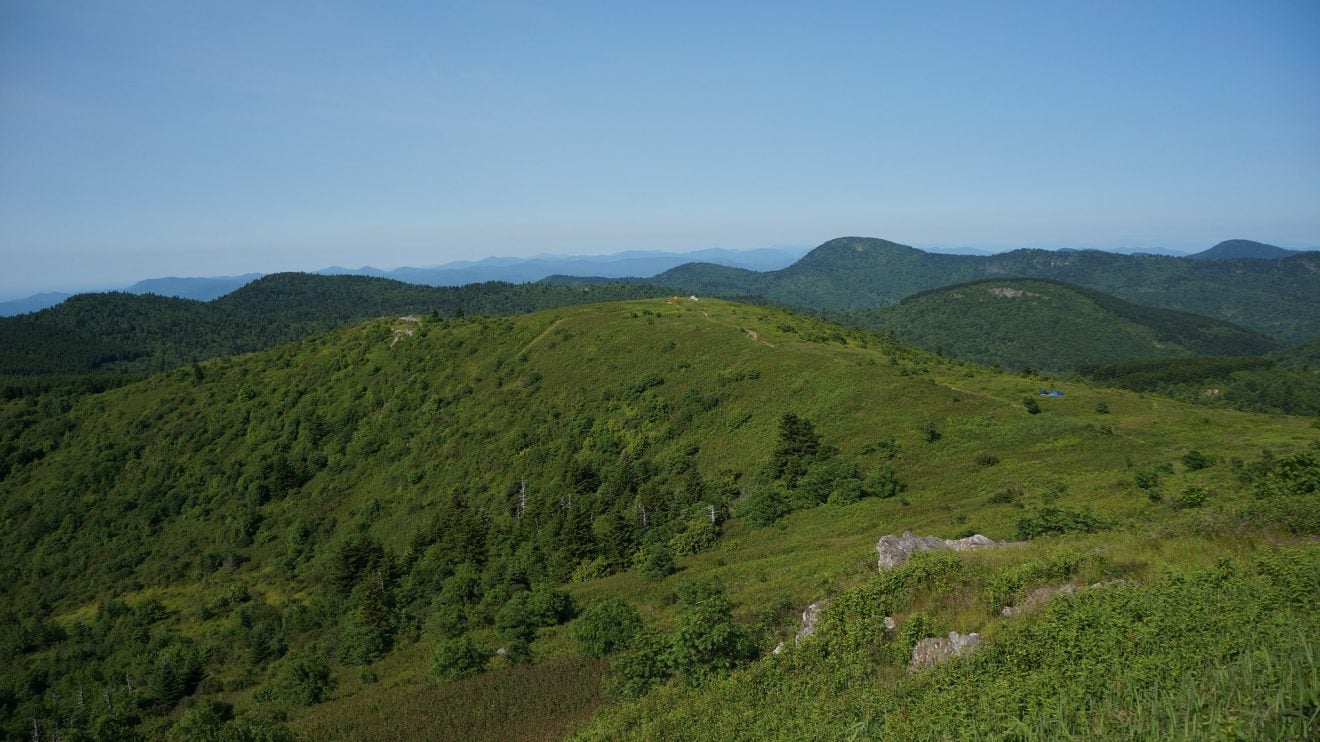 Photo Courtesy of Patrick Mueller (CC BY 2.0)
Mileage: 30.1 miles point-to-point | Length: 3 – 5 days | Elevation Gain/Loss: 8,250 feet
The Art Loeb Trail in the Shining Rock Wilderness of western North Carolina is widely noted as one of the best hikes in North America. The trail's impressive attributes, like the spectacular panoramic mountain views and over 30 miles of rugged terrain, make it a premier choice for intermediate and advanced hikers. This route also traverses many significant peaks, including Black Balsam Knob (6214 ft.), Tennant Mountain (6040 ft.), and Pilot Mountain (50,72), so don't forget your camera at home!
trail description
Hiking from south to north is the most popular route direction because you save the best views for last, providing payoffs for those hard-earned miles. The trail starts at the Davidson River Campground, five miles from Brevard, and 30 miles from Asheville. The first 12 miles are a steady uphill and you'll trek past Cedar Rock Mountain (4,055 ft.) and Chestnut Mountain (3,688 ft.). Along the route, you'll encounter several campsites that are perfect for your first night's rest. 
The steepest part of the trail comes after about 12 miles as you make your way up Pilot Mountain, the site of a former lookout tower. It boasts spectacular views of Looking Glass Rock and the Balsam Mountains. After spending a few minutes taking in the impressive views, you will be pleased to discover a much flatter trail from Silvermine Bald at mile 17 to Stairs Mountain at mile 23.
The final six miles of the trail are a gradual descent past Cold Mountain. This destination was popularized by the 1997 novel Cold Mountain, written by Charles Frazier, and subsequent major motion picture by the same name. Once you reach the end of the trail (Daniel Boone Boy Scout Camp in Canton, NC), you can high-five your friends before hopping in your car or grabbing a shuttle back to your starting trailhead.
Looking for a shorter hike or wanting to simplify logistics? You can still experience the beauty of Art Loeb by hiking portions of the trail or connecting nearby trails to create a shorter loop.
Logistics and Permits
There are no permit requirements for accessing Art Loeb Trail. This route is point-to-point and ends in a different location than it started, so you'll need to work out some logistics. However, convenient shuttles can transport you back to your car, including the Pura Vida Adventures shuttle.
GUIDED TRIP OPTIONS
This backpacking trip can be done as an all-inclusive guided adventure. Click here to learn more! Or, if you're not into the idea of carrying a multi-day backpacking (30-40 lbs), consider a portered trip.
2. Appalachian Trail: Carvers Gap to US 19E, North Carolina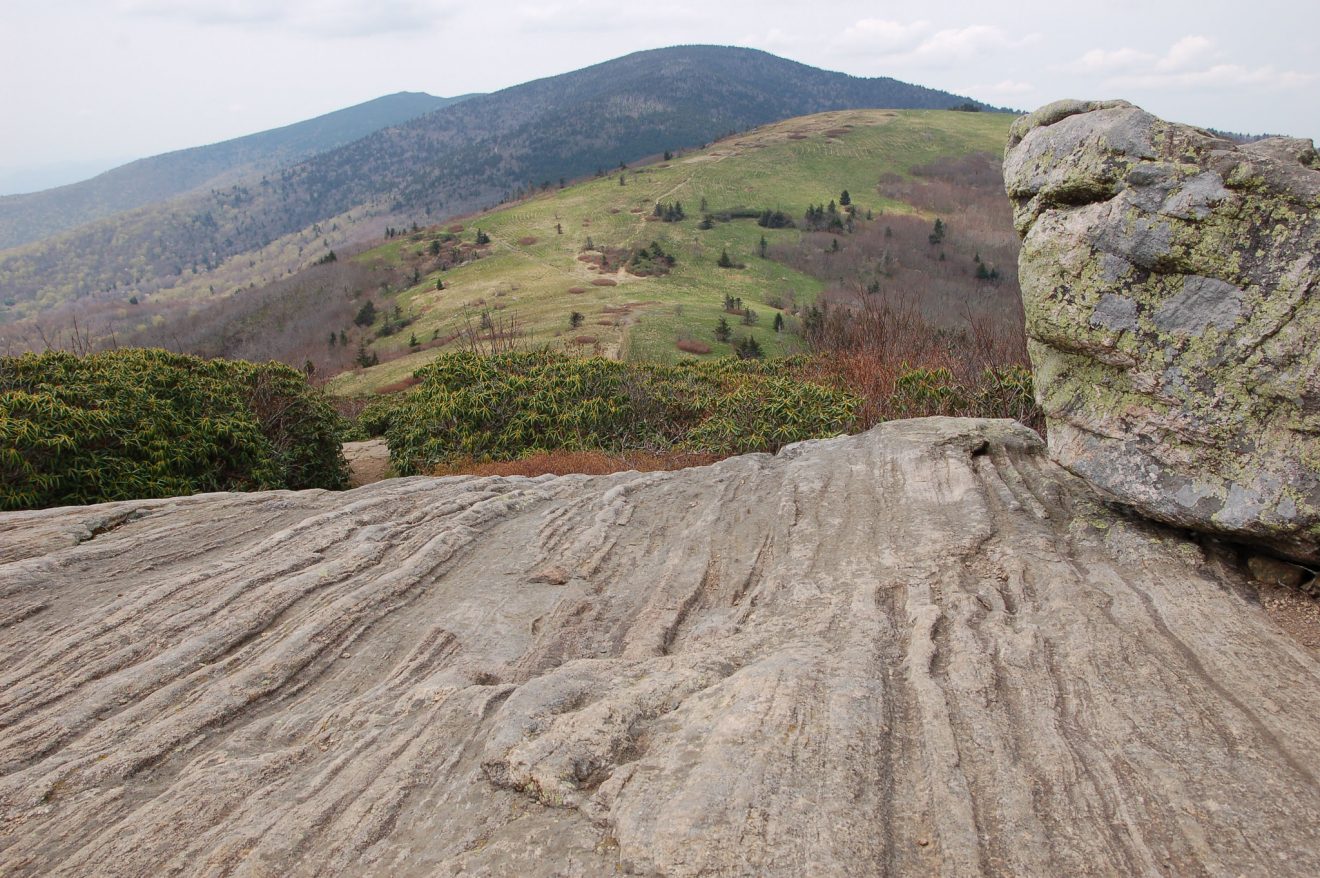 Photo Courtesy of Joe Giordano (CC BY 2.0)
Mileage: 17 miles point-to-point | Length: 2 – 3 days | Elevation Gain/Loss: 2,400 feet
Spruce fir forests and grassy mountain balds dotted with wildflowers in the spring: it's easy to see why Carvers Gap is often considered the most scenic stretch of the Appalachian Trail. This 17-mile point-to-point trail travels through Cherokee National Forest, over Roan Mountain, Yellow Mountain, Little Hump Mountain, and Hump Mountain. There are several options for hiking Carvers Gap, but this popular route along the AT provides a journey with many scenic vistas through mountains steeped in history. Troops marched through these mountains during the Revolutionary War.
trail Description
This backpacking trip begins at Carvers Gap parking lot, which is on the NC/TN border about 40 miles southeast of Johnson City and 65 miles northeast of Asheville. After about four miles on the AT, you'll reach the Stan Murray Shelter, which has several primitive campsites. Two miles later, you'll arrive at Overmountain Shelter, one of the most popular camping spots on the AT that provides stunning views of the Roaring Creek Valley.
At mile 8, make sure to stop at Little Hump Mountain for a snack to enjoy the 360 valley views. A few miles of steep terrain later, you'll reach the summit of Hump Mountain, a grassy bald offering commanding views of Sugar Mountain and Grandfather Mountain. If you like to take mountain views with your morning joe, stay at the campsite up on the summit! 
Due to the trail's exposed peaks, it's important to pack adequate sun and rain protection when hiking this portion of the AT. Also be sure, as always, to monitor weather forecasts before heading out on the trail.
Logistics and Permits
You don't need a permit to backpack in the Cherokee National Forest. However, this hike is a point-to-point trek, so you will need to coordinate a shuttle or a ride to pick you up at the end of the trail. 
One popular option is to park your car at The Station on US 19E (where the hike ends) and have a shuttle take you to the Carver Gap Trailhead (where it begins). This trail can be busy in the summer months, so you'll want to reserve your shuttle ahead of time, which you can do on the Roan Mountain Shuttle website.
3. Three Ridges via Appalachian Trail, Virginia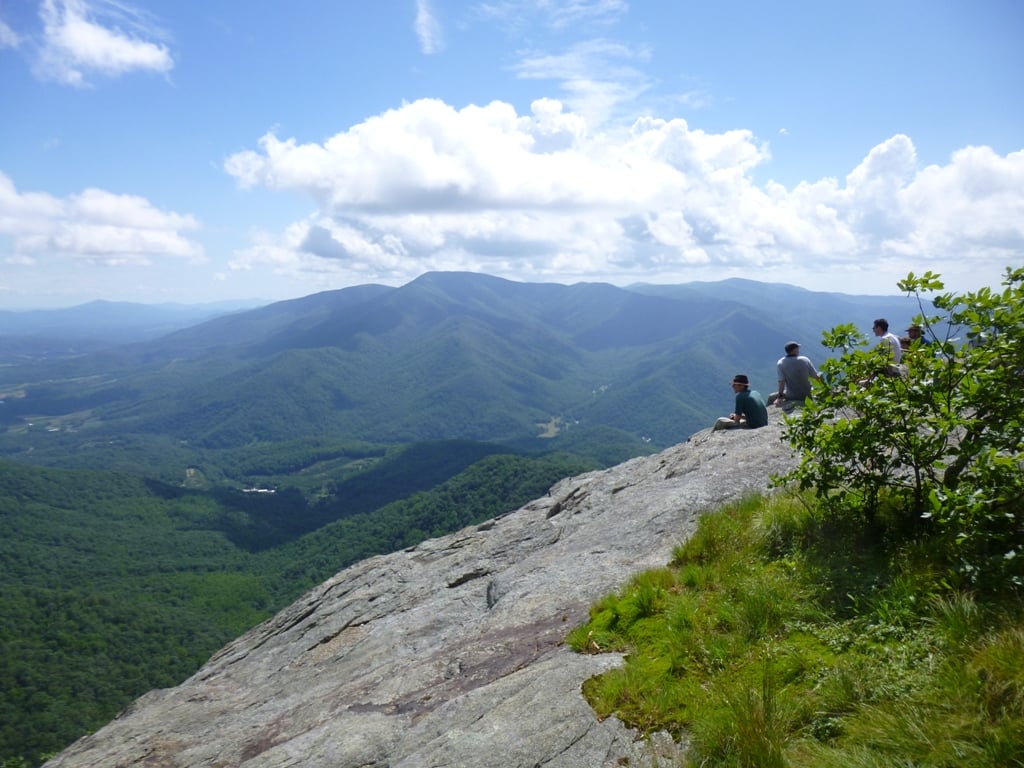 Mileage: 13.3 mile loop | Length: 2 days | Elevation Gain/Loss: 4,290 feet
Looking for a fun weekend backpacking loop that has it all? Three Ridges might be the backpacking trip for you. This well-maintained loop is rated as moderately strenuous, but its many vistas, towering waterfalls, and sparkling swimming holes will have the miles flying by. Many locals day hike on this trail, but the camping in Three Ridges Wilderness should not be missed.
trail Description
Parking for this loop is at Reeds Gap, which is located 30 miles southwest of Charlottesville, just off of the Blue Ridge Parkway. The trail starts on the AT and gradually climbs up Meadow Mountain and Bee Mountain, past Maupin Field Shelter and the intersection for Mau-Har Trail (which will be your return route). Once you reach Bee Mountain, continue for 2.5 miles and take in vista after vista until you reach Chimney Rock Overlook. Here, you'll get lovely views of Bolton Mountain and Cat Rock Mountain.
After a well-deserved break at Chimney Rock Overlook, you'll hike 1.8 miles to Harpers Creek Shelter, the main camping area in Three Ridges Wilderness — and an ideal spot to set up camp. Just after the shelter, you will cross Harpers Creek, and shortly after that, you will reach the Mau-Har trail. Be sure to stop at nearby Campbell Creek, where you will find several refreshing waterfalls and many inviting swimming holes. 
The trail is a lollipop trail (a loop trail connected by a short out-and-back trail). So, on your way back via the wooded Mau-Har trail, you will hop back on the AT, just past the Maupin Field Shelter. Then,  you'll retrace your steps to the parking area at Reeds Gap. Once you have all of your gear packed up, head to nearby Devil's Backbone Brewery or Blue Mountain Brewery for some well-deserved R&R.
Logistics and Permits
There is no permit required to backpack in Three Ridges.
4. Triple Crown Loop, Virginia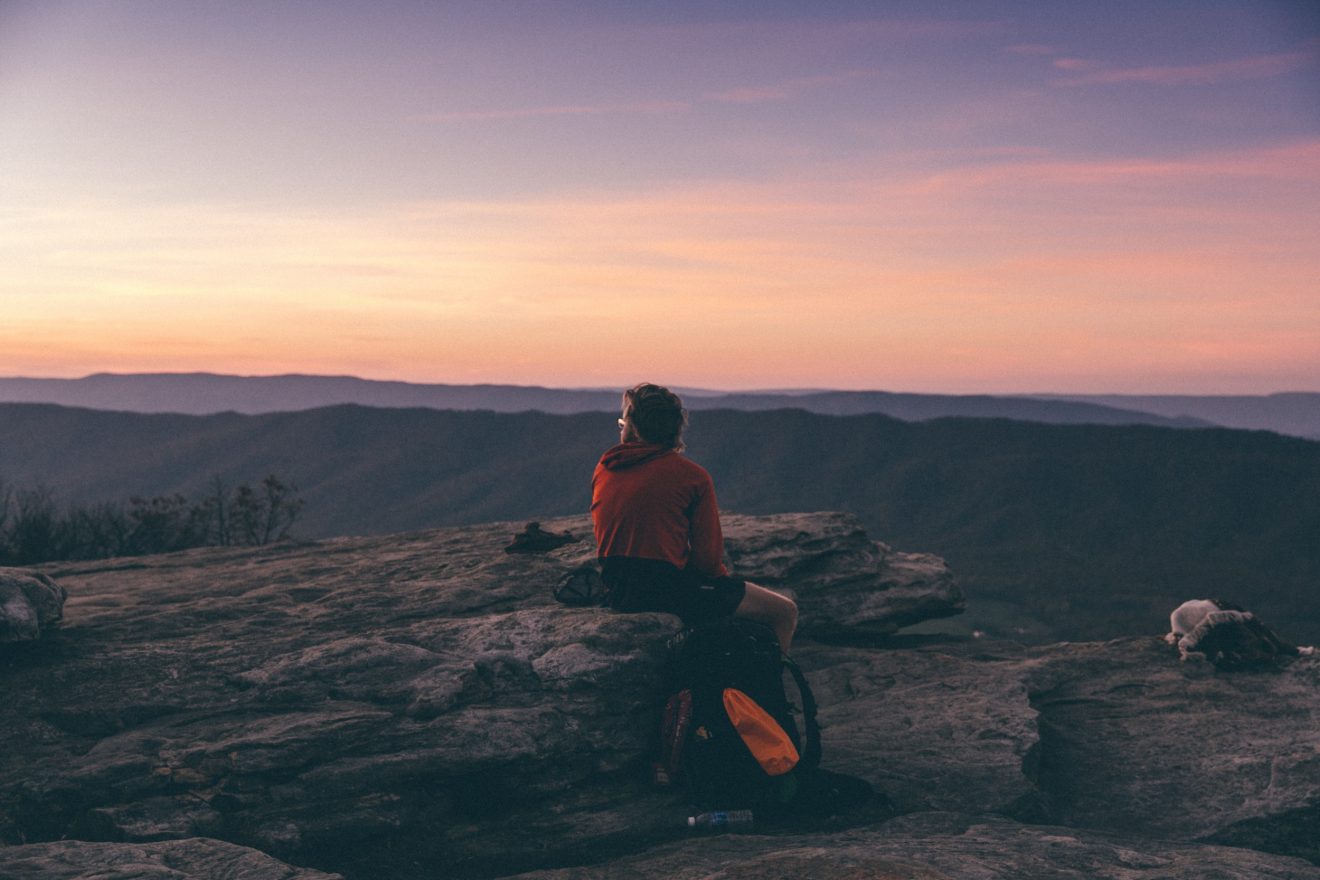 Photo by Emma Frances Logan on Unsplash
Mileage: 35 mile loop | Length: 3 – 5 days | Elevation Gain/Loss: 8,200 feet
The Triple Crown Loop, just outside Roanoke, is one of Virginia's most popular backpacking loops – and for good reason. This 35-mile trail covers stretches of the Appalachian Trail. It features well-maintained trails, steep climbs, and rock scrambles which lead to spectacular views of the Blue Ridge Mountains. Looking to check a few summits off your list? Then you'll love the Triple Crown Loop. As the name suggests, this hike will lead you to the summits of three prominent Virginia peaks: Dragon's Tooth, McAfee Knob, and Tinker Cliffs.
Trail Description
The parking for this hike is at Catawba Mountain Parking Area off of Route 311 in Catawba, VA. This route begins northbound on the Appalachian Trail. After 2.5 miles, you'll reach Catawba Shelter, which is a popular camping spot for catching the sunrise at McAfee Knob, which is just 1.5 miles away. Once you reach McAfee Knob, you can feast your eyes on the expansive views of the Catawba Valley and North Mountain Range.
Eight miles of switchbacks later, you'll reach Tinker Cliffs. After 4.5 miles and a few wobbly bridge crossings, you'll reach the Andy Layne Trailhead. The trail will take you up and past North Mountain before reaching Dragon's Tooth Trail. Dragon's Tooth is definitely the most challenging of the three peaks, with rock scrambles and steep climbs – especially with sore legs. But, it's well worth the effort for its outstanding views of the surrounding mountains.
Logistics and Permits
There is no permit required to access Jefferson National Forest. Please note that camping/campfires are not permitted on McAfee Knob or Tinker Cliffs.
5. Mount LeConte via Trillium Gap Loop, Tennessee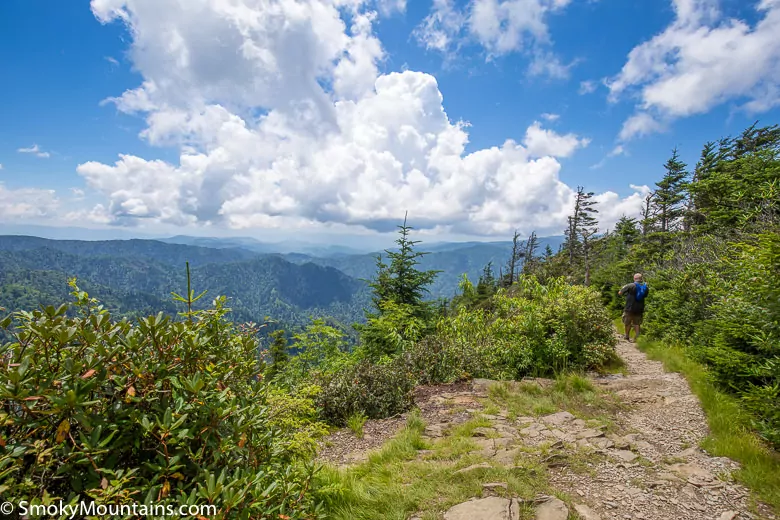 Photo Courtesy of SmokyMountains.com
Mileage: 16 mile loop | Length: 2 –3 days | Elevation Gain/Loss: 4,026 feet
The Mount LeConte Loop in Great Smoky Mountains National Park is a challenging, yet rewarding, loop. This trail involves hiking to the summit of Mount LeConte (6,593 ft), which is the third highest peak in GSMNP. There are several different ways to summit Mount LeConte, but we recommend creating a loop via the Trillium Gap Trail. Along the way, you'll get to gaze at two waterfalls: Grotto Falls and Rainbow Falls. The latter gets its name from the rainbows that appear through the mist in the late afternoon sun.
Trail Description 
This 16-mile loop starts at the Grotto Falls parking area near GSMNP's Sugarlands Visitor Center, five miles from Gatlinburg, Tennessee. The first part of the trail meanders through an old-growth forest. In the spring, the woods are dotted with many wildflowers like white and yellow trillium and white violets. After 1.3 miles of easy hiking, you'll reach Grotto Falls: the loop's first waterfall which stands at a towering 25 ft tall. The trail continues behind the waterfall, gradually increasing in grade on the way up to Trillium Gap.
After six miles of switchbacks through the dense forest, you'll reach the top of Mount LeConte, where you will find LeConte Lodge and its historic log cabins, gift shop, and food service. The LeConte Lodge sits at 6,360 ft, making it the highest lodge in the eastern United States. If you are up for a little extra mileage, take the spur to Cliff Top for incredible sunset views – you won't be disappointed.
Logistics and Permits
All backcountry camping in Great Smoky Mountains National Park requires a permit, which you can obtain on the park's website. Campfires are not permitted at Mount LeConte. If you do wish to stay at one of the cabins at LeConte lodge, it is recommended that you book far in advance, if possible. You can find more information about reservations on LeConte Lodge's website.
Before You Go
There are many incredible East Coast trails to explore on your next backpacking trip, but hopefully, this guide helps you narrow down which one you want to attempt conquer next! Before you head out on the trail, be sure to check out our comprehensive backpacking packing guide, which details everything you need to bring to the backcountry. Or, if you'd rather let a guide deal with the logistics, Wildland Trekking offers multi-day backpacking trips in the Mountains around Asheville and Great Smoky Mountains National Park. Happy trails!