3 Epic Peru Trekking Adventures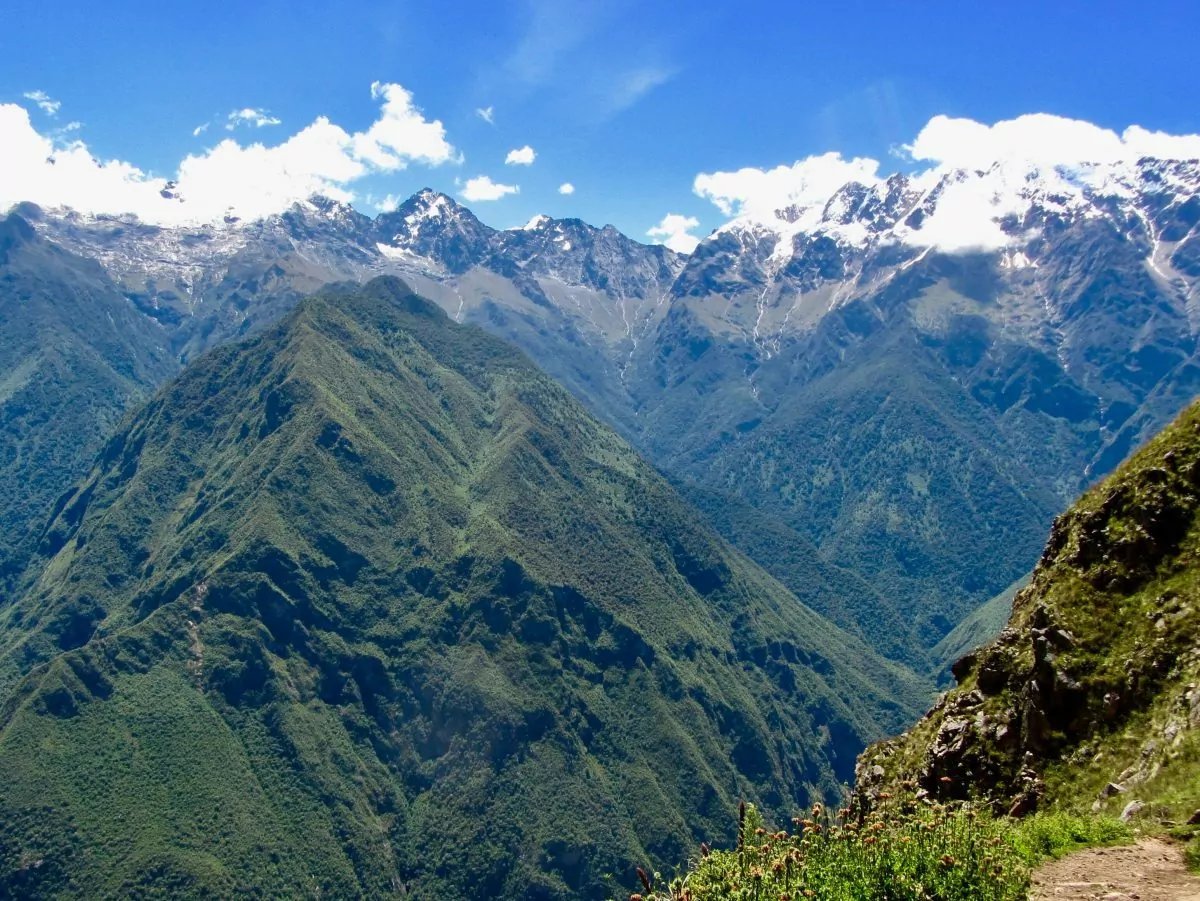 Peru. The land of ancient ruins, incredible mountain views, and delicious fruits that you've never tasted before (I recommend Guanabana). This country is bursting at the seams with tremendous trekking opportunities, and your only problem is picking where you want to go. But Wildland Trekking can help you pick out your Peru hiking adventure!
From the stunning mountain landscape of Cordillera Huayhuash to the remote ruins of Choquequirao, We've picked the top 3 epic Peru trekking vacations for your next international adventure. Read on, find the trip you want, and start planning today.
Trip
Difficulty
Miles
Days
Cordillera Huayhuash
Strenuous
36 – w/ Wildland

81 – Full circuit

10 w/ Acclimatization

12-14 w/ Acclimatization

Choquequirao
Moderate to Strenuous
24
5
Machu Picchu
Moderate
24+
4
Planning Your Peru Trekking Vacation
Organizing a hiking trip to Peru certainly requires more planning than heading to Yellowstone, but don't let it hold you back! We've crafted a guide to planning a Peru hiking trip just for this reason. You'll find travel advice, packing tips, and weather information to make your planning experience go as smoothly as possible.
Wildland Trekking also offers a wide-array of Peru trekking vacations. We'll handle all the trip transportation, permits, food, and gear. Just arrive, enjoy the adventure, and let us take care of the rest.
Now let's dive into our top three recommended trekking vacations to Peru that are sure to inspire you to dig out that passport!
1. Cordillera Huayhuash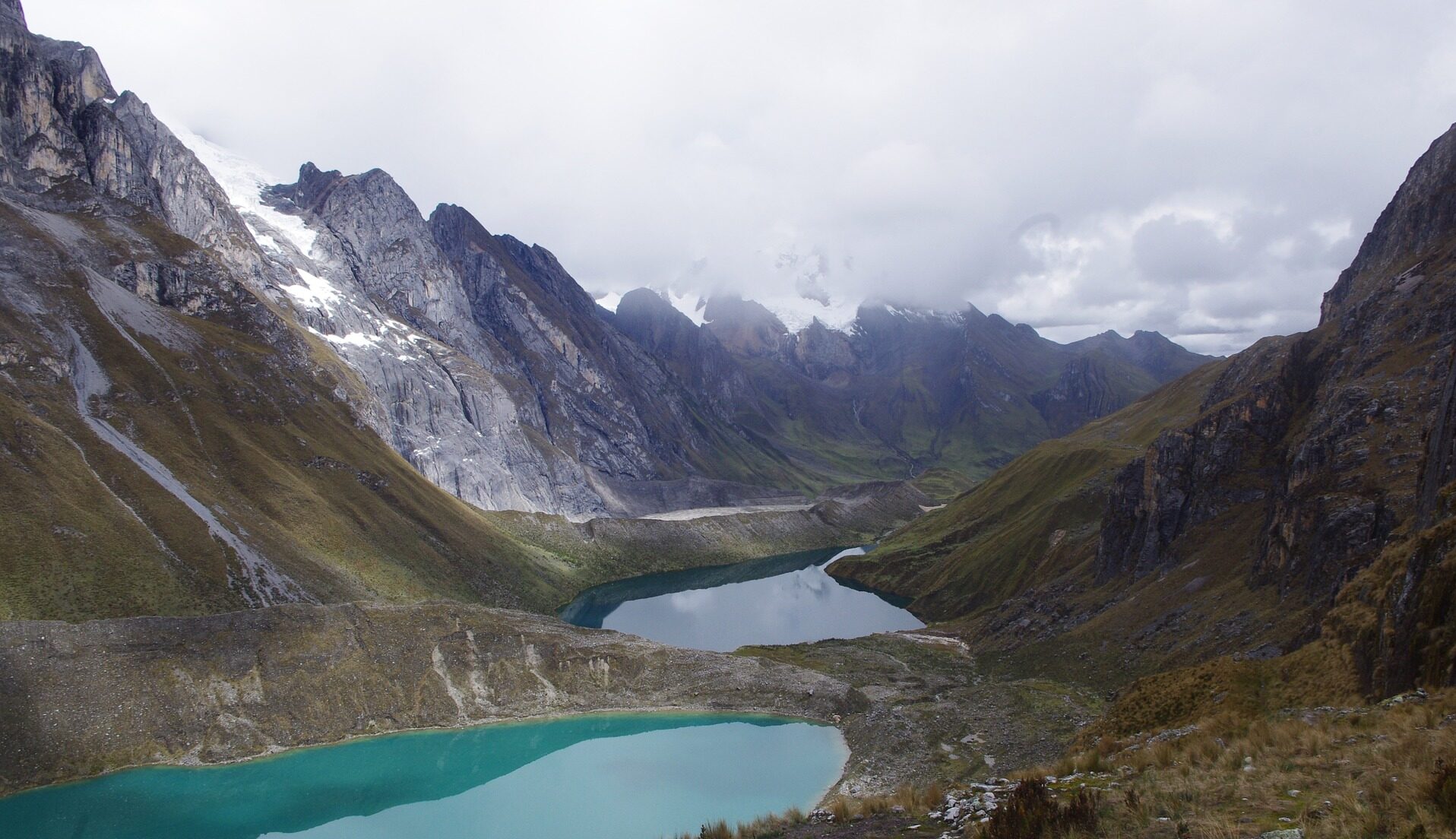 The Area
Epic Peru trekking vacations don't only happen at Machu Pichu. Welcome to the Cordillera Huayhuash. This cluster of glaciated mountains, sparkling alpine lakes, and breath-taking views is located approximately 180 miles northeast of Lima.
Expect high mountain passes, colorful meadows, icy glacial creeks, and plenty of high-altitude trekking. Please note that the altitude on this particular trek merits acclimatization and significant organization. While certainly possible to enjoy solo, guided hikes are also an option. Enjoy everything the Cordillera Huayhuash trek has to offer and leave the logistics to us.
Getting There
Most hikers take one or two days to acclimatize to the altitude in Huaraz, Peru. The city is beautiful, and there are plenty of day hikes to boost your endurance and prepare for the Cordillera Huayhuash. Remember to drink plenty of water to help with acclimatization!
From Huaraz, it's common to book a private car or shuttle to your starting point in the Cordillera Huayhuash. This journey can take anywhere from 4 to 6 hours, depending on road conditions, and your driver's daring.
For our Wildland adventure, we begin our Cordillera Huayhuash adventure at Queropalca after several days of acclimatization. However, Cuartelhuain and Llamac are the two classic starting and ending points respectively for this trek.
The Trail
This trail is tough and can involve several high alpine mountain passes. Our Wildland hike covers the northern portion of the Cordillera Huayhuash, not the full circuit, and consists of hiking 4 to 8 miles per day with several thousand feet of elevation change. But don't worry, pack animals will be carrying all the heavy gear, and you'll be kitted out with a much lighter daypack to make the hiking as enjoyable as possible.
The full Cordillera Huayhuash circuit features crossing a mountain pass almost daily as you hop from campsite to campsite. Again, expect several thousand feet of elevation change along with 81 total miles covered. You'll pass through the small village of Huayllapa on day 6 or 7 of your hike – assuming you start from Cuartelhuain – and perhaps have the opportunity to purchase dry food. Don't plan on there being supplies readily available in this village, however, and ensure that you pack plenty of food and fuel for your entire hike.
Are the views worth the effort on this trail? Absolutely. You'll see stunning mountain tops and glacial-fed river systems that are genuinely otherworldly and likely the most extraordinary hiking views you'll ever see. Yes, it's a bold claim, but the Cordillera Huayhuash earns it.
Camping
There are several campsites located along the entire Huayhuash circuit. You'll pay a small fee at each campsite, and no reservation is required. Note that Wildland's Huayhuash tour covers all of your camping fees in the trip's overall cost. The main campsites, following the classic Cuartelhuain to Llamac route, are:
Cuartelhuain
Mitucocha
Carhuacocha
Huayhuash
Cuyoc
Cutatumbo
Huatiaq (Huayllapa)
Qashpapampa
Jahuacocha
Llamac (Departure village)
Pit toilets of varying levels of cleanliness are provided at the campsites but expect little else in terms of facilities.
Permits And Fees
Many of the campsites are individually managed and maintained by the local communities. There is a fee system in place where you will pay to use campsites during your trek. You'll pay these fees at the campsites themselves or in communities that you pass along the way. The cost will vary from site to site, but expect to pay about 210 – 230 Peruvian Soles – about $62 to $70 – in total for the trip's camping fees.
Special Considerations
Remember, this is a tough hike. Only experienced hikers should attempt this trek unaided. You'll be hiking at over 13,000 feet for the majority of this trip, and proper acclimatization and hiking safety is critical.
This trail is also exceptionally remote. It's therefore much less crowded than other popular hiking destinations, such as Machu Picchu, and consequently has far fewer facilities available. Always share your hiking itinerary with others and ensure that you're prepared for whatever weather the mountains throw at you.
Guided Trekking Options
Wildland offers a guided Cordillera Huayhuash trip for a stress-free, exciting way to explore this beautiful mountain range. Let us handle permits, gear, transportation, meals, and provide a professional guide so you can focus 100% on enjoying your adventure. Read more.
2. Choquequirao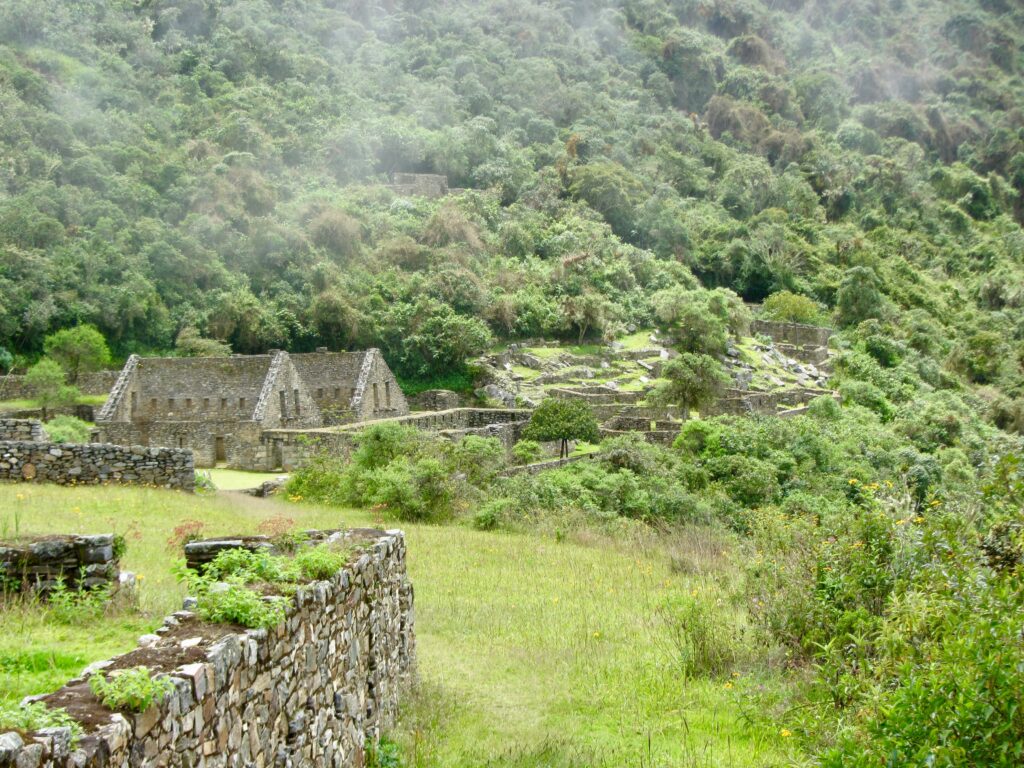 The Area
Choquequirao is the little sibling to Machu Pichu. Like its larger counterpart, this is a stunning Incan ruin tucked deep in the Andes surrounded by thick jungle and nearly impenetrable mountains. There are differences, however, and almost every single one is in your favor for an epic backpacking trip.
Choquequirao lacks:
Long Lines
Road and Rail Access
Busy Trails
Don't make the mistake of assuming Choquequirao is a single cluster or ruins. Far from it! There are several distinct districts to this area, and every single one is enchanting to explore. What's more, you won't be jostling with other tourists while you investigate ancient terraces, buildings, and courtyards.
This recently excavated refuge still has archeology teams present and is truly a hidden wonder, making it my top recommendation for an epic backpacking adventure off the beaten path. During our hiking days, we only encountered perhaps two or three other hiking groups during the entire day and had no trouble finding open campsites for the evening. But this isolation means that the hike is quite the adventure to get there.
Getting There
This hike begins at the Peruvian village of Cachora, to which you can take a bus from Cusco. There are a couple of small hotels and hostels available if you arrive later in the day. You can also opt to take a taxi straight out to the trailhead and stay at the campsite there.
Note that Cachora is located in a deep valley beneath the main highway from Cusco, and is not a 'destination' to which you can book a bus ticket. Therefore, you will purchase a ticket from Cusco to Abancay, and tell the bus driver where you want to disembark. Be prepared for winding roads at high altitude on this trip, and I highly recommend a little Dramamine before setting off.
Once you disembark from the bus, you'll need a taxi to take you down to Cachora, or directly to the trailhead. These taxis wait where the bus drops you off, and you should have no trouble finding one.
While you can head straight to the trailhead to camp or immediately start your hike, I highly recommend staying in Cachora for the night and getting an early start from the village the next day. Yes, it does add a few miles – about five – to your day, but you'll have splendid views of the surrounding fields and imposing Andes Mountains.
The Trail
Budget two days of hiking to reach Choquequirao. You may be able to catch a glimpse of the ruins from the trailhead, but a very deep and imposing valley separates you. The trail dives straight into a series of seemingly unending downward switchbacks from the start as you head down to the river at the bottom of the canyon. This downhill portion is approximately 6 miles.
Be prepared for sweltering and dry conditions. Pack plenty of water and remember to occasionally stop and rest, even if you're going downhill. There are several family-run campsites along the way, and the one located at the bottom of the valley is an excellent stopping point on your first day.
Once you reach the bottom of the valley, you'll cross a bridge over the river. This bridge is your halfway point, and you must climb back up the opposite mountain to reach the ruins. That's another 6-6.5 miles of switchbacks straight up. Pace yourself and drink plenty of water. Nobody said it was easy, but it's certainly worth it.
Camping
Our suggested two-day trek out to Choquequirao would have you camping at the bottom of the valley and again at the ruins. The campsite at the bottom of the valley is known as Playa Rosalina. This campsite was clean, the bathrooms worked, and it was charming to sleep with the sounds of the river in the background. A limited variety of food and drinks is also available for purchase. This campsite costs 5 Peruvian Soles per night, not including any food purchases.
The campsite at the Choquequirao ruins is fantastic. First off, it's free. Second, you'll be camping right next to the stunning Incan ruins where you can roll out of your tent in the morning and start exploring. Bathrooms and cold showers are available.
Note that there were rumors that the Choquequirao campsite would be closing to limit the impact on the archeological site. Check with the attendant at the trailhead when you pay your entrance fee. If the Choquequirao campsite is closed, you will be staying at the tiny village of Marampata at the top of the mountain on the Choquequirao side. This village is about 2 miles from the ruins and is full of families offering camping space or rooms.
There are several additional campsites sprinkled along the trail from the trailhead to Marampata. You can, therefore, customize your trip as you see fit. However, be aware that the families that operate these campsites sometimes close them at certain times during the year. Once again, check with the attendant when paying your entrance fee or with the small storefront at the trailhead.
Recommended Itinerary
I recommend budgeting a full day, at the very least, to relax and explore the ruins. Don't be afraid to add additional days! We spent three days at Choquequirao and visited new sections every day. Your basic 5-day camping itinerary, therefore, will look like:
Cachora to Playa Rosalina
Playa Rosalina to Choquequirao
Choquequirao
Choquequirao to Playa Rosalina
Playa Rosalina to Cachora
Variations
The trail to Choquequirao extends all the way to Machu Picchu. Feeling adventurous? Then plan on a 9+ day backpacking trip filled with extraordinary views, plenty of ruins, and unforgettable experiences.
The Ruins
Choquequirao is broken into several distinct sections, and each one is stunning. The primary citadel sits on top of the site and features substantial ruined buildings along with a cleared courtyard. Just beyond the citadel are the llama terraces. Dozens of carefully constructed terraces running down the mountainside like a giant's staircase, and many of them with a llama fashioned from white stones embedded in its wall.
There are plenty of building clusters scattered around the site, and almost all are open for exploring. Therefore, please remember to be respectful and take nothing but pictures.
Permits And Fees
You do have to pay an entrance fee to visit this area. There will be an attendant to collect your payment near the storefront at the trailhead – where the dirt road ends – or closer to the ruins. The cost was about $20 per person when I visited in April of 2019, but this number may fluctuate over time.
Special Considerations
Depending on the time of year, the sandflies can be absolute murder on this trail. Be sure to pack your bug repellent of choice, and consider hiking in long pants and shirts to help protect your skin.
The trail is dusty, dry, and often exposed to direct sun. Pack your favorite sun protection, and please bring enough water. I highly recommend bringing a water filter for this trip as the campsite tap water is questionable, and purchasing water bottles and/or Gatorade adds a lot of waste to your trip.
Note that the Peruvian Government is currently formulating plans to build a cable car across the valley to Choquequirao. This shortcut will bring exponentially more visitors to the area, and likely flood the ruins with tourists. Therefore, plan your hike sooner rather than later!
Assisted Trekking Options
There are several supported and guided trekking options available to Choquequirao. You'll come across plenty of agencies in Cusco who will provide meals and a guide for the trip. You can also hire pack animals and a handler from Cachora to carry your packs and gear if you'd prefer to hike unencumbered.
3. Inca Trail To Machu Picchu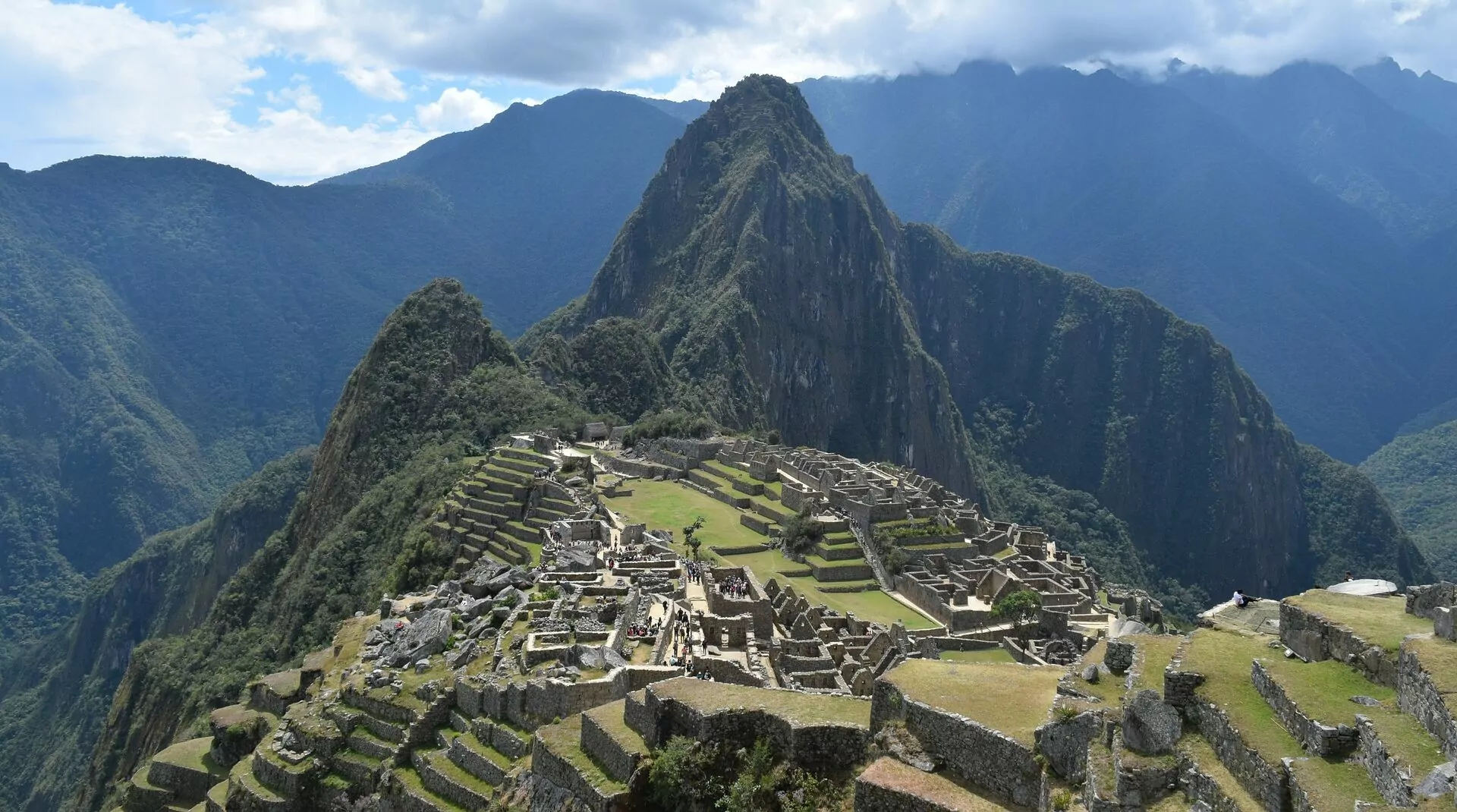 The Area
Machu Picchu is an icon of Peru trekking vacations, and indeed an incredible place to behold. While it is possible to take the train almost directly to the ruins, an epic trekking vacation will yield sights and experiences that you would otherwise miss.
Your classic Inca Trail route isn't just a 4-day trudge to the Machu Picchu ruins. You'll be visiting the smaller archeological sites of Runkuraqay, Winayhuayna, Sayaqmarca, and several more along the way! The campsites and trails also provide draw-dropping views of the surrounding Andes Mountains and lush green valleys below for an experience that has developed into a right of passage for many world travelers.
While the trail itself is stunning, this hike saves the best for last. You'll reach Machu Picchu on your fourth day for an epic day of history and wonder. The iconic Sun Gate will be waiting to greet you as you explore the dazzling accomplishments of a past civilization.
See our comprehensive guide to the Inca Trail for more in-depth information regarding the trail, campsite, and gear.
Getting There
Cusco, Peru, will be your main departure city for this trek. Direct flights from Lima are available, and there are plenty of excellent accommodation options within the city. We recommend spending at least a day or two exploring the city as you give your body time to acclimatize to the high altitude – Cusco sits at just over 11,00 feet.
Remember to check out our guide to planning a hiking trip to Peru for more detailed travel advice.
The Trail
Like most hiking adventures in Peru, expect breathtaking views that come with breathtakingly steep trails. While the path is very well maintained, it is still very steep and rocky in several spots. Nevertheless, the backdrop of the Andes Mountains is a constant reminder that your adventure is worth the effort.
Your daily hiking mileage will be anywhere between 4 and 8 miles. Review our in-depth guide to the Inca Trail for more specific information. Our Wildland Inca Trail trip is portered, and you will, therefore, be hiking with a lighter daypack.
Camping
The campsites along this trek are well-established and frequently busy. However, your tour operator will handle all fees and make sure you have a comfortable spot to spend the evening. Wildland's classic itinerary will have you staying at the following campsites during your trek.
Wayllabamba
Paqaymayo
Phuyupatamarka
All the campsites will have toilet facilities. Your guides will handle all the food preparation, so you can relax and enjoy the evenings.
Permits And Fees
Due to the popularity of this trail, the Peruvian Government has initiated strict regulations around issuing permits for this trek. First off, you must complete your Inca Trail trip with a registered tour operator. Yes, it can certainly be a downer if you're an intrepid adventurer who scoffs at the idea of needing a guide, but consider this:
Your guiding service will handle all transportation to and from the trail. No more haggling with price-gouging drivers. All your meals are included for the whole duration of your trip, and you can save that pasta mixed with a dry soup packet for another time. Lastly, all your permits are handled for you ahead of time.
Speaking of permits, the government releases Inca trail permits for the entire year all at once in January. Think digital gold-rush, and you're not far off from the frenzy of snapping up permits. Therefore, Wildland Trekking offers a 5% discount if you book your Inca Trail Trip for the next year before October 1st.
Special Considerations
It's essential to pack proper entire for this hike due to the potential for intense sun, rainstorms, and bugs. Review your packing list (delivered in PDF form if you join a Wildland Trekking trip) to make sure you have everything you'll need on the trail.
Guided Trekking Options
Wildland offers a guided Inca Trail to Machu Picchu trek for a stress-free, exciting way to explore this beautiful mountain range. Let us handle permits, gear, transportation, meals, and provide a professional guide so you can focus 100% on enjoying your adventure. Read more.
There you have it! We've covered our top recommended Peru trekking vacations. Explore the otherworldly landscapes of the Cordillera Huayhuash or head to the famous Incan ruins of Machu Picchu. Looking for a little more solitude? Then consider heading to the remote refuge of Choquequirao.
Remember that any hiking trip to Peru requires preparation and organization. Review our detailed guide to Peru trip planning, or look over Wildland's wide selection of Peru hiking vacations and let us handle all the details!
Wildland Trekking Hiking Adventures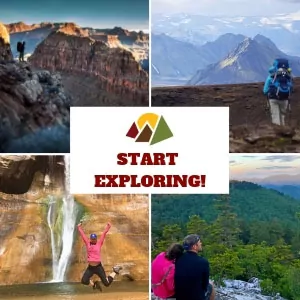 As the world's premier hiking and trekking company, Wildland believes in connecting people to fantastic environments in amazing ways. Peru features an array of incredible hiking and trekking experiences, and Wildland Trekking offers several Peruvian hiking adventures to different destinations within this fantastic region. From Machu Picchu to the stunning Peruvian Cordillera, we're sure to have a trip for you, regardless of hiking experience. Our Lodge-Based and Day Hiking trips are perfect for easier adventures while multi-day portered trips will take you deep into the Peruvian backcountry.
To learn more about our guided Peru hiking trips and all of our award-winning global  hiking vacations, please visit our website or connect with one of our Adventure Consultants: 800-715-HIKE