12 Low-Waste Backpacking Tips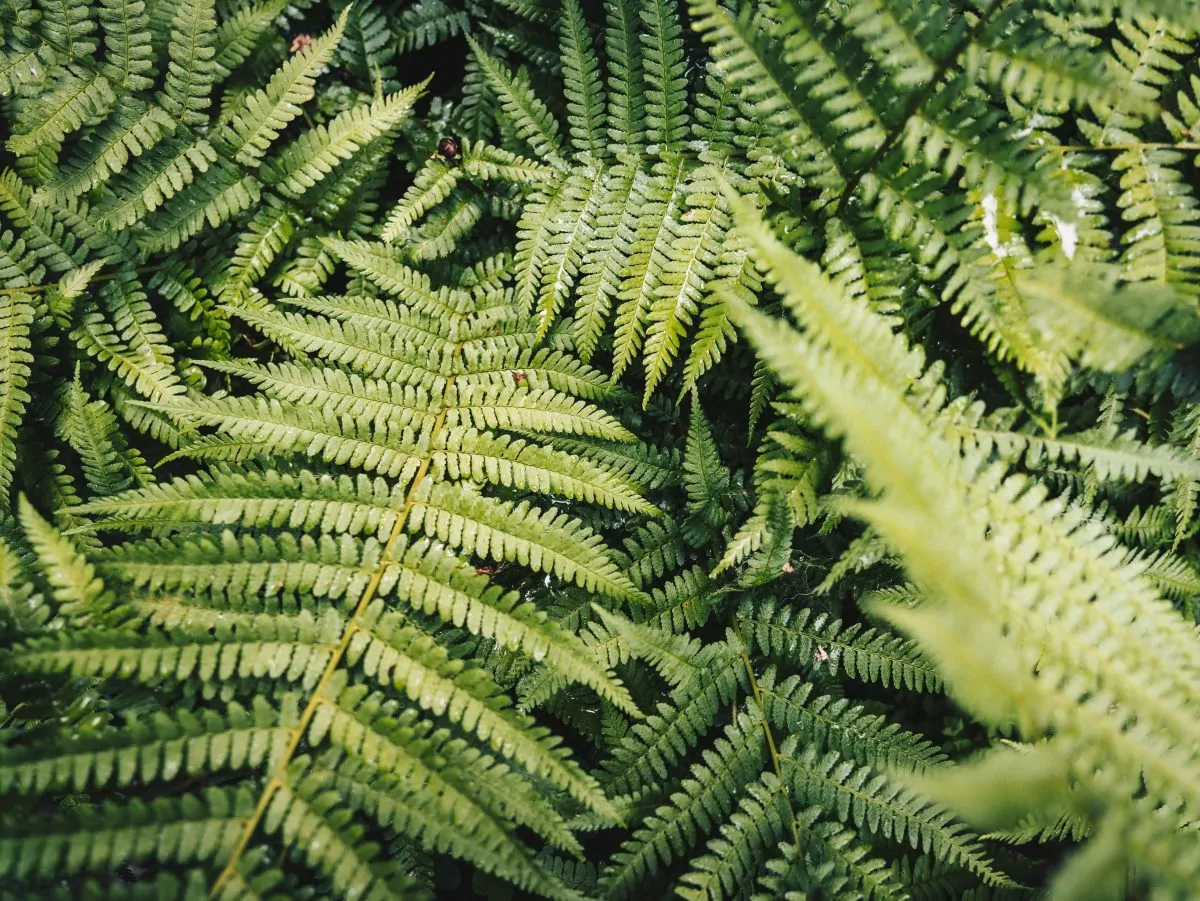 Zero-waste backpacking is a lofty goal, but for many, it feels like a burden. And depending on your circumstances, it's impractical to try to backpack with absolutely zero waste — maybe due to a lack of local resources (like bulk products) or available time. However, low-waste backpacking is achievable for everyone, especially if you take some baby steps!
You don't need to apply all this information in one backpacking trip — pick and choose what works for you. And as low-waste backpacking becomes easier, you can integrate a few more practices to reduce your footprint even further.
Low-waste backpacking starts before you hit the trail. Learn how to set yourself up for success with these eco-conscious tips! 
Meal Prep
1. Use Reusable Bags and Wraps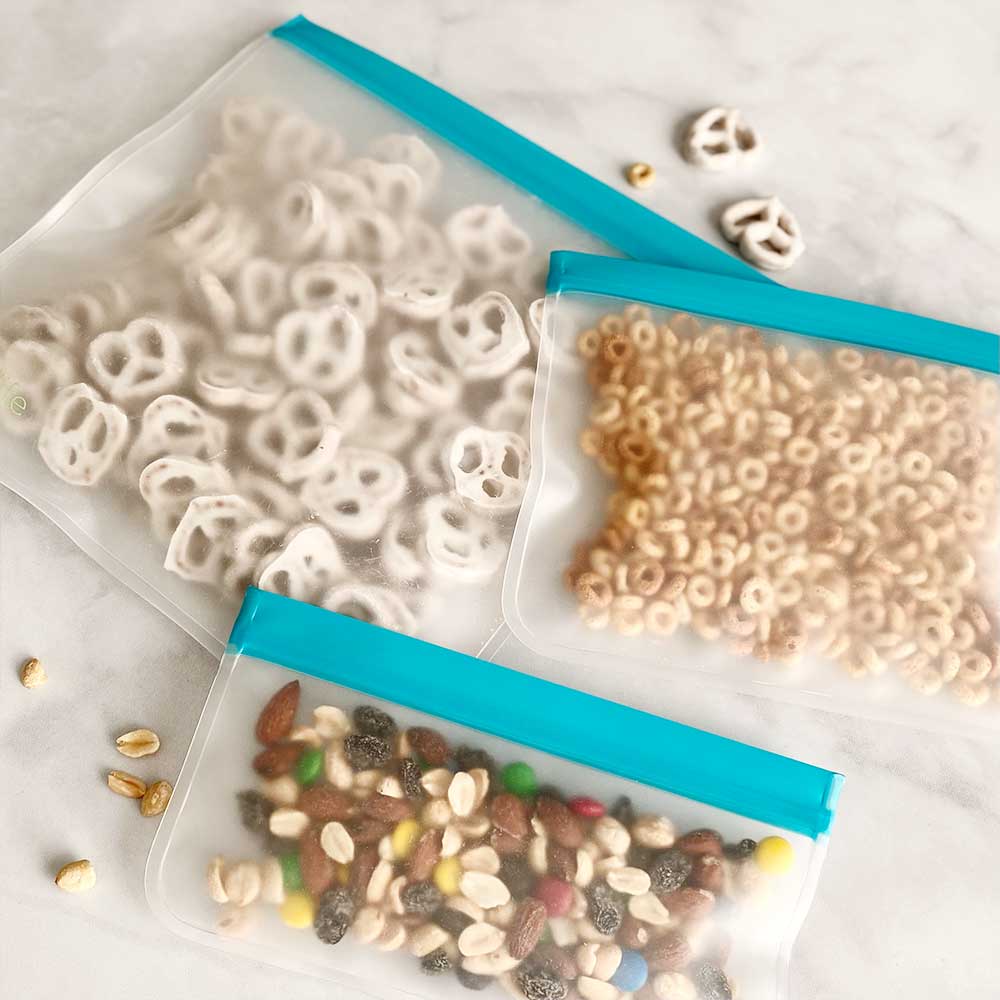 If you've never tried reusable baggies in your everyday life, they're a game-changer. Transitioning to reusable kitchen products is one of the easiest steps you can take in your journey towards a zero-waste lifestyle. And these zip sandwich and snack-sized bags are great for backpacking as well! 
Grab a few and pack them full of snacks — like nuts and dried fruit. They're even great for meal-prepped ingredients. Plus, they're freezer-safe. If you're packing anything you want to stay cold, just throw them in the freezer the night before your trip! (Don't forget them in the morning though…) 
Our favorite ingredient to put in these bags? Veggies. They are perfect as a snack or for part of a meal. For dinner on day one, we chop up some fresh veggies – like peppers and onions – at home, and then stash them in these containers to add to the meal at camp. You'll welcome the break from dry energy bars.
You can also use beeswax wraps during your meal prepping. If you're packing a sandwich for lunch on the first day, wrap it in beeswax instead of plastic wrap. And once they're done storing your food, their moldable shape makes them a versatile addition to your pack. Can't find your bowl? Make one out of the beeswax wrap. Only ate half of your homemade granola bar? Wrap up the rest for later. 
2. Organize Your Meals into reusable Produce Bags
We know how important organization is in the backcountry. If you're an experienced backpacker, you probably have a system dialed. You know exactly where each piece of gear goes at all times. If you're meal prepping, you may be tempted to throw all the components of your meal into one gallon-sized Ziploc bag to keep everything together. But if you're looking for a more eco-friendly alternative, opt for reusable produce bags (either cotton or this super lightweight rPET) to stay organized. They're just as lightweight as their plastic counterpart, but you can use them over and over again. 
3. Create Your Own Dehydrated Meal Kits 
Instead of buying pre-packaged meal products like Mountain House, consider putting together your own dehydrated meals using bulk items — or by dehydrating your own food. 
If you don't have a dehydrator, you can put together some amazing backpacking meals using dried goods that you find in bulk at your local grocery store. Mixing grains with dried vegetables and spices is a great way to achieve the right balance of calories and flavor. And if you want to bring flavor enhancers like soy sauce or sriracha, buy them in larger containers and put them into lightweight reusable containers, instead of opting for single-use pouches. GSI even makes a "spice missile" that you can just refill from your kitchen!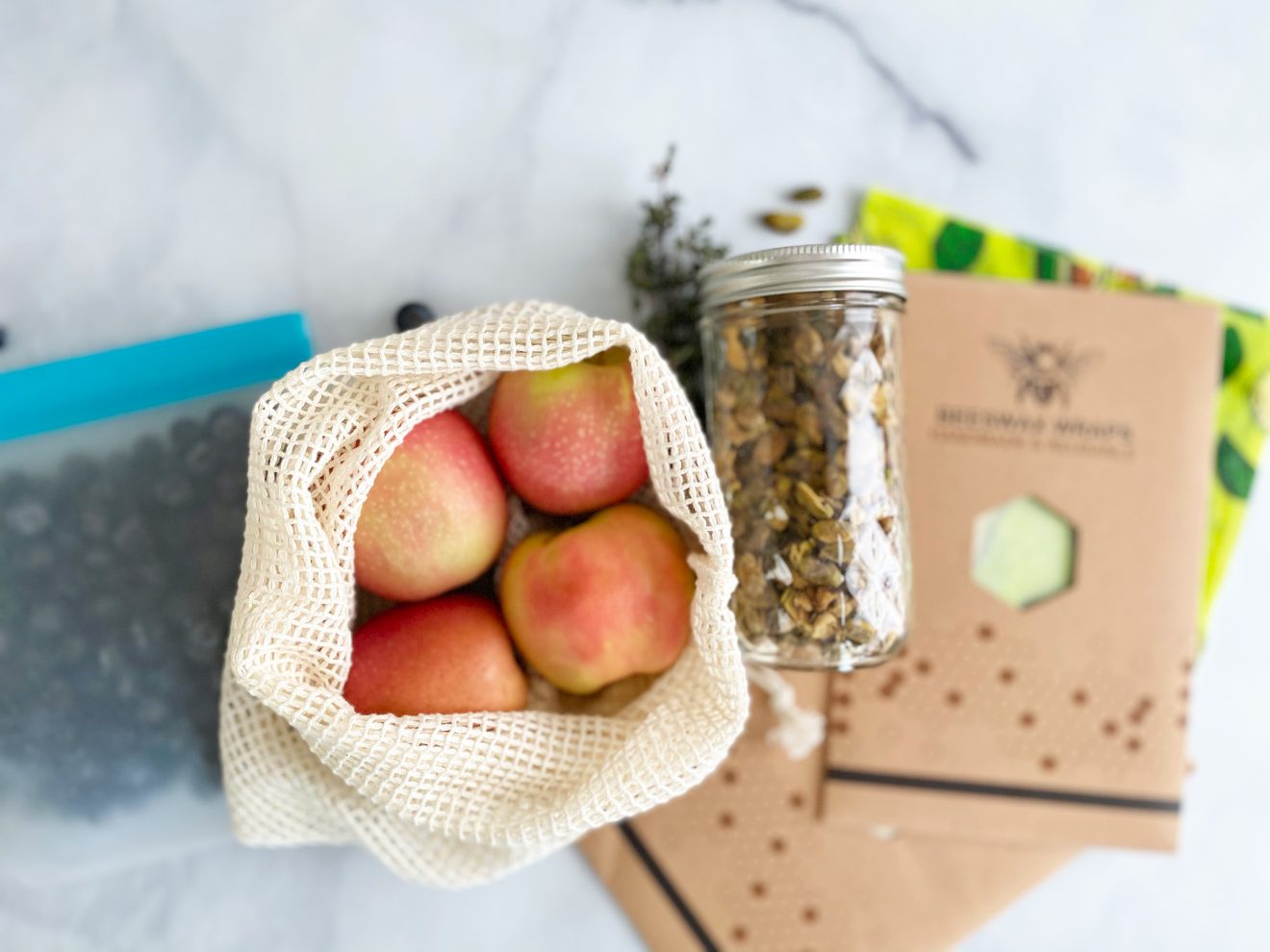 If you have your own dehydrator, you can make your own dehydrated snacks and entire meal kits! You'll open up a world of meal possibilities so you can enjoy every bite of food in the backcountry.
4. Buy Snacks & Dried Goods in Bulk 
When you're prepping for a trip, backpacking food commands the most time and attention. During your meal prep, you may find yourself reaching for plastic products over and over again. Start by buying snacks and meal ingredients in bulk. Many grocery stores — including chain stores — allow you to bring your own containers, like Mason jars, to get these ingredients in a zero-waste fashion. Just be sure to swing by the register before you load up the containers so they can weigh them for you. Or, use produce bags that have their tare weight on the tag. 
Kitchen Set Up
5. Bring A Compost Bag 
When you're backpacking, one of the most important leave no trace principles is 'pack it in, pack it out'. So, you're already packing out your food waste — like banana peels and leftover dinner. Why not bring along a bag specifically for compost? These thick reusable zipper bags are durable enough to prevent any food leaks in your pack, and easily washable once you get home. If you packed ingredients for dinner the first night, simply use the empty bag as your composting bin for the rest of the trip.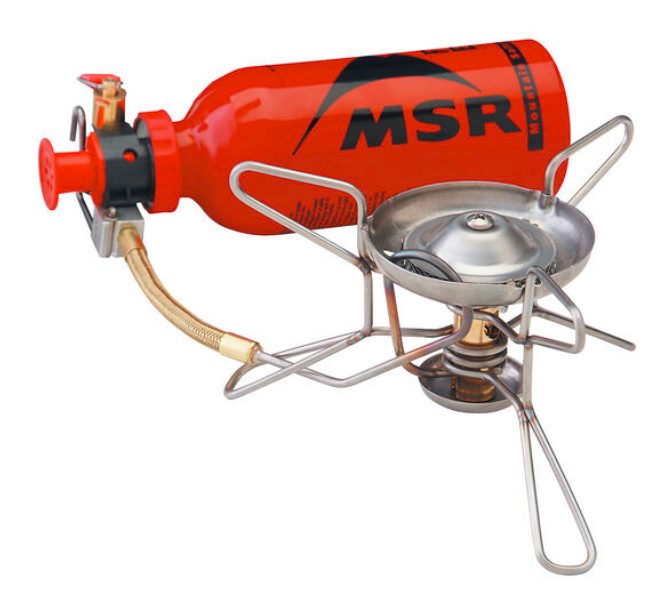 If the thought of carrying around food waste for five days gives you the heebie-jeebies, you can take care of most of the composting during your meal prep phase. Instead of bringing an entire banana, slice it up and put it in a snack bag. The onion you're going to add to your dinner? Chop it up beforehand and stash it in a bag with the rest of the ingredients. You'll save time when you're cooking at camp, and eliminate food waste on the trail. 
6. Use a White Gas Stove
 Although canister stoves (like the Jetboil) are easy and convenient, the fuel canisters are non-reusable once you run out of fuel. A more eco-friendly alternative? A white gas stove like the MSR Whisperlite. You can buy fuel in bulk and refill the bottle as you run low. Plus, these stoves burn different types of fuel, so you can choose the option that is the most friendly for our air quality.
7. Opt for a Refillable Lighter
If you backpack often, you may have lighters scattered throughout your pack to make sure you always have one when you need one. However, these disposable products aren't the most environmentally-friendly option. Opt for a refillable lighter so that you can just add butane. You can find these products in windproof and waterproof versions. Sol even has a rechargeable no-fuel lighter if you want to cut your emissions even further. 
Hygiene
8. Sub Your Wet Wipes for a Reusable Towel (or Makeup Rounds) & Biodegradable Soap
Wet wipes are a godsend when you've spent days in the wilderness. A quick swipe on your face and under the armpits and you're feeling fresh again. However, if you're looking for a low-waste alternative to these disposable products, you have options. 
If you carry reusable makeup rounds or a lightweight backpacking towel, just add water and a bit of biodegradable soap for a low-waste cleaning experience.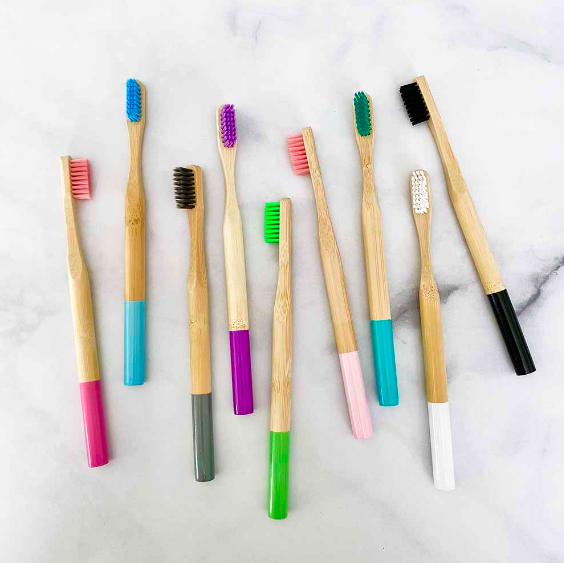 9. Buy Low-Impact Toiletry Products
You don't need special toiletry products to go backpacking; you can easily just bring what you have at home. However, if it's time for a new toothbrush, consider buying a bamboo one instead of plastic. And instead, of buying "toiletry size" products, buy the larger size (or in bulk) and refill your containers! Dr. Bronners is a great environmentally responsible biodegradable soap option. Stock up on dilutable soap, fill up your two-oz bottle, and then throw it in your pack. You can use it for everything from personal hygiene to dishwashing — just be sure to use it 200 feet from any water source.
10. Zero Waste Feminine Care: Menstrual Cup
Dealing with your period in the backcountry can be enough to make you want to stay home. Luckily, menstrual cups have come on the scene to make your time of the month a little bit easier. For backpacking, these products are not only waste-free but incredibly convenient. No need to worry about packing the right number of tampons, just throw your diva cup into your pack and go!
Gear
11. Repair Gear or Buy Secondhand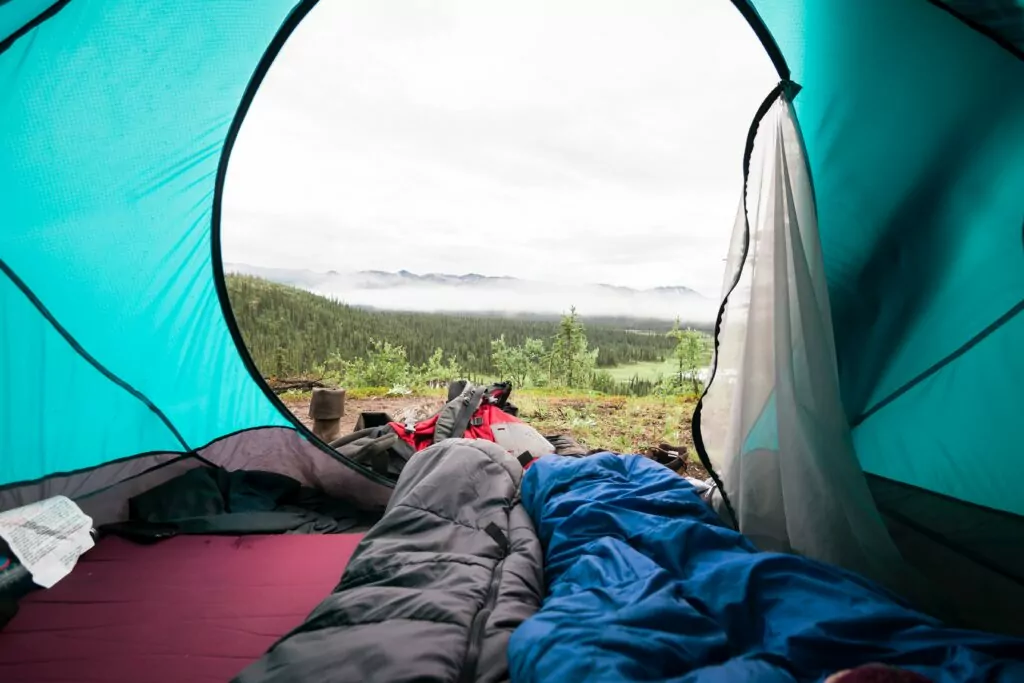 Buying new products is one of the biggest contributors to our carbon footprint. And while new backpacking gear is fun, consider repairing your existing gear or buying secondhand to reduce your waste. New gear comes with a hefty footprint when you add in the materials, manufacturing, and transport. So, if your zipper is broken on your rain jacket, consider sending it in for repair or bring it to a local tailor instead of dumping it and buying a new one! 
When you're in the field, treat your gear with care to increase its lifespan. Once you return from your trip, clean your gear well and store it appropriately (protected from UV rays or harmful chemicals.) Occasionally, perform routine upkeep like cleaning out your zippers and re-waterproofing your Gore-tex.
If you're not ready to buy your own gear quite yet, consider joining a guided backpacking trip. Wildland provides all the gear for our trips, and our team treats each sleeping bag, tent, and backpack (and more) with extreme care to ensure it sees as much use as possible, while still retaining its quality.
12. Be A Conscious Consumer
When you're buying new backpacking gear, one of the most important steps you can take to supporting your low-waste backpacking goals is to buy gear from environmentally and socially responsible brands. Many outdoor brands place emphasis on repairing gear instead of buying new with programs such as Patagonia's Worn Wear. We've created a guide for purchasing gear for the greater good so you can know where your dollars are ending up!
If you can't afford to buy high-end gear, you can always shop secondhand for brands that make these products. 
Overall, aiming for a lower-waste lifestyle is challenging but rewarding. Over time, you can reduce your environmental footprint and simplify your backpacking process to truly enjoy what matters — the time spent in nature.