Ibex Indie Hoodie Review
Wildland Trekking guide, Liz Lucas, shares her experience after testing the Ibex Indie Hoodie during the 2022 summer and fall seasons in the Rocky Mountains.
Hello adventurers! I'm Liz Lucas, and as a multi-day backpacking guide, having a comfortable sun shirt is critical for long-term success. This is especially true while hiking in the Rocky Mountains where a hiking hoodie is both convenient and practical as it provides sun protection and a little warmth when it gets cold. Therefore, I was delighted to test the Ibex Indie Hoodie during my 2022 summer and fall season to see how it performed after numerous trips to the backcountry. Let's see how it did!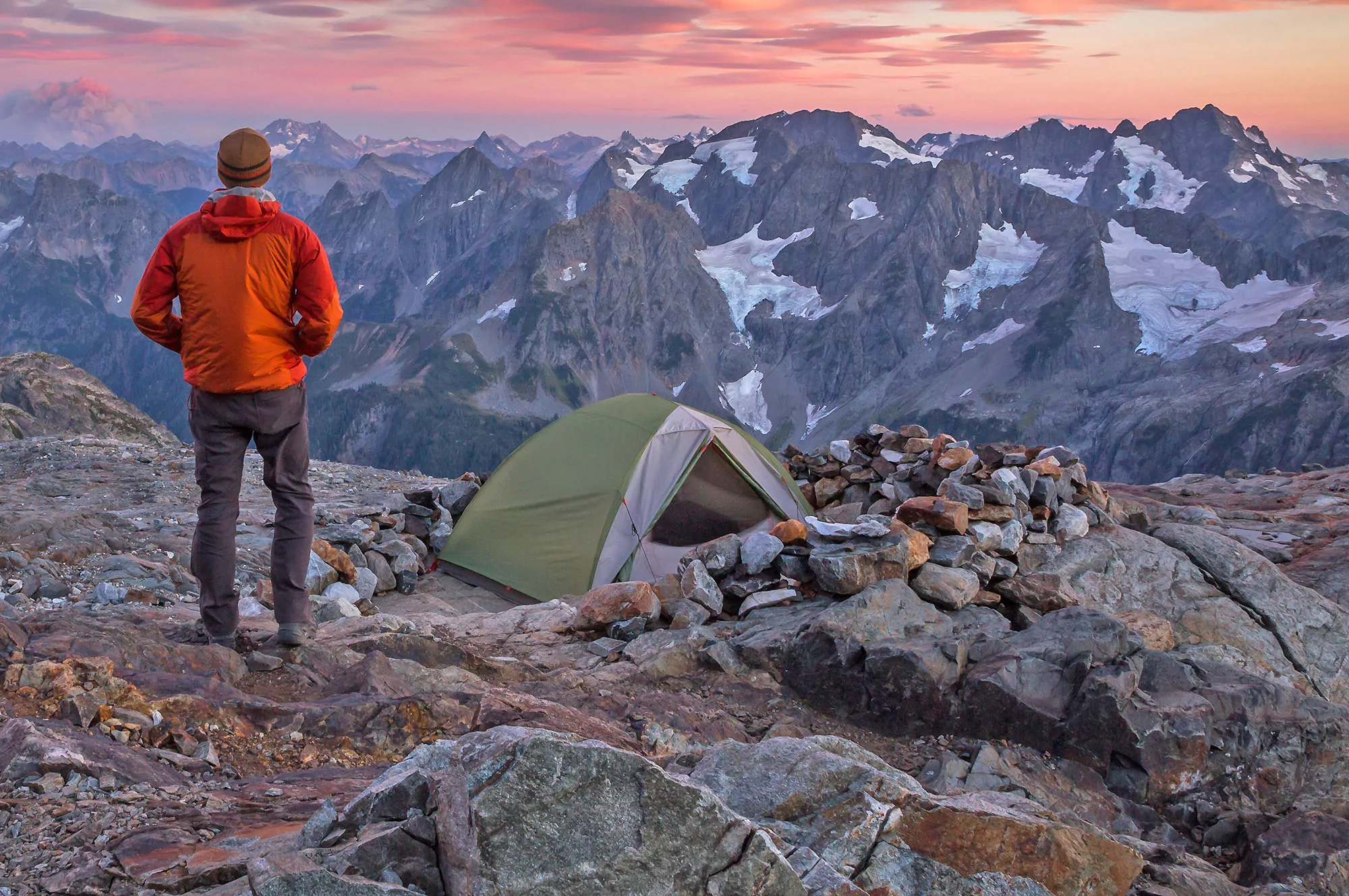 The Ibex Indie hoodie is a merino wool long-sleeve sun hoodie. It's created with top-notch, sustainably sourced material – let's take a look at its specifications.
Price: $170
Material Information: 100% Merino Wool
Hood: Yes
Closure: Quarter-zip
Thumb Holes: Yes
Sizing: All sizes available in both men's and women's – XS to XL
Intended Use
The Indie Hoodie is intended to protect from the sun as well as provide a little bit of warmth in cooler temperatures. The wool facilitates thermo-regulation, allowing this hoodie to be worn in all climates. With its antibacterial and odor control function, it can be worn for multiple days in a row, making multi-day trips no problem for this garment.
Therefore, the Indie Hoodie can function fantastically solo on more temperate adventures, or become an integral part of your layering system in cooler temperatures. This test focused exclusively on hiking and backpacking, but the Indie Hoodie is clearly at home during any adventure into the outdoors.
Notable Features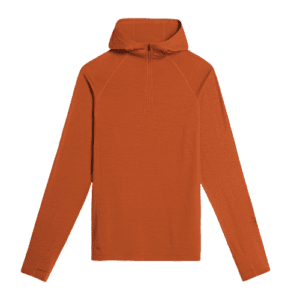 The Indie Hoodie from Ibex includes several detailed features that greatly impact its functionality. Let's take a look at these features to fully understand what this hoodie has to offer.
Scuba Hood: The tight-fitting hood stays in place during high-intensity activities. What's more, the hood can be worn underneath most helmets – rock climbers and bikers take notice.
Raglan Seams: The sleeves continue up past the shoulder as one continuous fabric with no dedicated shoulder seams. This improves comfort and range of motion for active pursuits in the outdoors.
Thumb Holes: Provide added comfort and coziness when the hoodie is part of a layering system or a stand-alone garment.
Ibex Company Background 
Ibex was founded in 1997 with the mission to create great clothing in a sustainable way. All of their wool comes from Australia and New Zealand. Along with sourcing quality materials,  all contributing farms are regularly checked to ensure their animals are treated humanely and that land conservation practices are also implemented. Ibex currently has operating locations in Colorado and Vermont, and works hard to ensure that its complete supply chain is ethical and held to the highest standards.
Ibex Accreditations:
Responsible Wool Standards accreditation
Blue Sign certified technologies

Avoids Synthetic Microfiber Pollution    

Partners with the Renewal Workshop for all returns and exchanges that cannot be resold    

Recycles and reuse materials whenever possible    

Use of post-consumer recycled, FSC-certified, and or compostable materials for all of our packaging
THE TEST – QUICK OVERVIEW
I tested the Ibex hoodie in the Colorado Rocky Mountains, specifically the Flat Tops Wilderness area – known for its erratic weather. Over the multiple trips I have worn the hoodie, I experienced temperatures from the 70s to the 30s. Within that temperature range, I was getting hit by the sun often but also pelted by hail occasionally.
My guiding trip lengths were anywhere between 2-5 days and on the 5-day trip, it was still in great condition at the end of the journey – still doing a great job and looking good!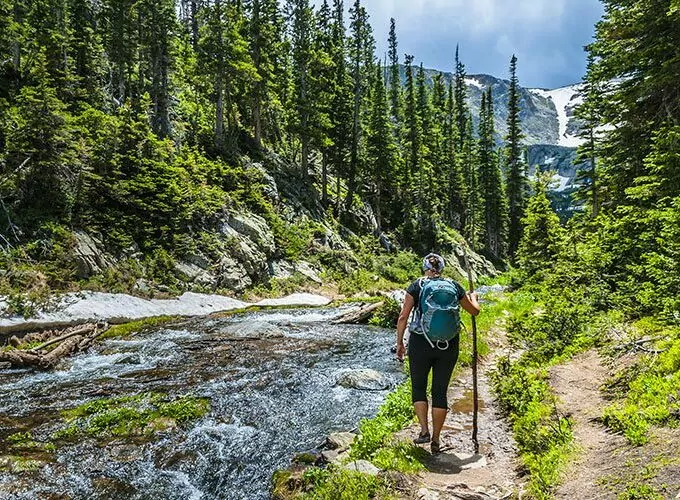 The Review
Now it's time to dive into our full Ibex Indie Hoodie review. We'll cover important performance characteristics of the hoodie from warmth to durability, and assign each category a score from 1 to 5. A score of 5 is the best performance on our scale while a 1 is the worst. I'll also include my own observations from the field to add color to each category score. So let's dive into the review!

Durability  – 5/5
I was very impressed with this hoodie when it comes to durability!
After having worn the Indie Hoodie for many trips in a row, I'm delighted that it still looks brand new. In fact, it looks so new that I wore it on a 5-day trip and then washed it and immediately wore it on stage for a keynote speech I was doing. And remarkably, the hoodie looked fantastic. 
Of course, the long-term durability has yet to be established, but I'm optimistic. The robust stitching, excellent materials, and long-lasting good looks all combine to make the Indie Hoodie a highly durable garment.
I expect to be wearing this hoodie for many trips and social events in the future.

Warmth – 4/5
This hoodie meets outdoor standards very well, and I was surprised that I could be comfortable in both hot and cool temperatures.
The merino wool does an excellent job as a temperature regulator. Its soft fabric adds a nice layer of warmth on chilly days. Remember, I encountered both hail and and sub-freezing temperatures during my testing in the Rocky Mountains, and I was confident and comfortable wearing my Indie Hoodie in these conditions. Meanwhile, its quick-drying properties and breathability make it a solid performer on warm days.
However, the wool's excellent breathability also ushers in a common drawback for warmth performance in cold weather. A chilly breeze can pass right through the Indie Hoodie – which means that this isn't a standalone garment for very cold days (hence the 4/5 rating). But as part of a layering system, its moisture-wicking and warmth work together perfectly to form an excellent garment for chilly days.

Packability – 4/5
This is a lightweight garment that could be easily packed in my hiking pack. I never had any problems finding space for it on my trips, and the durability and warmth that we've already discussed easily earn the Indie Hoodie a place in my pack. 
It dries quickly too, so if you are soaked and need to carry it, it will dry out quickly and is then easily packed. This is a tribute to its material as the merino wool is lean and light/packable yet provides excellent protection.
Weight/Bulk – 4/5
For relatively little bulk, the Indie Hoodie offers surprising quality and performance. In fact, it offers the same level of protection and quality as much heavier garments. This ties in nicely with the hoodie's excellent packability and suitability for the trail. At around 8 ounces, I never felt that the Indie was weighing me down or overly bulky. This is especially high praise since as a guide, I carry plenty of group gear, and streamlining my personal gear is an absolute priority for me.
So all in all, when I'm packing for a trip into the backcountry, the Indie Hoodie will always be at the top of my list for effective and lightweight layers to bring. 

Overall Comfort – 3/5
100% merino wool garments often have a reputation for feeling slightly scratchy, and the Indie Hoodie is, sadly, no exception. Don't get me wrong, overall, this is a very comfortable garment. However, it took a little time for me to get used to the scratchy texture, which continued to linger after the first several washes.
But I did indeed get used to it after my first couple of trips, and I fully appreciate the advantages that 100% merino wool offers. Other manufacturers often "smooth out" wool by blending in synthetic materials, but Ibex works hard to deliver a fully natural garment. So all in all, the scratchy texture is probably the biggest downside for me regarding the Indie Hoodie, but I've found it to be well worth it to reap the benefits of superior moisture-wicking, breathability, and odor control that merino wool offers.
Price – 3/5
This is not a cheap hoodie by any means. At $170.00, the Indie Hoodie is a definite investment in your outdoor adventure comfort. However, you are paying for much more than just your run-of-the-mill hoodie.
On the back end, that price supports a fantastic company that utilizes sustainable materials, cares about the animals providing that material, and is conscious of its carbon footprint. On the front end, the high price purchases a hoodie with extreme versatility and excellent performance through a multitude of conditions (as my testing clearly revealed).
 So yes, the Indie Hoodie is a pricy investment in your gear. But to me, that investment supports a great company with great ideals and products, and I don't mind being a part of that. 

Overall Quality – 4/5
Zooming out to look at the overall quality of the Indie Hoodie, my testing has revealed that this is a fantastic product.
The hood stays in place while the quarter zip is stylish and functional for ventilation. I was impressed and pleased with the Indie's overall performance on every single one of my trips and it's more than earned its place in my gear for future trips. The only slight drawback that I encountered was a small amount of pilling. However, this pilling was barely visible and doesn't take away from the performance or look of the garment.
 So overall, this is a great hoodie for performance and style! 
Bringing it Together
I've covered plenty of aspects of the Indie Hoodie in this review. Let's recap a few of my primary findings below to see where this hoodie from Ibex really shines.
Pros: 
From a great company with good values and execution of sustainable practices

Great performance in both warm and cool environments

Drys very quickly

Looks good whether I am on trail or in a social setting

Excellent moisture wicking

Keeps the odor down and is comfortable
Cons: 
100% merino wool is slightly scratchy feeling

Very minimal pilling 

Quarter zip-up is a little tight when fully closed. 

Expensive investment
Merino Wool – Why is it So Special?
Merino wool garments have skyrocketed in popularity recently. But what's so special about this specific material? Let's take a look.
First off, merino wool comes from merino sheep and has extraordinary thermo-regulating properties. The fibers have natural crimps that can trap warm air and keep you nice and comfortable in cooler temperatures. But what's remarkable is that wool is also highly moisture-wicking and quick drying. This means that when the temperature's warm and you work up a sweat, wool keeps your skin dry and cool as it constantly wicks away sweat and dries.
In addition to its quick drying properties, wool also has natural anti-microbial properties. These two characteristics mean it's hard for odor-causing bacteria to live in merino wool, and it'll naturally resist smells as we work hard in the backcountry.
Lastly, high-quality merino wool is ethically sourced to ensure the sheep are treated well. It's a 100% natural and sustainable material that brings a plethora of benefits to the outdoor adventure industry – as the Indie Hoodie from Ibex so aptly proves. 
Final Thoughts
The Ibex Indie Hoodie is an excellent hoodie for both outdoor adventurers and those looking for an all-around stylish hoodie. My favorite aspect is that it kept me warm during chilly hail storms yet cool during the hot mountain days. It was such a relief getting to camp and taking off my pack, and knowing that my sweaty back would be dry again within ten minutes. The hood also reflects the Indie's versatility as I found it warm and comfortable on chilly days but also as an excellent sun shade on hot days without overheating me. My testing also revealed outstanding durability and quality which indicate that this 100% merino wool hoodie will hold up season after season. 
The only drawbacks I experienced were very very minor, including a tiny amount of piling and a slightly tight fit when the zipper was all the way up. But these drawbacks couldn't detract from the Indie's overall phenomenal performance. Once again, the versatility of this garment really made the day. I was able to wear it on the trail for a week, wash it, and then wear it again on stage at a keynote speech and it looked and functioned perfectly in every scenario.
I would recommend this hoodie to anyone who is looking for a solid, wool, outdoor hoodie. This is the highest quality hoodie I have seen as it doesn't stretch out after a couple of days and it resists nasty odors very well. This is a great item for anyone looking to be on trail for multiple days without a change of clothes or those looking to have added protection in multiple climate zones. I'm delighted with my Indie Hoodie from Ibex!