Sea To Summit Spark 5 Down Sleeping Bag Review
Wildland Trekking guide, James Barrett, took the Spark 5 sleeping bag out for intensive winter testing in the Grand Canyon, and details his test results below.
Welcome to this Sea To Summit Spark 5 review! My name is James Barrett, and I've been guiding with Wildland Trekking since 2016. Before that, I gained much of my guiding experience with Northern Arizona University. From Fall through Spring, I work for Wildland in the stunning Desert Southwest, mostly hiking Grand Canyon National Park along with Sedona hiking tours. When the heat cranks up in the summer, I head north to guide Llama and backpacking trips in Yellowstone. But this winter, my Grand Canyon hiking season was complemented by testing some gear from Sea To Summit – one item of which was the Spark 5 sleeping bag.
If you're not familiar, the Spark series of sleeping bags are targeted at hikers looking for the lightest, most compressible sleeping bags to move quickly or reduce their overall pack weight. So, let's see how this sleeping bag performed in this Spark 5 Review!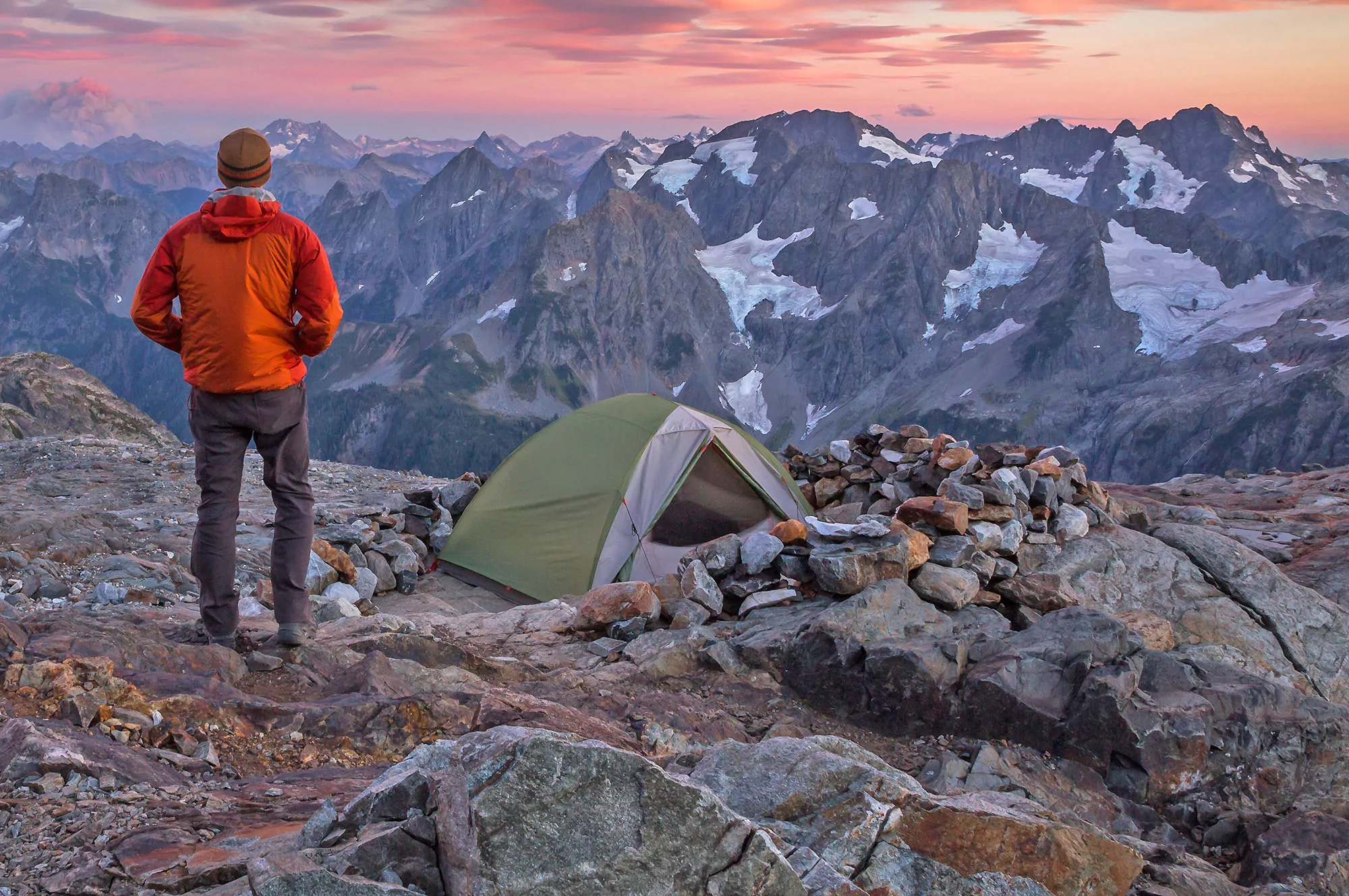 Spark 5 Quick Look 
The Sea to Summit Spark 5 Sleeping Bag is the warmest in the Spark lineup of ultralight sleeping bags and liners. Let's take a look at its basic specifications:
MSRP: $589.00 (5 Degree, Long)

 

Insulation: 850+ Fill Down
Tested Lower Limit Temperature: 5º F
Tested Comfort Rating: 18º F
Weight (5º, Long): 2 lbs. 2.7 oz.

 

Shell Material: 10-Denier Nylon
Lining Material: 7-Denier Nylon
Women's Specific Model: Flame Series
Intended Use
The Spark (Men's) and Flame (Women's) Series of sleeping bags are designed to keep you warm and comfortable while adding the least amount of weight and bulk to your pack. From this broad goal – ultralight warmth – we can see the sleeping bag's distinct focus on the backpacking industry. This product is aimed squarely at hikers, adventurers, and climbers looking for reliable nighttime warmth with a small packing footprint and weight penalty. 
Now, there are purebred ultralight sleeping bags on the market that shed even more weight, but the Sea to Summit Spark 5 hits a perfect balance between performance, packability, and a generous/unrestrictive cut. So, in my opinion, this sleeping bag is ideal for hikers looking to invest in a high-quality bag for colder climates without sacrificing wiggle-room once zipped up.

Notable Features 
Sea To Summit included several important features with this sleeping bag, so let's start this Spark 5 review by highlighting what sets it apart.
850+ Fill Ultra Dry-Down – Extreme loft and warmth retention

paired with good weather resistance for excellent all-around performance. 

Fully Baffled Design – Prevents the down insulation from moving or clumping together, improving heat retention and reducing cold spots.
Compression Sack Included – Makes packing easy by reducing how much space the sleeping bag takes in your pack. 
Sea To Summit Company Background 
Sea to Summit is based out of Perth, Australia, and founded by Roland Tyson. In 1983, 17-year-old Roland was sewing his own adventure gear in his bedroom, and Sea To Summit grew from that passion. Their goal, manufacturing high-quality gear that offers the perfect balance between weight, durability, and packability. Like most quality gear manufacturers, Sea To Summit offers a warranty standing behind their products covering materials and workmanship. 
What's more – and with particular application to the Spark 5 Sleeping Bag – Sea To Summit has all their down insulation certified to the Responsible Down Standard (RDS) to ensure an ethical manufacturing process.
THE TEST – QUICK OVERVIEW
I collected all the information for this Spark 5 Review during intensive testing and hiking in Grand Canyon National Park. From guiding a shorter 2-night backpacking trip into the bottom of the Canyon to a more rigorous 5-night Rim-to-Rim-to Rim trip, this sleeping bag saw almost everything winter in the Grand Canyon has to offer. That winter weather included temperatures down into the 20s, along with 30+ mph winds and a 6-hour rainstorm.
The Spark 5 also saw use on a personal trip to Sedona for some chilly car camping. While I didn't have the chance to camp directly on snow – a test I was very much hoping to complete with this sleeping bag – I definitely put the Spark 5 through its paces and came away with an excellent idea of what this sleeping bag is capable of.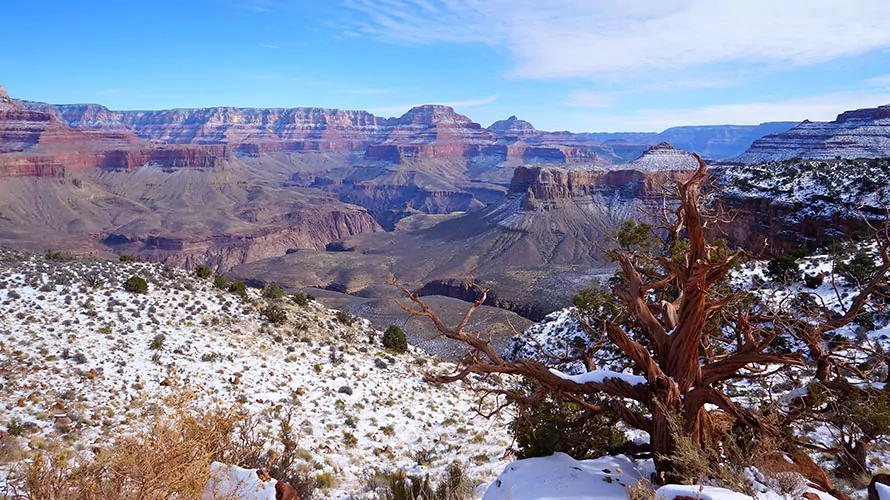 The Review
We've covered the basics with this sleeping bag's specifications, my testing conditions, and a brief overview of the Sea To Summit brand. So, now it's time to dive into my complete Spark 5 Review. I'll cover important performance criteria below, offer a rating from 1 to 5 along with my testing feedback, and wrap up the review with a final summary showing all my pros and cons.

Weight/Packability – 5/5
The Spark 5 weighs in at a hair under 2lbs 3 ounces for a size long and under 2lbs for a size regular. That's incredibly light for a bag this warm, and those statistics alone speak volumes for its performance. I never felt that this sleeping bag was overly heavy, and the warmth it provided easily earned the small amount of weight it added to my hiking pack. 
Now for packability. When it's completely compressed, the Spark 5 is a very manageable size taking up only about 8 liters of space in your pack – about the same space that 3, 1-liter Nalgene bottles would take up. So top marks for weight and packability! This sleeping bag is remarkably light and packable, considering the warmth it provides. 

Sizing/Comfort – 4/5
I would consider myself very average-sized, weighing around 175lbs and standing just below 6-feet tall. Personally speaking, I like the tighter fit of a regular-sized sleeping bag – to eliminate extra space that could turn into cold spots – but have found myself owning a mix of regular and long-sized bags over the years. In this case, Sea to Summit added some room around the hips and shoulders as well as length onto the Spark line of bags, and I have to say it does make for a comfortable bag. In fact, the Spark 5  may be the perfect goldilocks balance of enough room but not too much or too little. This particular aspect of the Spark 5 is a breath of fresh air for an ultralight sleeping bag, as many manufacturers try to shave weight by making their sleeping bags incredibly tight. Not so here! 
Additionally, some sleeping bag materials can feel cold or scratchy, but the Spark doesn't suffer from these problems.  

Durability – 4/5
Extraneous material adds weight, and Sea to Summit went to great lengths to trim weight with thinner materials while still maintaining a durable product that could take on the backcountry. This effort yielded the 10-denier shell fabric and extra thin 7-denier interior lining. A denier is a unit of measurement representing the fabric's overall thickness, and many lightweight sleeping bags use around 20-denier fabric. So you can certainly appreciate just how thin the materials on the Spark 5 are, but I'm pleased to report that they held up very well. 
From what I experienced, the Spark 5 includes reinforced zones behind the zipper to prevent snagging and early damage, and it worked. I didn't see any snags or tears during my testing, and I hope the Spark 5 will hold up for the long term. However, it's definitely important to note that these extra thin lining and shell materials are inherently fragile, and the Spark 5 needs to be properly handled and cared for to make sure it lasts.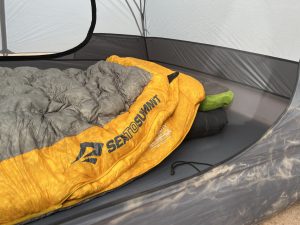 Warmth – 5/5
 Being the warmest bag in the Spark series, I had high expectations of comfort and warmth going into winter hiking trips in the Grand Canyon. During this time of year, some campsites only see 3 hours of sunlight and sit directly below the rim, meaning they never really warm up during the winter. But even with these chilly conditions, I can confidently say that I was bordering on too warm almost every night and found myself unzipping the bag a bit to get some ventilation. That's fantastic warmth, and I'm very pleased and impressed with the Spark 5's ability to retain heat. 
I estimate that the lowest temperature we encountered was right around 25º Fahrenheit. While not the absolute coldest that hikers can encounter during winter or mountain adventures, it was undoubtedly chilly enough to tell that this sleeping bag deserves its 5 out of 5 warmth rating, and I wouldn't hesitate to take this sleeping bag on more cold-weather trips.
Price – 5/5
 Sleeping bags are an essential piece of your backpacking kit, and there are many different options and price points on the market. In this case, the Sea To Summit Spark 5 is a very high-end, cold-temperature sleeping bag filled with the highest quality down. Put all these points together, and the hefty price tag comes as no great surprise, and the Spark 5 is a significant investment in your camping comfort and warmth.
But I believe that this sleeping bag is on par with many other premium bags in the same category, and its price accurately reflects the quality and comfort you're receiving. My field testing cemented this opinion, and – while expensive – the investment is definitely worth it! 

Sea To Summit Spark 5 Review Round-up
The Spark sleeping bag is easily one of the nicest sleeping bags I have used. It is lightweight, highly compressible/packable, and extremely lofty and warm. I have yet to find anything to critique on the Spark 5; it does everything that it is supposed to, includes fantastic features, is a very high-quality construction, and you hardly notice its presence in your pack.  
Pros: 
Roomy 

 

Fantastic warmth retention

Surprisingly low weight

Very packable

 
Cons:  
 High price, but a worthwhile investment 
Let's take a closer look at a couple of important aspects of this sleeping bag as we wrap up this Spark 5 Review.
 Fill Power – 850-Fill Down  
Every down sleeping bag comes with a fill power rating; in the Spark 5's case, this rating is 850, but what does it mean?
This number represents how much space (in cubic inches) a single ounce of unconstricted down insulation takes up. So, in this case, a single ounce of down from the Spark 5 will occupy 850 square inches. Higher quality down has a higher fill power – since one ounce of that down offers more insulating capability – and this number ranges from around 600 to 950+. Therefore, the Spark 5 offers excellent quality down insulation!
Temperature Ratings – What Do They Mean?
You'll see that the Seat to Summit Spark 5 Sleeping Bag comes with a tested lower limit and tested comfort temperature ratings. It's important to note that these two numbers represent different things, so let's take a closer look.
The Tested Lower Limit is the temperature at which a person who sleeps on the warmer side (traditionally men) can stay comfortable in this sleeping bag. So, a 5ºF lower limit means that most men should be able to use this sleeping bag in 5º weather stay comfortable (with proper shelter, bedclothes, and so on).
Meanwhile, the Tested Comfort Rating is the temperature where people who sleep colder (typically women) will stay comfortable.
Both of these ratings are tested to international standards to guarantee consistency across the industry. Therefore, a 5º comfort rated sleeping bag from one manufacturer is comparable to a 5º comfort rated sleeping bag from another.
Final Thoughts
To wrap up, the Spark 5 Sleeping Bag offers tremendous value and quality materials. This sleeping bag performs; Every time I use it, even if it's been in a compression sack for a week, it still comes out and lofts like the first day I got it – and that's impressive! It has lost zero down from seepage and always feels soft and comfortable as it impressively avoids that clammy feeling that some nylon sleeping bags fall prey to. I can guarantee that this will be my go-to sleeping bag for any cool to cold weather trips I go on for many years to come, and I'm stoked about it. 
As a guide, I want gear that has a long-life expectancy as I end up using gear more often than your average weekend adventurer. This sleeping bag fits that criteria in every way, and I genuinely hope this Sea To Summit Spark 5 review has helped you learn more about this product. It has my highest recommendation, and I can't wait for my next trip with it.
Happy hiking!