Columbia Outdry Stretch Hooded Shell Review
Wildland Trekking guide, Dan Purdy, shares his experience after putting the Columbia OutDry Stretch Hooded Shell through intensive testing in the rainy Pacific Northwest.
Rain can turn a hiking trip from a fun adventure to a wet, miserable slog in no time – but that's why we have rain jackets! There are plenty of methods and products on the market today, and one of Columbia Sportswear's main contributions to the industry is the Outdry Hooded Shell. I had the opportunity to test this shell during a full season of leading hiking trips in the Pacific Northwest, including Olympic, Rainier, and North Cascades National Parks. In this Columbia Outdry Hooded Shell review, we'll take a look at this rain jacket's performance in the field, along with its greatest strengths and weaknesses. So let's take a look at what this jacket has to offer!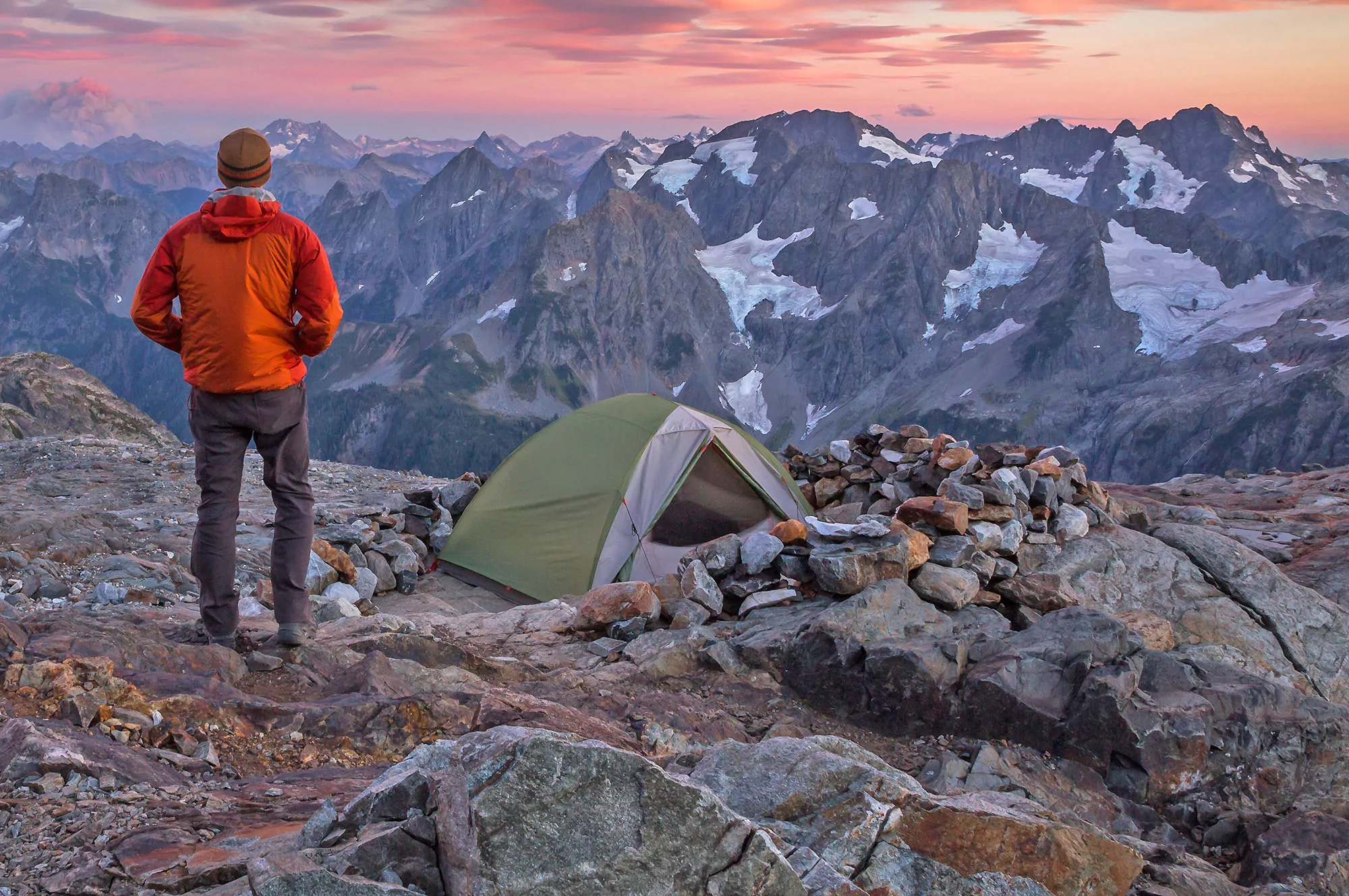 Columbia Outdry Hooded Shell Quick Look
To kick off this Columbia Outdry Hooded Shell review, let's go over its key specifications.
MSRP: $180.00
Weight: ~ 1 lb. 1.5 oz.
Material: 100% Polyester
Waterproofing: Outdry Extreme Plus Seam Sealing
Hood: Yes
Intended Use
The Outdry Rain Shell from Columbia is very versatile. While I used it primarily for hiking and backpacking, it is suitable for almost any outdoor activity. From kayaking to simply stashing it in your car for rainy days, this jacket has you covered.
However, its extreme versatility also means that this jacket is not specialized for any particular sport. It's a solid all-around asset, as we're about to see, but not a highly-specialized piece of gear.
Notable Features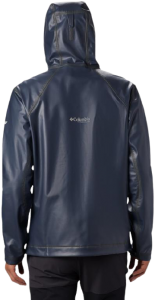 The Columbia Outdry Jacket has several very distinct features that dramatically impact its functionality and appearance.
Outdry Technology – Columbia's unique technology places the waterproof layer directly on the outside of the jacket, giving it a noticeably glossy appearance.
Drawcord Adjustable Hem – Easily tighten and adjust the coat's hem to keep it comfortable and snug.
Moisture Wicking Lining – The soft lining provides increased comfort along with wicking moisture (such as sweat) away from your skin.
Columbia Sportswear Background 
Columbia Sportswear has been around for over eighty years since it got its start as the Columbia Hat Company, founded in 1938. Since that time, the Columbia brand has grown to offer innovative gear across a plethora of sports, along with adopting a company goal of empowering people to explore the outdoors and protecting the areas where they adventure.
Among the pledges that Columbia has made to the outdoor community is a commitment to source down responsibly. All their down products are ethically procured, and Columbia is independently certified to the Responsible Down Standard (RDS).
THE TEST – QUICK OVERVIEW
I first tested the Columbia Outdry Jacket in Olympic National Park, home to the Olympic Rainforest. Where better to test a rain jacket than in a rainforest?
Over a series of backpacking trips, both solo and as a trip guide, I took this jacket deep into the Olympics. From the famously misty coastline to the high-precipitation interior along the Hoh River and Enchanted Valley, I took this rain jacket everywhere and used it countless times. This review is based on my firsthand experiences with this jacket on these single and multi-day hiking trips.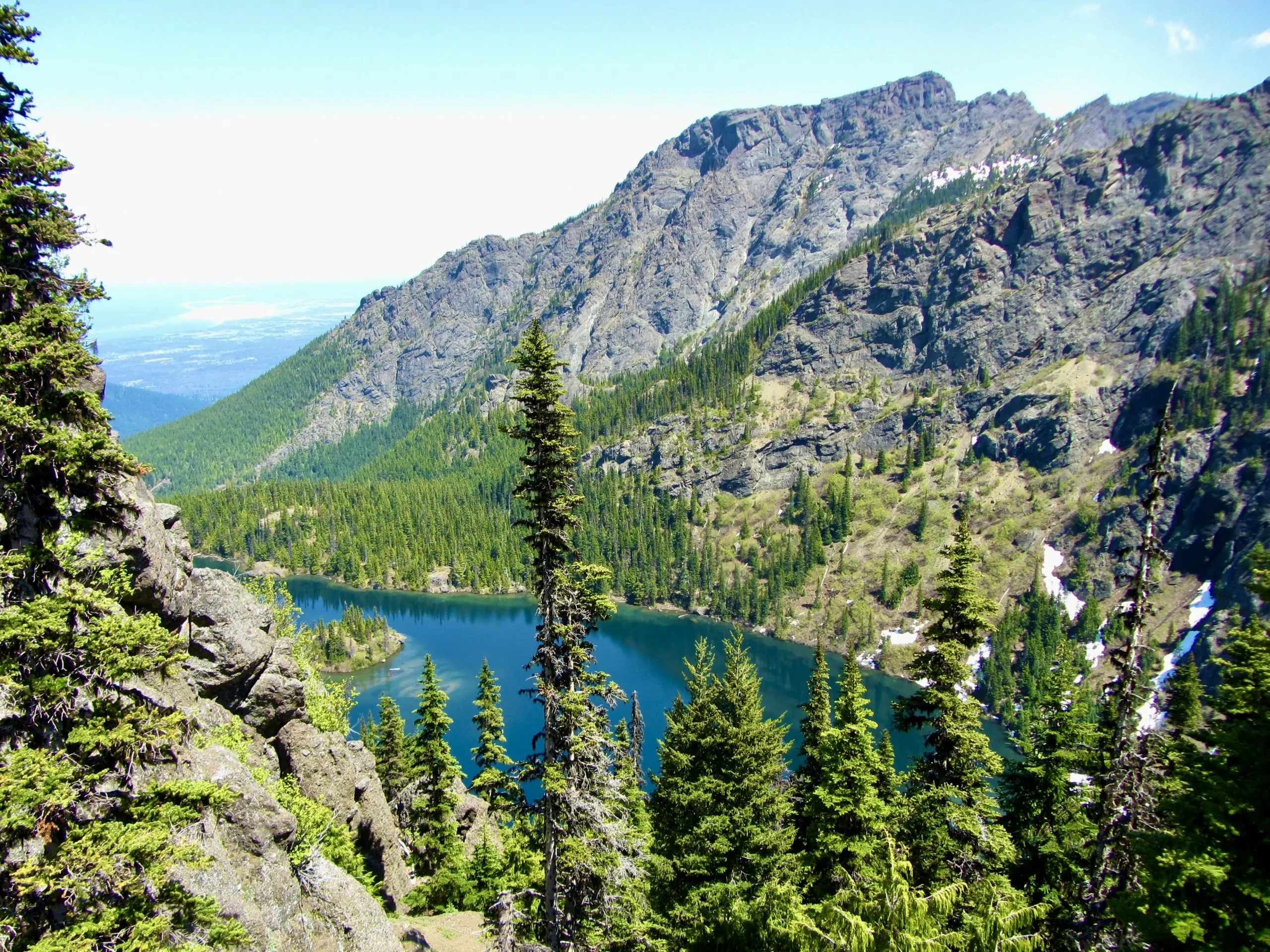 The Review
Now that we've established this jacket's basic specifications and Columbia Sportswear's background, it's time to dive into our comprehensive Columbia Outdry Review! We'll discuss several key performances and design characteristics, along with my impression of how these characteristics measure up to my experience and the gear industry in general. So let's start with a rainjacket's most crucial aspect – weatherproofing.
Weather Resistance – 4/5
I encountered my fair share of inclement weather while guiding in the Pacific Northwest. From chilly morning mists to torrential downpours, this jacket saw it all.
Columbia utilized their unique Outdry membrane technology for this product. This method features a sleek, waterproof fabric on the outside of the jacket, giving it a slightly glossy appearance. The seam-sealing tape is also on the jacket's exterior and works in tandem with the Outdry membrane to provide an effective barrier against wet weather.
I found this Outdry Shell easily repels mist and light rain showers with ease. I wore this jacket for many hours in wet conditions and was always kept comfortably dry. Heavier downpours, however, pushed this jacket to the limit as I found the front zipper to be a weak link that allowed a minor – yet irritating – amount of water to soak through. For this reason, I deducted one point from the Outdry's rating in this category.
Apart from this inconvenience centered around the front zipper, I was delighted with the Columbia Outdry Jacket's overall waterproofing. The seam-sealing tape never peeled (despite being on the outside of the jacket), and the waterproofing membrane never appeared to degrade over time with heavy use. But that heavy use and hiking generates a lot of heat, so let's look at breathability next.
Breathability – 4/5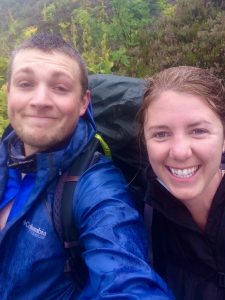 The Outdry waterproof membrane features millions of micro-pores to facilitate air exchange and prevent moisture build-up on the inside of the jacket. However, I found that these micro-pores alone have trouble coping with the heat and moisture build-up from heavy hiking. I occasionally found myself unzipping the upper portion of the jacket to cool off, which, of course, opens the front door to rain.
You can see this exact scenario playing out in the picture to the right during a hike with my partner. Notice that the jacket is unzipped and the hood is down even when it's raining? This very steep mountain climb caused me to overheat and need a little more ventilation than the Outdry could provide.
However, the instances where I needed to unzip the jacket to cool off were reserved for very strenuous hiking on challenging or steep terrain. For average hiking over easy to moderate terrain – especially in cool conditions – this jacket performed admirably.
Weight – 3/5
First and foremost, the Columbia Outdry Rain Jacket is bulky compared to many hiking rain shells. Weighing in at over 1 lb., this jacket has some heft to it, which spells trouble for ultralight backpacking, but also has a couple of silver linings.
For any backpacker, and especially a guide whose bags are loaded with plenty of communal gear, the overall weight of our packs is paramount. Therefore, based on the numbers alone, the Outdry Jacket is a tough sell as it adds weight to your bag that could easily be trimmed down with a lighter shell.
This turned out to be the case for me as I slowly refined and fine-tuned my pack throughout a guiding season. My gear gradually changed every trip as I worked to bring my overall pack weight down, and it became harder and harder to justify the Outdry Jacket's weight. But it was a hard decision because this jacket's weight DOES have a couple of significant benefits.
Specifically, I believe the Outdry Jacket's heavier weight works wonders for overall durability and comfort, which we'll discuss next.
Durability – 5/5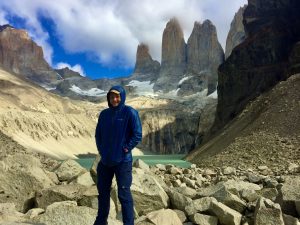 Over the course of my entire guiding season and a subsequent 6-month trip to South America, I saw zero damage to my Outdry Hooded Shell. Not a scratch, snag, or single zipper malfunction. From backpacking over rough and rugged terrain to picking my way through a Chilean forest in a torrential downpour, this jacket stood fast.
As mentioned previously, this exceptional durability is partly due to this jacket's beefy design. The heavier and thicker material is much better suited to resisting abrasions and snags than lighter options.
Overall Comfort – 4/5
As far as rain jackets go, the Outdry Jacket is easily one of the most comfortable I've ever owned. I often hiked or puttered around camp for hours wearing this shell and never felt that it restricted my movement or became uncomfortable.
The reason behind this comfort is twofold. First, the inside of the Outdry Jacket features a surprisingly soft and moisture-wicking material. I found this material to be a vast improvement over the plastic-like feel of most rain shells, especially in warmer weather when wearing the jacket over just a t-shirt.
Second, the thick build and additional bulk work together to make this rain jacket very comfortable for colder temperatures. My guiding trips up to colder elevations or during the cooler shoulder seasons saw me gladly wearing my Outdry Jacket often. The heavier weight combined with mid-range (but not fantastic) breathability allowed this shell to retain my body heat more easily and keep me nice and warm without needing to wear a thick mélange of layers underneath.
However, I deducted a point from this Jacket's comfort rating as the weight and thickness can detract from comfort during very hot days or strenuous activity. When combined with mid-range breathability, the extra weight and thickness allow excess heat to build up quickly and make the jacket feel sticky, hot, and clammy on the inside.
Packability – 3/5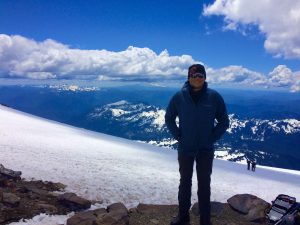 The Outdry Jacket's notable weight and thickness work to its disadvantage in terms of packability. Hikers and backpackers know all too well that space is always at a premium in our packs. We need gear that is compressible, lightweight, and easy to pack. In this regard, the Columbia Outdry Jacket falls behind the competition.
I found this jacket more akin to a mid-weight fleece than a lightweight rain shell when it was time to pack up. At almost the size of a liter Nalgene bottle, it took up significant space wherever it ended up and isn't the sort of item that can be easily squeezed into small pockets or nooks. Therefore, I have to list packability as the main disadvantage in this Columbia Outdry Jacket review.
Bringing it Together
After considering all the points we've covered so far, let's recap what the Columbia Outdry Jacket has to offer. This is a heavyweight rain jacket with exceptional durability and comfort, ideally suited for cool climates and frequent use. Let's review the main advantages and disadvantages below:
Pros
Excellent long-term durability
Effective waterproofing and seam sealing
Very comfortable design
Stays warm in cool to cold weather
Pit zips offer additional ventilation options
Moisture-wicking lining is effective
Cons
Heavy for hikers worried about pack weight
Bulky and doesn't pack down well
Glossy appearance may be unappealing for some
More Information About The Columbia Outdry Shell
A few aspects of this rain shell deserve some elaboration; let's take a closer look.
Why is the Waterproofing on the Outside?
The OutDry rain shell was first in the industry by placing the waterproof membrane on the outside of the jacket. According to Columbia, this is intended to make sure every part of the Outdry Shell is protected 100% of the time.
Comparatively, many other jackets nest the waterproof membrane within other fabric layers to give it more protection from standard wear and tear. However, this can make the jacket feel "water-logged" if moisture completely saturates the outer fabric (the one not protected by the interior waterproof lining).
Is a Women's Version Available?
Unfortunately, Columbia does not offer a women's version of the Outdry Hooded Stretch Shell. But don't worry! There is a women's Outdry Ex Reign Jacket – using the exact same technology as the stretch shell.
Final Thoughts
The Columbia Outdry Hooded Shell is a solid rain jacket for almost any adventure. It's durable enough for heavy use and effective against any weather, making it an excellent addition to any adventure wardrobe. I'm particularly fond of the Outdry's robust build that stood up admirably to a heavy guiding season in the Pacific Northwest followed by months of travel through the Andes and Patagonia.
My only critiques for this item focus on its heavy build, making it a little bulky for intense backpacking. This bulk also tends to run a little warm when you're working hard. But on the flip side, this extra warmth is fantastic for adventuring in colder climates and higher altitudes.
So, all in all, I wholeheartedly recommend the Columbia Outdry Hooded Shell to anyone that needs a robust rain jacket for outdoor adventuring – or even just around town. My only caveat is that if you're heading towards a warm destination, this shell may be a little overkill due to its heavy build. In that case, the Columbia Ex Regin Jacket may be a better fit for you as it has increased ventilation and pit zips.