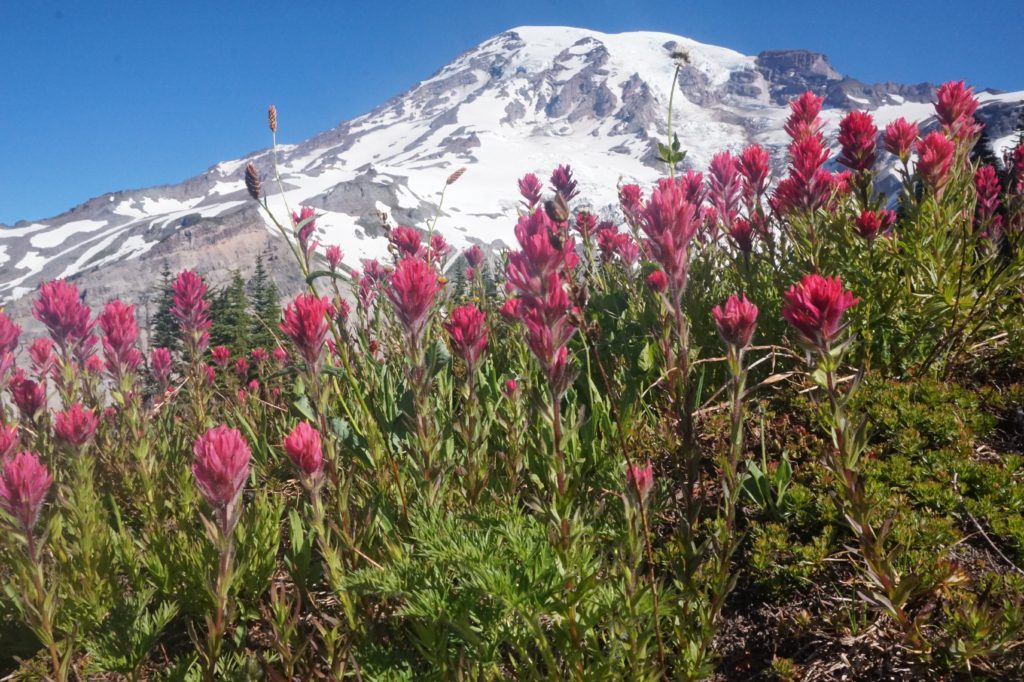 Wonderland Trail
General Description
In all of Mount Rainier National Park, there's one trail that beckons to adventurers and explorers the most. The Wonderland Trail circumnavigates Mount Rainier, traveling 93 miles and over 22,000 feet of total elevation gain. The trail follows high alpine ridges dotted with unique tundra flowers, drops into beautiful flower-strewn meadows, and past pristine lakes. But it's not all alpine bliss–the true wonder of the Wonderland Trail is how diverse and unique each day is. Hike through towering old-growth forests, past cascading waterfalls, and high above treelike on this spectacular trail. And if you only have a day to visit, don't fret. While the Wonderland Trail is best known as a backpacking destination, there are numerous dayhikes possible. Take a week or 10 days to hike the whole trail, or come for a day and bask in the beauty of Mount Rainier.
Explore Mount Rainier with Expert Guides
Getting to the Wonderland Trailhead
Because the Wonderland Trail is a complete loop around Mount Rainier, you can access the trail from many locations. Sunrise is one popular starting destination: from WA-410 on the East side of Mount Rainier, turn West on the Sunrise road to the Sunrise Visitor Center. The road is usually closed between October and late June, so make sure to check the road conditions before you go.
History of the Wonderland trail
The Wonderland Trail passes through every unique ecosystem Mount Rainier has to offer, and presents views of the summit and surrounding landscapes from every angle. Built in 1915, the Wonderland Trail wanders through every major historical site on Mount Rainier. You'll pass through the Longmire, the site of the first lodge and mineral springs resort at Mount Rainier, past famous Paradise and Sunrise, and see the climbing trails to every route to the summit if you hike the entire trail.

3 Best Day Hikes on the Wonderland Trails
Hike the Sourdough Ridge Trail to Frozen Lake, take a loop hike to First Burroughs Mountain (and beyond!), or head to the Mount Fremont Lookout.
Below are the primary options for day hiking at Sunrise.
| | | | | | |
| --- | --- | --- | --- | --- | --- |
| | Destination | Miles | Elev | Difficulty | Style |
| | Spray Park | 8 mi | 1,700′ ft | Strenuous | Out and Back |
| | Summerland |  9 mi | 2,000 ft | Strenuous | Out and Back |
| | Narada Falls to Reflection Lakes | 5 mi | 1,150 ft | Moderate | Out and Back |
1. Spray Park
Get off the beaten path with this lovely hike through dense forests and up to a sub-alpine paradise filled with flowers and peaks. This trail begins on the Wonderland Trail near Mowich Lake, takes you to stunning Spray Falls, and then climbs steeply up to lush green meadows dotted with flowers and surrounded with views of Mount Rainier, Echo Rock, and Obstruction Rock. Begin at the Wonderland trailhead near Mowich Lake, then follow a signed junction towards Spray Falls and Spray Park. A mellow 2 miles will take you to a short spur trail to Spray Falls, perfect for a family outing. Or, continue on after a refreshing break by the falls, and climb up a series of switchbacks to Spray Park. Rest in the shade or enjoy the warm mountain sun and the lush flowers of Spray Park. Return the way you came, or continue on to re-join the Wonderland Trail at Carbon River to turn it into an epic 16 mile loop with over 4,000 feet of elevation.
2. Summerland
Summerland is yet another wildflower utopia in a park full of them. But the best part about Summerland is, with its northeast aspect, the wildflowers here bloom, later in the season. So if you missed the main bloom at Paradise, head around to the far side of the mountain by the White River entrance, and hike this enchanted trail up to a bucolic meadow. Being at Fryingpan Creek, then follow the Wonderland Trail along Fryingpan Creek. The gorge gets deeper and more wild below you, but you'll soon cross and turn up, climbing through changing forests until you emerge at the delightful Summerland. Keep an eye out for delicate white valerian flowers along moist stream sides, and for the profusion of purple lupine and fireweed, red castilleja, and more in the subalpine delight of Summerland. Picnic in this majestic meadow, with views of Mount Rainier towering above the wildflowers, or continue up into the alpine terrain of Panhandle Gap for views of the Goat Rocks, Mount Adams, and the southern Cascades far to your south.
3. Narada Falls to Reflection Lakes
Narada Falls is Mount Rainier's most accessible waterfall, but don't let the crowds dissuade you. This loop hike takes you past two of Mount Rainier's famous landmarks–Narada Falls and the Reflection Lakes–and up to extraordinary views at Faraway Rock. Begin at the Narada Falls parking lot, head down the steep but well-maintained switchbacks to the viewing platform, and enjoy the pounding spray of Narada Falls. After you've soaked in the view (and the water!) follow signs for the Wonderland Trail and Reflection Lakes. Climb gently through towering fir trees to the mirror-like lakes, where on a still day Mount Rainier is perfectly reflected. Turn around here, or continue along the High Lakes Trail towards Faraway Rock. A steep climb takes you up to jaw-dropping views of the Tatoosh Range, Louise Lake, and Mount Rainier, and then a gentle ridge walk carried you through moist flowery meadows. Follow the Paradise River back to the trailhead, enjoying the tumbling cascades and polished rock under the water as you go.
Maximize Your Visit to Mount Rainier National Park on Hiking Tour
Multi-day packages  and dayhikes allow visitors the opportunity to make the most of their time in Mount Rainier National Park and to do it hassle-free. Guided tours include gear (backpack, trekking poles, crampons in winter), meals, accommodations on multi-day tours, local transportation, and a professional Washington hiking guide. Through their knowledge, stories, and personal passion, guides can bring a place to life in a way that's much more difficult to do on your own. Read more about Mount Rainier Hiking Tours.
Award Winning USA Hiking Vacations

3 Best Backpacking Trips on the Wonderland Trail
Thru-hike all 93 miles of the Wonderland Trail, or section-hike the greatest hits.
| | | | | |
| --- | --- | --- | --- | --- |
| | Route | Miles | Difficulty | Campgrounds |
| | Summerland | 9 mi | Moderate | Summerland CG |
| | Sunrise to Carbon River | 14 mi | Moderate | Granite Creek CG or Mystic Camp CG |
| | Wonderland Thru-Hike | 93 mi | Strenuous | |
1. Summerland (2 days)
While Summerland is a fantastic dayhike, it's an even better backpacking destination. Take your time hiking up to the stunning meadows at Summerland, then laze around in camp for as long as you like. Best of all, a backpacking trip to Summerland makes a dayhike up to Panhandle Gap more manageable and fun. Leave your gear at camp and just take the necessities up the steep switchbacks to Panhandle Gap, or spend two nights at Summerland and truly explore the Wonderland Trail.
2. Sunrise to Carbon River (2 days)
Hiking from Sunrise to Carbon River provides some of the best views and most delightful creeks, cascades, and wildflowers on the Wonderland Trail. Begin at Sunrise, then climb up to Sourdough Ridge, taking in the views from this high vantage point. You'll drop down into flower-filled Berkeley Park quickly and leave the Sunrise crowds behind. Keep an eye out for marmots feasting on Lupine on this stretch of trail, then descend past delicate cascades and small alpine streams, where inky blue gentian and yellow monkey flowers nod under tricks of water. Many ups and downs will take you past Mystic Lake and Granite Creek, with views of the Emmons, Winthrop, and Carbon glaciers along your way. Camp at Granite Greek or Mystic Camp, then continue to the trailhead at Carbon River. You'll need to arrange a car shuttle, or plan a return hike back to Sunrise.
3. Wonderland Thru-Hike (7-10 days)
The Wonderland Trail should be on every backpackers bucket list. It takes time, planning, and luck to get the permits, but it's the trip of a lifetime if you can pull it off. You'll gain and lose 22,000 feet of elevation over the 93 miles of trail, and get views of every single face of Mount Rainier, plus all of the delicate meadows, valleys, and vistas the park has to offer. If you're looking to experience Mount Rainier fully, this is the hike for you. Mount Rainier National Park has a wealth of information for planning your trip and obtaining permits–this is a trip to begin planning a year in advance, although last-minute permits are sometimes available. Make sure to train well, and think about planning a resupply along the way to lighten your load.
When to Hike and Seasonal Considerations
Mount Rainier regularly receives record-breaking snowfall, and the snow can last well throughout the summer. The climate is also extremely mercurial–we say the mountain makes its own weather, to be prepared with plenty of layers and rain gear at all times. Sunrise often doesn't open until the end of June, so make sure to plan accordingly. July-September is the perfect window, but October can have lovely weather and perfect huckleberries as well. Check the road conditions and the weather before you go!
Necessary Permits
Day Hike Permits
No permits are needed to day hike in Mount Rainier National Park
Backpacking Permits
Backpacking permit are required in Mount Rainier National Park. Walkup permits are sometimes available, but advance reservations are recommended, and are absolutely critical for hiking on the Wonderland Trail
Suggested Packing List
Day Hike Packing List (edit)
Lightweight hiking shoes or hiking boots
Waterproof rain jacket and pants
Warm wool or fleece top
Warm hat and gloves (Spring, Fall, Winter)
Water bottles or bladder (2 liters total capacity)
Sunhat
Headlamp
Sunglasses, sunscreen and lip balm
Salty, calorie-rich snacks
lunch
backpack
trekking poles
1st aid kit
Backpacking Packing List
all items listed for day hikes PLUS
multi-day backpack
3-season tent
sleeping bag
sleeping pad
backpacking stove and fuel
backpacking meals
3 pairs wool socks
extra t-shirts
Please Respect Our National Parks – Leave No Trace
We strongly recommend abiding by all Leave No Trace ethics guidelines and practices so that our national parks and public lands are preserved for the enjoyment of future generations and for the people and animals who call these places home. Simple things like packing out your trash, obeying national park rules, and respecting the peace and quiet of our national park trails is a great start. If you're going on a backpacking trip, you can read about more about the 7 Leave No Trace Principles.