Hiking the Tour du Mont Blanc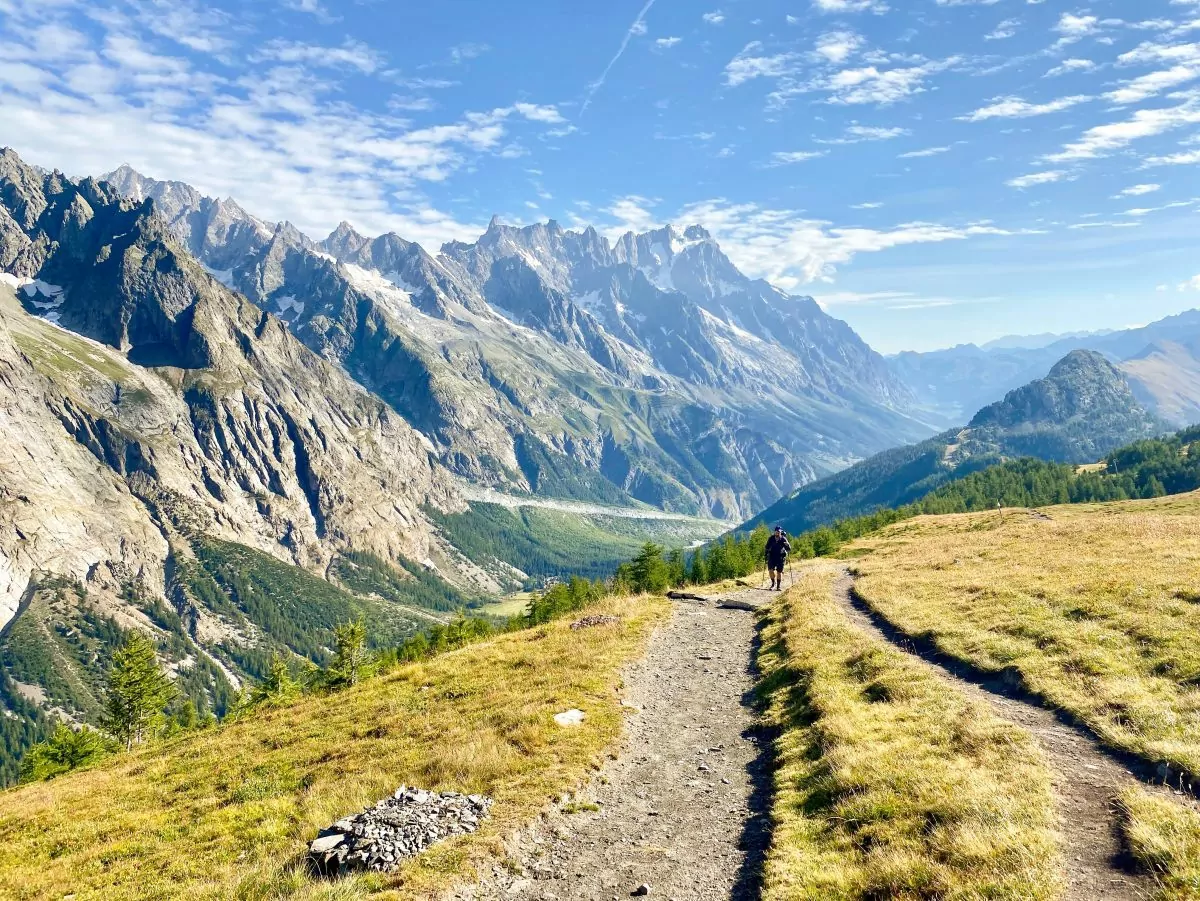 Photo by Ana Frantz on Unsplash
The Tour du Mont Blanc is a popular hiking trail in Europe that stretches 170 kilometers (106 miles), through France, Italy, and Switzerland. The Mont Blanc Trail traverses through one of the most impressive and beautiful ranges in the world, and it's a relatively accessible trail for anyone in good shape. The hike is also a dream for foodies, as it allows you to explore new foods in different villages and hamlets throughout three countries. Hiking the Tour du Mont Blanc is a bucket list item for many backpackers, and for good reason.
Between the stunning landscape, inclusive trail, and customizable experience, the Tour du Mont Blanc offers an adventure unlike any other in Europe. If you're looking for a unique, challenging experience to remember for the rest of your life, you need to hike this trail. Here are some of the reasons you should add this experience to your bucket list:
Hike through three countries: The hiking trail of the Tour du Mont Blanc extends through three European countries: France, Italy and Switzerland.
A good option for beginners: Many hiking tours around the world are challenging, even for seasoned hikers. However, the Mont Blanc trek is special because it's doable for anyone who is reasonably fit. There are 17 towns, along with several other smaller villages, along the route, so there are plenty of places to stop, see the sights, eat a hot meal and get some rest before you continue on your way.
Adjustable routes and lengths: While there is an "official" route that many hikers and tours follow, there are plenty of variations to choose from, depending on the desired length and difficulty. Generally, hiking the entire route at a reasonably comfortable pace takes about nine to 11 days. However, some routes will only take about two to five days, following a small portion of the trail. Meanwhile, some advanced hikers have been known to hike the whole route in just a few days.
Breathtaking views: Magnificent sights, like glaciers, meadows, lakes, mountains and wildlife surround the route. High points like the Fenêtre d'Arpette and the Col des Fours are sure to take your breath away, as they allow you to admire your surroundings in all directions as far as you can see.
Hike Tour du Mont Blanc with Award Winning Guides
What to Expect When Hiking the Tour du Mont Blanc

The sights and experiences of the Tour du Mont Blanc are unique but preparing for the hike will be similar to preparations for any other hike. Generally, there's no need to pack more than a day's worth of supplies, as the towns and villages are relatively close together on the path. Water is also readily available, whether it's naturally occurring from springs or at a resupply stop.
Before you set out on your journey, there are a few things about the trail you need to consider, including:
Weather
Due to the high altitude and the extreme weather in the colder months, the besttime to hike Tour du Mont Blanc is in June or September, when the weather is slightly cooler, but the trails and towns are quieter and less busy. Families are less likely to go during these months because school is in session. The temperature generally ranges from 8 degrees Celsius (46 degrees Fahrenheit) to 20 degrees Celsius (68 degrees Fahrenheit).
July and August are also good months to go, but the weather is much hotter and the trails will be much more crowded. During the peak of summer, the temperature on the mountain can get up to 22 degrees Celsius (72 degrees Fahrenheit). If you're looking to see the most foliage and mountain flowers, late June and early July are the best times to go.
Annually, the region gets about 1073 mm (42 inches) of rainfall. Afternoon thunderstorms are most common in the summer months, while September is usually the driest.
Elevation

If you hike the entire 170-kilometer trail, you will navigate over 11,000 meters (36,000 feet) of combined altitude gain and loss. The highest point on the trail is 2,665 meters (8,700 feet). Since altitude sickness can kick in at about 8,000 feet (2,400 meters), you may start to feel sick at some of the higher points. Altitude changes can make things a bit challenging. A rapid increase or decrease in altitude can lead to altitude sickness and symptoms including dizziness, headaches, nausea and fatigue. However, traveling at a reasonable pace can help prevent sickness.
Difficulty
The route is relatively easy to navigate, as the trail is well-marked with signs. If you already do some form of exercise a few times per week and regularly walk or hike, you shouldn't have a problem hiking the trail.
One particularly difficult part of the hike involves climbing a series of ladders up a steep mountainside. The ladders are just past Col du Montets, and are a popular spot for photos. If the ladders are too much to handle, you can take an alternative route, just down the path.
Basecamps vs Camping Out
There are two types of accommodations you'll find on the Tour du Mont Blanc:
Basecamps: The more than 50 official accommodations along the trail are usually the easiest and most comfortable options. They are popular with tour groups. Accommodations range from full-service hotels and lodges with private bedrooms and bathrooms, restaurants and spas, to dorm-style basecamps with shared bathrooms.
Camping out: Another option is to bring your shelter with you and camp out. Camping is a much cheaper option, although some areas charge a fee. Camping out is only recommended for experienced hikers, since it requires you to carry more weight throughout the trip. You'll have to carry your tent, sleeping bag and other gear from place to place.

Tour du Mont Blanc Itinerary and Sights to See Along the Way
Once you know what to expect, you can start planning your adventure. Make sure you give yourself plenty of time at each place and that you're able to see as many attractions and sights as you wish.
There are many ways to see the Tour du Mont Blanc. You can hike the trail by yourself or with a guided tour. If you decide to take a tour, your trip itinerary might look something like this:
France: Days 1-3

The first day of the trip will likely start in the village of Les Houches in France. Depending on your schedule, you might be able to explore the area. You could check out the nature preserve surrounding the village or go skiing on one of the nearby slopes.
The second day of the trip will be your first experience trekking through the Alps. You'll start with a cable car ride high into the mountains. Then, you'll start hiking through the deep conifer forests above Bionnassay Valley and the quaint alpine hamlets with stunning views of Mt. Blanc.
You'll see two iconic mountains, the Aiguille de Bionnassay and the Dôme du Gouter, and a massive glacier between the two peaks. Then, you'll descend through a series of switchbacks to Chalet de Miage, and eventually to Les Contamines, where you'll stay the night. In this ancient village, one of the main attractions is a world-class ski resort, where you can ice climb, go tobogganing, ride dog-sleds and of course, ski. Les Contamines is also known for Patrice Dominguez Park, a popular destination in the summer for swimming, tennis, horseback riding and archery.
After a delicious breakfast in Les Contamines, you'll start the next leg of your trip. You'll begin with a brief shuttle to Notre Dame de la Gorge. The biggest highlight of the day is the Aiguille des Glaciers, a peak of the Mont Blanc massif that is completely covered by ice. Finally, you'll make your way down to the Chapieux Valley towards Bourg Saint Maurice, where you'll spend the night.
Italy: Days 4-5
On the fourth day of the trip, you take a short shuttle from Bourg Saint Maurice to Ville des Glaciers, where you'll start your journey into Italy. Then, you'll begin your descent into Val Ferret, a lush alpine valley on the Italian side of the border.
You'll then take a bus from La Cantine de la Visaille to Courmayeur, where you'll stay for the night. If you have time, try to explore Courmayeur. It's home to one of Italy's best ski resorts and to the Alpine Botanical Garden. It also offers a gorgeous, panoramic view of Grandes Jorasses, a mountain that lies on the border of France and Italy.

Courmayeur is also known for its shopping. From designer Italian brands to small, independent boutiques, you'll be sure to find a gorgeous souvenir to bring home. Another popular attraction is the Skyway Monte Bianco cable car, which rotates 360-degrees as it travels towards the Punta Helbronner station.
The fourth day of the trip starts in Italy and ends in Switzerland. You'll begin by crossing the gorgeous mountain pass, Grand Col Ferret, and arrive in a small village called La Fouly in Switzerland. Throughout the hike, you'll see stunning views over the massif of Combins in the East and on the Italian side of Mont Blanc. Then you'll take a shuttle to a small, French-speaking Swiss village called Champex.
Switzerland: Days 6-7
Before you set out on the next leg of your hike, be sure to check out Champex, where you can taste some Swiss wine, rent a boat to take out on Champex-Lac, or go skiing down one of the nearby slopes. You could also visit the Musee de La Fondation Pierre Gianadda, a world-famous museum just a few miles outside of town. There, you'll be able to see permanent exhibits like the Automobile Museum and the Gallo-Roman Museum, plus plenty of other temporary displays.

The sixth day brings with it the longest hike. You will also reach the highest point of the route today, as you climb over the Fenêtre d'Arpette, which sits at about 2,750 meters (9,022 feet).
On the seventh day, you'll circle back around to France. You'll start by going up and over Col de la Balme with fantastic views of Mont Blanc and Aiguille Verte. You'll end in the iconic French Alps village of Argentières. Once you arrive, you can explore the charming town and maybe take part in some skiing, snowboarding or snowshoeing. You'll also be able to find some delicious French cuisine here as you rest up for the last leg of your trip.
Return to France: Day 8
The eighth day will likely be the last day of heavy hiking through the Alps. You'll start by hiking up and over the Balcon des Aiguilles Rouges, the "Balcony over the Red Peaks," then climbing Lac Blanc. As you descend, you'll pass through the hamlet of Le Praz and eventually find yourself hiking into Chamonix.
After a much-deserved long night of rest, you can choose to stay in Chamonix and explore the sights and attractions nearby.
One popular spot is the Aiguille du Midi, a nearby mountain you can travel to via cable car. In about 20 minutes, the cable car will take you up the mountain, where you can see a stunning, 360-degree view of the surrounding Alps. Once you're at the top, you can stand in a glass case over the precipice, stop by the souvenir shop, eat at the "3,842-meter restaurant, " or take a gondola ride over the Glacier du Géant to the Pointe Helbronner in Italy.
There is also a bustling cafe and pub scene in Chamonix. After a long day of hiking and seeing the sights, stop by Le Matafan for some traditional French cuisine or the Bighorn Bistro & Bakery for a smaller snack.
Finally, you'll want to take a ride on the cogwheel train before you depart from Chamonix. The famous railway leads to the Montenvers site, where you can see the iconic glacier, the Mer de Glace. Once you're there, you can also take a tour of the Grotte de glace, or ice cave, which takes you into the heart of the massive glacier.
How to Prepare for the Tour du Mont Blanc Hike
As your trip gets closer, you'll need to seriously consider what you'll bring with you. If you're a beginner, you might need some assistance figuring out what to pack. If you're using professional Tour du Mont Blanc guides, they will likely provide you with a list of everything you'll need for your specific trip.
Basic Prep Tips
To prepare for such a long trip, you'll need to consider a number of factors, including:
Language barriers: You can usually get away with only speaking English in most major cities in France, Italy and Switzerland. However, you'll only be passing through small towns and villages on the Tour du Mont Blanc. So, a basic knowledge of French and Italian will be extremely helpful during your trip. There's no need to become fluent, but learning basic words and phrases will make your trip much easier.
Jet lag: Depending on where you're traveling from, you may experience jet lag upon arrival. However, you'll likely need to start hiking on the first or second day or your trip. This can be especially difficult if you're suffering from sleep deprivation. Consider arriving in France a few days before you start hiking so your body has time to adjust.
What to Pack
Your packing list might vary if you're using a tour guide or camping out, but there are a few essentials everyone should bring. Before you begin your journey, make sure you have:
Travel documents: You need your passport when traveling to Europe. Keep yours in a safe location during the hike.
Travel equipment: You might want to pack outlet adapters so that you can charge your devices at your accommodations. A travel wallet and luggage locks can help to keep your stuff secure.
Travel clothing: Aside from your hiking clothes, be sure to bring a few sets of travel clothes, depending on how much time you'll spend traveling. These should be comfortable, easy-to-remove items that are layered so you can adjust as the temperatures change.
Hiking clothing: While hiking clothes will vary from person to person, you will need to bring several sets for all weather conditions. Be sure to have something for hot weather, cool weather, sunny weather and rain. You'll also need a hat, bandanna, sunglasses, gloves and gaiters.
Hiking gear: High-quality gear is essential. You'll need a day pack with a cover, waterproof hiking boots that have been thoroughly worn in, a headlamp with spare batteries and trekking poles.
Personal items: The list of personal items varies the most from person to person, so be sure to tailor it to fit the needs of your trip. You'll likely need water bottles, a camera, insect repellent, binoculars, cellphone with waterproof case, hand and toe warmers and a book.
Toiletries: Depending on your chosen accommodations, you might need some toiletries for your trip, like sunscreen, toothpaste and a toothbrush, feminine hygiene products, soap, shampoo and conditioner, deodorant and prescription medications.
Additional Packing Tips
Some other things to consider while packing:
Pack essential items, like your passport, glasses, medications, money and a change of clothes in your carry on, in case your checked luggage gets lost.
Depending on the time of year, you might want to have an umbrella handy for brief rain showers. It's much easier to open an umbrella for a short time, rather than stop and put on all your rain gear.
Be sure to break in your hiking boots long before you start hiking. Test out which combination of socks are best beforehand and bring moleskin or large bandages for blisters.
Bring both Euros and Swiss Francs with you. Most vendors on the trail only accept cash.
Training for the Hike
To prepare for hiking Tour du Mont Blanc, you'll need to focus on strength and endurance. Condition your body to keep a solid pace for several hours per day to prepare your body for the trip. If you've never done a hike before or it has been a while, you might want to schedule a physical with your doctor to make sure you're in good enough shape for the trek.
If you can, practice hiking with significant elevation gains and losses for several hours or days at a time. Always account for the weight of the pack. Make sure you're wearing a pack that holds a similar weight to the one you will wear on the trail to get your body accustomed. If you live in a flat area, focus on cardio workouts and strength training. Activities like running, swimming and biking are great ways to work out your legs, core, shoulders and back.
At a certain point in your trip, you may encounter a series of ladders. While this part of the hike is optional, many hikers attempt to climb them without the proper training or experience. Climbing up vertical ladders can be challenging for even the most in-shape hikers, especially after a long hike. To prepare for this, try adding an upper torso workout after a long cardio session.
Tour Mont Blanc With Wildland Trekking

From Chamonix to Courmayeur, the Mont Blanc hike is breathtaking. The best way to hike Mont Blanc is with Wildland Trekking.
Our route takes us through deep valleys, over high passes, and into quaint European mountain villages. With Wildland Trekking, we take care of all the details, so you can just enjoy the view. We promise to provide a quality guide, high safety standards, natural and cultural history, great cooking and great gear to make sure you have the best adventure possible.
For the adventure of a lifetime book a Wildland Trekking tour today.