Things to do in Joshua Tree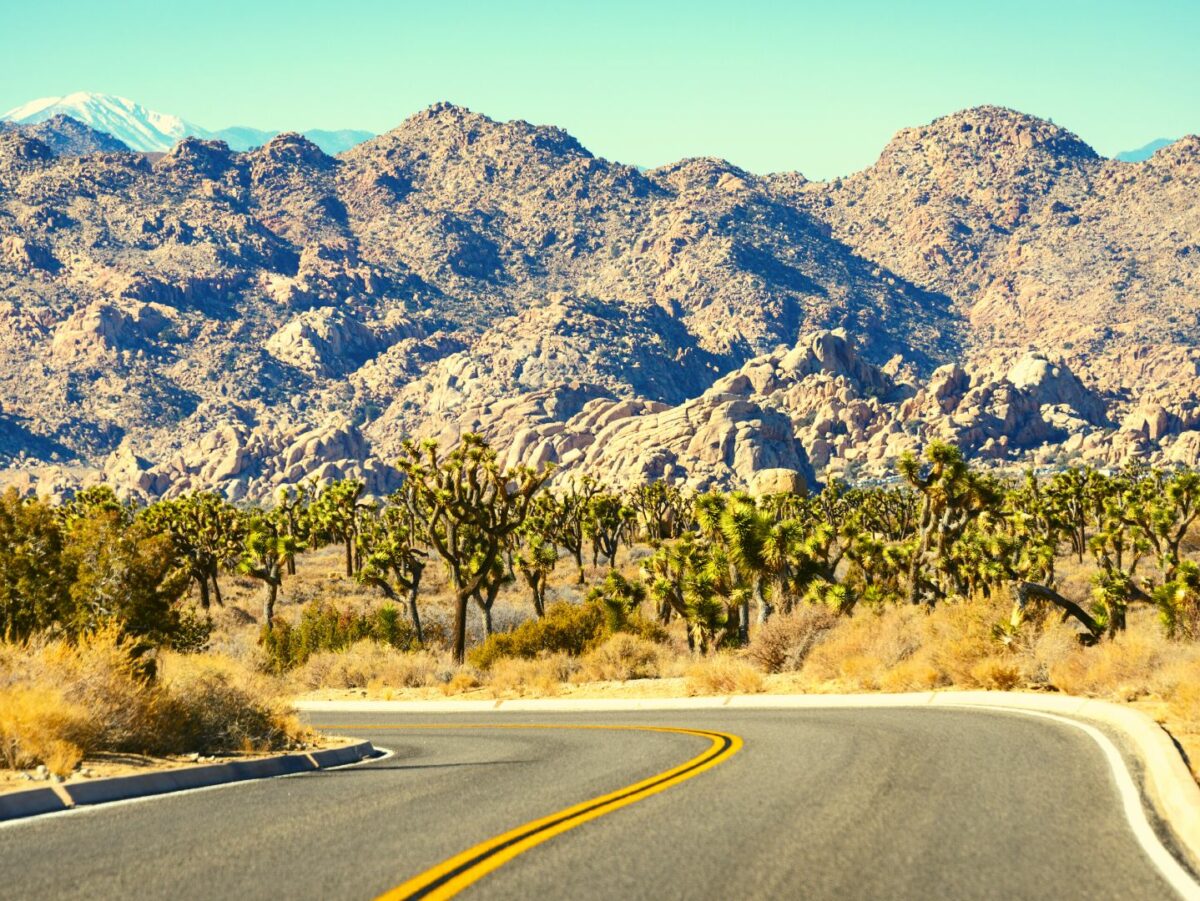 Winter is upon us, and with it comes one of the best times of the year to visit Southern California's Joshua Tree National Park. With daily temperatures sitting around 60°, clear blue skies, and sunsets that set the sky aflame in pastel hues – now is the time to plan your desert escape. 
Joshua Tree National Park is an easily accessible 2-3 hours drive from the major metropolitan areas of Las Vegas, Los Angeles, and San Diego. The ideal time to visit the park is October through May, making it a great escape when other parks are buried by snow. For this and many reasons, the park's popularity has seen steady growth over the last few decades, with annual visitation surpassing 3 million in 2021. Joshua Tree is known for and named after its iconic, you guessed it, Joshua Trees. But these trees aren't the only thing that keeps people returning year after year. The park is home to countless endemic flora and fauna, otherworldly rock formations, rugged desert mountains, and luminous night skies.
Best of all, Joshua Tree National Park has an activity for everyone – from hiking and climbing, to camping and stargazing. 
Hike
Hiking in Joshua Tree feels like walking through the pages of a Dr. Suess book or the cover of a U2 album. Although the park is not conclusively linked to either the inspiration of the Irish band's namesake chart-topper, Joshua Tree, or The Lorax's iconic truffula trees – it is safe to say many have been entranced by this magical corner of the Mojave. Jagged rocky mountains surround this stark alien landscape and hikers can expect to find themselves traversing rolling hills studded with yucca, wandering through labyrinths of asymmetrical rock outcroppings, or wandering into a fan palm oasis, all within the span of a few miles.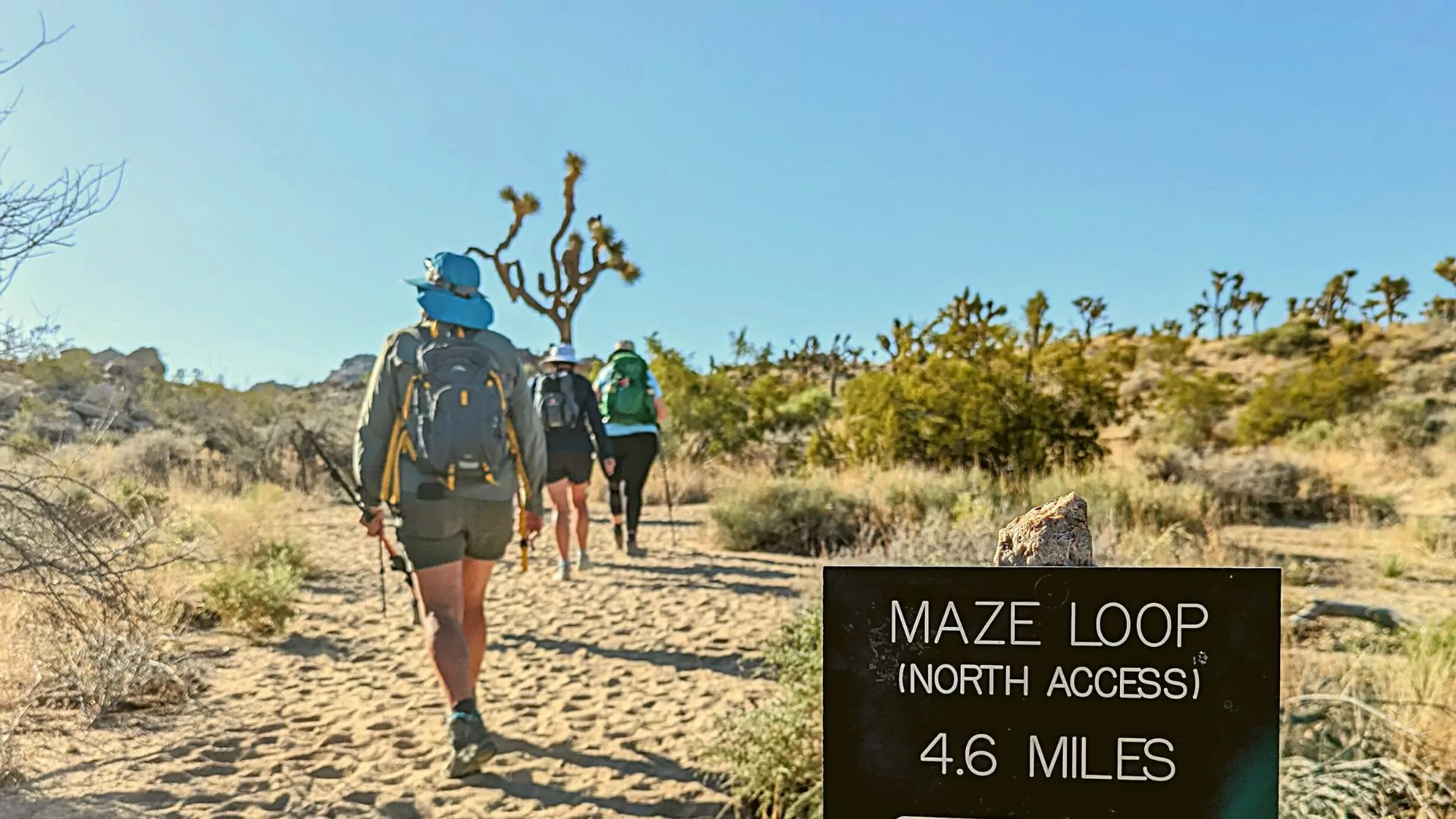 Joshua Tree offers a variety of hiking experiences, including easy nature walks, day hikes, and backcountry excursions. Popular and wheelchair-accessible nature walks in the park include the Discovery Trail, Jumbo Rocks Campground Loop, Barker Dam, and Arch Rock Trail. These trails provide views of the park's most iconic rock formations, like Skull and Heart Rock, copious clusters of Joshua Trees, and even historical landmarks.
Popular half to full-day hikes inside the park include Boy Scout Trail (which can also be done as an overnight), Fortynine Palms Oasis Trail, Ryan Mountain, and Lost Horse Loop. For those looking to venture even deeper into the park, backpacking is an ideal choice. Popular backpacking trails in the park included the longer version of the Boy Scout Trail, the California Riding and Hiking Trail, and Pine City Trail. Be aware that beginning March 1st 2023, advance reservation permits will be required for backcountry overnights. Permits will be $6 and available for purchase up to 6 months in advance. 
Want the wilderness experience but not the hassle of logistics? Consider booking your backpacking excursion with a professional guide service. Wildland Trekking takes care of the permits, food, transportation, and gear for all its guests.
LEarn more: Joshua Tree Backpack
Whatever your experience level, embarking on a well-prepared hike is crucial, especially in the desert landscape of Joshua Tree. Pack enough water and food, avoid hiking during the hottest times of the day, and bring safety essentials with you on your hike. For more hiking safety tips, visit the National Park Service's Joshua Tree Safety Page. 
To day hike through Joshua Tree while enjoying amenities and the experience of unique accommodations, consider a Joshua Tree Autocamp tour.
Camp
Although the two go hand in hand, camping arguably follows hiking as the second most popular activity in Joshua Tree. The park and surrounding land provide a plethora of camping options for visitors looking for a more rustic experience.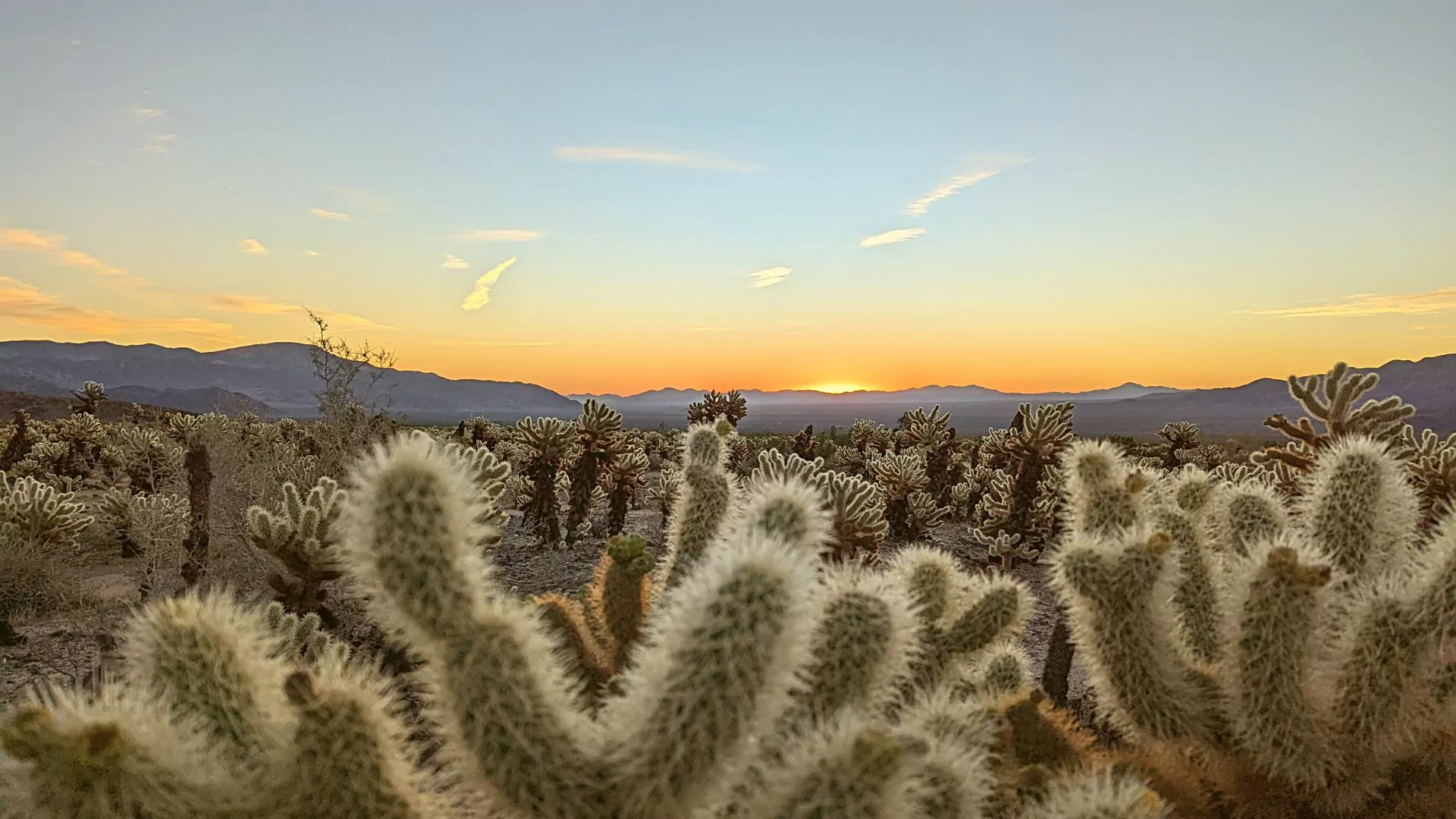 Joshua Tree has a whopping 500 campsites that are available by reservation. Popular and centrally located campsites within the park include Jumbo Rocks, Indian Cove, and Hidden Valley. Most park campsites provide basic amenities like pit toilets, tables, and fire grates, but running water is only available at a few select locations. Campsites fill up fast, especially on weekends. To reserve a site go to recreation.gov or skip the headache and book a commercially guided basecamp tour.
Campers can also book private campsites outside the National Park including RV parks or HipCamp properties. In addition, BLM dispersed campsites are available year-round in the area on a first come, first serve basis. Dispersed campsites are the most primitive option and ideal for self-contained camping. Outside of backpacking, dispersed campsites offer the fewest amenities. Following Leave No Trace Principles is essential wherever you camp, but especially at dispersed campsites, as they are on public land and receive less routine maintenance.
Rock Climb
Joshua Tree is a world-class climbing destination. Every winter, elated dirtbags return to this beloved climbing mecca after the desert heat has died off, to send projects and tackle boulder problems. 
With a quick search on Mountain Project, climbers will find endless bouldering, top rope, trad, and scrambling routes throughout the park. Skilled climbers can easily find any climb to suit their fancy, from crack to slab to face climbs and off-widths. However, with relatively few bolted and walk-off anchors, beginner and strictly sport climbers will have fewer routes to choose from. 
An excellent stop for climbers before entering Joshua Tree is at Cliffhanger Guides. Here you can pick up a guidebook, grab any necessary gear, and even rent a crash pad for the day! Remember to look up local climbing regulations and rules before you visit.
Tour Keys Ranch
For the history buff, a guided tour of Keys Ranch is the perfect Joshua Tree excursion. Keys Ranch, also known as Desert Queen Ranch, is an incredibly well-maintained example of an early European settlement in Joshua Tree National Park. 
The Keys Ranch is a series of small frame buildings built by William F. Keys that date back to 1910. Park rangers offer tours of the ranch, during which they dive into the site's Native American history, the Keys family, ranching, homesteading, mining, and more. Tours are offered from October through May, costing $10 per person and $5 for children 6-11.
Take a Nature Walk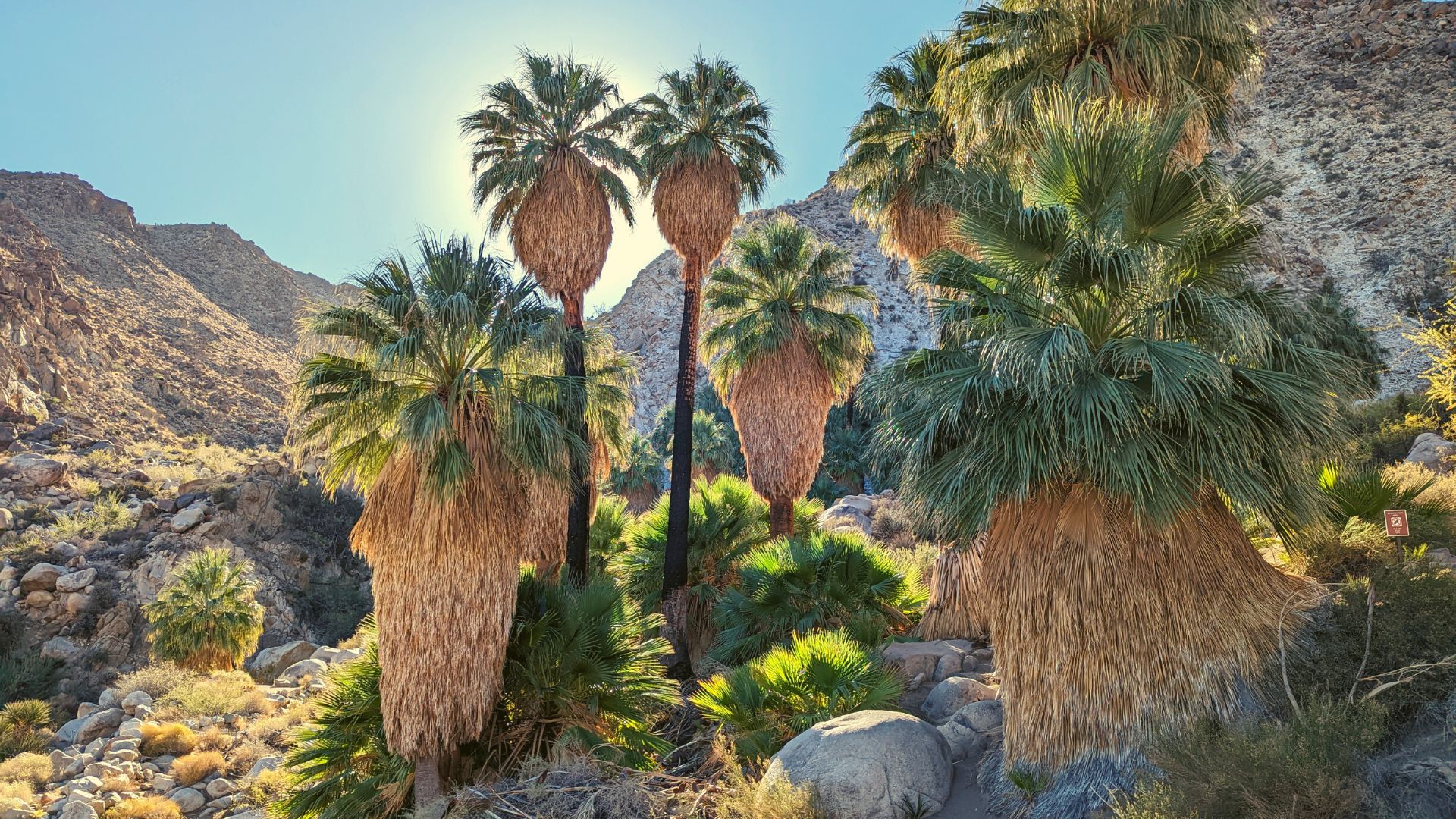 Popular culture tends to view deserts as barren landscapes devoid of life. In reality, the complete opposite is true. Desert landscapes are fragile yet vibrant ecosystems filled with endemic flora and fauna. The indigenous communities native to Joshua Tree, including the Chemehuevi, Serrano, and Cahuilla people, understood that the park was a bountiful ecosystem teeming with life and resources. Learning about the native flora and fauna of the region will make your visit to Joshua Tree a much richer experience. 
Joshua Tree National Park is home to 57 species of mammals, 46 species of reptiles, 250 birds, 2 species of amphibians, and thousands of arthropods. There are also over 800 species of vascular plants in the park ranging from cacti to wildflowers, Joshua Trees, and so much more! Park visitors can look for endemic flora and fauna while exploring Joshua Tree's many unique habitats, including oases, sand dunes, valleys, and mountains. The National Park Service has even set up a page providing visitors self-guided Botanical Trail Guides to follow to learn more about local plants.
Stargaze
The night skies in Joshua Tree are out of this world. An International Dark Sky Park, Joshua Tree has some of the darkest skies in Southern California, and an annual stargazing festival each September. 
Clear nights in Joshua Tree, timed to coincide with the new moon, provide ideal conditions for spotting planets, shooting stars, and even the milky way. For the true night sky enthusiast, backpacking to the far interior of the park will provide an even better stargazing experience. The National Park Service has an entire page filled with tips & tricks for stargazing in Joshua Tree as well as resources for ranger and privately guided stargazing excursions.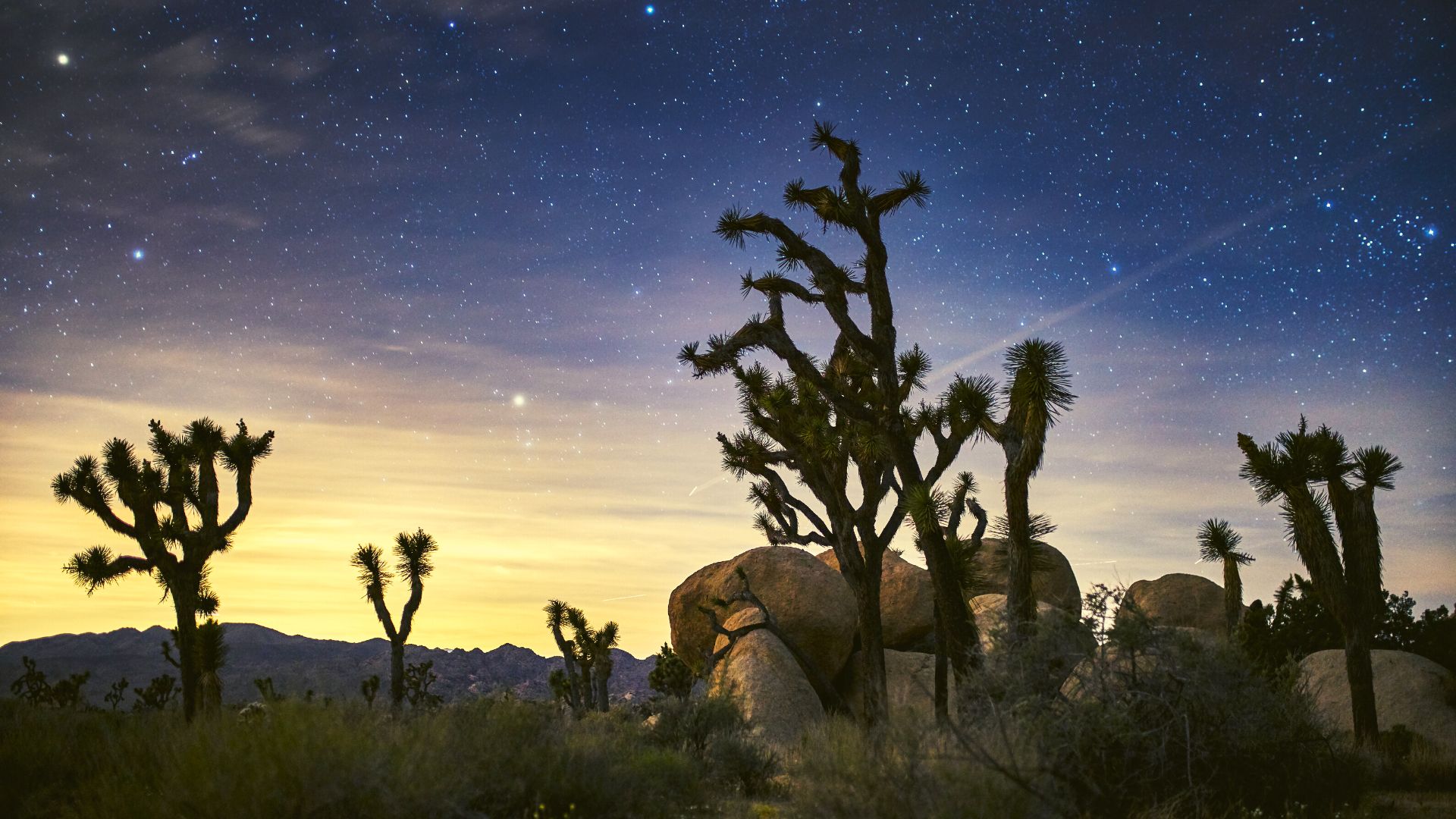 Plan Your Visit
The possibilities for a Joshua Tree getaway are endless, and this article only scratches the surface. To learn more about these and other activities to explore for your next (or first) trip to Joshua Tree, visit NPS.gov. 
Explore more: Joshua Tree and Death valley tour