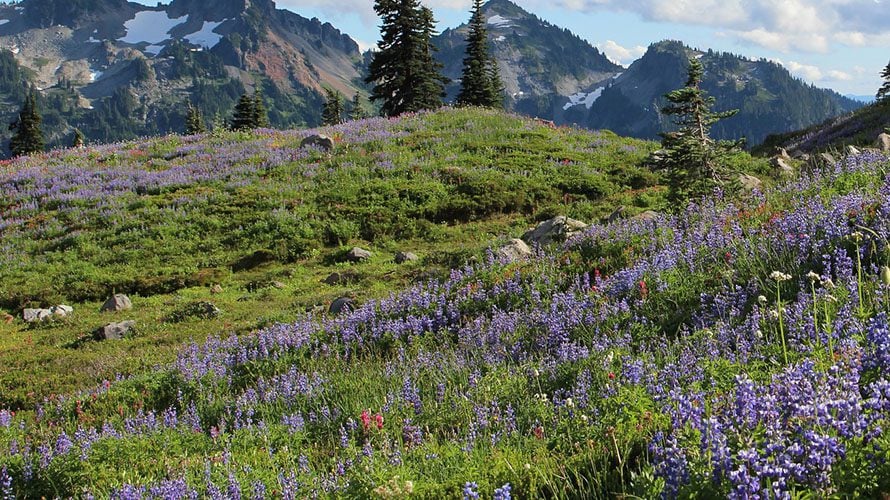 Sunrise Trails
General Description
If you want to get up close and personal with Mount Rainier, there's no better place to hike than Sunrise. The deep crevasses and massive expanse of the Emmons Glacier wows you, while high ridges provide views deep into the North Cascades. And with three mountains in one (and that's not even including the big one), there are hiking options for all abilities. And with plenty of trails for all abilities, frequent black bear sightings, and playful marmots, Sunrise is sure to delight your senses. Drive up early to catch the sunrise (there's a reason this site on the Eastern aspect of Mount Rainier is named Sunrise), and then hike far above turquoise-green lakes and into the rugged, sparsely beautiful landscape of the alpine on this gorgeous trail.
Explore Mount Rainier with Expert Guides
Getting to the Sunrise Trailhead
From WA-410 on the East side of Mount Rainier, turn West on the Sunrise road to the Sunrise Visitor Center. The road is usually closed between October and late June, so make sure to check the road conditions before you go.
History of Sunrise and the Burroughs Mountain Trail
Burroughs Mountain is named after the naturalist and conservationist John Burroughs. Prior to European expansion, the area now known as Sunrise was a destination for the Yakima tribe for thousands of years. In 1929, Mount Rainier National Park began construction of the Sunrise Road and the Sunrise Lodge in an attempt to reduce visitation pressure on Paradise, and in 1931 the road and visitor complex opened. And in the 1930s, the Civilian Conservation Corps helped to build the trail network departing from Sunrise, including the Burroughs Mountain Trail.

3 Best Day Hikes at Sunrise
Hike the Sourdough Ridge Trail to Frozen Lake, take a loop hike to First Burroughs Mountain (and beyond!), or head to the Mount Fremont Lookout.
Below are the primary options for day hiking at Sunrise.
| | | | | | |
| --- | --- | --- | --- | --- | --- |
| | Destination | Miles | Elev | Difficulty | Style |
| | Sourdough Ridge Trail | 3 mi | 500′ ft | Easy | Out and Back |
| | Sunrise Rim Trail to First Burroughs |  5 mi | 900 ft | Moderate | Loop |
| | Mount Fremont Lookout | 5.6 mi | 900 ft | Moderate | Out and Back |
1. Sourdough Ridge Trail
A lovely and popular short hike out to Frozen Lake, the Sourdough Ridge Trail has rewarding views of the Emmons Glacier, Huckleberry Basin, and more. Head north from the parking lot and then follow signs west towards the Sourdough Ridge trail. A short, moderate climb brings you to Sourdough Ridge. Keep an eye out for marmots, squirrels, chipmunks, black bear, and the prolific wildflowers that line this hike. Follow the trail to Frozen Lake, and enjoy the site of this alpine reservoir. Just be mindful to stay on the trail–the unique tundra plants of this alpine environment grow slowly and are fragile to boots. Head back the way you came, or follow the service road back to to the visitor center for a short loop
Sunrise Rim to First Burroughs
From the south edge of the parking lot, drop down the Sunrise Rim Trail to Shadow Lake, enjoying the flowers and the edges of the forest. A short steep climb takes you up to Glacier Overlook, with views of Emmons Glacier and the headwaters of the White River far below you. See if you can spot climbing parties on the Emmons Glacier while you're there, then continue upward. As you climb Burroughs Mountain, the plant communities change dramatically, and you enter a world of alpine tundra with small, delicate plants, rocks, and bright lichen. This area is often only snow-free for a few months out of the year, so specially adapted plants fill extreme niches that other plants could not tolerate. Enjoy the views from first Burroughs, and make your decision–an extra 1.5 miles and 1,300 feet will take you all the way past Second Burroughs and to the summit of Third Burroughs, far from the crowds, and as close as possible to Mount Rainier. Whether you continue or not, First Burroughs is also your junction to connect to Frozen Lake and the Sourdough Ridge trail for a full loop. Just beware–deep snow patches often linger in the shade between First Burroughs and Frozen Lake, so poles and microspikes are a good idea all summer long.
3. Mount Fremont Lookout
With views of Grand and Berkeley Parks below, and the massif of Mount Rainier to your south, the old lookout at Mount Fremont is a rewarding destination. On a quiet day it's easy to imagine life there as a fire lookout, scanning the mountains and horizon for plumes of smoke while enjoying the light change on the surrounding mountains. It's a perfect place to bring a pair of binoculars and look for wildlife. To reach Mount Fremont, hike to Frozen Lake on the Sourdough Ridge trail, then turn north and begin a mellow climb 1.3 miles further to the lookout. Return the way you came, or tack on Burroughs Mountain and the Sunrise Rim loop for a full day of adventuring.
Maximize Your Visit to Mount Rainier National Park on Hiking Tour
Multi-day packages  and dayhikes allow visitors the opportunity to make the most of their time in Mount Rainier National Park and to do it hassle-free. Guided tours include gear (backpack, trekking poles, crampons in winter), meals, accommodations on multi-day tours, local transportation, and a professional Washington hiking guide. Through their knowledge, stories, and personal passion, guides can bring a place to life in a way that's much more difficult to do on your own. Read more about Mount Rainier Hiking Tours.
Award Winning USA Hiking Vacations

When to Hike and Seasonal Considerations
Mount Rainier regularly receives record-breaking snowfall, and the snow can last well throughout the summer. The climate is also extremely mercurial–we say the mountain makes its own weather, to be prepared with plenty of layers and rain gear at all times. Sunrise often doesn't open until the end of June, so make sure to plan accordingly. July-September is the perfect window, but October can have lovely weather and perfect huckleberries as well. Check the road conditions and the weather before you go!
Necessary Permits
Day Hike Permits
No permits are needed to day hike in Mount Rainier National Park
Backpacking Permits
Backpacking permit are required in Mount Rainier National Park. Walkup permits are sometimes available, but advance recommendations are recommended. While there are no campsites on the Burroughs Mountain Trail, there are camps accessible from Sunrise.
Suggested Packing List
Day Hike Packing List (edit)
Lightweight hiking shoes or hiking boots
Waterproof rain jacket and pants
Warm wool or fleece top
Warm hat and gloves (Spring, Fall, Winter)
Water bottles or bladder (2 liters total capacity)
Sunhat
Headlamp
Sunglasses, sunscreen and lip balm
Salty, calorie-rich snacks
lunch
backpack
trekking poles
1st aid kit
Backpacking Packing List
all items listed for day hikes PLUS
multi-day backpack
3-season tent
sleeping bag
sleeping pad
backpacking stove and fuel
backpacking meals
3 pairs wool socks
extra t-shirts
Please Respect Our National Parks – Leave No Trace
We strongly recommend abiding by all Leave No Trace ethics guidelines and practices so that our national parks and public lands are preserved for the enjoyment of future generations and for the people and animals who call these places home. Simple things like packing out your trash, obeying national park rules, and respecting the peace and quiet of our national park trails is a great start. If you're going on a backpacking trip, you can read about more about the 7 Leave No Trace Principles.