Smoky Mountain Waterfalls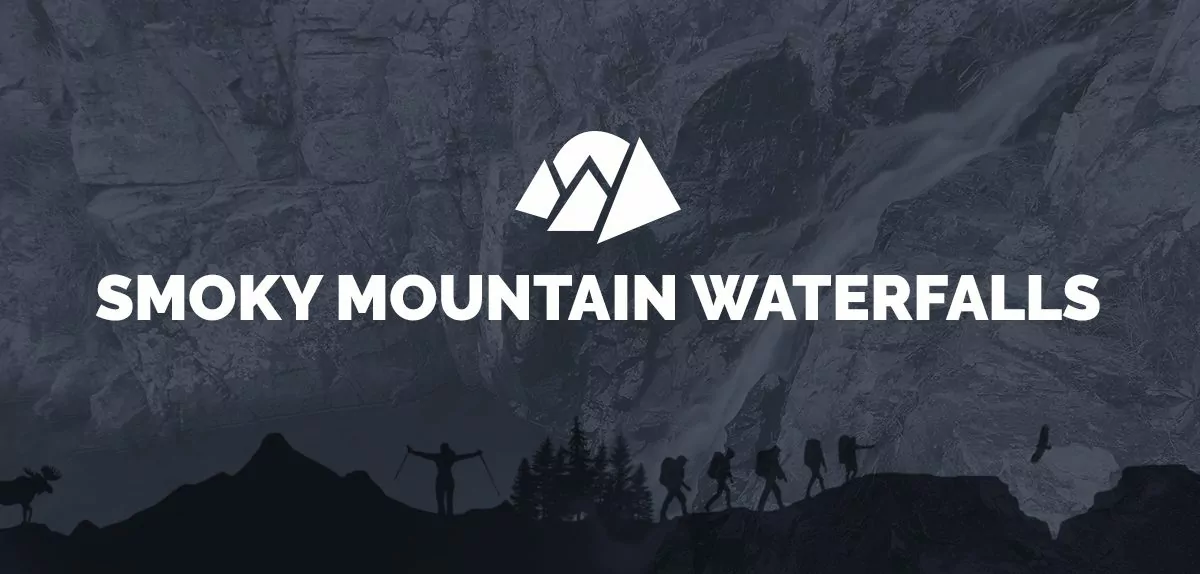 Every year, tourists from all over come to admire the magnificent waterfalls in the Great Smoky Mountains. These include famous falls like Grotto and Abrams as well as the countless smaller cascades that can be found on virtually every stream and river in the park.
The park's abundance of waterfalls is due to two key ingredients — ample rainfall and dramatic changes in elevation. The highest peaks sometimes receive over eight feet of rain, and the difference between the highest and lowest points is over a mile.
As the park with so many stunning waterfalls, we thought we'd make your trip planning easier by sharing the best waterfall hikes in the Smoky Mountains.
Explore the Smokies with Expert Guides
The Best Waterfalls in the Smoky Mountains
Some must-see waterfalls in the Smokies include:
1. Grotto Falls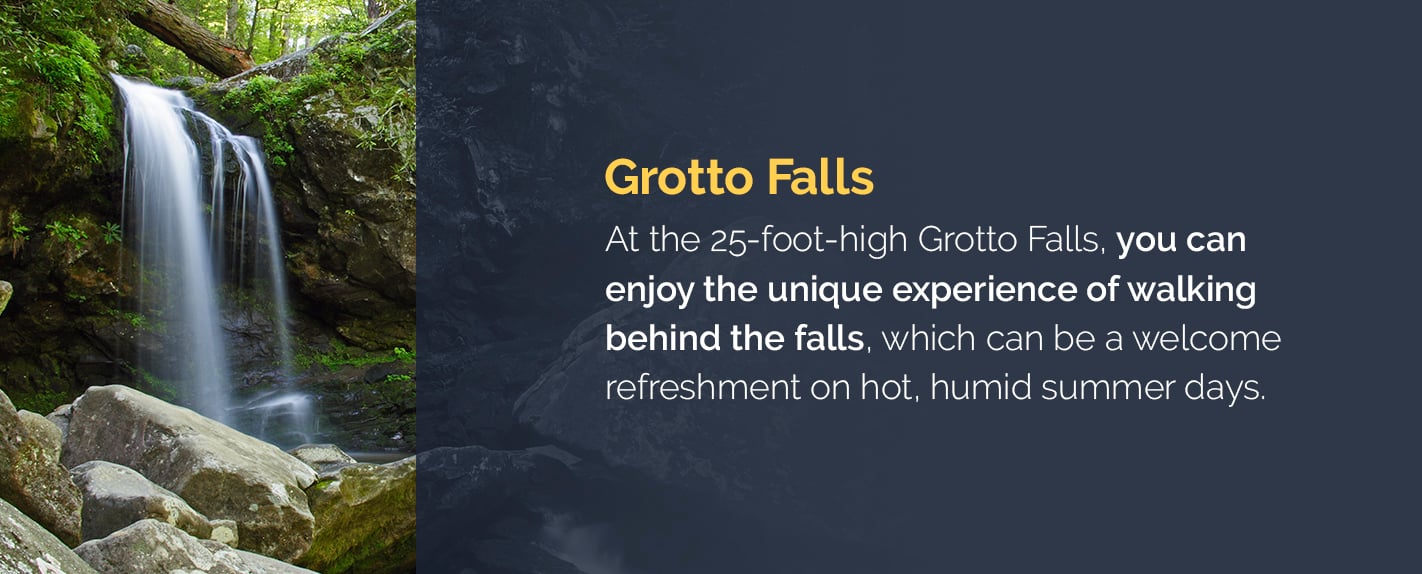 At the 25-foot-high Grotto Falls, you can enjoy the unique experience of walking behind the falls, which can be a welcome refreshment on hot, humid summer days. The trail leading to the falls is beautiful as well, as it passes through old-growth forests and ecosystems and gives visitors opportunities to see animals such as black bears, elk and deer.
To access the falls coming from Gatlinburg on the parkway, turn onto the Historic Natural Trail at traffic light #8, which will lead to Great Smoky Mountains National Park. Follow the Roaring Fork Motor Nature Trail until you reach stop #5, where you will see a large parking area. As the Roaring Fork Motor Natural Trail is a winding, narrow, one-way road, it is closed during the winter.
Wildland Trekking offers a five-day hiking adventure that includes Grotto Falls on its itinerary. Grotto Falls is visited on the first day on the way to Brushy Mountain.
2. Laurel Falls
Laurel Falls is an 80-foot-tall waterfall that is named after mountain laurel, an evergreen shrub found near the falls that blooms in May. Laurel Falls has an upper and lower section and is divided by a path that goes over the stream by the base of the upper falls.
The trail leading to Laurel Falls is a 2.6-mile round-trip hike. Although the trail is paved, the pavement is uneven and cannot accommodate wheelchairs or strollers. Furthermore, there are short sections of the trail that have steep drop-offs, and some sections can be slippery when wet, so make sure to supervise your children closely at all times.
The trailhead is located 3.8 miles to the west of the Sugarlands Visitors Center and is on the way to Cades Cove. As Cades Cove is the most visited section of the park, parking areas will likely be full on weekends and every day during the summer. You can avoid this hassle, however, by taking the Gatlinburg Trolley to the trail.
3. Abrams Falls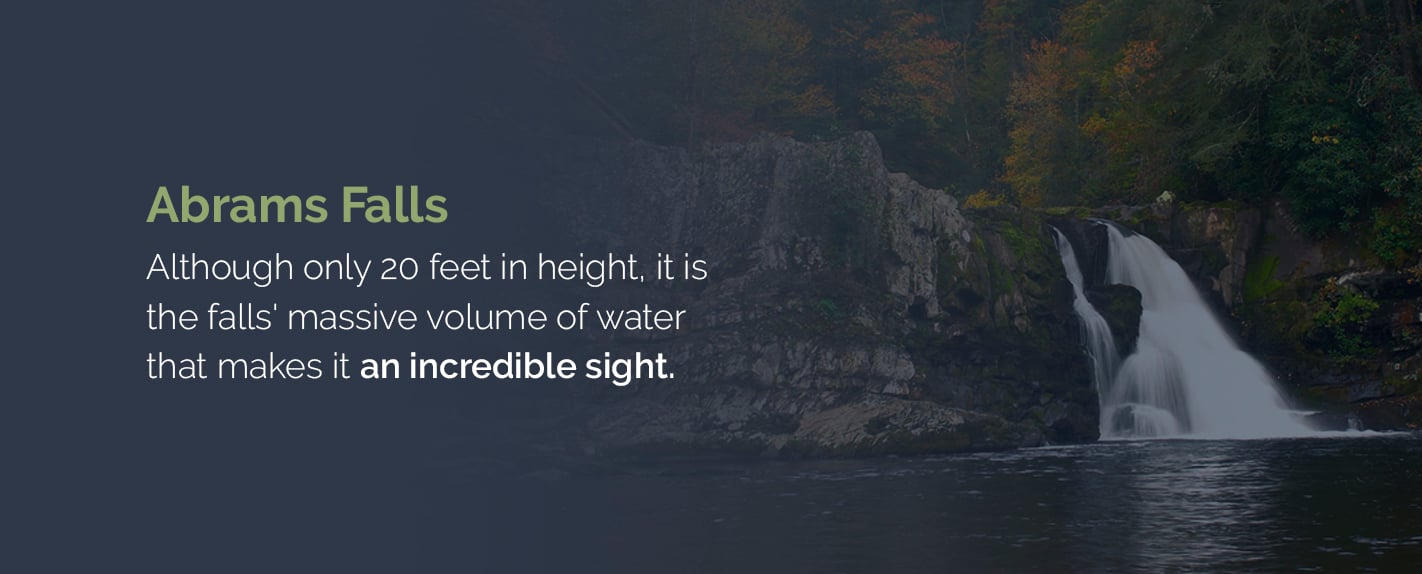 Abrams Falls was named after a Cherokee chief who lived just a few miles downstream. Although only 20 feet in height, it is the falls' massive volume of water that makes it an incredible sight. The deep, long pool at the falls' base is also picturesque.
To access the trail that leads to this majestic waterfall, go to Cades Cove, where the trailhead is located on the 11-mile loop road. The trail is open every day from sunrise to sunset.
Once you arrive at the trailhead, it's a five-mile round trip. Although exciting, this large volume of water also makes Abrams Falls dangerous. View the falls only from the banks and do not attempt to climb on the rocks or go in the water.
4. Mingo Falls
Mingo Falls is not technically within the park but rather on the Cherokee Indian Reservation. However, it is still very close and worth the visit, as it is one of the tallest and most stunning waterfalls in the Southern Appalachians.
To access the trail leading to the falls, drive south from the Oconalufteee Visitor Center on US-441 toward Cherokee and take the second left onto Big Cove Rd. When you reach the first stop sign, take a left and drive for 4.5 miles to the Mingo Falls Campground, where the trailhead is located.
5. Meigs Falls
If you'd prefer to see a waterfall without even getting out of your car, Meigs Falls is a great choice. You can stay in the comfort of your vehicle and pull off the road to enjoy the falls, which are located roughly 500 feet away and can be seen through the trees. During the late fall and winter, when all the leaves are gone, the falls become even more visible, making the view even more dramatic.
The pullover point for Meigs Falls is located on Little River Road, roughly halfway between Gatlinburg and Townsend. To get to Meigs Falls, drive west from the Sugarlands Visitor Center on Little River Rd for 11.8 miles and you'll see the Meigs Creek Trail parking area, which is right before a bridge. You can either park here and walk to the falls or drive for another 1.1 miles and park in a long pull-off area on the left side of the road.
6. Rainbow Falls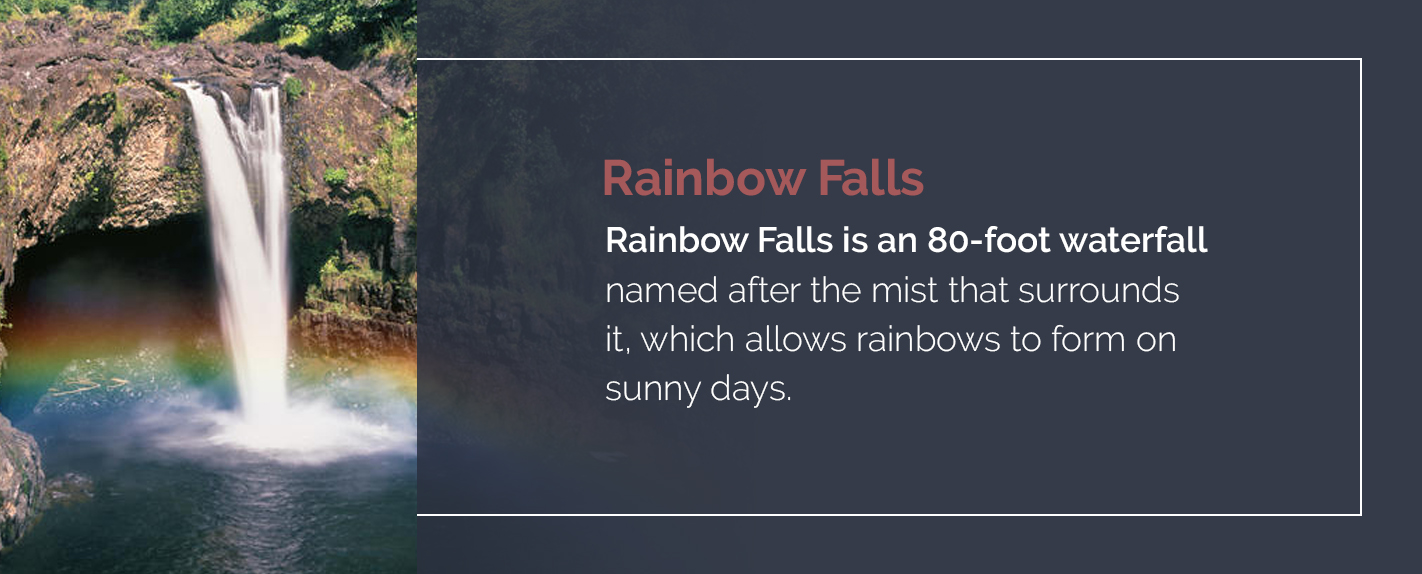 Rainbow Falls is an 80-foot waterfall named after the mist that surrounds it, which allows rainbows to form on sunny days.
The trail leading to the falls is 5.4 miles round-trip and is generally considered to be moderately difficult. However, due to its length, elevation changes and occasional rocky terrain, some hikers may rate this trail as difficult. Hiking to the waterfall and back takes three to five hours.
To access Rainbow Falls coming from Gatlinburg, turn onto Historic Natural Trail at traffic light #8. Go past the Noah "Bud" Ogle homesite, and you'll see the Rainbow Falls parking area, which is clearly marked.
7. Ramsey Cascades
Ramsey Cascades is one of the most popular destinations in the park, and with good reason. Towering 100 feet above the ground, Ramsey Cascades is the tallest waterfall in the Smokies. Also, the trail leading there, which passes through the largest intact old-growth forest in the park, is a great way to experience the park's extraordinary biodiversity. To reach the falls, travel along the Ramsey Cascades Trail for four miles, where you will ascend 2,000 feet in elevation and pass through yellow birches, basswoods and tulip trees. As the trail takes five to seven hours to hike, it's considered strenuous.
To reach the cascades, drive east from Gatlinburg on US-321 and turn at the park's Greenbrier entrance. Follow the signs for another 4.7 miles until you reach the trailhead.
Wildland Trekking offers a day hike to Ramsey Cascades.
8. Spruce Flats Falls
Located in the less-visited Tremont section of the park, Spruce Flats Falls is not on the radar of most park visitors. Because of this fact, you might have this special place all to yourself when you come to visit. These falls aren't just great for escaping the crowds — they're also perfect if you're short on time, as the trail leading to the waterfall is just a two-mile round trip. The path features a few steep, somewhat difficult sections, including the final stretch that descends to the falls.
The trailhead is located just behind Tremont's Great Smoky Mountains Institute.
9. Mouse Creek
Mouse Creek Falls is another recommended option for visitors who want to enjoy nature without the crowds. The trail leading to this 45-foot cascade is a moderately difficult, four-mile round-trip hike along the Big Creek Trail, which passes another smaller waterfall along the way at Midnight Hole.
This trail, which was originally a route to transport logs in the early 20th century, was converted into a hiking trail in the 1930s.
Take the Stress Out of Hiking By Booking a Trip With Wildland Trekking
Planning a hiking trip can feel overwhelming. You have to research the trail, keep an eye on the weather and pack food, clothing and all sorts of specialized gear. When booking a trip with Wildland Trekking, however, you won't have to worry about any of these hassles — everything is left in the capable hands of our experienced guides. Here are some of the many reasons why hiking trips with Wildland Trekking are more memorable, enjoyable and less stressful:
Here are some of the many reasons why a hiking trip with Wildland Trekking will be more memorable, enjoyable and less stressful:
Excellent Track Record and Reviews: At Wildland Trekking, we take over 10,000 guests on our tours every year and have a proven track record for high-quality trips. Many of our guests share their appreciation through online reviews. We are the most highly rated company on the Trip Advisor pages for five different national parks, including Great Smoky Mountains National Park. Several of our trips have a five-star rating on Trip Advisor, Trust Pilot, Yelp and Google Reviews.
Small Group Sizes: Our backpacking and hiking tours usually have between five to ten guests and never more than 12. This means that you'll have a personalized hiking trip and a higher-quality experience.
Excellent Guides: Wildland Trekking is committed to hiring and training the industry's best guides. We ensure this by seeking out career-minded guides, hiring them as employees as opposed to independent contractors, conducting periodic training and requiring up-to-date medical certifications. We also hire guides who are great with people and possess the ability to create an inspiring, unforgettable experience for our guests.
Delicious Food: On our trips, we provide delicious, hearty and nutritious meals that are never freeze-dried. We customize the foods depending on the group's preferences and can accommodate special diets, including vegetarian, vegan, non-gluten and kosher.
Professional Gear: When it comes to equipment, we provide gear that has an approximate retail value of $1000. Our gear is made by industry-leading companies and includes backpacks from Deuter and Osprey, tents from Mountain Hardware and Sierra Designs, sleeping bags from Sierra Designs and sleeping pads, cookware and MSR stoves from Therm-a-Rest.
Comprehensive Risk Management: Our guides are all either EMTs or Wilderness First Responders and each is equipped with a satellite phone and a field-issued first-aid kit. We also require our new guides to undergo comprehensive training to make sure they meet our quality standards before going into the field. Once they begin working as guides, we closely monitor their performance through debriefs and post-trip evaluations. We also have a 24-hour call line that our guests can call to talk with a Wildland Trekking representative at any time.
Forgiving Policy for Transfers and Refunds: We realize that life can be unpredictable and plans may change with little notice. Whereas some companies require a non-refundable deposit of 50% or more, we simply ask for a deposit of $500 and have a tiered refund policy that lets you cancel over 60 days in advance with just an administration fee of $100. If you have a last-minute emergency, we may offer future trip credits depending on your situation.
Prompt, High-Quality Customer Service: Wildland Trekking has 12 friendly and knowledgable consultants eager to offer help with planning and preparing for your trip. They are all experienced hikers, and many of them are also guides, meaning that their advice and assistance is based on real experience. We're open every day, so you can have your questions answered any day of the week.
All-Inclusive Tours: While many other tour companies don't provide their guests with hiking equipment or charge their guests fees to use them, at Wildland Trekking, all of these items are included as part of the trip price. Meals, transportation fees and permit fees are also all included.
Online Gear and Apparel Store: At Wildland Trekking, we also sell gear and apparel at Wildland Trekking Outfitters to help guests prepare for their adventures. All of the inventory is of exceptional quality, and we stand by all the products we sell.
A Lifetime of Tour Options: Wildland Trekking's tour offerings are diverse, ranging from demanding, off-trail backpacking excursions to moderate, on-trail hiking and backpacking adventures. We have destinations all over the globe, including domestic destinations like the Sierra Nevadas and the Great Smoky Mountains and international ones like Ecuador, Iceland and Nepal.
Conservation Mission: Every time you hike with Wildland Trekking, you're helping to conserve these beautiful, wild landscapes for future generations. We donate to conservation efforts around the world.
10% Discount After First Trip: After your first hiking trip with us, we will award you with a Lifetime Family Membership, which will entitle you, your spouse and children to a 10% discount for any trip you decide to take with Wildland Trekking in the future.
Visit our site to browse the wide variety of trips and destinations we offer at Wildland Trekking. We hope to be part of your next hiking adventure!