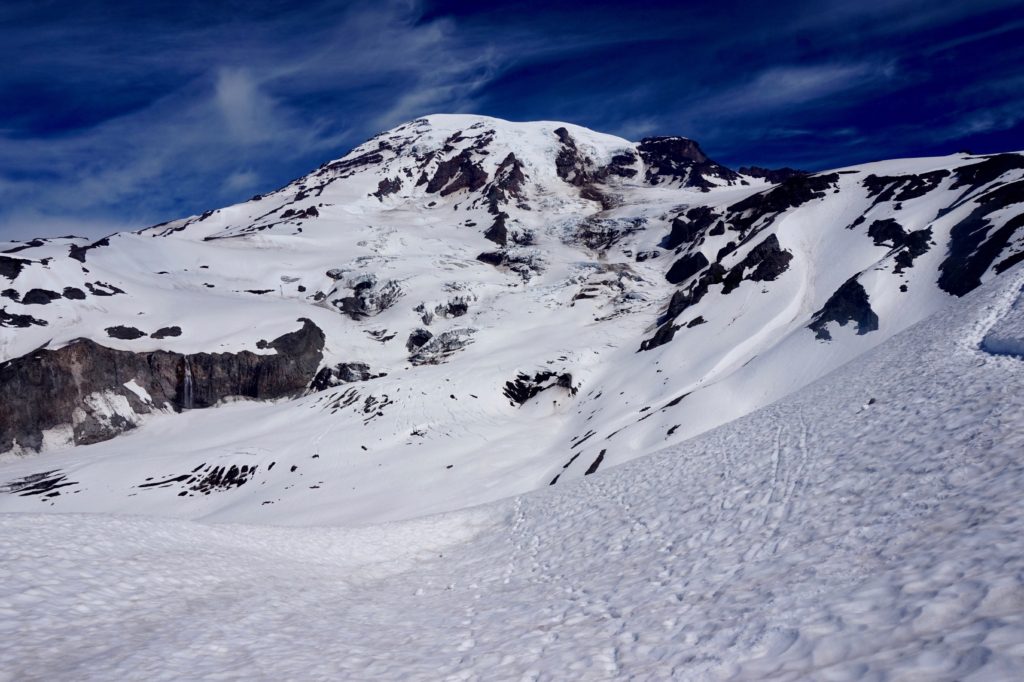 Skyline Trail
General Description
Towering above the surrounding landscape at 14,411 feet, Mount Rainier is the tallest mountain in Washington. With dramatic glaciers, recent volcanic activity, and stunning displays of wildflowers, Mount Rainier is best up close and personal. Paradise Meadows, and the Skyline Trail that cuts through it, is the most popular destination on Rainier for good reason. No matter what the season, the views of Rainier are breathtaking, and the opportunities to spot the southern Cascade volcanoes and the Tatoosh Range from higher up are incomparable. Best of all, the Skyline Trail has something for everybody; take a short and mellow hike through wild-flower studded meadows, do the full Skyline Loop for new views at every turn, or head all the way to Camp Muir for a taste of alpine air and the best views you can get short of the summit.
Explore Mount Rainier with Expert Guides
Getting to the Skyline Trailhead
Follow Highway 706 through Ashford and through the entrance gate, then continue up to the parking lot at Paradise.
History of  the Skyline Trail
Mount Rainier has been visited and occupied by humans for at least the past 9,000 years. While its current name of Rainier came from European settlers in the late 1800s, it was called Tahoma by many of the surrounding indigenous peoples–the root of the name for nearby Tacoma, WA, and a common second name for the mountain. Tahoma, in the Lushootseed language, means "Mother of Waters", and, as the most heavily glaciated mountain in the continental United States, it certainly does produce a lot of water. Paradise Meadows, the heart of the Skyline Trail, was inadvertently named by the daughter of James Longmire when she first spotted the wildflower-strewn meadows and declared "Oh, what a paradise!"  Camp Muir, accessible via the Skyline Trail and the Muir Snowfield, is named after famous naturalist and writer John Muir, who climbed Mount Rainier in 1888.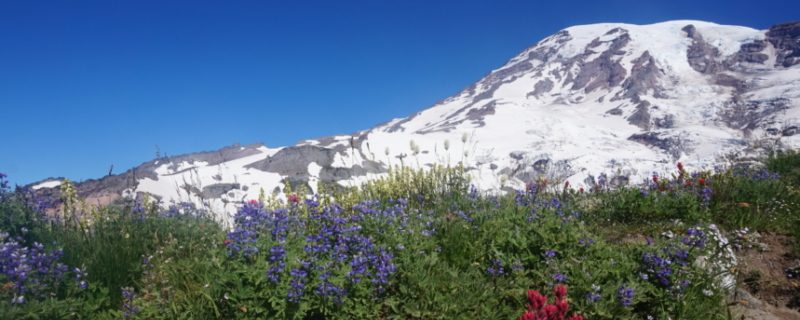 3 Best Day Hikes on the Skyline Trail
Wander through wildflower-strewn meadows to Myrtle Falls, climb to Panorama Point and down the other side, or hike all the way to Camp Muir for an all-day adventure.
Below are the primary options for day hiking on the Skyline Trail.
| | | | | | |
| --- | --- | --- | --- | --- | --- |
| | Destination | Miles | Elev | Difficulty | Style |
| | Myrtle Falls | 1 mi | 100 ft | Easy | Out and Back |
| | Skyline Loop |  5.5 mi | 1700 ft | Moderate | Loop |
| | Camp Muir | 9 mi | 4,680 ft | Strenuous | Out and Back |
1. Myrtle Falls
Stroll through abundant wildflower displays on this easy roundtrip hike to beautiful Myrtle Falls. Depart from the trailhead near the visitor center, and follow the level, paved path, keeping an eye out for lupines, paintbrush, bistort, avalanche lilies and more. Make sure not to tread off the path–these alpine meadows are fragile. All the while, the summit of Rainier dominates the skyline–look for the massive crevasses on the glaciated terrain above you, or try to spot climbers headed up to Camp Muir on the snowfield. Myrtle Falls itself is a beautiful waterfall framed by Rainier–a perfect spot for lunch and pictures. Turn back for an easy day, or continue exploring the network of trails around Paradise if you're not yet sated.
2. Skyline Loop
Head North of the Skyline Trail from the visitor center, and watch the crowds begin to thin as you climb gradually. Take brief detour to the Glacier Vista to look down on the Nisqually Glacier, then continue up towards Panorama Point. Snow lingers on the trails here til late summer, so it's wise to bring microspikes with you just in case. The climb steepens before Panorama Point, but the payoff is worth it–views of the Tatoosh Range and all the major Cascade stratovolcanoes to the south await. On a clear day look for Mt. St. Helens, Mt. Adams, and Mt. Hood. Continue on the Skyline Trail past Sluiskin Falls, then descend past Myrtle Falls and return to the parking lot.
3. Camp Muir
For a full day adventure and a strenuous workout, head to Camp Muir, the basecamp for climbing parties making attempts on Rainier's summit. Poles and microspikes are a must, and ice axes and crampons are wise in the early season. Make sure you have strong navigation skills, as the trail disappears into the snowfield at higher elevations, and bad weather can roll in quickly. Numerous parties have gotten lost in whiteouts and inadvertently descended into dangerous glaciated terrain. Consult the NPS guide on hiking to Camp Muir for detailed navigation tips. Follow the Skyline Trail towards Panorama Point as above, but turn north towards Pebble Creek shortly before reaching Panorama Point. Continue climbing, and consider filling up water at Pebble Creek–the only remaining water on the hike is snow, so be prepared with a stove if you aren't carrying all the water you need. Head northeast until you reach the Muir Snowfield, which is usually well marked by foot traffic and trail wands left by mountaineering guides. The real climb starts here–you have 2,800 feet of elevation left to climb after leaving Pebble Creek. Slow and steady gets it done, though. Enjoy spectacular views, watch climbing parties prep their gear for their next day's climb, explore the century-old stone buildings, and then head back down the way you came.
Maximize Your Visit to Mount Rainier National Park on Hiking Tour
Multi-day packages allow visitors the opportunity to make the most of their time in Mount Rainier National Park and to do it hassle-free. Guided tours include gear (backpack, trekking poles, crampons in winter), meals, accommodations on multi-day tours, local transportation, and a professional Washington hiking guide. Through their knowledge, stories, and personal passion, guides can bring a place to life in a way that's much more difficult to do on your own. Read more about Mount Rainier Hiking Tours.
Award Winning USA Hiking Vacations

When to Hike and Seasonal Considerations
Mount Rainier regularly receives record-breaking snowfall, and the snow can last well throughout the summer. The climate is also extremely mercurial–we say the mountain makes its own weather, to be prepared with plenty of layers and rain gear at all times. Early summer hiking is definitely possible, but be prepared with an ice ax and snow travel skills if you're headed towards Camp Muir before summer. July-September is the perfect window, but October can have lovely weather and perfect huckleberries as well. Check the road conditions before you go; the road from Longmire to Paradise is often closed nightly until late April depending on snowpack. Make sure to check the weather before you go!
Necessary Permits
Day Hike Permits
No permits are needed to day hike in Mount Rainier National Park
Backpacking Permits
Backpacking permit are required in Mount Rainier National Park. Walkup permits are sometimes available, but advance recommendations are recommended. There is no overnight camping in the Paradise area except at Camp Muir. If you're feeling bold and well-prepared enough to spend a night at Camp Muir, make sure to get a permit and speak to a ranger about the special challenges of camping at 10,000 feet!
Suggested Packing List
Day Hike Packing List (edit)
Lightweight hiking shoes or hiking boots
Waterproof rain jacket and pants
Warm wool or fleece top
Warm hat and gloves (Spring, Fall, Winter)
Water bottles or bladder (2 liters total capacity)
Sunhat
Headlamp
Sunglasses, sunscreen and lip balm
Salty, calorie-rich snacks
lunch
backpack
trekking poles
1st aid kit
Backpacking Packing List
all items listed for day hikes PLUS
multi-day backpack
3-season tent
sleeping bag
sleeping pad
backpacking stove and fuel
backpacking meals
3 pairs wool socks
extra t-shirts
Please Respect Our National Parks – Leave No Trace
We strongly recommend abiding by all Leave No Trace ethics guidelines and practices so that our national parks and public lands are preserved for the enjoyment of future generations and for the people and animals who call these places home. Simple things like packing out your trash, obeying national park rules, and respecting the peace and quiet of our national park trails is a great start. If you're going on a backpacking trip, you can read about more about the 7 Leave No Trace Principles.